If you would have caught our girl Eva Marcille three years ago, you would have found her rocking anything from floor-length box braids (which she still does from time to time) or a platinum blonde pixie cut for the gawds. But these days, she has committed her hair journey to gorgeous, bohemian, shoulder-length locs.
---
Back in November of 2020, Marcille revealed that she was three months into her locs journey and loving every moment.
"Three months in on my loc journey. I am absolutely in love. My daughter Marley has been loc'd for almost 5 years and I'm just trying to get like her. I love the freedom my locs give me. Hair is just hair but it is alive. It moves and sways as it feels on that day. Just let it be! Helps to polish up who I am, a Sunflower in human form."
Marcille first debuted her new 'do back in September 2020, calling her style change a rebirth. LA hairstylists Ebony Riley and Erinn Courtney were the goddesses behind the transformation.
And with her one year loc-iversary approaching, Eva is spilling all the tea on how we can achieve her look.
The model joined Harper's BAZAAR in an episode of #HowIDo, to walk us through her favorite hair products and full locs haircare routine. So, y'all ready to get this hair together? Great! Here's what you'll need:
"Let's just start with the beginning of it all: I have locs. These are not temporary locs, these are not braids, this is not synthetic hair, this is my hair, loc'd. But loc maintenance, people don't really understand you have to maintain locs, just like you have to maintain your hair--your regular hair, free-flowing hair. So I shower, I wash my hair about once a week, and I use an array of products."
Marcille then goes on to note that she went from a pixie cut on the RHOA reunion, to where she is now due to her routine as she walks us through her energy-filled routine. She uses the Essential Means Herbal Shampoo to massage her scalp and promote hair growth.
Up next, is her Nappstar Shampoo and Conditioning Kit.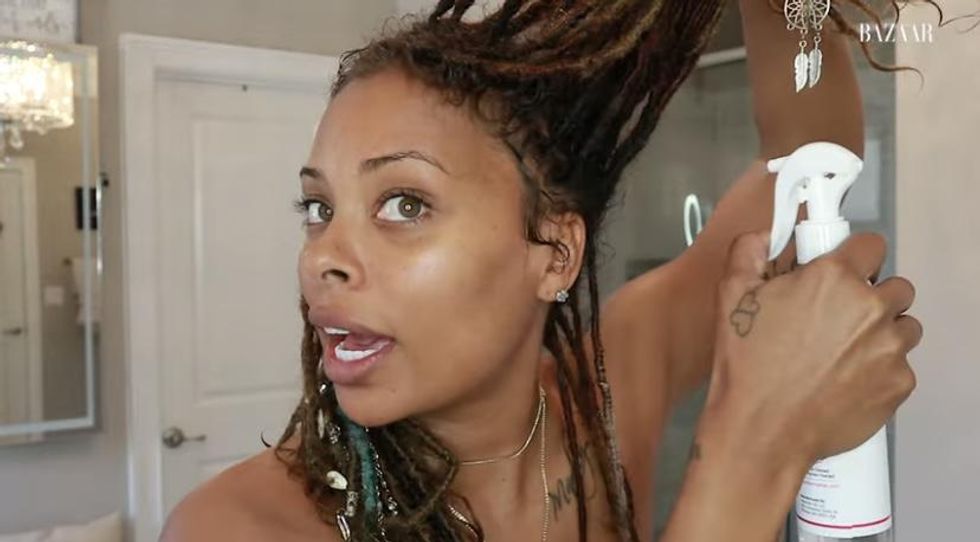 Harper's BAZAAR/YouTube
She shampoos again using the Tea Tree Shampoo.
"After you strip your hair of all dirt and all oil, you have to put some moisture back in so that's my favorite step--the next one--which is the deep moisturizing shampoo. I put that at the bottom of my hair, but I also then put that into the roots of my hair because I want to make sure that my hair just doesn't get dry.
She then goes on to condition her hair, which she does while showering.
And now, it's time for the leave-in products.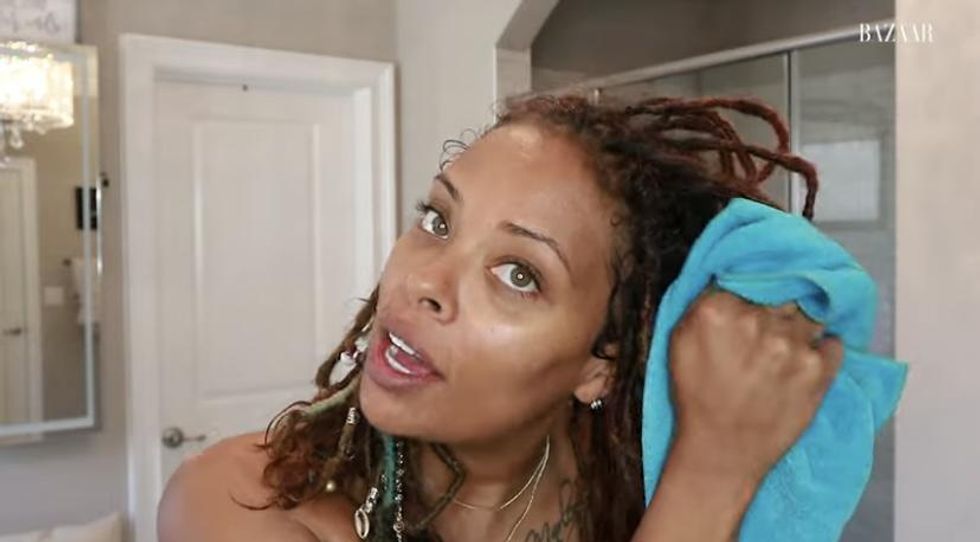 Harper's BAZAAR/YouTube
"Now after your final rinse is done, you're feeling good. You get out the shower, you do like I did with my microfiber towel, dry your hair off, now you'r clean, but you're not done. No, no, no, no, there is so much more to do. Now I have to go to the moisturizing and make-it-smell-good process."
Marcille introduces us to her leave-in process, which she strongly advises that we make sure each product says "leave-in" to prevent build up.
Watch the full video below to see more on how she closes out her routine, lessons in baby hair, and how her neighbor influenced her hair personalities:
Are you a member of our insiders squad? Join us in the xoTribe Members Community today!

Featured image by Rich Fury/Getty Images