Some might say I'm a Jamaica fanatic, and I'm okay wearing that crown. I'm crazy in love with the island and I won't apologize for it. I fell for "the land of wood and water" 20 whole years ago after a cruise to Ocho Rios with a friend's family. I'd never really liked cruises, but when I found out the destination, I just couldn't say no. The trip was both enlightening and stifling since, many of my family and friends—a loud and feisty mix of Black American and Caribbean women mostly—were always the all-inclusive-resort-only, we-only-travel-to-Jamaica-on-a-ship, don't-mix-with-di-rastas-dem type of people.
---
I knew, back then, that I'd return on my own terms, get all up in the local mix, and create adventures of my own.
I even rebelled with the parish I chose to frequent since my folks were Saint Andrew (Kingston) and Saint Ann (Ocho Rios) enthusiasts. Westmoreland is my all-time favorite parish, and I've tried almost every type of tourist or digital nomad experience (other than ziplining and the like, which I refuse to do but will gladly watch). From staying at hotels and Airbnbs overlooking the beautiful cliffs of Negril's West End and locally owned boutique spots along the alluring shores of its Seven Mile Beach to the enjoying countryside rivers and ranch-style living in Sav-la-Mar and Ft. William, journeying through the lush bush of Bluefields, seeking out the mysteries of Blue Hole, and everything in between.
So when I was told about a French restaurant and resort in Negril, my eyebrow immediately went up. French? In Jamaica? Why? How? Charela Inn came on my radar, and I knew I had to give it a try. I mean, I'd tried sushi (yes, authentic Japanese sushi, and outside of a resort buffet, at that), and French cuisine has been a favorite of mine since I started studying the language at 12. Let's just say, a sis got her entire life being transported into a utopie française right on the beach. It was like being in two countries at one time, with a special mix of Caribbean swag and European je ne sais quoi, an experience, that, as the saying suggests, can't be aptly put into words but can transform the way you think about vacationing in Jamaica.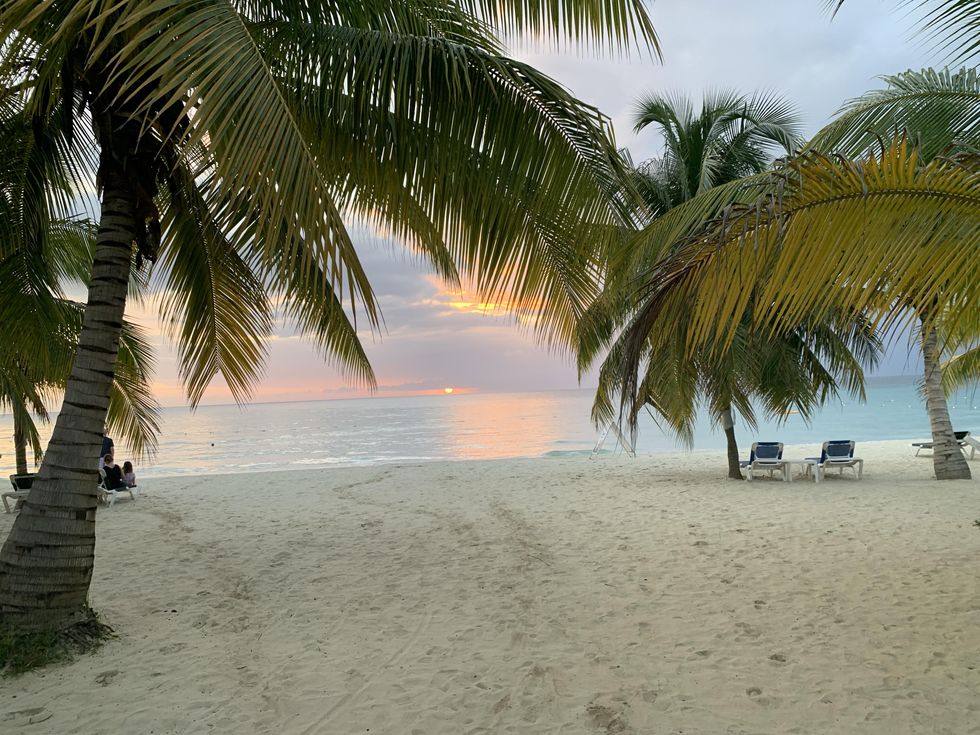 Biency Reid
Charela Inn has been in operation for 43 years, one of the longest-running hotels on Negril's Seven Mile Beach, and expanded from a 10-room property to one of more than 50 rooms that have garden and sea views. "We just tried to create a place where everyone feels welcome. You feel like you're visiting family, and you're able to meet people from all over the world here," said Daniel Grizzle, a Jamaican-born farmer, and the hotel's owner. He bought the property in 1980 and began running the inn with his wife, Sylvie, who had a love for cooking and brought her own French recipes to the hotel's menu. His wife passed away in 2017, but her legacy of instilling an appreciation for French culture and cuisine lives on.
"My mother was a great cook, and he loves good food," said Grizzle's daughter, Sophie, who also works in the business. "Today, he's always challenged our chefs here, and he'll say, 'I went to France, and I had this, so we're going to try and make it.'" The family continues to push boundaries, offering tastings that include classic French dishes like escargot (a delish fav of mine that I don't mind telling you is snails sopped in delectable butter and herbs), offering fresh fruit juice in their rum punches (versus the pre-mixed stuff you might be used to getting at a resort) and serving crepes for breakfast. It all makes for a divine experience in what I think to be the best of both worlds in my wildest foodie fantasy. (And you can't tell me that there's any better food than the dishes you find in Jamaican or France. I debate you not.)
Check out three major highlights of my time there and why you should add this to your next trip itinerary for my favorite island in the world:
A Graceful Welcome
Ever thought about how you might be welcomed into a chateau if you had the luxury of living in or staying at one? Charela offers that vibe as soon as you step on the property. There's an open driveway area and a porter who stands on a small winding staircase to welcome you, and later take your suitcases to your room.
Now, if you're a resort girl, you might think: Well, I get welcomed with champagne or a margarita when I stay at Insert Bland All-Inclusive Hotel Name Here. This is different. You feel like the place is all yours and you're not just a number among hoards of tourists who will be staying at the same hotel, breathing the same air, hovering over the same buffet, and crowding the same pools as you. There's an air of exclusivity that's both welcoming, peaceful, and special upon entering Charela, like visiting your favorite relative for a private staycation.
Locally Cultivated and Beautifully Crafted Artistry, Landscaping and Decor
The property is dominated by beautiful woodwork, specifically the in-room dressers and veranda doors, window and door arches, many of which were custom made by local artists and woodworkers. Even the door handles add a French antique-like touch to the rooms, and the cream marbled hue of the floors, the bathroom bowl basin (another nod to a popular French style), and the whirlpool tub just set things off that much more for an experience unlike other popular boutique hotels on Negril's Seven Mile Beach. Even the key you're given to your room is attached to a silver engraved tag with your room number on it.
Another awesome factor of the decor of this place was that the building itself sent my mind back to being in awe of the awnings and structure elements you might find walking down Paris streets in the 6th and 7th arrondissement and visiting cafes like Le Saint Germain or Cafe de Flore.
You've still got your bright tropical colored drapes and accents that just make being in Jamaica feel like paradise, and all of this is French rendezvous at its best, smack dab in the middle of palm trees, Caribbean breezes, and scents of salt, beef patties, and jerk chicken mixing perfectly nearby.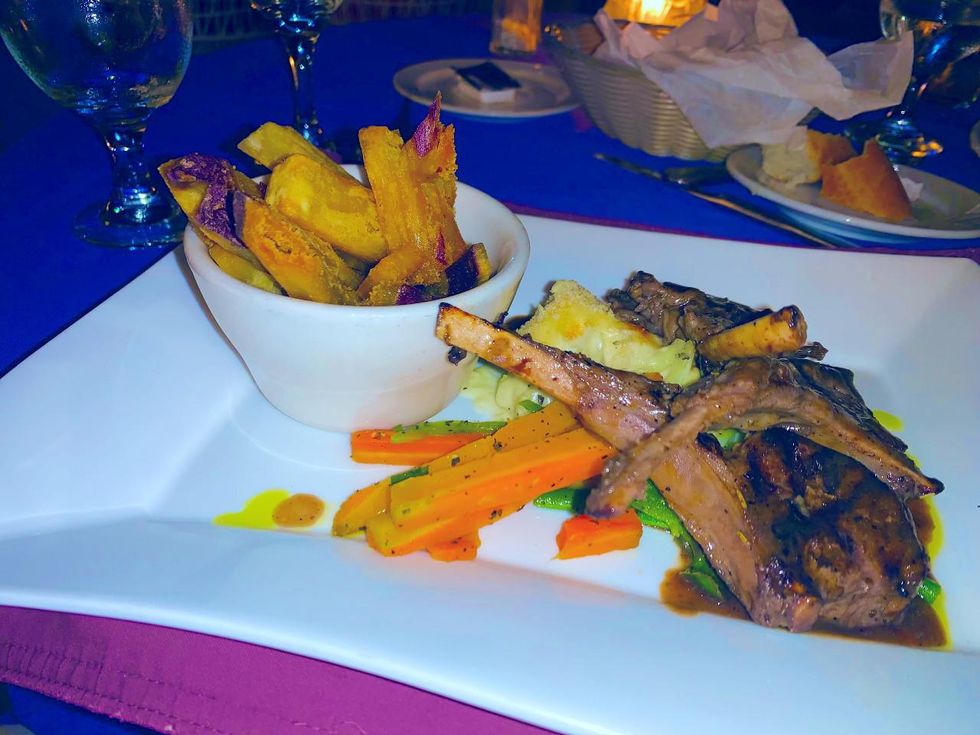 Biencey Reid
A Refreshing Nod to Fine Dining That's Sorely Missed
Their Le Vendome Restaurant, adds a special draw to the actual hotel and many people come, via reservation, just to dine when in town. When you sit down to eat, no matter what time of day, you'll have a white napkin laid on your lap, water is offered, and the staff caters to you with kindness and, of course, a bit of soul. There's a farm-to-table factor as well, as many of their dishes are made with ingredients like grass-fed beef from their local farm.
Dinner was a standout moment for me. We sat literally a few feet from the beach, watched the sunset, listened to live renditions of both Top 40 and reggae classics with a live band, and enjoyed a five-course meal over candlelight once the sun finally set. The portions are elegantly plated, and there's even a five-course dinner option that can be adjusted based on your tastes. Champagne and wine bottles are chilled in silver buckets and served just like you'd be at any top-tier restaurant in New York, Chicago, or Los Angeles except the difference is, again, you get that one-of-a-kind vibe of Caribbean allure that is Jamaica.
I enjoyed every course, but I particularly loved the soupe à l'oignon (French onion soup) served with their in-house-made bread and cheese, to the salad, to the vol-au-vent (a flaky pastry with a creamy mushroom-and-chicken filling) to the cotelettes d'agneau (lamb chops in wine sauce) with cheesy cauliflower, yam fries, carrots and string beans. They have their own versions of Jamaican mainstays as well. Their curry shrimp, for example, had a delicate flavor of curry and cream and had a spice that while not quite traditional, gave you a sense of fusions of flavors that just hit different for your tastebuds.
Trust me, if you want an experience outside of the usual enjoyment of the larger resorts, the smaller, traditionally Jamaican hotel hotspots, or your auntie's house a yard, Charela Inn is a refreshing retreat that will have you Googling how to say, "Wha Gwan," and "Yea Mon" in French without feeling like a total idiot. If not that, at least you'll get to try something off the beaten path to add to your list of Caribbean escapades abroad.
Featured image by Biencey Reid