Most times, when people think of the islands, their minds automatically shift to places like Jamaica or Puerto Rico. What a lot of those people don't know is, you don't need a high-end cruise, a ton of money, or even a passport to take the island vacay of their dreams. The U.S. Virgin Islands are slept on in a major way but have so much to offer at a fairly reasonable price point.
---
I'm lucky enough to have a mom that lives in St. Croix, and since I work remotely, I had the opportunity to visit her and live like a local on the island for a whole week. Along with making some new friends, like a cashier at the local eatery named Vanessa and the skittish peacock I met in my mom's backyard, I had the opportunity to experience St. Croix like a native.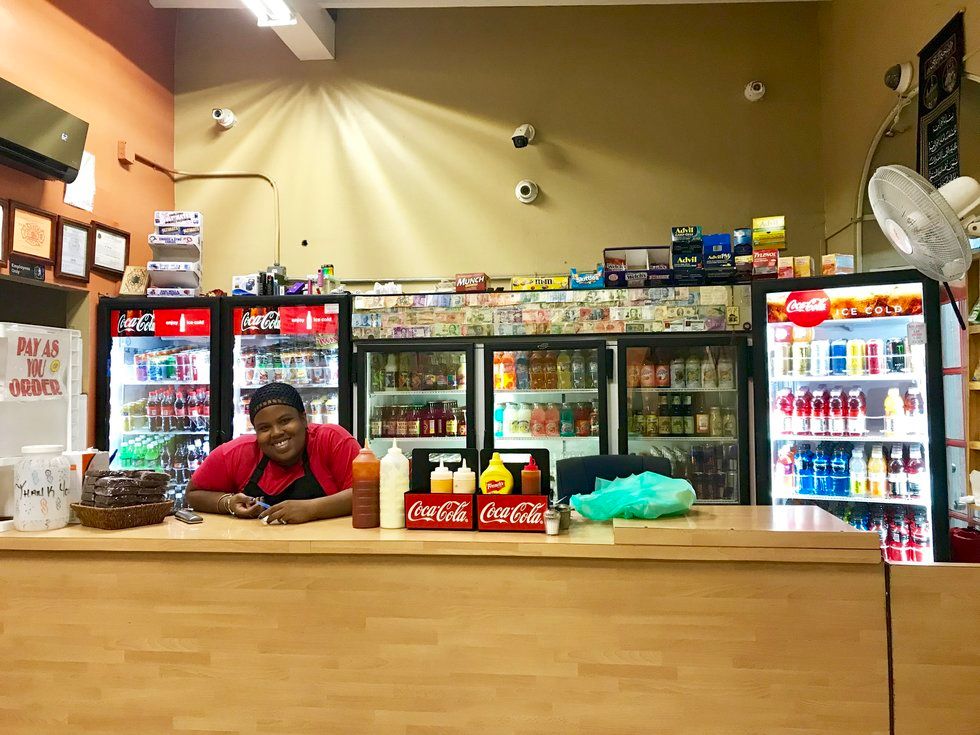 Yam Yams @lovetaylormichal
In 2016, St. Croix was devastated by Hurricane Maria, and citizens, including my mom, were left without power or a way off the island for months. Since then, the people of the island have worked together to rebuild their city and keep it beautiful. Unlike most places I've traveled, St. Croix instantly felt like home. Everywhere I went, I was happily greeted with a "good morning," or "good afternoon," and it was a type of hospitality that made this Southern girl feel especially welcome.

If you're thinking about taking a trip to the Virgin Islands, here are a few activities you can add to your itinerary:
R&R At Hotel On The Cay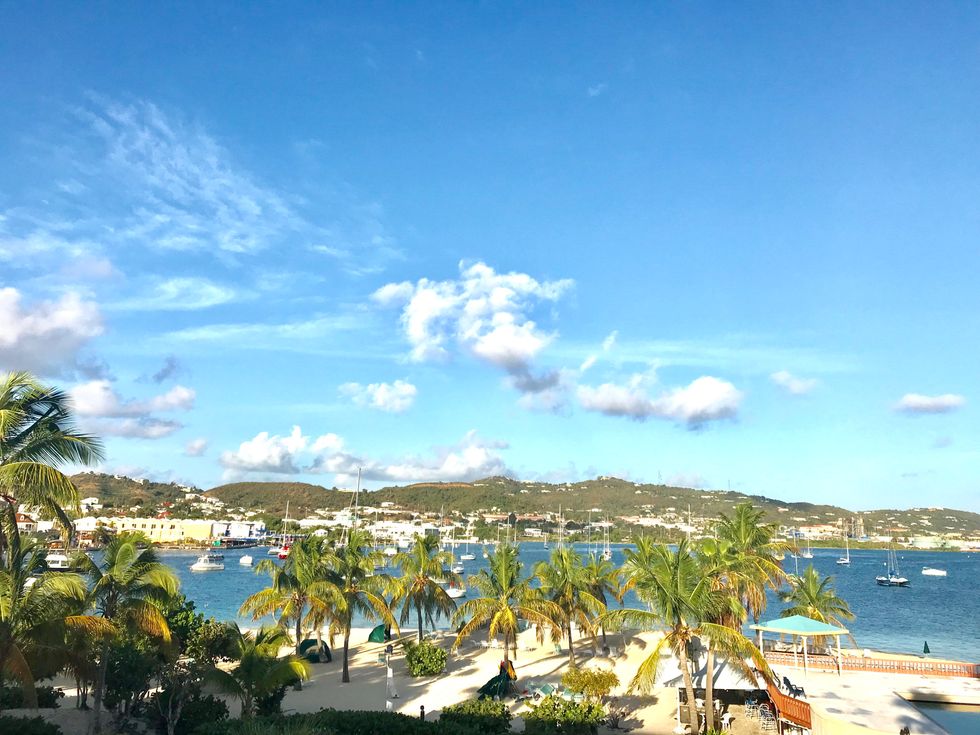 @lovetaylormichal
While about midway through my trip, I stayed with my mom, the first leg of my trip was spent at Hotel on The Cay (pronounced key). This hotel made me feel super rich and bougie because it's located on its own island and you actually have to take a short boat trip to even get there.
The hotel also has a bar, which stays open from 10 in the morning to 10 at night, and a restaurant on the beach that is open from 11 A.M. to a little after 6:30 P.M. The rooms were a little dated but very clean and offered an amazing view. If you keep an eye out, you might also meet some iguanas during your stay.
Chill At The BREW STX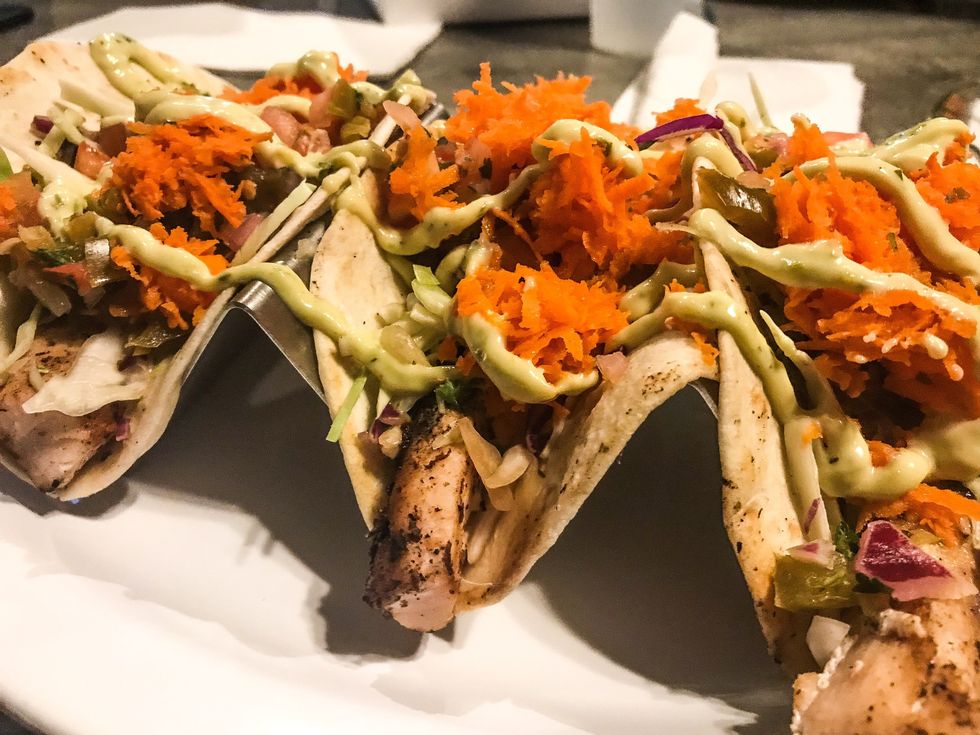 @lovetaylormichal
Since I stayed at the Hotel at the Cay, the boardwalk was the quickest and easiest place to grab food and drinks. Although a lot of the food establishments closed early AF (around 9 or 10), the party didn't stop until a little after 1 in the morning. If you're looking for a destination with an extremely wild night life, this island may not be your first choice.
The Brew was open until 9, and I ordered fish tacos and mac and cheese. The mac and cheese was slamming but I found the chopped carrot medley on top to be way too spicy. Friends of mine also ordered fish and we were pleased with the food and the service, but we definitely wish it stayed open a little later.

Watch The Sunset At Rainbow Beach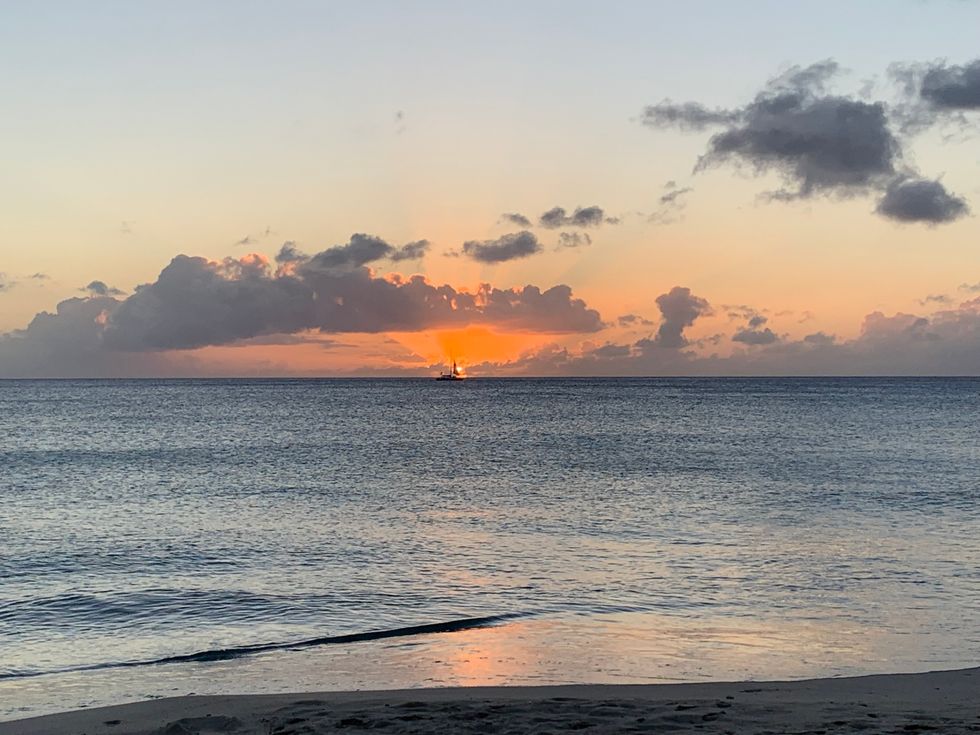 @lovetaylormichal
My mom lives in Christiansted, or the east end of the island where the sun sets, and the sun goes down on the west end in Frederiksted. If you can't quite get used to driving on the opposite side of the road, call a taxi and ask them to take you to Rainbow Beach to watch the sunset.
While Point Udall is the farthest point west on the island (and in the U.S.), Rainbow Beach is said to be one of the best places on the island to watch the sun go down. If you make it to Rainbow Beach during the day, you can also participate in activities like jet-skiing, snorkeling, and paddle boarding.
Yum Yum At Yam Yam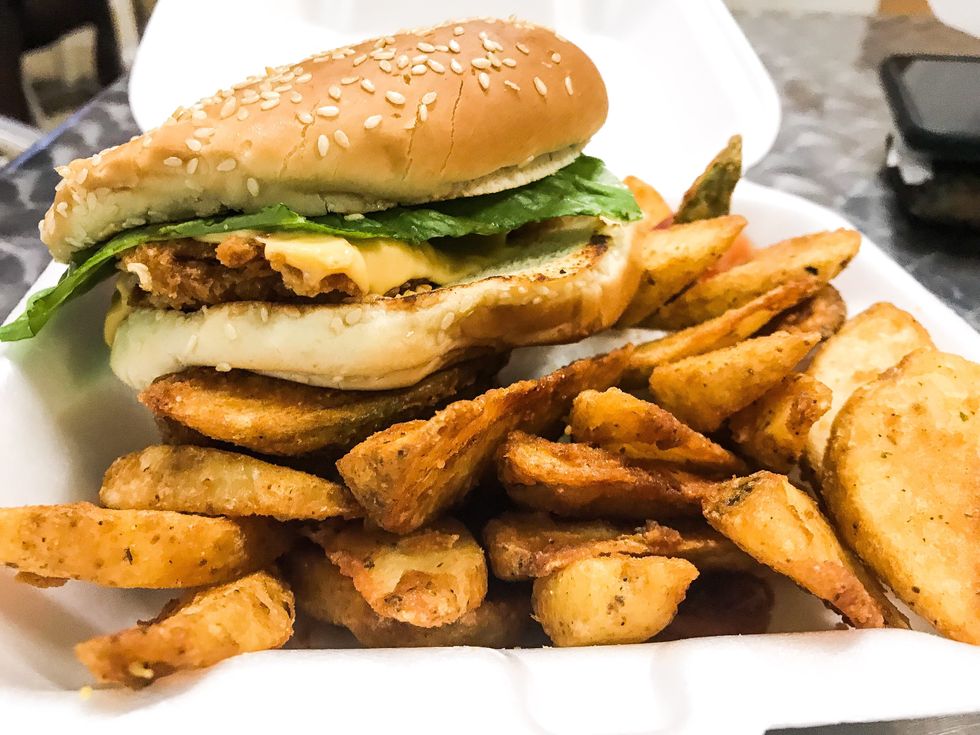 @lovetaylormichal
Yam Yam (not to be confused with Yum Yum, which is another eatery on the island) is small and easy to miss if you don't know what to look for, but it's definitely worth seeking out if you decide to take a trip to St. Croix. My friend Khaleel, who's lived here his whole life, showed me this spot (which had a line out the door) and it did not disappoint.
I ordered a shrimp burger and wedge fries. It may look simple ladies, but this place gave me the Caribbean comfort food vibes that I had been looking for my entire trip. The food and service was great, and it's not far from Rainbow Beach. Another plus for this location is, unlike other places on the island, it stays open until midnight.
Eat A Mean Crawfish Cake At Angry Nate's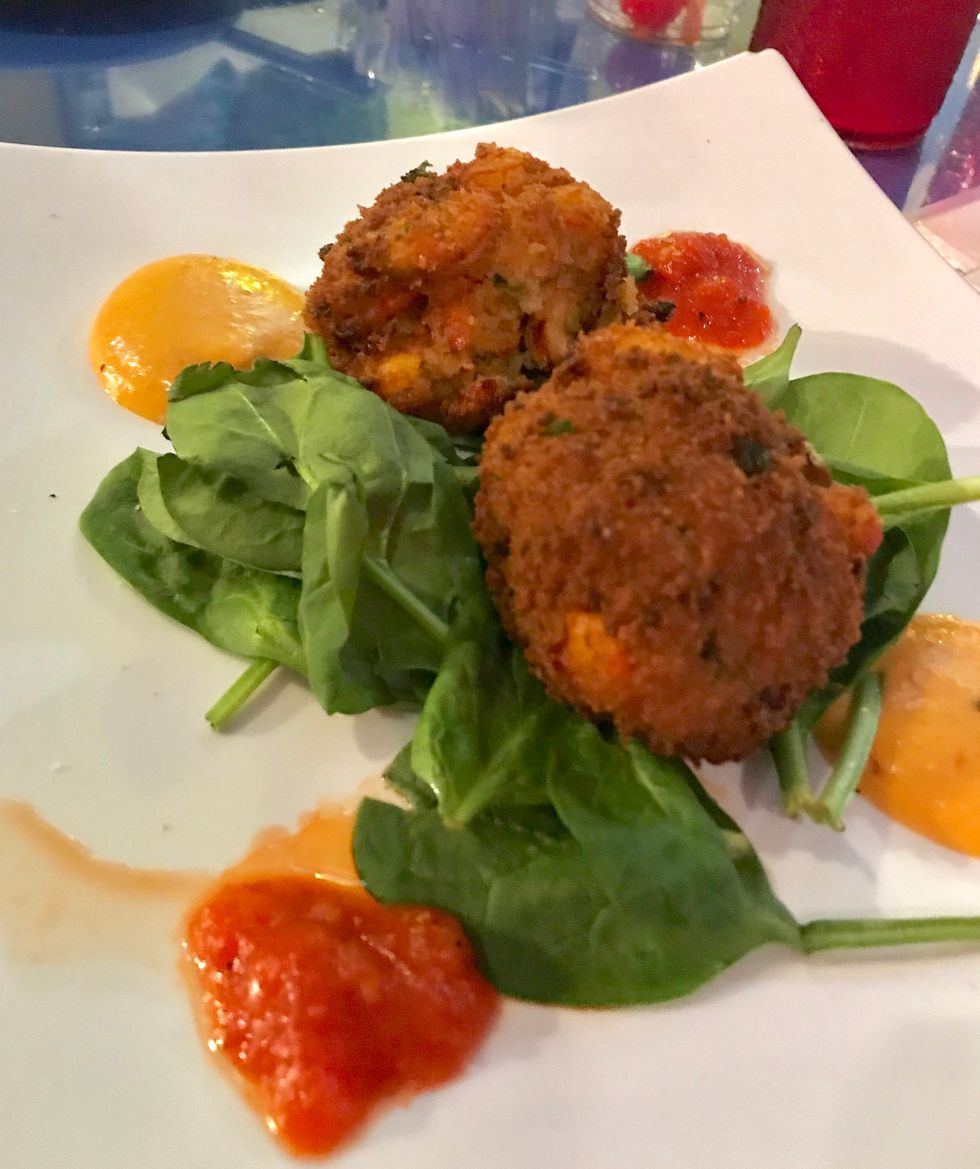 @lovetaylormichal
I'm from Baton Rouge, Louisiana, so I couldn't pass up the opportunity to try some of the island's crawfish cakes. While Angry Nates wasn't exactly my favorite place to eat on the island, the service was great and the managers came over several times to make sure my party and I were having a great time. The food was aight, but the service is what would make me return.
Locals on the island that I talked to labeled Angry Nates as more of a tourist location, but I'd still give 'em another shot because their breakfast menu looks lit.
Dance With The Moko Jumbies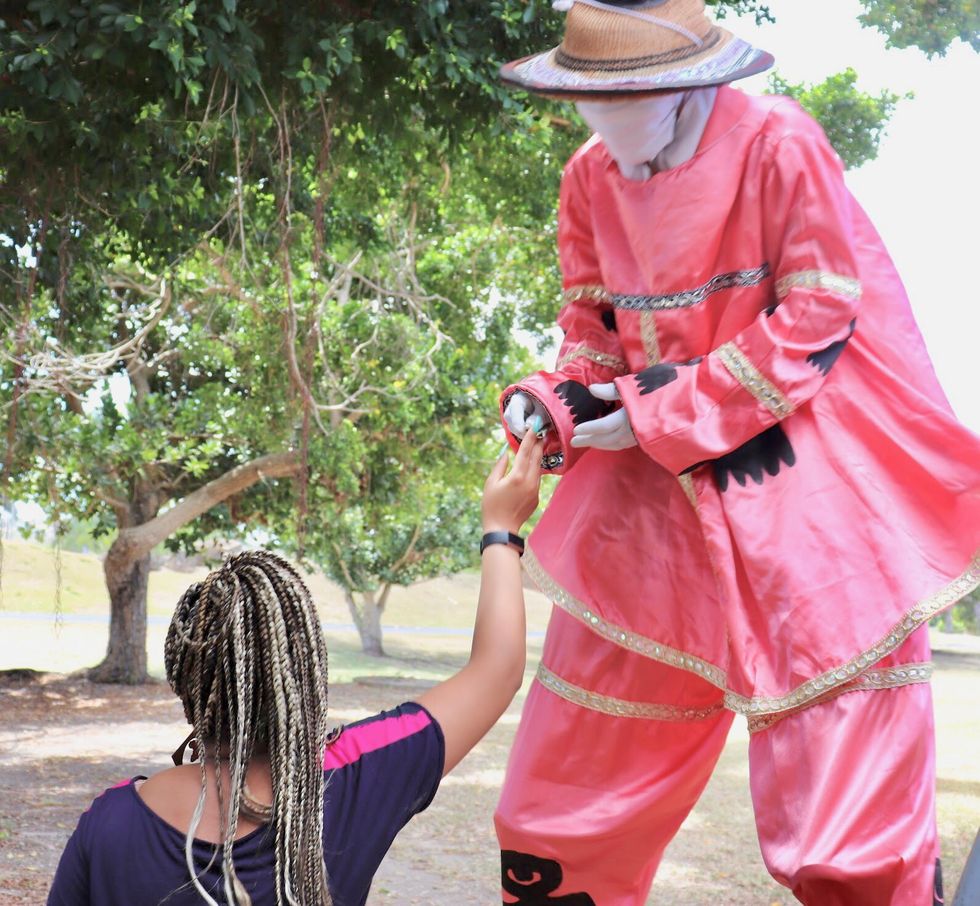 @lovetaylormichal
Nothing says island vacay like men on stilts in festive costumes dancing to Caribbean music. Moko Jumbies originated in Africa and have been a part of Saint Croix's culture for more than 200 years.
You'll normally see these talented entertainers during special occasions like festivals, carnivals, and weddings, but you can normally check ahead of your trip to see if there are any open events where the Moko Jumbies will be performing. Touristy hotels like Carambola often have these shows along with a buffet by the water.
Since I've lived on the island for a whole week now, I've pretty much certified myself as an islander.
Take it from me, gal, you don't need to book some all-inclusive cruise to have the perfect island getaway. There are plenty of islands to visit and tings to do in the U.S. territories that exist right in our backyard. Why not start with Saint Croix?
Featured image by Getty Images.
Related Articles:
6 Dope Destinations That Don't Require A Passport - Read More
A Black Girl's Guide To Traveling On A Budget - Read More
I Jetset On A Budget For An Entire Year With These Travel Hacks - Read More
All The Looks That Slayed Carnival 2019 - Read More