When I first heard about Harlem, the new Amazon series about four Black girlfriends in the city, I admit, I wasn't a fan. There, I said it. I'm a child of the golden era of Girlfriends, Living Single, Friends, Moesha, Sex and the City, and The L Word. My friends and I were real-life offspring of these constructs who had a lot in common with the women of those shows. Even after enjoying a season of the similar new Showtime series Run the World, I'd had enough of stories about friends "navigating their way through" their 20s, or 30s, or 40s. I loved these shows, but thought to myself, "Why do we need a Harlem? Can't we tell other stories?"
---
It wasn't until recently that I had a come-to-Jesus shift of mind on why more than one depiction of any common human experience where the characters are Black in America is not only needed but still vitally necessary – particularly related to Black sexuality. And when I dug a bit deeper, I saw that Harlem specifically did a huge service to the depiction of Black male bisexuality that few other popular series have been able to honestly honor. (And yes, I just typed Jesus in the same paragraph as bisexuality. Hey, Ma!)
'Harlem' as a Catalyst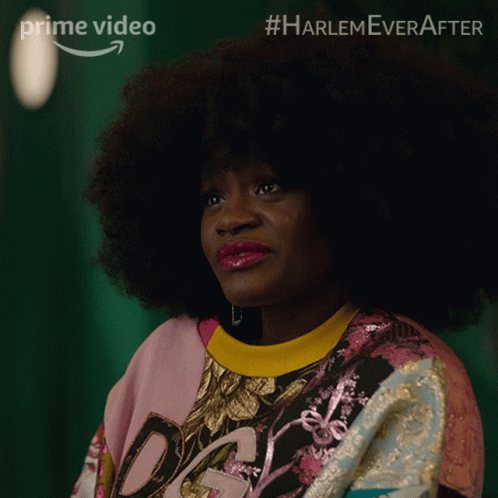 Giphy
Late last year, I stumbled upon an Entertainment Weekly piece about the comparison of Harlem to Run the World and was intrigued by the words of the show's creator, Tracy Oliver: "When there's another Black show, people either reduce it down to the same thing, as if two creators can't have totally different experiences, and points of views, and voices, or they try to pit you against them and make it competitive."
But wait. That didn't quite seal the deal.
Then, about a week ago, I had to edit a piece that was literally about why the two shows should be able to co-exist—a very well-written, logically convincing piece of prose that again, almost, convinced me that I'd prematurely written off what could be a very profound work by another Black creative.
I didn't need another sign. I binged-watched the whole season, in its entirety, in one day.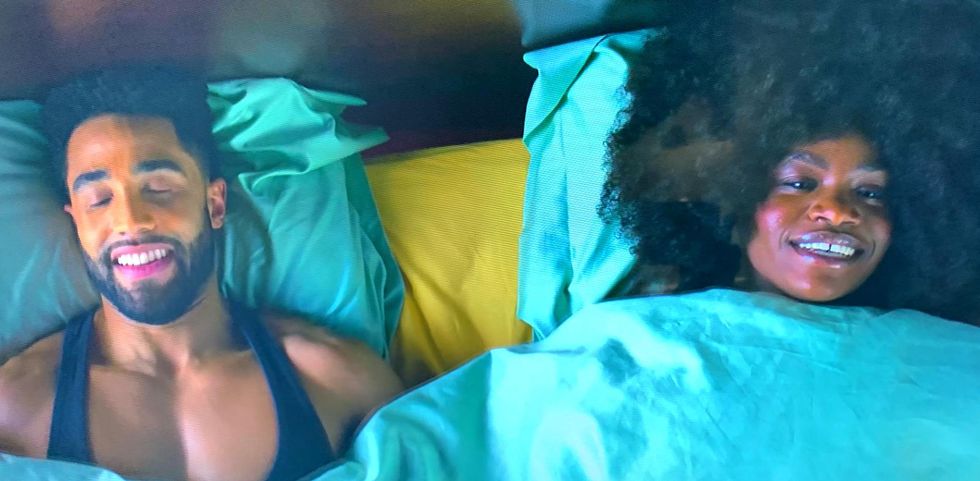 Amazon Prime
What truly stood out for me is that the characters, cinematography, soundtrack, and swag of Harlem really do embody the diversity of what you might find if you'd plopped yourself on 139th and Lenox. Considering the show and any competitor similar to it can be likened to comparing your favorite tell-it-like-it-is cousin and your sassy bestie confidante. They wear the same tapered ode-to-the-'90s haircut and Savage x Fenty lingerie, but each plays a very unique, valuable, and significant role in your life.
Harlem is an authentic nod to the fact that while we know Black women aren't a monolith, neither are their experiences. The perceptions, subcultures, and vibes within our communities can vary from group to group, even if that group is in the same locale or setting. The same definitely applies to the Black identity as it relates to sexuality.
The show offers an empowering representation of Black masculinity and bisexuality that is notable because it turns the usual onscreen stereotypes of women's fear, disgust, and bewilderment about Black men's queer sexualities and experiences on their head.
A Case for Elevating the Sexuality Conversation
It's hilarious and telling when, in episode 6, the actress-friend of the group, Angie (played gloriously by the amazing Shoniqua Shandai), finds out that her castmate, Eric (played by the alluring Jonathan Burke) in the fictional off-Broadway production of Get Out, is not gay but bisexual. They work together. They laugh. They build a friendship. They even scope out "big n**ga" baes together. During that journey, Eric finds that he's attracted to Angie and he confesses to her as much. She shares the attraction. They kiss. They have sex. They continue to build.
The show doesn't awkwardly dwell on the affirmation expressed by Eric or received by Angie. It doesn't overanalyze it. It doesn't demonize it or dehumanize it. It also doesn't overtly rally behind it nor glaze over it. It treats it as an everyday life norm in the context of a show depicting Black women who are actively dating, working, and loving in a city where bisexuality shouldn't even be a taboo topic. It's actual truth to power in action, without the fluff, the pretentiousness, or the shame.
We often get to see Black women fluidly express themselves sexually, unapologetically owning the choice of who they go to bed with on TV. But when it comes to our men, there seems to be a very skewed, dare I say problematic double standard.
While the BET seriesTwenties very expertly, albeit briefly, scratches the surface of Black women in relationships with bisexual Black men with its notable foray into the story of a soon-to-be-married woman who finds out her fiancé is also attracted to men, we still have yet to see a robust, fully developed, humanity-validating, modern-day depiction of Black bisexual men.
Still not catching what I'm throwing at you? Go take a look at Insecure season 1 episode 6where Molly tossed a totally good prospect into the dating-pool garbage bin because he admitted to performing a sexual act with a man once. She also labeled the guy "gay" (and unfairly outed him, if indeed he was) only to find out that he's heterosexual. Her friends also debated whether or not they would be comfortable dating a man who either was bisexual or who'd had bisexual experiences. I love the show, but that's just one of several very significant examples that helps illustrate my point about the way bisexual Black men and the women who date them have been portrayed onscreen.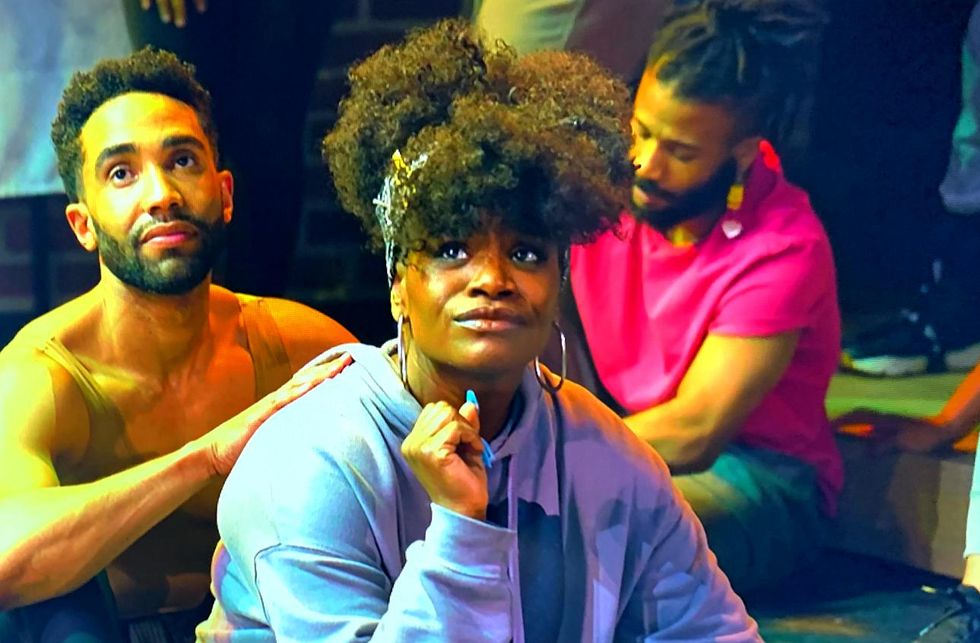 Amazon Prime
Art As Life ... or Nah?
I moved to the Bronx and worked in Manhattan in my 20s—post-crack-era but pre-gentrification—and my network was filled with professional transplants looking to make their Big Apple dreams come true. They wanted to hustle and live the freest, most exciting lives they could outside of the judgmentally conservative, middle-America, salary-capped eyes of suburbia. Several of the people in my close-knit group were bisexual, pansexual, transgender, or enjoyed sexual encounters with the same gender.

Safe to say, I'd truly had a been-there-done-that chip on my shoulder when I heard the news about Harlem premiering until I saw that the show at least attempted to dynamically take the conversation of love, sexuality, identity, and dating further than it had been taken on TV before. I could think back to days when a friend I thought only liked women brought his male boo to the weekly Sunday potluck or when I met the guy who proudly had sex with whoever he wanted to. (He'd boldly share the juicy details during drunken nights at the pizza shop after the club let out. If you asked him to label his choices, he'd smile and say, "You wanna find out? I'm me, baby.")
Black Bisexual Men and the Women They Love
It is truly Harlem's approach to reintroducing a topic like Black male bisexuality that can, at the very least, enhance a quite stale dialogue, offering the beginnings of efforts to give a solid voice to people who are looking for understanding, connection, love, and companionship. The stats even reflect why this is important. According to a 2019 Center for American Progress report, about half of the LGBTQ community is "bi+, meaning they identify as bisexual, queer, pansexual, or some other identifier indicating attraction to more than one gender."
Another recent Gallup report states that about half of millennials, specifically, (people aged 24 to 39 in 2020) who identify as LGBT indicate that they are bisexual. (And we all know that there's much more work to be done in terms of adequate racial representation in studies and reports about sexuality, so these numbers, arguably, could be just the tip of the iceberg in terms of an accurate picture of the U.S. population, but again, I digress).
We've seen Nola beautifully exploring love with both men and women in Netflix's She's Gotta Have It. We've seen Annalise Keating torn between two lovers of different genders on How to Get Away With Murder. There was Tara on True Blood, Maya on Pretty Little Liars, and more recently, Nova on Queen Sugar. These Black women, even if some were not overtly identifying as bisexual, at least enjoyed ample screentime for fleshed-out romances, sex scenes, and loving exchanges that showed both sides of the bisexual coin. Why not our Black men?
They're relegated to being depicted as either down-low, confused, disgraced, loathsome, or cheaters—and maybe all of the above, depending on the show or film.
That one episode in Harlem reminded me why I moved to NYC in the first place: to expand my horizons, get to know people from diverse walks of life, and push past the stifling mental envelope of what I'd been taught growing up in a Southern Baptist small-town enclave of Black excellence tainted by its own dangerous underbelly of ignorance, bias, and delusion.

Harlem should remind us all of the expansiveness of the Black community; to continue to think outside that box of TV stereotypes related to sexual interactions and expressions and to start the conversations that need to be sparked – especially about our Black men. It should empower us to be thinkers and nudge us into an elevated reflection of our own humanity.
Harlem prompts us to at least question what our own notions of Blackness and Black sexuality are—or better yet, why those notions about our Black men should be questioned at all.
Featured image via Amazon Prime