Let's face it, when it comes to a television show or movie centered around Black women, there will likely be a few hybrids of the "normals" in the friend group. The "saddity" or high-maintenance one that all the guys find their noses wide open over; the free-spirited one that's just kind of floating on this rock called Earth; the super Type-A friend who has a banging wardrobe and a not-so-banging love life; and, if we're lucky, you'll have the plus-size friend. You know her; she's typically the comedic relief who always has advice but who we rarely get to peek at behind the curtain of her (romantic and/or sex) life. Yeah, you know her.
---
Don't get me wrong, I love seeing the representation of women over the size 14. Still, the love is fleeting when the layers of who plus-size women genuinely are in the real world don't fully translate onto any screen I see them on. (P.S. Technically, "plus size" is sometimes considered a size 10/12. However, I'm specifically talking about the women who have always had to head to the dimly lit back of the store to find one rack of often unfashionable clothes to choose from. Yeah, her.)
First things first: nearly 68% of American women identify as plus-size, making us the average size in the country. More plus-size women are living fly, whole lives than not. So why are we made to feel like supporting characters with dimensions as shallow as kiddie pools?
Think back to any of your favorite "old school" to "new school" shows or movies where plus-size women are included, and you'll see what I mean. From Kelli on Insecure to Kim on Moesha and even Nikki Parker on The Parkers, the vision of the plus-size Black woman is often one-dimensional. Chances are she's loud, hypersexual, always the comedian, the one who chases men, and, oh, did I mention she's often seen as more "Mom jeans" than "MILF"?
We see that trope even in one of the most brilliant series, Insecure by Issa Rae. Early on, I was invested in the character Kelli (played by Natasha Rothwell) because she looked like me; she was armed with sarcasm and comedic timing that made me proud. She was just unapologetically and confidently fly. Kelli was the one everyone in her crew turned to for advice and words of reality and wisdom, and sis always had an excellent sex recommendation to try out, too.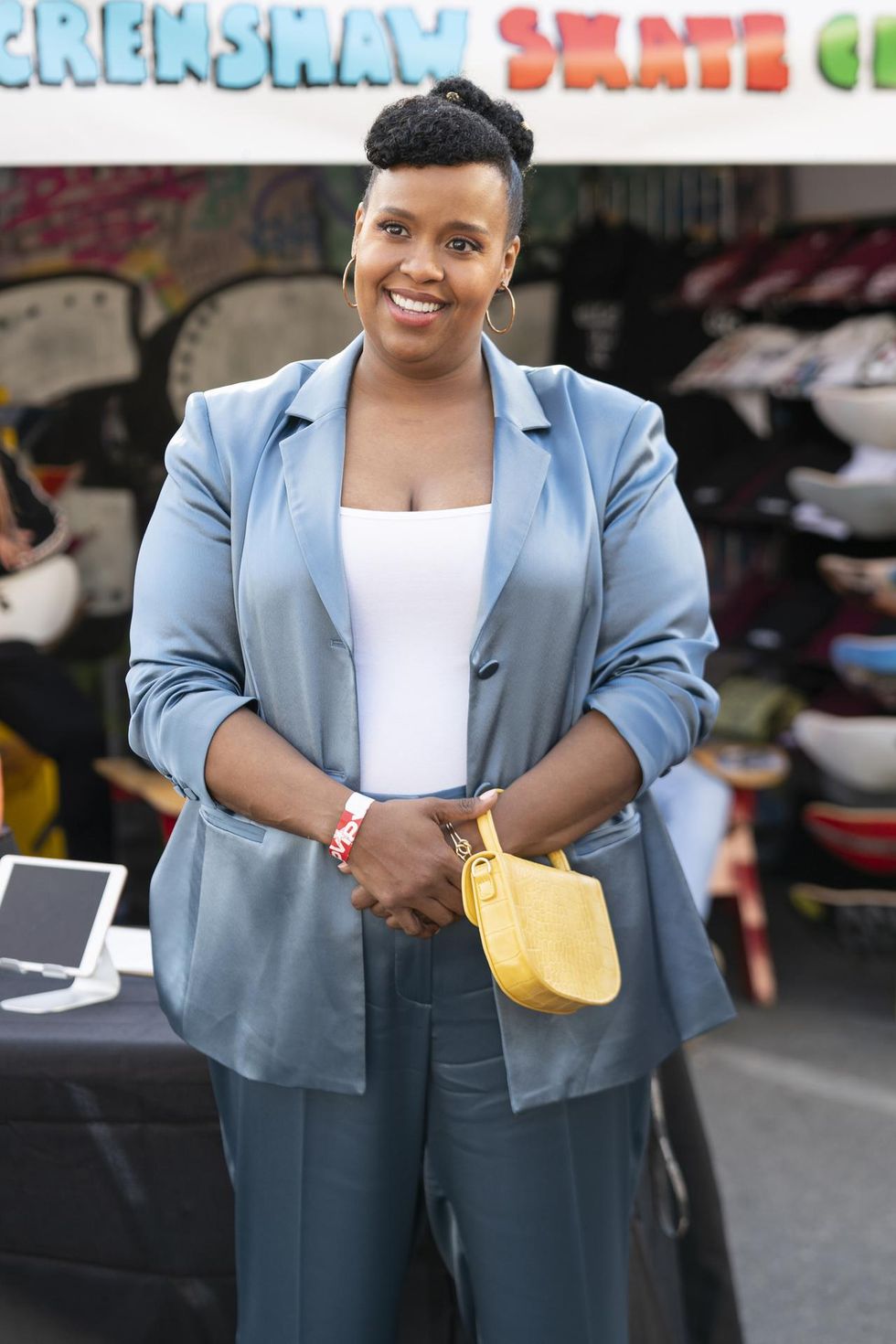 Merie W. Wallace/HBO
Simply put: she was everyone's best friend. Kelli was always there. Always the life of the party. Always real. Still, in all the beauty of her character, during the five seasons of Insecure, Kelli was the friend you loved but felt like you never truly got a chance to get to know.
Compared to all her girls, she was the only character we never saw in a consistent relationship or even being pursued. Did Kelli participate in online dating? Had a man broken her heart? We could have explored so many unknowns and areas to give Kelli as much depth as the other girls. Kelli was flourishing and beautiful, yet, we never saw her being pursued in the ways the other friends were…only her aggressively chasing. Paired with other depictions of plus-size women, it's easy to believe the truth is that all plus-size women have this as a reality. Also, unlike all the other characters on Insecure, we never saw the inside of Kelli's bedroom or even her home, or her dating (being fingered under the table is a good time, but it isn't a date, y'all…).
The searies finale aired late last year and I've watched it no less than ten times. Spoiler alert: It wasn't until the last 30 minutes of the finale that we were finally able to see Kelli fall in love, get pregnant and reveal the layers of herself. I loved watching her exist in her evolved vision. I also felt cheated. I'd had five seasons seeing the other girls grow romantically and had only a sped-up glimpse of seeing someone who looks like me be loved and in love.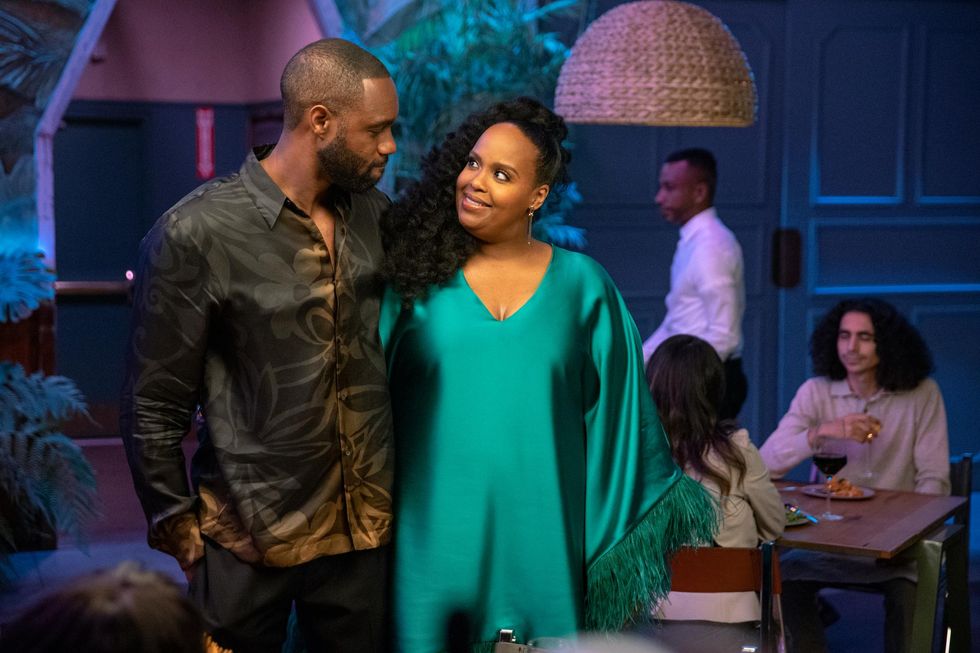 Raymond Liu/HBO
I felt like she deserved more…like we deserved more. Not only for the representation of plus-size women but because ALL of us deserve to see the reality of how we're flawed and living, celebrated.
Let's be very clear, the dimensions of plus-size women go beyond the boxes we're often placed in under the guise of being inclusive. That plus-size woman's desirability doesn't diminish because she has rolls, or because she has a FUPA, or because she's thicker in the waist or thighs. Even in reality shows, a plus-size woman is often solely seen as the back-up for the thinner friend. If they are shown in relationships, it's as if the world is amazed at the thought of someone loving a bigger woman. Despite what you've heard, plus-size women aren't out here begging and chasing as an everyday means of finding a partner.
Nikki Parker may have chased Professor Oglevee on The Parkers, but that level of unapologetic desperation for a man (who doesn't want you) is not the norm; I don't want anyone - plus size or not - to think it is. I love to be the bearer of great news: plus-size women are being loved, having sex and incredible orgasms, raising their babies, dressing fly, and keeping it hella sexy while thriving in all the areas of their lives.
A plus-size woman isn't her crew's savior, whether comedic or therapeutic. A plus-size friend is an additive to the crew that gives it a vibe to show that, regardless of how different we are, as Black women, we are all collectively magic.
But first, we have to get out of all the boxes we've placed each other in and then dismantle the boxes we've settled being put into by others. How we see ourselves is more important than how others see us; but, a resounding trend of only showing plus-size Black women as desperate, loud, and only as valuable as the laughs she can provide is more harmful than helpful. I'm hopeful for the day that the vulnerability and diversity of who we are leads to the introductions of how others see us.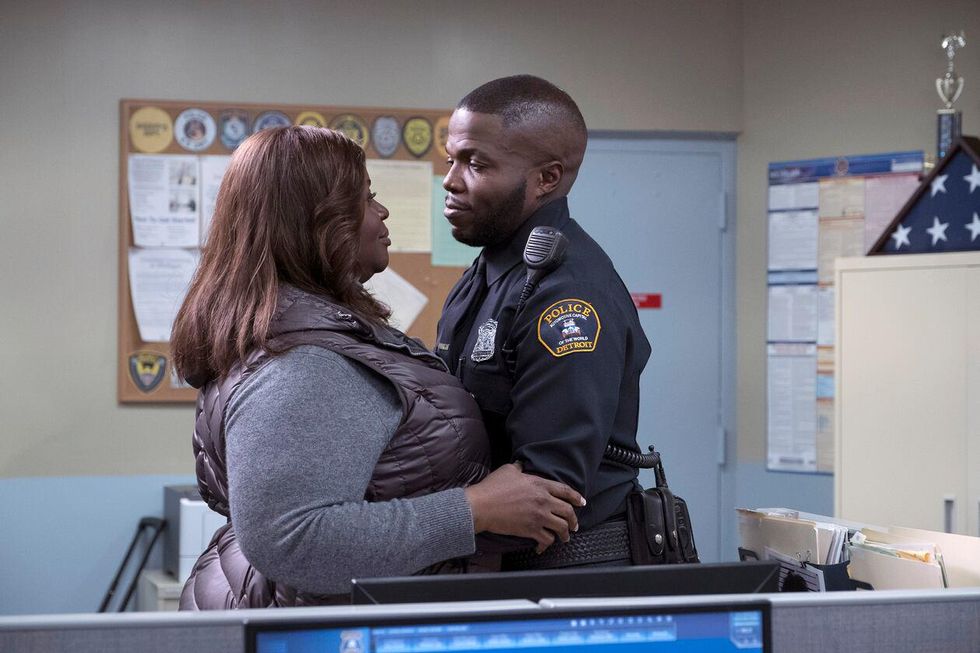 Steve Dietl/NBC
Shows like Grand Crew (with Nicole Byers) and Good Girls (starring Retta) normalize the various dimensions and desirabilities of Black plus-size women. I can't wait for others to follow suit. We can make you laugh, but we're not your laugh track. We can give great advice, but we're not your therapist. We can be sassy, but we can also be sensitive. We are desirable, worthy of unveiling our layers, and beautiful enough to stand next to our girls and be seen as an equal and not just a support for their narratives.
Just as we've fought over the years to have a seat at the table, being satisfied with just having a seat is half the battle. Now that we have a seat at the table, it's on us to make sure we're all seen. Regardless of whether we're plus-size, thin, tall, short, dark-skinned, light-skinned, have natural hair, and/or have relaxed hair - we are more than a single dimension.
Just as important as it is for that young teenage girl to see a plus-size woman on the screen, it's equally as crucial for her to proudly stand in the truth of who she is as a whole: beautiful, flawed, funny, desirable, loved and fly as hell.
We deserve to be seen through the whole, flourishing, transparent lens that proudly shows that off.
Featured image by Raymond Liu/HBO