---
When Lena Waithe speaks, everyone in the room stops to listen. Words of wisdom pour from her lips like honey, and her lucky spectators lean in to catch every last drop. Tuesday night, just a few days after many of us gave thanks with our families, was no different. A diverse group of people packed into the Melody Ehsani store for the "M.E. Speaker Series" to hear gems from the Emmy award-winning writer and actress of Master of None, the director of HBO's Insecure Melina Matsoukas, and actor Michael Ealy, who made a surprise guest appearance.
A steady chorus of "mmm's" echoed throughout the room as notable moderator Erica Williams Simon successfully steered the conversation around topics such as the measure of success and having seats at tables we previously weren't even allowed in the room to witness. It was clear that this wasn't just a panel discussion only worthy of a quick "I was there" snap or Instastory post, but a place of communion, where we could gather together, speak our truth, and more importantly, hear solutions from those who are winning on how to continue to make an impact as we go about our respective paths.
But what are words if only confined in one room? While the discussion was phenomenal, it's up to us to keep the conversation going beyond just a moment.
Read on to hear Lena Waithe's speak on creating an impact, the importance of mentorship, and why her Emmy doesn't define who she is.
Lena Waithe On Being Your Own Definition Of Success: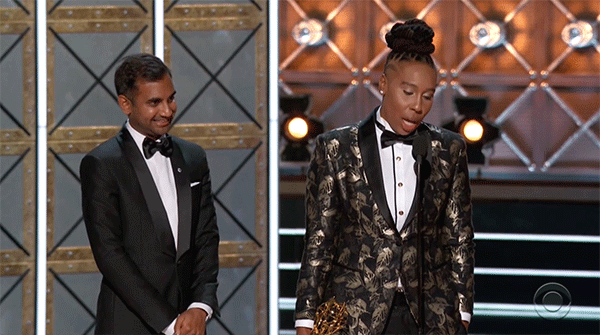 I think Denzel said it best, "God gives the reward, man gives the award." And I think they are symbols and also false idols. My Emmy, on purpose, sits on a shelf that's above eye level, so I don't see it every day. It's here; it's a moment, a piece of leverage... Yeah, my name would be written in a book, but the truth is, I am an artist. I don't want to just be someone who won an Emmy. I want someone to go, 'oh, that story she did really spoke to my soul. It made me see myself and not just the beauty, but the scars as well.'
That's the goal. That's the mission.
When I sat down to write "Thanksgiving" [Master of None, Season 2: Episode 8], I wasn't thinking about my Emmy speech, I was thinking about how vulnerable can I be? Okay, now let me go even further. That was always the thing, and even when we were making it, there was power on that set; the spirit was there, like the ancestors were watching us. That's the award. I don't want something to be tangible because I can't take it with me, but the way people feel or the conversation that I have or the connections that I made with people—the eye contact, the conversations—that's something that will live in my spirit that I would take with me.
Lena On Embracing Your Community:
This industry is a mirror for our society, so what they see happening in this industry is a direct reflection of what happening in society. That being said, the playing field is not level in any way, shape, or form. What happens is that every now and then, you get a few people that pop up or ascend and get more focus than everyone else and that's fine, that's why we are a part of it. And for brown people in this industry, we are still playing catch up.
I believe the best way to start change the world is by starting your own community.
So what I try to do is real mentorship, not throwing somebody bone and say, "Oh, here come take this opportunity when you are not ready for it." It's about us that are in the forefront of those that want to be where we are saying what is it that you want, where do you want to be? The mentoring that I do, I tell people that I am going ask you more questions than you ask me.
This is the advice I often give, you want to act, write, and direct, okay great. Which thing do you want to do most? And now based on what they say, I know how to guide them. Have you ever taken a writer's class? No? Fantastic, I know a really cool one. Because of my name, I have invested not just time, but financially. Do you want to be in a writer's class?
Yes, but I can't afford it. Don't worry, I'll sponsor. That's how you make change.
Lena Waithe On Becoming A Mentor While You're Climbing:
Anyone can learn any lesson, you don't have to be a teacher. You don't have to be Oprah to guide. And I think there is an element of looking here [at people who are at a higher level], which is fair, but also look beside you. That is the communion. With my mentees and interns, I put them into writing groups. I say you five over here and you five over there, you all be each other's ride or dies. You all are going to read each other's materials, you all are going to give each other feedback, you all are going to be each other's shoulder when you are sad because that's your peoples.
I met Justin Simeon (Dear White People) in a writer's group and he was working on a project. And I remember hearing his stuff and being like you are phenomenal, we are going to be friends.
That's how we met, by looking here and looking here.
Lena On Being At The Head Of The Table: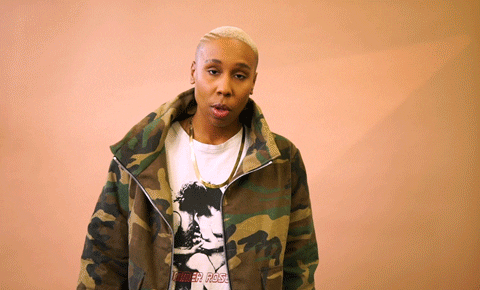 GIF by Nylon
Giphy
There was a time when black people were hot. We had all the movies coming out, then we dried up. Now the cool thing is stuff with people of color. Now we get Dear White People and Moonlight. Now we are getting to the office and they are like well, we want stuff with Black people in it, but it has to have a twist. So now the challenge is on us, don't just come and be like I'm in the door. That's fine, you can be in the room, you're your drive, talent, clocking the ten thousand hours, that's what's going to keep you there.
If you are going to sit at the table, sit at the head of it.
Lena Waithe On Playing Your Part:
[The entetertainment industry] is a human game of chess. And I realize, too, we need to be teaching our people about how to manueuvre it. I don't just want you to be a phenomenal writer, be a politician. And not just any politician, you have to be Barack Obama. I have to be Barack Obama, so that eventually one day, I can be recognized. I got a little more pushing and pulling to do before I can get there. Play your position to the best of your ability, and if you play your position well, eventually you will go forward. And then when the time comes or someone puts a crown on your head, don't just shine, but know how to wear it.
Don't just ask to be the king, you have to know how to lead.
For some time, you have to be a pawn first. That's a part of it because some people come in here like, I want to do it and I'm like okay, you got to crawl before you walk.
There are instances where people will say here is an opportunity, be wary of that. Be wary of the desire, this dream, because it will be a bunch of stuff that feels like nothing.
If you aren't ready for the opportunity, then it's wasted.
Featured image by Kathy Hutchins / Shutterstock.com