Around the xoNecole offices, we celebrate Black and Brown women in all their glory. We root for us when we're up, or when we're down. We celebrate when we win, and we love to see us shine. So when one of us comes a long with good news, and accolades on accolades, we celebrate with us, and we welcome anyone who wants to come get these celebration vibes too.
---
That's why when it was announced that Nia DaCosta made history at the box office, you know we had to pull up. 
DaCosta is the 31-year-old director of the remake of horror flick Candyman, and she is well on her way to making her mark in the film industry (sidebar: that's the only namedrop ya'll are getting from me in this article because we don't play with that man around here, so keep up).
Anyway, not only did her new film have a crazy opening weekend, she made history in the process, becoming the first Black female director to debut at No. 1 at the U.S. box office. Prior to her, Queen Ava DuVernay had come the closest to taking the top spot, opening at number 2 in 2018 with A Wrinkle in Time.
[Redacted movie title] is an update of the classic 1992 horror film of the same redacted name, opened in theaters nationwide last week, and ended the weekend raking in more than $22 million, which is huge. DaCosta's version places the urban legend in contemporary Chicago and stars Yahya Abdul-Mateen II as lead character, Anthony McCoy, an artist whose career aspirations lead him down the wrong damn path. Whew.
Additionally, now with all the hoopla surrounding her and her great news, it's as good a time as any to get to know the director as she will be around for a long time. So, let's get to know the first Black woman to debut at the box office at #1:
DaCosta is all about putting a message behind her success.
With the premiere of the film was a "social impact initiative," a campaign created to promote conversation around issues explored in the film (such as gentrification), with the hashtag #TellEveryone. The campaign kicked off with screenings hosted by Lupita Nyong'o (who starred in Us) and Savannah and LeBron James hosting additional screenings in Atlanta and L.A. respectively. UCLA professor of Black horror and Afrofuturism interestingly spoke on the importance of her directing the film during a movie-sponsored round table discussion saying:
"Really what was fueling a lot of the fear around him, was fear of Black masculinity, Black men, fear of the urban jungle. I mean, Cabrini-Green itself is a 'monster,' really some of the worst stereotypes around Blackness. So it was very, very important for Nia DaCosta to come and reframe a story about Black trauma through a Black lens, not through the white lens."
These are conversations that the campaign is intended to spark.
Captain Marvel 2 is up next for her to direct.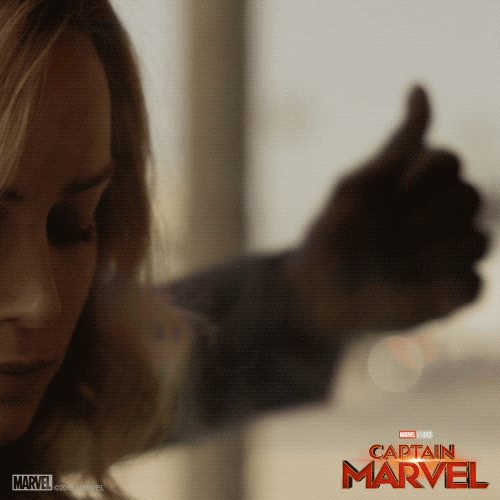 Giphy
OK, so Marvel is known for switching up its directors on its popular franchises like Thor, Iron Man and Captain America, and are now giving the next installment a fresh voice, and her joining the project is Marvel's effort of adding diversity to its films, especially when it comes to the individuals behind the camera. It's another history-making move for the 31-year-old director and screenwriter: The Marvels will make her the first Black woman director to sit at the helm of a Marvel movie.
Moving from horror to action has been a refreshing change in theme, DaCosta tells Entertainment Weekly.
"It's a lot less traumatizing to work on for sure. But this movie also deals with specific, personal, sometimes sad things. But ... it's been nice to work in a different world for sure."
With this film, DaCosta also becomes the youngest filmmaker to direct a Marvel film, beating the record set by Ryan Coogler. Flexxxx.
Sis, clearly has no bounds on how far she can go. We cannot wait to witness her young career evolve. Congrats, queen!
Watch the clip of her and actor Yahya Abdul-Mateen, discussing the film below:
Are you a member of our insiders squad? Join us in the xoTribe Members Community today!

Featured image by Rachel Murray/Getty Images