---
"Relationship goals" is a term that is thrown around way too loosely these days. Mostly because there's levels to that shit, ladies. Buying an overpriced purse or shoe isn't a goal. Going on a vacation isn't a goal. And eating at some fancy place isn't a goal. Yes, each of these are nice, and yes, they all create memories for the two of you, butttttt you can do all the above with--or for--anybody.
The real goal comes from investing into your partner's aspirations. 
Hear me out.
Black Panther director Ryan Coogler knows a thing or two about blockbusters AND relationship goals. In 2013, he was included on Time's list of the "30 People Under 30 Changing the World". His work has been hailed by critics for centering on often overlooked cultures and characters—most notably Black people. He has frequently collaborated with actor Michael 'Bae' Jordan, who has appeared in all of his feature films. And in 2018, he was named the runner-up of Time's "Person of the Year".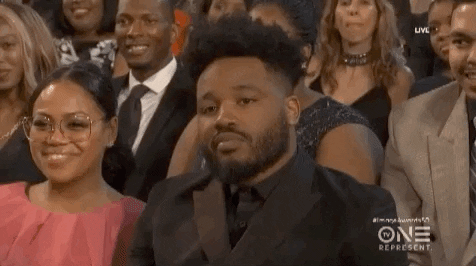 Giphy
Basically, he only looks to bring the culture forward--that is his passion. And with mega movies such a Fruitvale Station, Creed, and Space Jam: A New Legacy all under his belt, we can see this clear as day. After all, Black Panther has grossed $1.3 BILLION worldwide.
But if you ask Coogler, himself, he'll tell you that he owes it all to his wife, Zinzi Evans.
Back when Coogler was just a college student, playing football, and gearing up to fall back on going to medical school if becoming an athlete didn't work out, one of his teachers encouraged him to take up screenwriting, which he fell in love with. But as a broke college kid, he didn't have the resources to properly do the work. So instead, he'd type up scripts in Microsoft Word, which he described to the Ebro in the Morning radio show, as "impossible".
"But then my wife, she was my girl at the time, they had a software where you could write screenplays. I was trying to write in Microsoft Word. It's impossible because your format gotta be right. I was broke, playing football on the little scholarship money. And my wife scraped together some cheese and bought me Final Draft, which is the software that you write your movies on. And she got me that."
And since, the two have taken over Hollywood by partnering on projects, forming Proximity Media (production company), and signing lucrative heavyweight deals with Disney for television series. And although the power couple keep their private life under wraps, they welcomed their first child in 2019. The couple haven't revealed the sex of the child yet, Coogler is on record hoping for a little girl….well, multiple girls, actually. He told The YBF:
"I found I want daughters real, real bad. Like plural. I thought, making 'Fruitvale Station', I want kids. But like, on this one, I have to have some daughters."
Or basically, more little women that he can pour into, thanks to his wife believing in him.
--
So again, what are your relationship goals?
Featured image by DFree / Shutterstock.com