It comes as no surprise that the cannabis industry and the legalization of marijuana is yet another barrier that Black business owners face. A new report released by Grand View Research, Inc stated that the global legal marijuana market size is expected to reach $73.6 billion by 2027. However, many states have very specific guidelines that stand as barriers for many people of color looking to get into the cannabis business and Black and brown people are still serving harsher sentences for the possession and distribution of drugs than their white counterparts.
In tandem with that, Black people across the country lack the capital and access to venture into the marijuana business due to the various restrictions as to who can own cannabis businesses. While the fight continues to dismantle another area in which systemic racism oppresses our community, these business owners are propelling forward to be the diversity that the whitewashed wellness industry so desperately needs. Here are five Black-owned CBD brands to support with varying products.
The Jersey-based CBD dispensary founded by Almaz Adeigbolo offers everything from pre-rolls and honey, to bath bombs that reduce anxiety. They also sell strains of CBD flower to help with depression and insomnia. Additionally, Adeigbolo is also a chef, and she curates cannabis-infused culinary experiences with her boutique food company, brwnbox kitchen.
BROWN GIRL jane is owned by sisters Malaika and Nia Jones and beauty and wellness expert Tai Beauchamp. The Spellman grads started the company after Malaika fell in love with the healing properties of plants and CBD, and felt frustrated with the lack of representation of people of color. Their products range from facial serums to body butter and yoni oils.
Founded by Dorian Morris, Undefined Beauty combines cannabis and skincare. The clean beauty advocate's line features firming serums, cruelty-free lip balms, and bath salts.
Not sure where to begin your CBD journey? This company provides a monthly subscription service of products such as calming wearable patches, chocolates that fight anxiety, nourishing facial masks, feel-good teas, healthful treats, and soothing balms all delivered to your door.
Yes, you read that right, hot sauce. Chef Paul Booker intends to blend up his passion for food and cannabis for all to enjoy. The former athlete shared that after enduring injuries and extreme physical stress on his body after his college football days, Satan's Breath was born.
If you're curious about exploring CBD, support these Black-owned brands as you venture into this area of wellness!
Are you a member of our insiders squad? Join us in the xoTribe Members Community today!
Featured image via Undefined Beauty
Originally published on September 23, 2020
Keep reading...
Show less
Pinky Cole is a beast in so many ways. All around a megatron, a peak performer who doesn't let a single thing get in her way. I consider her a marketing genius that happens to sell food. She (and the food) are just that good at what they do. With a customer line that is always wrapped around the building, to literally feeding the city for free (in partnership with various celebrities), to opening new locations throughout the country, it was inevitable that partnerships with fellow major players would follow.
And that's exactly what happened.
Earlier this year, Shake Shack announced a series of localized chef collaborations in multiple cities. The partnerships were part of a project called "Now Serving", which allows prominent chefs to put their own flair on Shake Shack's menu items and serve it to their community for one or two days only. But the best part is a portion of the proceeds benefit a local charity of the chef's choosing.
In March, the James Beard-winning chef Chris Shepherd got the party started by selling his Southern Smoke Chicken sandwich to Houstonians to raise money for hospitality workers in the area.
Now, our sis Pinky gets her moment in the spotlight to spread a meat-free agenda in not one, but two American cities.
Pinky may be best known for Slutty Vegan, but before that, though, she was a New Yorker, serving Jamaican food at her successful Harlem restaurant, Pinky's. And because she has played such a major role in the Atlanta and Harlem food scenes, Shake Shack will be offering her limited-time "SluttyShack" burger to both communities this week (April 8 and 9 only).
So add this to the list of partnerships and business endeavors that she seemingly collects, from doing a packed-out Slutty Vegan tour, to Steve Madden, and to even our very own, Will Packer. She reminisced on her journey via Instagram:
"I remember in 2019 when I had to go to court about my first location because people in the community didn't want Slutty Vegan there. Today, I bought the daycare in the same neighborhood I was once getting pushed out of. NOW THATS HOW YOU BUY THE BLOCK. Black broker. Black bank. Building previously owned by a black woman! Thinking about making this one a community center #Pinkythecloser"
The SluttyShack will be available for a limited time at Shake Shack locations in New York City and Atlanta. Customers can purchase the SluttyShack on Thursday, April 8, at the Old Fourth Ward Shack in Atlanta. The burger will also be available on Thursday, April 8 and Friday, April 9, at the Shack in Harlem.
Proceeds will be donated directly to Giving Kitchen in Atlanta, a crisis relief organization for people in the food and beverage industry, and ROAR in New York, a community of hospitality leaders advocating for the NYC restaurant industry.
Congrats, Pinky! You always kill it, girl!
Are you a member of our insiders squad? Join us in the xoTribe Members Community today!
Featured image by Pinky Cole/Instagram
Keep reading...
Show less
Women's History Month was made official in 1987 and has been proclaimed a celebration in the month of March by presidents since 1995. During this month, we commemorate the countless contributions and achievements of women in the United States. And in an effort to smash the patriarchy, we celebrate Women's History Month with pride.
This year's theme: Refusing to Be Silent. A theme that is wildly relevant. With women still making 82 cents for every dollar paid to men, we still have work to do.
Before Women's History Month officially ends, we wanted to share some businesses pouring back into women this month and beyond. This is your friendly reminder to always support women in all ways.
1. Phenomenal Woman Brand
What started as a t-shirt line is now a movement heralded by thousands of women. Meena Harris, Vice President Kamala Harris' niece, began partnering with organizations to bring awareness to world issues. By coining powerful statements like Phenomenally Black and Pro-Science/Pro-Dolly, the Harvard grad has managed to use graphic tees to fight the power for underrepresented communities. Phenomenal Woman is giving back in an innovative way by using bite-size messages to push the culture forward and change the world. Every campaign is linked to a cause that empowers women globally.
2. Able
Over at Able, they proclaim, "Your purchase matters because it allows us to empower women. 96 percent of our employees are women." This ethical fashion brand's mission is to empower women so that we can end poverty. Because they are committed to breaking the cycle of poverty and helping women thrive, they invest in, train, and educate women so they can earn a living. Able started making scarves in Ethiopia and is now a lifestyle brand made up of jewelry, shoes, leather handbags and more.
3. Haverhill
During Women's History Month, Haverhill is pouring back into women with yet another capsule. The two-piece collection consists of a 14K gold necklace and bracelet handcrafted in the USA and engraved with the female gender symbol. With the Venus collection, Haverhill has pledged to donate 10 percent of the purchase price to Catalyst, a global nonprofit collaborating with some of the world's most powerful CEOs and leading companies to build workplaces that work for women. Their thought leadership focuses on four areas: Advancing Women, Women and the Future of Work, Lead for Equity and Inclusion and MARC (Men Advocating Real Change).
4. Azura Bay
A portion of the proceeds of every order from Azura Bay goes to one of three organizations selected by the founder, Ashley. You can choose at checkout and one of the choices is "Because I am a Girl". BIAAG is an initiative run by Plan International and their mission is to end gender inequality and promote girls' rights. There are a "wide range of programs to improve the status of girls and give them equal access to healthcare, education, protection, independence and an opportunity to participate in society."
5. inkWELL Press
inkWELL Press, the maker of all things productivity, was founded on generosity. The creator, Tanya Dutton, based her business on this model because she wants to show her children that it's important to bring forth good in this world. She does that with her New Life Initiative, where inkWELL Press donates their secondhand and surplus items to battered women shelters and residential treatment centers throughout their region. "Our goal with the New Life Initiative is to make a difference in how these women view their lives and empower them with the tools and confidence to begin their new lives."
6. Prosperity Candle
We love a smell-good candle but we love it, even more, when it comes with a side of philanthropy. It all started in 2009 when three people created Prosperity Candle. Through candle-making and beautifully crafted vessels, this social enterprise supports refugees and artisans with refillable/repurposed candles. Every candle has an incredible story poured into it. The 10-people team has one goal: end global poverty. Just think of Prosperity Candle as the Statue of Liberty in action with its foundational values of creativity and quality.
7. Bye Gender
Did you know that the life expectancy of trans women of color is just 35 years old? The struggles the trans community face are unthinkable and that's why Bye Gender exists. Previously known as Werk Those Pecs and Trans is Beautiful Apparel, the brand's mission is still to help trans individuals access the funding they need to survive. In 2016, the fund was first opened for application and since 2019, 25 applicants have been funded thanks to the proceeds from the clothing line. "The majority of the recipients are transgender people who have limited access to housing, or work due to disability, are unable to find employment due to their trans statuses, or are unable to afford their HIV meds or hormones. In November 2019, the Werk Those Pecs Fund was renamed to Bye Gender Trans Survival Fund."
8. Eu'Genia
Eu'Genia was birthed by a mother-daughter duo determined to secure fair wages and opportunities for their female workers in Ghana. Naa-Sakle Akuete and her mother have pledged to donate 15 percent of their earnings right back to the very women who make up the social enterprise by way of an education fund. The secret to their thriving business is raw, unrefined Ghanaian shea butter; thanks to Grandma Sunshine, the Ghanian midwife who birthed Naa-Sakle's mother and partner in equity. The Akuete lineage is emboldened by this natural alternative to chemical and petroleum jelly-filled moisturizers with her mom's establishment of Global Shea Alliance and their current relationship with sustainable farmers.
9. Smarty Pits
It is usually in pain that we find our purpose. That statement is painfully true for SmartyPits founder, Stacia Guzzo. After her mom found a lump under her armpit, they discovered it was breast cancer. The unrelenting search for an aluminum-free, odor-controlled, great smelling, smooth applicator led Stacia to create SmartyPits. A small stovetop plus skincare formulation research resulted in an aluminum-free, paraben-free, phthalate-free, and propylene glycol-free deodorant. Best of all, SmartyPits donates 1 percent of all sales to breast cancer research and free deodorant to oncology centers, survivor support events, and non-profit groups.
10. Thinx
Thinx is the new wave of reproductive health. Meet the underwear that absorbs blood during your period, eliminating the need for pads and tampons. Menstruation is such a taboo topic and we are not educated appropriately on how to take care of ourselves when our monthly visitor arrives. Thinx is actively trying to fix that by advocating for equity, educating future generations, and fighting for access for everyone. "Alongside our partners (and with your support!) we're fighting for better access to puberty education, amplifying grassroots activism, and donating our undies and time. When you purchase Thinx you're helping give life to our programming and initiatives." For us, it's the fact that they donate Thinx to women in need in underrepresented communities and unhoused situations.
Are you a member of our insiders squad? Join us in the xoTribe Members Community today!
Featured image by Shutterstock

Keep reading...
Show less
Shami Oshun is a fashion designer based in California, who is taking the internet by storm. It all started back in September, when she created an 11-nude shade line of face masks to match the variety of shades of Black women. The masks became so popular that her customers asked her to match them to their Fenty foundations, where they made a chart as a guide.
The masks took off from there, all the way to the point of being invited to collaborate with the brand itself to, in the flex of the century, design a limited edition, early-access mask for the brand.
How it started. How it's going https://t.co/0b2D5rIq0E

— Shami Oshun (@Shami Oshun)1616000819.0
As a quick background, Oshun built her brand in 2015 "to provide unique and timeless designs to the world." Since then, her work has received recognition from a variety of media outlets, including Essence, British Vogue, Huffington Post, and Buzzfeed. According to her website, she is most known for integrating 3-D printing with fashion to push the boundaries of wearable art, and the 3-D printed Bev Bag, which is designed to carry your beverage (boba, coffee, wine glass, etc).
And since, well...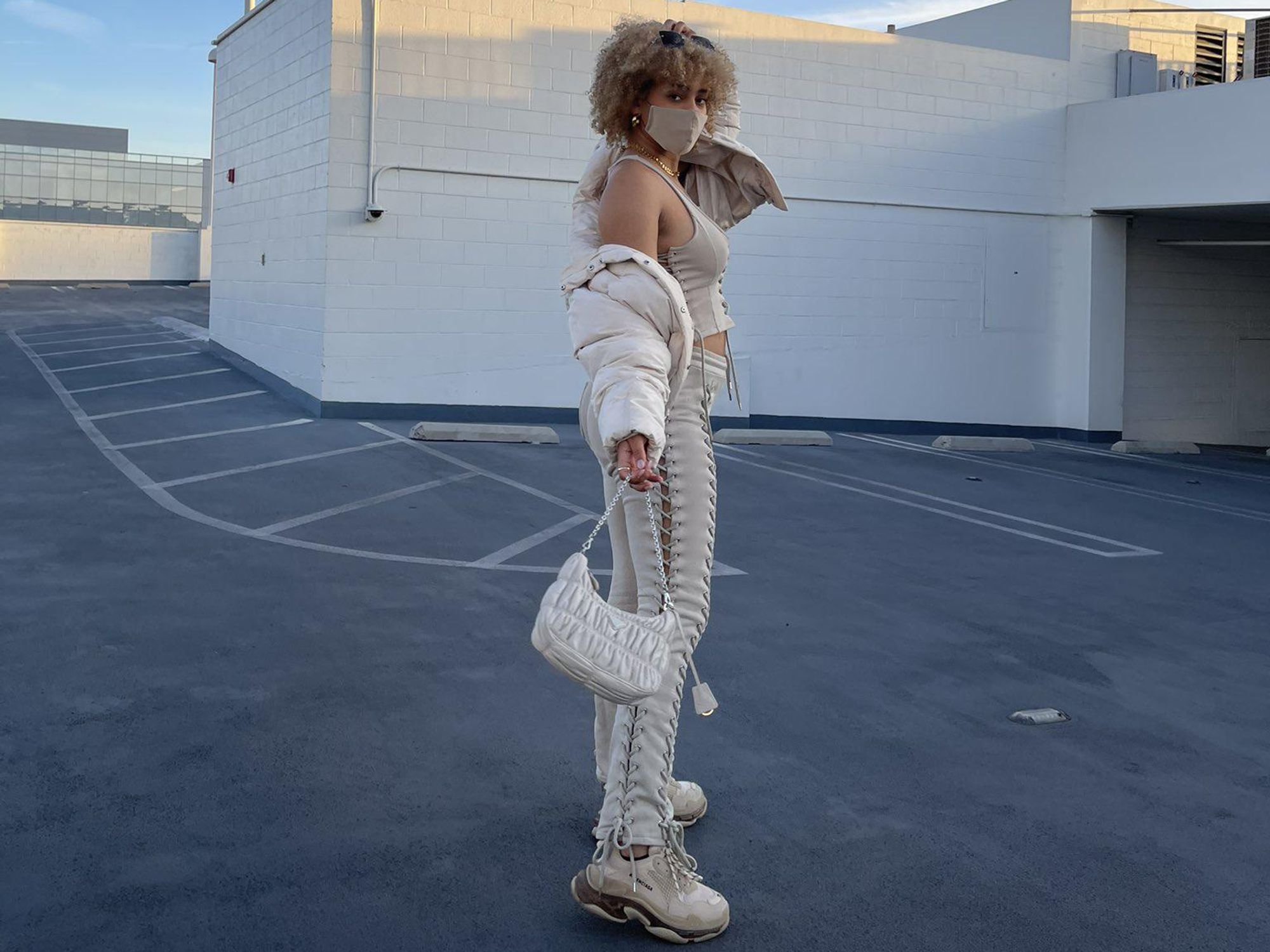 Shami Oshun/Twitter
Since, Oshun has released a line of nude masks, which were eventually partnered with various Fenty's Pro Filt'r longwear foundations, and that sold out immediately. This caused the Rihanna-backed empire to take notice and invite her along, which they announced in a tweet:
"We saw @ShamiOshun break the internet with #PROFILTR inspired masks & asked her to create one just for our EARLY ACCESS Beauties! Sign up for SMS & EMAIL alerts at fentybeauty.com/signup to get your limited edition SHAMI x FENTY BEAUTY masks while supplies last!"
Needless to say, her page went up (cause it's stuck) with all beauty lovers alike, running to her page to celebrate her for the classic shit that Black women continue to do.
Some celebrate the Blackness of the moment:

Twitter​
Some explained their 'why':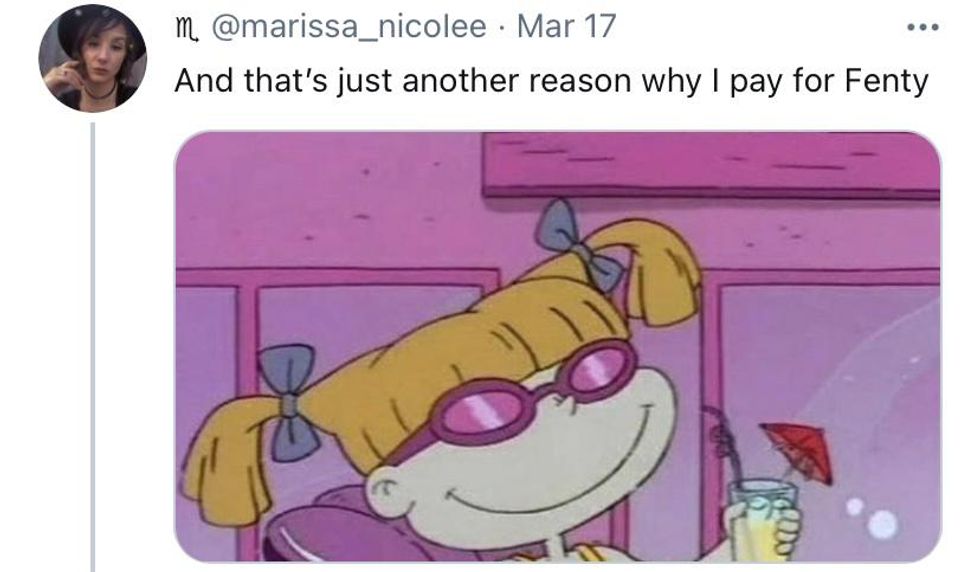 Twitter
Most took notice on the all-too-familiar: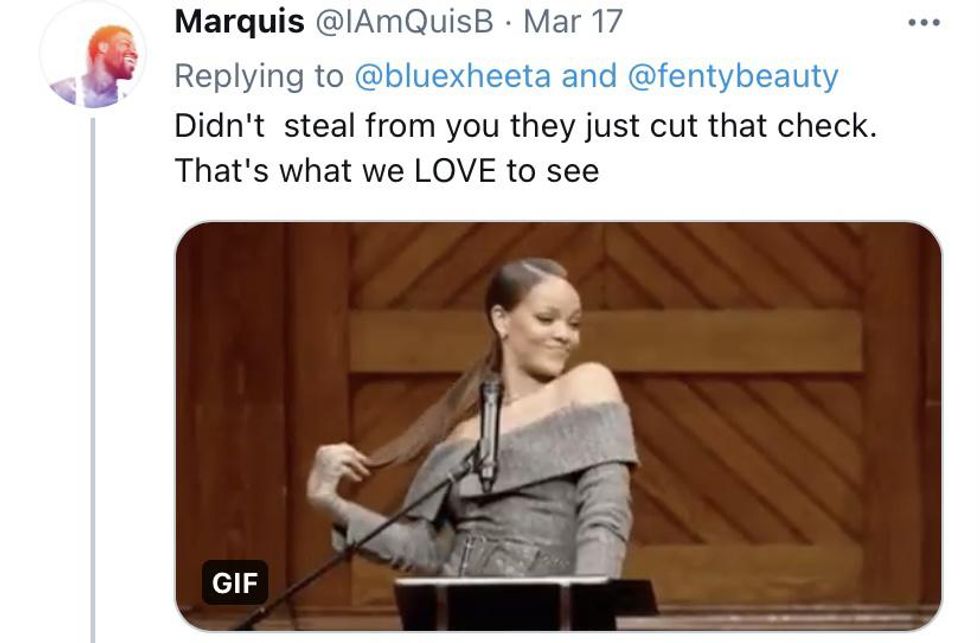 ​Twitter
Like, literally most of everyone: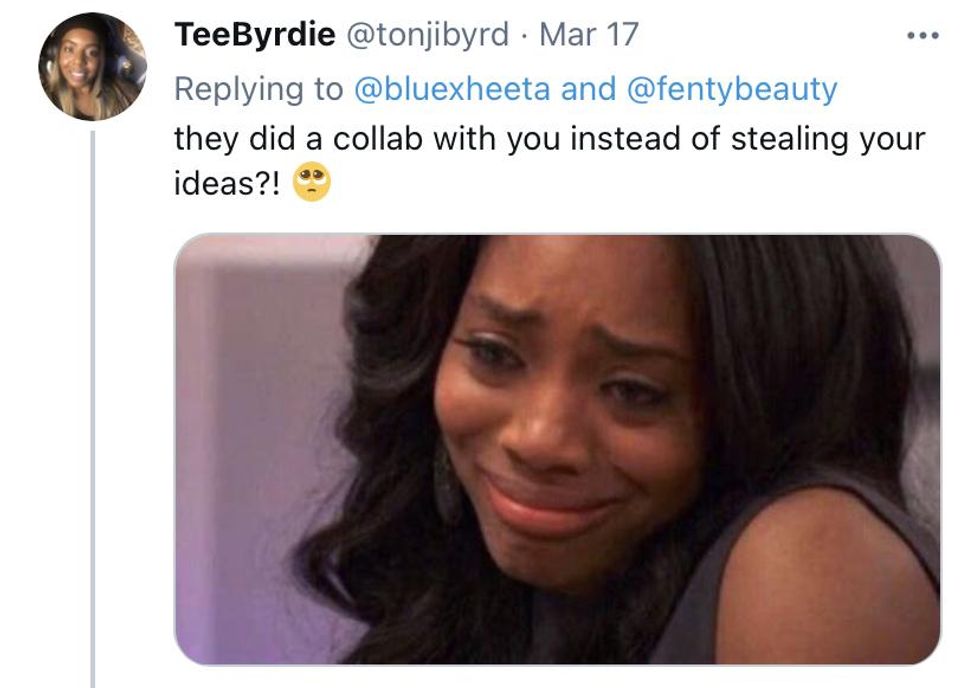 Twitter​
But ultimately, everyone was like:

Twitter​
Oshun has been overwhelmed with the love shown to her since the announcement and is busy at work getting the people their new masks. She may have a newfound wave to ride, but she still took the time to thank everyone in a simple tweet: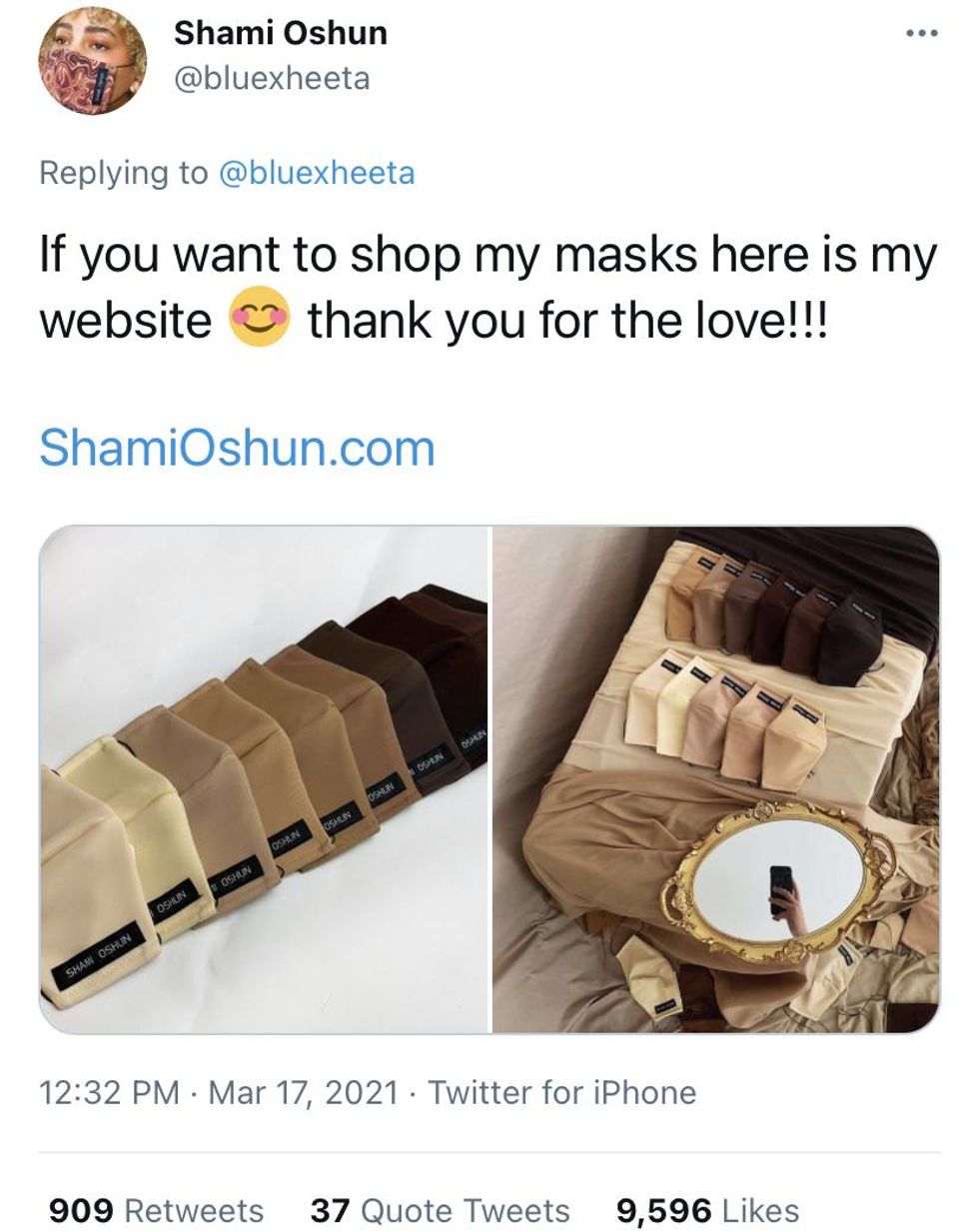 Twitter​
Now, that's how you clear a brand! Congratulations, on your success Shami!
Are you a member of our insiders squad? Join us in the xoTribe Members Community today!

Featured image by Shami Oshun/Twitter
Keep reading...
Show less
To know Zerina Akers is to know that she puts on for the culture. Since she made the fashion world her playground years ago while interning at W Magazine and studying under Stella McCartney, Akers has always known that she wanted to learn everything the industry had to offer. It was in 2014 that she finally felt like she was in a place to show the world what she had to offer. The moment was marked by the spark of her creative partnership with Beyonce Giselle Knowles-Carter as a stylist and costume designer. That very moment allowed Akers to break ground on an abundance of life-changing looks in the "Formation" video to the countless ensembles in Black is King.
The Maryland native recently personified Cardi's lyric, "If it's up, then it's stuck," when she transformed her finsta account into an e-commerce promised land for Black folks. Black Owned Everything is the new home to 14,000 registered Black-owned businesses with the mission to elevate the visibility of Black-owned brands. Akers acknowledges that Black businesses have fought exclusion, systematic oppression, and active disenfranchisement for decades. Because of that, BOE's goal is to change the narrative and to invite you to support Black-owned businesses, celebrate Black creators, and participate in an inclusive, unified community.
On this IG account, with over 200,000 followers, you'll find a bio that reads, "For When The Trend Is Over" and we have never loved a six-word social media biography more. In an interview with HIGHSNOBIETY, she elaborates on why she felt it was important to make this point. Akers says:
"BOE is a medium for creating meaningful and long-lasting participation for Black-owned businesses. We are building a community, growing socioeconomic status, showing pride in our product and what we produce. Taking ownership of our creativity so other brands don't take or sell our stories."
You can expect BOE to always be intentional about spotlighting our brands and our stories because we deserve. We deserve the immersive storytelling content, designer collaborations, capsule collections, and curations that Akers is set to make available on Black Owned Everything. This is what we mean when we say, "Black people deserve luxury."
By opening the world's eyes to the beauty we create as a people, we deny cultural appropriators the means of shoplifting our customs and heritage. Essentially, this creative genius wants to use BOE to teach the industry "to give proper recognition to Black creatives. All of the brands on BOE are innovative and bring a unique perspective to the marketplace." Not only can you shop gifted designers like Fe Noel and CISE but you can also add beauty items from SKINBUTTR, home goods from The Fond Home and hair products from Girl+Hair, to your cart; and that's not even scratching the surface of this gold mine.
Basically, you can outfit your whole life from Akers' luxury domain. And while this space us for Black people by Black people, it's for everyone because this experience needs support from everyone.
We are so thankful to this queen for providing a unique lens for us to see ourselves as true pioneers. For more information on Black Owned Everything, click here.
Join our xoTribe, an exclusive community dedicated to YOU and your stories and all things xoNecole. Be a part of a growing community of women from all over the world who come together to uplift, inspire, and inform each other on all things related to the glow up.
Featured image by Shutterstock
Keep reading...
Show less
Twitter co-founder Jack Dorsey, is scheduled to buy Jay Z's streaming platform, Tidal. In a $297M deal, Dorsey, who is also the CEO of Square, has acquired a majority stake in the service in a bid to expand his mobile payment company's tools to emerging and established artists, and Tidal will now operate independently within Square.
This means, that with the 3 percent equity awarded to all 16 artist owners for bringing exclusive material to the platform, each cash in on an $8.91M bag. 
An $8.91M bag. *Randy Watson stomps*
This bunch includes Beyonce, Rihanna, Alicia Keys, and Nicki Minaj--the only black women who are artist owners in the deal.
Additional components of the deal are, in very Jay Z-esque fashion, Jigga joining Square's board of directors, which will coincide with the recent fund he and Dorsey launched in February to "make bitcoin the internet's currency."
And in a rare move, Carter took to, of course, Twitter, to publicly address the deal:
I said from the beginning that TIDAL was about more than just streaming music, and six years later, it has remained… https://t.co/EBDI2cu7nM

— Mr. Carter (@Mr. Carter)1614863201.0
This partnership will be a game-changer for many. I look forward to all this new chapter has to offer!

— Mr. Carter (@Mr. Carter)1614863201.0
And true to society, people hopped on the world wide web to react:
Some broke it down for the public: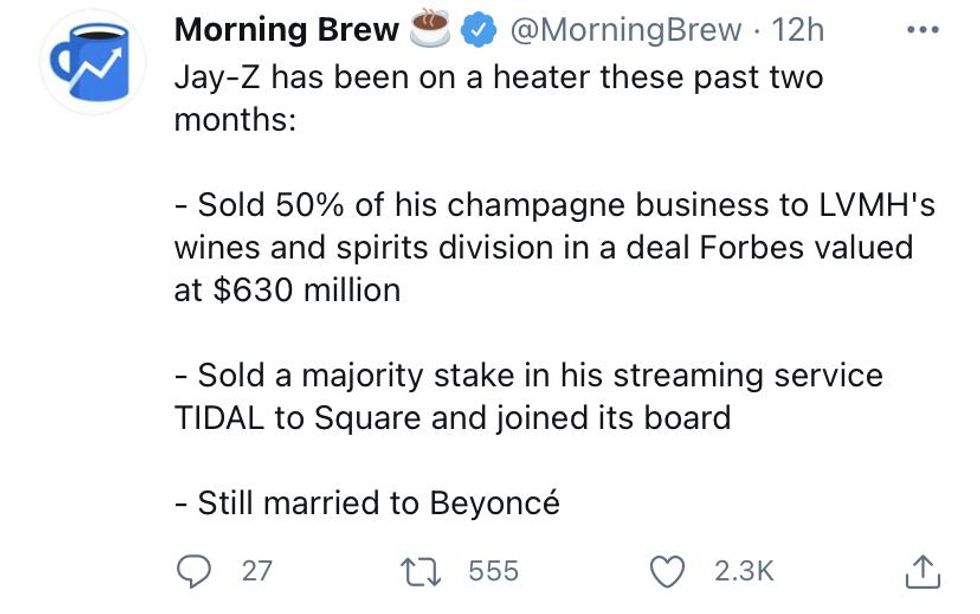 Twitter
Others were excited Jay was tweeting: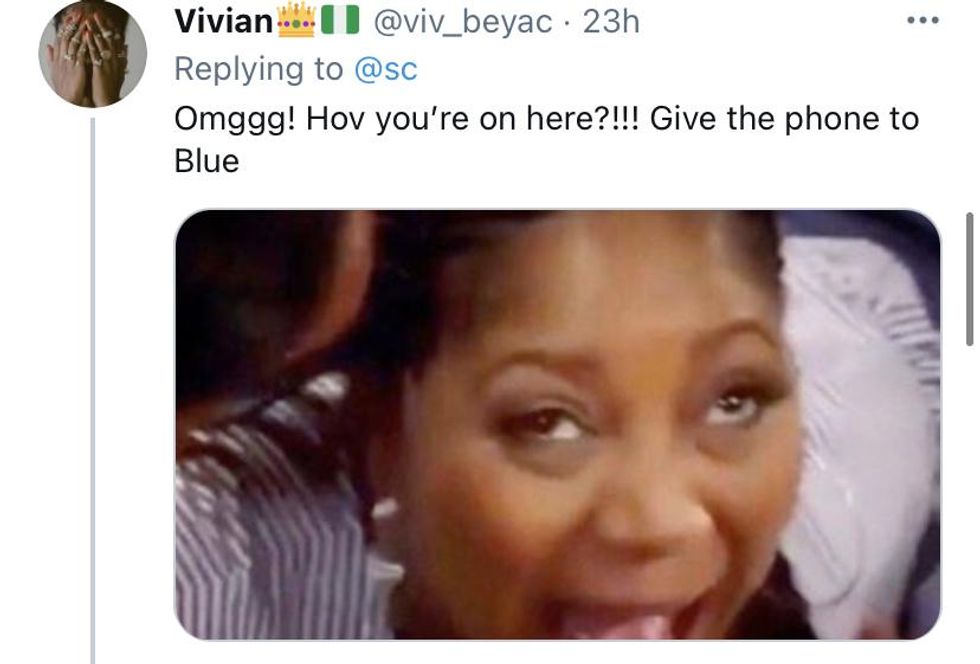 Twitter
But mostly, we all thought, "he's a business...man!"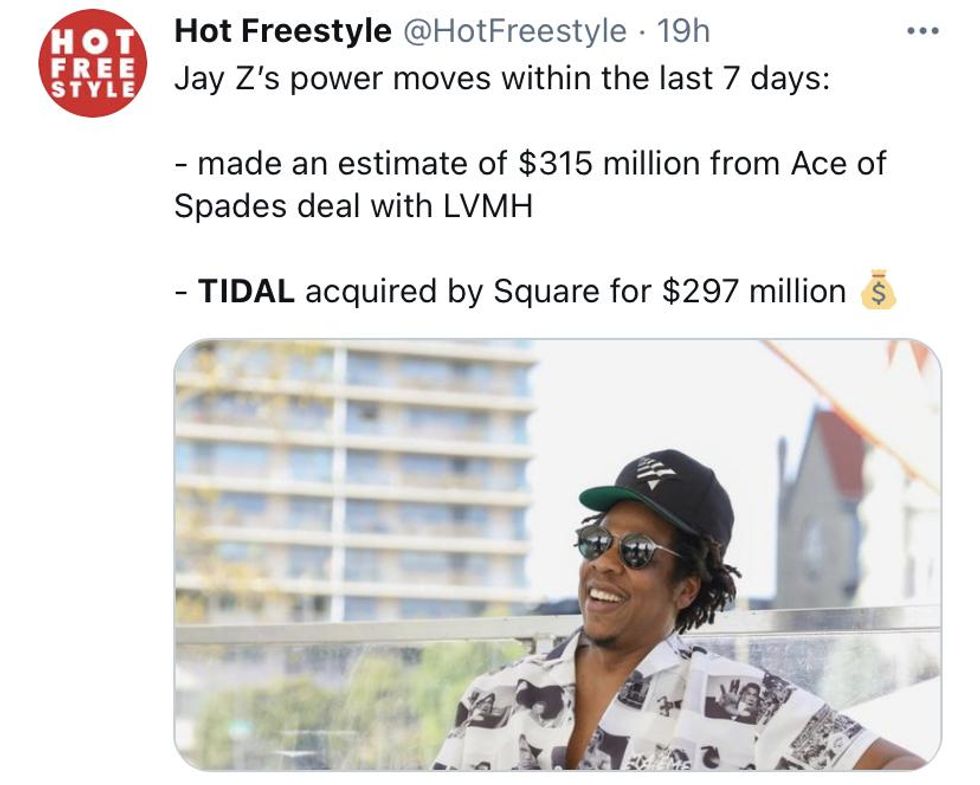 Twitter
--

Neither of our girls have publicly addressed the sale, but we're sure they have something up their sleeve to celebrate this investment. Rihanna is coming off of a March 1 Savage launch, Nicki is dealing with personal issues while balancing being a new mom, and Beyonce has us all waiting by the mailbox for our Ivy Park boxes.
But personally, of the streaming wars, I've always rocked with Tidal (because it belong(ed) to the black guy), so I'm excited to see the direction it goes from here!
Are you a member of our insiders squad? Join us in the xoTribe Members Community today!

Feature image by Giphy
Keep reading...
Show less