It comes as no surprise that the cannabis industry and the legalization of marijuana are yet another barrier that Black business owners face. A new report released by Grand View Research, Inc stated that the global legal marijuana market size is expected to reach $73.6 billion by 2027. However, many states have very specific guidelines that stand as barriers for many people of color looking to get into the cannabis business, and Black and brown people are still serving harsher sentences for the possession and distribution of drugs than their white counterparts.
In tandem with that, Black people across the country lack the capital and access to venture into the marijuana business due to the various restrictions on who can own cannabis businesses. While the fight continues to dismantle another area in which systemic racism oppresses our community, these business owners are propelling forward to be the diversity that the whitewashed wellness industry so desperately needs. Here are five Black-owned CBD brands to support with varying products.
The Jersey-based CBD dispensary founded by Almaz Adeigbolo offers everything from pre-rolls and honey, to bath bombs that reduce anxiety. They also sell strains of CBD flower to help with depression and insomnia. Additionally, Adeigbolo is also a chef, and she curates cannabis-infused culinary experiences with her boutique food company, brwnbox kitchen.
BROWN GIRL jane is owned by sisters Malaika and Nia Jones and beauty and wellness expert Tai Beauchamp. The Spellman grads started the company after Malaika fell in love with the healing properties of plants and CBD, and felt frustrated with the lack of representation of people of color. Their products range from facial serums to body butter and yoni oils.
Founded by Dorian Morris, Undefined Beauty combines cannabis and skincare. The clean beauty advocate's line features firming serums, cruelty-free lip balms, and bath salts.
Not sure where to begin your CBD journey? This company provides a monthly subscription service of products such as calming wearable patches, chocolates that fight anxiety, nourishing facial masks, feel-good teas, healthful treats, and soothing balms all delivered to your door.
Yes, you read that right, hot sauce. Chef Paul Booker intends to blend up his passion for food and cannabis for all to enjoy. The former athlete shared that after enduring injuries and extreme physical stress on his body after his college football days, Satan's Breath was born.
If you're curious about exploring CBD, support these Black-owned brands as you venture into this area of wellness!
Let's make things inbox official! Sign up for the xoNecole newsletter for daily love, wellness, career, and exclusive content delivered straight to your inbox.
Featured image by Catherine Falls Commercial/Getty Images
Originally published on September 23, 2020
Emma Grede made a name for herself in fashion retail cofounding Good American with Khloe Kardashian and as a founding partner for SKIMS with Kim Kardashian. Now, she is stepping from behind the brands to help other business owners. One of the ways she is helping others is by joining the panel of investors on the hit TV show Shark Tank. As a guest Shark, she became the first Black woman investor in the show's 12-year history.
The British entrepreneur talked about the ground-breaking moment to People. "I think I'm a good Shark because first of all, I'm relatively young and the business climate now is really unique and really different than it's ever been before," she said. "And I've prioritized my career in building a diverse, inclusive route and team." And she also likes to help and create opportunities for the people around her that way everyone wins.
"I think 20 years ago, entrepreneurs had much more of a kind of me-first mentality," she said. "I do think the opposite way. I'm about building incredible teams and creating opportunities for people, building loyalty. That way you'll find a lot of people that have started with me 10 or even 12 years ago are still working with me now in totally different positions, but people stick with me and I think that's really important."
Working with Good American, SKIMS and Kris Jenner's line Safely, the 40-year-old CEO also prides herself on having brands that are diverse and inclusive no matter race, size, gender, or age.
During her appearance on the Tamron Hall show, Emma opened up about the importance of making sure that everyone feels seen.
Good American sizes range from double 00 to a plus size 32 and SKIMS sizes range from a XS to 5X and has nine different skin shades making sure that every woman can look and feel good in their body.
"As a Black female CEO, I've always prioritized building a diverse and inclusive workplace," she said. "Now that I'm in this position in my life, I really want to make sure that women coming up, especially Black women coming up behind me who have far less access to funding are properly funded and able to find things that are going to help them propel their business. We all need opportunities and if I can be that opportunity for some women then hands down that's what I want to do."
Good American Co-Founder Emma Grede Wants to Open Doors as a Black CEO
Featured image by George Pimentel/Getty Images
March is Women's History Month and while we encourage our readers to celebrate women every day like we do, March is a time to really focus on appreciating the contributions of women cultivators and history makers, particularly in the Black community. With remarkable illustrations of Black girl magic such as Michelle Obama and Simone Biles, Black women have continued to make history even in the face of adversity, all while influencing little Black girls everywhere that no dream is too big to achieve.
Just look at the numbers. The National Center of Education Statistics' study showed that Black women are one of the most educated groups in the U.S. and they are more likely to become business owners in comparison to white women according to Forbes. The studies prove that Black women are more willing to take risks and sometimes make history in the process.
So, for Women's History Month, we want to shine a light on 10 Black-women owned small businesses that you should support.
1

.

Smard. Art
Sylvine is a visual artist who creates beautiful art that explores Black women in their femininity and their everyday life. This work includes women wearing grills, stylish nails, and hairstyles synonymous with Black women. Her artwork ranges from canvas prints to posters and even phone cases. "Everything about the Black Culture inspires me a lot. The Black Woman is my muse," Sylvine said on her site.
2

.

Prime Beauty
Prime Beauty is a cruelty-free and vegan makeup brand that has been seen on the likes of Issa Rae and Tamar Braxton. The site notes that the brand's goal is "to create quality and affordable products that defy Eurocentric beauty standards and uplift the beauty that is being a woman of color. Specifically focusing on the long-standing gaps in color cosmetics for deeper skin tones."
3

.

Kulture Karaoke
If you like to have game nights with your family and friends, then you might enjoy Kulture Karaoke. It's a music card game that celebrates Black music and Black culture featuring categories of the 90s and 2000s hip hop and R&B music. In an exclusive statement to xoNecole, the game creator, Dae Fenwick, said, "The concept was born early in the pandemic, in 2020. It was created as just something fun for my friends and I to do at a time when we needed more joy. After playing with friends, I thought maybe others would enjoy it too, and Kulture Karaoke was born."
4

.

Jade Gold Studio
Jade Gold Studio is an online boutique that features affordable and stylish jewelry and accessories. According to the website's description, "Each piece of the collection is exquisitely crafted with the everyday woman in mind - women who enjoy simplicity, women who enjoy making bold statements, and every woman in between. The pieces can be worn by themselves for a minimalist look or layered for a lively, bold look."
5

.

Zaime
NYC brand Zaime is an ethically-made clothing line that is both functional and luxurious. The brand creator, Zapora Williams, wanted to prove that fashion can be "responsibly manufactured" while also being sophisticated, elegant, and edgy. In an interview with Forbes, Zapora talked about the fight to be respected as a Black designer. "We often get lumped into streetwear," she said. "Black doesn't automatically mean streetwear. I wanted to showcase Black women in a new light."
6

.

Sahel Cosmetics
Sahel Cosmetics was founded by Sahel to honor her Chadian roots. The company's most popular product is the chebe powder, which is a reddish-brown powder that is native to the African country of Chad and is said to promote healthy hair hydration and less breakage. The chebe powder is seemingly responsible for the thick, long hair that is often seen on the women in that region.
7

.

Ivy's Tea
Ivy's Tea Company was created by herbalist Shanae Jones as an ode to hip-hop. The teas' names are all influenced by songs and figures in hip-hop like Nip's Tea, which is in honor of Nipsey Hussle and C.R.E.A.M., which is a popular song by Wu-Tang Clan. In a previous interview with xoNecole, shared what inspired the brand. "I find that hip-hop is a great teaching tool and I see no reason why herbalism and herbal tea or any tea shouldn't be a part of that teaching," she said.
8

.

Kendall Miles
Luxury footwear company Kendall Miles takes shoe design to the next level. The shoe brand that has been seen on Lizzo and Mickey Guyton caters to women who love to keep it classy and chic or flashy and edgy. Just one scroll through their Instagram page and you will see it's giving variety, from fur-lined heels to strappy heels to a simple pump.
9

.

Castamira
As the weather starts heating up again, it's time to start thinking about swimsuit shopping so why not a Black woman-owned brand? Castamira is a "conscious luxury" swimsuit brand founded by Wilhelmina model Chantel Davis. The collection's aesthetic is inspired by the 1970s and the 1990s and it is designed with the woman in mind focusing on showcasing women's natural curves.
10

.

Bright & Salted Yoga
Yoga Instructor Arianna Elizabeth has a YouTube channel where she teaches viewers yoga at home. The classes range from beginner to intermediate so anyone can participate and she often offers challenges for yogis to focus on certain body parts or poses. Her classes are rooted in faith and she closes each class out with affirmations to say to yourself before getting off of your mat.
Featured image by Getty Images
Forbes, in partnership with Sprinklr, crowned Bozoma "Bad Ass Boz" Saint John as the world's most influential CMO of 2021. And when I read the article I found myself internally cheering for her and feeling a sense of pride. Now, I'll admit that's not a usual announcement that would excite me, but anyone who is familiar with Bozoma can understand why I'd root for her.
For those who aren't, let me give you some background. The first time I was introduced to Ms. Saint John, the Chief Marketing Officer of Netflix, was on Instagram Live having a girl talk with Saweetie. That alone was enough for me to immediately click the follow button. I mean it's not often that we see corporate executives interacting much on the 'gram, especially authentically and with celebrities. My instincts were right because since then, I've seen her flick it up with Jay Z, travel the world, and offer major fashion inspo.
But don't get it twisted, her lifestyle comes with a lot of hard work.
The role of a CMO, a Chief Marketing Officer, is to oversee all marketing efforts for corporate entities. Prior to joining the streaming giant, Bozoma served as CMO for Pepsi, Uber, and Apple, just to name a few. She joined Netflix about a year ago and has already led multiple campaigns, including an innovative one to limit spoilers for a show called Money Heist, where fans watched the final season on a flight.
Therefore unable to share any information online and ruin it for other viewers. In an interview with Adweek, she said:
"If I'm having a great time with it, then somebody else is also going to be having a great time with it. For us [Netflix], member joy is really at the heart of what it is that we're trying to deliver. We want people to see themselves on screen, but we also want them to explore and to find new ways of being."
According to Adweek, Netflix has brought in 1.5 million new subscribers from July to September alone. Although Bozoma makes a point not to shy away from the praise of her efforts, she also credits Netflix's storytelling for their success.
I think for years there's been this assumption that if you want to climb the corporate ladder, or reach a certain level of success, there's an urgent and specific path one must follow. There's a way to look and act. But, Bozoma defies all of that. She shows up her authentic self, red nails, lipstick and all. And she focuses on the goal rather than the plan.
In a YouTube interview with Forbes, she said:
"Urgency is not about speed. It's about the depth and intention of what I'm trying to accomplish. I want to make sure that I get everything that I can out of this life."
It's clear that she lives by this personally and professionally.
For more on Bozoma Saint John, check her out on social media and be on the lookout for her memoir, available 2022.
Featured image by Ilya S. Savenok/Getty Images for Glamour

Marian Wright Edelman hit the nail on the head when she said "you can't be what you can't see." I love this quote because it highlights the importance of representation across all career paths, industries, and spaces; it highlights the need for events like Blavity's AfroTech Executive conference. As the name suggests, AfroTech Executive brings together Black startup owners, venture capitalists, and tech moguls with the goal of expanding Black representation in tech leadership. Created from the larger AfroTech conference, AfroTech Executive tailors each session to leaders at tech companies, tech startups, and media moguls - we LOVE to see it!
Though the tech space is as snooze as it gets for some, AfroTech is anything but a stuffy tech conference. The vibe was set from the moment I entered the outdoor deck of The Line Hotel and was greeted by a tray of mimosas and friendly faces. There was a consistent excitement, camaraderie, and an overwhelming sense of pride throughout the day.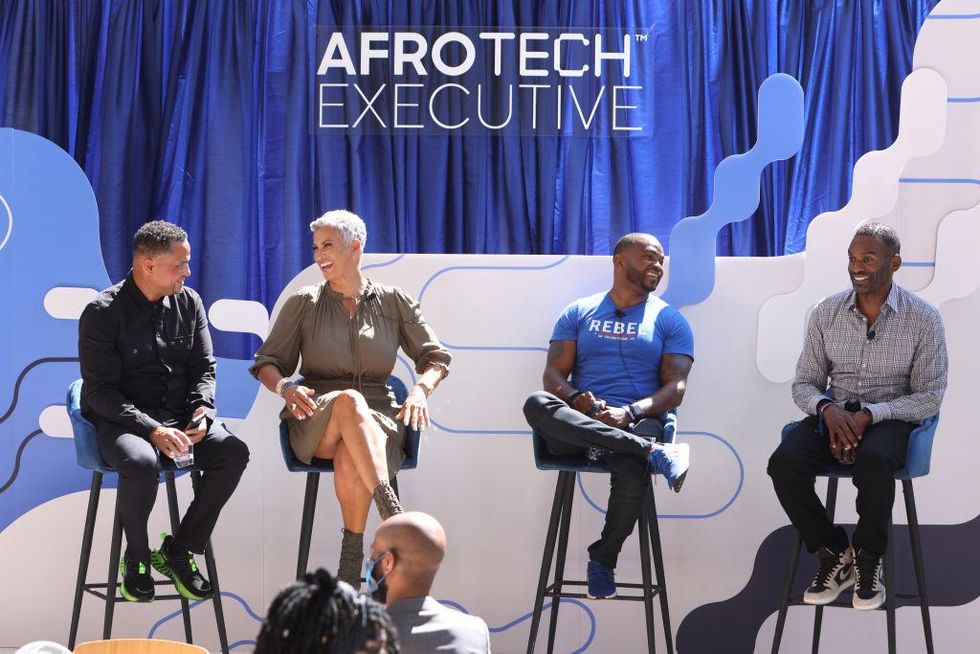 Randy Shropshire/Getty Images for Blavity Inc/AfroTech
Stay tuned if you're looking to be inspired by leading Black executives like Michele Ghee, the CEO of Ebony and Jet, and Detavio Samuels, the CEO of REVOLT Media.
"Partnership is great, but ownership is better." - Michele Ghee, CEO of 'Ebony' and 'Jet'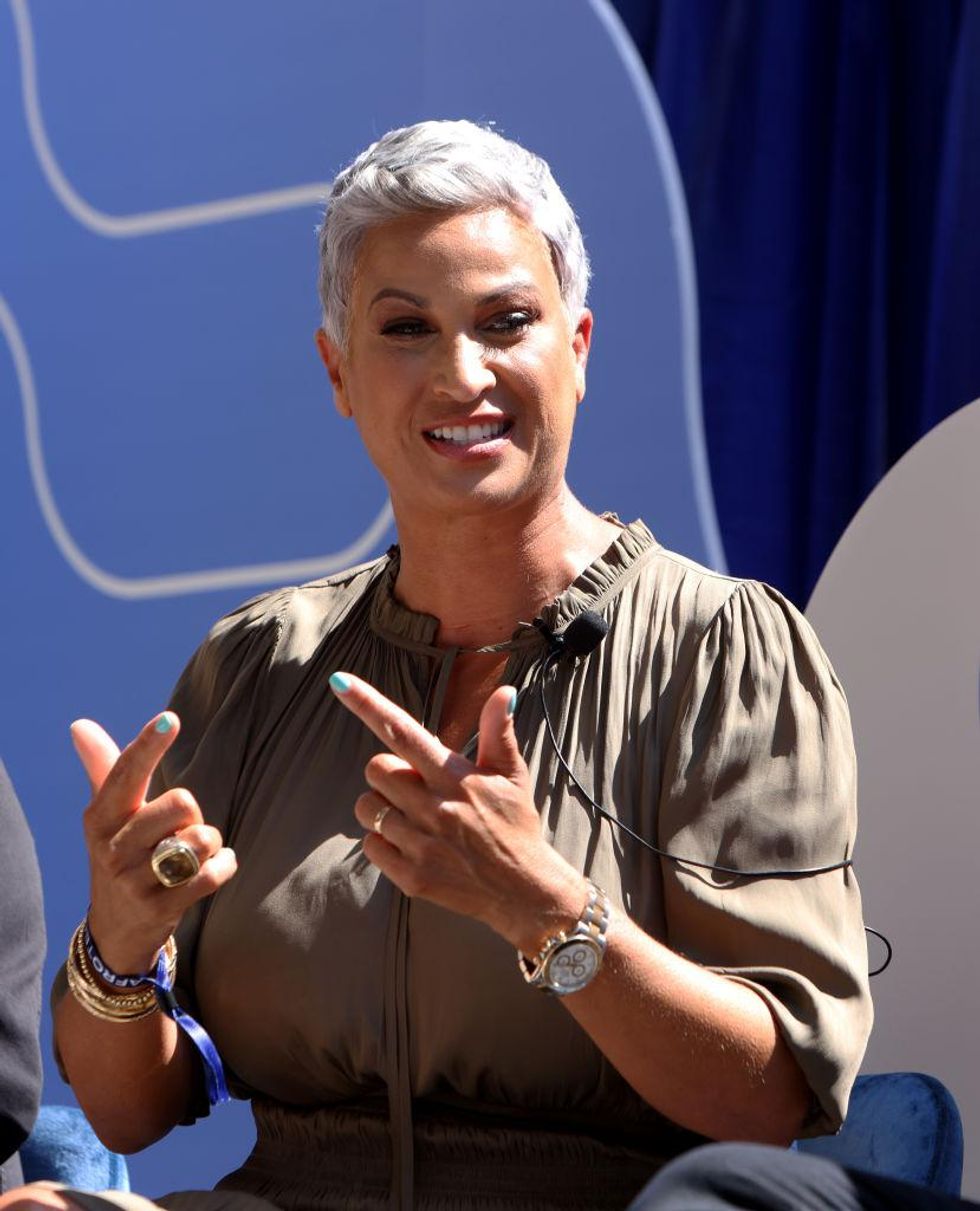 Randy Shropshire/Getty Images for Blavity Inc/AfroTech
Michele Ghee hopped on the stage last Saturday and decided to preach. It's been a minute since I've joined an in-person sermon and my soul welcomed every second of it. Throughout the panel, Michele emphasized the importance of ownership. Oftentimes, we find ourselves so excited to be in the room that the bar is on the floor (yep, I'm talking to myself too).
When asked what advice she would give to empower creators and entrepreneurs to request ownership in business deals, Michele noted:
"Knowledge is critical. We have to know our worth. We are worthy of investment. We have to first know who we are, what we believe in, and what we offer. That will allow us to attract others that can help us on our journey to true ownership. That allows us an opportunity to make critical decisions about growth. That allows us to have a greater stake in revenue growth and reinvestment in our companies. We can walk in fear or faith. I chose educated faith!"
Michele's words are a reminder to elevate the bar beyond the limits we set for ourselves. Pushing past partnership to ownership is attainable, but we won't know unless we strive for it.
"People don't believe us [Black women] the first time. Keep being right." - Sherrell Dorsey, Publisher, and CEO of The Plug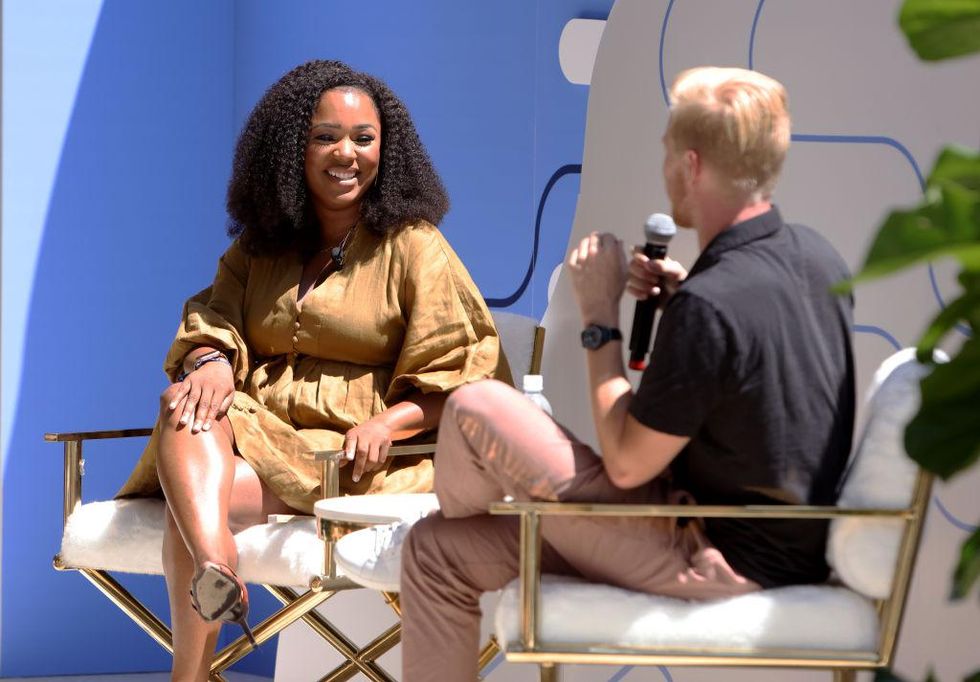 Randy Shropshire/Getty Images for Blavity Inc/AfroTech
One of my favorite conversations of the day was chatting with Sherrell Dorsey, the CEO of The Plug - a subscription-based digital news platform covering Black innovation. Have you ever met someone with a commanding presence that spoke genuinely, passionately, and with the utmost grace - that's Sherrell. When asked about hurdles she feels are unique to Black women in tech, Sherrell mentioned, "People don't believe us the first time."
Oftentimes, it takes validation or sponsorship from white counterparts for Black women to be heard. If you're wondering how to combat this, Sherrell's answer is simple: "Keep being right."
"The future of media is the influencer." - Detavio Samuels, CEO of REVOLT Media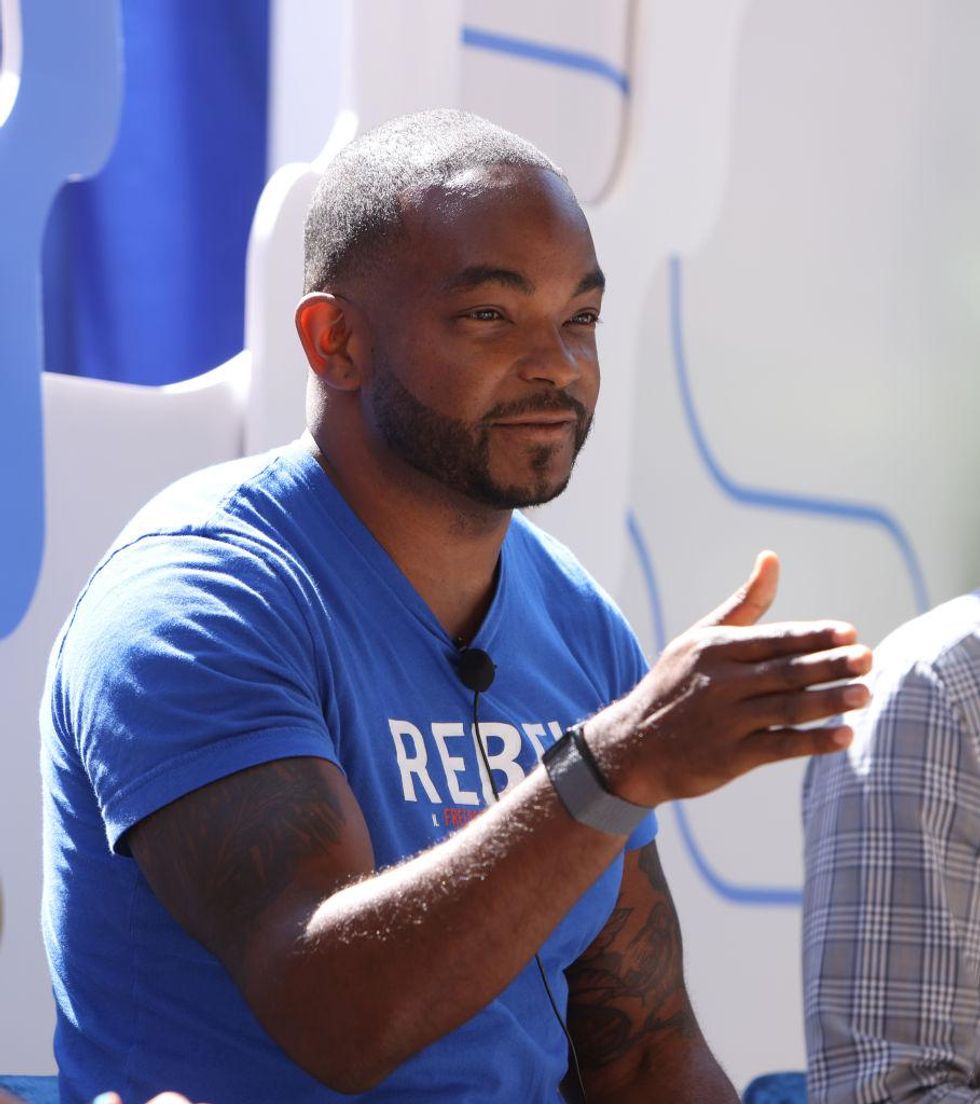 Randy Shropshire/Getty Images for Blavity Inc/AfroTech
Detavio Samuels joined REVOLT Media in March 2021 hoping to make REVOLT the world's largest Black-owned media empire - an incredible goal. During the panel about the evolving topics surrounding Black media advertising, Detavio leaned heavily into the need for Black people to tell Black stories. Since Detavio joined REVOLT Media, he's helped pivot their content development strategy guided by the belief that the future of media is held by influencers. He encouraged influencers to call on the panelists with ideas knowing that the top media platforms in the world right now all belong to celebs and influencers. When asked about the value influencers and creators can bring to a big brand like REVOLT, Detavio mentioned:
"At REVOLT, the value they bring is themselves. Their unique lens. Their unique perspective. Their unique story. We just want to enable them to do it at the highest level possible."
Yes, the speakers dropped gems but my conversations with the AfroTech attendees truly kept me intrigued. From chatting with Kameale Terry and Evette Ellis, the co-founders of ChargerHelp! who are helping eliminate faulty EV charging stations across the nation and creating jobs in the process, to my conversations with Eric Coly, the owner of Ayana Therapy, a service that takes gender, race, and intersectional identities into account to address establish compatible relationships between therapists and the clients they serve.
Hearing the passion, the creativity, and the guts to go after millions of dollars in funding without a roadmap to follow - inspiring just doesn't cover it.
Featured image by Randy Shropshire/Getty Images for Blavity Inc/AfroTech

Ladies and ladies, Ebony Magazine is backkkkk! And not only are they back, they have arrvied with solid plans to take over media and the Black publication space once again! #comethrough. If you aren't familiar, partner companies Ebony and Jet, found themselves facing bankruptcy after struggling for multiple years. Ultimately, as a decision was being made, they were last published back in 2019. That was until serial entrepreneur Junior Bridgeman, took Ebony and Jet out of bankruptcy in December when his company, Bridgeman Sports and Media, bought the assets of their parent company, Ebony Media, for $14 million.
And listen, Mr. Bridgeman's portfolio is super impressive too, with a 12-year tenure in the NBA, to owning hundreds of Wendy's and Chili's franchises across the Midwest and the South, and then selling them in 2016 when he became a major distributor for Coca-Cola.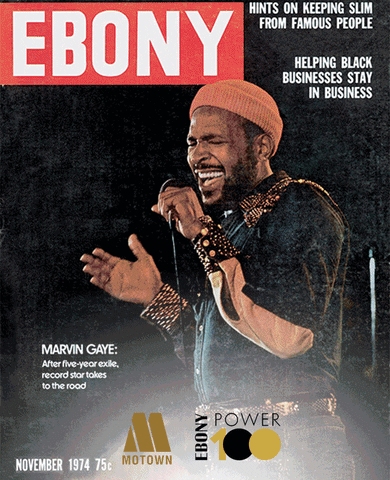 Giphy
His money is long and he brings it back to the community, which is a mood, a flex, and all the things.
From here, his daughter Eden Bridgeman Sklenar, enters the chat, as the Head Sis In Charge leading the revival of the publication. Additionally, she serves as chairwoman of the new parent company of Ebony and Jet, and has recruited Michele Thornton Ghee, formerly an executive at BET Networks and CNN, as the company's chief executive; Marielle Bobo, a former fashion director of Essence magazine, is Ebony's new editor-in-chief.
And man, does this team have some amazing things coming.
For one, they plan to add more full-time staff members and regular freelance contributors in the coming months.
Until last year, Ebony was almost a thing of the past forever. They had insurmountable debt, and the original parent company, Johnson Publishing, sold Ebony and Jet in 2016 for an undisclosed price to Clear View Group, a hedge fund in Austin, Texas. That ownership team cut staff, reduced office space and was accused of not paying employees on time. This resulted in Ebony being frowned upon by the National Association of Black Journalists.
Print editions are scheduled to come out four times a year, starting in 2022.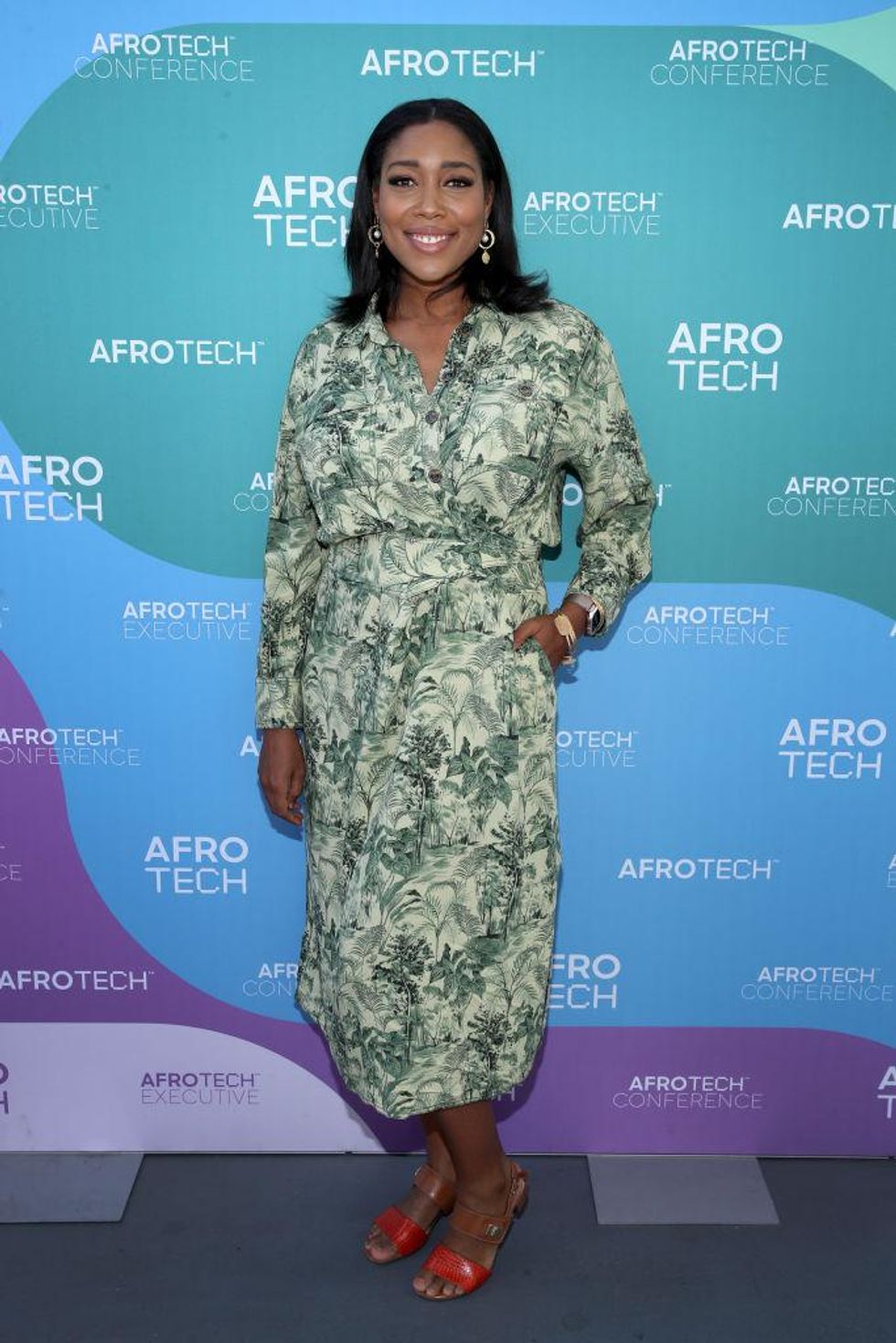 Eden Bridgeman Sklenar attends AfroTech Executive 2021 luncheon at The LINE LA on August 28, 2021 in Los Angeles, California.
Randy Shropshire/Getty Images for Blavity Inc/AfroTech
Currently, Ebony has been operating digitally, and only creating digital copies. The official reboot began in March with daily articles and videos posted on its website, which came back to life after years of being idle. The site also offers digital magazine covers featuring portraits of the hip-hop artist Tobe Nwigwe, the writer and actress Lena Waithe and the NBA star Karl-Anthony Towns. Its September online cover shows the Oscar winner Jennifer Hudson, who plays Aretha Franklin in the biopic Respect.
For now, there are no (admitted) plans for Jet.
And they've entered a partnership with Bloomberg Media + more. 
In a formal announcement, the two companies revealed that the collaboration would include amazing content such as original videos, news articles, a newsletter and cross promotion on social media. Bloomberg will also assist with the revival of the Ebony Power 100, an annual list of influential Black Americans, with an hour-long special scheduled for the cable channel Bloomberg Television in November.
Additionally, in a separate partnership with HarperOne, a division of HarperCollins, Ebony's book division will publish a memoir by Viola Davis next August.
In the end, Ebony wants you to give their new direction your support. Of the reboot, Sklenar says:
"You just have to look at today. The historic moment of an African American and South Asian woman vice president, to everything that happened in the past year, of voices being heard in a way that they haven't been before."
Ghee added:
"Because we acquired out of bankruptcy, we're a start-up, which is a curse and the beauty. We get the opportunity to take a historic brand and retrofit it."
A perfect new start to a community staple. Congrats to this team!
Are you a member of our insiders squad? Join us in the xoTribe Members Community today!
Featured image by Randy Shropshire/Getty Images for Blavity Inc/AfroTech