Eliza "Ellie" Diop is a business strategy coach and mother of four who teaches Black women the ins and outs of business. This includes starting a business, scaling, selling, and getting business funding. And while she's successfully made seven figures as an entrepreneur running her Ellievated academy and Mommy to Millionaire company (which teaches moms about wealth planning for their families), as the old saying goes, "nothing worth having comes easy." The 30-year-old mom decided to pursue entrepreneurship after being laid off from her job in 2019 and shortly after began going through a divorce, which caused her to move back in with her mom. On top of that, she was dealing with the COVID-19 pandemic like the rest of the world.

She had a background in finance and after applying to over 53 jobs with no luck, she decided to take what she learned over the years and teach others how to start a business, particularly Black women. "I couldn't find a person or a coach for myself, so I decided to be what I was looking for," she says. Ellie took her first stimulus check and established an LLC, bought a ring light, upgraded her phone, bought some domains, and bought a Canva subscription. She set aside the remainder of the money and the rest was history. The L.A. native began creating content daily, sharing information and tips for entrepreneurs. From there, she began offering coaching calls.
Experiencing major life shifts at one time was overwhelming, but whenever she wanted to give up, she would refer back to an inspirational quote she came across one day on Instagram. "When you're in a dark place and it feels like you've been buried, perhaps you've been planted. So, bloom," it reads. "It was one of those things that I stuck to and every time things got hard, I told myself this isn't the end, you're just being planted right now," she says reflecting on the quote.
When it comes to her clients, Ellie makes sure to listen to their needs and also keeps it real with them about entrepreneurship. While her focus is on helping Black women-owned businesses, she is aware that everyone isn't meant to be an entrepreneur or run a company. She calls that rhetoric, which is constantly being promoted on social media, "toxic." But she does believe that everyone should own something. Whether it's real estate properties or an online store.
Ellie shares five tips to help you get funding for your business no matter if it's a side hustle or your main source of income.
1. Business Credit
"Any woman who has a business should have business credit. There's personal credit we have in our own name but you don't want to attach your own name and your funds to your business because it's its own entity, so having business credit allows for your business to have credit cards [and] to have loans to have lines of credit. And those only report to your business so it keeps you separate from it. And truly, business credit is easy to build. It's just a matter of getting consistent with trading lines.
"The important things to know about business credit are you're going to need trade lines. These can be things like gas cards, retail cards, vendor credit and eventually you will get a business card or business loan. And you want to make sure you have early payments. [They] are better than on-time payments but definitely don't be late and continue to do that for at least 90 days to about 4-5 months. And now you're in a really good place to have a good business credit score and [you can] go out and seek more funding."
2. Grants
"I think a lot of the times and especially because of all the PPP stuff that went on, people think that grants are associated with [the] government or they get scared. There are government grants but there are also several funding opportunities that are just available for women-owned businesses and even more so that are available for Black women-owned businesses. And that's free money. That's money you don't have to pay back. It's money given to your business that you can use to scale.
"Some places to find these are the Minority Business Development Agency (MBDA). They have one of these in every state and every major city typically so you can search that online. I would also recommend looking at the National Association for the Self-Employed (NASE). They have a monthly grant that they give away. There's also a lot of private grants. Chase does grants every year, American Express has grants every year, FedEx, Visa. So just really looking into those opportunities."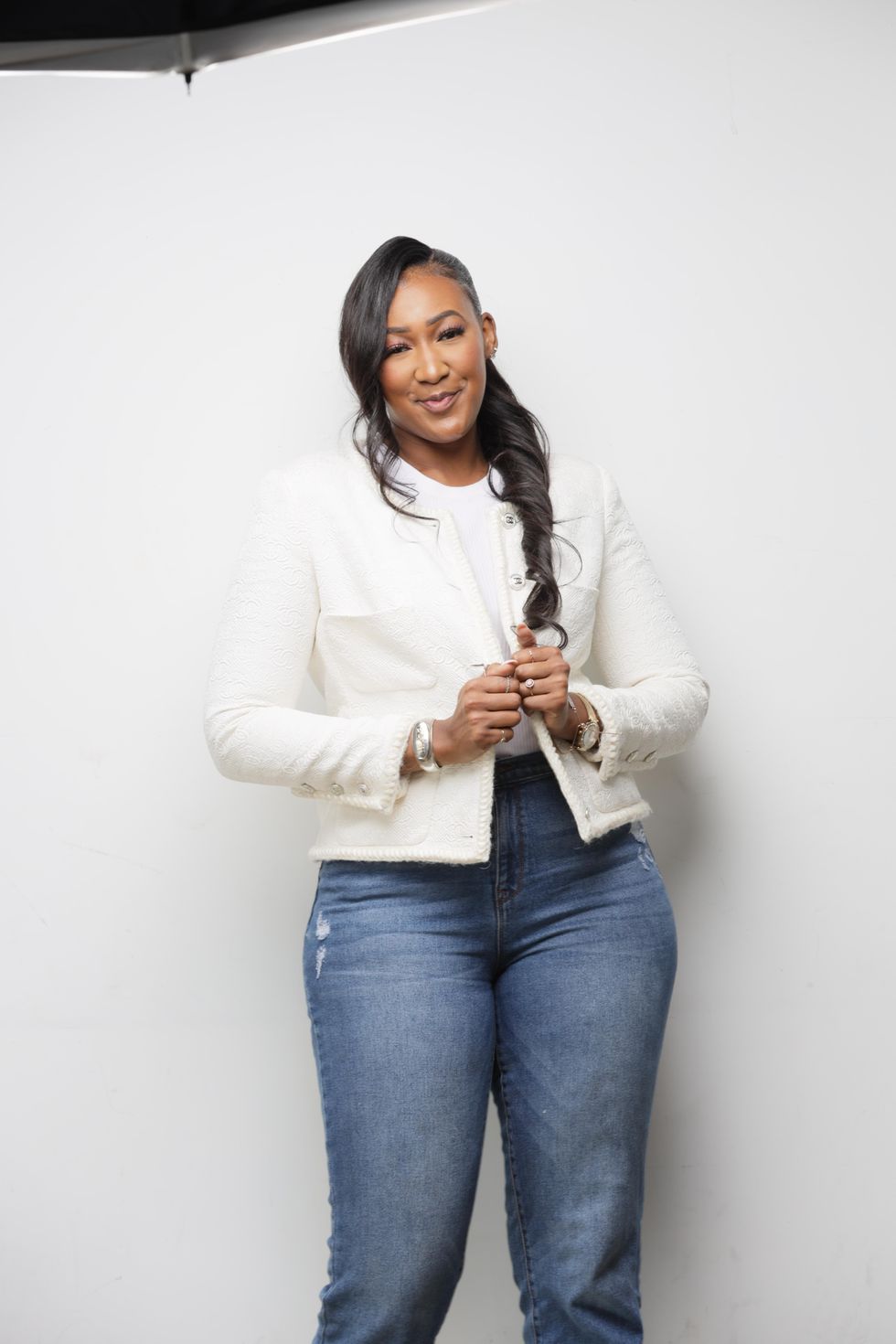 Photo courtesy of Ellie Diop
3. Business Bank Account
"You need to have a business bank account. You need to have a payment processor so when someone buys from you, that money should go through something like a Stripe or a PayPal or Shopify, or Square and enter your business bank account. That is going to set you up to be able to get funding because they're going to ask you for things like your business bank statements and you're not able to provide Cash App screenshots as proof of income."
4. Business Plan
"A lot of people feel intimidated when we hear business plan because it sounds like a 30-page thing [or] we have to pay someone to write it but truly, it's not that bad. I have a class where I teach women how to write business plans and their marketing plans and I give them a template so that we understand how to really communicate our businesses and what the mission is and why we're better than the competition. All of these things are super important because when you're in front of an investor, for example, those are the kind of questions they're gonna ask you. And we want to be able to answer them as much as possible."
5. Bookkeeping
"Organize where the money is coming from, where it's going [and] what are your expenses because that is how you're gonna stay cash flow positive, [which] is when you can see where it's coming in, where it's going out and make sure that what's going out is less than what's coming in so that you have that margin. Knowing those numbers will also help you to get funding 'cause a lender is more prone to approve a business that's positive cash flow than negative cash flow."
For more information about Ellie, follow her on all social media platforms @ellietalksmoney and visit her website Elliediop.com.
Let's make things inbox official! Sign up for the xoNecole newsletter for daily love, wellness, career, and exclusive content delivered straight to your inbox.
Feature image courtesy of Ellie Diop
Julien and Kiersten Saunders met in 2012 while working for the same company and they quickly fell for one another. However, their whirlwind romance was cut short following an extravagant vacation. When they got home from Panama, reality set in, and they were forced to have a tough conversation about money after they both had different opinions on recouping the money spent on the vacation.
Prior to their baecation, they had agreed to split everything and used credit cards to help pay their traveling costs. Julien had always been conservative with his money whereas Kiersten was a little more liberal but those differences became more glaring after Kiersten continued going out while Julien was budgeting. As a result of the fallout over money, they would ultimately break up. Shortly after, however, they decided to give their love a chance once more and are now married with a son, running a successful blog and podcast helping others to learn financial literacy and build wealth.
Their blog Rich and Regular was inspired by the conversations they had with one another about money. Launched in 2017, they have used the blog to share their personal struggles and wins regarding money as well as making it a platform for Black people to gain knowledge about investing, entrepreneurship, and much more.
"It all sort of turned into what can we do to attract more people of color, especially Black professionals to think like this, to have these conversations to think like this, to re-evaluate their careers and their approach to investing for a myriad of reasons," Julien says. "One, obviously Black wealth is important to the Black community, two, Black marriages are a core part of that community and that equation, and three, all of the other kinds of issues that affect our community that we don't have time to solve because our lives are basically spent working."
According to Business Insider, opposing attitudes about money is one of the biggest culprits leading many marriages to end in divorce. Kiersten and Julien were able to overcome this hurdle that many couples face, so they know a thing or two about the importance of having the money conversation early on.
"Once you hit that part when you start talking about goals and future plans, which for some people they come out the gate with that," says Kiersten. "They want something very serious and they want to know that the person they're spending time with aligns [with] them and their ambitions but as soon as you start having those conversations about the kind of life that you want, money is a huge tool to enable all of that life. So, you also want to make sure there is an accommodating financial plan to try to achieve this white picket fence, home ownership, multiple children and pets, and travel."
The Atlanta couple also wrote the book Cashing Out: Win the Wealth Game by Walking Away, a guide to reaching financial freedom, which they both have managed to do. As life partners and business partners, Kiersten and Julien have experienced many trials and errors to maintain a thriving marriage and business. They agreed that the key to being successful at both has a lot to do with the type of environment you create in the home.
"We also make it a point to play to our strengths. We do that in our marriage and in our business where regardless of what gender roles or the patriarchy or what traditional marriage advice is, if I'm not good at something or if he's not good at something, we don't force the issue," Kiersten explains. "So something as simple as cooking–Julien is a professionally trained culinary student and so cooking is far easier for him to do even though traditionally women are the ones who [are] supposed to cook but he does 99% of the cooking in our household and that's just one example."
"We really audit every task, every project, every goal that we have to decide who's gonna do what. Nothing really is on autopilot in that way and we're true partners. It's a bit unconventional because a lot of people kind of opt into roles because that's what they've seen done [by] their mom or their parents or on television, whereas for us, it's a conversation to be like does that make sense?"
What once broke them up now has helped them amass wealth, become financially independent, and be adept at helping others achieve similar goals. Currently, they are working on launching the Cashing Out podcast to accompany their book and they are gearing up to release season three of their YouTube series "Money on the Table." But while a lot has changed, some things still remain the same.
"We've both developed hacks to get around our natural tendencies but there's also these limits so that you don't create conflict. I still like to spend freely," Kiersten admits, "but my workaround is to make sure we pay ourselves first, make sure we've invested, make sure we've set aside money for savings, the bills are taken care of and then I can do whatever I want with the rest."
Julien shares that they now respect each other's differences and even learn from them. "We have evolved to appreciate the other person's approach or I think more so in the broader setup, financial characteristics that you may use to define who you are as opposed to spender or saver," Julien says. "It's more complex than that."
"And so I think we've grown to appreciate that but I also think that as your money grows, as you have more of it, and as you continue to have more conversations about money, you just kinda get better at it. So, it's not really so much of a need to be so tight as you may be or may be required to be at the beginning when you're really trying to dig out of debt or tryna to accomplish some lofty goal. If you're past that then you can kind of afford to ease up a little bit and I think we've learned to do that. I've learned for sure."
Let's make things inbox official! Sign up for the xoNecole newsletter for daily love, wellness, career, and exclusive content delivered straight to your inbox.
Feature image courtesy of Julien and Kiersten Saunders
Dorion Renaud was first introduced to us in 2008 on BET's College Hill: Atlanta. Soon after, the Beaumont, Texas native saw great success as a model, gracing the pages of Vogue magazine, and as an actor, starring in Bounce TV's hit sitcom, In The Cut. Recently, Dorion has added the title of 'entrepreneur' to his ever-growing list of accomplishments and successes over his decade-plus-long career. With the launch of his skincare line, Buttah, he has taken the beauty and skincare industry by storm, providing Black men and women with attainable solutions to their pressing skincare concerns and resulting in an all-around even skin tone.

From embarking on a quest to address his own skincare challenges to being a successful Black skincare founder with products in Macy's, it's safe to say that Dorion Renaud's foray into the beauty space has left and will continue to leave a lasting legacy.
The Buttah founder sat down with xoNecole to discuss what made him go into the beauty industry, common challenges Black people have with skincare, and what inspired him to pivot from the entertainment industry into the entrepreneurial realm.
xoNecole: When did you realize that you wanted to create a skincare line?
Dorion Renaud: In high school. For one, I suffered from hyperpigmentation. I would pick at my skin if I had a pimple or something. But it wasn't the pimple so much that bothered me, it was the dark spots that it left. So I began looking for resources in my small town of Beaumont, TX and getting procedures in places where I shouldn't have gone to get these dark spots off of my skin.

I realized there were many young people around me with those same issues. And when I got in front of the camera at about 18 or 19, I realized how much makeup was needed to cover the dark spots. It was an insecurity that I had. When they took the makeup off me, whether it be for TV or modeling, I wished that I either had makeup to cover the spots or a skincare solution.
When I was in Harlem, I found some shea butter and I started using it all over my body and my face and saw that my skin was clearing up. I thought it would have broken me out due to the fats in it, but it actually worked with my skin. And so as I started matriculating in Hollywood and doing more work on camera, it had always been a goal of mine to perfect my skin or try to keep it as clear as possible.
Soon after, everybody started asking what I was doing, and it was really just a gentle cleanser, a vitamin C serum, and the shea butter from Harlem. When I learned that there were so many people who were embarrassed to ask–especially men–what I was doing for my skin, I realized that skincare in our community wasn't something that we were educated on properly. We were somewhat ashamed to ask for help in that area. So I wanted to create a line that was easy and efficient and that people could feel proud of. And at the top of 2018, the idea for Buttah came to me, with it launching later that year.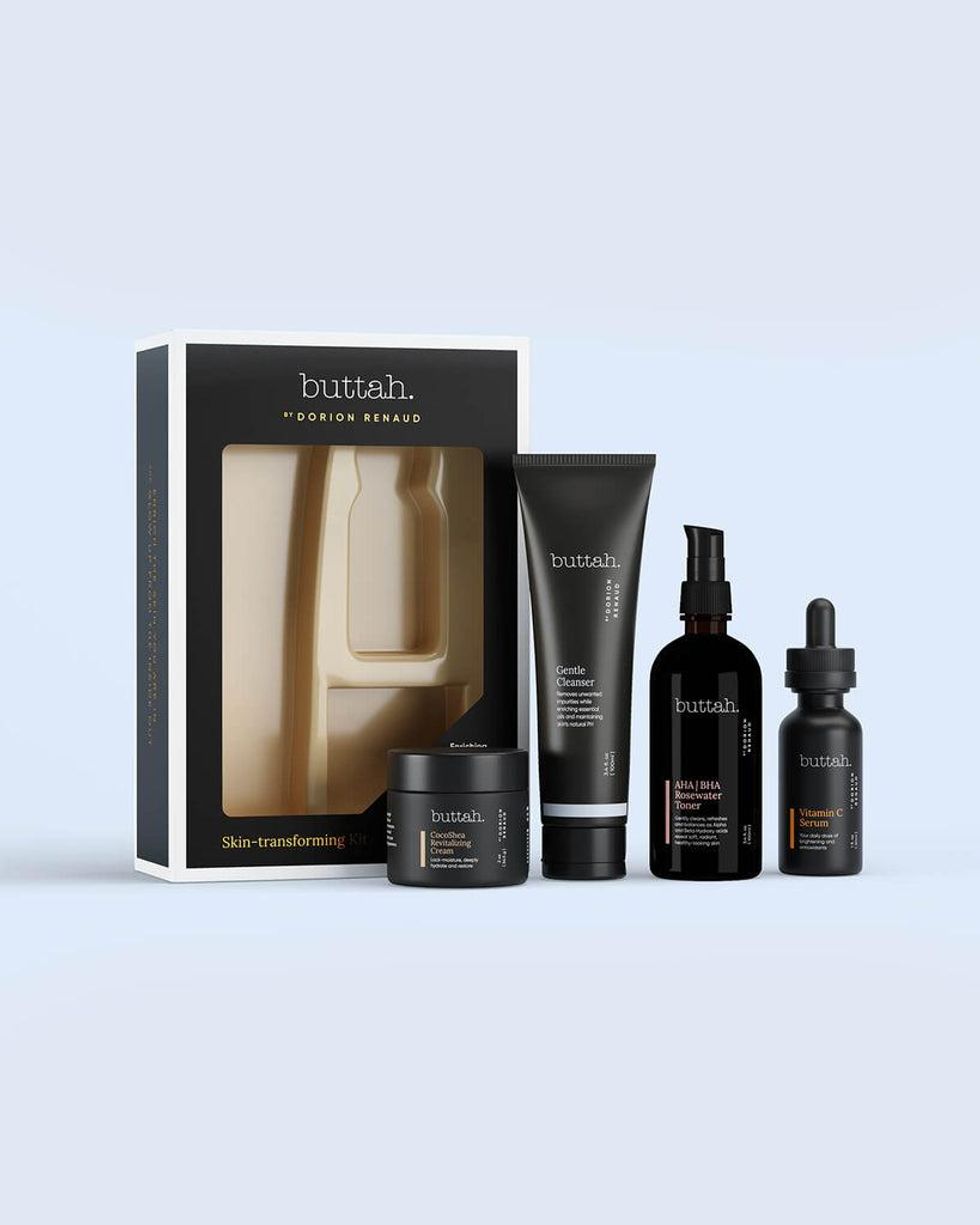 Buttah Skin
xoN: What was the process like creating the products?
DR: It was pretty strenuous, but for a very short amount of time. I had to learn a lot and educate myself on different ingredients. So I worked with a chemist and we got our shea butter directly from Ghana. There was a lot of trying the products and testing them to make sure they had a shelf life. Just so many things that I had no idea about before getting into beauty and skincare because I never thought I would have my own skincare line.

I always knew that I was going to be an entrepreneur. But I never thought I'd have to focus on formulas and ingredients and what they could do to your skin. So I had to dive deep into the problems that we as Black people had with our skin and the most common problems. As I learned more, I began addressing them first so that we could be a solution-based brand. Then we added other things that people can use to enhance their skincare routine.
xoN: What are some common issues that you found when it came to Black people and skincare?
DR: Hyperpigmentation is definitely one of them. The dark spots and unevenness on the skin as well as sun damage. I think a lot of Black people overlook what sun damage can do to your skin, so we developed a Mineral Tinted Sunscreen for that. But in general, breakouts and cystic acne, and discoloration were what most people complained about.

We're not an acne-based company. I was an adult dealing with adult acne and the after-effects of it. I [also] had a hard time finding products that kept me moisturized all day and used shea butter on my body because lotions were drying out 30 minutes after applying it. So I think finding moisture and ingredients that give us that even tone was important because that's where a lot of people were struggling.
They say, "Black don't crack," but we can crack if we don't take care of our skin.
xoN: So, what is your current skincare routine?
DR: I love to use our Tea Tree and Aloe Scrub. It's both a mask and a foam cleanser. I like to use that because I like to work out and I'm active during the day. A lot of times, you think you can't scrub your face every day, but ours is so gentle, I tend to use that most of the time. Then I follow it up with the Vitamin C Serum which regenerates the skin and helps with fine lines and wrinkles, and my CoCoShea Revitalizing Cream. At night, I'll put the toner on just to get my face clean and fresh, and let my skin breathe.

But all of our products are used differently, depending on the climate, where I'm going, and what my skincare needs are. Every part of our system at Buttah is for something. So I even use our Charcoal Mask at least once a week to get all that gunk out of my skin and renew it.
xoN: Your line is in Macy's, JCPenney, and Ulta. How was the process of getting into retail?
DR: We're also in Bloomingdale's and Nordstrom, and we're getting ready to launch in Saks Fifth Avenue, which I'm very excited about. It was a process. Fortunately for me, it started taking off during the pandemic. I was at home with a lot of time on my hands to think about the creativity of it, how to make it look and feel a certain way, and be specific to certain retailers. Once we got on HSN and QVC–which was amazing–it allowed me to not only talk about the products but educate people on how to use them. Then retailers started reaching out to us.
Getting into retail is a bit of a process. You have to first have to have the finances to get into these stores. I know a lot of people have dreams of being in retail but they often don't have the money to fulfill their orders. So we had to dive in and restructure as a company because it was costing a lot to go into these retailers. And also make sure that each retailer had the right products and campaigns because every retailer had separate campaigns. Along with going in and training the employees in each store, which is something that I do, I go in and educate them so that they give people the proper education when they come into the stores.
Retail was a totally different game. Once I got the art of direct-to-consumer down, then we went into retail. But I tell people all the time that I'm learning as I go. Because this has been such a fast process, I'm learning the dos and don'ts. A lot of times, a brand will be successful online but won't do as well in retail, so you have to transition how you promote it and transition how you market it specifically for retailers.
xoN: You said that you always wanted to be an entrepreneur. Did being in the spotlight after 'College Hill' inspire you to pivot from TV to business?
DR: I think it inspired me to understand that I could use my TV presence as a way to grow an audience in different arenas. I was also tired of relying on the entertainment industry to pay my bills. I was looking for something that was for me. In doing television shows and acting, I was always waiting for a "yes" from someone, or always waiting for somebody to tell me what lines to say and what to do. I mean, I'm 34 now and shot College Hill at 20, so I kind of felt like a puppet. I was just doing whatever the industry told me to do to stay successful.
I wanted something that I was in control of and how successful it was, and that it wasn't in somebody else's hands. I think having fame at a young age allowed me to see it and not get too excited about it because I've had it, I've lost it, and I've had it again. And you tend to place value on things that are more purposeful outside of just being in front of the camera. I realized after every season of In The Cut ended, I felt empty. I felt like I needed to find another gig or was hoping that we would get picked up again, and I didn't want to put all my value into that anymore.
Now I still do it. But I'm able to do it through Buttah. I'm able to model through Buttah, act through Buttah, and host through Buttah. And it's so much more fulfilling to not have to have someone telling you what you're doing wrong, or what you can do better to make a show better. It feels more organic this way.
I felt like some of the things that I had done, although they were entertaining, weren't reflective of who I was as a man, as a human, and as a businessman. And I wanted to do something that really showed the world that I mean business. I'm not just here to make people laugh or go on a reality show or take good pictures, but I have purpose behind my name.
"I wanted something that I was in control of and how successful it was, and that it wasn't in somebody else's hands. I think having fame at a young age allowed me to see it and not get too excited about it because I've had it, I've lost it, and I've had it again... I wanted to do something that really showed the world that I mean business. I'm not just here to make people laugh or go on a reality show or take good pictures, but I have purpose behind my name."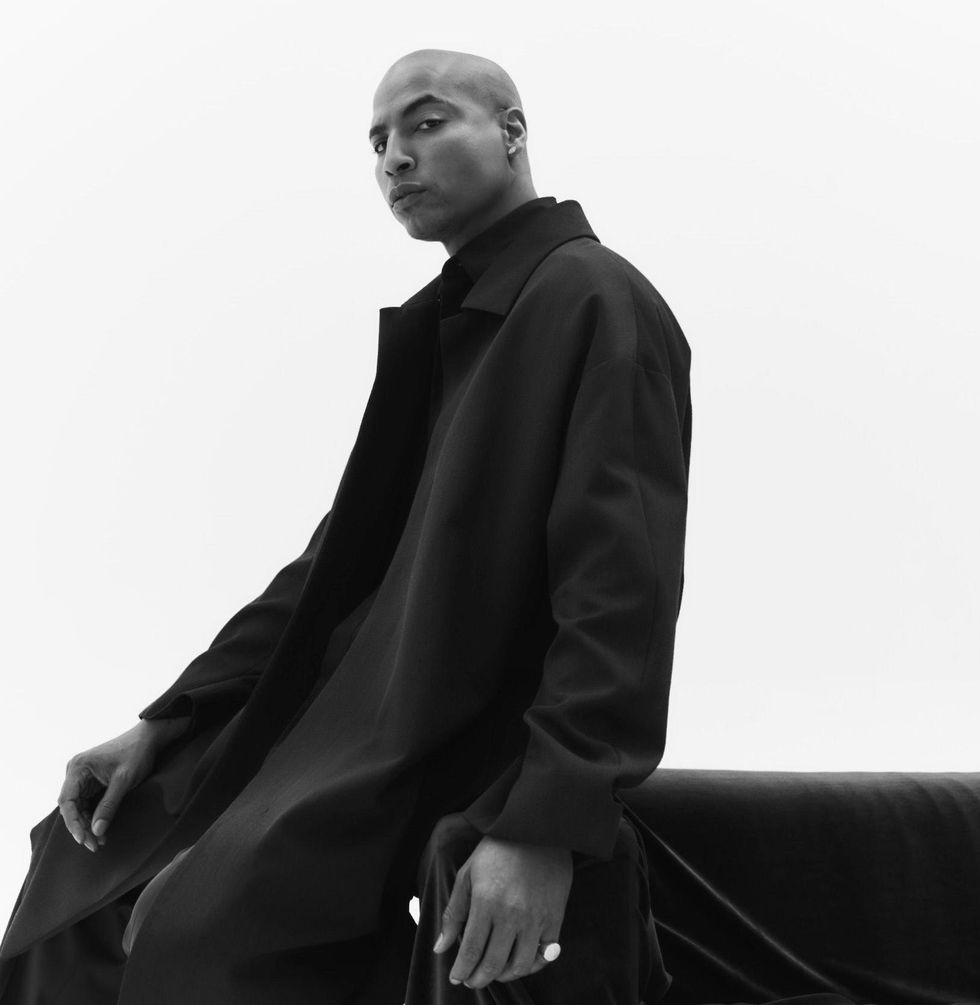 Courtesy of Dorion Renaud
xoN: Looking back over your career, what have been some of your greatest lessons?
DR: Wow. You know, stay patient, stay in it. You have to have perseverance and really know what you want out of this. And also listen to the audience. Don't focus so much on your peers and the people around you because the audience will stand by you and support you. They will also let you know when they don't like something. Sometimes your peers can give you a false identity of who you are because they see you as somebody that they're in proximity with. So listen to the supporters, listen to those people out there, and do your education.
Do your research and get educated on whatever field that you're going into and really know your stuff. Because when it starts to happen for you and you're successful, if you don't know what you're talking about, you're going to instantly be exed out.
For more of Dorion, follow him on Instagram.
Featured image by Manuel Hernandez
It comes as no surprise that the cannabis industry and the legalization of marijuana are yet another barrier that Black business owners face. A new report released by Grand View Research, Inc stated that the global legal marijuana market size is expected to reach $73.6 billion by 2027. However, many states have very specific guidelines that stand as barriers for many people of color looking to get into the cannabis business, and Black and brown people are still serving harsher sentences for the possession and distribution of drugs than their white counterparts.
In tandem with that, Black people across the country lack the capital and access to venture into the marijuana business due to the various restrictions on who can own cannabis businesses. While the fight continues to dismantle another area in which systemic racism oppresses our community, these business owners are propelling forward to be the diversity that the whitewashed wellness industry so desperately needs. Here are five Black-owned CBD brands to support with varying products.
The Jersey-based CBD dispensary founded by Almaz Adeigbolo offers everything from pre-rolls and honey, to bath bombs that reduce anxiety. They also sell strains of CBD flower to help with depression and insomnia. Additionally, Adeigbolo is also a chef, and she curates cannabis-infused culinary experiences with her boutique food company, brwnbox kitchen.
BROWN GIRL jane is owned by sisters Malaika and Nia Jones and beauty and wellness expert Tai Beauchamp. The Spellman grads started the company after Malaika fell in love with the healing properties of plants and CBD, and felt frustrated with the lack of representation of people of color. Their products range from facial serums to body butter and yoni oils.
Founded by Dorian Morris, Undefined Beauty combines cannabis and skincare. The clean beauty advocate's line features firming serums, cruelty-free lip balms, and bath salts.
Not sure where to begin your CBD journey? This company provides a monthly subscription service of products such as calming wearable patches, chocolates that fight anxiety, nourishing facial masks, feel-good teas, healthful treats, and soothing balms all delivered to your door.
Yes, you read that right, hot sauce. Chef Paul Booker intends to blend up his passion for food and cannabis for all to enjoy. The former athlete shared that after enduring injuries and extreme physical stress on his body after his college football days, Satan's Breath was born.
If you're curious about exploring CBD, support these Black-owned brands as you venture into this area of wellness!
Let's make things inbox official! Sign up for the xoNecole newsletter for daily love, wellness, career, and exclusive content delivered straight to your inbox.
Featured image by Catherine Falls Commercial/Getty Images
Originally published on September 23, 2020
Emma Grede made a name for herself in fashion retail cofounding Good American with Khloe Kardashian and as a founding partner for SKIMS with Kim Kardashian. Now, she is stepping from behind the brands to help other business owners. One of the ways she is helping others is by joining the panel of investors on the hit TV show Shark Tank. As a guest Shark, she became the first Black woman investor in the show's 12-year history.
The British entrepreneur talked about the ground-breaking moment to People. "I think I'm a good Shark because first of all, I'm relatively young and the business climate now is really unique and really different than it's ever been before," she said. "And I've prioritized my career in building a diverse, inclusive route and team." And she also likes to help and create opportunities for the people around her that way everyone wins.
"I think 20 years ago, entrepreneurs had much more of a kind of me-first mentality," she said. "I do think the opposite way. I'm about building incredible teams and creating opportunities for people, building loyalty. That way you'll find a lot of people that have started with me 10 or even 12 years ago are still working with me now in totally different positions, but people stick with me and I think that's really important."
Working with Good American, SKIMS and Kris Jenner's line Safely, the 40-year-old CEO also prides herself on having brands that are diverse and inclusive no matter race, size, gender, or age.
During her appearance on the Tamron Hall show, Emma opened up about the importance of making sure that everyone feels seen.
Good American sizes range from double 00 to a plus size 32 and SKIMS sizes range from a XS to 5X and has nine different skin shades making sure that every woman can look and feel good in their body.
"As a Black female CEO, I've always prioritized building a diverse and inclusive workplace," she said. "Now that I'm in this position in my life, I really want to make sure that women coming up, especially Black women coming up behind me who have far less access to funding are properly funded and able to find things that are going to help them propel their business. We all need opportunities and if I can be that opportunity for some women then hands down that's what I want to do."
Good American Co-Founder Emma Grede Wants to Open Doors as a Black CEO
Featured image by George Pimentel/Getty Images
March is Women's History Month and while we encourage our readers to celebrate women every day like we do, March is a time to really focus on appreciating the contributions of women cultivators and history makers, particularly in the Black community. With remarkable illustrations of Black girl magic such as Michelle Obama and Simone Biles, Black women have continued to make history even in the face of adversity, all while influencing little Black girls everywhere that no dream is too big to achieve.
Just look at the numbers. The National Center of Education Statistics' study showed that Black women are one of the most educated groups in the U.S. and they are more likely to become business owners in comparison to white women according to Forbes. The studies prove that Black women are more willing to take risks and sometimes make history in the process.
So, for Women's History Month, we want to shine a light on 10 Black-women owned small businesses that you should support.
1

.

Smard. Art
Sylvine is a visual artist who creates beautiful art that explores Black women in their femininity and their everyday life. This work includes women wearing grills, stylish nails, and hairstyles synonymous with Black women. Her artwork ranges from canvas prints to posters and even phone cases. "Everything about the Black Culture inspires me a lot. The Black Woman is my muse," Sylvine said on her site.
2

.

Prime Beauty
Prime Beauty is a cruelty-free and vegan makeup brand that has been seen on the likes of Issa Rae and Tamar Braxton. The site notes that the brand's goal is "to create quality and affordable products that defy Eurocentric beauty standards and uplift the beauty that is being a woman of color. Specifically focusing on the long-standing gaps in color cosmetics for deeper skin tones."
3

.

Kulture Karaoke
If you like to have game nights with your family and friends, then you might enjoy Kulture Karaoke. It's a music card game that celebrates Black music and Black culture featuring categories of the 90s and 2000s hip hop and R&B music. In an exclusive statement to xoNecole, the game creator, Dae Fenwick, said, "The concept was born early in the pandemic, in 2020. It was created as just something fun for my friends and I to do at a time when we needed more joy. After playing with friends, I thought maybe others would enjoy it too, and Kulture Karaoke was born."
4

.

Jade Gold Studio
Jade Gold Studio is an online boutique that features affordable and stylish jewelry and accessories. According to the website's description, "Each piece of the collection is exquisitely crafted with the everyday woman in mind - women who enjoy simplicity, women who enjoy making bold statements, and every woman in between. The pieces can be worn by themselves for a minimalist look or layered for a lively, bold look."
5

.

Zaime
NYC brand Zaime is an ethically-made clothing line that is both functional and luxurious. The brand creator, Zapora Williams, wanted to prove that fashion can be "responsibly manufactured" while also being sophisticated, elegant, and edgy. In an interview with Forbes, Zapora talked about the fight to be respected as a Black designer. "We often get lumped into streetwear," she said. "Black doesn't automatically mean streetwear. I wanted to showcase Black women in a new light."
6

.

Sahel Cosmetics
Sahel Cosmetics was founded by Sahel to honor her Chadian roots. The company's most popular product is the chebe powder, which is a reddish-brown powder that is native to the African country of Chad and is said to promote healthy hair hydration and less breakage. The chebe powder is seemingly responsible for the thick, long hair that is often seen on the women in that region.
7

.

Ivy's Tea
Ivy's Tea Company was created by herbalist Shanae Jones as an ode to hip-hop. The teas' names are all influenced by songs and figures in hip-hop like Nip's Tea, which is in honor of Nipsey Hussle and C.R.E.A.M., which is a popular song by Wu-Tang Clan. In a previous interview with xoNecole, shared what inspired the brand. "I find that hip-hop is a great teaching tool and I see no reason why herbalism and herbal tea or any tea shouldn't be a part of that teaching," she said.
8

.

Kendall Miles
Luxury footwear company Kendall Miles takes shoe design to the next level. The shoe brand that has been seen on Lizzo and Mickey Guyton caters to women who love to keep it classy and chic or flashy and edgy. Just one scroll through their Instagram page and you will see it's giving variety, from fur-lined heels to strappy heels to a simple pump.
9

.

Castamira
As the weather starts heating up again, it's time to start thinking about swimsuit shopping so why not a Black woman-owned brand? Castamira is a "conscious luxury" swimsuit brand founded by Wilhelmina model Chantel Davis. The collection's aesthetic is inspired by the 1970s and the 1990s and it is designed with the woman in mind focusing on showcasing women's natural curves.
10

.

Bright & Salted Yoga
Yoga Instructor Arianna Elizabeth has a YouTube channel where she teaches viewers yoga at home. The classes range from beginner to intermediate so anyone can participate and she often offers challenges for yogis to focus on certain body parts or poses. Her classes are rooted in faith and she closes each class out with affirmations to say to yourself before getting off of your mat.
Featured image by Getty Images