Marian Wright Edelman hit the nail on the head when she said "you can't be what you can't see." I love this quote because it highlights the importance of representation across all career paths, industries, and spaces; it highlights the need for events like Blavity's AfroTech Executive conference. As the name suggests, AfroTech Executive brings together Black startup owners, venture capitalists, and tech moguls with the goal of expanding Black representation in tech leadership. Created from the larger AfroTech conference, AfroTech Executive tailors each session to leaders at tech companies, tech startups, and media moguls - we LOVE to see it!
Though the tech space is as snooze as it gets for some, AfroTech is anything but a stuffy tech conference. The vibe was set from the moment I entered the outdoor deck of The Line Hotel and was greeted by a tray of mimosas and friendly faces. There was a consistent excitement, camaraderie, and an overwhelming sense of pride throughout the day.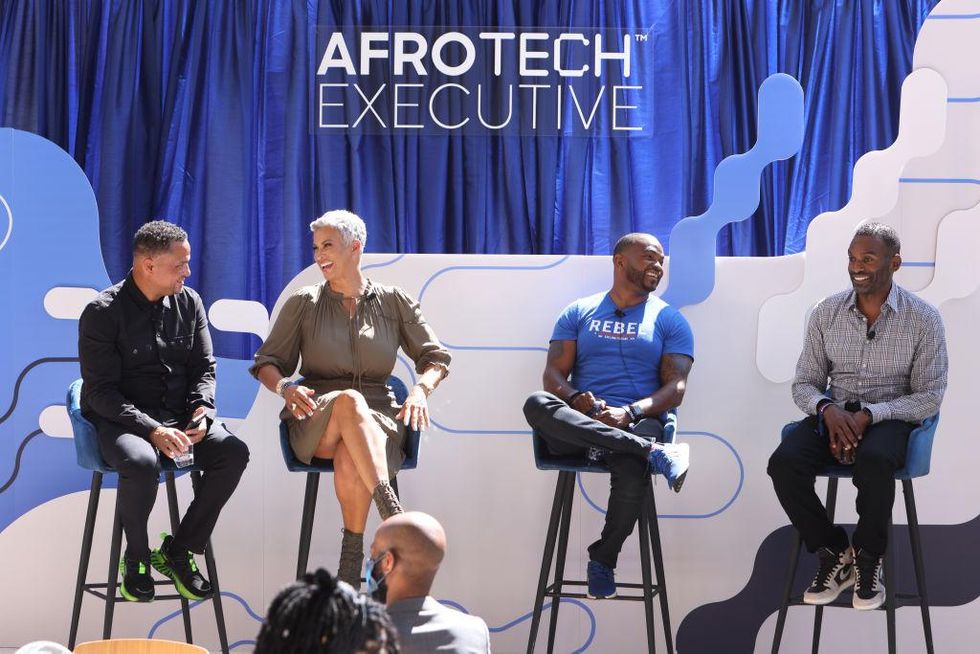 Randy Shropshire/Getty Images for Blavity Inc/AfroTech
Stay tuned if you're looking to be inspired by leading Black executives like Michele Ghee, the CEO of Ebony and Jet, and Detavio Samuels, the CEO of REVOLT Media.
"Partnership is great, but ownership is better." - Michele Ghee, CEO of 'Ebony' and 'Jet'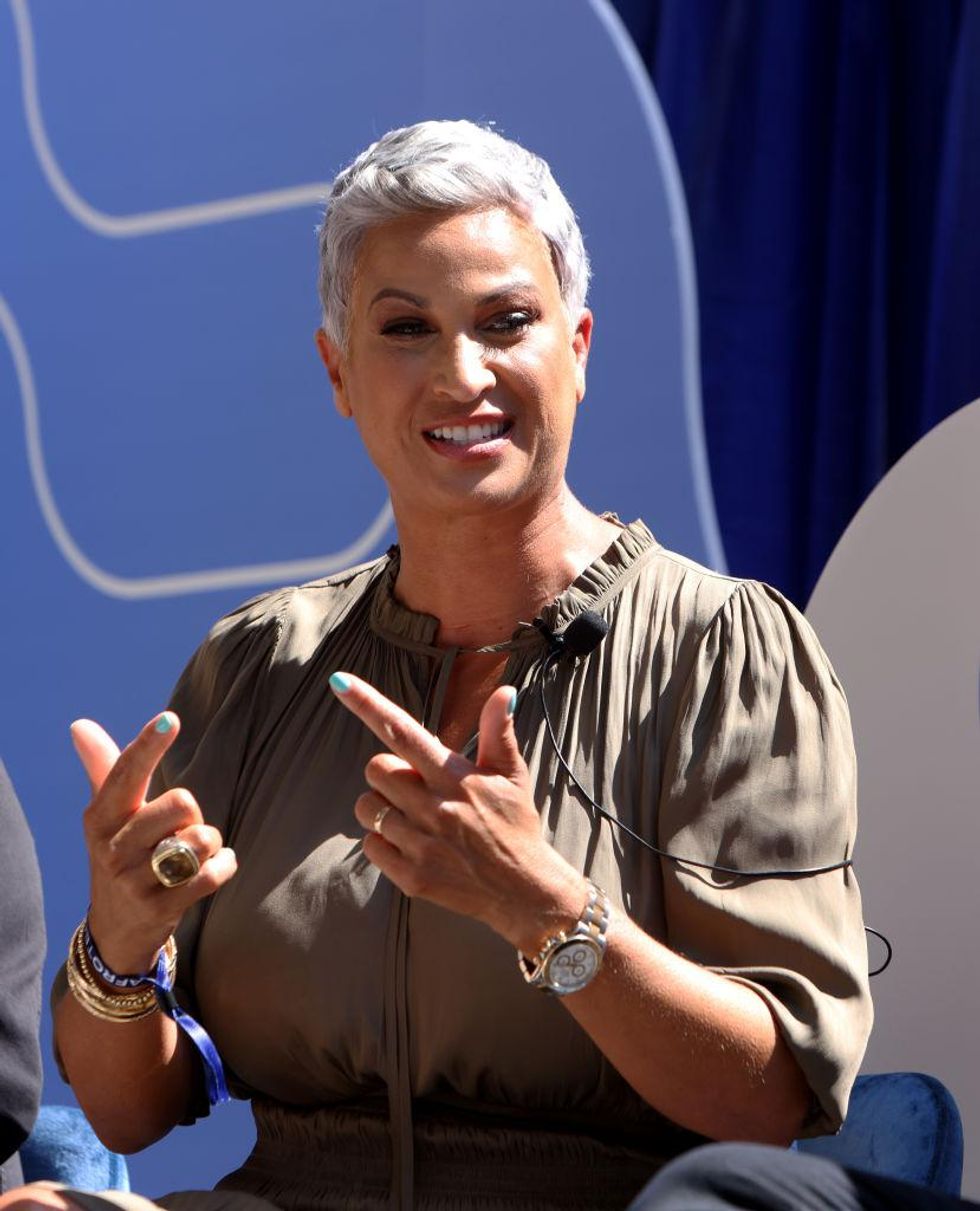 Randy Shropshire/Getty Images for Blavity Inc/AfroTech
Michele Ghee hopped on the stage last Saturday and decided to preach. It's been a minute since I've joined an in-person sermon and my soul welcomed every second of it. Throughout the panel, Michele emphasized the importance of ownership. Oftentimes, we find ourselves so excited to be in the room that the bar is on the floor (yep, I'm talking to myself too).
When asked what advice she would give to empower creators and entrepreneurs to request ownership in business deals, Michele noted:
"Knowledge is critical. We have to know our worth. We are worthy of investment. We have to first know who we are, what we believe in, and what we offer. That will allow us to attract others that can help us on our journey to true ownership. That allows us an opportunity to make critical decisions about growth. That allows us to have a greater stake in revenue growth and reinvestment in our companies. We can walk in fear or faith. I chose educated faith!"
Michele's words are a reminder to elevate the bar beyond the limits we set for ourselves. Pushing past partnership to ownership is attainable, but we won't know unless we strive for it.
"People don't believe us [Black women] the first time. Keep being right." - Sherrell Dorsey, Publisher, and CEO of The Plug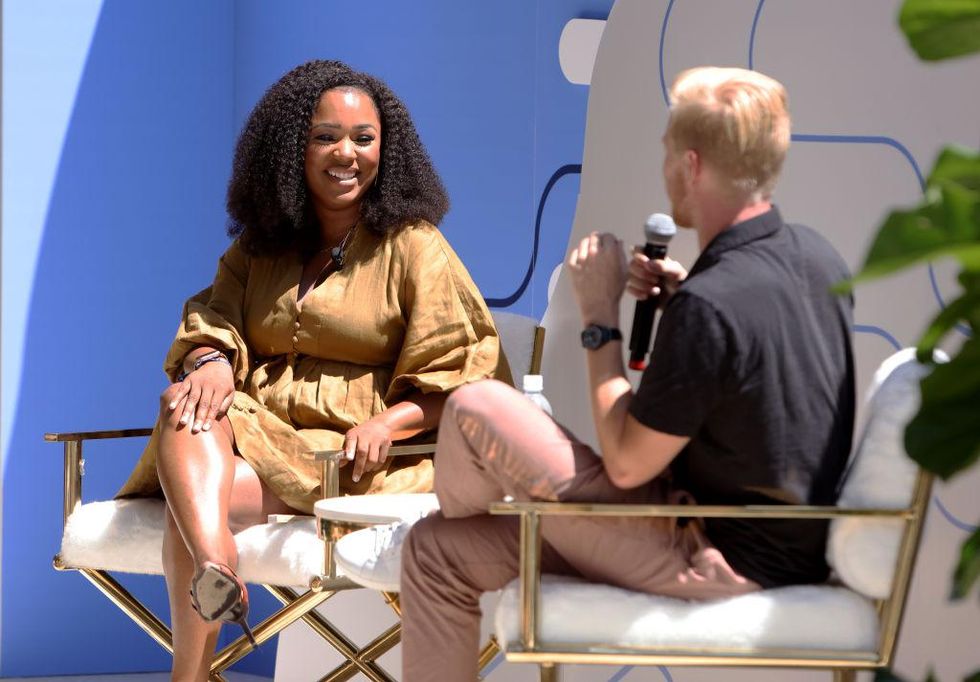 Randy Shropshire/Getty Images for Blavity Inc/AfroTech
One of my favorite conversations of the day was chatting with Sherrell Dorsey, the CEO of The Plug - a subscription-based digital news platform covering Black innovation. Have you ever met someone with a commanding presence that spoke genuinely, passionately, and with the utmost grace - that's Sherrell. When asked about hurdles she feels are unique to Black women in tech, Sherrell mentioned, "People don't believe us the first time."
Oftentimes, it takes validation or sponsorship from white counterparts for Black women to be heard. If you're wondering how to combat this, Sherrell's answer is simple: "Keep being right."
"The future of media is the influencer." - Detavio Samuels, CEO of REVOLT Media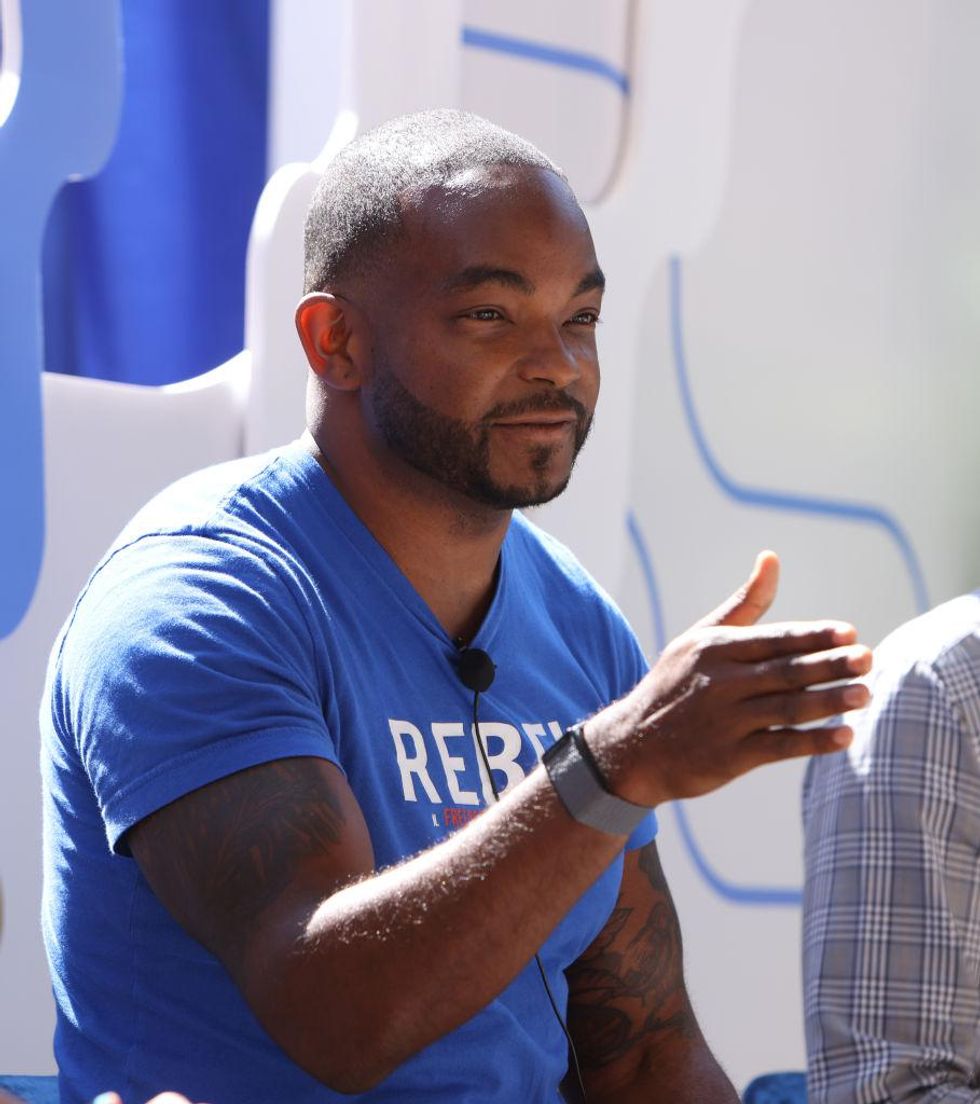 Randy Shropshire/Getty Images for Blavity Inc/AfroTech
Detavio Samuels joined REVOLT Media in March 2021 hoping to make REVOLT the world's largest Black-owned media empire - an incredible goal. During the panel about the evolving topics surrounding Black media advertising, Detavio leaned heavily into the need for Black people to tell Black stories. Since Detavio joined REVOLT Media, he's helped pivot their content development strategy guided by the belief that the future of media is held by influencers. He encouraged influencers to call on the panelists with ideas knowing that the top media platforms in the world right now all belong to celebs and influencers. When asked about the value influencers and creators can bring to a big brand like REVOLT, Detavio mentioned:
"At REVOLT, the value they bring is themselves. Their unique lens. Their unique perspective. Their unique story. We just want to enable them to do it at the highest level possible."
Yes, the speakers dropped gems but my conversations with the AfroTech attendees truly kept me intrigued. From chatting with Kameale Terry and Evette Ellis, the co-founders of ChargerHelp! who are helping eliminate faulty EV charging stations across the nation and creating jobs in the process, to my conversations with Eric Coly, the owner of Ayana Therapy, a service that takes gender, race, and intersectional identities into account to address establish compatible relationships between therapists and the clients they serve.
Hearing the passion, the creativity, and the guts to go after millions of dollars in funding without a roadmap to follow - inspiring just doesn't cover it.
Featured image by Randy Shropshire/Getty Images for Blavity Inc/AfroTech

Keep reading...
Show less
Ladies and ladies, Ebony Magazine is backkkkk! And not only are they back, they have arrvied with solid plans to take over media and the Black publication space once again! #comethrough. If you aren't familiar, partner companies Ebony and Jet, found themselves facing bankruptcy after struggling for multiple years. Ultimately, as a decision was being made, they were last published back in 2019. That was until serial entrepreneur Junior Bridgeman, took Ebony and Jet out of bankruptcy in December when his company, Bridgeman Sports and Media, bought the assets of their parent company, Ebony Media, for $14 million.
And listen, Mr. Bridgeman's portfolio is super impressive too, with a 12-year tenure in the NBA, to owning hundreds of Wendy's and Chili's franchises across the Midwest and the South, and then selling them in 2016 when he became a major distributor for Coca-Cola.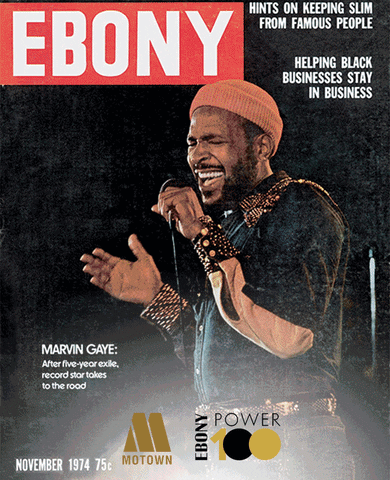 Giphy
His money is long and he brings it back to the community, which is a mood, a flex, and all the things.
From here, his daughter Eden Bridgeman Sklenar, enters the chat, as the Head Sis In Charge leading the revival of the publication. Additionally, she serves as chairwoman of the new parent company of Ebony and Jet, and has recruited Michele Thornton Ghee, formerly an executive at BET Networks and CNN, as the company's chief executive; Marielle Bobo, a former fashion director of Essence magazine, is Ebony's new editor-in-chief.
And man, does this team have some amazing things coming.
For one, they plan to add more full-time staff members and regular freelance contributors in the coming months.
Until last year, Ebony was almost a thing of the past forever. They had insurmountable debt, and the original parent company, Johnson Publishing, sold Ebony and Jet in 2016 for an undisclosed price to Clear View Group, a hedge fund in Austin, Texas. That ownership team cut staff, reduced office space and was accused of not paying employees on time. This resulted in Ebony being frowned upon by the National Association of Black Journalists.
Print editions are scheduled to come out four times a year, starting in 2022.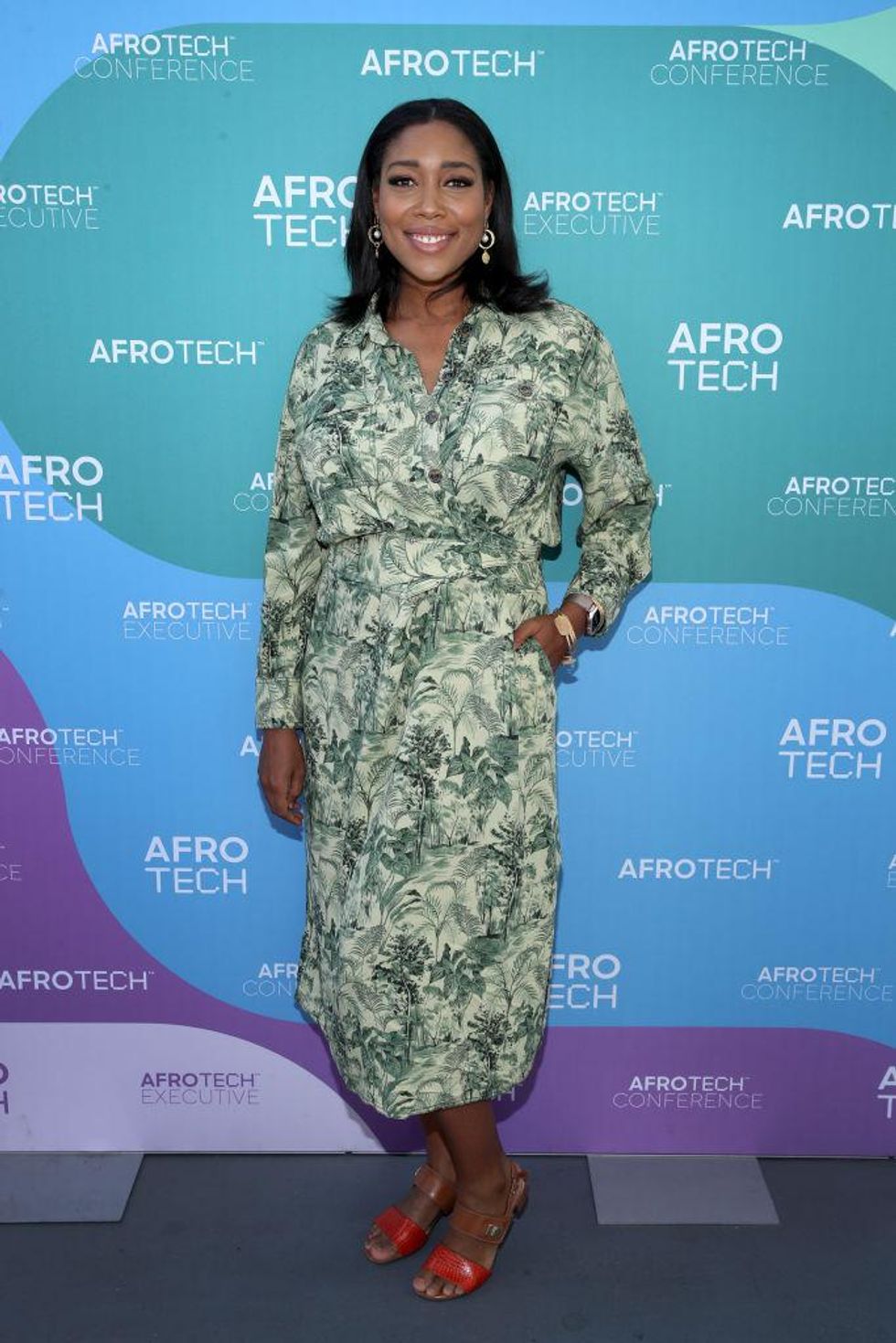 Eden Bridgeman Sklenar attends AfroTech Executive 2021 luncheon at The LINE LA on August 28, 2021 in Los Angeles, California.
Randy Shropshire/Getty Images for Blavity Inc/AfroTech
Currently, Ebony has been operating digitally, and only creating digital copies. The official reboot began in March with daily articles and videos posted on its website, which came back to life after years of being idle. The site also offers digital magazine covers featuring portraits of the hip-hop artist Tobe Nwigwe, the writer and actress Lena Waithe and the NBA star Karl-Anthony Towns. Its September online cover shows the Oscar winner Jennifer Hudson, who plays Aretha Franklin in the biopic Respect.
For now, there are no (admitted) plans for Jet.
And they've entered a partnership with Bloomberg Media + more. 
In a formal announcement, the two companies revealed that the collaboration would include amazing content such as original videos, news articles, a newsletter and cross promotion on social media. Bloomberg will also assist with the revival of the Ebony Power 100, an annual list of influential Black Americans, with an hour-long special scheduled for the cable channel Bloomberg Television in November.
Additionally, in a separate partnership with HarperOne, a division of HarperCollins, Ebony's book division will publish a memoir by Viola Davis next August.
In the end, Ebony wants you to give their new direction your support. Of the reboot, Sklenar says:
"You just have to look at today. The historic moment of an African American and South Asian woman vice president, to everything that happened in the past year, of voices being heard in a way that they haven't been before."
Ghee added:
"Because we acquired out of bankruptcy, we're a start-up, which is a curse and the beauty. We get the opportunity to take a historic brand and retrofit it."
A perfect new start to a community staple. Congrats to this team!
Are you a member of our insiders squad? Join us in the xoTribe Members Community today!
Featured image by Randy Shropshire/Getty Images for Blavity Inc/AfroTech
Keep reading...
Show less
Ciara has built a life that many of us admire and envy at the same time. She is a loving wife, mother, and friend with a hugely popping career. She balances all of the above so gracefully, managing to insert 'super' in front of all of her labels. Over time, both her and husband, Russell Wilson, have built an impressive portfolio, from venture funds, to insurance, to charity and more, and now, they are adding 'fashion designer' to the resume, as the duo welcomes LITA by Ciara.
It's founded by Ciara, husbae Russell Wilson, and former Lululemon CEO, Christine Day.
Announced in December of 2020, Ciara decided that she wanted to make LITA, a luxury fashion brand that has a mission beyond just selling t-shirts.
"We're not only doing the fashion part. We're also combining the passion for fashion but also the passion for impact. That was really important to both Russell and I and also Christine in creating our company. There has to be more to it than fashion."
LITA shares space under the umbrella of the House of LR&C, with Good Man Brand, which Wilson founded in 2016, Human Nation, a gender neutral apparel influencer vibe, and Dare To Roam (DTR), a line of chic minimalist backpacks and accessories crafted from antimicrobial nylon. They decided to merge fashion and philanthropy with their launch of the parent company, but now LITA, is speaking strictly to the ladies and most importantly, falling in line with the other brands who's looking to appeal to younger shoppers who are socially minded.
Three percent of each purchase goes to the 'Why Not You Foundation,' which Wilson founded in 2014.
Before any money touches Ciara, Christine, or Russell's pockets, three percent of sales are donated to the foundation, which supports organizations that provide kids with educational resources and raise money to cure and treat pediatric cancer. Ciara opens up to ELLE about the process, saying:
"It's more than an opportunity to create cool fashion designs and to keep my ladies fly and fashionable around the world. There's also this great opportunity to make a difference together, hence we give back 3 percent of what we make. We're a give back first company."
She continues:
"Having the opportunity and platform to do all of that good is a big part of the 'why we do this.'"
The collection is priced between $68-$895.
Ciara is looking out for our purses, ladies! She kept the prices extremely affordable for the everyday woman, something she says was a focus of hers.
"My ultimate goal for LITA is to be a woman's best friend in fashion. I'm a high-low kind of girl, and so I've been able to pour some of that influence into the line. I'm also a tomboy, so there's going to be a little bit of edge and attitude in all the pieces. LITA is for the woman who wants to be fly but doesn't have to spend a crazy amount of money."
At the end of the day, Ciara wants us to know, that LITA is all about love, first.
Each garment is carefully crafted throughout the collection, down to the materials used. And according to Ciara, sustainability is one of the greatest acts of love consumers can practice right now, which is why LITA uses conscious materials that will last.
"At the house, you don't have to sacrifice fashion to be sustainable. We're thinking about durability. Factoring sustainability into every part of the process and putting love into every part of the process was really important. And being able to have an environmental impact at the same time. It all comes back to love."
We're proud of you, Ci!
LITA by Ciara is officially live and available for purchase on their website.
Watch Ciara and business partner Christine Day, discuss the brand below:
Are you a member of our insiders squad? Join us in the xoTribe Members Community today!

Featured image by Rich Fury/Getty Images
Keep reading...
Show less
Entrepreneurs thrive when they are able to work freely and truly focus in on their gifts in building their brands and businesses. But that focus can be tough when the finances are tight, dwindling, or just not available for key parts of the journey like expansion. Well, we've got all our xoNecole entrepreneurs and budding businesswomen covered with millions in funding opportunities that you can literally apply for from the comfort of your computer screen.
Check out a few awesome options to get your business off the ground, finance a new phase, or just invest in bettering the process of offering your best product or service to the world.
(Oh, and all application information and websites can be accessed by clicking each title. Get your money sis!)

This one is targeted toward creatives, and anyone interested in the $10,000 in funds, as well as a mentoring session with Issa Rae, will need to follow LIFEWTR's Instagram, shoot their shot via a pitch presented on the platform, tag them, and use the hashtag. There will be five winners chosen and the deadline is July 30.
If you have a big idea for a business that you can scale to succeed over time, you could win $50,000 with this one. You'll get to connect with investors and venture capitalists as well. The deadline is July 26.
There are 25 $10,000 grants up for grabs for small business owners via SIA Scotch's partnership with Hello Alice, an online entrepreneurship resource for funding and more. The deadline is August 10.
Eat Me Guilt Free, a maker of protein-filled baked treats, is offering $10,000 to finance a lucky woman's entrepreneurial dreams. They're also offering a one-year supply of their products, a Peloton bike, and a one-year mentorship with founder Cristie Besu. The deadline is August 1.
This is a unique opportunity for jewelry entrepreneurs that includes a $7,500 cash grant and other resources, and it's presented by Halstead Bead Inc., a family-owned company with more than 40 years in the business. The deadline is August 1.
This multimedia giant is offering marketing, creative, media and technology services and resources to minority-owned businesses, much of which is almost priceless but clearly worth thousands of dollars. The deadline is July 31.
National Association for the Self-Employed Growth Grants are awarded on a quarterly basis and there's up to $4,000 available to each recipient. Applicants must be members of the organization, and there are rolling deadlines.
Featured image via Getty Images
Keep reading...
Show less
When we think of remote work, there's this sense that the jobs are limited in terms of their nature, the available hours, the employment package, and the upward mobility when compared with full-time, in-office jobs. However, as the work world returns to some semblance of normal, a plethora of remote jobs are still in demand. Many even go beyond your usual hourly, freelance, or customer service gigs and into some big-bag, money-making opportunities with benefits.
Check out a few amazing high-paying remote jobs which, Remote.co reports, include salary offers to the tune of six-figures and are 100 percent out-of-office. (Also, sis, don't count yourself out of these sorts of jobs even if you're underqualified right now. This list can be aspirational, so you can at least find out what you need to do now in order to land these opportunities in the future):
Finance Director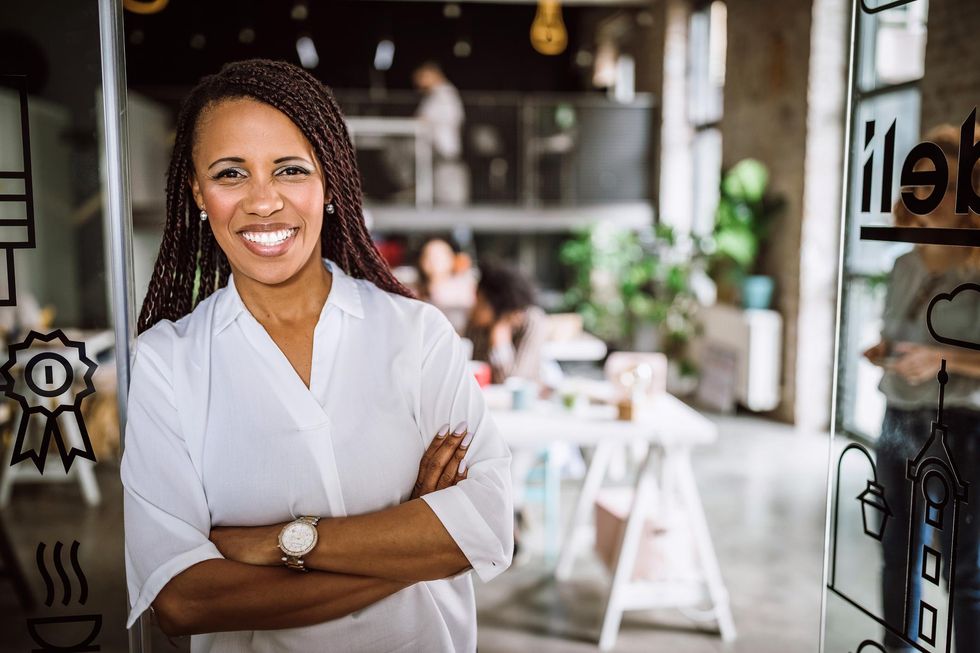 Pekic/Getty Images
The average annual salary for a finance director is reportedly $111,000 and involves "guiding financial decisions," interpreting data, and ensuring compliance. Also, at least eight years of experience in the sector is required.
IT Supervisor
As an IT supervisor, you'll develop and manage an audit support team, security programmers, and special projects. Up to nine years of experience in IT and/or tech security is required, and the annual salary is $110,000.
Telemedical Physician
If you're an MD licensed in multiple states, becoming a telemedical physician is ideal, and the salary sits at at least $140,000 per year. You'll be offering your skills and talents via phone or video, which is a great part about this type of medical job.
Software Engineer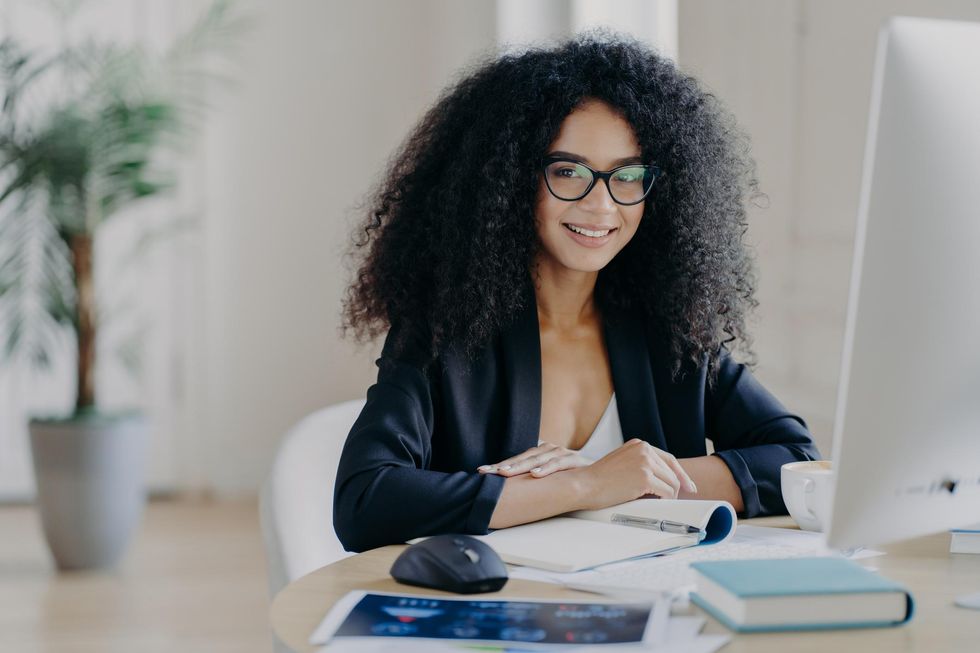 Viorel Kurnosov/Getty Images
If you love designing, developing, testing and deploying new products from scratch, this $111,000-a-year job is for you. And, here's a plus: becoming a software engineer only requires at least three years of exemplary relevant experience in software engineering to boot.
Tax Director
If you know how to lead and develop teams that prepare quarterly and year-end tax deliverables and disclosures for securities findings, the role of a tax director is a good one. The salary hits $148,000 and experience at one of the Big 4 firms is required.
So, whether you're already qualified or you're mapping out your future plan for earning big bank and leaving the office for good, give these options a try. For more listings and details of high-paying remote jobs, visit FlexJobs or Remote.co.
Featured image by Viorel Kurnosov/Getty Images
Keep reading...
Show less
Taking out a small business loan can jumpstart your brand new company or give you the funds to maintain or even grow your business to the next level. Either way, it can feel like you're heading into uncharted waters. But, putting aside your fears can have a huge pay-off. According to Fundera, the average SBA loan amount is $107,000 and the average small business bank loan amount is $633,000.
Don't let your intimidation of getting a small business loan cost you massive funding. Getting a small business loan isn't that scary when you have all of the facts at your disposal.
1. Determine Why You Want A Business Loan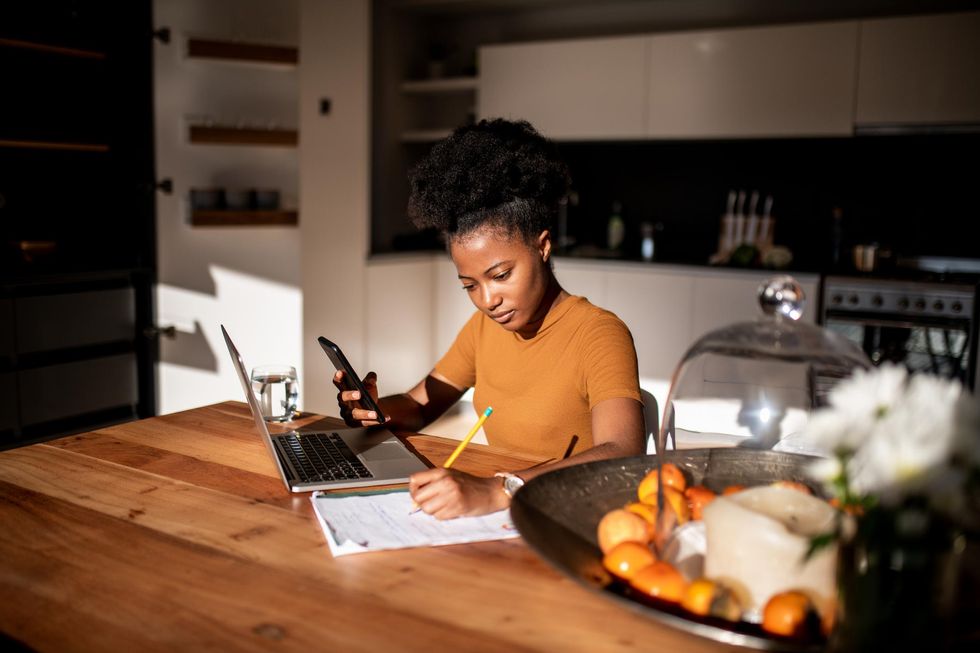 MStudioImages/Getty Images
The first step to take when thinking about acquiring a small business loan, is figuring out why you want one in the first place. It's key to know why you need a business loan for multiple reasons. How are you going to know which type of loan and lender can fulfill your needs? A few reasons to apply for a small business loan include:
Starting a new business
Growing your business
Financing equipment or vehicle purchases
Day-to-day expenses
Buying another business
Build your business credit history
2. Pre-assess Your Qualifications For A Loan
Before wasting your time applying for loans that are out of your reach, assess your current qualifications for a loan. This will help you to determine which loan types and lenders will most likely approve your loan, narrowing your search.
How is your credit score looking?
Most people are familiar with a personal credit score, yet many aren't familiar with a business credit score. If your business is brand new, you'll lack a business credit history, so loan administrators will focus on your personal credit score.
If you're unsure about your personal credit score or business credit score, check your credit report using the three major credit bureaus: Equifax, Experian and TransUnion. If there's anything concerning your reports, it's important to resolve these issues to amplify your chance of loan approval.
Do you have the minimum annual revenue?
Most lenders care about your business's annual revenue because they want to ensure you can actually pay them back. Calculate your annual revenue to assess if you meet a lender's minimum annual revenue requirement. Each lender has unique qualifications, but if your annual revenue is at least $100,000, you should be good to go for most small business loans.
3. Determine The Type Of Loan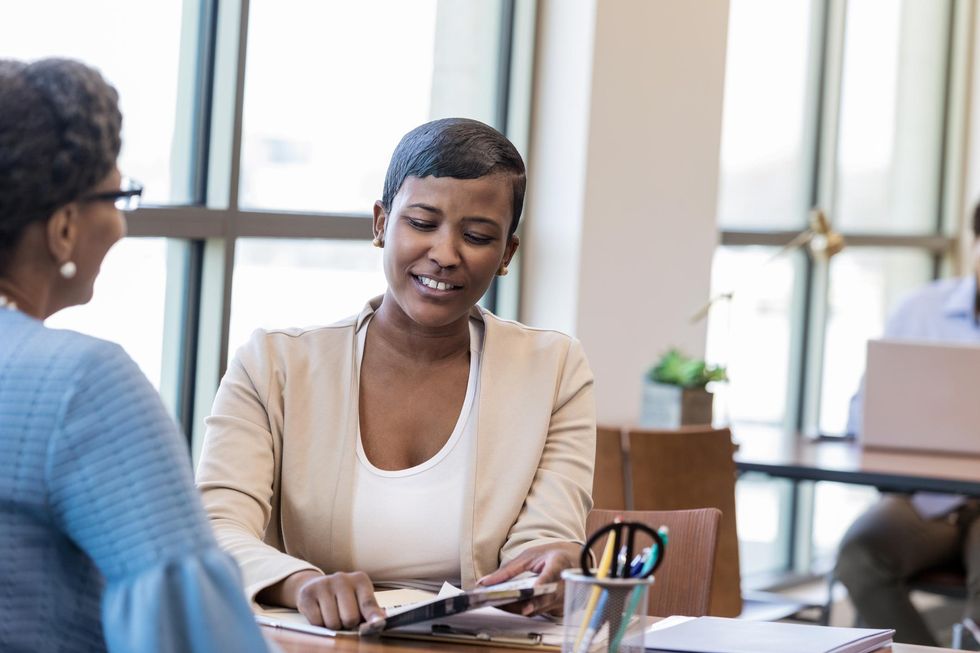 SDI Productions/Getty Images
There are many loan options for small business owners, but below are 4 options that are pretty common among small business borrowers.
Term Loans: Term loans are one of the most popular type of loans for small businesses. Small business owners receive a lump sum of cash that is expected to be repaid over a fixed term, while accruing monthly interest on the principal balance. This loan type allows lendees to use their lump sum of cash on a diversity of needs, such as the purchasing of equipment or inventory expenses.
Small Business Line of Credit: A small business line of credit is comparable to a credit card because borrowers receive a maximum credit limit that can usually be accessed through a checking account. Business owners who have no idea how much funding they may need will benefit from this option because you only withdraw what you need. Plus, you can repay your owed amount, and then withdraw money once again to keep your credit balance low. You're only charged interest for the amount you withdrew, instead of being charged for the entirety of the loan amount like a term loan.
Small Business Administration Loan (SBA): SBA loans are a perfect match the owner who wants a government-backed loan. These loans entice business owners because of their low-cost, but the application process is known for being excessively long delaying the administration of funding. These loans are great for the business owner who prioritizes low-interest rates and fees over receiving their funds ASAP.
Equipment Loans: Equipment loans are fitting for the borrower who needs to finance large equipment/machinery/vehicle purchases, but lack the capital to do so. These loans are for purchases that maintain their value, such as office furnishings or laptops. If you can't pay your loan back, your purchases can be held as collateral.
4. Choose Lenders After Comparing Your Options
Before choosing a random lender, shop around to find the best-fit lender. There are a couple of factors to consider. What are the lender's fees? Which lender offers the best APR? How fast will the loan be administered? How large of a loan do they typically offer borrowers with your background?
There are many factors to consider, including the type of lender:
Banks match the borrower who's been in business for at least two years, has good credit, and the patience to wait for funds. There are several banks to choose from including: J.P.Morgan, Citibank, and Wells Fargo.
Online lenders are fit the borrower who prioritizes fast funding over low APR rates and higher loan approval rates than a traditional bank. Check out a few of the online lenders that supply small business loans: OnDeck, UpStart, and Credibly.
Microlenders are an excellent option for borrowers who have a less than stellar credit history, cant receive a traditional loan, or have a new business. A few popular microlenders: LiftFund, Opportunity Fund, and Justine Peterson.
5. Apply For Your Small Business Loan & Submit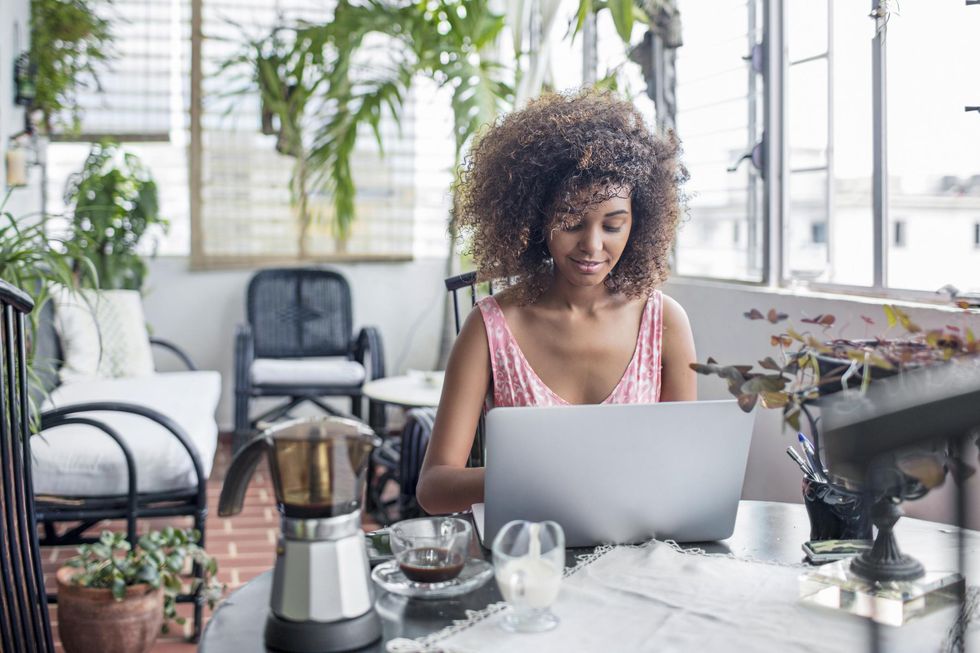 xavierarnau/Getty Images
After choosing lenders, it's time to apply! Understanding the application process and requirements is key to approval. Once you understand the application requirements, gather the needed documents. Lenders may require a business plan, tax returns, credit reports, legal documentation, and the purpose of the loan.
After gathering your application documents and filing out the application forms, double check your application. All that's left to do is submit your materials, and wait for a decision. Good luck!
Hopefully after learning 5 steps to getting a business loan, the entire process seems a little less daunting. The only thing left to do is to use the advice and start sending out business loan applications. If you're rejected by a lender, that's OK because you can apply to other lenders or take some time to become a stronger applicant.
Featured image by xavierarnau/Getty Images

Keep reading...
Show less