It's been a little over two weeks since Chloe Bailey, aka Chlöe, snatched our wigs and released her debut solo single, "Have Mercy." From the music and visuals, to the way she and her sister Halle support each other, we can't get enough. And this week, our good sis taught us a couple more things when she appeared on Vogue's Beauty Secrets. There, she gave us all the details to what she calls "Glowy Chlöe," her on-the-go everyday skincare and makeup look.
---
In the video, she detailed her routine, products, and beauty secrets. Now, we know that sometimes watching makeup tutorials can be kind of overwhelming, so we've recapped it all so you can give it a try.
Let's start with skincare.
Although her face was already clean she used Neutrogena's Skin Balancing Micellar Cleansing Cloths to remove any unseen residue.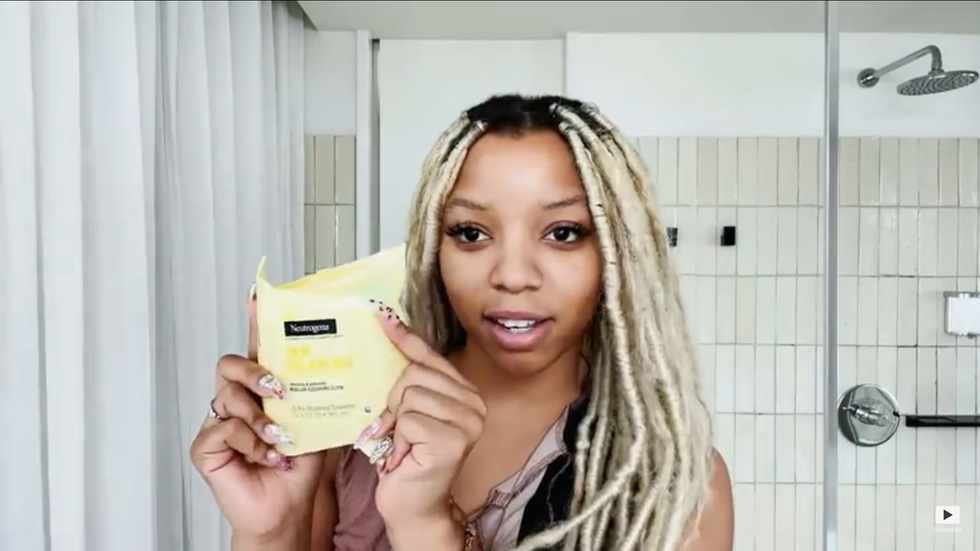 YouTube/Vogue
Then, she massaged her face with a roller and Neutrogena Hydro Boost Hydrating Serum to help her "baby cheeks" transform into the "snatched" look she desires. She gives Vogue an insider tip, saying:
"You always wanna go up [regarding the direction of the face roller]. Because we don't want sagging skin ladies."
Also, when she has a bit of extra time or she is getting glammed up, Chlöe takes a few moments to hold ice cubes under her eyes. This can help reduce puffiness and swelling. With a smile, she says:
"It's like a little subtle difference but I notice it and I feel so much better and confident."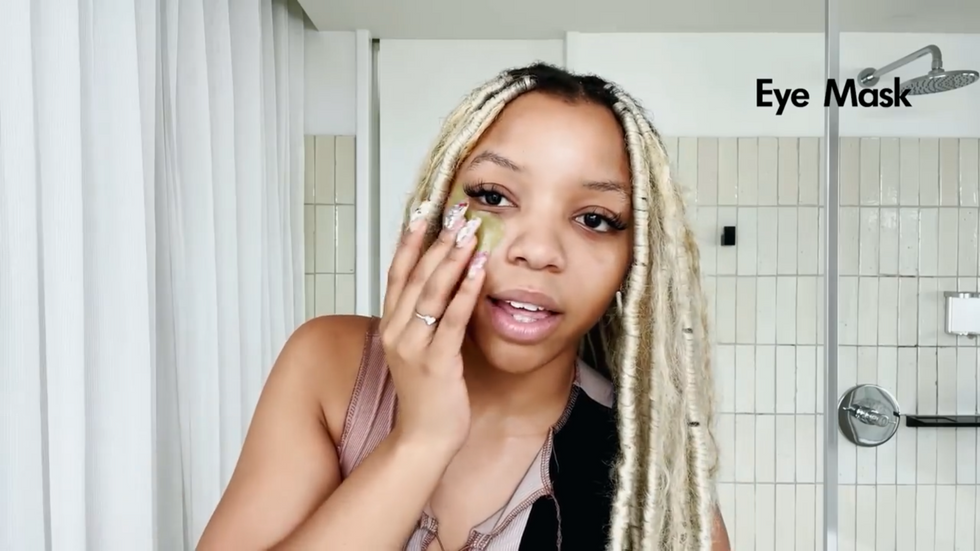 YouTube/Vogue
Finally, she applies sunscreen and rosewater spray by Mario Badescu. And just like that, the skin is glowing and moisturized. She tells Vogue,
"I really love not overcomplicating my skincare routine because I have very sensitive skin. If I do too much I break out, if I'm stressed, I break out. So, I like to keep it to a minimum."
Same sis, same.
"I think it's really important to have time for yourself, where you take care of yourself and your skin and your body. And as I'm 23 right now I'm learning that it is OK to not work so much and take that time into me."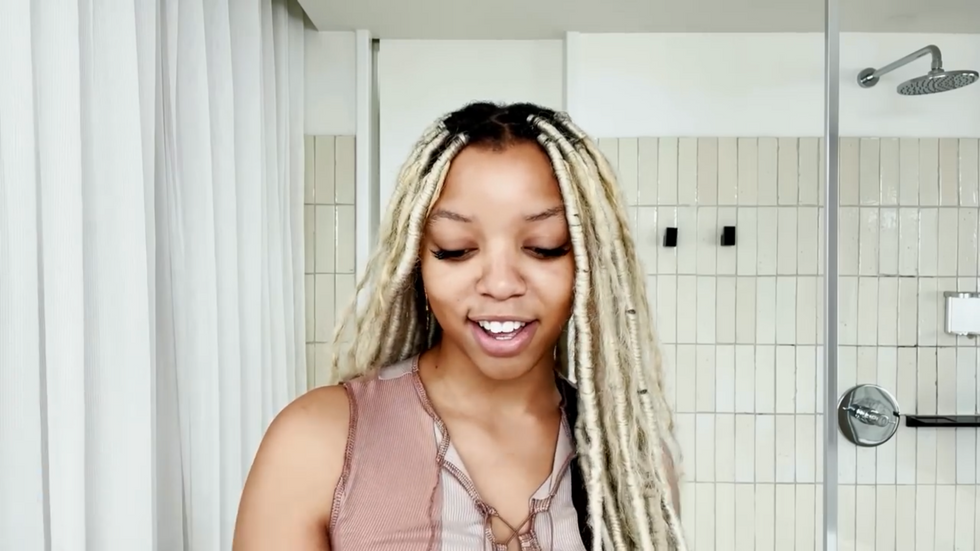 YouTube/Vogue
​Now, onto makeup.
She starts the next part of her routine with a really important element, brows. With an Anastasia Beverly Hills pencil and a Benefit pencil, she lightly fills them in, using concealer and brow gel to perfect the shape.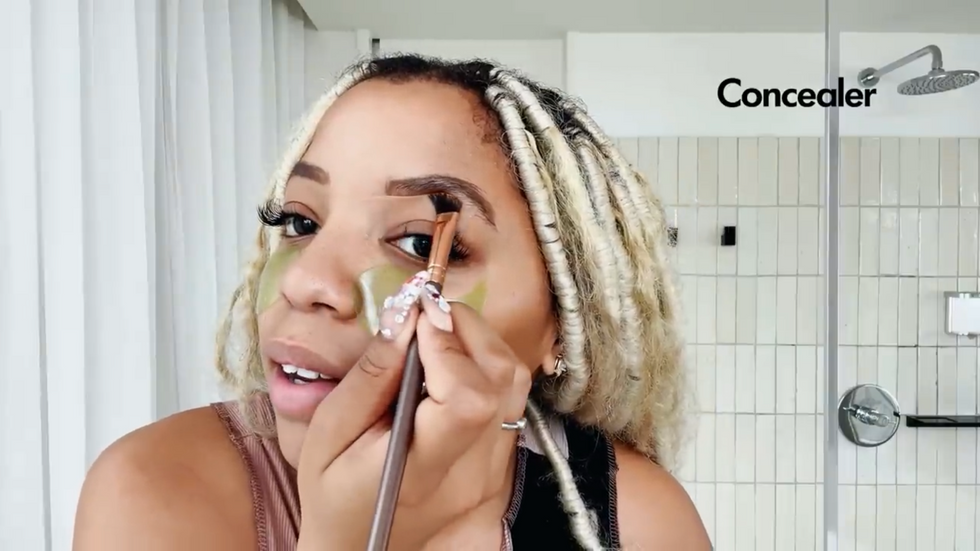 YouTube/Vogue
Staying in the same area, she lines her eyes with a brown (to stand out more) eye pencil by Pat McGrath, before covering her face in Fenty Skin Tint, a product she seems to prefer over foundation.
Next, the "Have Mercy" singer gets real friendly with the concealer. She uses it under her eyes, above her lip, and the bridge of her nose with the help of her Beauty Blender and a spritz of rosewater to blend it out.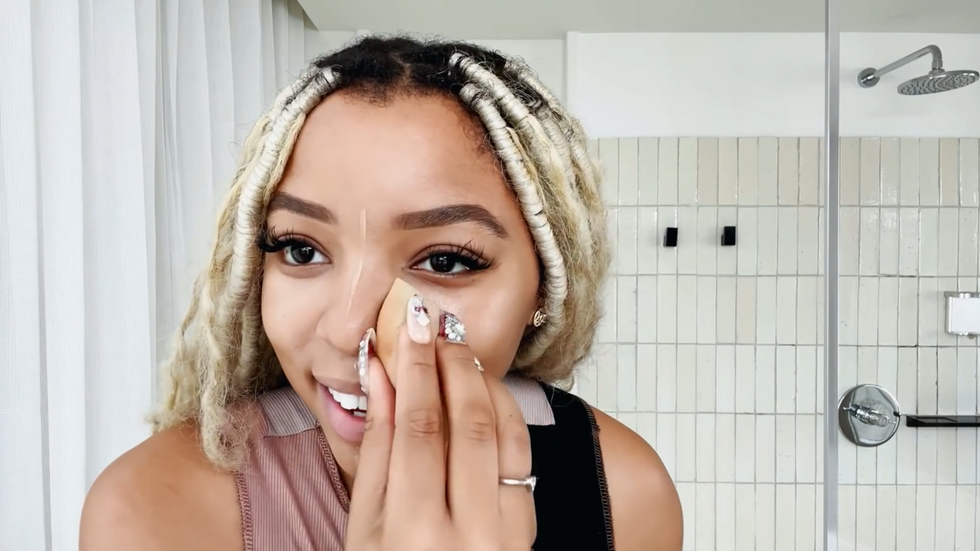 YouTube/Vogue
Later, she moves to the contour, which is still Fenty, by the way!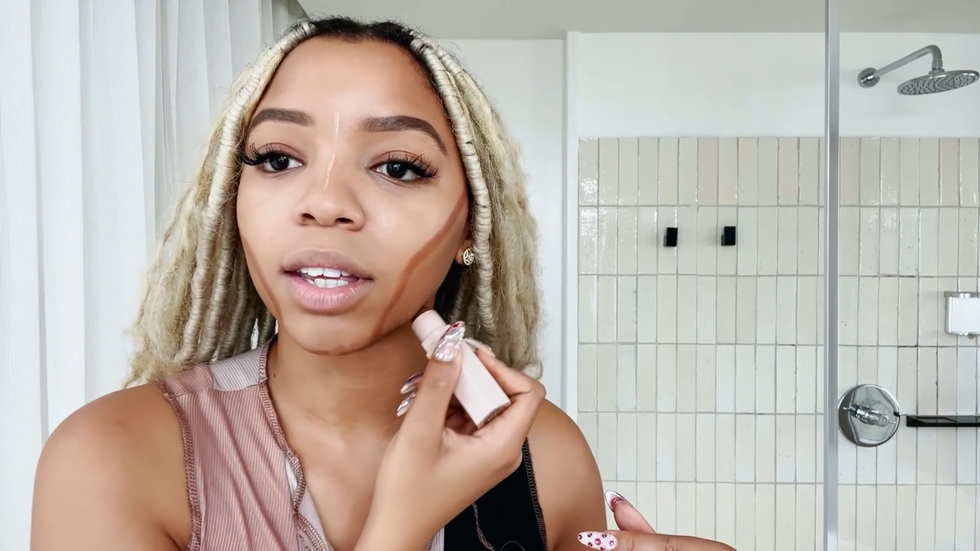 YouTube/Vogue
And Chlöe sets it with a powder bronzer before moving on to blush, highlighter, and lips. She says:
"I love to use the same blush and bronzer on my eyes and cheeks, especially when I travel and I don't have space to pack too much makeup."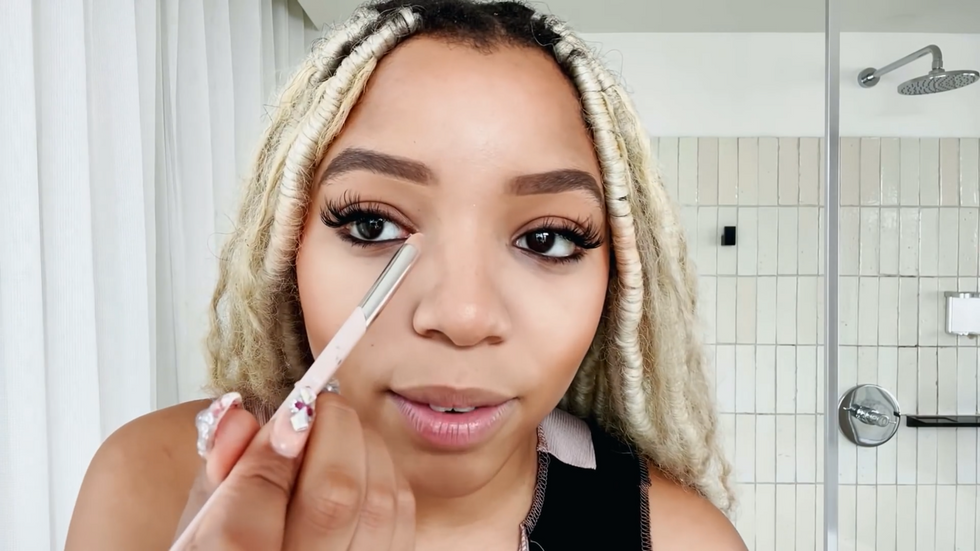 YouTube/Vogue
Finally, we move on to the part I was most interested in, because her lip gloss is always poppin', and apparently that's on purpose. She says:
"My favorite part is the lips, gotta have a nice juicy kissable lip. I'm learning to do a matte lip instead of a gloss because I like to kiss the mic a lot when I sing."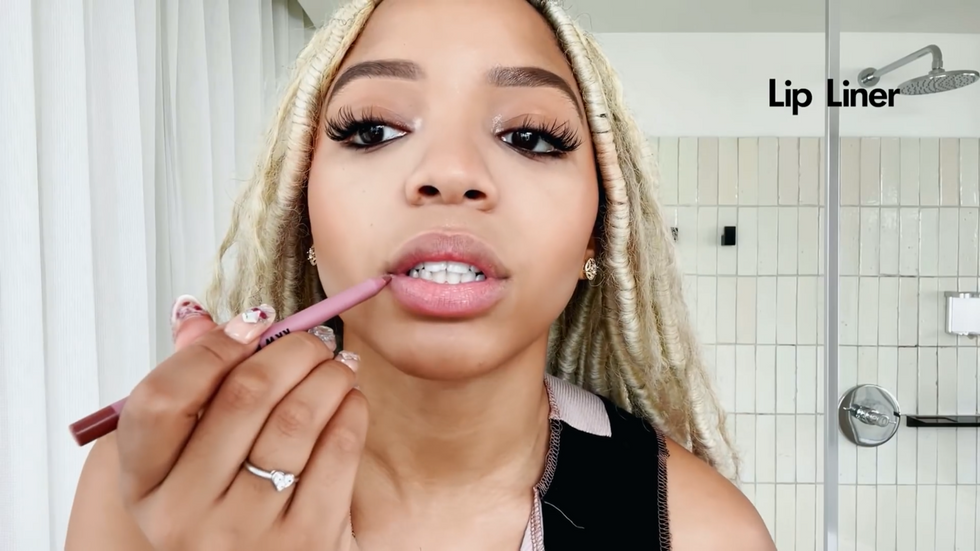 YouTube/Vogue
To get the ideal lip, she uses a lip scrub, cherry lip balm by Dior, a KKW lip pencil, and Fenty lip gloss. She finishes the look by blending it with translucent powder and more sunscreen of course.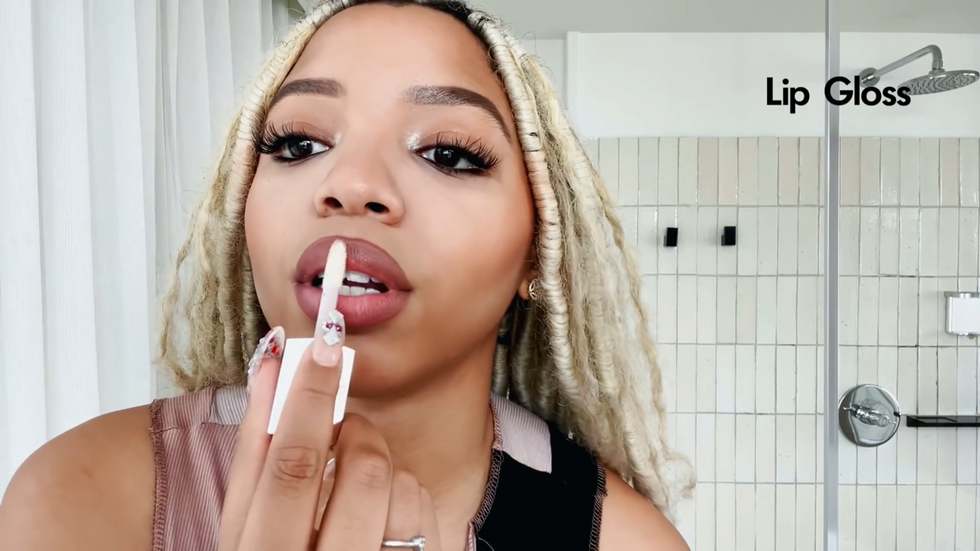 YouTube/Vogue
Almost done, but we can't finish until we wrap our hair.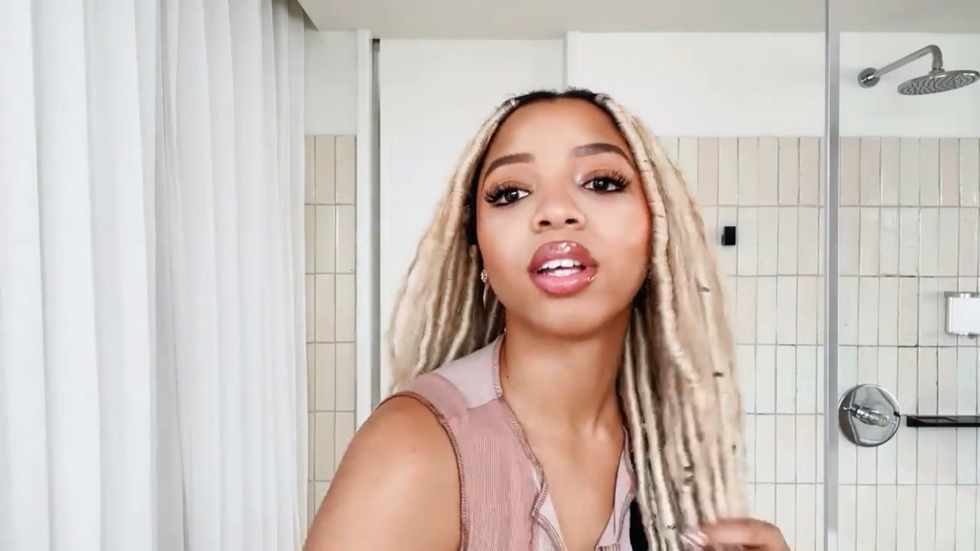 YouTube/Vogue
Now, you might have thought that was the last step, but as we know Chlöe is the full package. And that means she takes care of everything, and that includes her hair. Before finishing her routine, she adds the final touches to her hair by using Pattern Argan Oil.
"It's pretty simple and easy and I think that's why I really love having locs. It [the color] feels like my alter ego in a way and I feel like it brings out my skin."



After watching this video, there were definitely a few products I wanted to buy and techniques I wanted to try! To watch the full video and do the same, check it out here.
Chlöe's Beauty Guide, From Sculpting Skin Care to Full Eyebrows | Beauty Secrets | Vogue
Featured image by YouTube/Vogue