When Chlöe Bailey first stepped onto the scene with her sister Halle as the Beyonce-backed duo Chloe x Halle, they commanded everyone's attention with their powerful yet angelic voices. Now, they are all grown up and working on separate endeavors, but that doesn't mean they are growing apart.
---
Rumors of the sisters splitting up first began when they created separate social media accounts this past January after sharing one together for 9 years. Then, it was announced that Halle Bailey would star as Ariel in the live-action remake The Little Mermaid (slated for a 2023 release) and more recently, Chlöe released her bass heavy solo single "Have Mercy" with a jaw-dropping video attached.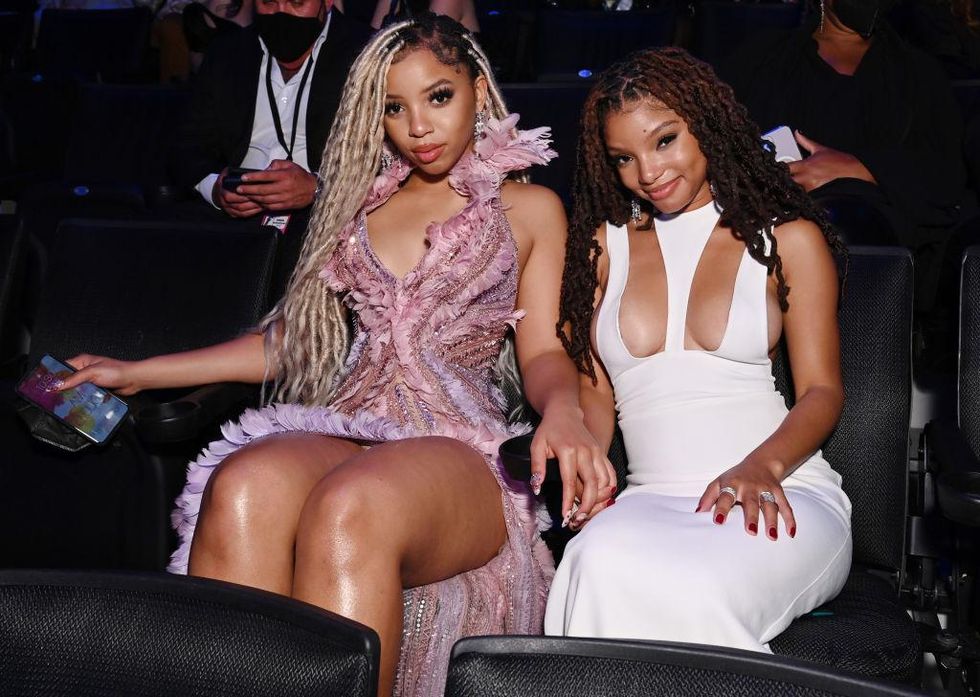 Bryan Bedder/MTV VMAs 2021/Getty Images for MTV/ViacomCBS
The 23-year-old also made her solo debut at the 2021 VMAs performing the hit single and Halle was also there presenting her big sister to the masses.
During her recent appearance on The Real, the Grown-ish star opened up about her solo journey calling it "exciting" but "scary" and how Halle is by her side.
"...even though I have been promoting this new song, my sister has been there with me every step of the way. I always see her every day like even at the VMAs we were like this there (crossing her fingers). So, it doesn't really feel like I'm alone and even right before the performance, Halle introduced me and across the stage I was able to just look out at her and I was almost in tears before I even started singing. And I was like OK, even though I feel alone sometimes, I'm never alone 'cause she's right there and I hope she feels the same with me."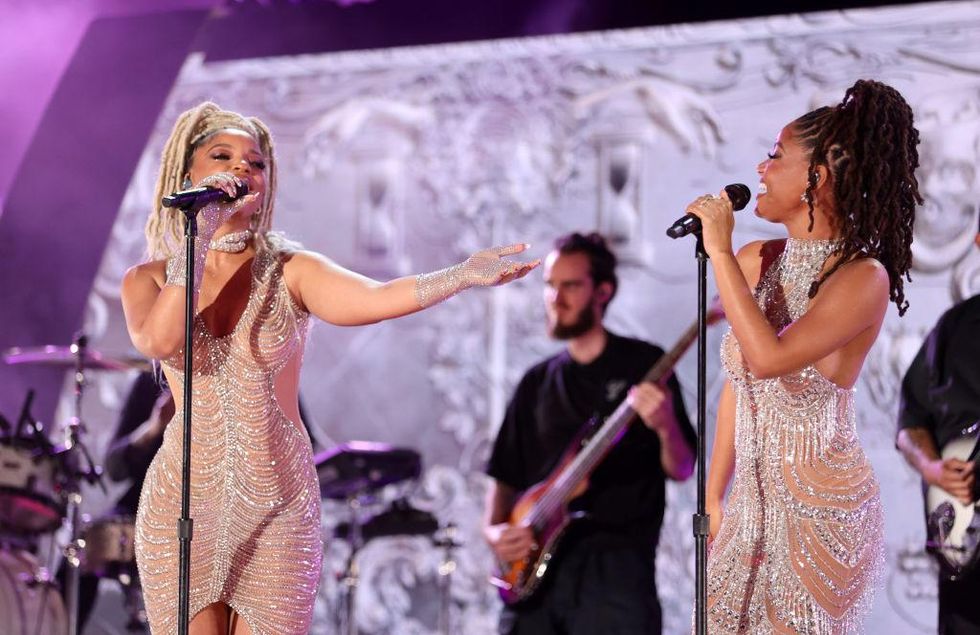 Rich Fury/Getty Images for Global Citizen
Following Chlöe's epic performance, the sisters linked back up to perform at the Global Citizen concert reminding their Chloe x Halle fans that their bond can never be broken.
"I think we both needed that performance that night. I can't explain it. Right before we went on, Stevie Wonder was performing. We were backstage, we're like, 'oh my goodness.' We felt the love and the high energy and we were both so nervous because you know in this pandemic, we haven't really been out in front of an audience performing together like that so being out there, it just felt so freeing. I got to look over to my left and see my beautiful sister and her voice is out of this world and being able to harmonize like that together, it was just... it was the best feeling."
The dynamic duo continues to wow fans whether they are singing together or apart and they also have each other's backs, no matter what. Chloe and Halle prove time and time again what it means to be a sister and how to grow up while growing together.
Featured image by Jason Mendez/Getty Images