---
I never realized how much I'd yearn for human touch during the quarantine. I'm naturally introverted, and as a result, I'm either very affectionate or not at all. I have no middle ground, it may be the Aries in me, but it's either love me or back away - far away. Before COVID-19, I'd been working non-stop and tired of my daily commute, so I didn't have the emotional or physical bandwidth to assess how often I'd want to be touched, now I do.
Naturally, I've found myself missing little things, like conversations with baristas in the coffee shop before my workday began, and reading books on the train in the quiet car, but as the weeks turned into months, I missed things that I never thought were significant. Like bear hugs, and people pushing past you on the subway to perform even though you'd rather finish listening to the podcast you've been trying get through all morning or the playlist that you made that keeps you calm during the day. These revelations felt weird, beyond weird - until I realized that touch starvation was a real thing that needed to be examined and supplemented with self-touch.
The Benefits Of Touch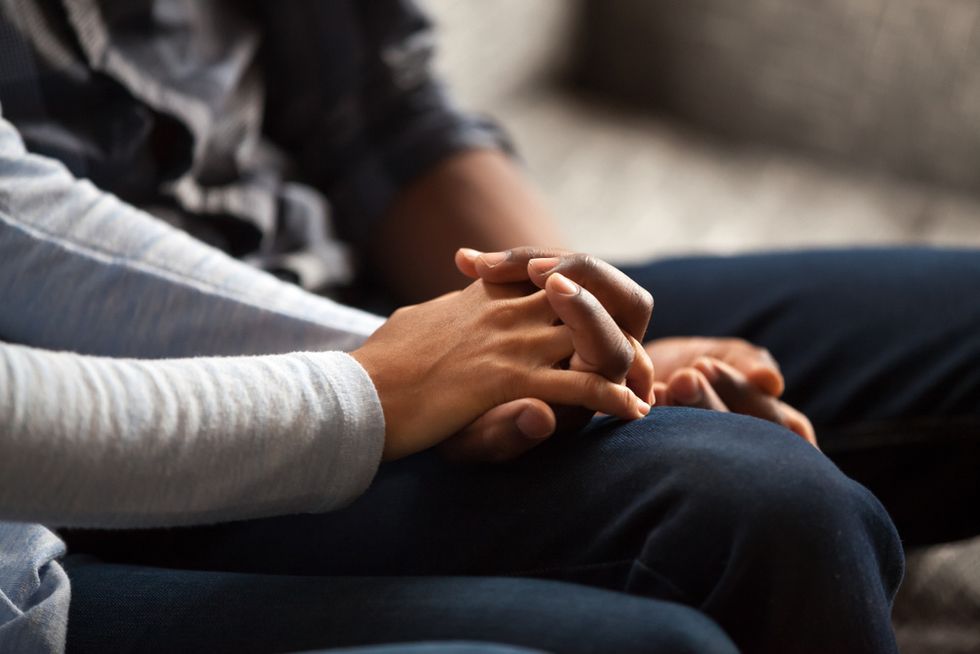 Shutterstock
According to Healthline, when you feel snowed under or pressured, the body releases the stress hormone cortisol. Touch can calm certain bodily functions, such as your heart rate and blood pressure by stimulating pressure receptors that transport signals to the vagus nerve. Additionally, in early life, touch is thought to be crucial for building healthy relationships by stimulating oxytocin pathways, the natural antidepressant serotonin, and the pleasure chemical dopamine.
In tandem with that, skin-to-skin contact is critical after a baby is born as it calms and relaxes both mommy and baby, regulates the baby's heart rate/breathing, and stimulates digestion.
For adults, touch combats loneliness, and even a gentle touch from a stranger has been shown to reduce feelings of social exclusion. In this day and age, the touch of friends, family, and partners have changed tremendously due to social distancing and spending hours on end staring at the four walls of my bedroom as I worked, I was starting to feel helpless. And while I've seen my family, I've spent 80% of quarantine eating, sleeping, watching television alone, and crying a lot more.
I've found myself sleeping on a couch that gives me back pain all night when my mother falls asleep or when my brother visits just so I can feel someone else's presence, even if it's just for a little while. And while those moments are comforting, they're far and few between, so a few weeks ago when a friend asked me how I was, I responded by saying, "I'm not OK, I feel alone and unsupported and I cry myself to sleep often."
Immediately, she sent me this breathwork practice for self-holding:
As I watched this video from afar while I showered in the dark with candles lit, I cried because for the first time in a while (beyond COVID-19), I felt touched intentionally - not sexually, but intentionally.
My head felt supported as I breathed, as if someone was holding me up as I cried. My core felt tightened as I breathed new life into myself. My spirit felt grounded as I reminded it, and myself that we weren't alone, and we never will be because we'll always be together.
A year from now, prayerfully quarantine will be a thing of the past, and I'll freely be able to receive touch from the people around me. This time has challenged me to examine the cries heard and unheard; of babies who don't want to sleep alone either, of friends who have been crying silent tears of depression and anxiety for years, and of myself, who works so much that I'd forgotten how necessary touch was to me, and for me.
Want more stories like this? Sign up for our newsletter here to receive our latest articles and news straight to your inbox.
Featured image by Shutterstock