---
Numa Perrier has always had a knack for storytelling. At the age of eight, she was penning short stories and dramatic romance novels—about adults, not kids. In high school she considered journalism, but found that she preferred writing plays and monologues over news reporting. And when she later got behind the lens of a camera, she fell in love with the idea of bringing her stories to life—both through screenwriting and acting.
"I read a lot. I had a very vivid imagination, and my world was just not normal, so it just fed me in that way to not be like everyone else," she says.
The co-founder and her team at Black&Sexy TV have mastered the art of turning real life situations into storylines that will have you sipping tea while waiting for the next dramatic scene to unfold.
On September 17th the world tuned in as the entertainment and lifestyle network transitioned from the computer screen to the small screen for the debut of their popular YouTube web series Roomieloverfriends—a show depicting the lives of two roommates who blurred the lines between friendship and relationship after a one-night rendezvous turned into an all out love affair.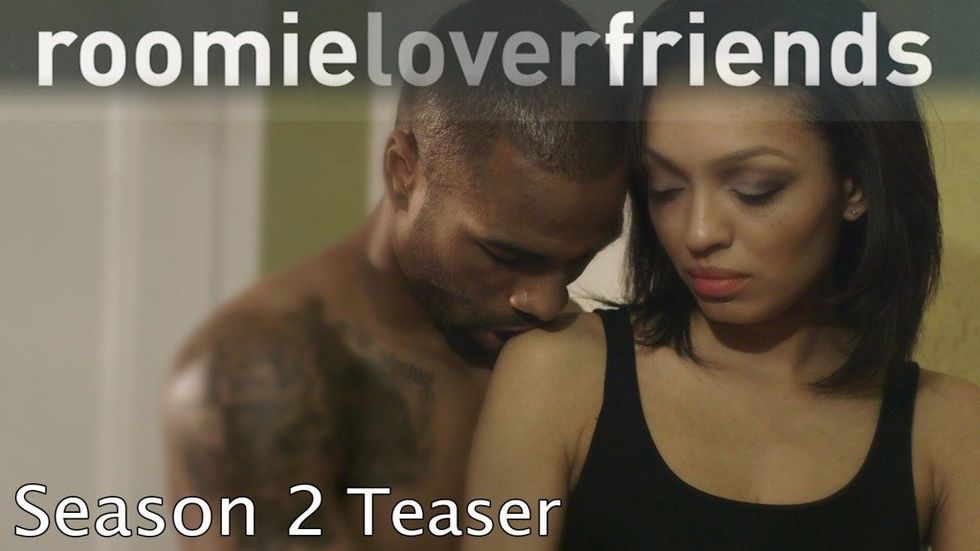 Although it's been six years since the 2009 launch of Black&Sexy TV--a web-based (YouTube) channel featuring webisodes geared towards people of color, which to-date has over 114,000 subscribers--it seems like just yesterday they were meeting with executives at BET to discuss the transition from Internet to television.
"It went really fast, we started meeting [with BET], and it was a matter of months," Perrier says "No one could believe how fast, but they were determined, and they really wanted us a part of their fall programming."
Roomieloverfriends is just the beginning of their television takeover. They've also cut a deal to run Sexless—a series about four female friends navigating the dating world while remaining abstinent and celibate—and Hello Cupid, where two best friends dive into the world of online dating. Their first show, The Couple, executive produced by Spike Lee, has also been in development with HBO for two years, which they hope will be released soon.
"With BET we were able to work really fast because we were just taking what we've already done and putting it on a screen, but The Couple—we're developing that into a new format, it has to go through different approvals, it's a longer process."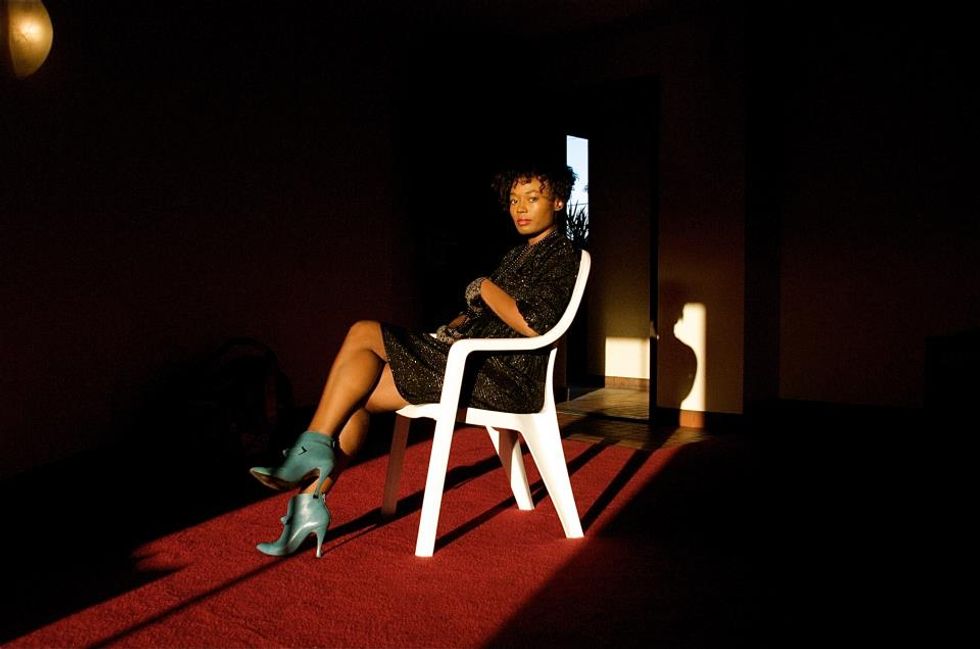 It all seems like a modern day film fairytale. One of instant success after the integration of social media catapulted the content creators to the forefront of the web series revolution. Although Perrier credits YouTube for allowing them to gain visibility at a fraction of the cost, she admits that building a fan base and viewership didn't come without its challenges.
First there was the funding. The founders funneled their own money into their vision and what little return they received on their investment was recycled into making another show or hiring another team member. With each successful video, they were able to build the foundation of their business brick by brick.
There was also trouble with finding a platform to launch their web series. They initially tried creating their own site, but failed. After multiple attempts they finally turned to YouTube, which offered both technical support and partnership opportunities once they started gaining a strong following through consistent content—something that she says they wouldn't have been able to pay for on their own. Saving dollars through YouTube enabled them to create more content to attract a larger audience.
"I always say content is king, no matter what anybody says. If you're not making content and finding ways to improve on and be consistent with that content, you need to find another way, because that is the main way to push through," Perrier says.
With consistent content came the offers from large television networks. Perrier believes that having ownership and not having to rely on Hollywood executives to green light their projects gives them an advantage over other content creators who are trying to break down Hollywood's doors.
[Tweet "If it's about them opening a door for you, I think that we'll always be disappointed. "]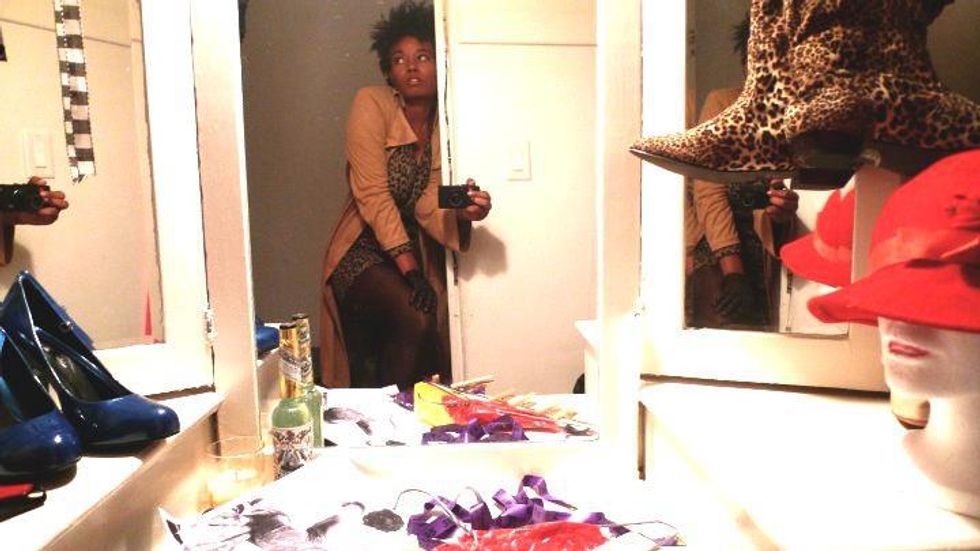 "If it's about them opening a door for you, I think that we'll always be disappointed. Because even if they open the door and let us in, what happens when we get inside? Are you really welcomed at the table? Are you getting what everyone else is getting? Will you be invited again? There's this constant anxiety of am I acceptable? And for us we're always excited for any entity to come talk with us about what we're doing and how we can partner up together. Hollywood is coming to us; we're open to all conversations every time we make a deal that is good for our brand. But at the end of the day, it is ownership that matters to us."
It's obvious that Perrier is passionate about this topic. Watching many of her peers struggle to get into television and film, even with their own level of success, is a topic that hasn't been ignored. An article on Indiewire noted that this year 73 pilots are in the works that will feature black actors, at least half with leading roles. However, the percentage of pilots that actually make it to television vary by broadcast and cable network. Although it seems as if Hollywood is embracing black television, even honoring a few our leading ladies at this year's Emmy Awards, there's still concern that there aren't enough characters—or executives—of color being represented in Hollywood.
Recently, movie producer Effie Brown, who serves as a producer on HBO's Project Greenlight, attempted to defend her reasoning for wanting a diverse directing team over a script centered around a black female prostitute character, in which fellow producer Matt Damon interrupts her to say, "when you're talking about diversity, you do it in the casting of the film, not the casting of the show."
In her New York Times article, Issa Rae, who recently scored a pilot deal with HBO for her new show "Insecure," notes that behind the scenes it can be very white, making it difficult for our stories to get told.
And in the words of Viola Davis—the first African-American woman to win an Emmy for Outstanding Lead Actress in a drama—"The only thing that separates women of color from anyone else is opportunity."
And we haven't even begun to talk about the brothers.
Perrier believes the solution lies within being our own boss and not relying on the powers that be to welcome us with open arms.
"It's ownership that gets us out of bed in the mornings, and it's ownership that makes us not have to kiss anyone's ass. If none of these people come to us, we still have our own thing. Trying to get into the Hollywood door is always a mix of how do I get through this thing with dignity? Every little thing is about trying to be accepted by people who weren't going to invite you in until they saw dollar signs around your head."
To those looking to break into the industry without waiting on Hollywood, she offers this:
"The way the Internet is set up now, if you feed your fans, you will feed yourself well. Impress your audience, don't impress those executive—they don't care about you. And the ones who really do care about you, they will show it with their actions, and then have that conversation and make a deal. That's how you do it. Otherwise, focus on your audience."
[Tweet "If you feed your fans, you will feed yourself well."]