Ten years ago, if you were to ask Simone Manuel what she wanted to be when she grew up, "Olympic gold medalist" probably wouldn't have been anywhere on her radar.
---
But God made it so. The now 18-year-old Sugar Land, Texas native made history on Thursday night, becoming the first African American woman in history to win an Olympic medal in swimming.
How's that for stereotypes!
In a word, Simone's gold medal win was exciting.
Congrats to @simone_manuel for becoming the first Black female swimmer to win an individual gold https://t.co/tsfgIw7zce

— My Black Matters✊🏾 (@My Black Matters✊🏾)1470978765.0
Simone's win looked bleak at the beginning of the second lap. But midway through, she darted through the water like a torpedo taking aim at its final destination, and finished the race in 52:70, tying with 16-year-old Canadian swimmer Penny Oleksiak.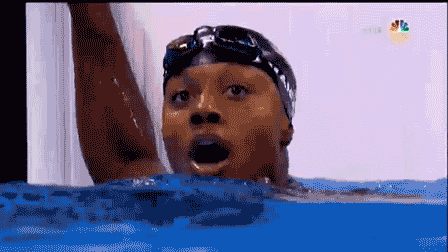 Both women were awarded gold medals, but Simone's win was a huge deal, especially on Twitter.
What does #SimoneManuel gold medal mean? It means every1 n my house needs 2 learn how to swim dammit! #BlackGirlMagic #Rio2016

— Ayanna Floyd Davis (@Ayanna Floyd Davis)1470980316.0
Predicting an uptick in moms naming their baby girls Simone with intention & inspiration because of @simone_manuel and @Simone_Biles <3 that

— afrobella (@afrobella)1470974501.0
Black people can swim and win gold medals! No biggie. Lol Go @simone_manuel https://t.co/gXFNlvjKAX

— Danielle Brooks (@Danielle Brooks)1470973396.0
Simone Manuel for GOLD!!!!! Well, well done. The tears are well earned. #TeamUSA #Olympics

— Uzo Aduba (@Uzo Aduba)1470969336.0
Simone is pretty stoked to be one of the few black members on the Olympic swim team. But believe it or not, she had to focus less on being a black swimmer for Team USA, so that she could place all of her energy on bringing home a gold medal for her country. And it worked. She told USA Today:
"Coming into the race I tried to take weight of the black community off my shoulders. It's something I carry with me. I want to be an inspiration, but I would like there to be a day when it is not 'Simone the black swimmer.'"
Simone also recognized that there were other black swimmers breaking barriers long before she came to Rio. Upon winning, Simone gave recognition to black the Olympic swimmers who paved the way for her:
"This medal is not just for me...It's for a whole bunch of people who have come before me, and have been inspirations for me—Maritza [Correia], Cullen [Jones]—and it's for all the people after me who believe they can't do it, and I just want to be an inspiration to others that you can do it."
Simone Manuel after making history as the first black woman to win gold in an individual swimming event. https://t.co/lt95J4wmDu

— BuzzFeed (@BuzzFeed)1470973646.0
Not only does Simone want to be an inspiration to all, but she hopes that her gold medal win brings healing to the US. Simone addressed the subject of police brutality during a her post-win interview, and she said that she hoped her victory helped to ease the racial divide, "I think that this win helps bring hope and change to some of the issues that are going on in the world, but I mean, I went out there and swam as fast as I could and my color just comes with the territory."
[Tweet "I went out there and swam as fast as I could, my color just comes with the territory -Simone Manuel"]
Well said, Queen!
Get to know the Olympic winner below.