---
"[A boss is] someone who is creative, innovative, unrelenting in his or her efforts to bring their ideas to life. Being a boss is always about bringing other people along with me; creating space for other people to shine and be great."
A collection plate could, in fact, be passed after that tweetable gem from the Olympic track and field champion, Sanya Richards-Ross. Richards-Ross is bossed up and ready to add to her resume, which already boasts an impressive track and field career (four Olympic gold medals and numerous World Championship medals from 2002 through 2016); a luxury hair extension line; select endorsements; and even producer credit on a docuseries about her life titled "Sanya's Glam & Gold."

Some might wonder what could she possibly want next. The short answer?
The rest of her things.
Transitioning From The Track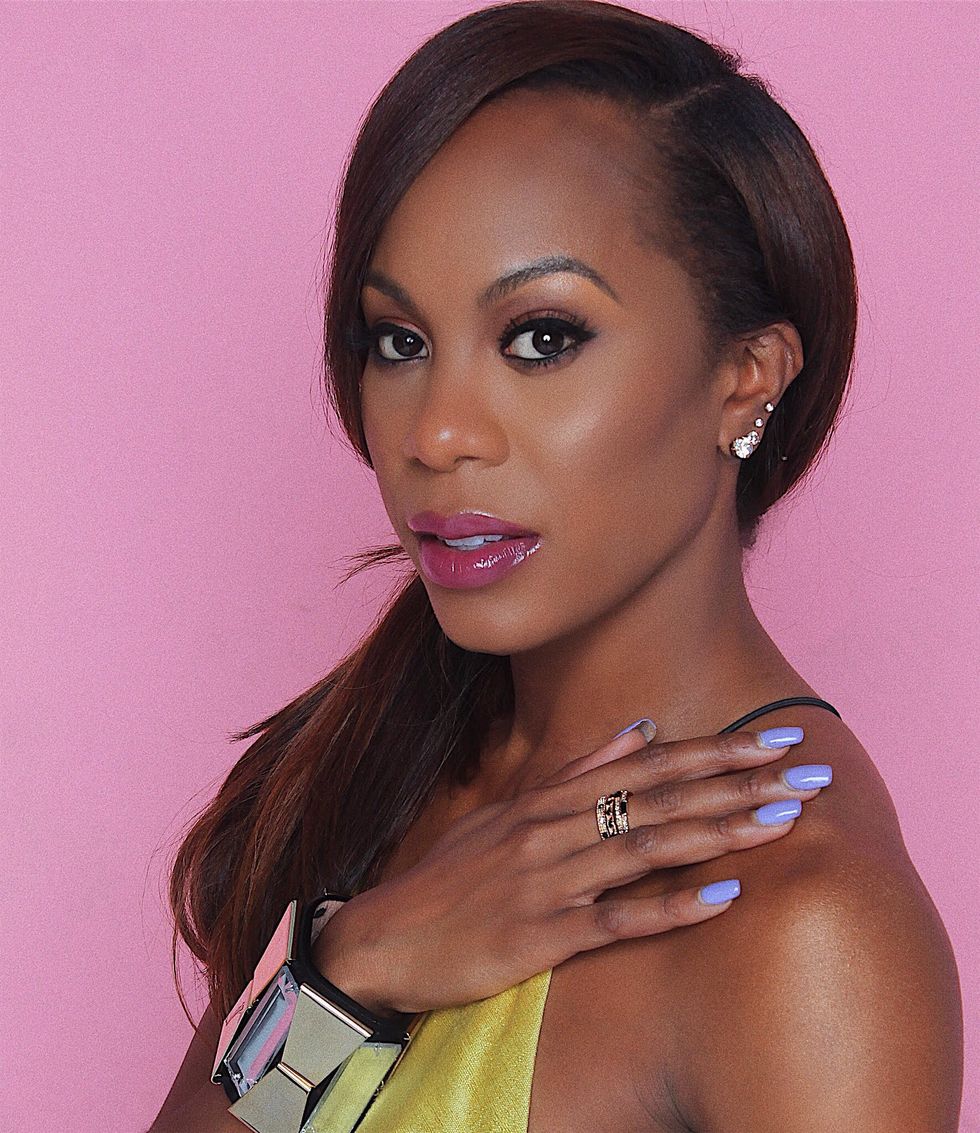 Courtesy of Sanya Richards-Ross
Three years after hanging up her track spikes, Sanya's multi-hyphenate boss ambition is clearer than ever. Having recently founded the digital community MommiNation.com and being tapped to co-host a one-of-a-kind Will Packer-produced entertainment news show, Richards-Ross is erecting a brand new empire. And its foundation was firmly laid on the track.
She credits her Jamaican parents' sage wisdom and strong values for much of her drive to be valuable beyond sports. "I remember my parents always telling me to not be one-dimensional. I remember hearing that all through high school when track was my life. My dad would say, 'If you're gonna be acing it on the track you've got to be acing it in the classroom.' And that pushed and challenged me [to know] I can do [multiple] things at once at a high level."
And Sanya rolled that drive into Olympic success, quickly building a reputation as a phenom in the 400m and 4x400. She experienced the glory of a long athletic career but also witnessed the weight that could come with the transition out.
"I saw a lot of my friends go through a stage of depression because you go from being in the limelight, doing something you're very passionate about, to not knowing what's next. It does impact how you feel about yourself. I wanted to make sure when track and field [was] over I [didn't] go through that slump that a lot of athletes go through and I [could] find the next thing and feel valuable beyond sports."
Richards-Ross announced her retirement shortly after sustaining a hamstring injury at the July 2016 Olympic trials. In what others might have found defeat, Richards-Ross found opportunity to reflect, graciously releasing one chapter and writing the next with clarity and precision. A simple yet powerful prayer kept her perspective intact:
"Thank you Lord, for giving me this gift of running and thank You for all it has allowed me to experience. And I am now giving it back to You."
"I get emotional now saying that prayer because it was really tough for me because I did feel like I had one more Olympic cycle in me if I didn't have the foot surgeries and struggle with injuries toward the end of my career. I saw myself being a two-time gold medalist in the 400m. I [felt that I] could go back and win it one more time. It was difficult but I kept saying that prayer until I was really at peace with it. A lot of God's blessings aren't meant to be forever; they're seasonal," she reminisces.
"[After that], I started to prepare myself physically and mentally for what it would mean to walk around in this world not hearing, 'And in lane five is Olympic gold medalist Sanya Richards-Ross!'" she continues with a laugh. "And to be able to feel like I'm still standing on a pedestal humbly because I have so many more skills that I can offer to the world. I started mentally talking myself through how great I can be. I always say, 'Greatness is not fleeting. It lives in me.'"
Making Mommy Moves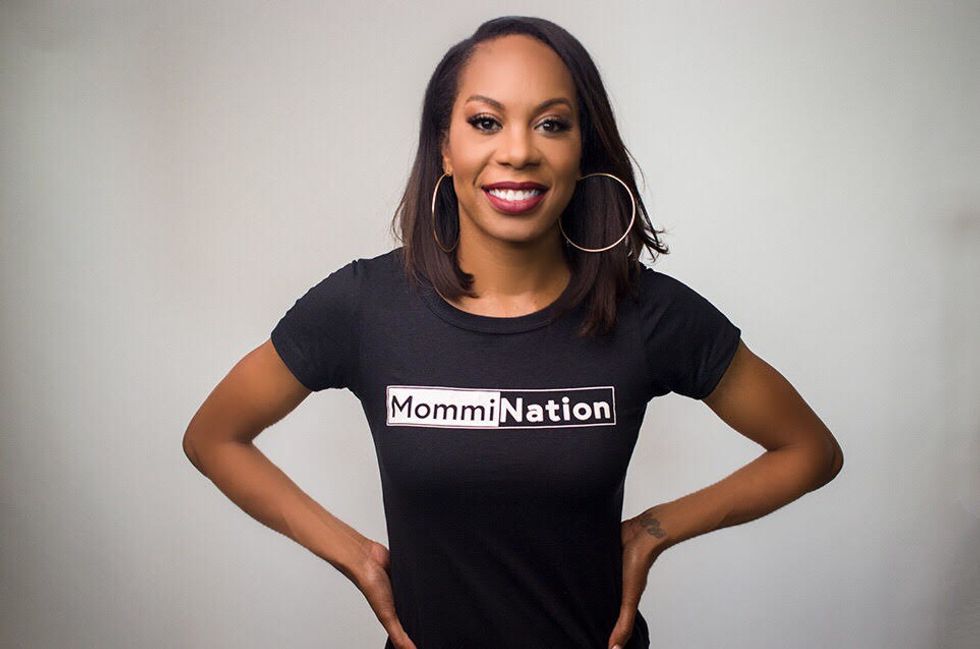 Courtesy of Sanya Richards-Ross
Greatness steeped in intentionality. That's the prism through which the 34-year-old mother of one shines brilliantly. Married in 2012 to her college sweetheart, Aaron Ross - a two-time NY Giants cornerback Super Bowl champ (talk about equally yoked!) - Richards-Ross took her time stepping into motherhood. Sanya and Aaron waited seven years after marriage before welcoming little 'Deucey,' their son, into the world.
"Mentally, spiritually, and physically [we] were ready for him," Sanya says firmly. "Bringing another life into the world - I believe it should be intentional. It should be something you really want because it is a hell of a commitment. Being an athlete, it's the opposite, you have to be selfish. It's one of the ingredients of success. Having a child, you have to really be selfless."
"Being an athlete, it's the opposite, you have to be selfish. It's one of the ingredients of success. Having a child, you have to really be selfless."
She found the time beneficial for building a solid marriage foundation and focusing on the practices necessary to raise her family well.
Easing into mommyhood, Sanya looked into the digital space and noticed a void and a two-fold opportunity: to build a platform that celebrates the entirety of motherhood and womanhood and to create a support system as she transitioned from sports into motherhood. So she founded, the digital platform, MommiNation.com.
"I saw that there were some incredible mommy bloggers and blogs but what I saw was missing was a platform that speaks to moms holistically. Don't just talk to me about my little one but talk to me as an entrepreneur, as an author, as a wife, as a partner, as a friend. MommiNation was birthed out of my idea of wanting to create that same community I had in sports in a new arena. My arena has changed but my desire to be on a team and be in community hasn't."
From The Track To The TV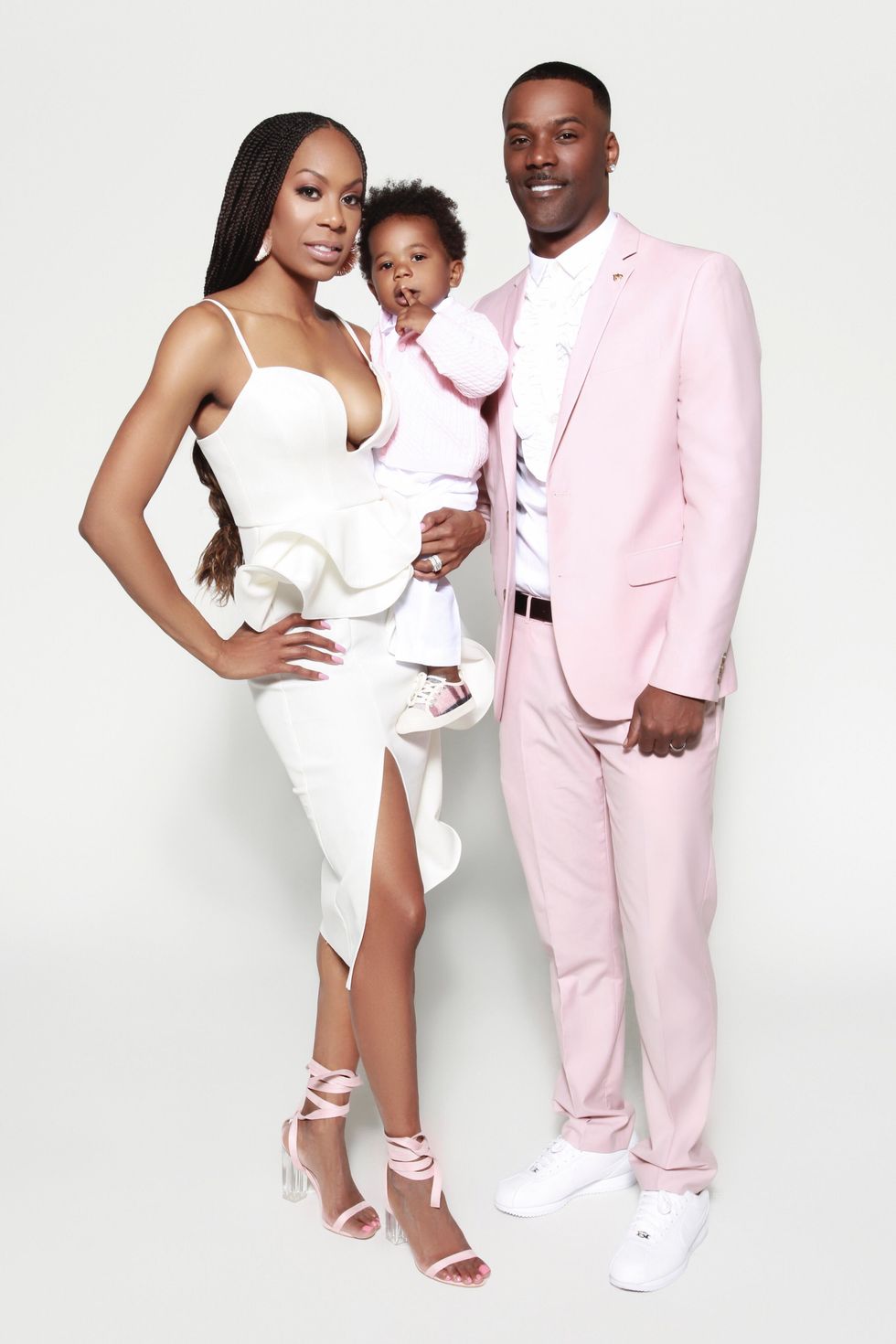 Courtesy of Sanya Richards-Ross
The thread of teamwork runs intricately through her life story from one venture to the next, including her upcoming five-week run as co-host of Central Ave., an urban-centric entertainment news show produced by Will Packer Productions for FOX. Sanya will be hosting alongside Julissa Bermudez, effectively helming the first entertainment news show hosted by two women of color.
"It's kinda blown my mind that it's actually happening. We have a five-week test on December 4th on FOX - similar to Entertainment Tonight/Access Hollywood but with urban sensibility," Richards-Ross says.
The show will dive deeper into nuanced content that matters to urban communities than most entertainment news shows are equipped to go. Created within the social media age, it promises to be a one-of-a-kind experience.
"Our team is really smart and keen on how we want to create a show with this social media energy. [For example] where do we get that real solid report on who Nipsey Hussle was and in-depth stories? John Singleton? They mean a lot to our communities."
Richards-Ross is very clear: She will not be pigeon-holed and delay is not denial.
Her advice for the mothers, athletes, entrepreneurs who are facing life's transitions? Be OK with not seeing the fruits of your labor right away while working hard anyway.
"My whole life I've learned how to work hard, train, believe and be OK with delayed gratification. That's what separates great entrepreneurs from the ones who don't make it. You stick with it when you get injured, when you get a bunch of no's, when no one is cheering for you. That's what makes a great entrepreneur. If you're transitioning from one career to another you have to be OK with delayed gratification. I don't get to get a gold medal with MommiNation.com because I was a gold medalist in track and field. I have to figure out how to start all over again. Be authentic transparent. Be committed to whatever that transition is. Start from ground zero and work your butt off. Greatness is in you."
"That's what separates great entrepreneurs from the ones who don't make it. You stick with it when you get injured, when you get a bunch of no's, when no one is cheering for you. That's what makes a great entrepreneur."
The one word that sums up her life to date:
"'Inspired.' That's the word that is getting me out of bed. I've put in all this work and planted all these seeds and I'm starting to see them blossom. It makes me want to keep going and stand on my own platform."
And we'll be in the stands rooting for her.
To keep up with Sanya, visit www.MommiNation.com and follow her on Instagram.
Featured image courtesy of Sanya Richards-Ross