---
Unless you've been living under a rock like me, you've probably already heard of GirlTrek, which is a national health movement that has been encouraging black women to walk five days a week for thirty minutes a day for the last ten years. Why? Well, it's simple: to save their own lives. Currently, over 900,000 women (and counting) have taken the GirlTrek pledge, but walking is not all they do. GirlTrekkers also plant, grow, and reconnect women to the soil. Yes, even in the midst of the COVID-19 pandemic, the proverbial rose from the concrete grew. That rose was GirlTrek Gardeners, a subsidiary of GirlTrek that is all about black women's health and reconnection. GirlTrek Gardeners commenced as a collaborative effort from GirlTrek's national staff member Onika Jervis and GirlTrek organizers Adhana McCarthy, Robbin Otey, and Kia Riu.
GirlTrek Gardeners currently offers online classes, mentorship, and support to help black women get started in the garden through their Facebook group. "Our community is always sharing their gardening successes. We understand that knowing the soil is as key to our survival as our ancestors did. Our foremothers braided rice into their hair when they were taken across the middle passage and we are sharing seeds, building soil, and creating a community for our survival. Justice happens when we organize, create community, and take action."
Recently, I had the pleasure of speaking with Adhana McCarthy to discuss GirlTrek Gardeners and she was even kind enough to give you the keys to starting a garden of your own.

On The Birth Of GirlTrek Gardeners: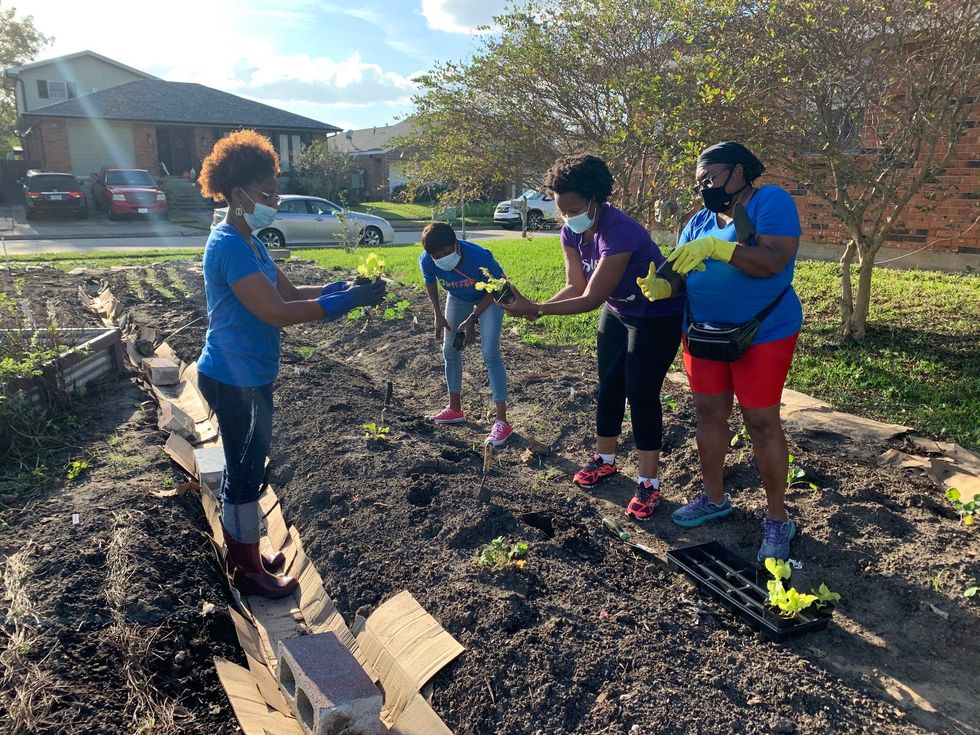 Courtesy of Onika Jervis
"It was a team effort. Onika who is on staff at GirlTrek was going crazy in quarantine and looking for a way to stay connected to GirlTrekkers. She wanted to do a victory garden but she didn't know anything about planting, so she reached out. She just knew that some of the GirlTrekkers had to know something about gardening. I was one of the people that reached back out and said, 'Yes, I've been doing this a long time.' So, Robbin Otey, Kia Riu, and I all came together and decided to make a Facebook group. Onika was one of those people who knew nothing about gardening. She went from knowing nothing to growing and harvesting okra, tomatoes, and all kinds of stuff over throughout that spring season based on our classes and the types of support that we offered through the Facebook group."
On Her Start With Gardening: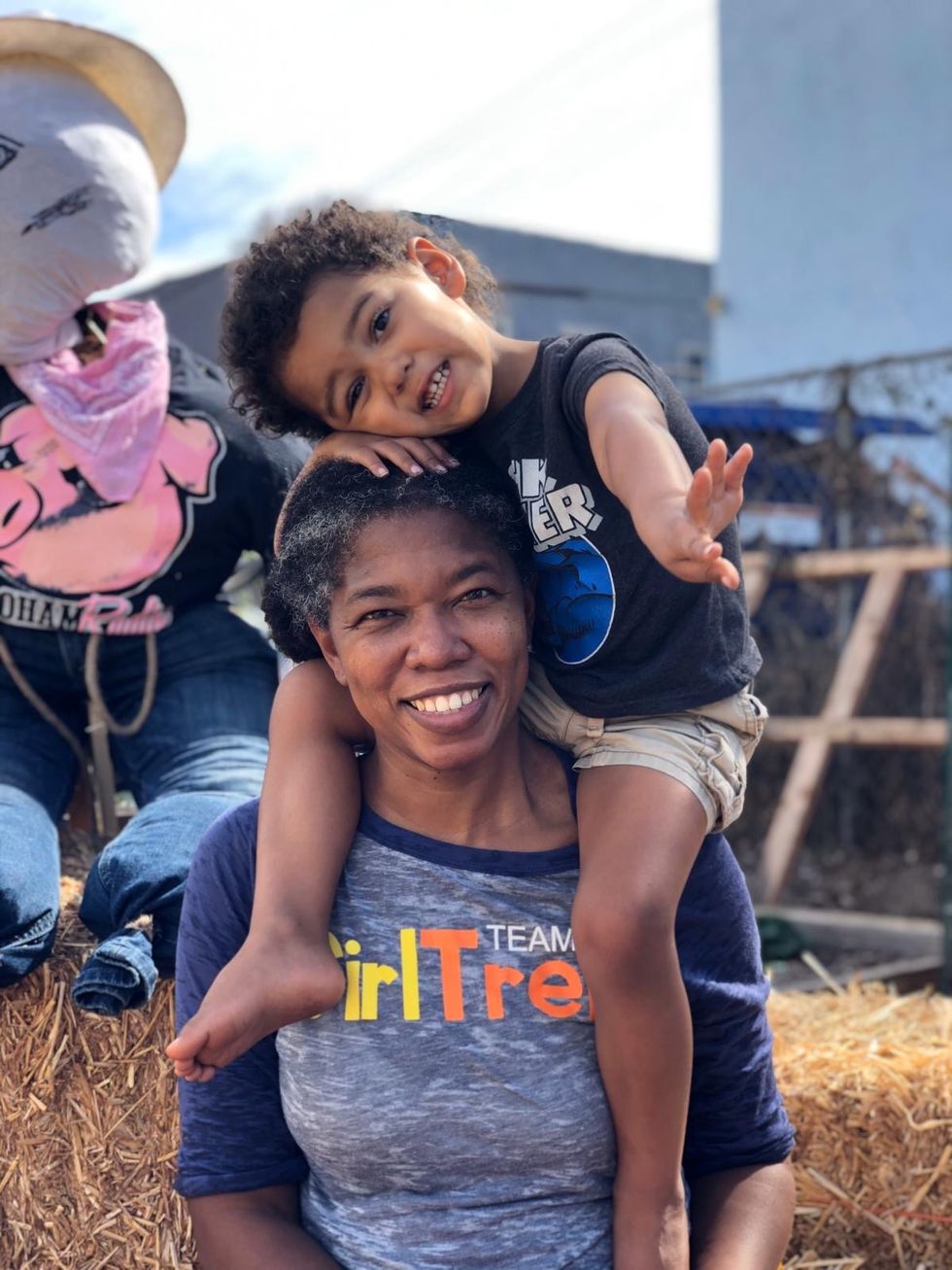 Courtesy of Adhana McCarthy
"I started my gardening journey on a permaculture demonstration house in Long Beach about 20 years ago. We were using permaculture design principles and harvesting neighborhood fruit. We were bringing in produce from Santa Barbara and resourcing for our neighbors, like a co-op. That's where I started to learn all of these things about gardening and growing food and what it takes. It's hard work, but it's not rocket science either so there's a balance. You can figure it out if you take the time to do it."
On Starting Your Garden: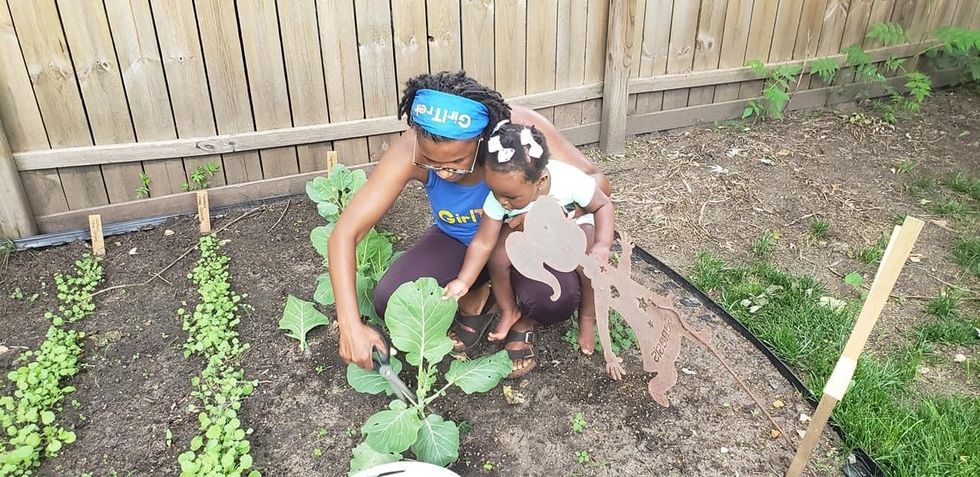 Courtesy of Onika Jervis
"It's so important to be in the garden. You have to be there. That is what I find most difficult for people is being present with their plants. That's the thing that leads to success or failure. You can observe and say, 'Huh, I don't know anything about plants but I know that this isn't supposed to be yellow. It seems like I'm doing something wrong.' From there, you can go and do your research."
On Planting Indoors: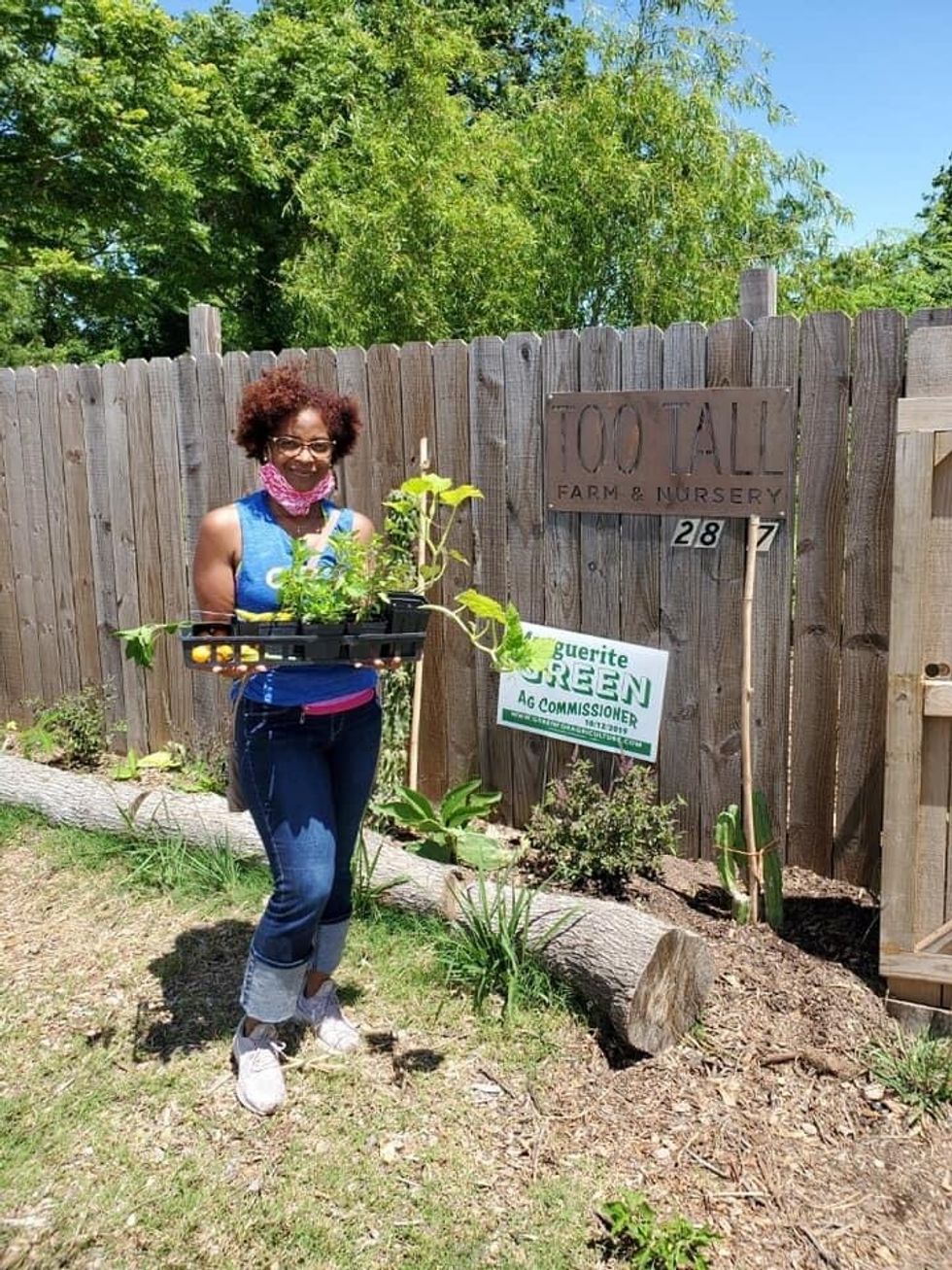 Courtesy of Onika Jervis
"Chard and kale are things that you can grow in an apartment. All of your leafy greens that are fall planting things don't need a ton of sunlight. You still need sunlight though. You'll want to have at least 4-6 hours for the leafy greens. You can grow salad greens, kale, collards, and swiss chard in a little box in a window, right in your house. You can also grow spring onions in a mason jar with water. Make sure you pay attention to the path of the sun in your house because that plant can live in that space. Once you make that observation, you can go from there.
On What's In Her Garden: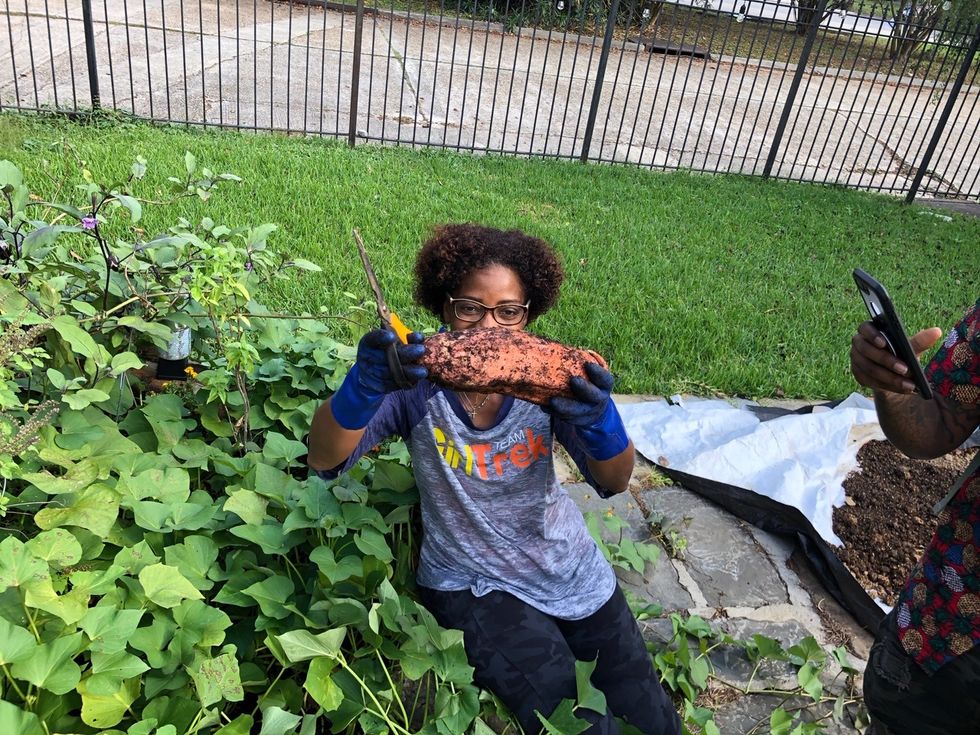 Courtesy of Onika Jervis
Adhana who is currently in California has just finished the last of her spring garden. "Right now, I still have lavender and rosemary. I'm at the end of my squash. I have zucchini, basil, and cilantro. I just pulled my tomatoes but I have lots of onions, chard, and kale."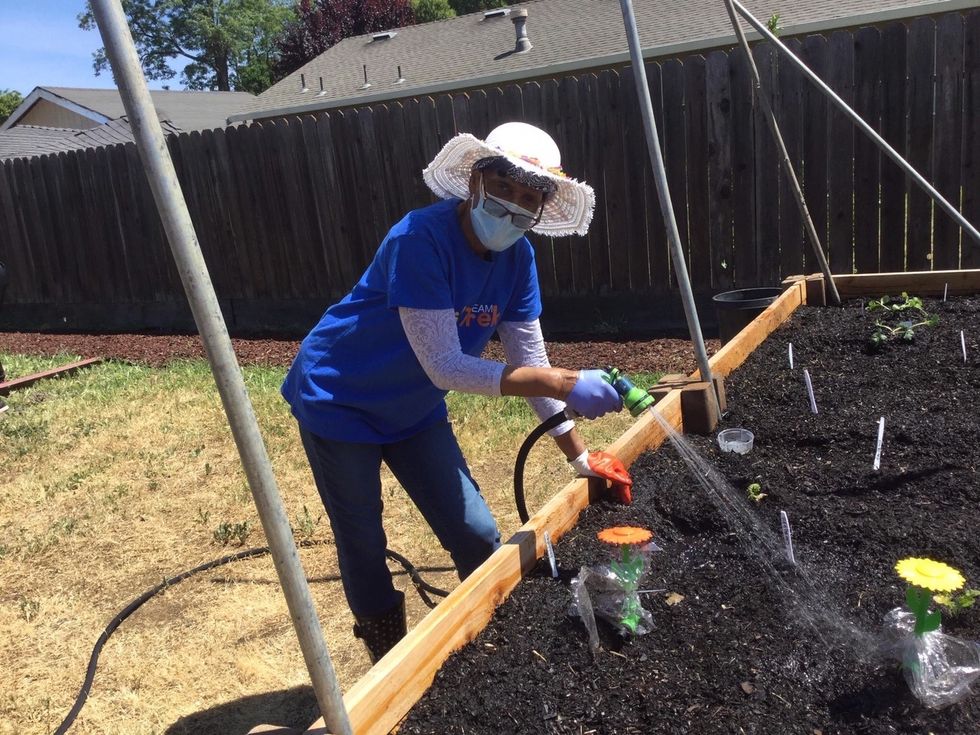 Courtesy of Onika Jervis
Follow Sista Otey's 5 Steps for Black Girls Who Want To Start a Garden:
1. Planning – Begin with the end in mind. What do you want to grow? It's important to know your hardiness zone. Also, observe your location and look at sun patterns. Read up on the watering requirements. Also, read the seed packets. Seed packets tell you when you should plant, how deep you should plant, and what kind of soil you should plant in.
2. Plotting – Get your journal out and start understanding how big your plants get. Plan to space them out appropriately and plant like items together. Seed packets will also tell you how to space your plants.
3. Planting – Put them in nutritious soil and feed them as needed.
4. Pampering – Now's the time to watch and make observations, prune, and fertilize as needed.
5. Pulling – Harvest time.
Take the GirlTrek pledge and start investing in your health today!
Featured image by Shutterstock