---
Could you see yourself living in 55 sq ft apartment? Yes, you read that correctly, five-five. Well, NYC has become so disgustingly expensive, that literally ten rulers of living space has become a trend, and many New Yorkers are opting in. Micro-apartments, also known as tiny homes, are becoming the new wave—but what are they exactly?
Not to be confused with your typical studio, micro-apartments are smaller-than-average studios intended for a single resident. They're ultra-efficient, relatively inexpensive, and often provide common areas where residents can relax and socialize. Some are designed for co-living, with a private bedroom, but all other amenities are shared with other residents, such as bathrooms, showers, entryways, etc. Thriving communities and high-trafficked downtown locations balance out its mini sizes. They're usually in areas where the walk-up is their living room and the city as their backyard. Think of them as a space to return to when it's time to only go to bed.
120sqft Tiny / Micro NYC Apartment Tour! Manhattan Studio in New York! Knowing Home w/Nyasia Ep 2www.youtube.com
Nyasia C., a designer, NYC real estate broker, and fashion lover, often shares apartment tours, home decor, travel and more. She took on the task of exclusively showing New York's most affordable units under 200 square feet. Her tips are simple: "If you're looking for an apartment under 200 sq ft., the listing will never say 'tiny apartment'. Instead, it will be listed as a studio. It's up to the renter to go look at each place to see if it is actually a tiny apartment or not. Or be sure to work with a broker who sees a lot of apartments and who knows where the best are."

Nyasia's experience ranges from luxury Manhattan apartments, all the way to micro inexpensive rooms. And oftentimes, she works with students in the Columbia area on the Upper West Side, whose age range have expressed a huge interest in keeping the trend going. She brings her regal energy and multi-year real estate knowledge to the forefront to make 100 sq ft, feel like 1000. "I believe you learn the most about people over food and in their home. I'm passionate about telling stories of how people live and work."
One of her smallest being a shocking 55 sq ft, she has also hosted tours of units with 72 sq ft, up to 200. And oddly enough, these apartments are everywhere in New York.
A few are shown below: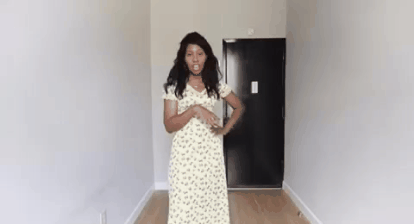 Nyasia C./YouTube
Rent: $1050
This unit did not include a bathroom, so technically, it is considered a room for rent. The bathrooms are shared and are outside in the hall. Two are on each floor. You sign a lease, just as you would with any other apartment, no roommates included. The width is around 5 1/2 feet, and length is 11 1/2. There is no closet, for those of us who have an extensive wardrobe, and there is no kitchen.
The rent includes all utilities and internet.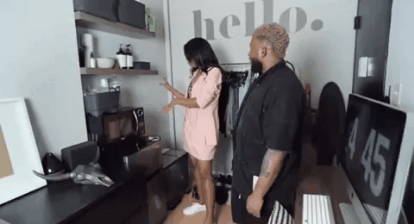 Nyasia C./YouTube
Nyasia joined Tony, a NY creative in Manhattan to give her a tour of his 120 sq ft living space. She took the time to see how he actually lived day-to-day in a furnished, micro unit. Like the previous unit, Tony's apartment does not have a closet or kitchen and he has a key-access bathroom that he shares with three other people.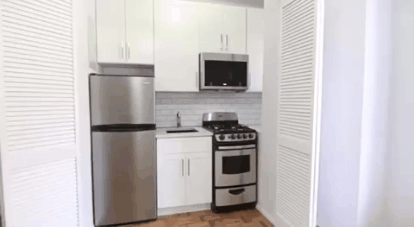 Nyasia C./YouTube
Rent: $1725 (with one month free, $1581.25)
In another tour, the micro unit uncharacteristically included both a kitchen and a bathroom, and four closets--which is almost unheard of. The unit also included a space dividers and built in shelves. The kitchen is tucked away behind pull-closed doors, and utilities are included, minus internet. This unit is roughly 200 sq ft.
Nyasia tours additional micro units on her YouTube channel, where she also showcases all aspects of New York City real estate. She is currently no longer accepting real estate clients searching for apartments, but you can instead find her continuing to dive deep into the market one property at a time.
Would you live in a micro apartment?
Feature image courtesy of Nyasia C./YouTube