---
I'm one of those people who's almost over-passionate about the progression of the black community. I am always looking for innovative ways to contribute to, and reach us, wholeheartedly.
It's gotten to the point where I tend to share my room and platform with those who are on the frontline , grinding out on the pavement in ways that so many of us are unsure how to bring to life. This is one of the ways that I do my part; how I hold space for myself and for my community.
But what does that mean? What does it mean to take up room in each space?

If I were to define it, it would mean fulfilling your passion(s), while effectively bettering your community. It's also simultaneously understanding that your mental health must be prioritized when it's time to be, and knowing that sometimes, you just can't bring everyone with you. In today's plight, this type of passion often stands on the shoulders of local community activists, who are notoriously consumed with helping everyone around them.
Immediately, I think of superheros such as Pinky Cole , owner of Slutty Vegan , who has encapsulated her "take-action brand".
She does so through not only providing healthier meals for her entire city on a large scale, but also through her philanthropic underway that surrounds everything that she places her hands on. Cole has paid the rent of various Atlanta businesses who were suffering due to the pandemic. After receiving an onslaught of 1-star reviews and being labeled "anti-police" due to her pro-justice stance to the endless recordings of police brutality, she instead, with the help of the likes of Ludacris, Gabrielle Union, La La Anthony, and Chris Paul, decided to feed the entire city for free for the day. She has committed to picking up the tab of the late Rayshard Brooks' kids' college education to an HBCU . And in just one stroke, she has managed to feed her community, provide education to four children, and promoted historically black colleges.

I think of the king Tamika D. Mallory , who has captivated an entire generation, through her powerful words and unwavered stance on black issues.
She stands firmly, and unapologetically, at the front of whatever line necessary, "demanding justice for every other Breonna Taylor in our society." She speaks with conviction, she is absolutely not new to this, and she impresses paralleled giants like Angela Davis, Louis Farrakhan, and Beyonce. But make no mistake about it, sis cares most about justice . She has spearheaded Until Freedom as co-founder, and she has slowly become the voice of a generation . Her bottom line is clear: her fist will never come down.

Dani is leading the revolution of purchasing land and teaching black women and queer women how to farm for themselves in order to eliminate the inevitable food deserts that affect black communities. And sis' business plan is detailed, down to the purchasing of her own livestock. She has single-handedly taken on the task of altering her community's ecosystem, quite literally one dollar at a time.
I think of the warrior, Aleta Clark (Englewood Barbie) , in Chicago, who, like many of the people already mentioned, literally cares more about her community than her own well-being.
Englewood Barbie is well-known in Chicago. She stands face-first on the battlegrounds of the city, feeding the "Friends" (or the affectionately named locals who may be down on their luck for the moment) at her nightly outdoor shelter community, Club 51 (51st and Wentworth). She created a Safe House in her community, where she passes out free food and PPE to an impoverished, and ignored, area. She has demanded the attention, and respect, of the city's mayor and police chief, and sis has time-after-time raised money, brought awareness, paid for funerals, and supplied for those who are without. Even during those times where her neighborhood may have caused her pain, she shows up every time.

And I think of Lindsay Peoples Wagner , who has taken her massive platform at Teen Vogue, and has pivoted an entire brand to include the voices of so many that are voiceless.
Lindsay is "bringing people who look like you, with you", personified. She is the youngest editor-in-chief with her company, listed in Forbes' list of "30 under 30", and participated in the recent viral movement of #ShareTheMic with Diane von Furstenberg. She doesn't shy away from adding deeper hues to her room, and being unapologetic about it. At any time, you can find her fighting for black and brown fashion inclusion as founder of the Black in Fashion Council , and sitting in her high-profile corporate office, asking why Breonna Taylor's murderers haven't been arrested.
Community activism means being innovative.

It's standing tall.
It's making the move without applause.
It's sleepless nights; sacrifice.
It's reaching across the aisle, and profoundly supporting those around you.
It's being OK with losing those who don't agree with your message.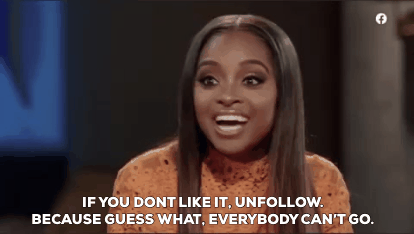 And most importantly, it's knowing when to back away, and take care of self .
As a writer for a black female empowerment hub, I've experienced my fair share of online ridicule and harassment from trolls on the world wide web. Or, I've taken on subjects that have intense stories that stick with me and linger in my mind for weeks. I've learned the importance of disconnecting and not allowing too much of one thing, to consume me.
Understand that, for women such as these, it's magnified.
They tend to take on the world and their own problems. So much so, that their genuine concern for mankind can ultimately mean that they lose themselves in the process.
Aleta Clark, who operates solely on the kindness of others—or even sometimes, her own dollars—at times, has to beg the community for support. Many of us only know Tamika Mallory because of Beyonce. Pinky, thanks to her loyal celebrity clientele, has catapulted her brand, even though she has had a failing restaurant in the past. And Dani's GoFundMe has reached only 30% of her Phase ONE goal, or 1% of her entire project's goal. And there are hundreds of other women just like them, at the forefront, doing the same work and making the best of their efforts with what they have. It's not having the notoriety, and working toward fixing what's broken on your front door step, everyday, anyway .
And it's, with or without support, having the ability to balance that self-imposed desire to selflessly continue to show up for your own goals, and for your progressive monarchy, anyway .
Understand what you're asking when you continuously pull from ladies such as the Tamikas, or Lindsays, Aletas, Danis or Pinkys of the world who carry the load. It's imperative that we stress the importance of protecting and prolonging our mental health—for ourselves, and for those who lead the movement as well.
Educate yourselves on their movements, don't ask them how you can support them. I can assure you, they have told you how you can support them. Our communities are all of our responsibilities to maintain. So, find a movement, support that movement, get involved, and stay involved.
Because sometimes, whether on a large platform or a small, leaders and difference-makers need someone to help carry the load for them, too.
Featured illustration by Mary Long/Shutterstock
Charmin Michelle
Charmin Michelle is a southern native and creative spirit who works as a content marketer and events manager in Chicago. She enjoys traveling, #SummertimeChi, and the journey of mastering womanhood. Connect with her on Instagram @charminmichelle .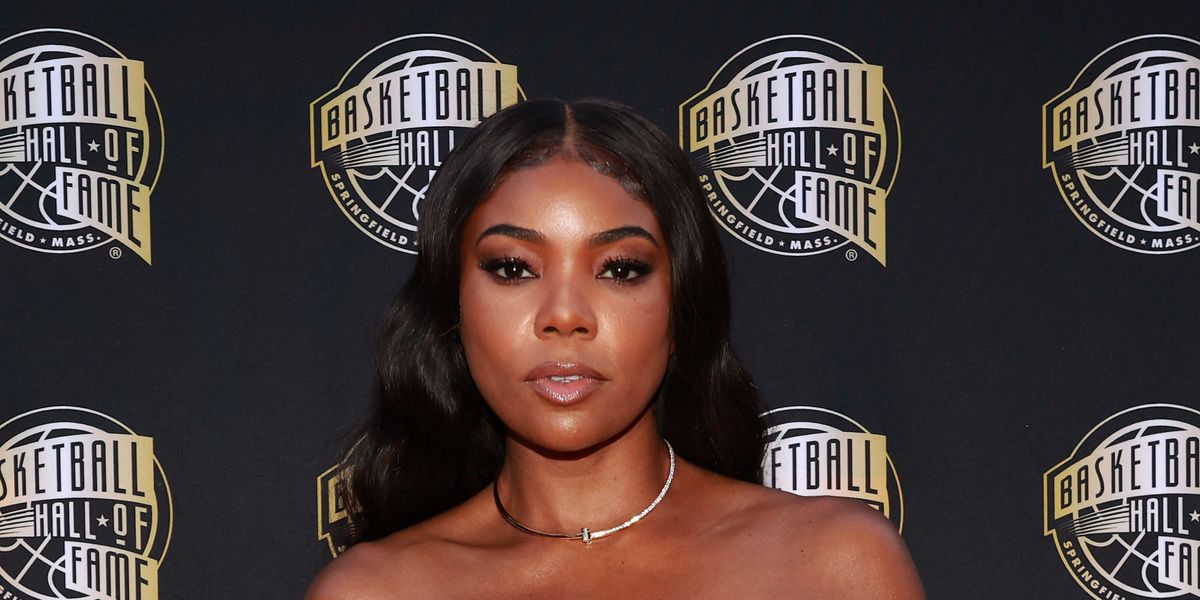 Whenever Gabrielle Union graces the movie screen, she immediately commands attention. From her unforgettable scenes in films like Bring It On and Two Can Play That Game to her most recent film, in which she stars and produces Netflix's The Perfect Find , there's no denying that she is that girl.
Off-screen, she uses that power for good by sharing her trials and tribulations with other women in hopes of helping those who may be going through the same things or preventing them from experiencing them altogether. Recently, the Flawless by Gabrielle Union founder partnered with Clearblue to speak at the launch of their Menopause Stage Indicator, where she also shared her experience with being perimenopausal.
In a xoNecole exclusive, the iconic actress opens up about embracing this season of her life, new projects, and overall being a "bad motherfucker." Gabrielle reveals that she was 37 years old when she was diagnosed with perimenopause and is still going through it at 51 years old. Mayo Clinic says perimenopause "refers to the time during which your body makes the natural transition to menopause , marking the end of the reproductive years."
"I haven't crossed over the next phase just yet, but I think part of it is when you hear any form of menopause, you automatically think of your mother or grandmother. It feels like an old-person thing, but for me, I was 37 and like not understanding what that really meant for me. And I don't think we focus so much on the word menopause without understanding that perimenopause is just the time before menopause," she tells us.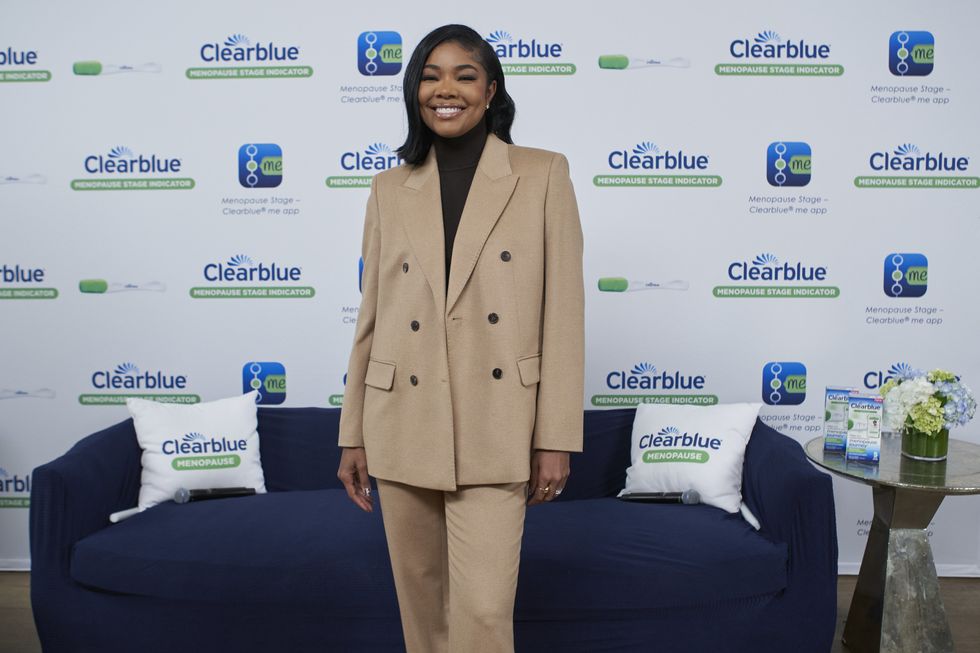 Gabrielle Union
Photo by Brian Thomas
"But you can experience a lot of the same things during that period that people talk about, that they experienced during menopause. So you could get a hot flash, you could get the weight gain, the hair loss, depression , anxiety , like all of it, mental health challenges , all of that can come, you know, at any stage of the menopausal journey and like for me, I've been in perimenopause like 13, 14 years. When you know, most doctors are like, 'Oh, but it's usually about ten years, and I'm like, 'Uhh, I'm still going (laughs).'"
Conversations about perimenopause, fibroids, and all the things that are associated with women's bodies have often been considered taboo and thus not discussed publicly. However, times are changing, and thanks to the Gabrielle's and the Tia Mowry 's, more women are having an authentic discourse about women's health. These open discussions lead to the creation of more safe spaces and support for one another.
"I want to be in community with folks. I don't ever want to feel like I'm on an island about anything. So, if I can help create community where we are lacking, I want to be a part of that," she says. "So, it's like there's no harm in talking about it. You know what I mean? Like, I was a bad motherfucker before perimenopause. I'm a bad motherfucker now, and I'll be a bad motherfucker after menopause. Know what I'm saying? None of that has to change. How I'm a bad motherfucker, I welcome that part of the change. I'm just getting better and stronger and more intelligent, more wise, more patient, more compassionate, more empathetic. All of that is very, very welcomed, and none of it should be scary."
The Being Mary Jane star hasn't been shy about her stance on therapy . If you don't know, here's a hint: she's all for it, and she encourages others to try it as well. She likens therapy to dating by suggesting that you keep looking for the right therapist to match your needs. Two other essential keys to her growth are radical transparency and radical acceptance (though she admits she is still working on the latter).
"I was a bad motherfucker before perimenopause. I'm a bad motherfucker now, and I'll be a bad motherfucker after menopause. Know what I'm saying? None of that has to change. How I'm a bad motherfucker, I welcome that part of the change."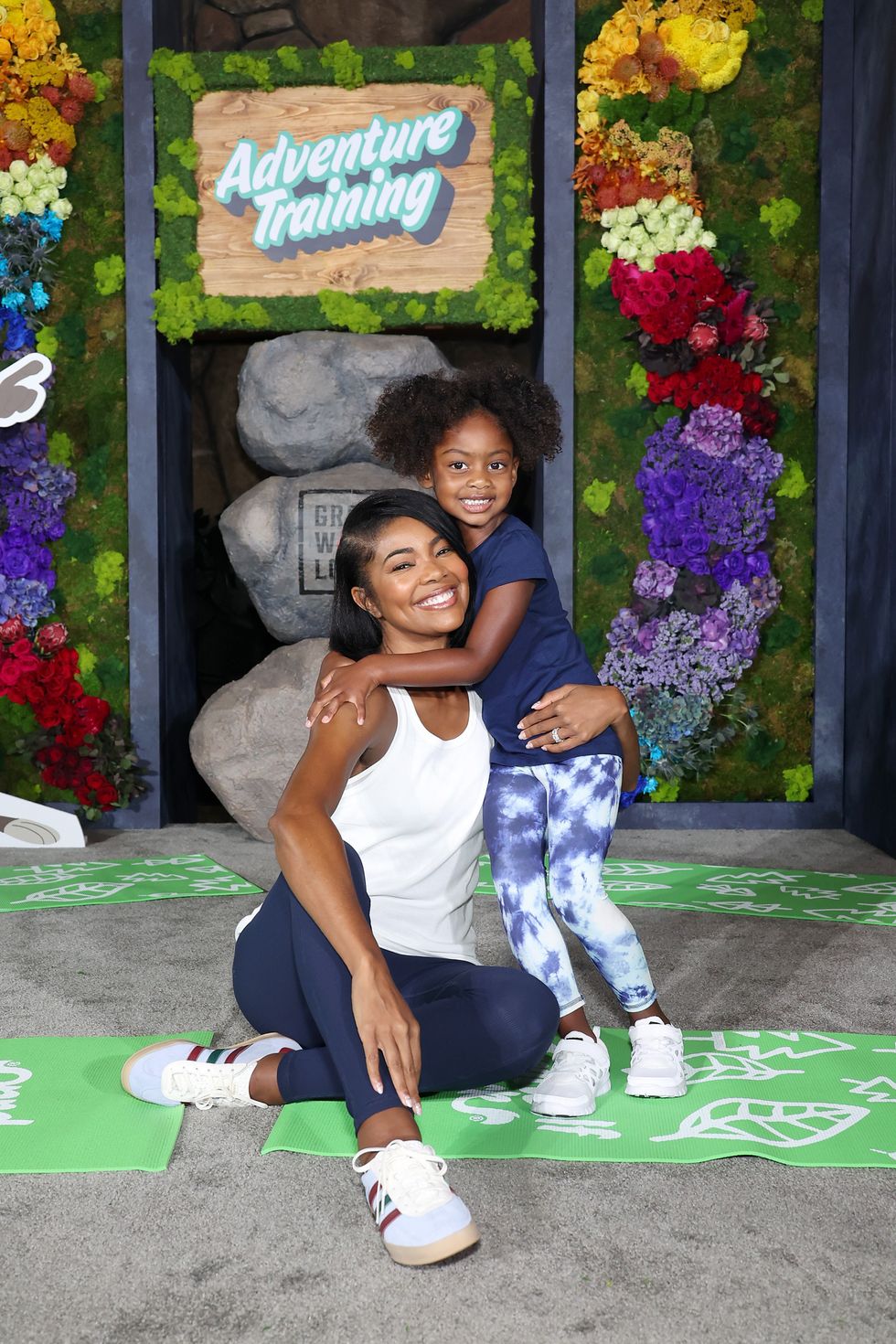 Gabrielle Union and Kaavia Union-Wade
Photo by Monica Schipper/Getty Images
"I hope that a.) you recognize that you're not alone. Seek out help and know that it's okay to be honest about what the hell is happening in your life. That's the only way that you know you can get help, and that's also the only other way that people know that you are in need if there's something going on," she says, "because we have all these big, very wild, high expectations of people, but if they don't know what they're actually dealing with, they're always going to be failing, and you will always be disappointed. So how about just tell the truth, be transparent, and let people know where you are. So they can be of service, they can be compassionate."
Gabrielle's transparency is what makes her so relatable, and has so many people root for her. Whether through her TV and film projects, her memoirs, or her social media, the actress has a knack for making you feel like she's your homegirl. Scrolling through her Instagram, you see the special moments with her family, exciting new business ventures , and jaw-dropping fashion moments. Throughout her life and career, we've seen her evolve in a multitude of ways. From producing films to starting a haircare line to marriage and motherhood , her journey is a story of courage and triumph. And right now, in this season, she's asking, "What's next?"
"This is a season of discovery and change. In a billion ways," says the NAACP Image Award winner. "The notion of like, 'Oh, so and so changed. They got brand new.' I want you to be brand new. I want me to be brand new. I want us to be always constantly growing, evolving. Having more clarity, moving with different purpose, like, and all of that is for me very, very welcomed."

"I want you to be brand new. I want me to be brand new. I want us to be always constantly growing, evolving. Having more clarity, moving with different purpose, like, and all of that is for me very, very welcomed."
She continues, "So I'm just trying to figure out what's next. You know what I mean? I'm jumping into what's next. I'm excited going into what's next and new. I'm just sort of embracing all of what life has to offer."
Look out for Gabrielle in the upcoming indie film Riff Raff , which is a crime comedy starring her and Jennifer Coolidge, and she will also produce The Idea of You , which stars Anne Hathaway.
Feature image by Mike Lawrie/Getty Images
Victoria Monét has had an incredible year. Thanks to the success of the widely popular " On My Mama " that went viral, the singer/ songwriter's Jaguar II album debuted in the top 10 of Billboard's Top R&B Albums chart. She also went on to headline her own sold-out tour . So, when the MTV VMAs happened in September, everyone was surprised to learn that Victoria's team was told that it was "too early" for the "Smoke" artist to perform at the award show. However, a couple of months later, the mom of one received seven Grammy nominations, including "Best R&B Album" and "Record Of The Year."
Victoria is currently in London and stopped by The Dotty Show on Apple Music and shared how she feels "validated" after being dismissed by the VMAs.
"It really does feel nice and validating because, in my head, the reason why I wanted to be a performer at the VMAs or award ceremonies like that is because I felt like I am at the place where I should. I would work really hard to put on the best show that I could, and I was excited to do so," she said.
"And I guess the best way to describe it for me is like when you're like on a sports team, and the coach is like, 'No, you gotta sit this one out.' When they finally put you in, and then you score all these points, and it feels like that feeling. You're like, yes, I knew it wasn't tripping, but I knew I worked hard for this, and so it's been super validating to just have these accolades come after a moment like that, and I know the fans feel vindicated for me.
While her fans called the VMAs out on their decision, the "Moment" singer kept it cute and is still open to performing at the iconic award show. "I feel no ill towards them because it's just maybe that's just truly how they felt at the time, but I hope their mind has changed," she admitted.
Aside from recognition from the Grammys, she has also received praise from legendary artists such as Janet Jackson , Kelly Rowland , and Usher .
Feature image by Amy Sussman/WireImage for Parkwood