---
Imagine living in a place where you can't conveniently buy fruits, vegetables, and your favorite gluten-free goodies. You don't have easy access to get the ingredients you need for your favorite homemade Greek salad, spaghetti and meatballs, or something as simple as avocado toast. You are limited to buying canned or processed foods from convenience stores or bodegas.
Many in urban areas---especially the poor and minorities---face this reality, living in what are called "food deserts". According to the U.S. Department of Agriculture, 37 million Americans live in such locales, where they are forced to travel more than a mile to buy affordable, healthy food.
For Megan Bell and her neighbors, surviving a food desert is a norm. The founder of non-profit, Virtuous Women Empowerment Inc., saw a need in her western Louisville, Kentucky community that she could not ignore.
"I come from a neighborhood that has had gang and gun violence. A lot of that stuff as a kid I did not pay much attention to, but now that I'm older and more involved in the community---connecting with community leaders, activists, non-profit founders, and local government---I started to see that there was a gap in our community. That's what really motivated me to start the non-profit and then start the grocery store," Bell told xoNecole in an interview.
The 30-year-old wife and mother of three decided to do something to provide a central location where shoppers can get fresh produce and other grocery items, and the Next Door Market Grocery Store was birthed. She has found a location, a vacant building in Louisville's West End, and she plans to open summer 2021.

"Food is coming from [retail], liquor, or corner stores or gas stations. It's very important that communities have natural, healthier food stores in a community. When we have chronic diseases, high blood pressure and diabetes, it's important to transition how we eat and get the food sources needed to eat healthy."
The statistics reflect that Bell is on to something. A recent Urban League report indicated that 35% of blacks in the Louisville Metro are living at or below the poverty line, while only 15 percent of whites face the same reality. Life expectancy in western Louisville, known as predominantly black, is about 67 years old, compared with 82 years old for those who live in the eastern communities. Alcohol and drug-related deaths are "eight times higher, diabetes six times higher, and stroke three times higher" in the West End compared with the East End.
Through the Next Door Market Grocery Store, Bell also wants to take things a step further by educating community members on using healthy ingredients, storing produce, and cooking. "People respect what you're trying to do in the community when they feel like they're part of something and there's something you give to them," Bell said. "They appreciate it. We have to have food education... giving them a little more encouragement and showing them how is more important than just putting produce in a store."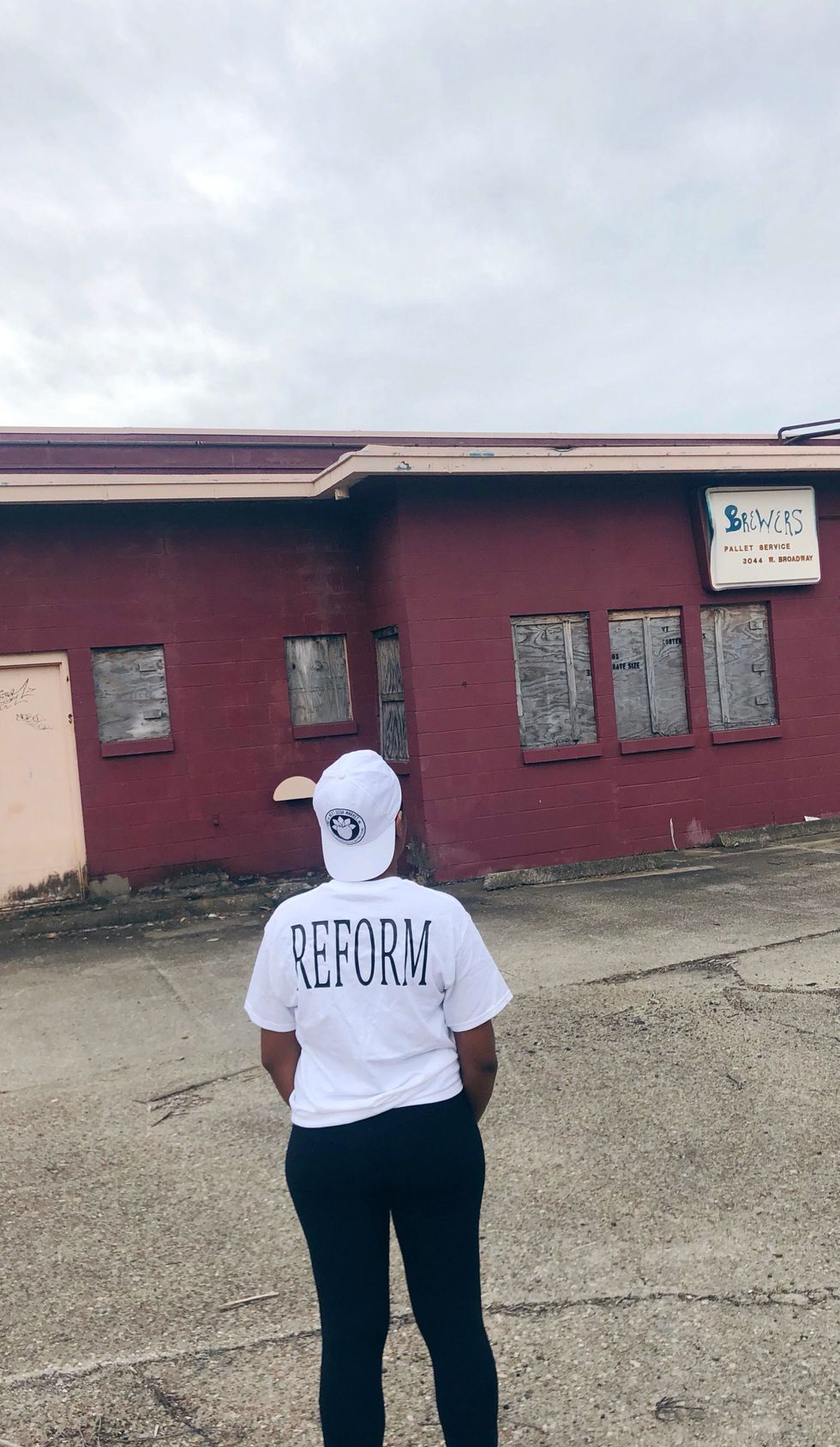 Megan Bell stands at the site of the Next Door Market Grocery Store.Photo by Laqudia Smith
Trained as a certified nursing assistant, Bell has always had a passion for helping people. And the need and will to educate and innovate through non-profits and entrepreneurship is something Bell got from her family. "My aunt has her own school, and many of the women in my family have non-profits, too. I believe in empowering women and sisterhood is my number 1 thing."

Through her own organization, she helps women by providing services and hosting events that promote self-accountability, self-esteem, career growth, goal-setting, and healthy lifestyles. She has also volunteered at women's shelters, helping to connect families with resources to combat homelessness. Through this work, she has seen the impact that having easy access to food and produce would have on families, especially women and children. By launching the grocery store, she wants to be an example of service and empowerment even for her own children.
"I want to leave a legacy for my kids to know that even if they don't take the route of having their own business, that they can do something to give back. I want that to be ingrained in them. Maybe they will venture off and do something even bigger and give their generation the ambition to do something great as well."
For more of Megan and her mission, follow her on Instagram.
Featured image courtesy of Megan Bell