---
Chimson "Dr. Chimmy" Oleka is passionate about helping girls and young women better understand their bodies and reproductive systems.
As an adolescent and pediatric gynecologist, she works daily to diagnose conditions, build treatment plans, and inspire by action through education. In addition to her duties as a 30-something practicing doctor, the University of Louisville graduate has spoken on topics related to fertility, sexually transmitted diseases, self-confidence, and vaginal health for organizations and entities including Texas Children's Hospital, 100 Black Men, and the Children's National Health System.
"One of the things that I really love about it is that I have the opportunity to empower and to be a positive influence on young women during one of the most critical time periods of their lives," Dr. Oleka told xoNecole in an exclusive interview. "I think [the reason] I have an interest in this topic and other topics as it relates to adolescent development is because a lot of the time, who we become as adolescents affects who we become as adults."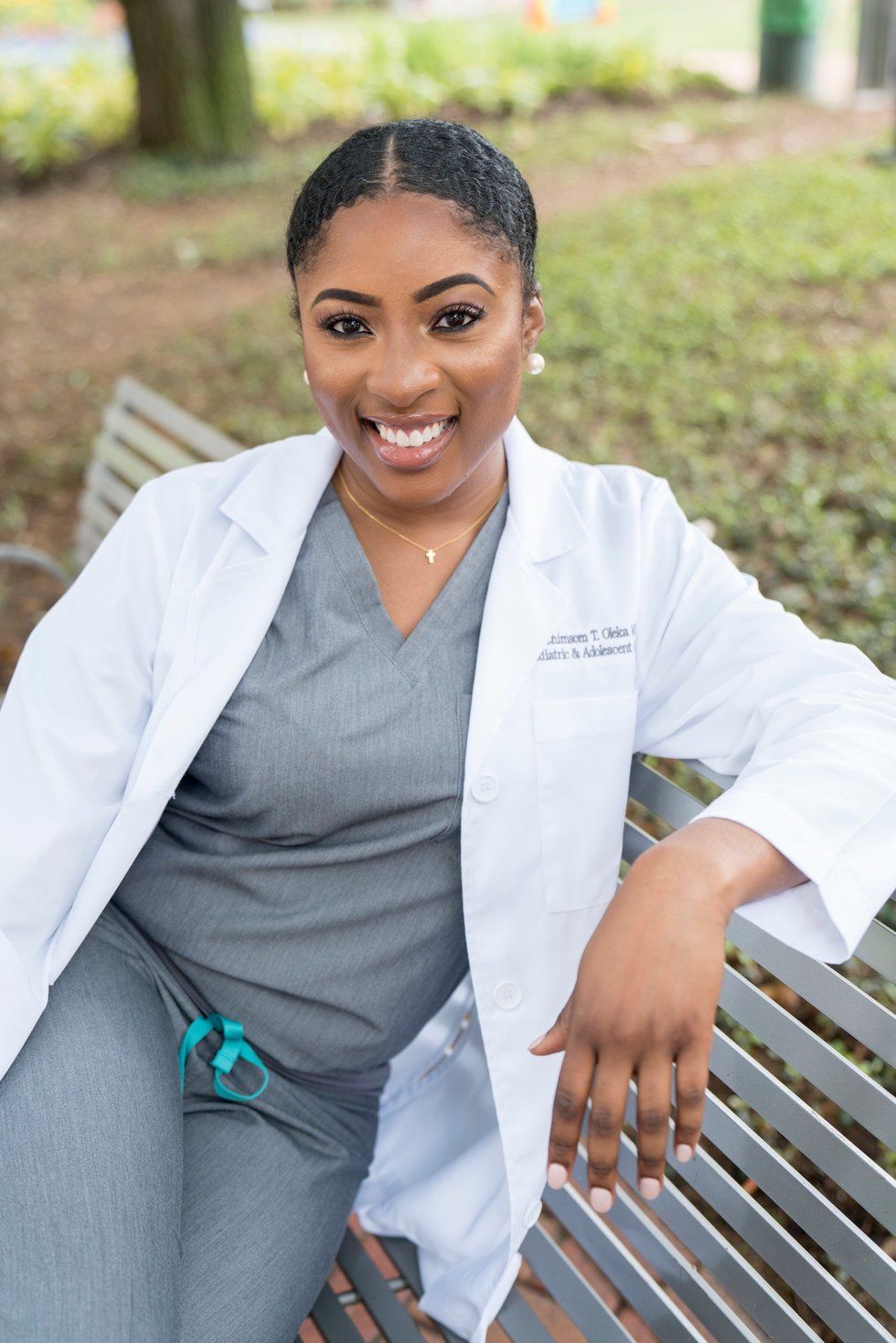 Featured image by Janelle Alesia Photography
What's significant about what Dr. Oleka does daily is the impact of conversations she gets to have with her patients, all 21 and under. Being a Nigerian-American with a sense of today's trends and an active knowledge of the power of music, social media, and culture has helped her connect with her patients and boost relatability. And the impact goes beyond the physical and into the mental.

"Let's say I walk in and a girl who looks like me sees that I have braids and she has her hair in braids. When I say, 'Hey, I love your braids,' I just see her become relaxed and she opens up," Dr. Oleka said. "I did have one patient tell me that I look like Megan Thee Stallion—I don't (laughs)—but I think it was nice for her that I even knew who that is. One of the questions I ask patients is, 'What do you want to be or what change do you want to bring to the world?' A lot of them say, 'I want to be an OB-GYN or a doctor.' And I don't know if they're saying that just because I'm asking but I think it's nice that they're setting their sights high. I hope that maybe their interaction with me will influence [their aspirations] in a positive way."

Raised by a father who worked as a dean in higher education and a mother who enjoyed a career as a labor-and-delivery nurse, Dr. Oleka has always held the belief that strengthening the mind goes hand-in-hand with the body.
"My dad used to tell me that knowledge is power. What you're able to learn about yourself, especially as a teenager, is empowering," Oleka says. "You develop this confidence in who you are and you find out what's inside of you is stronger than anything that's around you or that comes to you. That's what resilience is, and I love that. I have the opportunity to introduce that through gynecology. I fell in love with being able to just walk women through different aspects of the things that we go through—empowering women through education, empathy, and compassion."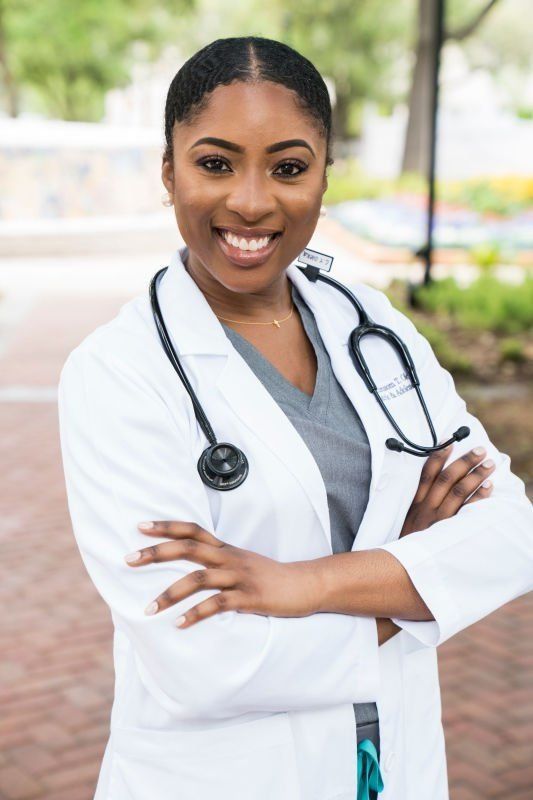 Featured image by Janelle Alesia Photography
"I fell in love with being able to just walk women through different aspects of the things that we go through—empowering women through education, empathy, and compassion."

Women of color face several challenges when it comes to reproductive health, including disparities in instances of life-altering fibroids, infant mortality and gynecological cancers. One other major issue Dr. Oleka sees among young women of color is contraception coercion, which she describes as the "sabotage of contraceptive methods, pregnancy coercion or pregnancy pressure."
"What that looks like is sabotaging contraceptive methods—where you have a partner trying to actively interfere with their partner's contraceptive methods—to promote a pregnancy," she says. "[It can be] hiding, withholding or destroying oral contraceptives or a contraceptive patch or poking holes in condoms. It can also mean taking the condom off during sex or not withdrawing when that was agreed upon. And then finally the pressure [manifests as] behavior that comes in the way of threatening or acts of violence if the pregnant partner doesn't comply with certain wishes."

Dr. Oleka talks candidly with girls and young women about boosting their self-esteem and gaining knowledge about their bodies or options they have based on their goals or situation, and she's a strong believer in women advocating for and supporting one another through open conversations, consistent doctor's visits and sharing information in a way that is welcoming, authoritative and caring. The sooner women start to open lines of communication with one another as mothers, sisters, aunts, peers and mentors, the better.
"Educate yourself on reproductive health, on understanding that and really seeking to empower girls as it relates to being the most authentic version of themselves," Dr. Oleka urges. "Figure out who you are and allow yourself that space and opportunity to grow—to make mistakes and to learn from them. Once you know who you are, once you're comfortable with learning and growing, it becomes less about what people on the outside are saying or pressuring you and more about, 'Well, what do I think? What do I want to achieve?' I think [it's really about] just validating a young girl's feelings, validating their need for growth. That's the key."
To learn more and keep up with Dr. Chimmy's journey, check out her website and follow her Instagram @withlove_drchimmy.
Featured image by Janelle Alesia Photography.