---
On any given day, a crowd of fans wait eagerly outside of the Slutty Vegan, chatting eagerly about whether they want a Sloppy Toppy or a Ménage à Trois as they wait in hour-long lines. No, this isn't a twisted version of the movie Trois -- unless you count indulging in salacious yet savory food as a form of foreplay.
In fact, just a few months ago many of these patrons wouldn't have thought twice about traveling down to the primarily African-American Southwest Atlanta neighborhood. But today, it's not uncommon to see enthused foodies, celebrities, locals and travelers from all races and backgrounds vying for a chance at tasting the restaurant's famous plant-based burgers. In case the headlines weren't clear, Slutty Vegan is revolutionizing the vegan fast food industry, and it's taking the meaning of food porn to the next level.
INSIDE SLUTTY VEGAN WITH FOUNDER PINKY COLEwww.youtube.com
Leading the way is founder Pinky Cole. With her red, shoulder-length locs, radiating smile, and confidence that permeates any room she enters, Pinky is focused on her vision of making enjoyable vegan food a worldwide phenomenon. "Slutty Vegan [isn't] slowing down anytime soon," says Pinky. "It's going to be alongside the Burger Kings, McDonalds, and Sonics of the world."

Taking a break from her never-ending to-do list, Pinky and I chat about her journey to creating one of the most buzzworthy restaurants in Atlanta and the vegan community, and how she was able to launch and scale her business from concept to a brick-and-mortar restaurant all within a year. It's not long into our conversation that I realize that the key to her success is rooted in two concepts: the power in execution after inspiration and the importance of capitalizing off of momentum. This— and her desire to serve— is what is driving her to turn her idea into a worldwide phenomenon.
"I come as one, but I stand as 10,000. You see me, but I am the representation of so many people that look like me, brown skin and locs— people that don't fit society's norm. I am the representation of successful Black business. There is [a] tax on Black-owned business, that we don't do well. [Slutty Vegan] is changing the game of what Black business looks like. It's a big deal to know that I am able to create something as a Black woman that is successful and bring our stock to the next level."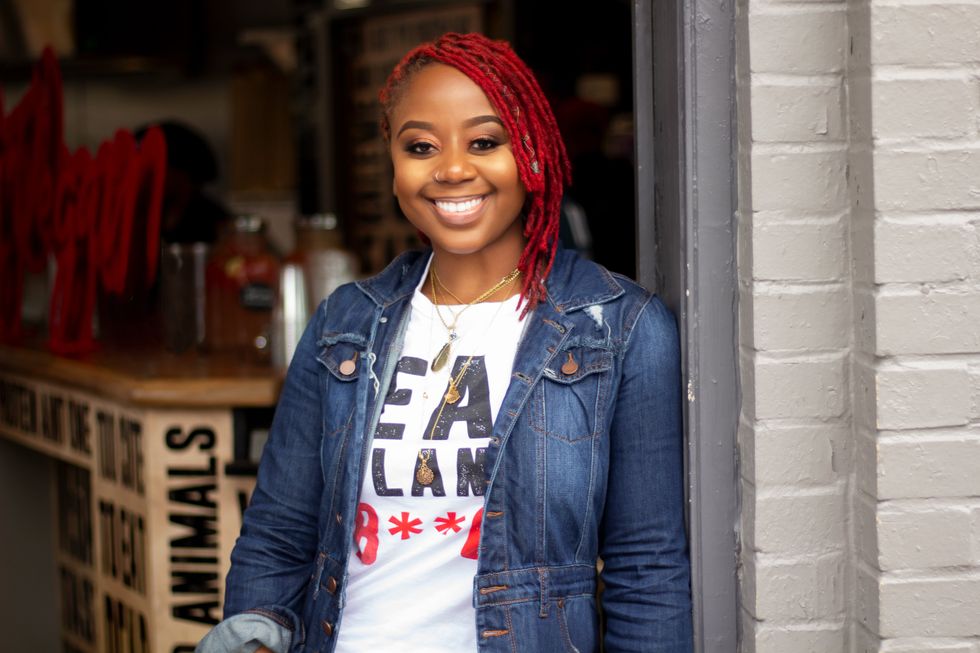 Photo by Tailiah Breon for xoNecole
"I am the representation of successful Black business."
Opening her own restaurant wasn't always the end destination for Pinky. After graduating from Clark Atlanta University she moved to Los Angeles to pursue her dream of acting, but a chain of events led her to her culinary destiny. While in Los Angeles, a sorority sister offered Pinky a position to work as a TV producer. This opened the doors to various roles in the industry, which eventually led her to work with The Maury Show. During this time, Pinky, who loved all things food and business since her youth (and was taught to cook by her Jamaican grandmother), decided to take the money she had saved from her day job to open up her first venture in Harlem: Pinky's Jamaican and American Restaurant.
It was there she experienced her first major setback. "I ended up losing the restaurant due to a grease fire," she says. "It seemed like a failure, but it was the best thing that ever happened."
Soon after, Pinky moved back to Atlanta to work as a casting director for another popular TV show. Being a part of the show's production team allowed her the space to heal from the trauma of losing a business, while also helping to heal and serve others. It wasn't long before she'd have the desire to try her hand at entrepreneurship again. Just a few months into her transition back south, a million-dollar idea was born. "I was sitting in the house one day and I came up with this idea of Slutty Vegan. It came to me like a light bulb. [The name] was sexy. It sounds like it's selling sex, but it's bigger than that. [I knew] it was going to become a movement; it's going to get people to pay attention to being plant-based and veganism."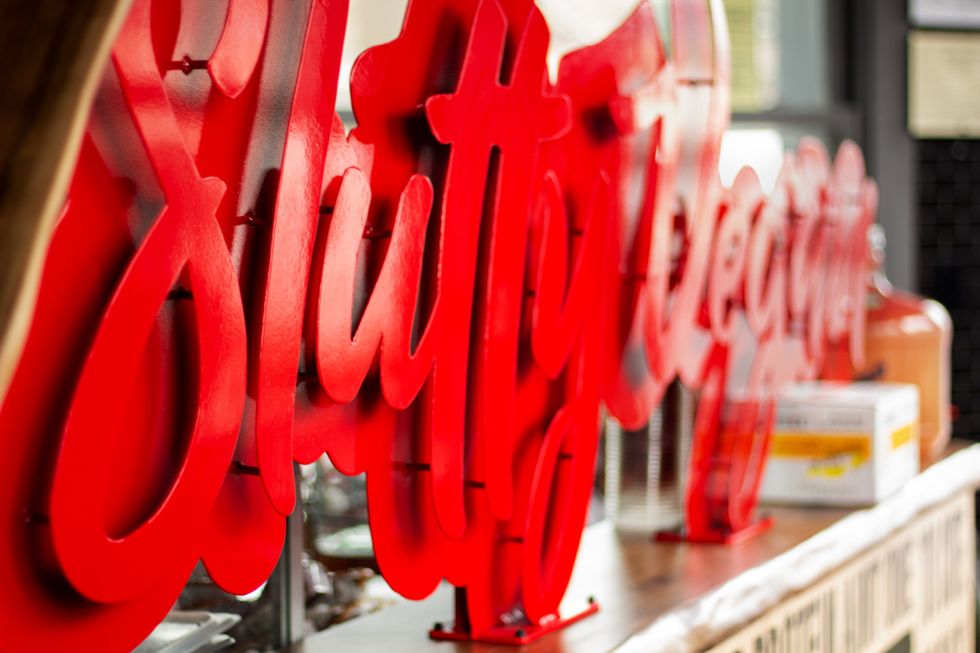 Photo by Tailiah Breon for xoNecole
"It sounds like it's selling sex, but it's bigger than that."
Unlike many who may experience these moments of entrepreneurial epiphanies, Pinky didn't just sit on the idea. She started creating recipes, finding supplier partners, and researching how to expand. In July 2018, she set up shop at a shared kitchen to test out her newly-created cuisine. By August, she moved to a commercial kitchen, invested in a food truck in September, and in October found the location for the first Slutty Vegan restaurant. Three months later, a crowd of 1,200 gathered outside the restaurant in 45-degree weather for the grand opening. "It was so beautiful to see so many people looking like me come out in the name of food," she recalls.
Since its opening in January, the Atlanta-based restaurant has become a mini tourist attraction, with customers lining up as much as two hours in advance of the store's daily opening. Occasionally, the line wraps around the corner with wait times hitting at least five hours or more.
While success seems to be happening fast for the brand, Pinky isn't surprised. She had a feeling this was going to happen, she tells me matter-of-factly. The Slutty Vegan name alone was a hook that would reel her potential customer base in. "There is [a] stigma to the word. [I thought], 'How can I use a bad word to make it something good, be creative and [help people] indulge in what they love guilt-free?'"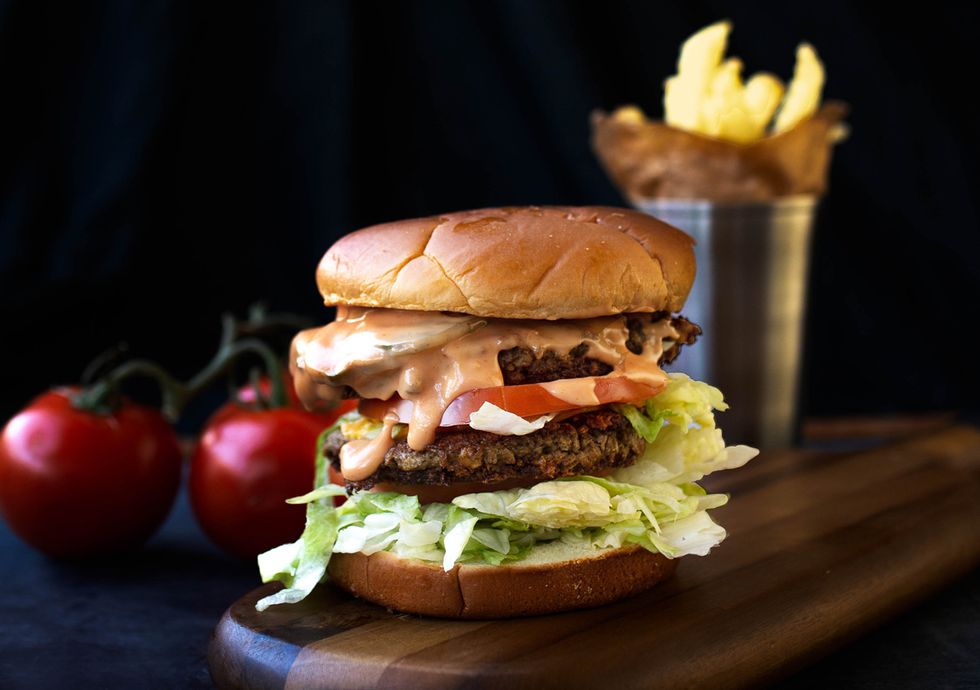 Courtesy of Slutty Vegan
"Veganism can be cool. Being plant-based can be cool. It doesn't have to be mundane."
Such indulgences include the Fussy Hussy— an Impossible Burger patty loaded with pickles, vegan cheese, caramelized onions, lettuce, tomato, and their signature slutty sauce without the cholesterol and calories of a traditional burger. It's the creative genius behind Pinky's idea— and she knows it. "It feels like it's bad because it's a cheeseburger and fries, but it's a lot healthier, which is why the hook to the conversation is you don't have to eat dead animals in order for it to taste good," Pinky says. "We can limit and decrease the amount of illnesses and disease in our community based on the food we ingest. That intention is continuing to be met because it's working."
To no surprise, at the core of the Slutty Vegan branding strategy is experience. Pinky has been deliberate about how she's crafted the way customers interact with the brand since the beginning. "Build your brand in a way that is so irresistible that people have to have it. When people have to have it, they will do whatever to get it. Slutty Vegan has been successful [in] creating an experience for people so that they have to have it by any means necessary," she tells me. "Veganism can be cool. Being plant-based can be cool. It doesn't have to be mundane."
It's why on the Slutty Vegan Instagram you'll hardly see any brand-generated photos of their signature burgers. Pinky also doesn't spend money on influencer marketing, and will tell you in a heartbeat that she's "not selling food." Instead, she's "helping people indulge in what they love."
Even Pinky's celebrity co-signers are genuine, unpaid, and helping to push the brand's message to a larger audience. "When you eat my food as a celebrity, you're jumping on board to this bigger conversation and spreading a narrative of eating healthier and limiting diseases in our community. That's what we call positive manipulation, and it's working."
It's understandable why after tasting her burgers people can't stop eating or talking about Pinky Cole and Slutty Vegan. There's something magical about the way the brand has been able to sprout out of nowhere and dominate the food scene. It leaves little room for doubt as to where Pinky plans on taking her company. "In 2019, you have to do things that are going to separate you from everyone else," she says.
While I'm not sure if Pinky would describe herself as radical, she's definitely a rule-breaker. Going against the norm has enabled her to bring the Slutty Vegan story to the forefront. According to Pinky, moving the food truck location daily is not usually a food truck culture norm, but Slutty Vegan does it anyway. Using provocative nomenclature in brand marketing could also be seen as risky, but despite all of this, Pinky believes that her desire to change the rules of how to start and run a business have helped fuel the company's success. If you're thinking of ways to engage with customers or influence sales, thinking outside the box can lead to breakthroughs that can ultimately fuel growth.
However, no hero's journey is complete without a major test of character and commitment to their dream.
Slutty Vegan was invited to vend at the 2019 Super Bowl, and Pinky found herself having to make the difficult decision as to whether she'd accept the opportunity or not. She was told that she'd have to change the restaurant's name, branding and wrapping. While the optics and sales would have been great, Pinky realized she would have to compromise on everything she worked hard to create. To Pinky, this wasn't worth sacrificing her brand footprint. She adds with conviction, "I am glad I didn't compromise who I am for the dollar. The people who want me are going to come to me."
The people have been coming alright. The decision alone to launch a vegan restaurant in Atlanta could be the perfect example of "right place, right time." However, it's a reminder of a higher alignment. It shows how sometimes things are supposed to happen as they happen. One of the first things Pinky told me during our chat was, "If [my first] restaurant didn't close, we wouldn't be having this conversation."
"I was supposed to be in Atlanta. [Atlanta is] the home of soul food. It's the South. If you tell people in the South about vegan food, they laugh at you. To be able to do this [here], we've conquered something that is really not a big deal. We've done it and we can go somewhere else and they'll be with the movement. [In] Los Angeles, DC, or New York, veganism is normal. The fact that I am able to do this in Atlanta is dope."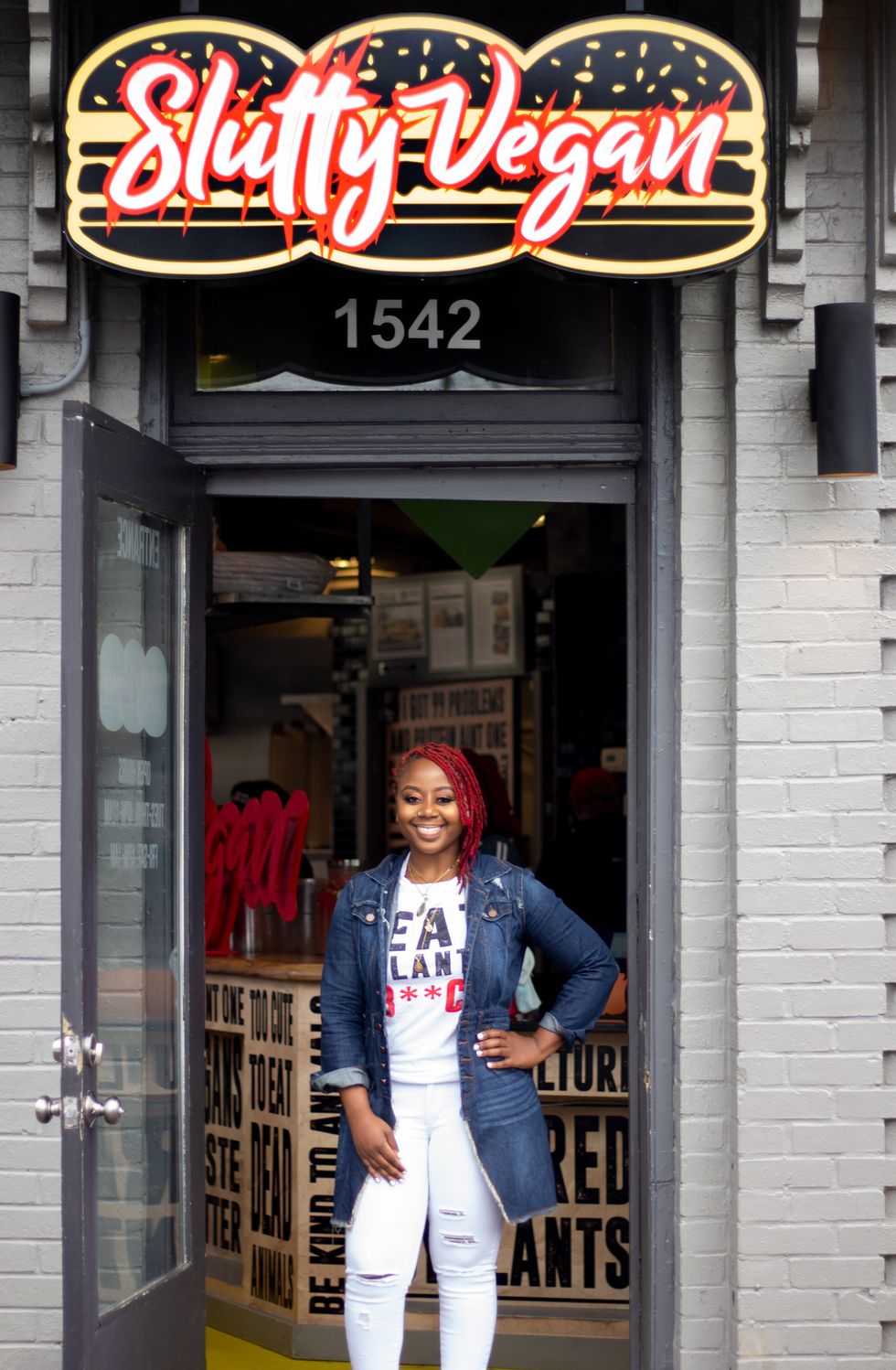 Photo by Tailiah Breon for xoNecole
"If [my first] restaurant didn't close, we wouldn't be having this conversation."
The future of Slutty Vegan seems promising. Pinky tells us that she has several projects in the works, including a development deal for a television show, possible Slutty Vegan airport locations, merchandise, franchising options, and ready-made bottles of her infamous Slutty Sauce for sale.
"If you have a great idea, a lot of faith and are steadfast on your goals, it doesn't take five years to [launch]. You can do what I did in six months and it can be super [successful]. It depends on how bad you want to win."
Like many founders, what's driving Pinky is the impact she has on everything she touches. "While the people are pouring into you, you have to pour back into the people. People will continue to support you if they see you are supporting the community."
Philanthropy and serving others are core values that she ensures surrounds the Slutty Vegan way. It's a mission that is the driving force behind why she looks forward to waking up each day. "This doesn't feel like work," Pinky says. "The refuel is knowing my doors are open every day, having conversations with people like you, to know that I'm responsible for feeding 25 mouths every week. I'm the captain of the ship, and if I fall asleep, the ship is going to sink and I'm not willing to let that happen. I built something that can take our community to the next level."
And we're certainly down to ride the wave.
To learn more about Slutty Vegan and how you can get #sluttified, visit http://sluttyveganatl.com and check out the brand on Instagram at @sluttyveganatl.