Erica Green
Erica Green is a Clinical Research Associate, blogger, and a sneakerhead. She has a love for all things women and she's pretty sure that women are God's greatest creation. Connect with her on Instagram @ erica_britt_ or www.lovethegspot.com
The COVID-19 pandemic has put a halt to so many things that we all took for granted: going out without masks, going to concerts, visiting family and friends, and traveling wherever we want. However, there is one thing that COVID-19 cannot stop and that is the miracle of childbirth. When babies are ready to come into this world, they are coming no matter what is or isn't going on around us. The addition of a global pandemic to a time in a woman's life where there is already so much going on, so many things to decide, so many things to do, and so many emotions seems unfair. Yet, that has been the reality for many women for almost a year now. However, it should come as no surprise that women all over the world have accepted the new normal with strength and grace and do what women do best: get it done (and beautifully, might I add).
I recently connected with five incredible women who either gave birth during the pandemic or are currently expecting. They shared everything from their reactions to finding out that they were pregnant, to how the pandemic reshaped their initial thoughts on pregnancy and motherhood. I was both touched and inspired by their outlook and their strength. Despite the fact that things looked different than they imagined they would, with limitations on who can attend prenatal visits or the hospital during the birth, these women have been able to pivot, remain positive, and adjust to their new normal.
Check out their stories below.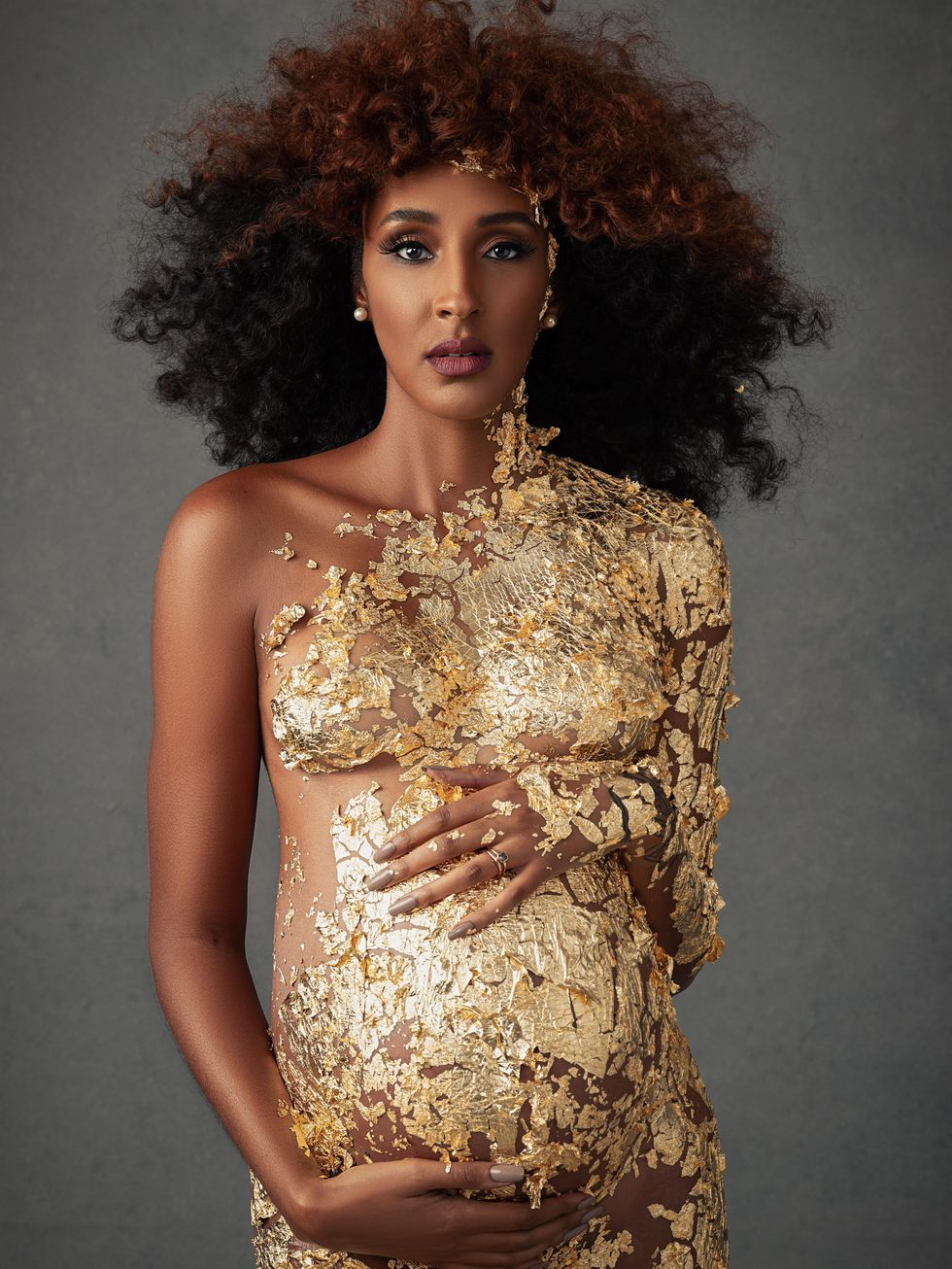 Photo Courtesy of Erica James-Strayhorn
Erica is a first-time mom to a baby girl born in December 2020.

"I was very excited to find out that I was pregnant. I knew that things might be different, I just wasn't exactly sure what that looked like. I remained open and focused on how I wanted my pregnancy and delivery to be and focused on that. One thing that was impacted was the decision to have a home birth instead of having her at a birthing center. I made this choice based on the number of people allowed to be present at the birth center.
"My pregnancy and motherhood, so far, have been pretty close to how I thought it would be, even during a pandemic. I was focused on creating the experience I wanted when it came to the pregnancy and the birth. I have an amazing community, friends, and family who have supported me. It was upsetting knowing that my husband could not attend doctor appointments with me and that he could not attend our baby's appointments with us. However, that encouraged us to find creative ways for him to be involved in that part of her life and for me to make sure I was communicating information from those appointments to him.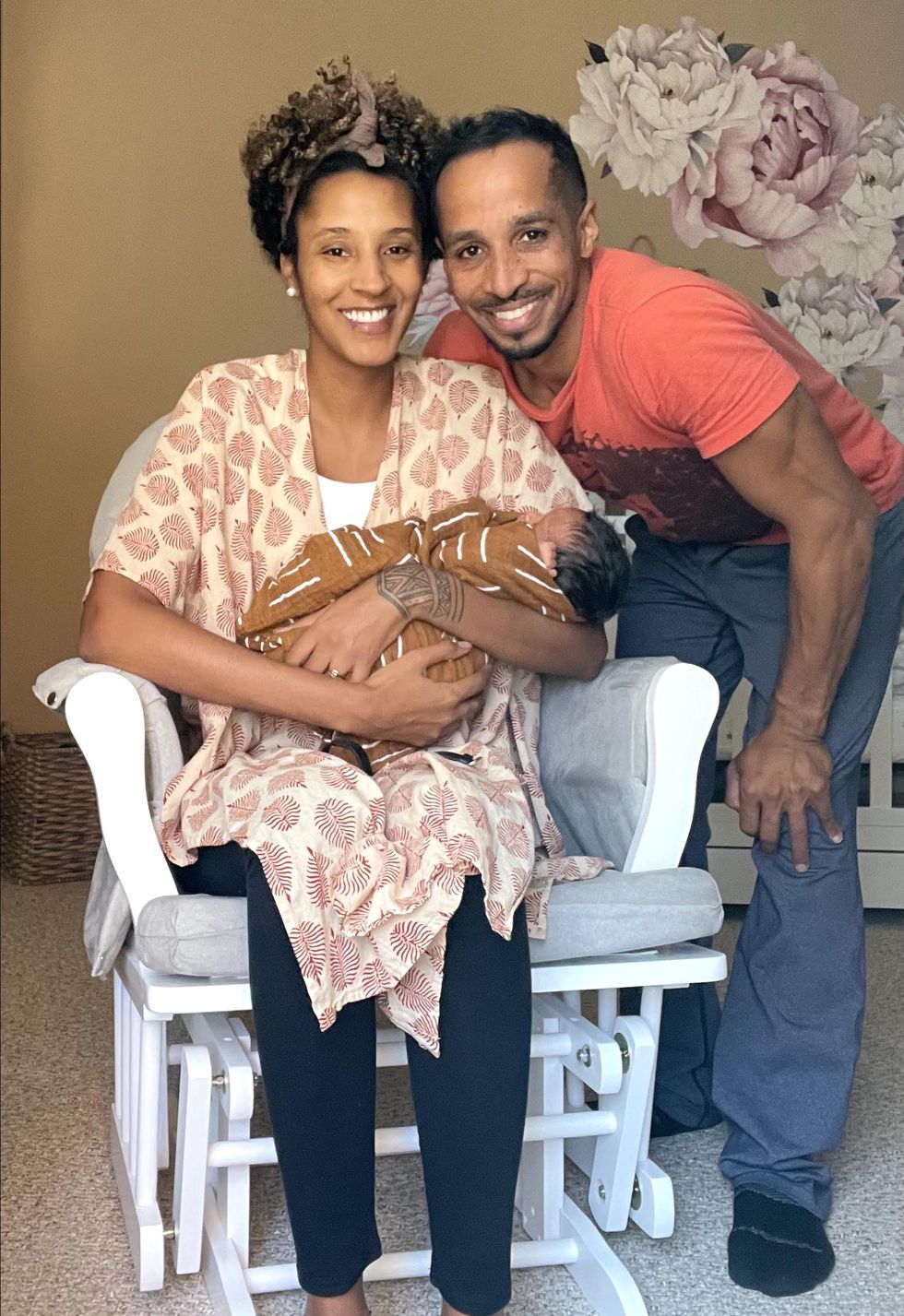 Photo Courtesy of Erica James-Strayhorn
"Becoming a mother during this time has encouraged me to continue to be really mindful of the messaging and fear-based narratives that I have taken on so that I do not pass those on to her. It has also encouraged me to continue to take a stand for myself and for my family and honor what I feel is best for us. Slowing down and being present in each moment are two major things I am focusing on now that she is here. It goes beyond cherishing these moments. For me, it is about connecting to how each moment feels, without distractions."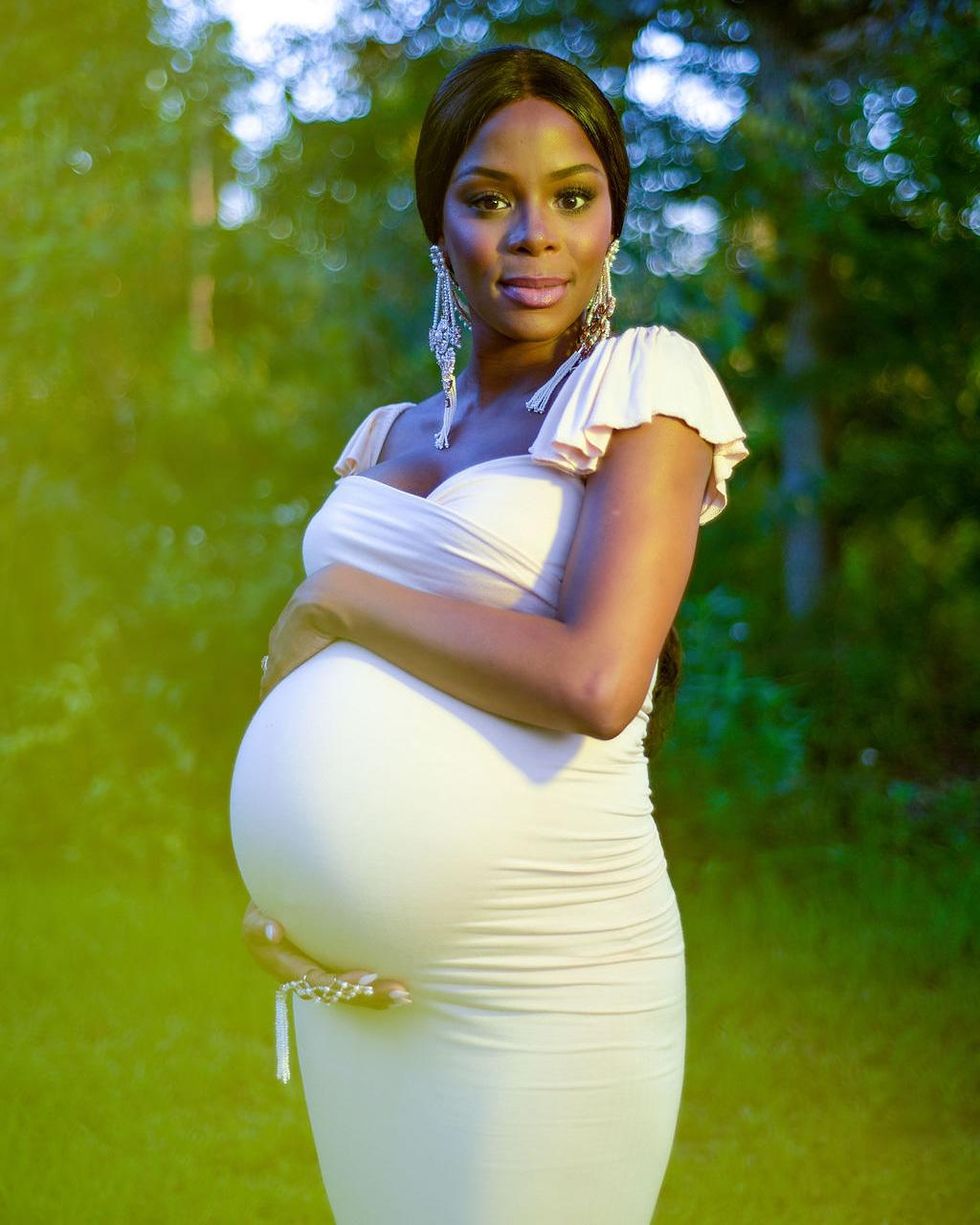 Photo Courtesy of Marshana Dahlia Spavento
Marshana is a first-time mom to a baby boy born in November 2020.

"We found out on March 10th that we were pregnant. We had just returned from our delayed honeymoon to Dubai. We landed, and the first thing I did was take a pregnancy test. We had married just seven weeks earlier and were thrilled that we got pregnant with relative ease. I was 38, one day shy of 39, and my husband was 49 at the time so we knew that we were blessed to be pregnant. The day after finding out we were expecting was my birthday and the same day that COVID-19 was determined a pandemic. Then on March 12th, I lost my job due to the pandemic. Needless to say, it was challenging looking ahead with so much uncertainty around us. Our plan was always for me to be a stay-at-home mom, but due to the pandemic, those plans were thrust upon us a little early.
"The pandemic really restricted the view that I had for myself as a mom. My mother passed away unexpectedly in December of 2018 and I always saw my motherhood journey with her by my side. Losing her was not only crushing, but the idea of becoming a mom, without her guidance and help was frightening."

"When I found out we were expecting, I was met with the reality that not only would my mother not be here for me, but no one would. None of my aunties or friends could come and help me out as a first-time mom. I was going to have to go at this one on my own. Of course, my husband is a great support, and he is so hands-on with our son. I would be lost without him. However, there is something to be said about having help from a fellow mom, and I just have to go without for safety reasons.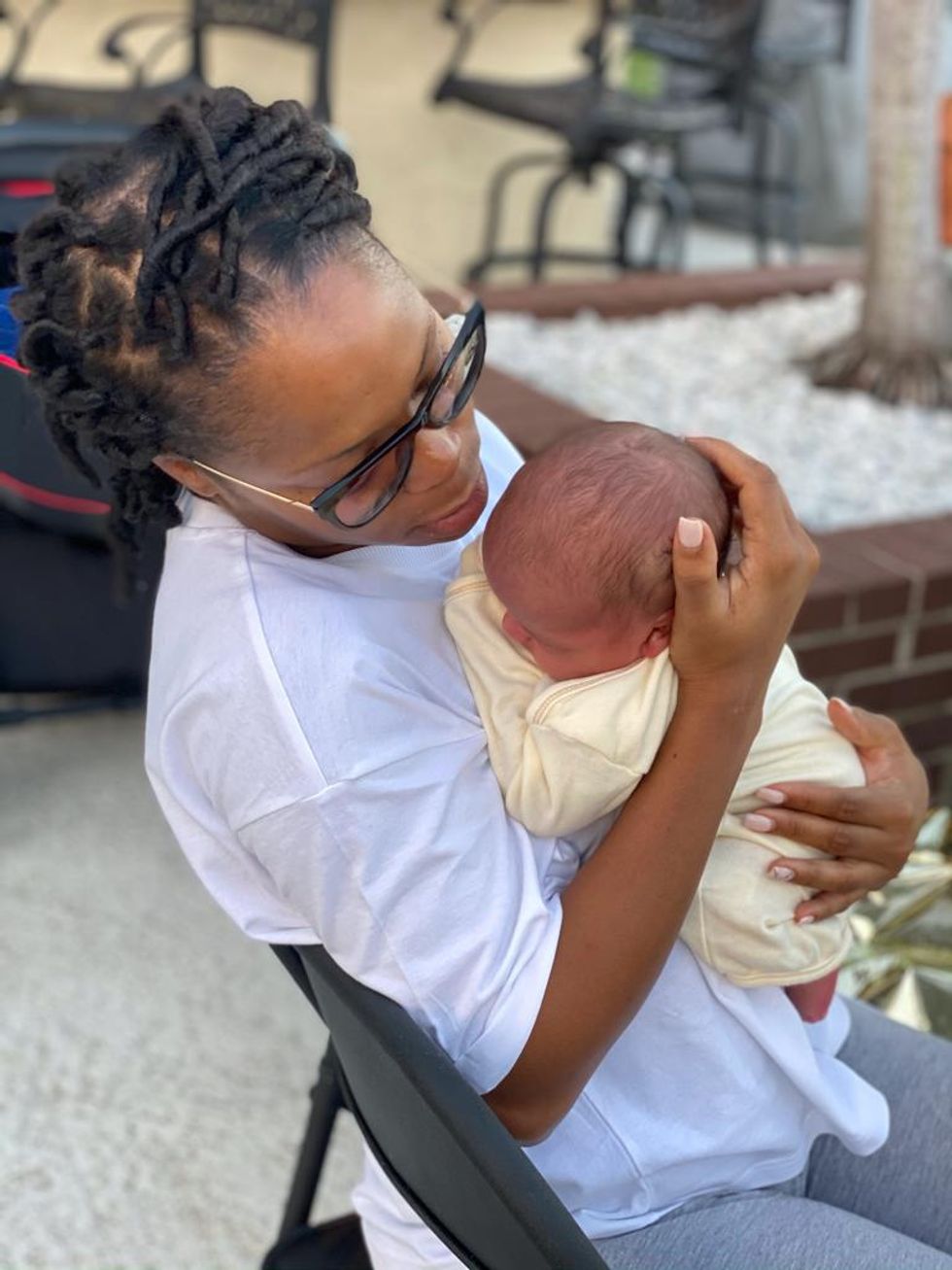 Photo Courtesy of Marshana Dahlia Spavento
"Becoming a mom in a pandemic is a true testament to the resilience of womankind. We truly hold inherent and innate power. From time, women have brought forth children, during times of war, times of peace, times of sorrow, or times of joy."

"As much as I wished my husband would have been able to attend my prenatal appointments, or that we could have toured our hospital's maternity ward ahead of time, I realized that even in these dire times, other women were bringing forth life just the same. That gave me hope. If they could do it, so can I."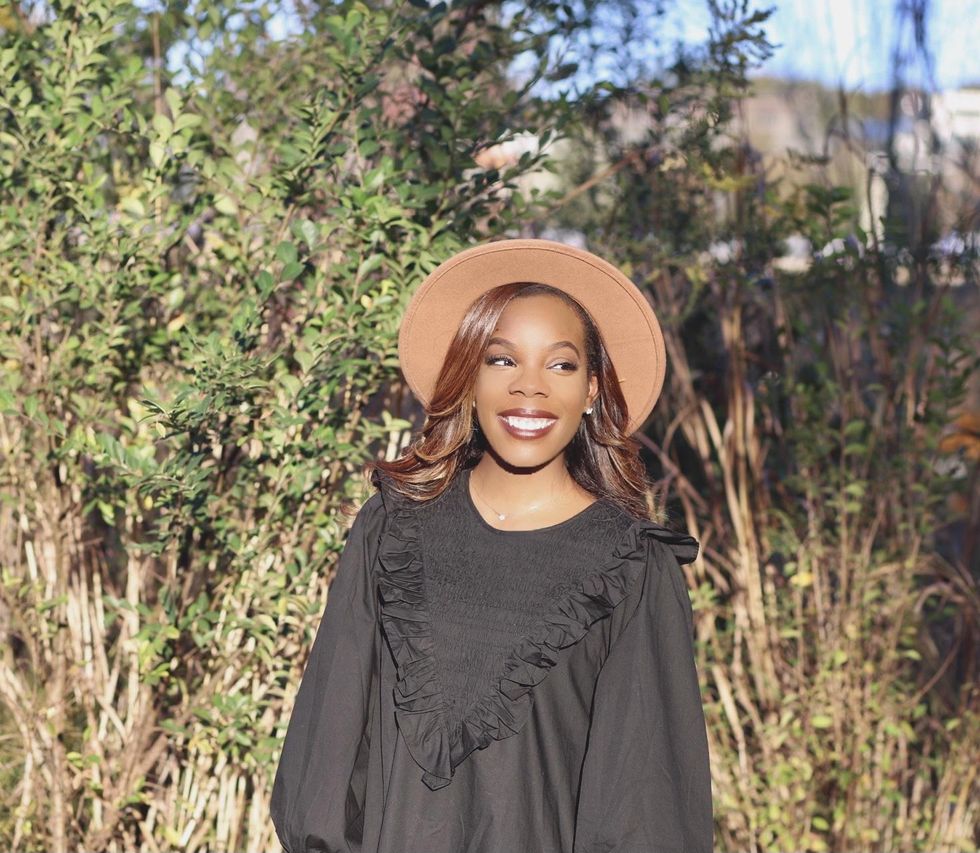 Photo Courtesy of Jessica Cooper
Jessica is expecting her first child in June 2021.
"The pandemic did not affect my reaction as my husband and I were actually trying to conceive. Although, we were apprehensive about getting pregnant while in the middle of a pandemic, we knew that God wouldn't give us more than we could handle. Lastly, because we had been trying for a few months, we were absolutely elated to find out we were expecting!
"The pandemic has reshaped my views on the superficial aspects of my pregnancy like hosting certain social events like a gender reveal or a baby shower. I am a social butterfly and love to entertain, so I've been planning my baby shower long before we were even trying to conceive! Due to the uncertainty of the pandemic, it's very likely I won't be able to have a formal, large baby shower, but I am OK with that because I am just grateful for my health and those of my close family and friends. I realized it's more to the pregnancy and motherhood than just the 'social' aspects of it and that I am more than blessed when it comes to embarking into the motherhood phase of my life.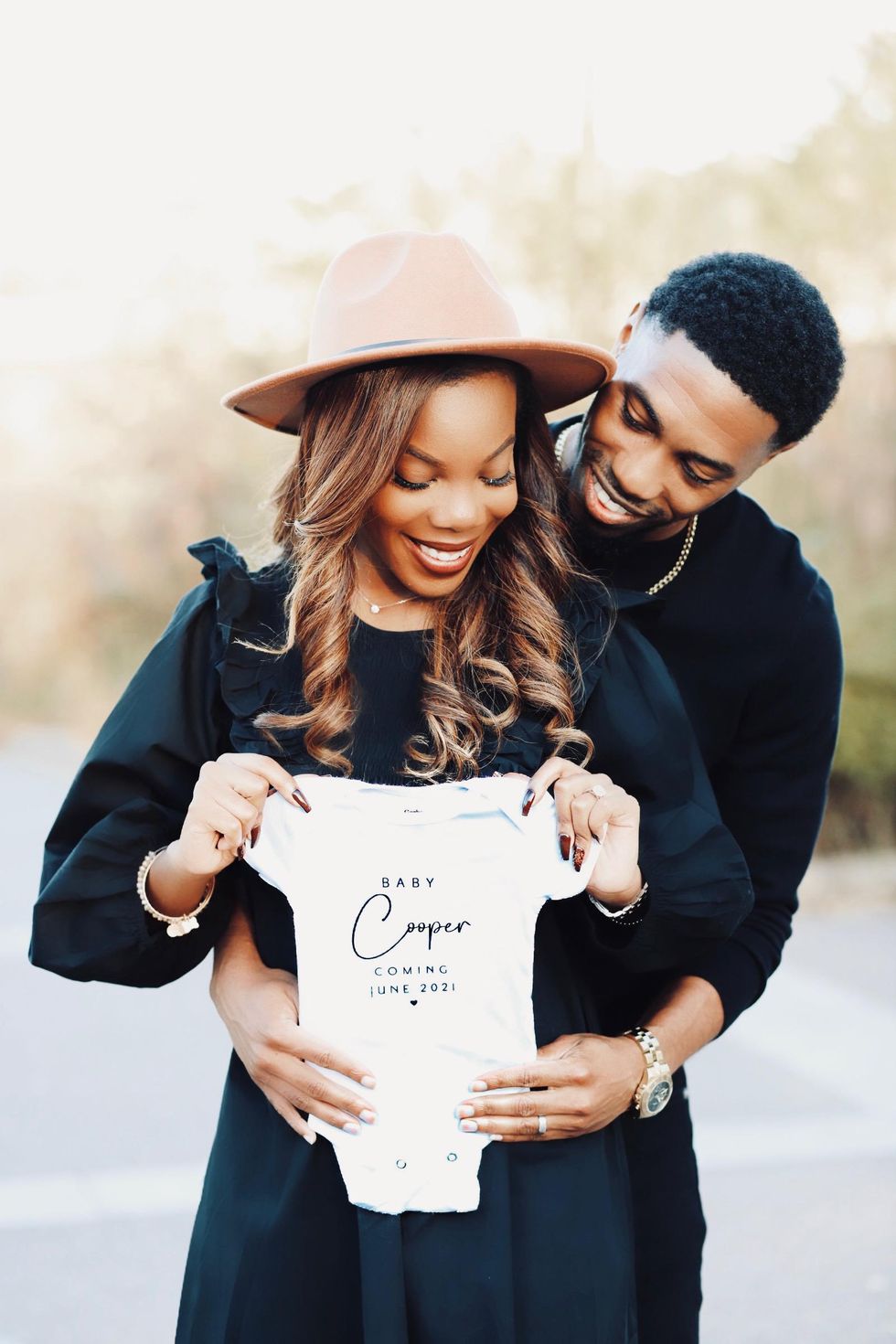 Photo Courtesy of Jessica Cooper
"I have a newfound respect for moms and moms-to-be who are preparing for and/or raising a family all while still working full-time and still finding time to work on their dreams and aspirations. I started to feel anxiety at the beginning of my pregnancy just thinking about how I was going to juggle becoming a mother, working full-time as an educator, building my consulting business, The Savvy Counselor LLC, building my brand The Stylish Organized Wife, and maintaining a meaningful godly marriage! I realized though that the power of God is within me and that he has built women to naturally be strong beings. Giving myself grace and patience and asking for help when necessary is definitely OK."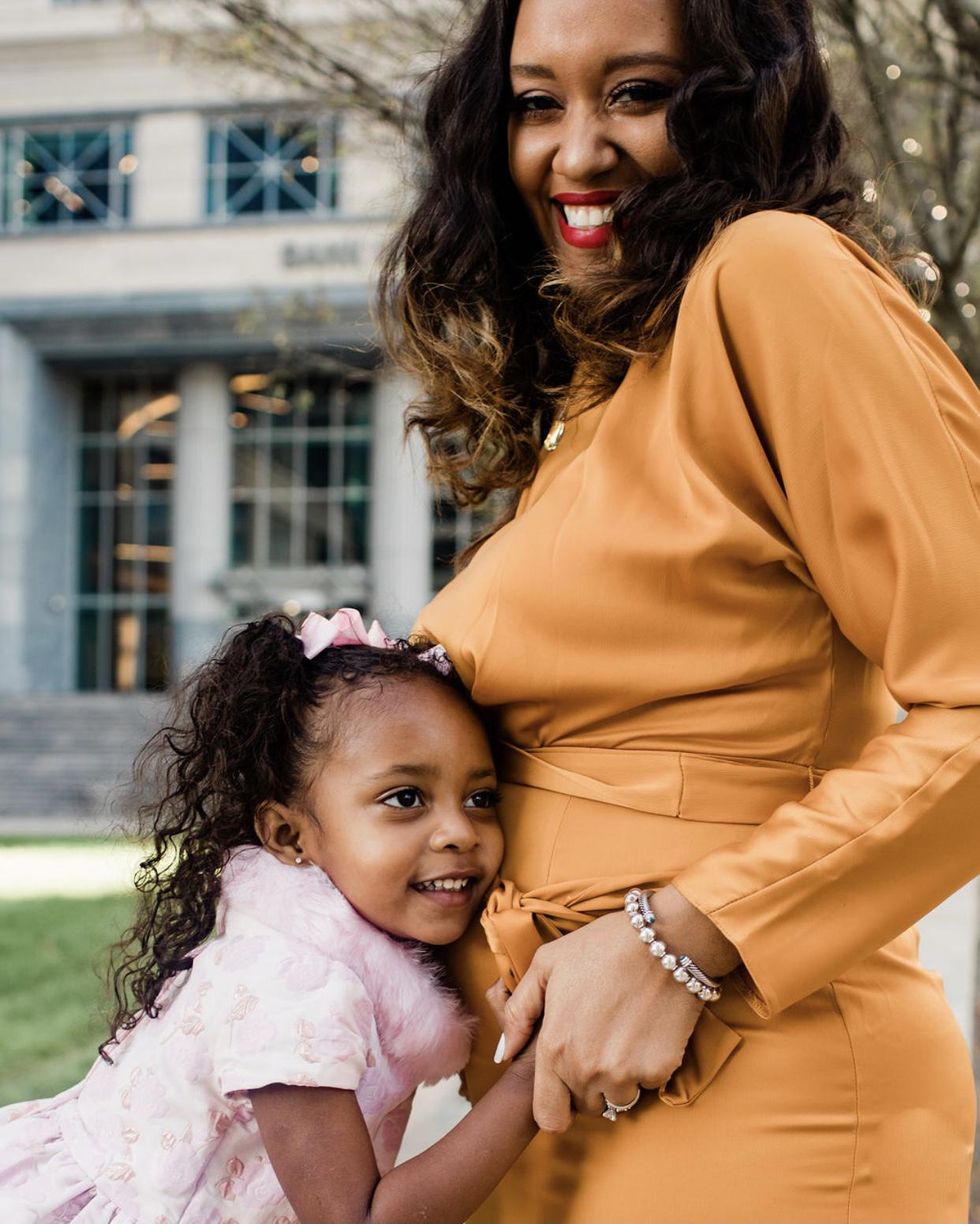 Photo Credit: Kathryn Hastings Photography
Photo Courtesy of Diamond Nurse
Diamond is a mom of a 2.5-year-old named Emerald. Diamond 's second daughter is due in April 2021.
"Initially, I was quite anxious and nervous due to all of the unknowns of COVID-19 and how it would affect my birthing experience and its effect on expecting mothers. I knew the hospitals were having more restrictions and it was important to me to have my husband and my doula to be a part of/assist in the birth of our new baby. I could have never foreseen a world stricken by a pandemic nor could I have known what that would mean for my life as a mom, wife, and owner of Diamond M.I.N.E Social Media Group. While my goals have not changed, I have learned to think about these things a little differently.
"COVID-19 has made me more efficient and intentional about how I spend my time. I love that I get to watch my daughter experience the world around her. It brings me so much joy and I hope to inspire her the way that she inspires me. As a mom, this pandemic has shown me the importance of community and being intentional about the time we spend together. We have shifted to having playdates with our 'COVID-19 bubble' who also have daughters the same age. This has been super helpful for us, as our children are mostly impacted by the restrictions. A toddler does not completely understand why you have to social distance or wear a mask. It's been such a blessing to be able to continue our playdates.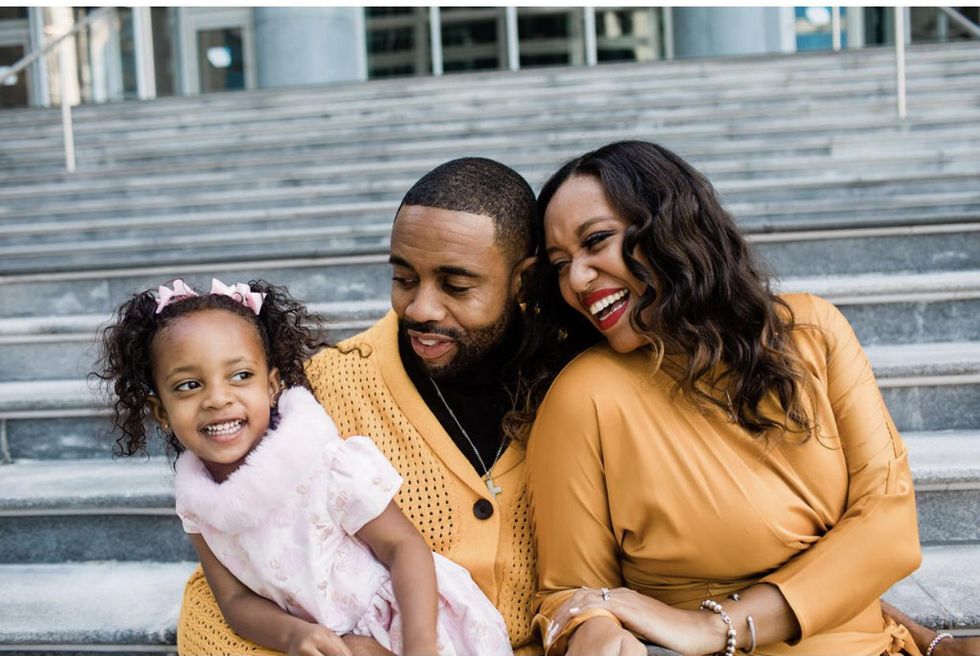 Photo Credit: Kathryn Hastings Photography
Photo Courtesy of Diamond Nurse
"This pregnancy has been physically draining, due to nausea and fatigue, but I have also been emotionally drained due to not only COVID-19 but also the racial unrest our country is facing."
"It's important to me that I keep a level of hope and positivity as I am carrying new life and also reflect on what's going on and continue to be an inspiration to my daughters. I love what a mom friend of mine said, 'While the world is experiencing chaos, I am creating life.' That in itself is powerful! Being a woman is powerful. I am grateful to be a woman and love being a woman. Living through the crazy times we are in has made me feel even more vulnerable, strong, and powerful. I love encouraging my sistas, especially my mamas. Through this all, I intend to give myself permission to take a break, show up as my authentic self and be present in my home life, where it counts the most."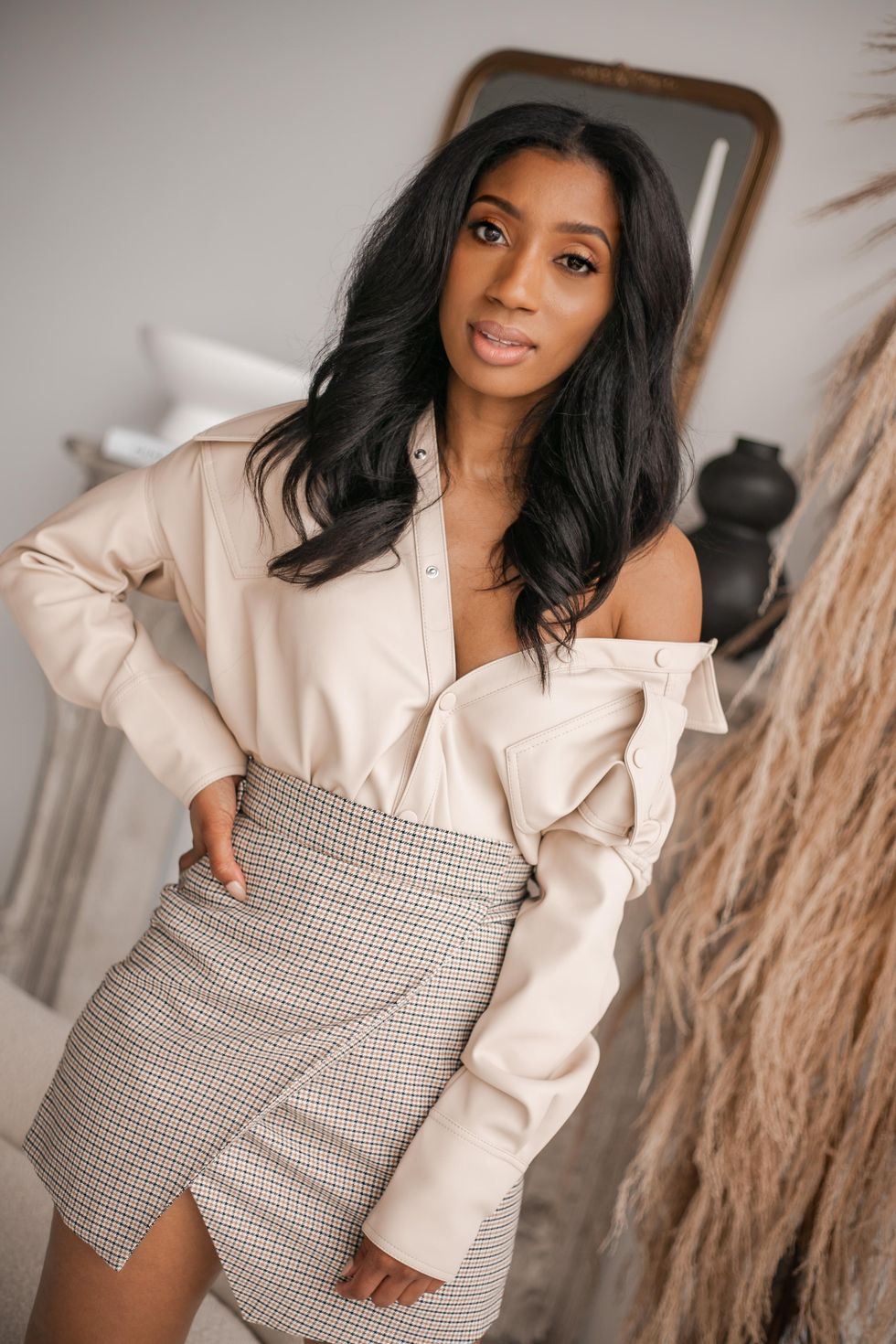 Photo Courtesy of Whitney Rene Osborne
Whitney is expecting her first child due in Feb 2021.
"My then-fiancé and I were still doing long-distance at the time we found out, so trying to coordinate travel and other things were extremely difficult and scary at the beginning of everything shutting down. Having to experience doctor's appointments alone or on FaceTime was also a little disappointing, but we eventually got used to it and made the best of it!
"I don't think the pandemic has reshaped my thoughts of pregnancy or motherhood since I haven't experienced it any other way. I've pretty much convinced myself this was the best time to be pregnant since everyone is missing out on things, not just the pregnant lady that can't drink or handle late nights! As far as motherhood, I will absolutely be more cautious and protective of my little one since the pandemic has made me even more of a germaphobe than I was before.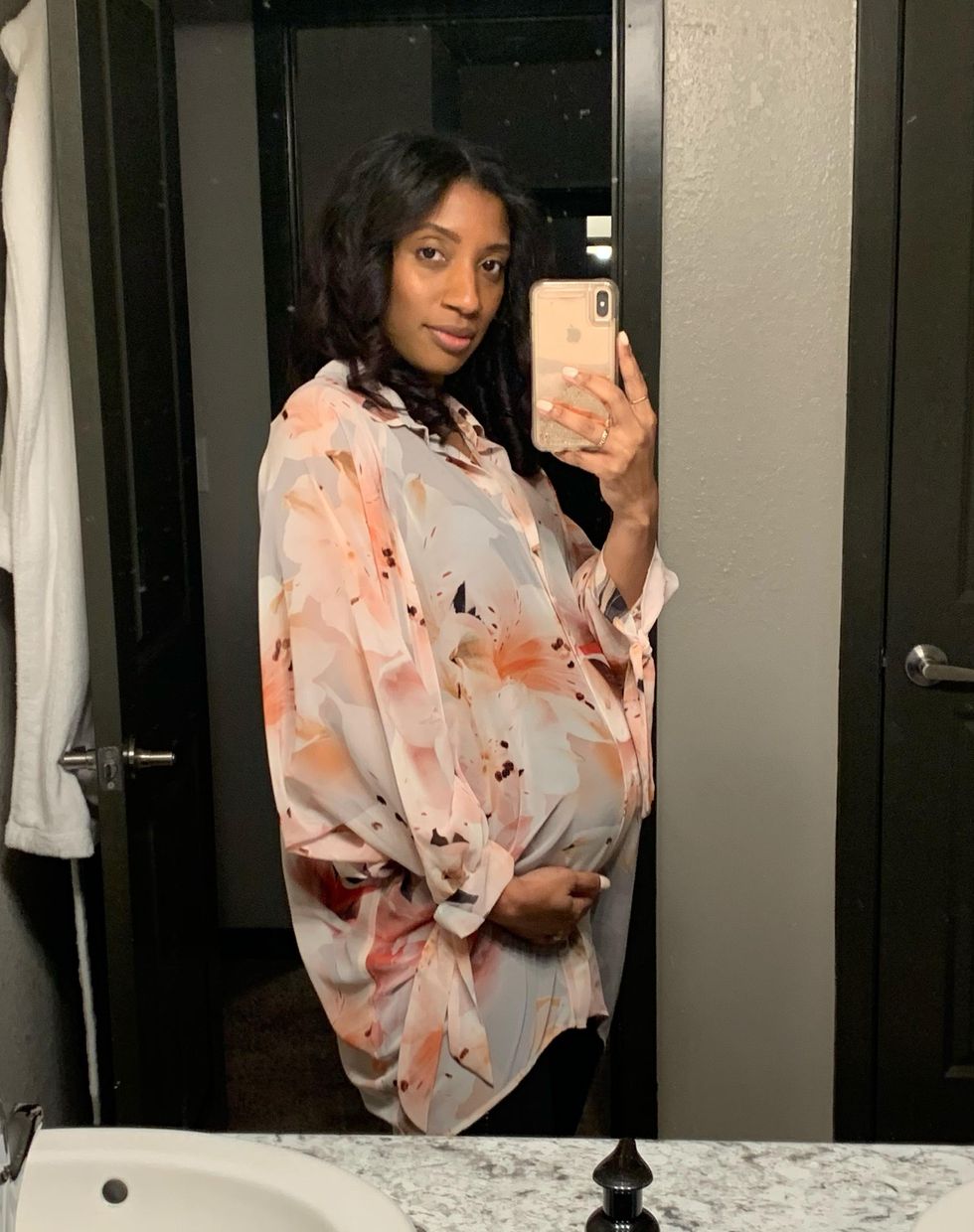 Photo Courtesy of Whitney Rene Osborne
"Even with the challenges we all are facing during the pandemic, I have been blessed to have a very healthy pregnancy. This has allowed me to focus my energy on creating a healthy foundation for my little bundle. Being a business owner, a wife, and soon-to-be mother, I feel like I am unlocking my superhero powers one at a time. It is overwhelming to think about what it truly means to carry my own legacy as I go through my day — a constant reminder of the power of womanhood."
Featured image courtesy of Diamond Nurse

Originally published on January 29, 2021
Keep reading...
Show less
Supermodel Jasmine Tookes stays booked and busy and has graced the pages of some of our favorite magazines like Vogue and Harper's Bazaar and walked the runway for Burberry, DKNY, and Tom Ford just to name a few. She can now add ambassador to her resume as she just landed a job as Hourglass Cosmetics' skincare ambassador. One look at her Instagram feed and there is no question that Jasmine was the right woman for the job. Her skin is flawless.
Jasmine recently told Glamour in their Drop The Routine series:
"I think it's kind of nice if you splurge on yourself and your skin. It's the first thing people see, and you always want your makeup to look good. And if your skin looks good, your makeup looks good."
Jasmine also shared that because she has dark skin, she is susceptible to dark spots:

"Even if it's the smallest little bump on my face, it will immediately turn into a dark spot that takes quite some time to get rid of. I'm always looking for products that can help diminish those spots and prevent them from getting darker."
To stay on top of hyperpigmentation, Jasmine sees L.A. dermatologist Dr. Pearl Grimes and swears by her spot treatment.

So, let's get into Jasmine's skincare routine, shall we?
*Some links are affiliate links. If you make a purchase, xoNecole may earn a small commission.
Her Cleanser
Her Essence
Her Serum/Oils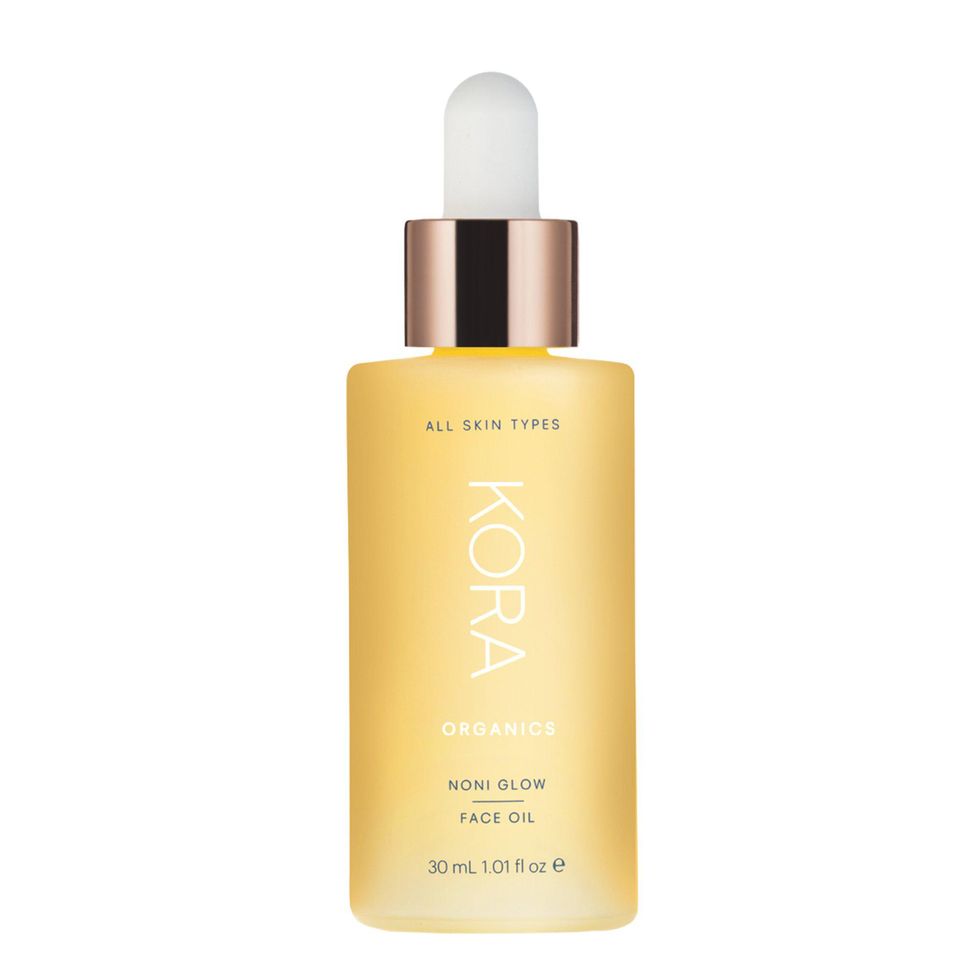 KORA Organics
Her Moisturizer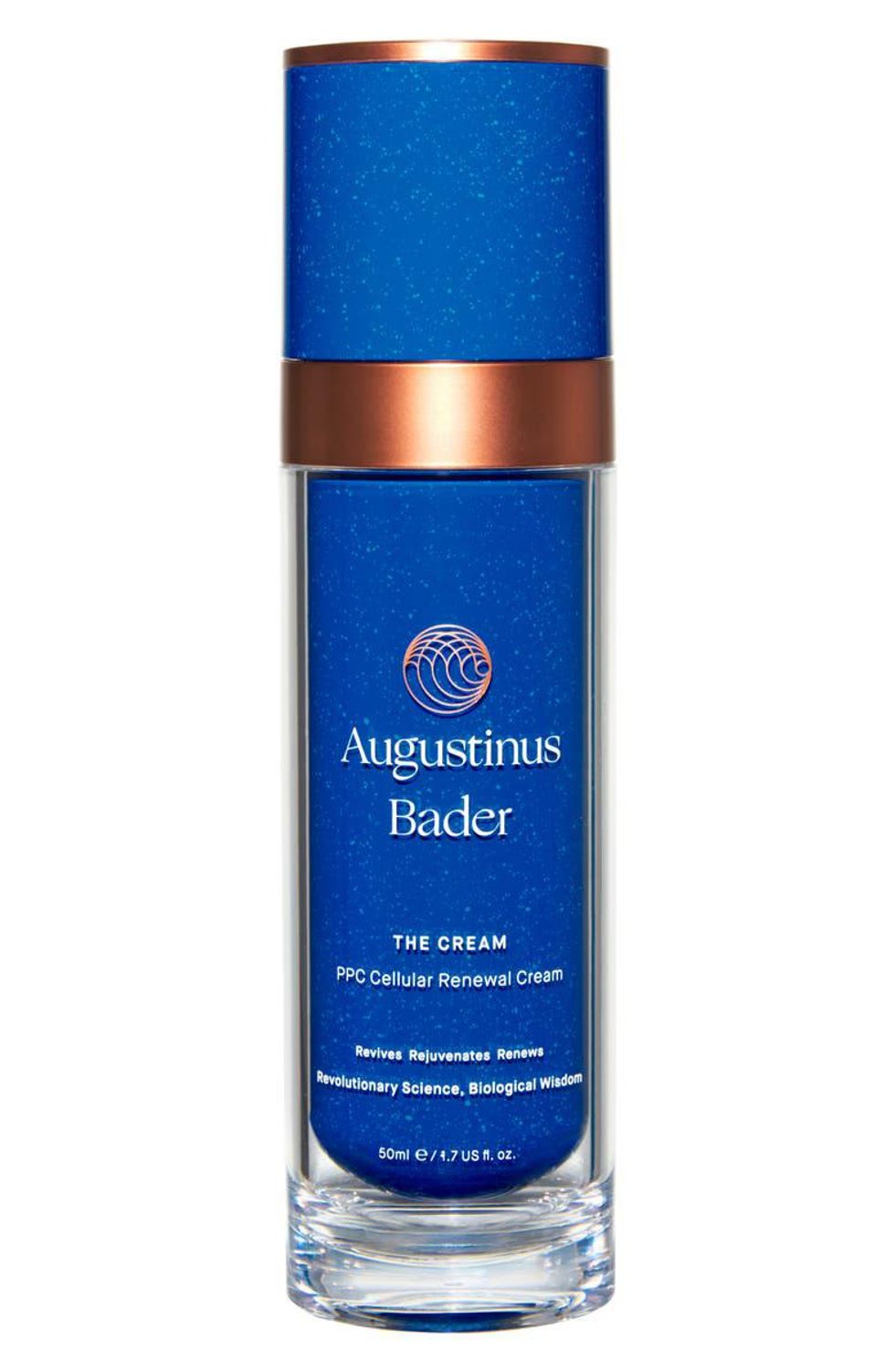 Augustinus Bader
Her Eye Cream
Her Face Masks/Exfoliator
Her SPF
Featured image by Andrea Raffin / Shutterstock.com

Keep reading...
Show less
If you have an Instagram page, then surely you've seen the growing number of black women getting into the plant game. Since we began quarantining due to the COVID-19 pandemic, the number of black women becoming plant moms has grown exponentially. Caring for plants has propelled itself far past its aesthetic roots, and instead the act of growing, cultivating, and watering something outside of ourselves has become a lifeline, a reminder of normalcy, and an act of self-care. From the Fiddle-leaf fig tree to Bird of Paradise, houseplants have become a reminder of how beautiful growth can be.
Still, for many, having plants was a passion long before we even heard of COVID-19. I reached out to some of these women, women I like to call OG plant moms. During our conversation, we discussed how they got into caring for plants, what plants they love, and tips and tricks for caring for plants just in case you need help like me. Here's the rundown.
Meet the Ladies
Antonia
Antonia, who is a teacher by day, not only cares for her two dogs, she also has over 60 plants. She runs a site called The Modern Plant Lady where she gives you the quick rundown and simple steps to care for your houseplants. Follow Antonia @themodernplantlady.
Chanel
Chanel Anice is a self-proclaimed plant mom, vibe cultivator and yogi. Chanel drops tons of tips and tricks on her Instagram page, so make sure you follow her @chanel.alamode.
Veronica
Veronica, who is known in the houseplant space as The Houseplant Therapist, uses plants for therapy. She's also the creator of #brownskinplantmama. Access a free plant buying guide here and follow her @brownskinplantmama.
How did you develop your green thumb?
Antonia: I developed my green thumb through lots of research and plant conversations with my mother. I spent many hours reading and learning about plants.
Chanel: Growing up, my mom always kept a ton of plants around the house. Like, a lot, even by my standards. But they were just always there so I never paid them much attention— until I bought my first plant (a snake plant) back in 2016. One plant became two, then three and my collection just slowly grew from there! I always say to start with something easy and low-maintenance to boost your confidence. From there, you really can learn a lot from YouTube University! There's a whole thriving plant community on there with a wealth of knowledge. I can be kind of intense and love learning about new things, so there was a period of time where I was literally watching hours of plant videos daily, just completely in awe of their magic!
Veronica: My mother is a master gardener and I grew up with a living room full of houseplants of all different types. There were so many plants you could barely see out of the front window! In addition to our indoor plant collection, we grew food in our outdoor garden. I would help my mother tend to our different fruits and vegetables at a young age, so I guess you could say that my ability to care for plants is an inherited gift that was passed down because, in addition to my mother, I come from a lineage of sharecroppers.
What plants do you find yourself gravitating towards?
Antonia: I find myself gravitating towards big ones! I get excited about anything that's big and green. I love tall plants and ones that spread out wide. I remember the first time I got my hands on a tall Fiddle-leaf fig (taller than me), I was ecstatic! I would walk into my living room and regularly gawk at it. To have something so beautiful in my home made me extremely happy.
Chanel: I have all sorts of plants in my collection, but I always find myself drawn to tropical plants— Monsteras, birds of paradise, ZZ plants, Rubber Plants. Those are a few of my favorites. They make such a bold statement with their striking leaves, and I really love that kind of boho, jungle vibe for my space. Tropical plants are the perfect way to add that flair.
Veronica: I absolutely love pothos and philodendron varieties. Each have their own uniqueness and I love that they can either climb or trail.
"Plants have become a form of self-care for me because they force me to slow down and give them attention. I check on my plants every Wednesday and Saturday. This means that no matter how crazy the week is, right in the middle of it all, I have to take time to check on every plant in my home and give it the care it needs. When Saturday rolls around after an exhausting week, waking up and tending to my plants provides me a sense of calmness and clarity."
How have plants become a form of self-care in your home, especially during these times of COVID-19?
Antonia: Plants have become a form of self-care for me because they force me to slow down and give them attention. I check on my plants every Wednesday and Saturday. This means that no matter how crazy the week is, right in the middle of it all, I have to take time to check on every plant in my home and give it the care it needs. When Saturday rolls around after an exhausting week, waking up and tending to my plants provides me a sense of calmness and clarity. It relaxes me and helps me decompress from the week.
Chanel: My plants have always been a form of self-care for me. They are natural mood-boosters and stress-reducers, which is one of the first things that I noticed when I first started taking care of plants a few years ago. With all the uncertainty in the world, it's so easy to get caught up in thinking about the past or worrying about the future, which is ultimately the root of a lot of the feelings of sadness, worry, and anxiety we might be experiencing. My plants keep me grounded in the moment because you really have to get still and pay attention to learn each plant and her unique needs. Putting that time and energy into taking care of my plants naturally translates into me taking better care of and being kinder to myself. Plus, the simple joy of seeing the plant you've been nurturing putting out a new leaf is like nothing else! All the amazing people and communities I've met through my plant journey have been an unexpected bonus. That sense of connectedness is something that a lot of us are missing while we're stuck at home.
"My plants keep me grounded in the moment because you really have to get still and pay attention to learn each plant and her unique needs. Putting that time and energy into taking care of my plants naturally translates into me taking better care of and being kinder to myself."
Veronica: I truly believe that plants can be used as therapeutic properties for mental emotional and spiritual healing. My sister died unexpectedly in February of 2018. I avoided going to grief therapy for a year and finally embarked on the journey after putting it off for an entire year. Having successfully gone through a year and one month of traditional talk therapy, I ended our relationship (it was amicable) and was met with the responsibility of continuing the hard work I had done over the last year. One week prior to the shutdown, I visited my local nursery to grab some new plants hoping that they would uplift my spirit from the late winter blues.
Little did I know that one trip would not only bring me back to my love for plants, but provide me with a healthy practice to continue my journey of self-love and healing after the intentional work with my therapist. I had lost myself completely when my sister died. I was in a very dark place and didn't have the will to care for myself or anything else (other than my daughter). It was all a divine connection the way plants saved me. Had I not selected the therapist that I did (who had plants all over her office which piqued my interest in them again), I would not have seen and experienced the healing properties of plants and I most certainly would not have a platform that is geared towards helping others find and understand that plant therapy is real! All of this happened unexpectedly during the pandemic as my next necessary pivot. I am humbled to be the vessel to do such divinely inspired empowerment work.
"I truly believe that plants can be used as therapeutic properties for mental emotional and spiritual healing... I had lost myself completely when my sister died. I was in a very dark place and didn't have the will to care for myself or anything else (other than my daughter). It was all a divine connection the way plants saved me."
Can you share any tips or tricks that you've learned on your plant journey?
Antonia: Reach out and connect with other plant parents and lovers. There's a wealth of knowledge in the plant community and most plant folks love to talk about plants and help others with their plants. Most plants get overwatered. Go under before over. If you're struggling with a plant, don't give up. Do some research, reach out to plant-loving people and keep trying. Don't be so quick to throw it out and get a new one. Getting to know a new plant takes time. The tips and tricks out there on the web are a great starting point, but sometimes it takes you figuring it out on your own as you get to know your plant. Be patient.
Chanel: It might sound obvious, but when it comes to keeping your plants happy, light and water are really the two most important factors. So, before you choose a plant, take some time to learn your space. Are there lots of trees or tall buildings outside of your window? What type of light does your space get? Watch how the light moves and changes in different rooms throughout the day. Pull out the compass app on your phone and figure out which direction your windows face— a north-facing window is going to get a lot less light than a south- or west-facing window. Then you can choose plants that will actually survive and thrive in your space. Next, I always recommend you get a moisture meter. They're only $12 on Amazon and they basically take all the guesswork out of watering.
Veronica: The most vital tip that I have learned and constantly share is that you must know the conditions of your living space first because going out to buy a ton of plants. If you don't have the environment for your plants to thrive, you will not be successful at keeping them alive. Knowing the lighting situation in your home is so important because it will lessen the headache that comes with trying to care for a plant in the ways it needs. Knowing the lighting situation in your space also allows you to find particular plants that thrive in that environment. Not doing so will cause many headaches down the line so let's avoid that before it becomes an issue (P.S. grow lights are helpful when you don't have the best lighting, but I wouldn't recommend them until one has some care experience under their belt).
Join our xoTribe, an exclusive community dedicated to YOU and your stories and all things xoNecole. Be a part of a growing community of women from all over the world who come together to uplift, inspire, and inform each other on all things related to the glow up.

Featured image by Look Studio/Shutterstock

Originally published August 20, 2020
Keep reading...
Show less
If you're on Instagram, you have likely come across words written by Morgan Harper Nichols and, if you have, chances are you were both moved and inspired by her words. If you haven't come across her beautiful words, trust me when I tell you that you are missing out on some gems. Artist, poet, and musician Morgan Harper Nichols has managed to cultivate a massive following on Instagram (1.7 million and counting to be exact) with her magical, soulful words. Words that seem to hit you right in the gut because it's just what you needed to hear.
I'm one of those 1.7 million followers and the one word that comes to mind whenever I see a post from Morgan is vulnerability. The kind of vulnerability that makes you want to share too. In fact, in 2017, Morgan started a project where she invited people to share their stories with her via her website. And guess what? People shared. Morgan was able to take those stories from readers all over the world and create art with her responses to the stories she received. Of course, all stories and names are kept private but the art she has been able to create from those stories is shared all over social media daily.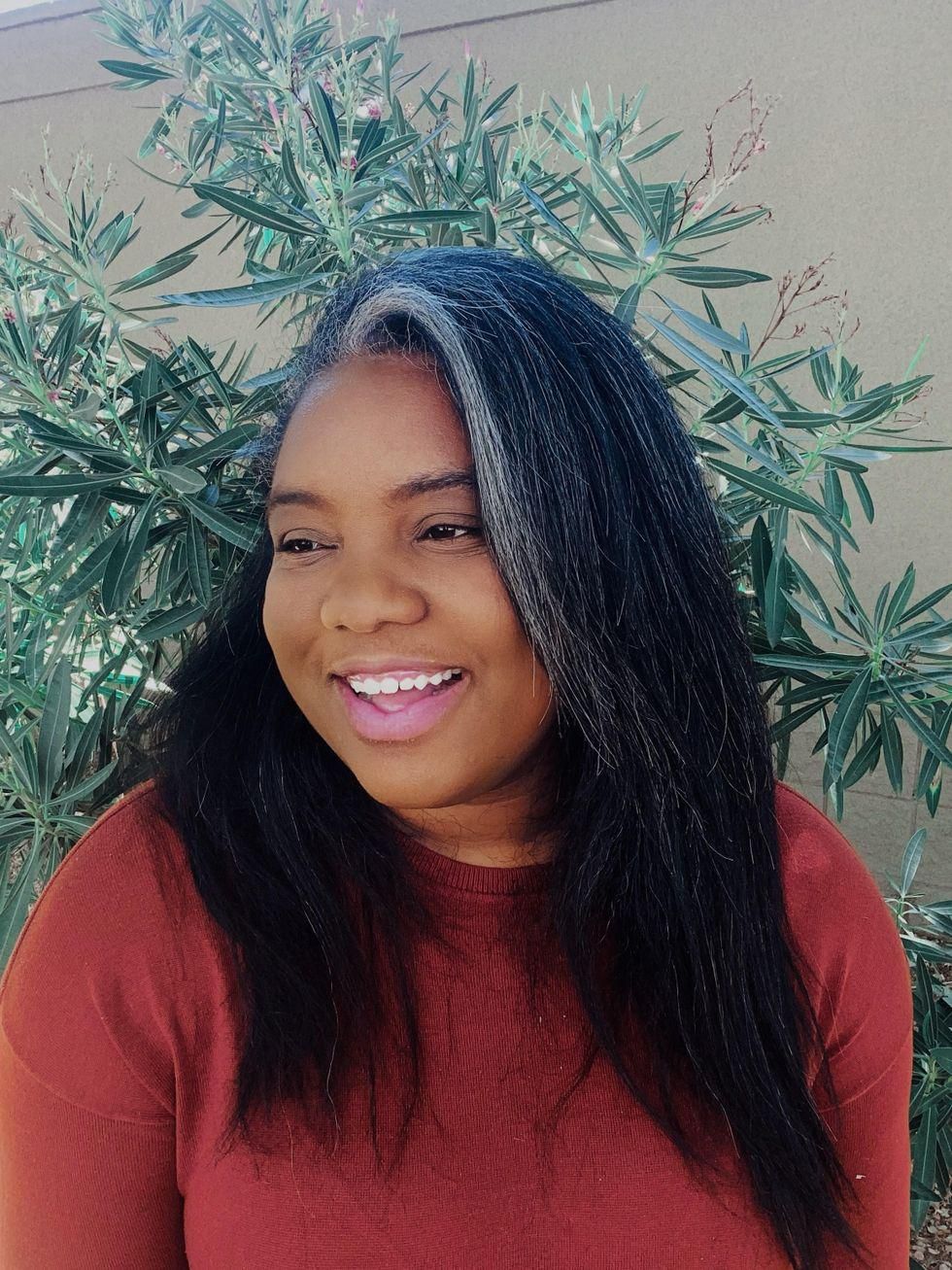 Courtesy of Morgan Harper Nichols
Morgan's supporters are not the only ones that share personal stories though. Earlier this year, Morgan shared something very personal with her followers and blog subscribers. She shared that she was officially diagnosed with autism. The average age of an autism diagnosis is around three years old, so receiving a diagnosis as an adult is not as common and more difficult as there is no established procedure for diagnosing autism in adults. On her journey to diagnosis, Morgan found just how difficult it would prove to be. She shared that she actually asked her doctor for a referral years ago after suspecting that she might be on the spectrum. Her concerns were dismissed and she was told that she had nothing to worry about. She took his word but only for a moment.
Last year, Morgan got the courage to reach out again for help and today she is so grateful that she did.

Morgan on what led her to believe she needed help:
"There were a few things, but primarily I was struggling with a lot of social and communication issues. Especially in high school and college but I just thought that I was awkward. I would miss out on social cues and even basic things like email etiquette were a struggle for me. I just kind of put it on myself and thought that I needed to grow up and stop being so awkward. But by the time I was in my late twenties and grown, I realized I was still struggling with these issues and I felt like there was just something there and I didn't know what it was.
"My parents had actually talked about autism before but it is not a diagnosis that you even considered for a lot of girls, especially back in the 90s. And more so for girls of color. And black girls, it's almost impossible. I felt tired and exhausted all of the time. Now I know that I have a lot of sensory processing issues. I didn't realize that things like loud music or bright lights wear on me throughout the day. I just thought that I was just extra tired. So, that's what led me to seek help the first time."

"By the time I was in my late twenties and grown, I realized I was still struggling with these issues and I felt like there was just something there and I didn't know what it was. My parents had actually talked about autism before but it is not a diagnosis that you even considered for a lot of girls, especially back in the 90s. And more so for girls of color. And black girls, it's almost impossible."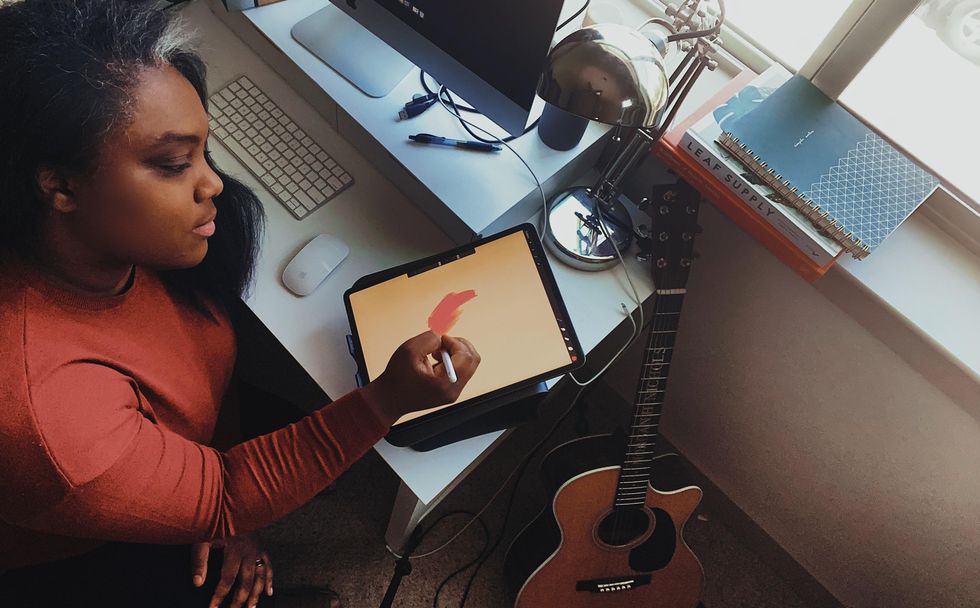 Courtesy of Morgan Harper Nichols
On why seeking a diagnosis was the right thing for her and her quality of life:
"I had also dealt with pretty severe depression as a teenager. I think other people who have dealt with depression can relate to this but you just kind of know when you're headed in a direction you don't want to go back in. When I was a teenager, everything was so stressful. I mean, everything from trying to make friends to trying to keep up with school. I was just so overwhelmed and that drove me to depression. I think that was a part of it too, recognizing that it was something there and not wanting to go back to that place and wanting to get help."

Morgan on what has changed since receiving her autism diagnosis:
"One of the first things that the specialist said to me right after giving me the whole rundown of the diagnosis was, 'And it's not your fault.' I cried decades of tears in that moment. It was just such a healing moment for me because I had been putting so much responsibility on myself, especially after having had a medical professional look at me and say I was fine and had nothing to worry about. Having that said to me, I felt it was my fault and that I had to fix it. So having another professional who knows this diagnosis backward and forward tell me that it wasn't my fault just changed a lot for me.
"Since then, I've made some adjustments in my day-to-day life. I realized I was putting so much responsibility on myself, even with work and not asking for help. I kept thinking that I could do it. I've gotten help with things like managing emails. It's hard though because there's a part of me that feels like I should be able to do these things on my own. There's a lot of stigma around asking for help and unfortunately, we live in a society where people don't feel like they can ask for help, even more so black women. I feel like now I finally have the language to work through that and say, 'OK Morgan, I know you feel like you should be able to do this by yourself but there are legitimate reasons why you can't.' I've got to seek help and that's new for me because I do try to take all that on my own."
"I cried decades of tears in that moment. It was just such a healing moment for me because I had been putting so much responsibility on myself, especially after having had a medical professional look at me and say I was fine and had nothing to worry about. Having another professional who knows this diagnosis backward and forward tell me that it wasn't my fault just changed a lot for me."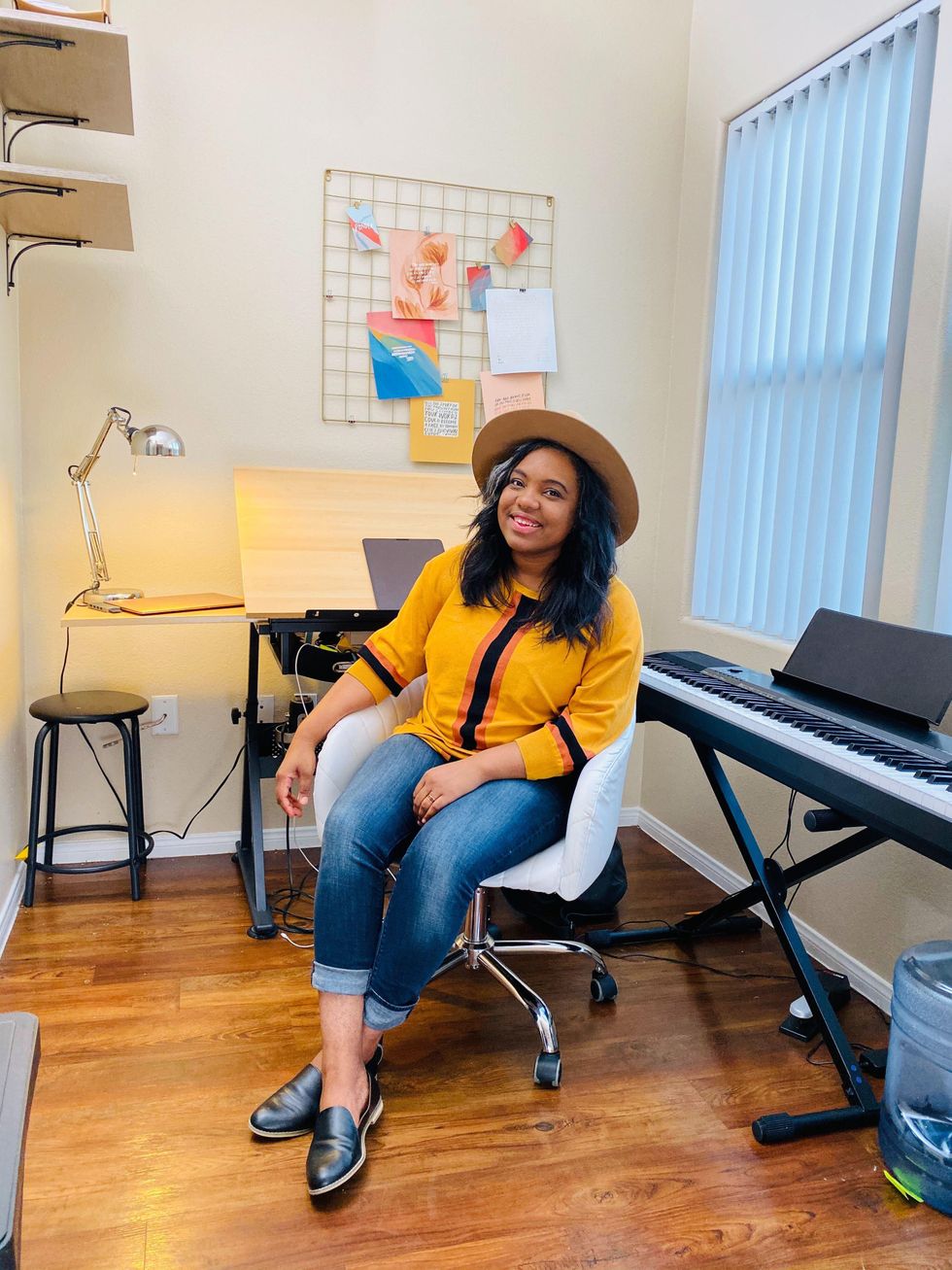 Courtesy of Morgan Harper Nichols
On what it was like telling those close to her about her autism:
"It was surprisingly a very loving and supportive experience and I consider that to be a huge privilege. I have a sister who was diagnosed with Tourette's Syndrome and ADHD as well. Because of that, my family at least had some kind of frame of mind on how to deal with these issues. You know, at least how to support each other through them. I only knew about autism because my mom was the one who thought something may be there but she had doctors tell her I was fine. My husband and friends were also very supportive.
"I was just surprised at how supportive people were. I think one thing that can hold people back (including myself) from wanting to share is that sometimes you may feel like you're putting a burden on other people. What I found is that people want to support you. Once you share, you're going to find that people really do care. I was even shocked at the amount of response that I got on social media. There's so much happening in the world and on social media, so I didn't know what to expect. I was just blown about by the support. If teenager-me could have seen this, she wouldn't have believed it. So grateful."

On what she would tell someone who might have a hard time advocating for themself:
"Honestly, the first thing that came to mind is something that I have honestly had to hold on to from the moment with that first doctor all the way to today and in different areas of my life, and that's that there are other people out there. And I say that for those moments where a person looks at you and says that there is nothing wrong with you, you need to stop asking about this, or you need to do this or you need to do that. Just take a deep breath and remind yourself that there are other people out there. Yes, there are people who will shut you down, but there are also other people out there who won't. It might take time to find those other people, but it is worth the pursuit."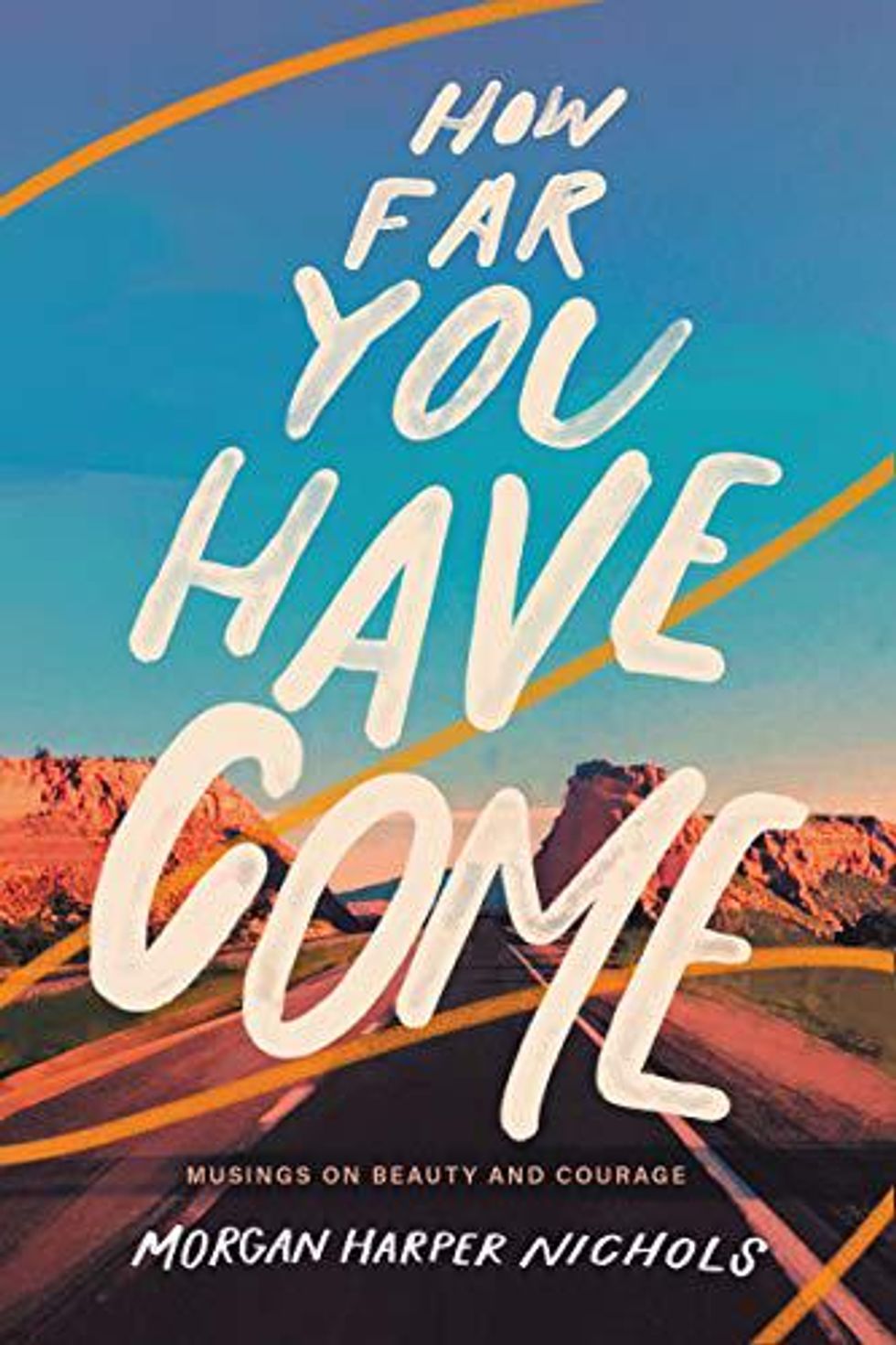 Courtesy of Morgan Harper Nichols
Morgan on 'How Far You've Come' and what she hopes readers will gain from her book:
"The book actually started by going through my phone and looking at photos. It was the beginning of the pandemic and I was just thinking about all of the places I've been and could not get to. I ended up on this photo that I took at sunrise in New Mexico years ago. I'm a visual artist and one thing I love to do is paint over photos. So, I took the photo and I put it on my iPad and I started painting over it. When I started painting over it, I started thinking about how much I loved the photo and how beautiful it was. And when I looked at the date of this photo, it was a really hard season and a really hard time in life.
"I just started thinking about how there's probably so many moments in my life where there's two things happening at once, that I managed to notice something beautiful amidst the chaos. So, I wrote the book literally by going through my camera roll and looking at my photos and at different places on the map and finding beautiful pictures and also finding where I was growing in courage or strength even when there was so much else going on."
"I hope the book encourages you to go through your camera roll and find those photographs that show you how far you have come. My hope is that readers are able to see that with everything going on, they are still capturing beauty and able to notice where light is pouring in. I think that those two things together can teach us a lot about our journeys and help us give ourselves some credit for how far we've come."
Featured image courtesy of Morgan Harper Nichols

Keep reading...
Show less
If you scour the internet, you will undoubtedly find that there is no shortage of information on skincare routines out there (including our own recurring "About Face" series on the site). You can find information on how to develop a great skincare routine, the items you should include in your routine, how to apply the products, when to apply the products, and of course the best products to use right at your fingertips. But what about neck care? Yes, your neck sis!
If you have been guilty of neglecting your neck, pull up a chair, we need to talk. Because let's face it, there is no sense in spending so much time, energy, and money on your face if you aren't willing to invest the same in your neck. If you don't, you run a serious risk of looking like a totally different person (and age) below your chin and who wants that? And don't worry if you already have a strong skincare routine, it should be fairly easy to extend that to your neck. Keep reading to find out how.
1. Cleanse Your Neck At Least A Few Times A Week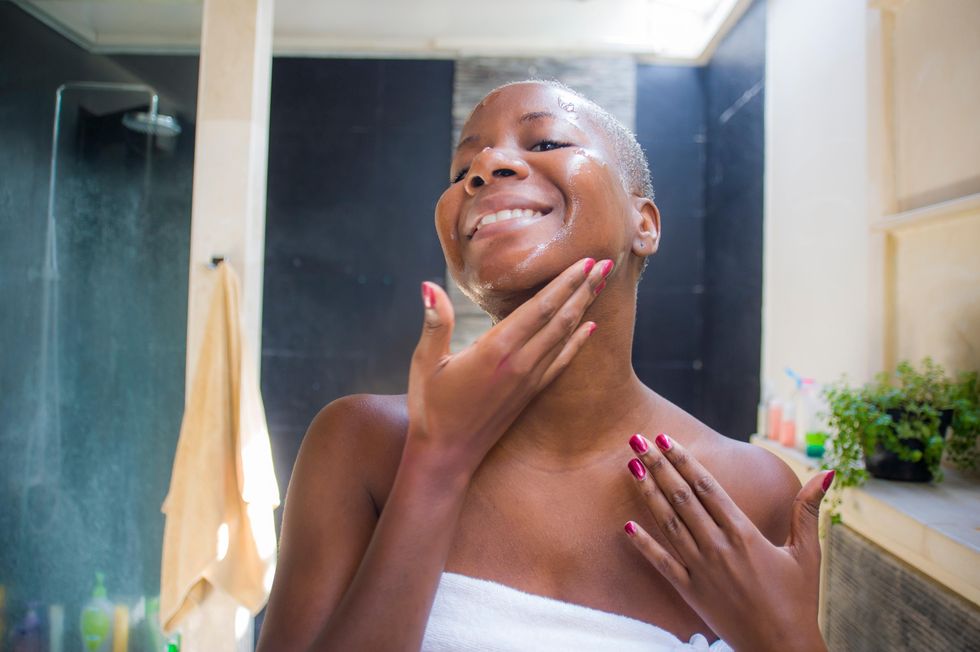 Shutterstock
In a perfect world, you take a shower or bath before bed, but let's face it sometimes all you can do is just crash after a long day. We've all heard how important it is to at least wash your face before bed on those nights when you're completely exhausted. Well, it's just as important to cleanse your neck as well. Your neck gets just as dirty as your face and it is just as important to keep it clean. Dermatologists recommend cleansing your neck (outside of the shower) a few times a week. As an alternative to a cleanser, a gentle toner can also be used.
2. Moisturize Your Neck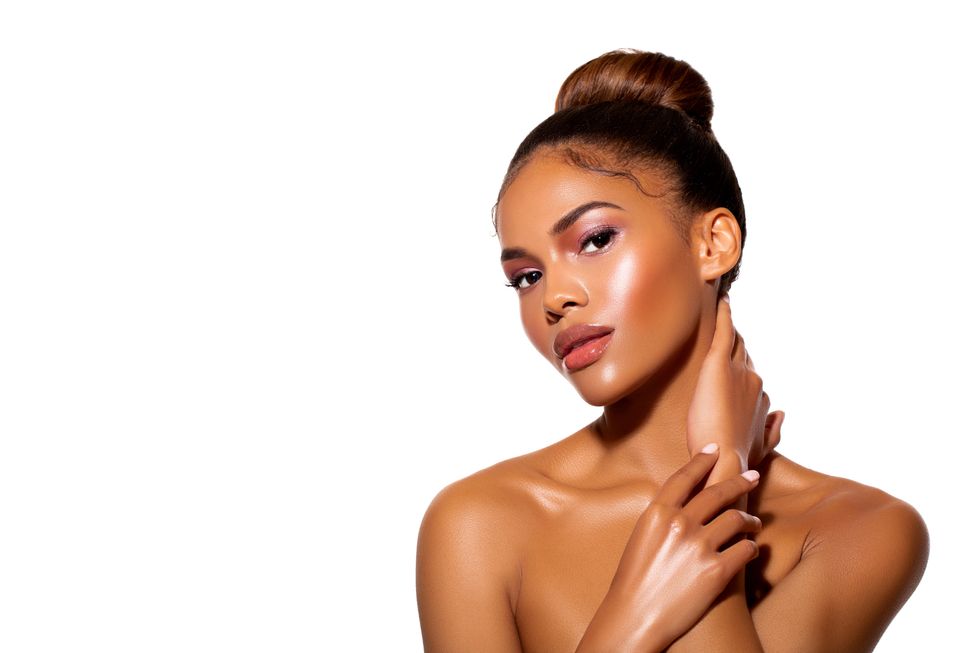 Shutterstock
Regardless of whether the skin on your face is oily, dry, or a combination of both, chances are that the skin on your neck is drier than your face. The skin on our necks is also thinner than the skin on our faces which makes it more delicate. With that being said, it is important to moisturize your neck. Most people simply include their neck when they are moisturizing their face and use the same product. While others reach for a different moisturizing product that is heavier and includes humectants or hyaluronic acids.
3. Apply Sunscreen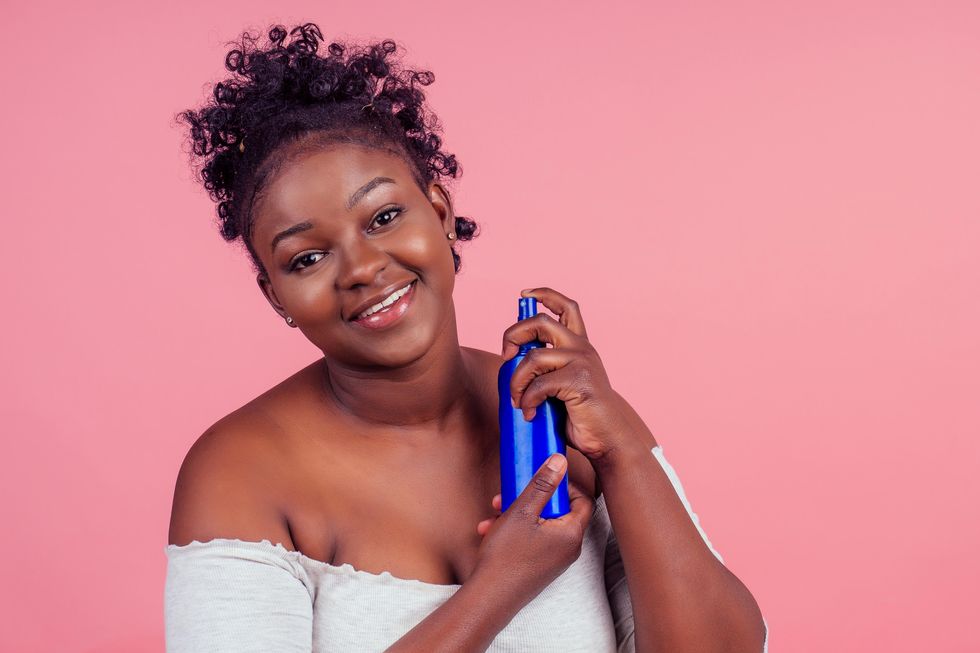 Shutterstock
Next up is sunscreen. Your neck receives just as much sun as your face does and just like your face it is susceptible to damage from UV rays, so is your neck. UV rays not only put you at risk for getting skin cancer but it can also seriously age you by causing wrinkles and fine lines. No one wants a turkey neck, so be sure to use your favorite sunscreen on your neck as well.
4. Pamper Your Neck With A Massage Every Now & Then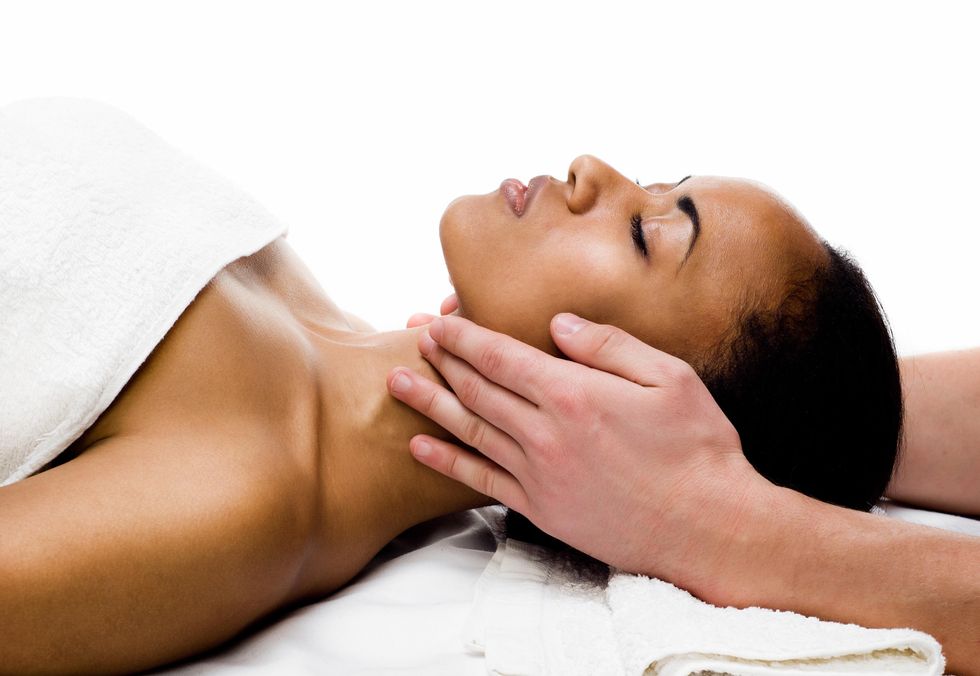 Shutterstock
Everyone loves a good massage but before you indulge, it is important to note that when massaging your neck, it is essential that you are doing so properly so as not to make matters worse. It is important to massage your neck starting from the bottom and gently working up towards your chin. Massaging in a downwards or circular motion can actually encourage wrinkles.
5. Adjust The Way That You Sleep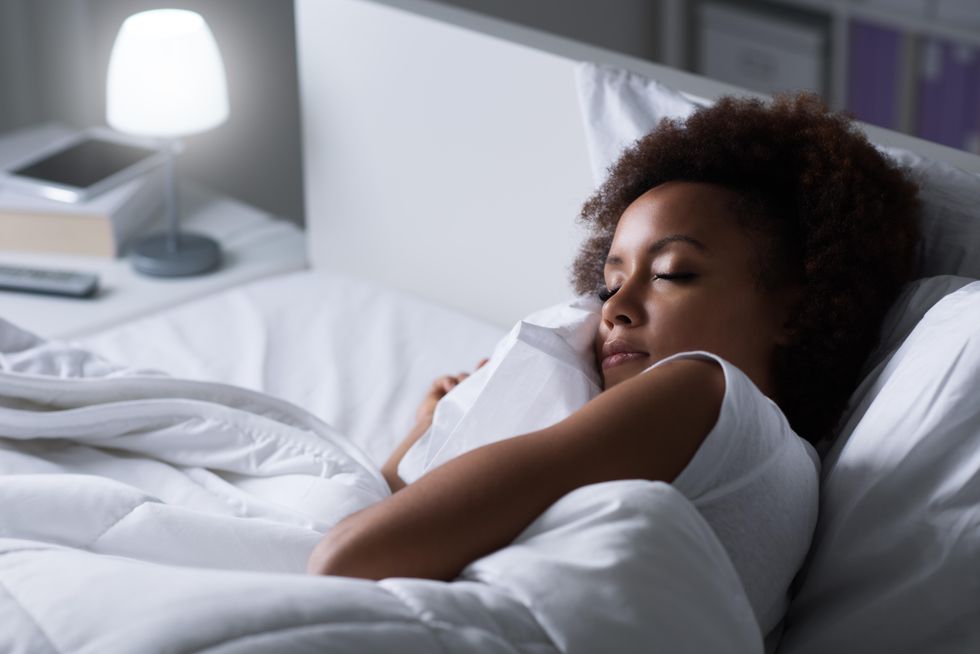 Shutterstock
This one may be a bit of a struggle for some of us but your sleeping position can actually affect the appearance of your neck. Experts say that sleeping on your back is actually the best way to prevent wrinkles on not only your neck but your face as well.
6. Add A Recommended Neck Cream To Your Skincare Routine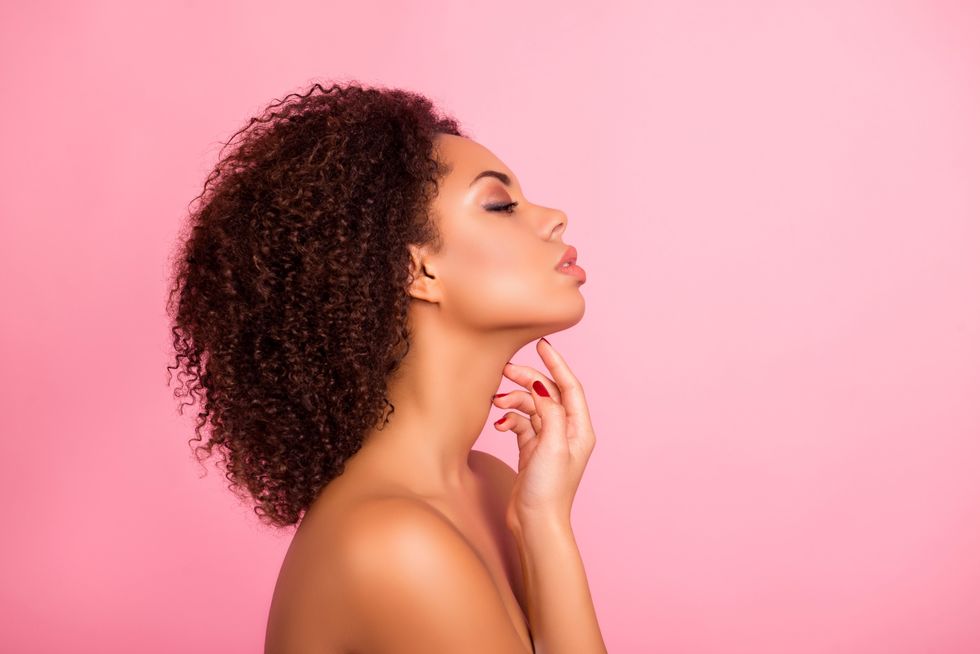 Shutterstock
While some people use the same products for their neck that they do for their face ("some" meaning me), experts argue that your neck should have its own products made specifically for them. So I rounded up a few of the best neck creams here for you to try:
Featured image by Shutterstock
Keep reading...
Show less
There is an untrue notion that HBCUs somehow don't measure up when it comes to their PWI counterparts. Where this ridiculous notion came from, I'm not sure. But what I do know is that mainstream media is very often guilty of perpetuating this dangerous conception, which in turn has caused both black people as well other races to view them as less than. But considering that some view our entire race as less than, I guess it's not really all that surprising. The reality is, it should not take Beyonce's Homecoming at Coachella or Vice President Kamala Harris to propel the world to give HBCUs the respect that they so rightly deserve. Yes, it's true that HBCUs were created to give black people an opportunity at higher education that they may not have otherwise had in the 1830s, but that does not make them any less amazing both back then or now.
While I personally did not attend an HBCU, I began to hear about the dope experience that only an HBCU can bring at an early age by my parents who both attended North Carolina A&T University. Aggie Pride! And while I could be found at HBCU parties and homecomings when I myself was in undergrad at a PWI, I could never speak to the true HBCU experience and what it means to attend one. That's where the eight amazingly talented women you'll soon meet come into play. They all are HBCU alumni and will share how attending a historically black college or university helped shape their lives and why they have always and will always reign supreme.
Rachelle Townsend, Vice President Internal Audit Manager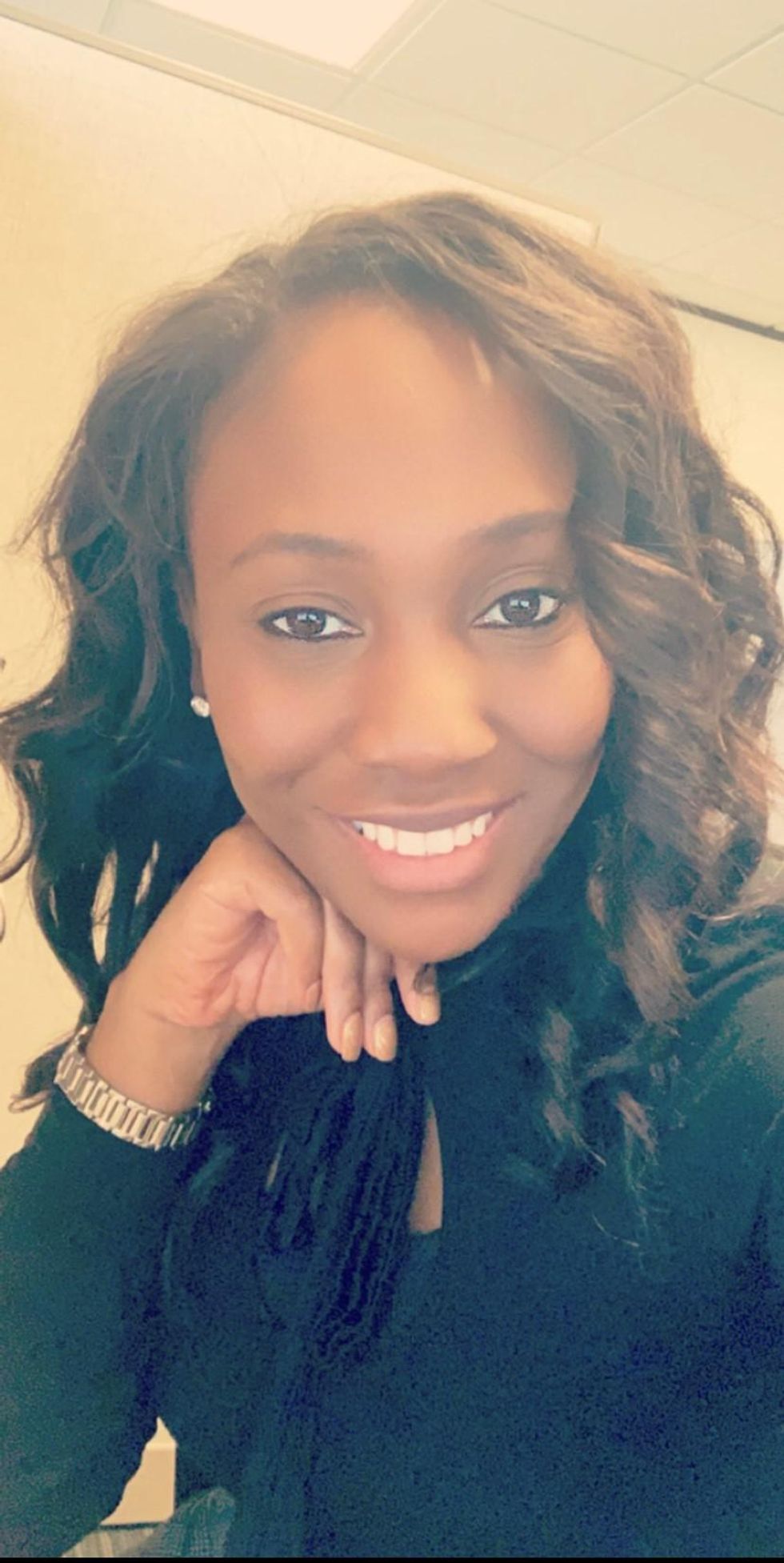 Courtesy of Rachelle Townsend
North Carolina Central University, Durham, NC
"During my first two years of high school, I attended a predominately black school, however, I moved at the end of my sophomore year and ended up at a majority-white high school. I remember how empowered I felt at my first high school when I walked in honors or AP classes and all the students looked like me. It was quite the opposite when I attended my second high school, as I was often one of a handful of non-white students in the honor or AP classes. I felt as though I had to prove I deserved to be there, while also shouldering the burden of speaking on behalf of my entire race. I complained to my dad about it and, being an HBCU grad himself, he immediately suggested that I attend an HBCU. He reminded me that while I'd initially set my sights on a PWI, I had my whole life to be a minority.
"Attending an HBCU provided the reassurance that I not only belonged at any table or boardroom I walked into, but it taught me how to own my place at said table or boardroom. This shaped my life because it taught me not to downplay my contributions or minimize my worth just so people would accept my presence."
Chevita Phifer Stewart, Director - Legal Advertising Review at Assurant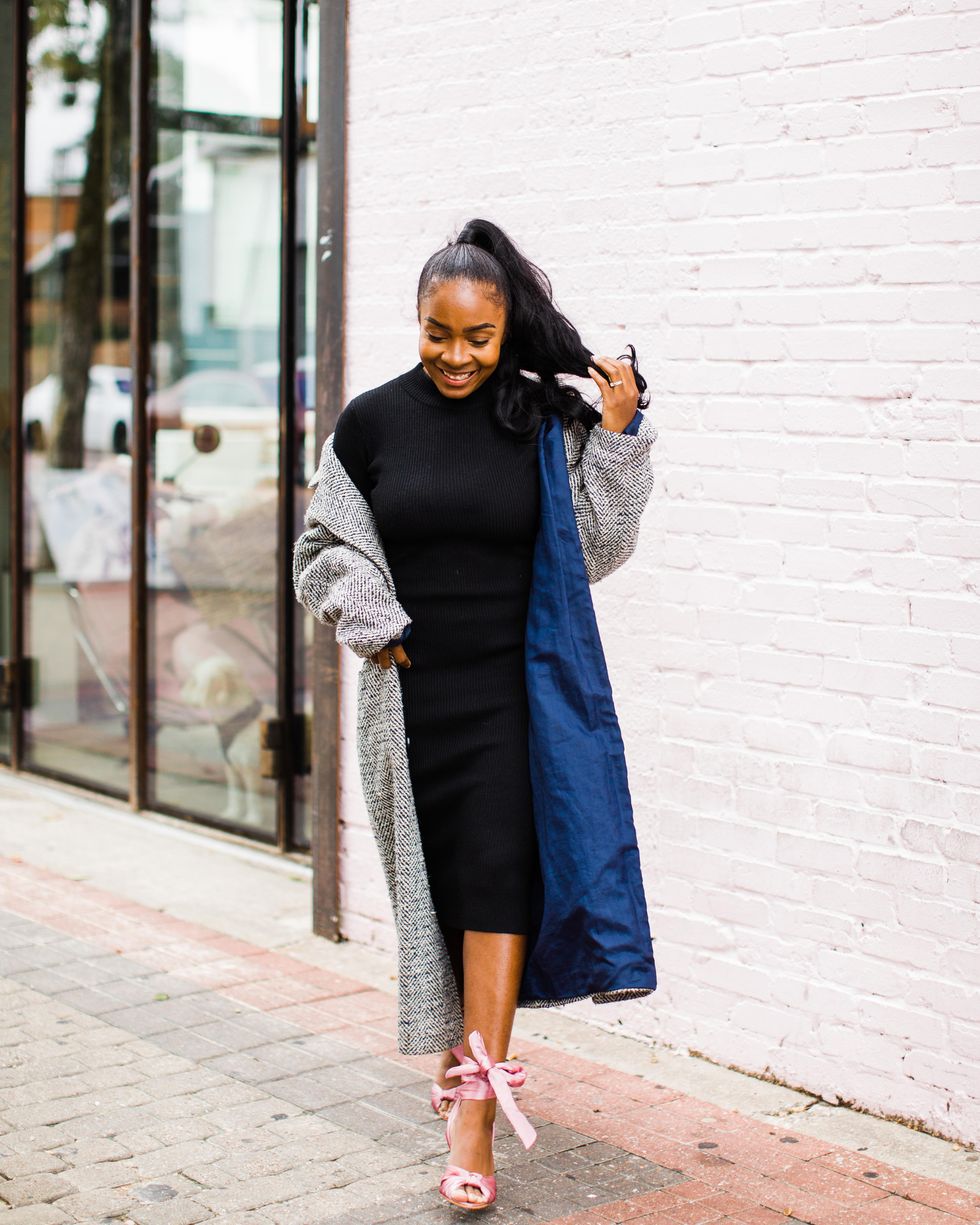 Courtesy of Chevita Phifer Stewart
Southern University Law Center, Baton Rouge, Louisiana
"A family friend recommended that I apply and I felt like I was 'home' when I visited the campus. I attended a PWI for undergrad and I only felt 'at home' when I was with my sorority sisters (Alpha Kappa Alpha Sorority, Incorporated). Southern [University] changed my life. I was able to learn and feel comfortable making mistakes (I was terrible in Moot Court but I loved International Law).
"Oftentimes black students are treated as a monolith, we aren't, and Southern understood that which gave us the space we needed to matriculate through law school. Southern taught me to feel comfortable going after all of my dreams but more importantly, I was surrounded by extremely smart black people - black excellence."
J. Desiree Rodriguez, B.S., M.A., Author, Entrepreneur, and Educator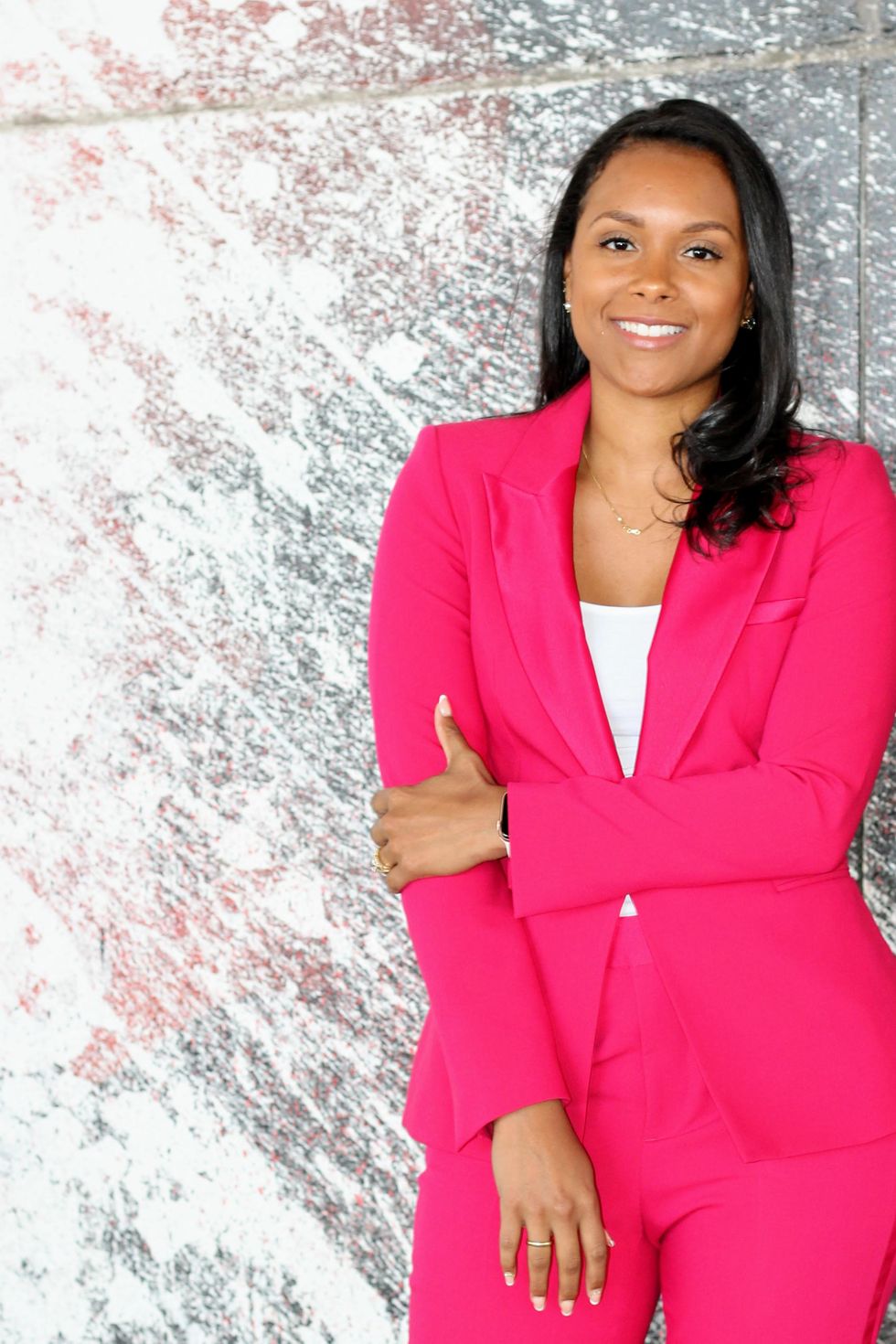 Courtesy of J. Desiree Rodriguez
Norfolk State University, Norfolk, VA
"Originally I chose an HBCU because, at the time, that was the only institution that accepted my application. I got denied because of my SATs. I had over 120 hours of community service, an advanced diploma, a 3.0 GPA, recommendation letters, played sports, and was captain in AFJROTC, and it was not enough to get me into my first school of choice. Attending Norfolk State University was the best decision I ever made. It helped me discover, understand, and value the African-American history that is engraved in this country and the world. NSU helped me to discover who I am as an Afro-Latina and to understand the biases in education and jobs.
"To think an HBCU was not on my top list of schools, versus it being the inspiration and thread that is embedded in who I am as a woman. I am forever grateful for the experiences I had. I have been an active member of Sigma Gamma Rho Sorority Incorporated for nearly ten years and am entering into my third year of Doctoral School. Without NSU, I believe my path and passions would be different. Thank you Norfolk State!"
Erica R. Jones, Family Physician, Podcaster, Author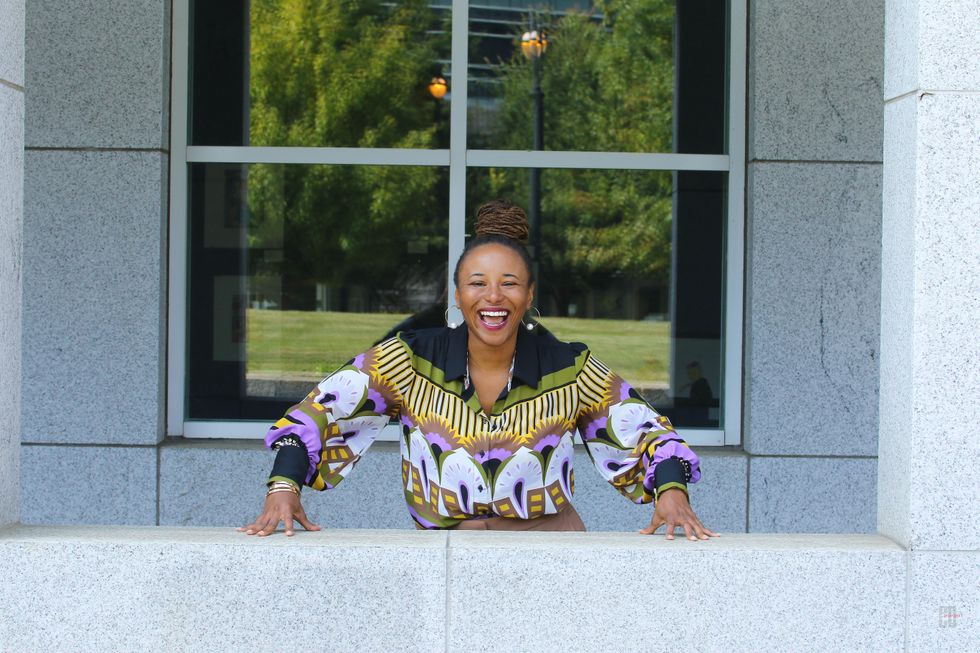 Courtesy of Erica R. Jones
Meharry Medical College, Nashville, TN
"I chose to attend Meharry because I understood the value of learning medicine in an environment that is dedicated to nurturing its students along the arduous journey. As an applicant with natural hair, my mother feared that I would be rejected after my interviews at various medical schools and even offered me one of her wigs! However, as soon as I walked into the interview room at Meharry, my locs were celebrated. The welcoming and warm spirit of the staff at Meharry propelled me into my current career."
Catch up with Erica on Instagram at @drericajones and @theartoftransitionpodcast.

Teronda Seymore, Writer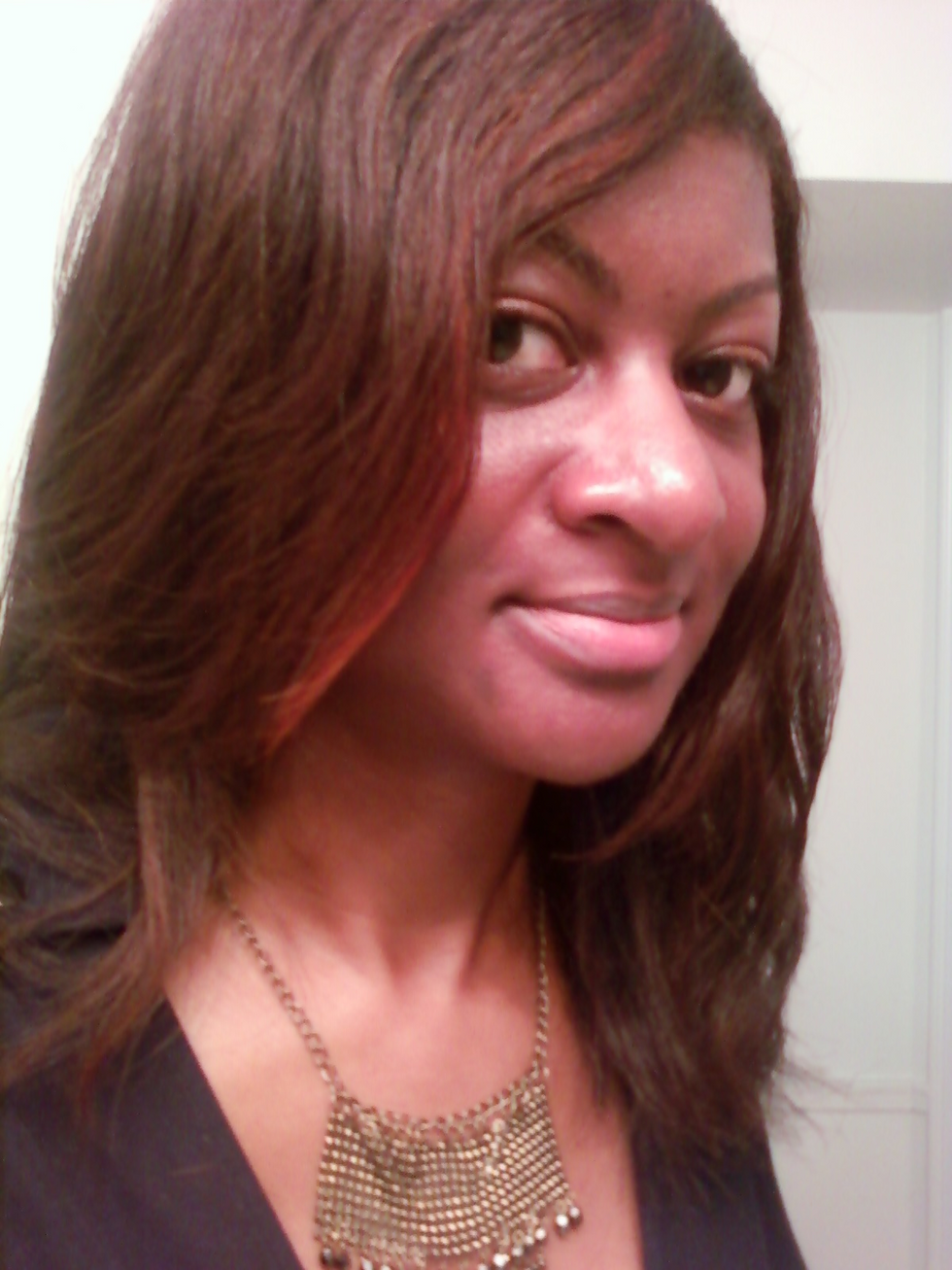 Courtesy of Teronda Seymore
Hampton University, Hampton, VA
"Spike Lee's School Daze was released when I was in high school. I don't want to say that watching that movie solely influenced me to attend an HBCU, but I did want the unique experiences that I could only get from a Historically Black College like Homecoming and Battle of the Bands! However, my decision was based more on the idea of attending a school where all of my classmates were intellectuals who looked just like me. I grew up in a rural area where black people generally aren't afforded the same opportunities as white folks. That can take a toll on both your body and your mind because it affects a number of things from where you work, to how much money you can make, to where you live.
"Attending an HBCU showed me a different perspective of life outside of fields, factories, and farms and taught me that the color of my skin doesn't preclude me from another life."
"However don't get it twisted, that doesn't mean I was oblivious to racism and microaggressions, or that I didn't believe either existed. I knew they did and it's not something that's unspoken at an HBCU. I think Hampton better equipped me with tools to navigate those evils and still succeed. And it gave me permission to dream bigger with the mindset that I can absolutely manifest my dreams."
Aminata J. Ba, Esq, Attorney, currently practicing in contracts, healthcare law and litigation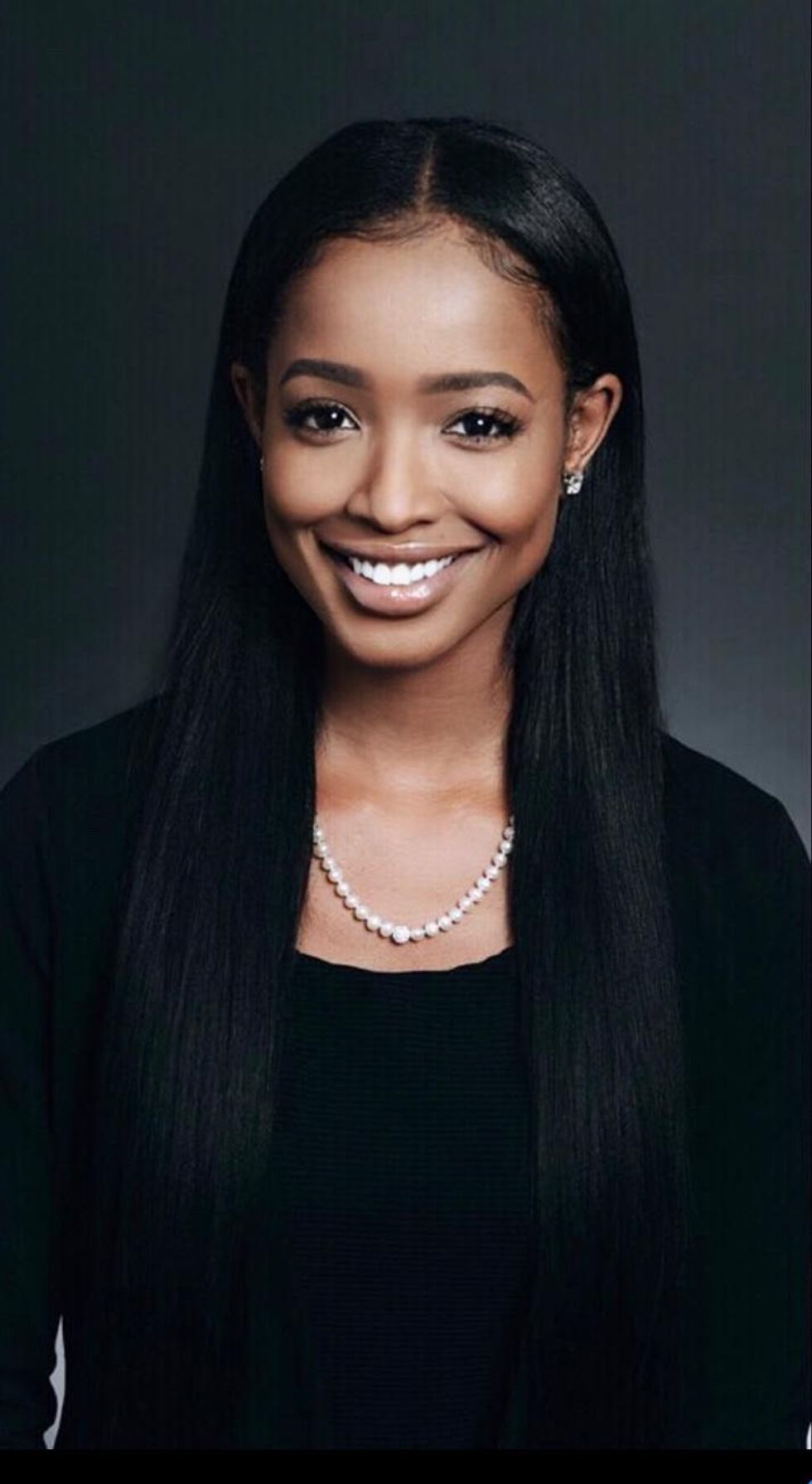 Courtesy of Aminata J. Ba
Hampton University, Hampton, VA
"I went to Hampton [University] on a visit with one of my friends from high school, and her dad, for an Omega Psi Phi probate on a whim. We met students from different places and backgrounds, but it still felt like we were the same. The high school I attended was extremely diverse, so it was almost like culture shock to be at an educational institution where everyone looked like me. I loved it and it just felt right. That weekend trumped any desire to attend any other schools. I think HBCUs pressure students to do more, be disciplined, and establish a sense of community. It honestly prepares you to be successful in professional environments where white people dominate.
"Students are surrounded by Black people on all parts of the spectrum, with different stories, and create lifetime friendships. The environment elevates black students' confidence and builds character. Also, some of the disorganization of attending an HBCU (ask anyone that's ever had to go to the Registrar or Financial Aid office) really prepares you for the B.S. you will have to deal with in the real world, building tenacity, and patience. One of the biggest bonuses I learned once I finished matriculating was how massive and strong the alumni network was. I think HBCU students carry community fostering skills they learn in college for life. It shows in the strength of our alumni networks."
Aliyyah Bragg, Scientist, Clinical Research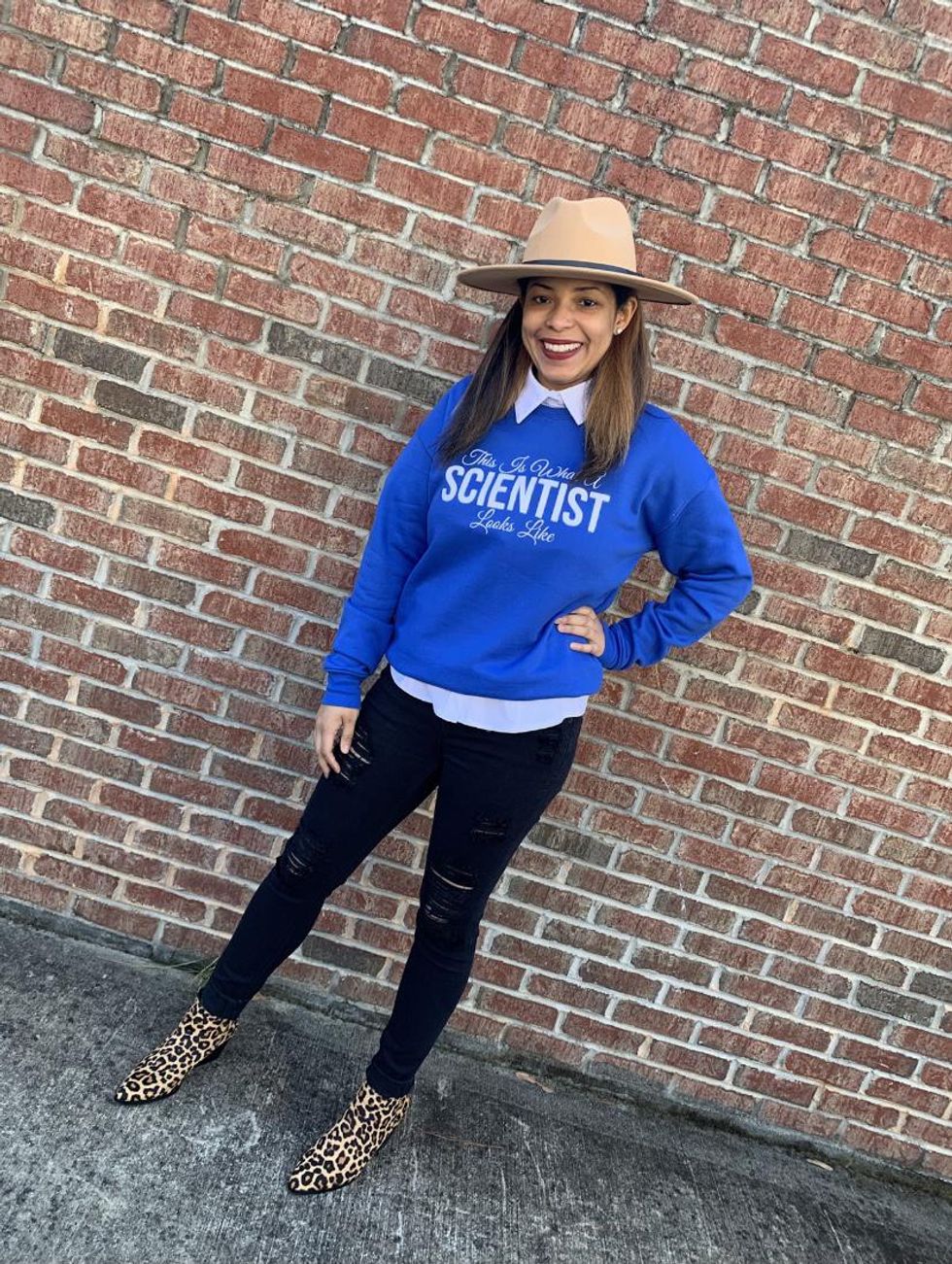 Photo Courtesy of Aliyyah Bragg
North Carolina A&T State University, Greensboro, NC
"I chose to attend an HBCU to be a part of history. While growing up, I did not witness or come across many women in science. Although they may have been hidden in books, the reality of women scientists appeared far and out of my reach. The absence of women scientists in my community inspired me to navigate through this intellectual journey to become one. During that journey, I wanted to be the product of the environment I was placed in to in turn show the world what HBCUs had to offer: excellence.
"Attending an HBCU helped shape my life by being able to develop the confidence to go out in the world and make the difference the world so desperately needed and to gain the courage to show the world innovation from fresh new eyes. It also gave me the opportunity to develop leadership skills that are needed to thrive in Corporate America. My contribution as a scientist is based upon my knowledge, skills, and abilities gained during foundational training that was acquired from an HBCU. So if you ever wondered what the future looks like, it's you. And if you wondered what a scientist looks like, well, it's me."
To stay connected with future projects bringing awareness to HBCUs and the STEM Field follow Aliyyah on Instagram: @aliyyah_b and Facebook: @aliyyah_b.
Crystal S. Gaines, M.A., ESQ, Lawyer at The Gaines Firm, LLC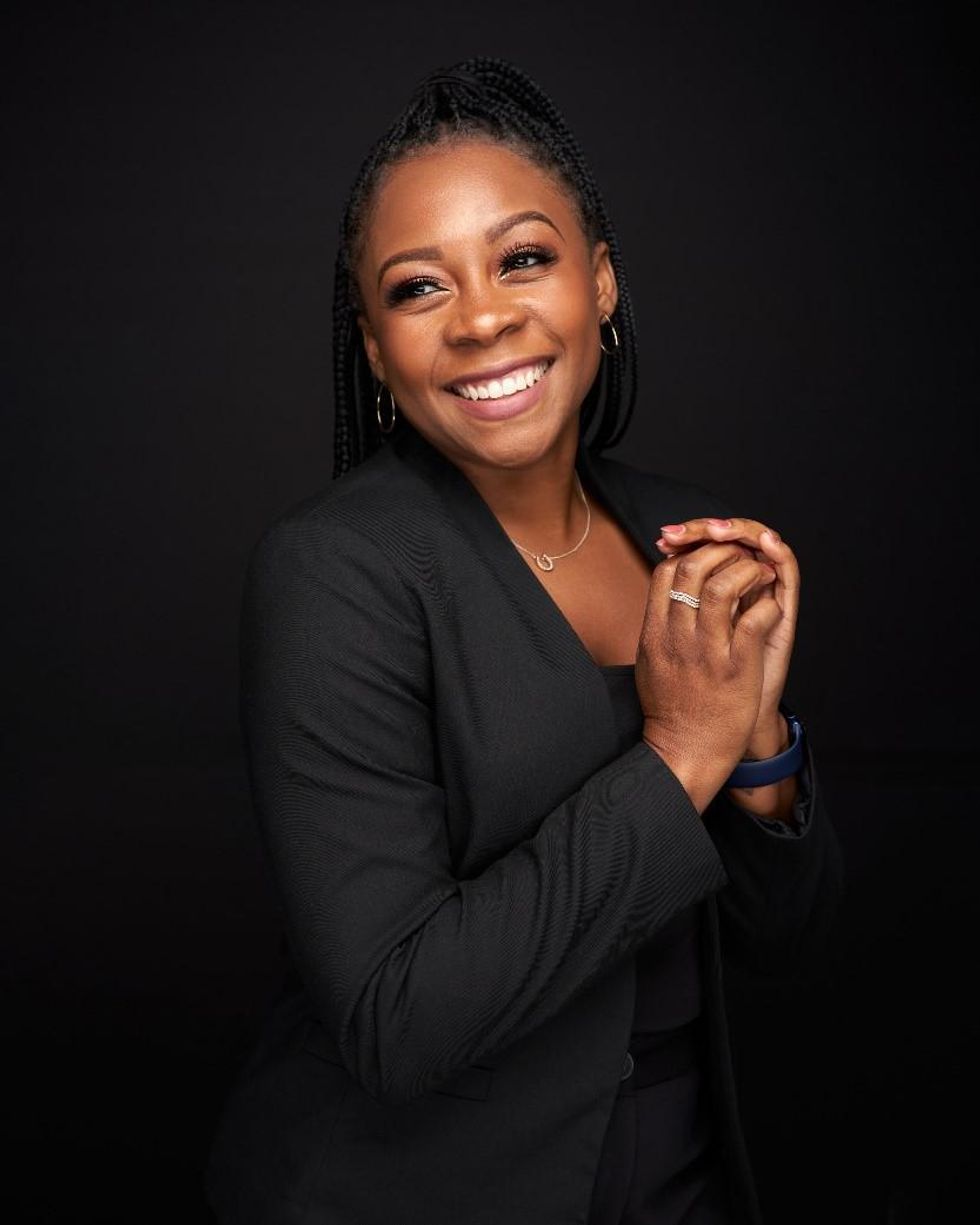 Photo Courtesy of Crystal
Norfolk State University, Norfolk, VA
"I grew up in a very small, rural, and conservative town outside of Henrico, Virginia. There were probably 25-30 black people out of the 120 people in my graduating class. Growing up in such a small, conservative town, you see the favoritism and stereotyping of individuals based on race quite often. In my particular situation, I noticed it more as it related to me when it was time for me to explore post-high school options. My counselor only introduced me to PWI schools. When I was not interested, she told me that she noticed how I took pride in my appearance and that I should consider getting a cosmetology license as an alternative. I was seriously deterred and unsure of what was next for me.
"It was not until I started to do my own research that I was introduced to HBCUs. I went on my first HBCU tour and I felt at home immediately. I felt something I had never felt before: I felt seen and that feeling never went away. A large part of my decision to attend an HBCU was due to the diversity of the students and the sense of pride in being a black woman/man that was embodied in the culture, values, and academic experience."
"I had never been surrounded by so much black pride and it did wonders for my confidence and my professional development. I am forever grateful to the family culture of my HBCU, the financial aid staff who became like Aunties, the cafeteria staff who made sure I was well-fed away from my momma's home cooking; my cheer sisters, who became the sisters I never had; my professors, who became like the north star for my goals and ambitions; and my campus, for giving me a safe space to learn, grown, and feel empowered.
"All that I am today, the confidence, the perseverance, the 'I can do and have it all' mentality – I owe to my alma mater. I cannot overstate the impact of having professors and colleagues who looked like me, across various disciplines, serving as role models on a day-to-day basis. That was a game-changer for me."
"My momma sent her little girl to Norfolk State and Norfolk State gave her a woman of character, intelligence, confidence, pride, and ambition. Norfolk State taught me how to square up with a challenge, the importance of legacy, and knowing your worth as a black woman – I would not and could not have received those gems elsewhere. I wish I could pinpoint one experience over the other, but I can't.
"In truth, it was a collective of what the HBCU culture, pride, and expectations embodied and promoted. At the end of the day, this first-generation, HBCU-made lawyer wouldn't have been prepared for the real world absent of my experiences and network at Norfolk State University."
Are you a member of our insiders squad? Join us in the xoTribe Members Community today!
Featured image courtesy of Chevita Phifer Stewart
Keep reading...
Show less