When I think of the icon Queen Latifah, I refer to Oprah Winfrey's quote about Gayle King: "she is the mother you never had. She is the sister everybody would want. She is the friend that everybody deserves. I simply do not know a better person!"
---
For her birthday, we're celebrating Queen's over three-decade-long acting career and how her repeated role as a love interest put Black women's beauty front and center on screen.
We saw glimpses of her potential as a rom-com lead in her starring role as Flavor Magazine founder Khadijah James in Living Single. In between her demanding career and kicking it with her girls in a 90s kind of world, she was entertaining a bevy of very fine and successful lovers, from Morris Chestnut, to Cree Williams' Scooter.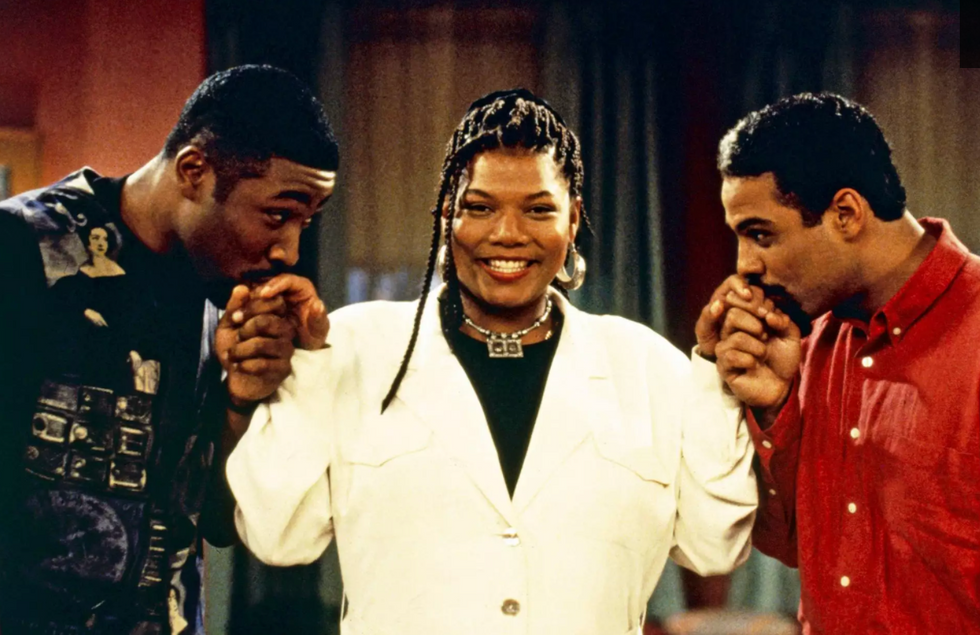 Queen Latifah as Kadijah James on Living Single
CREDIT: EVERETT COLLECTION
It wasn't until the early 2000s however when Queen would be able to fully embrace her fate as a love interest on the big screen.
In the hip hop centered love story Brown Sugar, Queen plays the best friend to Sanaa Lathan's main character. While only appearing in a handful of scenes, the scene towards the end when she shares a brief flirtatious encounter with Mos Def's character deserved to be explored further in its own spinoff film.
Queen would eventually land her own spinoff film with Beauty Shop, the sister film to Barbershop. One of the through lines connecting all of Queen's characters have been their authenticity. Actress and writer Mindy Kaling once joked about how romantic comedies are akin to science fiction. Fans of the genre find that the suspension of disbelief is a part of its charm. Be that as it may, there's a lived-iness about the world in which Queen's characters occupy that feels familiar to me: The communal space of a beauty salon, where the older Black women kiki'd while the much younger girls eavesdropped only to half understand what's being said anyways; the sound of women's laughter that punctuated the conversation alongside the sound of running water, and hair dryers and hair curlers.
During a time when the rom-com genre was dominated by thin white women named Meg, Julia, and Sandra, there was a comfort to see a full figured Black woman who wasn't remotely interested in adhering to those standards. It was always wonderful to see Black women who were reminiscent of my mother and the women in my extended family be loved on in film.
In Just Wright, she plays a basketball-loving physical therapist to Common's NBA star character who can't get enough of her brains, beauty and heart. In her 2006 Christmas comedy Last Holiday, she plays Georgia, a woman who is propelled by a false medical diagnosis that tells her she only has a short time left on earth to leave her old life behind and live her life to the fullest. Despite its dark premise, we spend about two hours being charmed along with the rest of the characters who have the fortune of crossing paths with Georgia, including LL Cool J's character who confesses his undying love for the Queen. And while her comedic timing is everything, she is never the butt of any joke.
Even in films like 1996's Set It Off where she played badass janitor Cleo and 2015's Bessie where she starred as the legendary blues singer Bessie Smith, Queen showcased Black lesbian love and sex on screen, representing the Black queer love that's often erased from Black mainstream stories.
Queen's presence on screen has always felt like a balm without feeling overly twee. She wasn't an ingenue, a young clumsy woman looking for a man to steady her. She wasn't a cynic whom love just sort of happens to against her will. Queen carved a career out of playing characters who were fully realized even as they dealt with their struggles. She invited a generation of Black women who were neglected by mainstream film to envision themselves as being worthy of love, or just as her name says, as worthy of being Queen.