It was 2009 when singer/songwriter Keri Hilson first made her debut.
---
She captured our lovelorn hearts and fueled us with self-worth anthems, beginning with "Energy," followed by chart-topping duets with male artists at the top of their game like Chris Brown, Kanye West, and Ne-Yo, and eventually the female empowerment anthem "Pretty Girl Rock." Miss Keri Baby had the world at her fingertips and the numbers to back up. She was at the height of her career, and on the outside looking in, lived a life anyone would dream of.

What was unknown to the rest of the world was that the In a Perfect World artist was experiencing the exact opposite of perfection. Despite the fame, the success, and the accolades, she wasn't herself. Keri was depressed.
"When 'Pretty Girl Rock' was at the top of the charts, I was bearing the weight of some personal and professional mistakes, and they just weighed so so so heavy on my spirit, and I was just not myself."
"Although I was at the mountain of my life, really the trajectory of my dream – I was at the pinnacle, you know? I was severely unhappy and then add to that, this is when I decide to jump out of an eleven-year relationship. Bad decision, bad timing," Keri added. "But it all just kind of spiraled for me, and became something I had never been through. I had never recognized myself as a person who can't pick themselves back up. I mean, I was literally on stage crying."

The media has a way of sensationalizing things to the point of kicking you while you're down, and something as seemingly miniscule as a headline can take you to an even darker place. Blogs, comments, and the Internet in general can be unforgiving to celebrities believing their words don't have power, but really, all words do. "You don't know where a person is, it's not just about what you are feeding your audience, but what you are doing to the creators. There are a lot of undeserving people that are being attacked by just a headline," Keri shared. "You don't understand some of the worst days of my life were from a lie. An attack on my character. And I am an amazing person. I do say that because I've done the work to become that and all I ever wanted to be was just a great human being."
It was at that point that Keri, against the wishes of her peers and mentors, decided to take a hiatus from her dream to focus on her mental health.
"Literally, 7 years of my life have been a battle with depression. And I can't say that I'm all the way clear, but I'm in the clear."

Depression is a villain with many faces that has tormented women of color without opposition for decades. Silence The Shame, an organization created by music executive turned philanthropist Shanti Das, is finally fighting back.
The Hip Hop professional was instrumental in developing the careers of artists like OutKast, Usher, and Toni Braxton and is now using her influence to challenge stigmas about mental illness in the black community through Silence The Shame. Keri, alongside Das, xoNecole founder Necole Kane, creator of the GIANTS series James Bland, therapist Dr. Ayanna Abrams, and mental health professional Vaughn Gay, spoke on the Silence The Shame Panel in Atlanta last month. Silence The Shame is about taking the shame away from mental health and depression in the black community and remembering your power.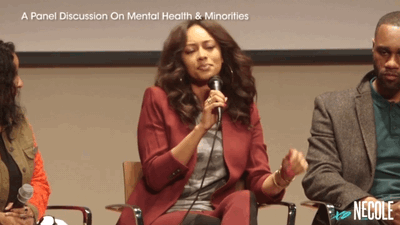 Depression has gone unchecked for decades in the black community due to lack of education. If you take medicine or go to therapy, you are dismissed as "crazy" or said to "have issues." And for women and men of color, those perceptions create wounds that cut much deeper.

As women of color in particular, we sometimes feel like if we show any sign of weakness, we will be scrutinized or invalidated.
It's the double-edged sword of embodying that "strong black woman" archetype that we wear for the people who inhabit our worlds so well.

In theory, Keri was living her best life. But even at the height of her career, she found herself seeking inner peace and struggling with depression. The adage is true, just because someone seems okay on the outside, doesn't mean they are okay on the inside.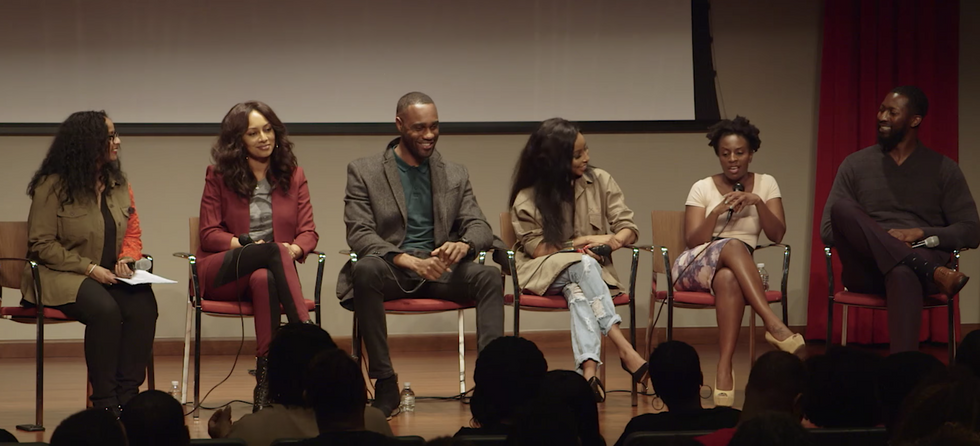 Mental illness is multifaceted and can show up in your life when you least expect it, even when it seems like you're finally getting everything you've ever prayed for. For some women, it may look like high energy and insomnia, and in others, it may look like isolation and substance abuse. If you or someone in your life, are going through depression, it is important to find a support group or a counselor and get help. "I don't know many of my peers that actually go to counseling. And I can attest to the fact that it is a process, because it does uproot things. I would have anxiety even going," Keri said.

"It uproots for the sake of healing. So it's a process. It's not that you go and sit there one time and feel good. Many days, I wouldn't feel good going or leaving."

If you're like me, and you feel hesitant about the idea of therapy: please understand, we all need help. If your tribe is not properly equipped, it is essential that you outsource. Let a professional peel back those layers so that you can finally heal.
Keri also credited a lot of her growth and healing passed her depression period to steering clear from social media. Social media comes with positives, but it also comes with its fair share of negatives and for Keri, it was important to respect the process by protecting her peace. "When we are not okay, when we are a little low or a lot low, there is a protection mode that has to happen because you don't know how much our subconscious is soaking in the criticism and the praise. Neither of them is great for us. It's all based on people who don't know the true us. Part of my protection was going away. For two and a half years, I went ghost from social media. I don't need the false love or the unwarranted hate. I don't want any of it so I just left."
"Now that I'm back on social media, that subconscious chatter that we are taking into our spirits, it doesn't resonate, it doesn't reach that part of me that it once did. So when you are not okay, take that app off of your phone," she added.
Collect additional much-needed gems about depression and mental health in Silence The Shame's honest hour by watching the video down below.