---
Many of us dream of going back to the Motherland and having the opportunity to embrace our cultural roots and to see the REAL Africa, not just the carefully curated images that the media feeds us. For three travelers, a trip to the South Africa was available right at their fingertips for less than a fraction of the normal cost.
It was early Christmas morning when a few lucky travelers scrolled through their Twitter feeds and opened their first present: A flight to the Johannesburg for less than $200. Although there were other discounted destinations to travel to such as Abu Dhabi and Hong Kong, they couldn't pass up the opportunity to embrace their inner travelistas and jetset to the home of Nelson Mandela.
"At first I was like okay cool Abu Dhabi, since everybody else is getting that one. Then I was like Johannesburg is on my list of places to go," says Natelegé Whaley, a native New Yorker with a passion for travel.
The ladies hopped on their respective flights with Etihad Airways and flew to Abu Dhabi before taking the final nine-hour leg to Johannesburg, but that didn't stop them from hitting the ground running as soon as they landed. With so much activity and culture to take in, it's no wonder that they didn't hit the sheets before exploring the streets! And for those who decided to venture to Cape Town, it was less than a two-hour flight from Johannesburg for around $100.
If you're looking to explore Cape Town and Johannesburg in the near future, don't worry, we've got you covered! We spoke to three ladies who dished out the goods on things to do, what to eat, and where to stay to make the most of your South African experience.
Meet the Globetrotters:

How did you hear about the travel glitch?
Natelegé: So it was Christmas, It was really early in the morning. I had the day off, and I was just up. I'm not always on Twitter so I was just scrolling and I follow Travel Noire, and that's how I saw it. So I saw them re-tweeting people saying they got this trip to Abu Dhabi. So I ignored it, at first, but then I kept seeing it. So I checked it out and it was actually posted on Flightdeals.com, they pretty much had laid out all of the information about how to get it and what website to go to. So I saw it was also one for Johannesburg and there was also some Asian countries. So at first I was like okay cool Abu Dhabi, since everybody else is getting that one. Then I was like Johannesburg is on my list of places to go. So I called my friend, and it was $187 round trip.
Erica: I actually woke up in the middle of the night because I had a crazy dream about Jay-Z and Beyoncé (laughs). So I couldn't go back to sleep, and I started scrolling through Twitter I follow Travel Noire and The Flight Deal and all the different travel bloggers and travel websites, and they were re-tweeting all of these people that were saying that they got a trip to Johannesburg for $178. And I was like, is this real? And then I went to Instagram and I was seeing the same thing. One of the blogs I follow is Rachel Travels and she posted her invoice from where she had gotten the ticket. So I ran downstairs and got my computer and went online and found out it was true.
Tiffany: I just happen to wake up on Christmas and I checked Twitter and I kept seeing a bunch of people say well I'm going to Abu Dhabi for $150, so I said really, what's that all about? And the travel site Travel Noire said if you missed it here it is, it's a big glitch. So I was looking and I'm like Abu Dhabi's nice, Hong Kong ok, but they have one to Johannesburg. And for some reason Johannesburg jumped out to me. So I struggled with it for an hour. I started bouncing ideas off like who am I going to invite, and I eventually said I'm just going to get a ticket and go by myself.
How did you go about planning the trip?
Natelegé: I didn't go until May, so I still had about five months. My friend and I went through Airbnb and got a condo in this new building, and it was pretty cheap. Between her and I we only paid $200 for four nights [in Johannesburg]. And then we went to Cape Town and we stayed there for two nights, which was a little more expensive, but it was still good. I only paid $100 for those two nights.
Erica: Me and my mom went April 15th – 23rd. I travel a lot so I'm used to planning, but I was kind of slack because I was going to Iceland before I went to Africa, so I didn't plan probably until a month and a half before we were to go. I knew we didn't want to stay in Johannesburg the whole time because it's more like a city, so I wanted to feel like I was in Africa. So we went to Johannesburg for a day and then we spent the rest of the time in Cape Town. In Cape Town, we stayed at a really nice hotel down on the waterfront called the Southern Sun.
Tiffany: Travel Noire was super helpful. They had this spreadsheet for everyone who cashed in on the glitch to post where you're going, what time, etc. So I put my information in. I was going in between my birthday. And I just happen to meet another person on there who was going around the same time. So the way that we set it up was we would have these meet-ups, and then she recommended this Facebook group, and it's another thing that helped me to not feel so afraid to go because I was going by myself and it was something that I'd never done before. As far as planning I did the Airbnb, so I stayed with a super sweet host family. They recommended places for me to eat, places for me to go, they even invited me to a dinner party the next night for a couple of their friends that had gotten engaged. The woman that was getting engaged was a food blogger, so when she found out that I was going to Cape Town she gave me a long list of places I had to eat while I was down there. So once I got down there, the host family helped me to plan my time while I was down there, and then as I went to Cape Town, and I booked a hotel that was near the beach.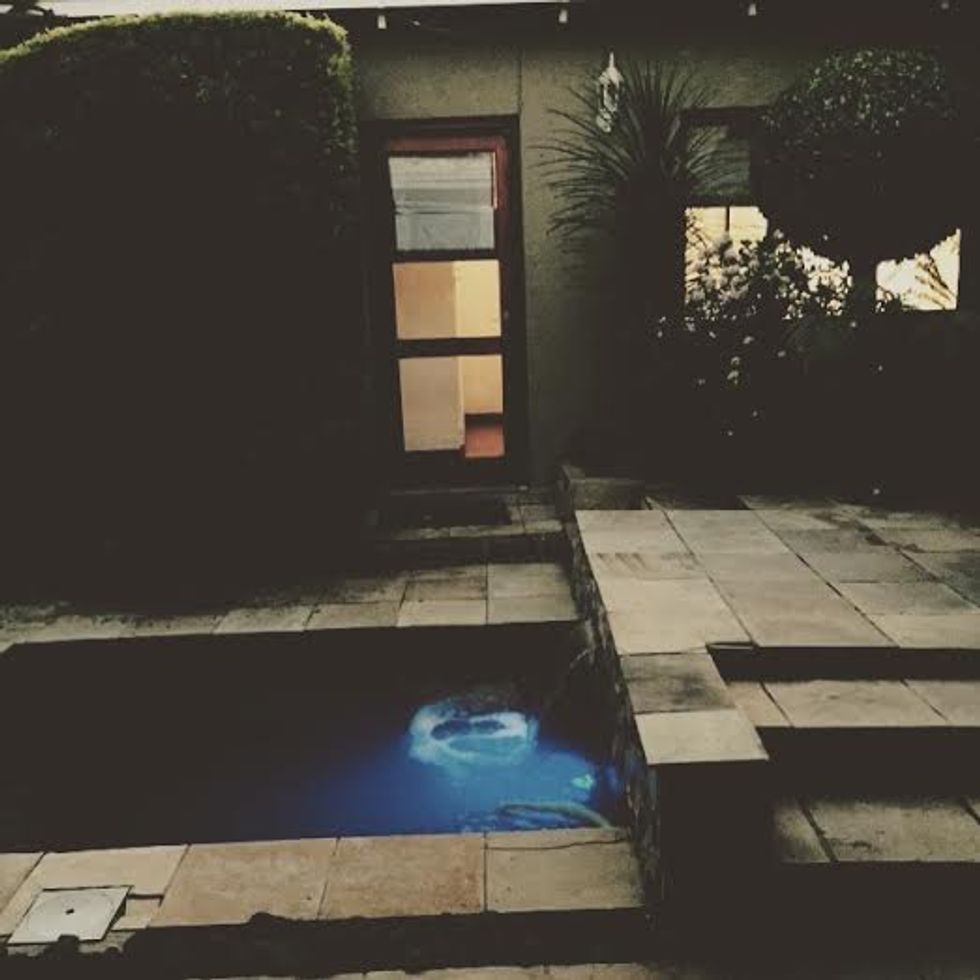 Guest house Tiffany stayed in while in Johannesburg
What was your first impression of South Africa?
Natelegé: When we got into the area we stayed, it's an area where they are building up these condos. And a few blocks away, there were people squatting in old abandoned office buildings. When we did get there and we were driving up to the building we were passing some areas that looked really questionable. We were like. is everything okay over here? And then we pulled up to the building we were staying in and it was white people sitting having dinner at the restaurant and I was like, what's going on here?" I question these things anywhere I go, just how the poverty lines are, even Africa, look who's doing well. So I was excited to be in the Motherland, but it was kind of overwhelming.
Tiffany: I know it sounds cliché but it was amazing to be there, like Nelson Mandela was on all of the local currency, which I think is a super powerful statement. I don't know…it felt like I had went home. Everyone saw me like "oh my sister, my sister" but they genuinely meant it. And it just felt like I was amongst family. Flying into Cape Town was beautiful because you really feel like you're at the end of the Earth, I guess because of the ocean and the water, but you also see a lot of townships, which is a nice term to say ghetto. So you see that flying in as well.
What activities did you do while you were there?
Natelegé: The night we arrived we went to a jazz club. A friend of a friend connected us with this musician, so he invited us out. Literally as soon as we got there we changed our clothes and went out—it was called The Orbit, and it was cool, we had dinner, we had wine, everything was super cheap. The next day we stayed local and just walked around Maubane because there's a lot of stuff to do over there and they have a lot of restaurants, art galleries and little boutiques. The following day we got on a Red Bus Tour and we went around Johannesburg, and then there was a second tour part to it where you got off in Soweto and went to a museum, and then we walked to Mandela's family house—the first house he lived in with his family and it's a museum now. Later we met up with the musician friend in a part called Marshalltown, which is more in the city. We went to some bars—Johannesburg's clubs are open until 4AM, so we went into this lounge and it was more of a younger scene. And then we got up early the next morning and went to Cape Town, and as soon as we got into Cape Town we went to Table Mountain. The last day we got on a boat and went to the island where Mandela was in prison [Robben Island].
Erica: In Johannesburg, we only really got to go around and see a little bit and then we went to Mandela Square. The majority of the time was spent in Cape Town. We went on the Table Mountain tour the first morning we were there and that was like half a day and then we went on a winery tour that afternoon. That was a private tour so it was just us, which was really nice. We also went to Robben Island.
Tiffany: I mostly just ate food and did as much sightseeing as I could. In Johannesburg I stayed in this town called Melville, which is basically like it's one of their up-and-coming cities. They kind of describe it as a hipster city, so I was kind of around there a lot. I didn't travel too far out of Johannesburg, but I did hang out with the locals. The guy at the café knew who I was after the first day, so it kind of treated me like I had been living there or just moved. In Cape Town I did pretty much the same thing. I went to a place called the Old Biscuit Mill, which is a very popular place to go on Saturday mornings especially. They have an open market and they have vendors that sell food, and jewelry and clothes, and live music. And then that Sunday I went zip-lining in Table Mountain.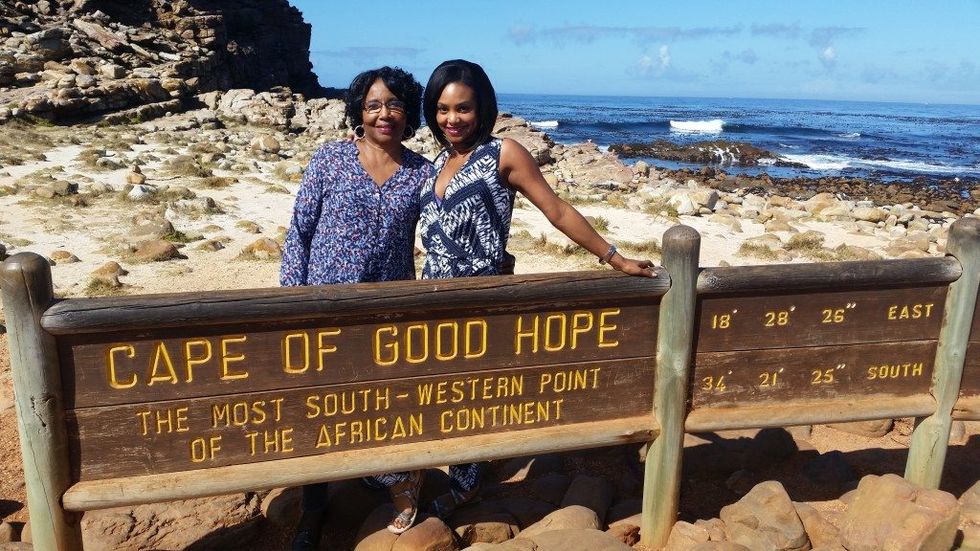 Erica and mom at the Cape of Good Hope.
So what about the local food?
Natelegé: Johannesburg is so capitalized. That city has everything that we have here. It's kind of hard to find traditional South African food. I did have Ostrich. I also had something like Shepherd's Pie but it had some sort of game in it. A lot of what we ate was good! All the food I ate tasted good. Even if it was non-South African, it was still good. I think I had fish and greens, and I don't think I paid more than $10 for it. I felt like I was in a normal restaurant. In New York I would pay $15 or $20 dollars. We probably spent $20 dollars total.
Erica: Oh yes! We ate a lot because I love the food, so I wanted to try a lot of difference things. We stayed by the waterfront in Cape Town, but we ate at a lot of restaurants near the waterfront. The first night we went to a place that was known for South African food. And I had some type of curry chicken. Whatever I had it was good. We also went to an ostrich farm while we were there, and I actually did eat ostrich twice: I had ostrich burger and I had an ostrich filet, like a filet mignon and it was really good. It tasted kind of like bison to me. It was a little gamey, but it was good. Since it's a bird I thought it would taste more like chicken, but it was more beef like.
Tiffany: In Cape Town yes, I believe I did. Their specialty was grilled ostrich, so I actually had grilled ostrich my first night in Cape Town. It's like a red meat, but it was really, really good. The next night I went to the The Test Kitchen. It's a French type of restaurant, but it was revered as one of the best restaurants in the word. That food was really good.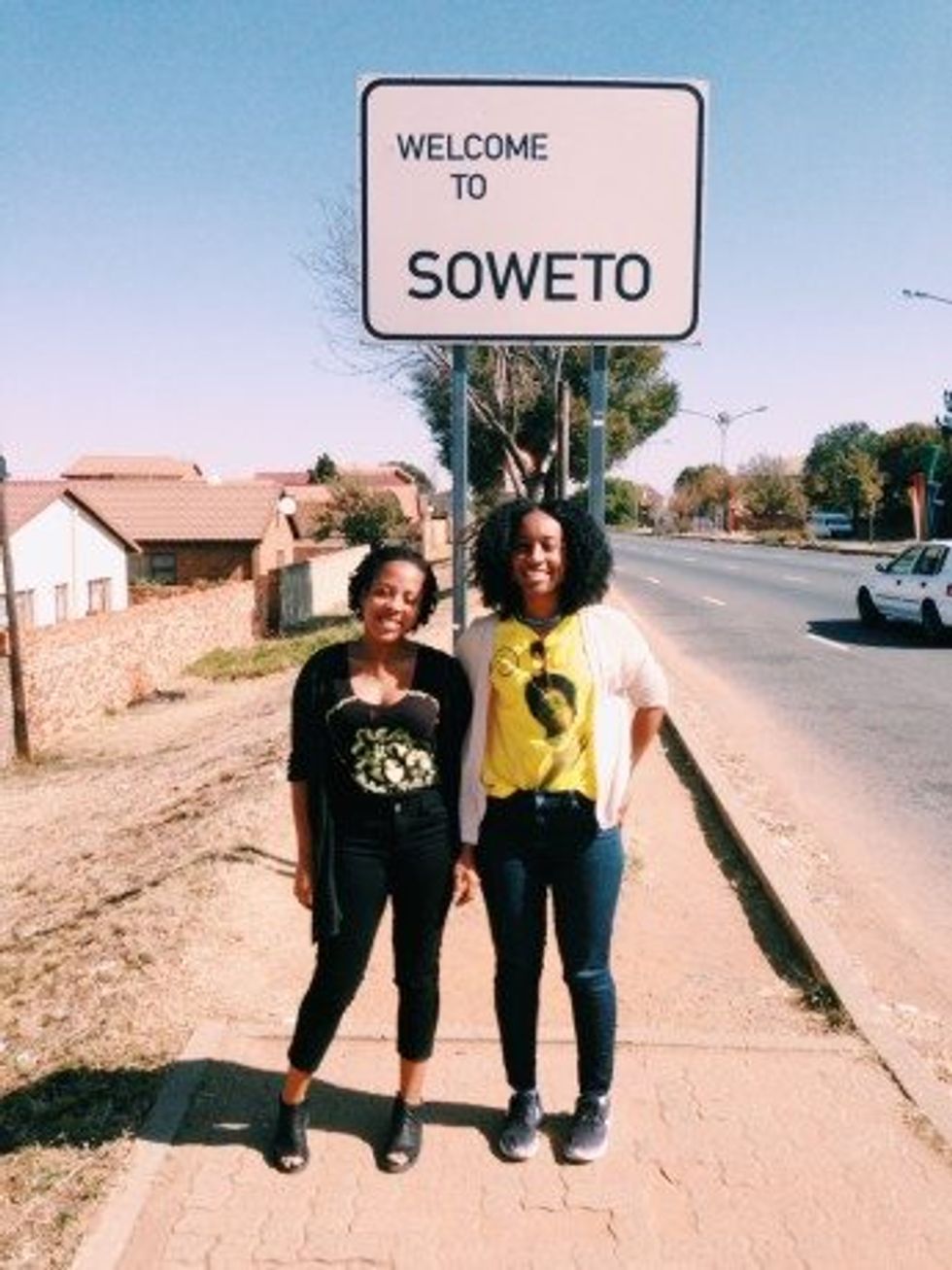 Natelegé and friend visit the Soweto township to see Mandela's house.
Going there, did you feel like you were in Africa?
Natalegé: I definitely felt like I was in Africa, only because it gives a different feel, when I had to leave I was getting sad because it felt like I didn't even scratch the surface of both cities. I also felt like I wanted to get to know our people more. And see what they thought about what it means to be South African. The thing about South Africa is that it's a lot of people who moved there from other parts of the continent. I met people that came from Ghana, and Nigeria, Malawi—all other parts. It's like how everyone wants to move to New York, everyone there wants to move to Johannesburg. Because that is where opportunity is.
Erica: In Johannesburg, even though it was more city-like, there were more black people. When we were in Cape Town we saw hardly any black people at all. The hotel workers, they were black. But as far as the tour we went on, we were the only black people. There were a lot of Australians because the Queen Mary cruise ships. But even still we didn't see any black people until we went in to the city of Cape Town to go to the market. Cape Town was very diverse. There are white South Africans, there are a lot of Indonesians—so there were a lot of different people there, which is good, but you won't really feel like you're in Africa if you stay by the waterfront and in the nicer parts of Cape Town. So yeah if you want the more African experience you'd have to stay more in the city center and in Johannesburg.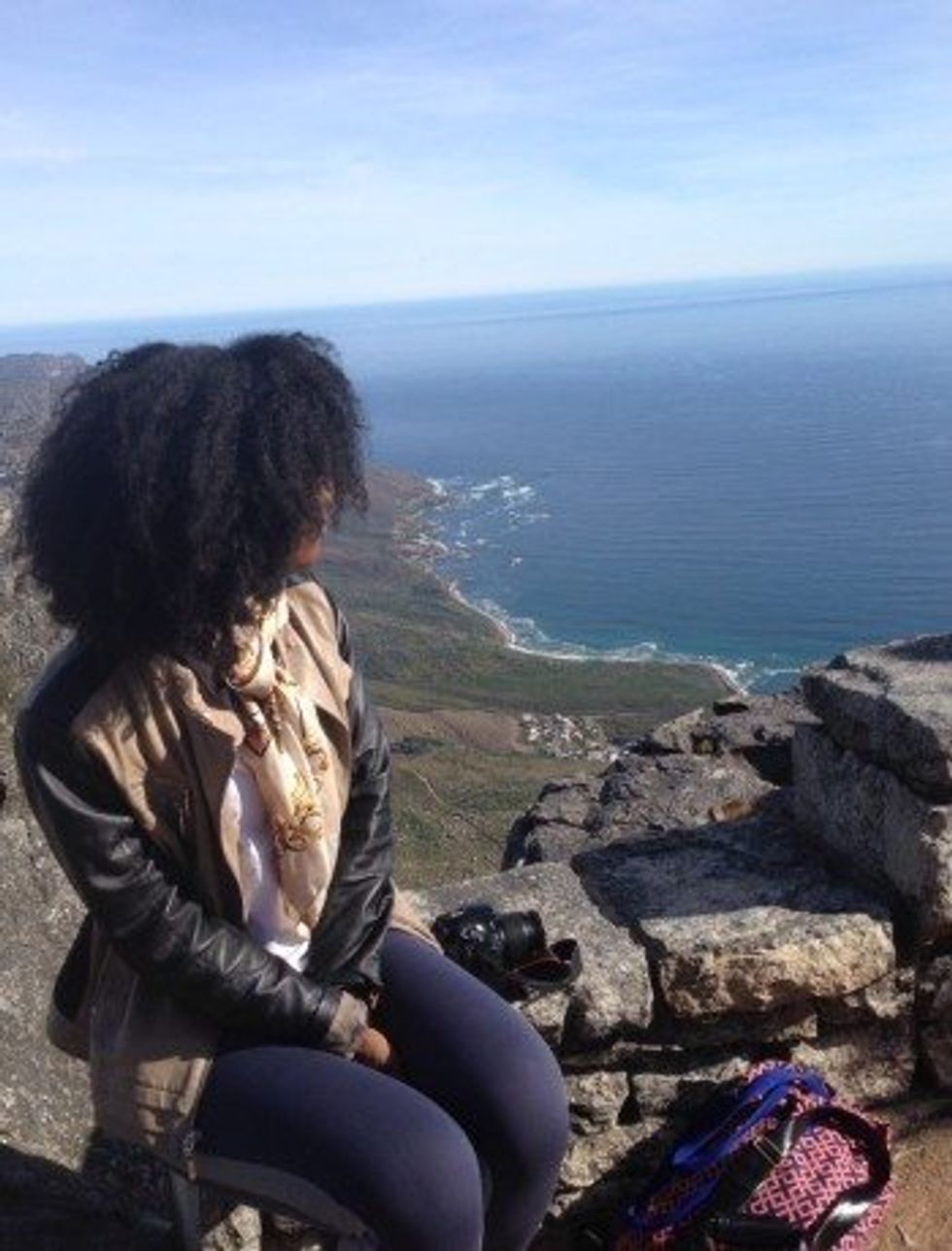 On top of Table Mountain
Were there any memories that stood out to you?
Natelegé: Cape Town was like Miami Beach or Venice Beach. It's by the water so its way more laid back, its way more chill. You could see where development was happening. Apparently nothing is open in the area we were at on a Sunday nigh, and we were staying in Green Market Square. We went into the hotel and they were like there's really nothing open over here. And we walked and found KFC was open. We ran to the corner store at one point to get drinks and this guy had Tupac blasting from his phone. And it was like I was back in Brooklyn.
Erica: There wasn't a lot of talk about apartheid and all of that except for one of our tour guides, he was Indonesian and the morning that we did the tour to Table Mountain we did a city tour too so we went to like one of the museums and we went through the cities and he was telling us about the different buildings and all of that and you could tell that he was passionate about talking about apartheid because he grew up in it and he was a part of the fight. He said he was a part of a protest where he had a rubber bullet shot at him and rocks thrown at him, so he would bring it back to the racial part of it but the people on the tour no one cared because they were from Australia so they could care less so it was interesting to me. That was very weird because I knew that Cape Town was diverse, but I didn't expect it to be like that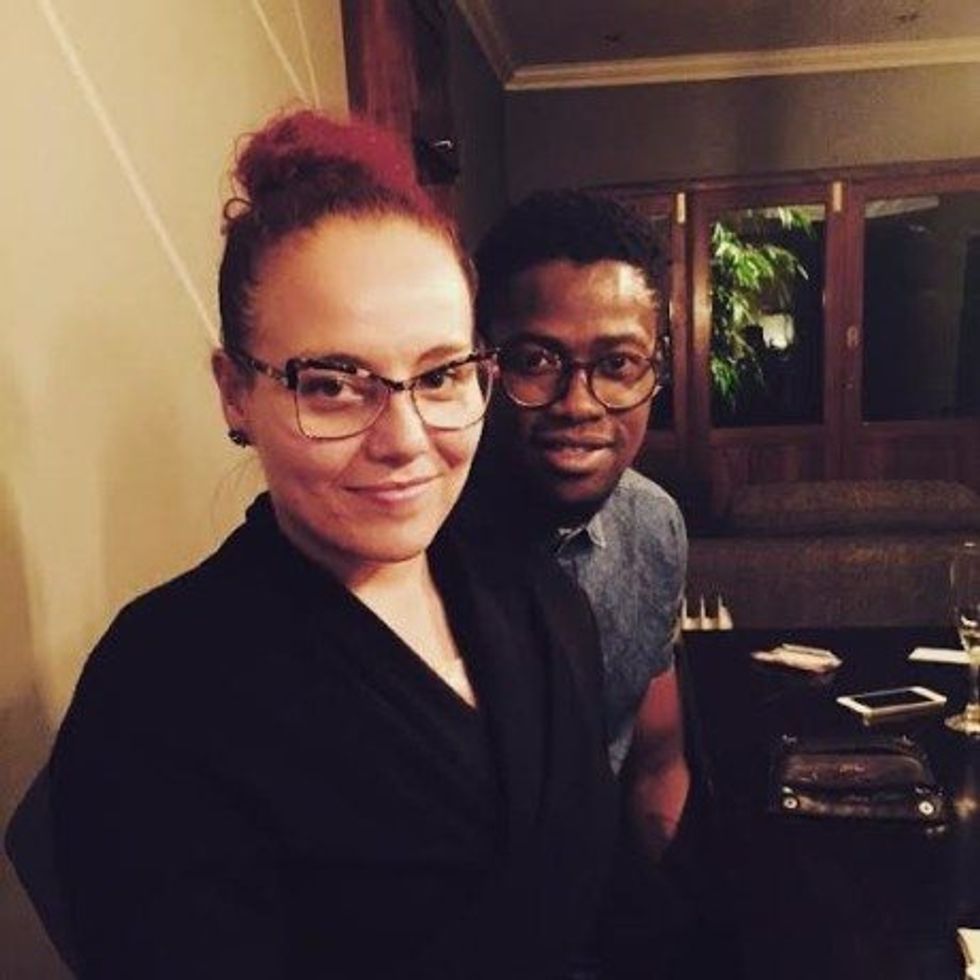 Tiffany's host family: Kathleen and her husband, Joey.
Tiffany: I think the biggest thing for me was the host family when they had the engagement party. [My host] remembered it was my birthday, so she went out and got me a cake and was like we are having dinner, come on, come through. She works in this women's organization so she's real powerful feminist. And it was interesting to talk to her about world events. They knew about Michael Brown and Freddie Gray, and they knew a lot about what was going on in America, and I kind of felt bad that I didn't know anything past apartheid in South Africa. So I didn't understand how their lives had changed post Apartheid because it wasn't that long ago. But just being around them and hearing their love stories, how they met, it just felt like being old friends. And I really enjoyed that part of it. Like I never wanted to go to Johannesburg or Cape Town and be like a tourist and stick out. I always kind of wanted to blend in with what people are doing and I felt like I was able to do that.
Did it make you want to travel more? Are there any more cool trips that you're taking this year?
Natelegé: I plan on going back next year and staying maybe two months. I met this blogger out there and he has his own website. I feel like there's more people out there like him, and I want to meet those people and immerse myself more with what's going on out there, and find a way to connect people here to there just so when you want to go to Johannesburg or an anyone wants to go there I can say I know people there. I definitely want to go back there and other parts of Africa down the line.
Erica: I just went to Aruba last month. This weekend I'm going to Belize, and I'm going to Dubai in October. So that's my next big trip. I'd also like to do Portugal and Morocco.
Tiffany: My next destination I hope to go to Thailand or to Marrakech, Morocco. I knew once I did this it was no going back for me. I want to be able to travel more because my biggest hang up was that I couldn't do it because I couldn't afford it, and I couldn't take the time off of work. And I was able to do both. So for me the trip was a no more excuses kind of trip.
Inquiring minds want to know, how do you find all of these travel glitches?
Erica: I follow all of the travel sites on Twitter and Instagram. So, I follow The Flight Deal, Travel Noire, Secret Flyer, and Airfare Watchdog. And I follow a lot of travel bloggers.
Tiffany: I follow The Flight Deal on Twitter, and I'm definitely a part of the Travel Noire District, so anything Travel Noire I'm paying attention.
Originally published August 29, 2016
Featured image by Shutterstock