---
Of all the places for Zim Ugochukwu to be in the world, I surprisingly learn on our call that she's only an hour away from where I'm hiding out in North Carolina. "I just got my apartment in Durham two weeks ago," she says.
But why Durham?
"My boyfriend's here. And it's also where I grew up, so I'm giving myself a year here and then I'm going to move to another country."
Ahh. That makes sense.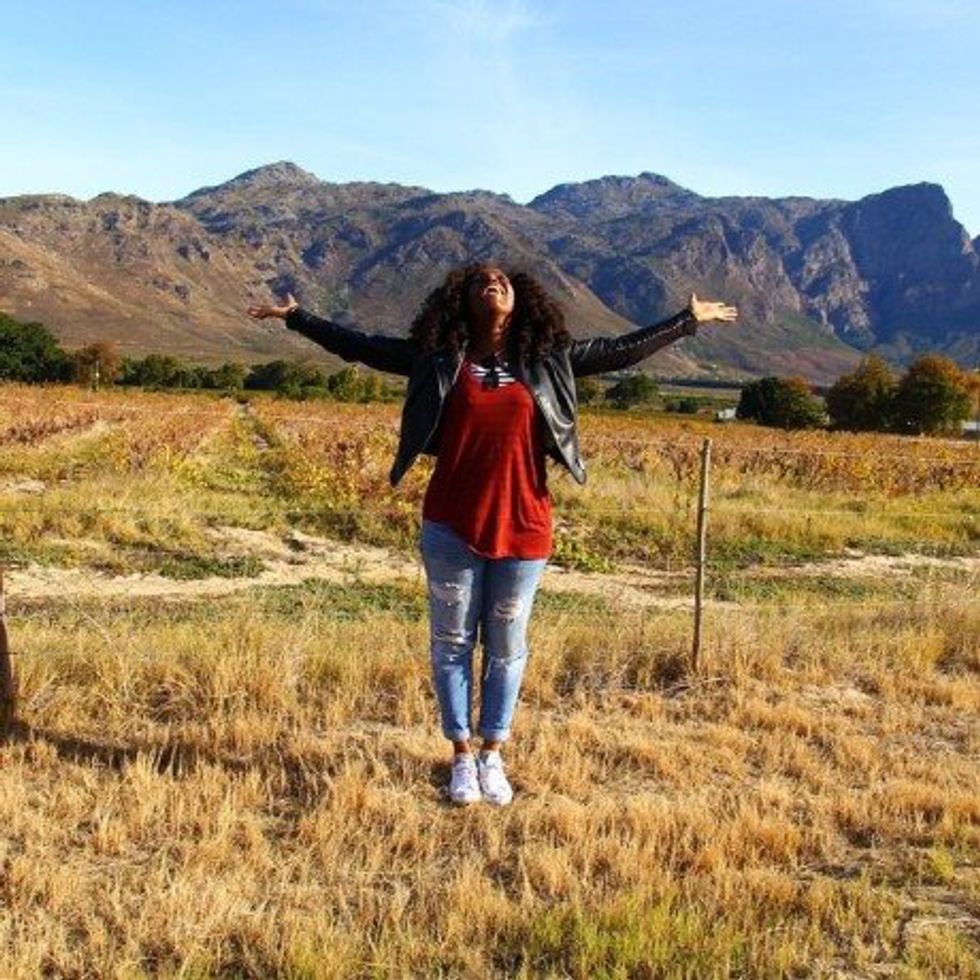 It's the first time that the young entrepreneur and founder of Travel Noire—a digital platform that has become the ultimate guide for the unconventional Black traveler—has had a place to call home since she packed her bags back in January. Over the last six months it seems that she's been living the dream: dashing from country to country, as beautifully documented for her 17.4k followers on her personal Instagram page, while working on creating products for the recent launch of Travel Noire Experiences. Who wouldn't want to set up an impromptu workspace in a picturesque country where an ocean view is not an option, but a requirement?
However, Zim admits, as with anything in life, all that glitters ain't gold.
"Like I'm in bed right now. I woke up today and I was like I don't feel good, I've been here all day."
She hasn't quite recovered from the jetlag that flew back with her from a last-minute trip to Portugal. No, she didn't go there to stunt for the gram, but because she needed an escape from the solitude that leaves many entrepreneurs desperately clinging on to their sanity.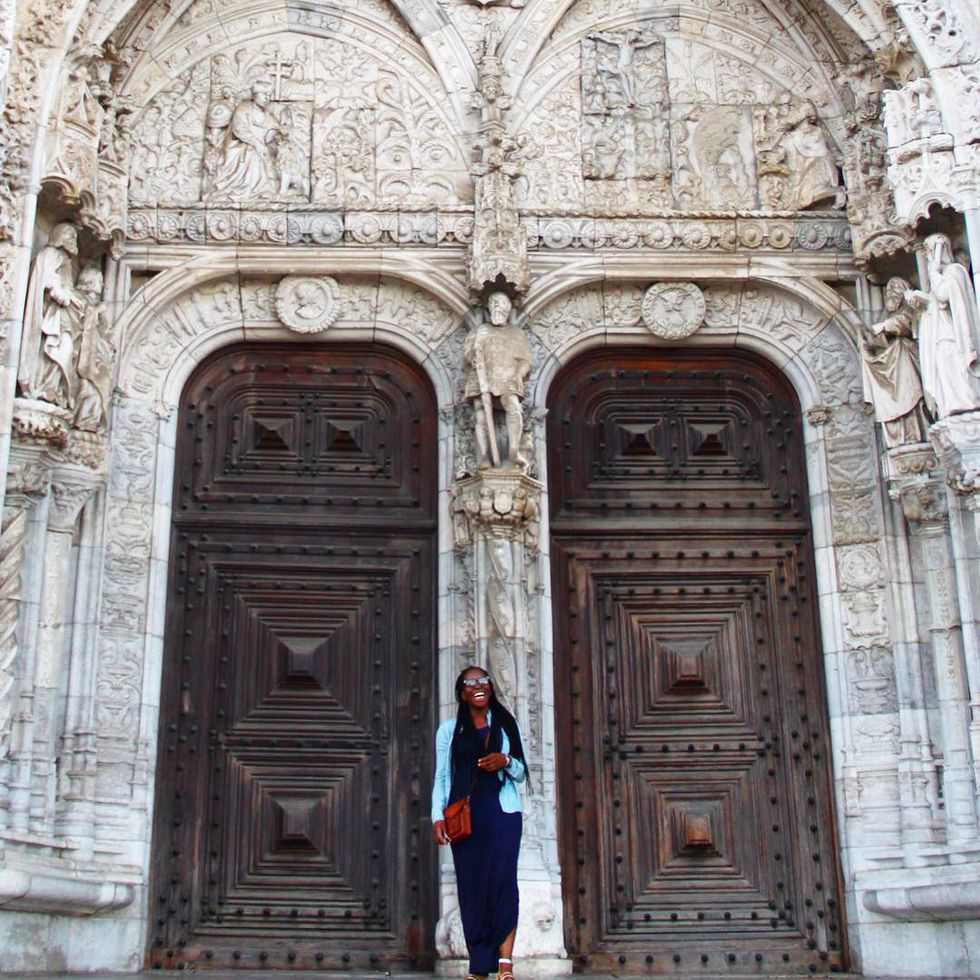 "There are periods of time where I won't even leave my house," she admits. "People see the Portugal part and they're like 'oh my god, you're traveling!' And it's fun; it's great, but the period before that locked up in your apartment staring at a screen for 15 hours, like that's not sexy at all."
She talks about the battle of an entrepreneur in one of her recent posts. How people don't understand the sacrifices that come with the title of being a B-O-S-S. Dealing with taxes, and the government, and other people's problems. How working 15-hour days have left many of her fellow entrepreneur friends fighting depression, no matter their level of success. It's a topic that's brushed over in the black business world, but that's claiming the lives of many who can't seem to find light in their endless world of darkness. It's not something that Zim wishes upon anybody.
"Whenever people say they want to be an entrepreneur I tell them that they don't. You don't want to be an entrepreneur. You like the idea of having something of your own, but in all reality it's the hardest thing you'll ever have to do."
Luckily for Zim, traveling is not just her business, but one of the ways she escapes the chaos that comes with her lifestyle. She also prays, nourishes her mind with inspirational books and quotes, and takes advantage of the listening ears of her friends and boyfriend when she needs words of encouragement.
She describes her significant other as the yin to her yang: a little bit more calm, cool, and collected. Amidst the frequent business trips, managing her team, and over a hundred other contributors, it seems as if he is the one constant in her life, quietly holding her down behind-the-scenes since they met back in college in Greensboro, North Carolina four years ago. The mystery man is a sacred piece of her life that she chooses to keep private. Just a couple of weeks ago they celebrated their anniversary, which she publicly acknowledged with a lower body shot of them lacing fingers. The caption simply read: it's so easy loving you.
I curiously asked her how she manages to run her business and have a love life—something that many women claim they have a hard time balancing. She accredits their constant communication (they speak frequently over the phone or via text when she's out of the country) and him also being a traveler as keys to their success.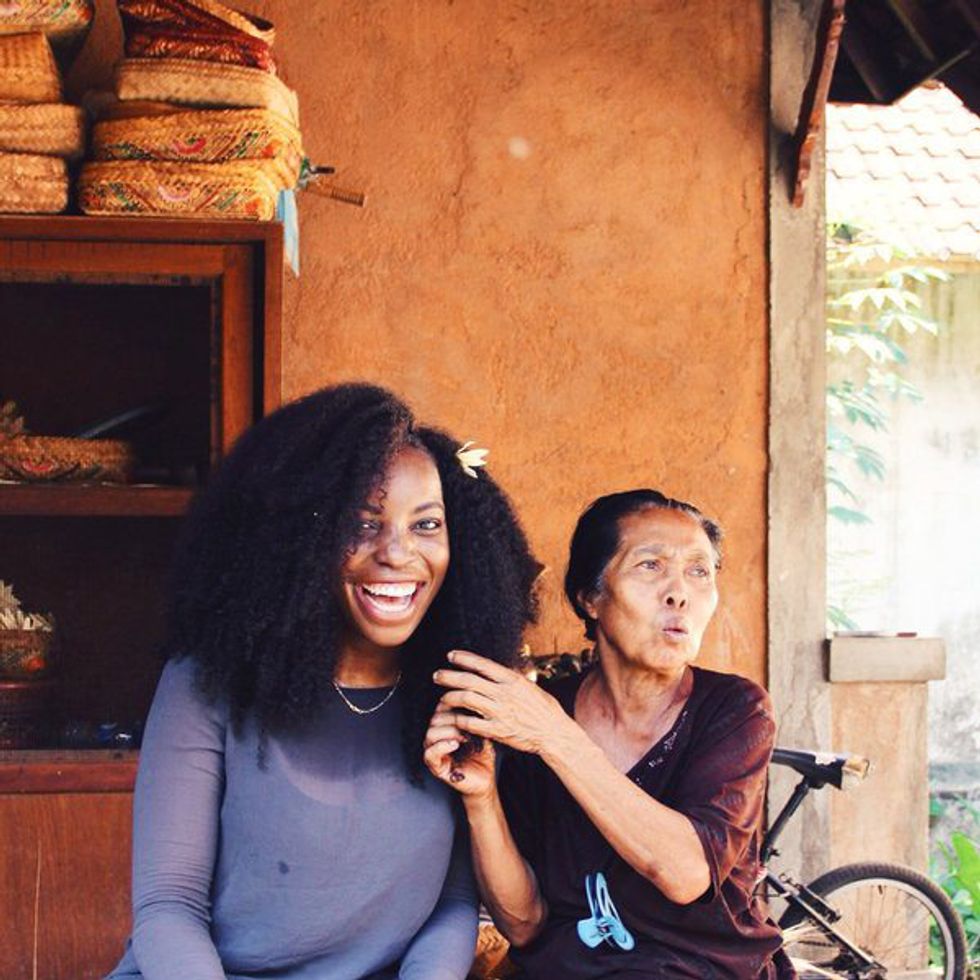 Their relationship is, thankfully, much different than that of her parents.
Her mother arrived to Mankato, Minnesota arranged to marry her father, but soon after Zim was born packed up her children and caught a Greyhound bus to California, refusing to stay in an abusive relationship. Her father, who would return from a business trip only to find an empty house with no contact information left behind, moved back to Nigeria. He wouldn't see Zim and her brother until 15 years later when they would take their first international trip to Nigeria to visit the village where her mother grew up. For six weeks she enjoyed meeting distant cousins, family members, and exploring the foreign terrain. But meeting her father, well, that was a different experience. Her only connection to him was through the letters her mother kept hidden that she used to sneak and read. Although her mother never spoke ill of her father, meeting him in person allowed her to formulate her own opinion—the five kids, wife, and mother that lived in his tiny two-room home was enough to convince her, as if she didn't already know, that her mom was superwoman.
"To see where we were living and what my mom was singlehandedly able to do in the U.S., and to see where he was living, it was crazy; it was mind blowing."
Growing up Zim learned at an early age that traveling would be her way of life. She moved from Minnesota to Los Angeles, and back to Minnesota before settling in Durham. Her strict upbringing and expectation of excellence would lead to her cloning genes at the age of 19, becoming the youngest precinct judge for North Carolina's Board of Elections, and being on the executive board of an anti-tobacco organization, amongst many other accolades. Her credentials earned her spot in the prestigious Henry Luce Scholars program, which sent her and at least 14 other post-college graduates to Asia in effort to bridge the cultural gap between them and the western world. Zim openly speaks about her time there as being the catalyst to her wanting to create something that would empower people like her, to share their love of travel and cultural emersion in effort to educate those who were skeptical about traveling abroad.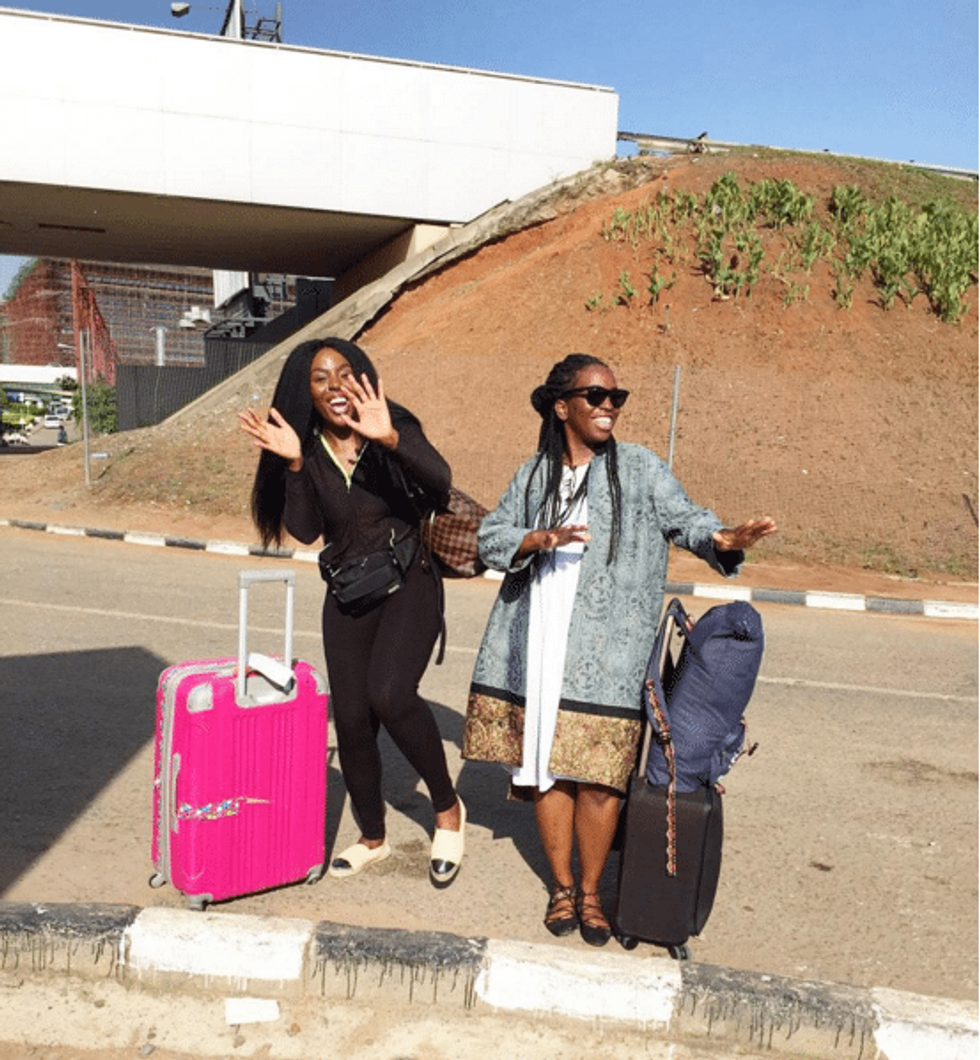 After returning to America with limited funds and no concrete career plans, she moved to southern California to live with her mother and stepdad. It only took six months before her mom started hitting her with daily suggestions of nursing or medical school, so she packed her bags and headed to San Francisco with $300 to live with her fairy godmother—a board member of an organization she was previously a part of, who kindly opened up her home free-of-charge. It was just the break that Zim needed to get her thoughts together, stack her cash, and start planning her next big venture—Travel Noire. After being fired from her full-time producer job, she took her $17,000 in savings and began to put her business blueprint into action.
It's been almost two years since Travel Noire burst onto the scene with enticing photos and creative offerings, and it shows no signs of slowing down. New positions are being advertised on her social media feeds, offering a benefits package that would make many reconsider their current situation: employees can kickback anywhere in the world with unlimited vacation days (she requires a minimum of 25 paid vacation days), paid cell phone plans, and memberships to Oyster and Fitbit to allow them to stimulate their minds and take care of their bodies while on the road. There's even an option to take unlimited classes through Skillshare to brush up on those photography and painting skills that you always dreamed of mastering.
"It's super important to me and the culture of the company to make sure that we are flexible and open, and that we make sure that our team is happy," she says.
To make sure they're happy, healthy, fulfilled and learning what they want to learn.

The team is constantly working on new products and creative ways to package them. Their direct feed from travel glitch sites, such as The Flight Deal and The Deal Alert, are included as a part of their Travel Noire District $60-per-year subscription-based service, which only opens up to the public every few months. And for those free-99 lovers, there's always the how-to videos on Travel Noire TV, pieces on travelnoire.com, and weekly emails from Zim herself. The Travel Noire hashtag, also has over 169,000 posts from fellow travelers sharing unique experiences from around the world.
Although running the Travel Noire machine may be daunting at times, there's no doubt that Zim cherishes the opportunity to be able to wake up in a different country on any given day and do what she loves, because there was a time when she worked a job that she had no passion for or desire to stay in.
To those in similar situations, she offers this advice:
"With no risk, there's no reward and you either get comfortable with uncertainty and not knowing where you're going to end up or you settle and you live this life that you don't want to live."
Well said, boss lady.

All images courtesy of Zim Ugochukwu