While you were excitedly unwrapping presents, posting blurry Christmas Day dinner pics, and extending holiday cheers to "friends" on your Twitter timeline, there were hundreds of others hopping on a rare travel glitch deal that enabled them to take a trip of a lifetime to Abu Dhabi for $200.
---
Last December, social media channels and GroupMe chats were in an uproar as travel lovers quickly discovering a once-in-a-life opportunity enthusiastically shared their ticket confirmations for future flights to the Middle East.
"Some people were just like that's not real; I don't believe it. Other people were like I don't have $200 just to be dropping on Abu Dhabi," says Imani Muhammad, a Chicago-native who found out about the deal from the Chicago Young Black Professionals GroupMe.
I was among the many who saw the comments and let them slide down and disappear from my timeline. Like many others, I had a hundred different excuses as to why I couldn't go: I already had a trip to Australia planned for May that I still needed to pay towards, and I didn't have $200 to spare without having to add to my ever-growing credit card debt; I didn't even know what city I'd be in months from now (I was planning on leaving my job, but hadn't decided on a date or where I'd be off too next); I didn't have anyone to go with. I thought about the fact that yeah the flight may be $200, but then I'd have to factor in hotels, food, and activities. In short, I let a deal of a lifetime slip by while wasting time worrying about how I was going to make it work. You know, the usual thoughts that keep people from going after their heart's desires.
But there were many who didn't stress the details and jumped on the flight deal without hesitation. Months later we saw amazing photos of opulent mosques, warm desert sands, and extravagant architectural structures on our Instagram feeds. If you didn't have anti-buyer's remorse before, you probably regretted ignoring that text message that you received months before promising a memorable experience.
For those who didn't get a chance to jetset to Abu Dhabi and Dubai, don't worry. We've got all the details for you! We sat down with a few women who eagerly shared how they got the deal, planned the trip, and had an all-around amazing time soaking up the sun in another country, all for just a $200 flight away.
Meet the Globetrotters:

How did you find out about the $200 travel glitch deal to Abu Dhabi?
Imani: I'm in this GroupMe called Chicago Young Black Professionals, it's just a GroupMe though, not an official organization or anything. I went in on Christmas morning and everybody in the chat was talking about this deal. And I'm like, what are ya'll talking about? And they were like yo you can go to Abu Dhabi, this is what you got to search on Google in order for the flights to come up at this price.
Alicia: I love to travel; I travel a lot. I follow The Flight Deal and I get alerts from them. Everytime they send out a Tweet I get an alert directly to my phone. Christmas Eve I got an alert at two or three in the morning and I looked at it and it said $187 to Abu Dhabi from JFK. So I booked two flights right then and there. I live in Washington D.C., but I figured I could take Amtrak to New York. But then later in the day I kept getting these emails and I also follow Travel Noire on Instagram, and there were people saying you can get a flight out of DC and other locations, so I went and checked the locations, cancelled the JFK flight and purchased the one from D.C.
Ashley: Well it was Christmas Day, and Alicia came to my house at probably about 6AM and she was like open up your gift. I was just like Alicia, I'm sleeping still. And she was like no open it up now. So I opened it up and it was like a passport location and the plane ticket confirmation that she printed off. I always said that I was going to get my passport but I was just procrastinated to get it so she was like well now you have to get it because we're going for our birthday.
Tiffany: I woke up Christmas morning and saw that one of my IG friends had booked the trip. And she had posted that she was going to Abu Dhabi in January for $187. So I Google'd what she said and it was coming up in the search, but it wasn't allowing me to purchase the ticket. So I just assumed that I missed whatever sale that she had. It wasn't until about 10AM where one of my college friends if you're trying to get the tickets you'd have to go through Expedia. So that's how I ended up booking my tickets. I went in February for Valentine's Day weekend. So it was the best experience ever.
Jonise: I follow The Flight Deal, which is an account on Twitter because I love to travel so I like finding these good airfares there. So I follow them, and I just happened to be on Twitter late night Christmas Eve. I was coming from a party so it had to be late night like 1 or 2 in the morning so I was going on Twitter and I saw it and I was like what, this must be a typo. Because they were advertising as $189 round trip from JFK to Abu Dhabi, so I clicked on the link and so I was like let me just go ahead and put some dates in there and see if it's true. And sure enough I found a roundtrip from JFK to Abu Dhabi, straight flight and it was $211.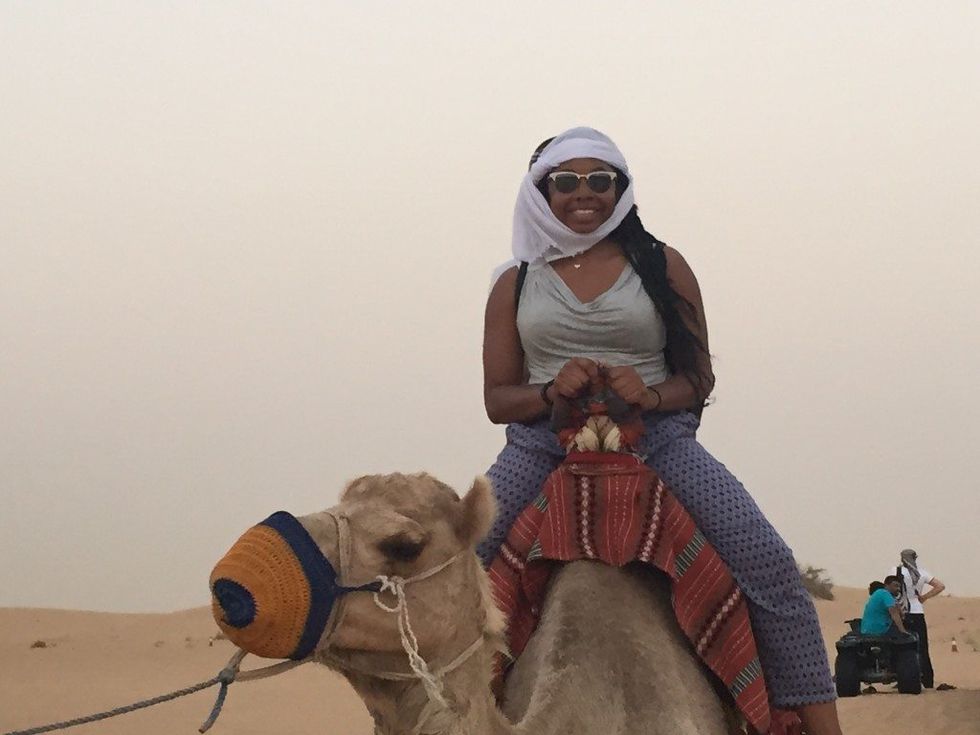 So once you booked the trip, how did you go about actually planning it as far as booking hotels, activities, etc.?
Imani: So part of the way that I planned the trip was just researching in terms of some of the key things travel sites said that you should visit while in Dubai and Abu Dhabi since I was flying into Abu Dhabi. And then since I knew others were going I organized with them even though I was going with my family, I just wanted to see what other people were doing while visiting. 
Alicia: I did a lot of Google searching and I follow a lot of travel blogs, and I talk to a lot of people who travel as well. So for example, with Travel Noire so with them one of the things that they posted about was where you should stay and these are accommodations, I used TripAdvisor a lot just to find out things that are popular and things to do. So I use that as my main site. From there, I go and do a lot more research into how to get the cheapest deal. For this trip I was a part of a group. We went memorial day weekend and a lot of black people our age were going so I was apart of a GroupMe group called 150 Black Professionals who were going to Dubai and Abu Dhabi Memorial Day Weekend and they would share their deals in the group. So it was just idea generation and ideas constantly being talked about and that's how I found most of them.
Tiffany: I'm a Star Rewards member so in Abu Dhabi we stayed at the St. Regis hotel on Saadiyat Island and we thought there was nothing better. There was nothing that could top where we were, the scenery, everything was just perfect there. So we figured if we go to Dubai nothing is going to top that. But it actually did. We stayed right across from Jumeirah Beach. There was a strip mall across from the hotel with American restaurants and shops, and it was just really nice. And the sidewalks are made of marble. That was one thing that got us, we couldn't believe it.
Jonise: I'm a part of Delta Sigma Theta Sorority, Inc. and we have a lot of sorority sisters that live there and teach there, so it was nothing to just hit them up. They had a Facebook group, so we told them that we were going to be in town and would like to link up. And it just so happen that same weekend, that was around Memorial Day, they were hosting an all-white yacht party. The other events were like people that we would run into, the ones that were more Americanized would let us know oh there's this event going on and you should come by here and stuff like that. It was pretty much word-of-mouth.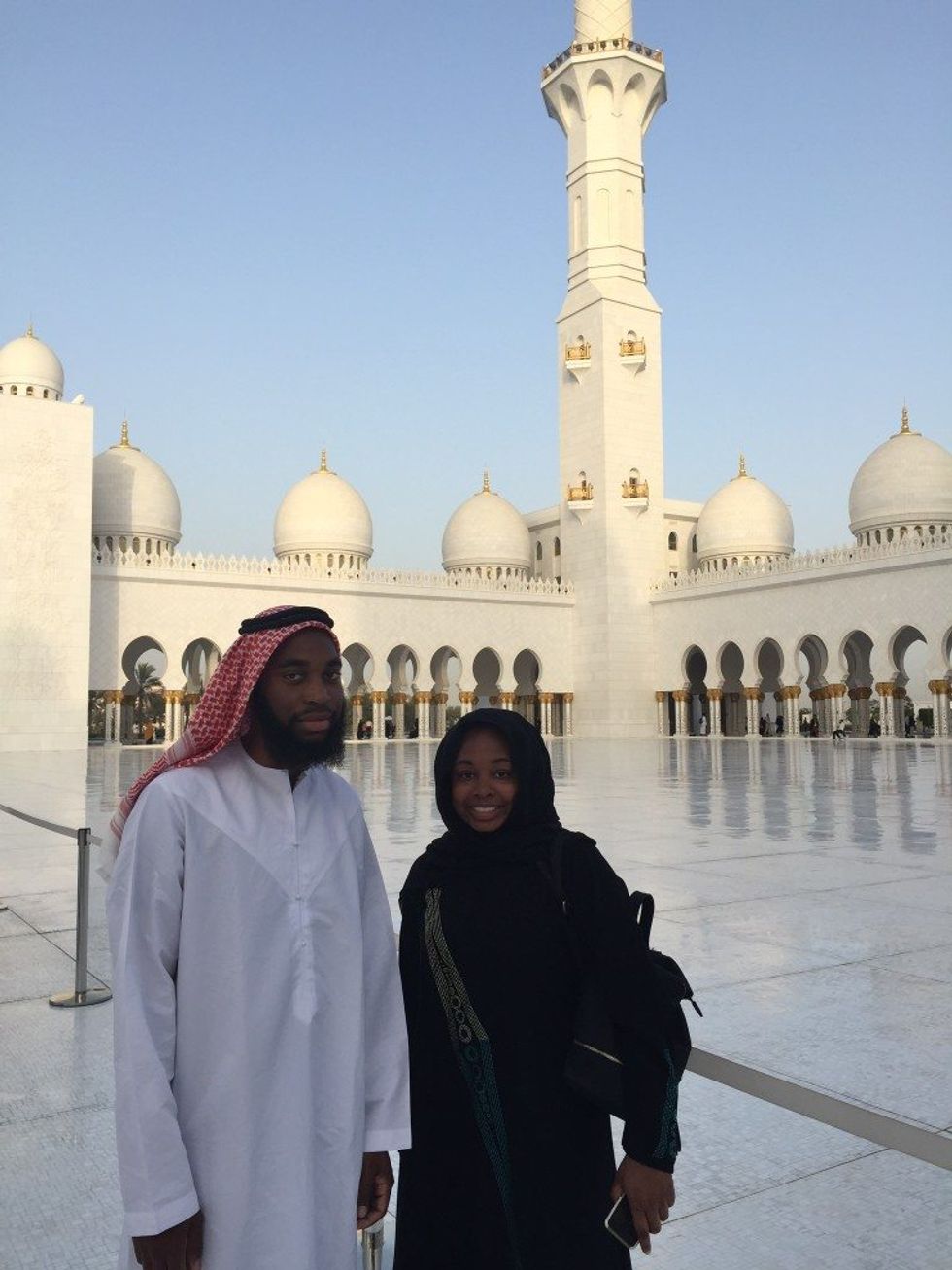 What were your first thoughts when you arrived in Abu Dhabi and Dubai?
Imani: Abu Dhabi still has a city feel it's just a lot more traditional in a sense. One of the main mosques is in Abu Dhabi and it's absolutely gorgeous. So it's a lot more traditional, you see more people in traditional garments there.
Alicia: I was surprised by the amount of wealth that they have because everything there is grand and over-the-top. Everything in the country is bigger, better, faster. I think that's their motto. When we went to Safari World we got on the fastest roller coaster. In Dubai we went to the Burj Khalifa, which is the world's tallest building. We were in the world's largest mall. It's just definitely like, wow.
Ashley: We found out that trying to FaceTime on wifi, they don't allow you to do video communication; you can only use iMessages and emails over there. So trying to show people on FaceTime where we were, we couldn't do that.
Jonise: I was very surprised that people spoke English. Everything was translated to English. Even the road signs would be in Arabic but they're also in English. So that made it very easy to get around and everybody speaks English, and that's because they think so highly of different cultures, especially the American culture and our language.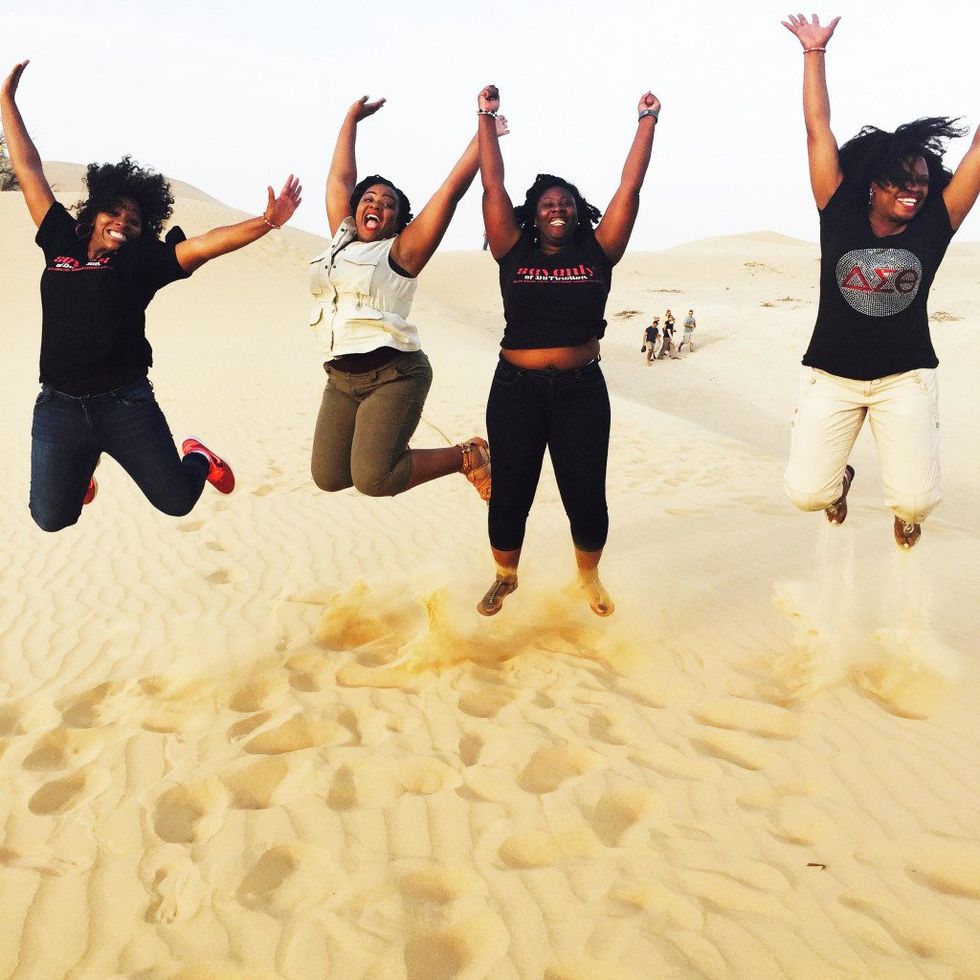 Jonise in desert in Al Ain with my Sorority Sisters
Did you get a chance to eat any of the local food?
Imani: The thing about Dubai is that they have a lot of restaurants that aren't authentic cuisine there. We went to a Mexican restaurant one time, but we went to an Iranian/Persian restaurant in old Dubai. They had a restaurant in the hotel as well, so we visited that. They had an Outback at the mall. Honestly, my experience in Dubai was like, I really don't feel like I'm that far from the U.S. Going to Abu Dhabi was a little different.
Ashley: We stayed at Shangri-La Hotel and Alicia got our hotel on a glitch as well, so with our hotel stay we got breakfast included. We ended up going to the Cheesecake Factory even though we can get that in America because they had the shortest wait. They even had Red Lobster in the mall. We were like that's crazy. We came all the way here and they have the same places to eat as we have in America.
Tiffany: We did try the food because you get a lot of the food on the flight because they serve their food. They had a lot of curry type things or Lebanese food. And we also did a dinner in the desert where we got to taste a lot of their foods there.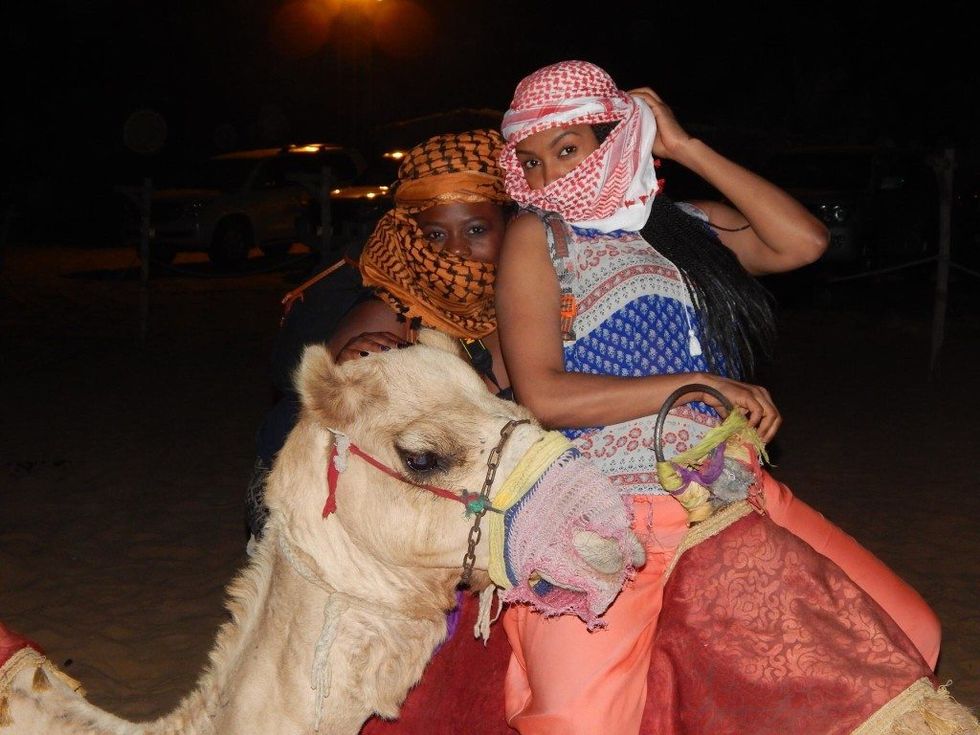 Tiffany and friend, Trinette, Desert Safari riding a Camel in Dubai
What's one experience that you'll always remember about Dubai and Abu Dhabi?
Imani: I think everyone should go to the Sheikh Zayed mosque in Abu Dhabi because it was the most beautiful place I've ever been. I was just in amazement. The amount of marble, encrusted stone, and gold that is in this place is just like this can't be real. And the thing is, when you ask how much money it was they were like we don't know, it was all donations and stuff.
Ashley: Our last night there we went to a club called The Circus Club of Dubai. There's like a real live circus going on in there and they had like freak shows with their faces painted, midgets and people in costumes walking around in there. We met these African guys and since it was the day after our birthday they just started buying us bottles of Don Perignon.
Tiffany: In Dubai at the Jumeriah Beach there was a water park in the middle of the water. We didn't get to go but it was pretty awesome. And at the tallest building we went to the 148th floor. That was beautiful. And don't forget the largest mall, they had everything in there. From an Aquarium to all of the restaurants, all the stores. That was very memorable as well.
Jonise: My favorite excursion was the sand dunes we were like in a SUV going through the dessert. That was an amazing experience because I'm from South Florida and we don't have like the desert, and just to be out there and it felt like we were in a movie. I kept saying that the whole time, I feel like I'm in a movie.
Did going to Abu Dhabi and Dubai make you want to travel more?
Imani: It was for the most part my first time abroad; the only other place that I've been was like Mexico. I think it's definitely encouraged me to go more international. I feel like I had a completely different idea of Dubai. I knew it was wealthy and that it was somewhat advanced, but it completely blew my mind. My boyfriend is Nigerian, and him and his friends are planning a West African tour trip for 2016 so I'll probably try to do that with him where we go to Ghana, Nigeria, and some other Western African countries. I'm kind of excited about that.
Ashley: Yes, I think I do want to travel more. But I want to get settled in more and finish school so that I can actually start seeing more and traveling more. I do want to travel and see the world more, but after I finish with school.
Tiffany: Ever since that travel glitch I joined three or four different sites that monitor sites just so I can see if I can get another glitch like that. So I definitely plan on traveling more—glitch or no glitch.
Jonise: Yeah I'm already a traveler so I'm already open to different cultures so I'm always excited about just experiencing a new place, new culture, meeting the people, even picking up on their language and learning new words.
I'm not going to lie, I'm super jealous! It sounds like these ladies had an amazing time. Check out more of their memorable moments below!