D'Shonda Brown
D'Shonda Brown is a culture curator, storyteller and public speaker from Brooklyn, New York. Her love and passion for journalism is demonstrated in her bylines across Sad Girls Club, Blavity, America Hates US, Snobette and The RapFest. As a mental health advocate and suicide attempt survivor, in 2019, D'Shonda became Mental Health First Aid Certified for adults and children, and graduated from the Advocacy Ambassador Program by National Alliance on Mental Illness.
Coco Jones' journey through the industry has often tried to be silenced by the masses, but she never allowed her voice to go unheard. From early exposure as a child star on Disney Channel's Next Big Thing competition and Let It Shine with Tyler James Williams and Trevor Jackson to using her personal platform to advocate for darker-skinned Black women at the hands of colorism, the R&B crooner hasn't shied away from the opportunity to be seen in spaces that weren't meant for women like her.
However, there was once a point in time when young Jones didn't have the same amount of confidence in her decisions. Surprisingly, Jones admitted to me that her relationship with boundary setting and even the word "no" was not always a close-knit relationship.
"Over the past few years, I have grown to love the word 'no,'" she told xoNecole. While she admitted that she used to think it was a "very bad word" associated with being difficult to work with and diva-like behavior, she now knows that there's nothing negative about setting boundaries and doing what's right for yourself. "I literally would not [say 'no'] because I didn't want to be perceived that way, but I think knowing your worth makes a 'no' [a] very useful word. Being confident that the opportunities that are for you will be for you makes 'no' a safe word."
Jones continued, "I think standing firm on your boundaries helps with being courageous, and being courageous is similar to being confident. I think they go hand in hand. You have to believe that you will [still] have good things. You have to believe that the right people will come into your life when you push out the wrong people. That takes courage, which I think in turn builds your confidence."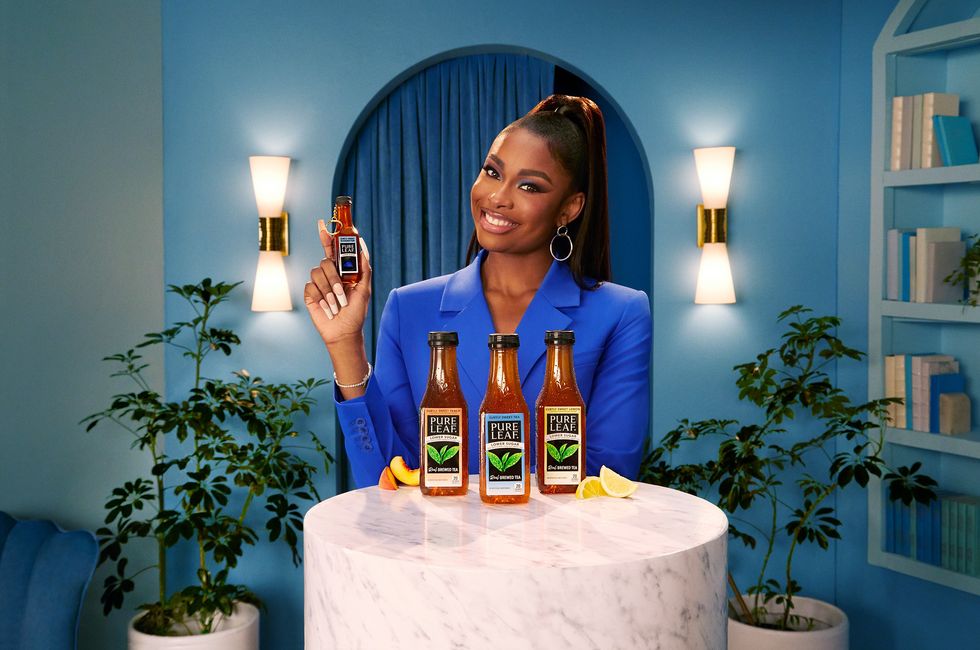 Courtesy of Pure Leaf
While the word is only two letters long, it carries a lot of impact, and when using said word, sometimes you have to deliver it subtly sweet. Enter stage left, Jones' partnership with Pure Leaf for a second year in a row to dismantle the myth that saying "no" has to be a sour, instead of sweet, experience for the person delivering the package and receiving it.
Last year, Jones introduced viewers to the Subtly Sweet "Hotline," where the singer helped callers achieve the perfect balance of sweetness and bold boundary-setting. Fast forward to 2023, Jones is seen taking her acting chops to the small screen as she stars in "As Seen on Pure Leaf" – an in-faux-mercial promoting the power of "no," via Coco's TikTok and on Peacock's Streaming Service. When presented with the idea of partnering with Pure Leaf, Jones was instantly aligned with the brand based on her industry experience and "what it takes to really survive as yourself and to not lose yourself," she explained to xoNecole.
"Overall, it just really is a useful tool. I think so much of our lives, we feel this pressure to succumb to what people say we have to be or to people please," Jones continued. "I love that me and Pure Leaf are very aligned when it comes to saying no and being okay with staying true to your boundaries."
As a Black woman in the industry, Jones is no stranger to the trope of being labeled as the angry Black girl or the difficult diva in the entertainment world just because she wanted to say the once-deemed ugly two-letter word. Now, Jones uses her platform loud and proud to show her fans and followers the power of standing firm in your power and setting your boundaries. As a public figure, she recognizes that she has a sense of responsibility to the younger generation following her to be as true to herself as possible.
"I am on a platform, and I think my fans and honestly, the world, can really tell what's authentic and what's forced, especially with social media and all of the constant content that's out there," Jones added.
"People would be steered incorrectly if they were to see me succumb to the pressures and be somebody that I'm not authentically, after all of this time."
For Jones, choosing the road less traveled in an effort to remain authentic and true to herself is more satisfying than being someone that the industry would attempt to mold her into. "It was more important to choose the longer route, if it meant saying 'no' to the necessary things so that somebody watching my journey can feel motivated to continue to be their truest self in their journey, no matter how long it takes," Jones added.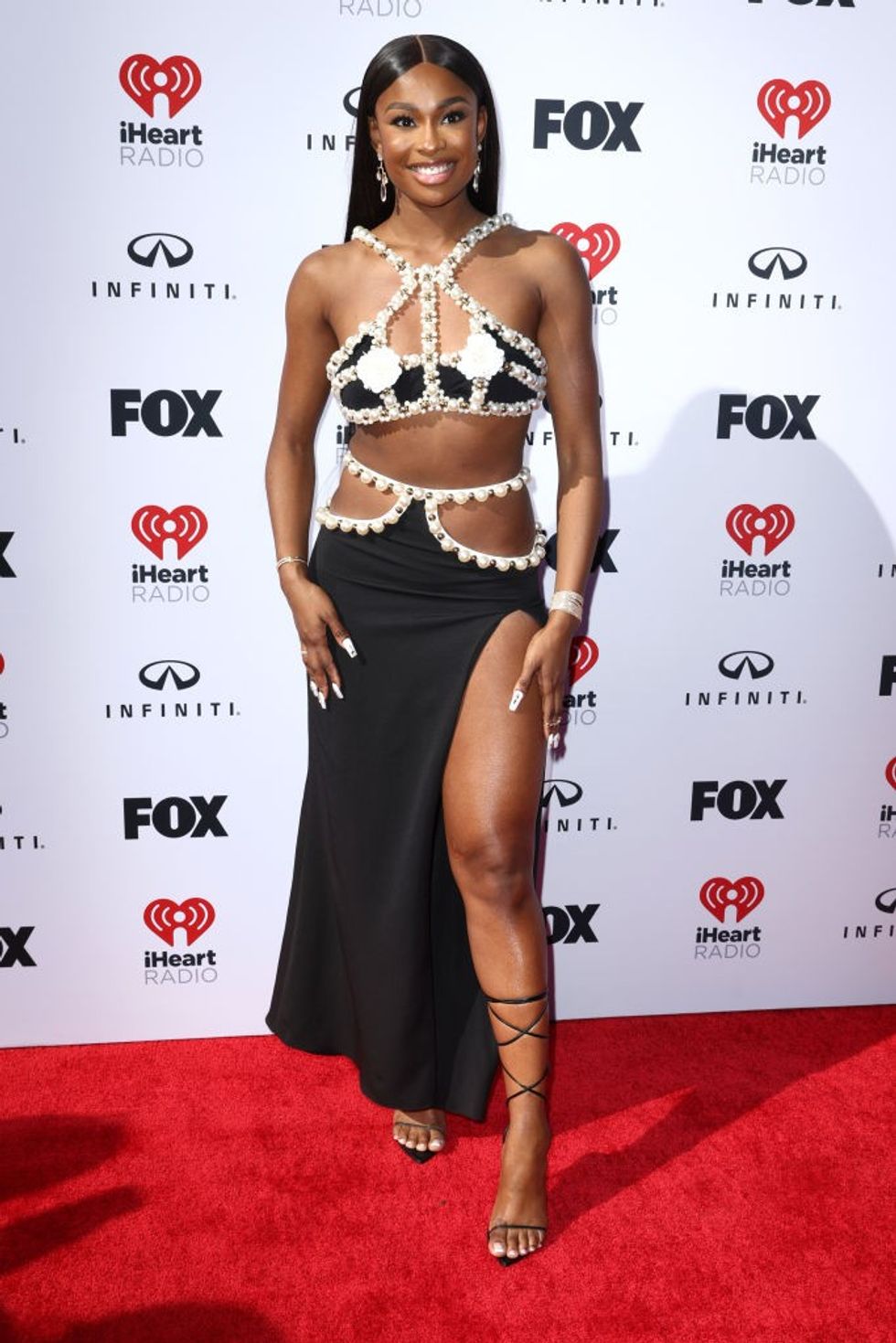 Joe Scarnici / Stringer/Getty Images
While she was growing up in the public eye, Jones admitted to xoNecole that she didn't experience much pushback because she was "so happy to be doing any of the roles." Rather than standing her ground, Jones did not want to jeopardize the opportunity to be in the room. Fast forward to her adulthood, she uses the strength that she has accumulated to become more in tune with herself and her voice to set her boundaries and subtly, sweetly "put people back in line."
Day by day, Jones practices boundaries by working on herself internally - including all aspects of emotional, spiritual, and mental well-being - and being aligned with the "why's" in her life. "I think one of my non-negotiables in general that is across the board is dishonesty. Especially being a child of this industry, I'm so traumatized by lies. I just can't," Jones admitted.
"I need honesty in all regards, even if it's a harsh truth. I respect people telling me truths that are not that easy to say because I hold honesty in very high regard. That's one of my non-negotiables in everything - personal, friendship, relationship, business."
For her supporters who may want to practice setting their own boundaries but don't want to sound too brash, Jones suggests practicing with yourself before going straight into the lion's den with others. "Honestly, practice in the mirror as well. That's something that I do. I will write down my points, and they will be very articulate, very educated, and then you can't push back because I've already practiced in the mirror," she added jokingly.
Specifically, when it comes to her role as Hilary Banks in Peacock's Bel-Air, Jones admires her character for being someone who doesn't fool around when it comes to her boundaries being crossed. While the original Hilary, portrayed by Karyn Parsons, didn't originally look like Coco Jones, the "ICU" singer adored the Zillennial fictional Bel-Air princess for her confidence, decisiveness, and not taking shit from anyone when it comes to following her own dreams.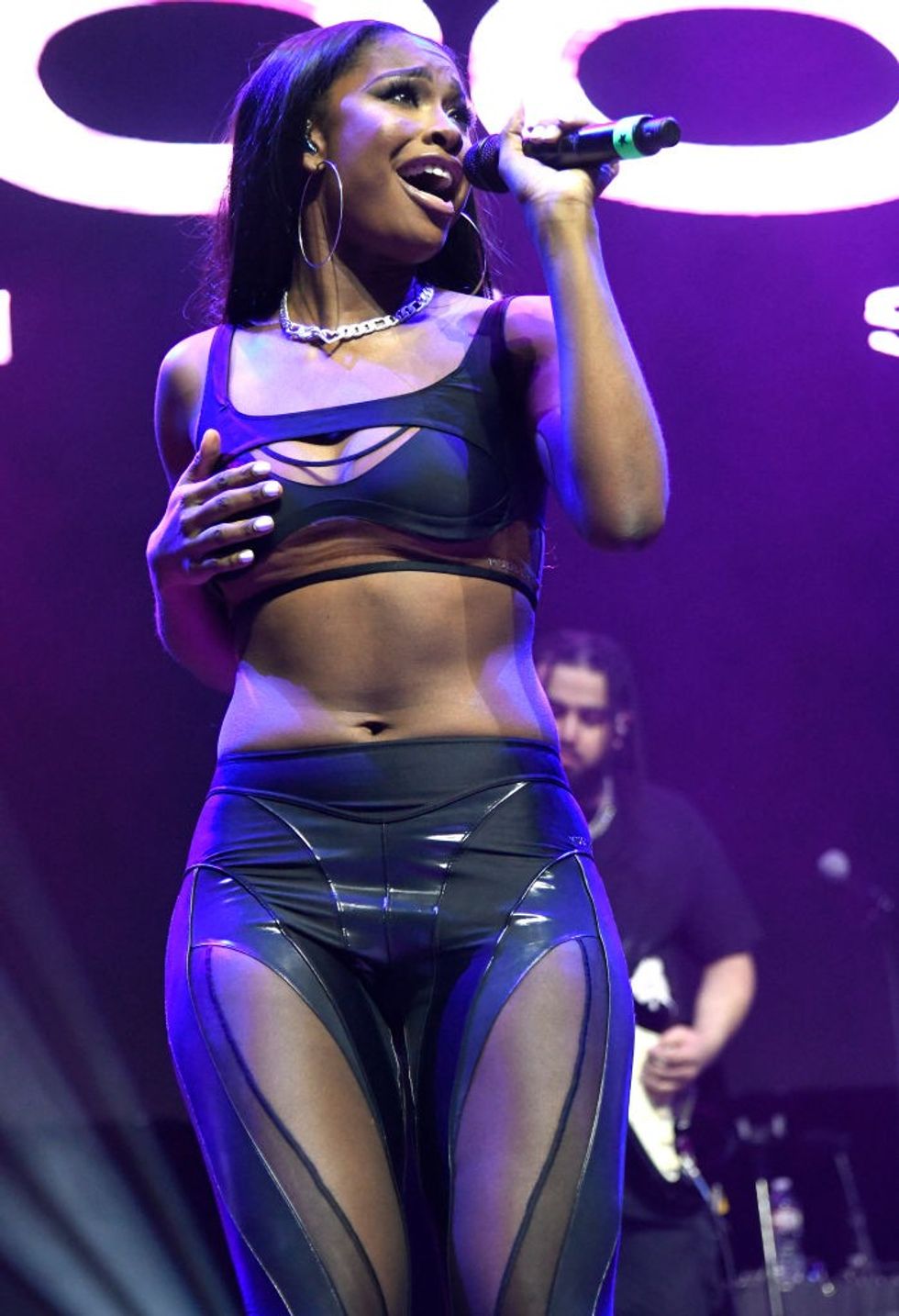 Tim Mosenfelder / Contributor/Getty Images

"One thing about Hilary, she knows how to set her boundaries very subtly [and] sweetly. She might be a little salty too, but that representation can change the outcome of someone's lives. I wasn't necessarily intimidated; I was more honored that I got to do that," Jones said. "I really do learn from Hilary how to be a boss, to be decisive, to be self-assured in places where you have to stick up for yourself."
Retrospectively, before Jones and I closed out our conversation, I asked her where she could personally improve on her boundary-setting practices. "Lord, is this therapy?" she laughed. While I assured her that our conversation is a safe space, as it always is whenever we chop it up, she thought back to the notion of mixing business with pleasure and the idea that the political is always personal.
"I need to work more on my boundaries with friendship and business. I think a lot of the times, you get so comfortable working with glam and people really close to you. They'd start off as business, and then you become friends, and you're like, Let's hang out, but then it's like, Okay, now I can't say the thing that bothered me in the business side because now we're friends. What do I do?" she added. "I need to work a little bit more on my boundaries of keeping those lines clear and not blurry."
For more of Coco, follow her on Instagram @cocojones.
Let's make things inbox official! Sign up for the xoNecole newsletter for daily love, wellness, career, and exclusive content delivered straight to your inbox.
Featured image by Neilson Barnard / Staff/Getty
The last time Zonnique and I connected was two years ago, in 2021, when she was celebrating her very first Mother's Day as Hunter's mommy. Now, two years have passed, and so much has happened. She has released her latest EP after a five-year hiatus from the music scene, she became the host of FOX Soul's The Mix, and I even lost my own mother. We had a lot to catch up on.
When I crossed over into the conference call after running a few minutes late, I was apologetic, but her calm, zen aura instantly calmed me down and reassured me that no apologies were necessary - just humble salutations.
With the return of Zonnique's sultry voice to the forefront, I couldn't go two minutes into our conversation without giving her her due flowers for her latest EP, The Break Up. "I'm happy for myself. You know it's been a long time coming, baby," the singer shared about her work to xoNecole.
Zonnique admitted to me that her return to music was something that she's been ready to do for quite some time, but there has been a lot of stalling in the interim. Between laying down vocals in the booth and planning around the perfect timing, there was much stop-and-start during the holding process of the project. In the end, the release and the timing of The Break Up came together as it should have when it was meant to be debuted into the world.
"Even though I was really sad about that and just mad about how long everything was taking, I think that it was worth the wait just for myself, period because I grew a lot in that time, and I got to really mold myself into the artist that I want to be," Zonnique shared.
Featured image by Scrill Davis
When you hear Amerie's name, you think of her smash hits responsible for some of the most notable R&B lyrics of the early 2000s, like "Why Don't We Fall In Love" and "1 Thing" - including the Eve remix. But there's one more thing about Amerie that we can add to her resume in addition to being the sound of 2006, and that's being an author.
The "Gotta Work" singer released her debut children's picture book,You Will Do Great Things, inspired by her son River. With the development of her then-future son's mind at the top of her mind, Amerie would read to River while he was in the womb in an effort to not only hear the sound of his mother's voice but to relay sweet and meaningful messages as his organs and subconscious began to form simultaneously. "Maybe there would be that kind of cadence and that kind of feel he would be familiar with when he was born," Amerie told me retrospectively during our phone interview.
Once River was born, she continued to read to him as regularly scheduled programming when he was inside of her, but it wasn't until she held him in the natural world that Amerie realized how much she really wanted to share with this new life. Between 14 and 16 weeks old, Amerie noticed how her son began to turn the pages of books by himself because he was already so familiar with the cadence of his mother's reading voice - even down to the indication of when a line was done on a page. While she realized that her son was able to recognize the action of reading, something clicked in the "Why R U" singer's head that it was just as important for her son to see himself represented in the books that she was sharing with him.
"We would have books that feature kids from all different backgrounds, but I wanted more books in which he could see himself," Amerie told xoNecole. "I really wanted to create a very special universal message book that was also very specific to how I was feeling. I knew that I was feeling pretty much how most parents feel, but that would have that beautiful and strong message about life, and all the things that he can do, and all the great things that I am certain he's going to do, and all the love that surrounds him from the past and the present. All of those things were in a book that featured a child who looked like him. That was extremely important to me."
Following the release of her children's book, I caught up with the Grammy award-winning singer-songwriter about prioritizing self-love as a mother and wife, demystifying the notion that women can't have it all, and addressing the fears of being a mother raising a Black son in America.
It's This One Thing…About Reading
For as long as she could remember, Amerie turned to reading and the world of literature as a form of self-care and escapism from the physical beings around her. Whenever someone would ask her about her favorite hobbies, she would not hesitate to point to either the art of writing or the wonder of reading. She sees reading as a way to continue to expand her mind as an adult, to learn more about the world around her, and to "develop empathy" for new cultural backgrounds and walks of life.
In fact, she loves reading so much that she has a wall in her home dedicated to her collection of books in addition to all of the books located in her personal library, River's room, the guest room, and throughout her house. As a new author, she recognizes that the amount of vulnerability that she experiences as a writer is not equivalent to the feeling when she's writing a book.
While as a fictional author, people who may or may not like your work are not necessarily connected to you as a human being, Amerie acknowledges the powers that lie within her pen game as an author to convey messages of both society's shortcomings and beautiful beings in a children's book. "On one hand, I feel like there's safety because people could either not like the story or they will. It's no indictment on you, necessarily," Amerie explained. "However, when you write something, you really are letting people into your head. When you create these characters, because all these characters represent some part of yourself, it's really like laying yourself bare. In that way, you allow people to see a lot."
"When you create these characters, because all these characters represent some part of yourself, it's really like laying yourself bare. In that way, you allow people to see a lot."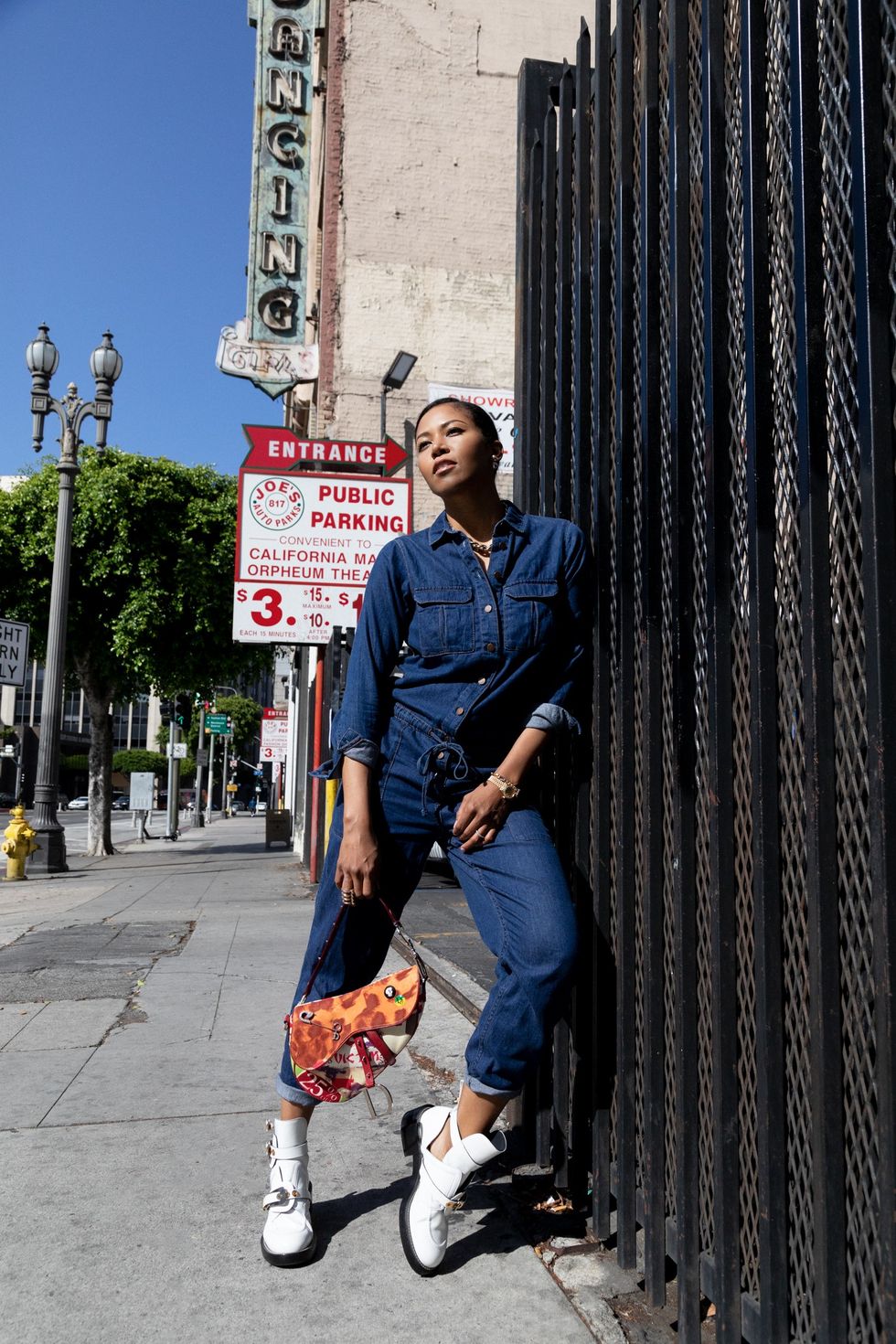 Felicia Lasala
​The "Pretty Brown Eyes" singer believes in the power of commitment to a book, especially when you have the reader's eyes and ears for hours to the point in which they become the character. "It's that whole holding up the mirror to society and allowing people to see it in a way that's a little bit more subliminal than someone just having an outright conversation with someone who may or may not want to have that conversation," Amerie said. "I think you're able to tackle more regarding life in that way."
In comparison to her music career, Amerie notes that you can impact someone in a shorter time span than a book because a song only lasts between 3-5 minutes on average. She leans on songs as a way to curate a vibe and evoke an immediate feeling as opposed to encouraging lingering thoughts about the state of the culture and the world around us.
"You can uplift, make them melancholy, make them kind of feel sad, make them reflect, make them want to dance. You really can control. It's almost like you're hijacking a person's emotions when you're creating music," Amerie noted excitedly as she realized the power she possessed as a Grammy award-winning singer and songwriter.
Amerie continued, "Even though you're not letting them in your head, and you do have much more of a buffer between yourself and your art, as far as people may know how you're feeling, they don't necessarily know what you're thinking about any given thing. They may, depending on what you write, but it's not necessarily a given, unlike a book, where you have all these characters running around that are all these different parts of yourselves, but they will know what you're about to a certain extent when they're listening to the music."
Nothing Like Loving Mommy
In addition to being a singer, songwriter, and author, there are two more roles that Amerie would always put above all - and that's being a mother and wife. But how does she do it all and take time to take care of herself?
"I actually don't put myself first. That's something I'm working on," she admittedly laughed.
While she acknowledges that she doesn't make herself a priority in her life, Amerie doesn't feel the need to check herself to do so. In fact, she's become so accustomed to how things are that she's begun to accept such is life. "I'm kind of fine with that, but I do realize that I do have to make time for myself too. I certainly don't put myself first. That's not what I do at all," she told xoNecole.
When she does have a moment, Amerie pours into herself through creation and writing, whether that be literary or musical. She even noted how her son is aware of when it's time to be creative and practice solitude, but River still enjoys being around his mother and being involved in all of her activities. "My son knows mommy's writing time. That's when mommy's doing the thing that I love to do," Amerie said. While she usually doesn't record her music while River is home, she does her best to incorporate her son into whenever "mommy's creating" because "it's fun for him."
Like anyone else who may be a full-time parent, career-driven woman, or an overall on-the-go human being, alone time is essential to recharge her battery, but Amerie practices an open-door policy with her son as an exception for interruption.
"He's the most important thing. He knows that I could be writing, but if it's really important like you really need to give me kisses or you need to tell me something, you can come in. It's an open door," Amerie told xoNecole. "That's important to me that he knows that because I never want him to grow up thinking that this one thing was more important than him, and I don't think he would think that because that's not how I present things."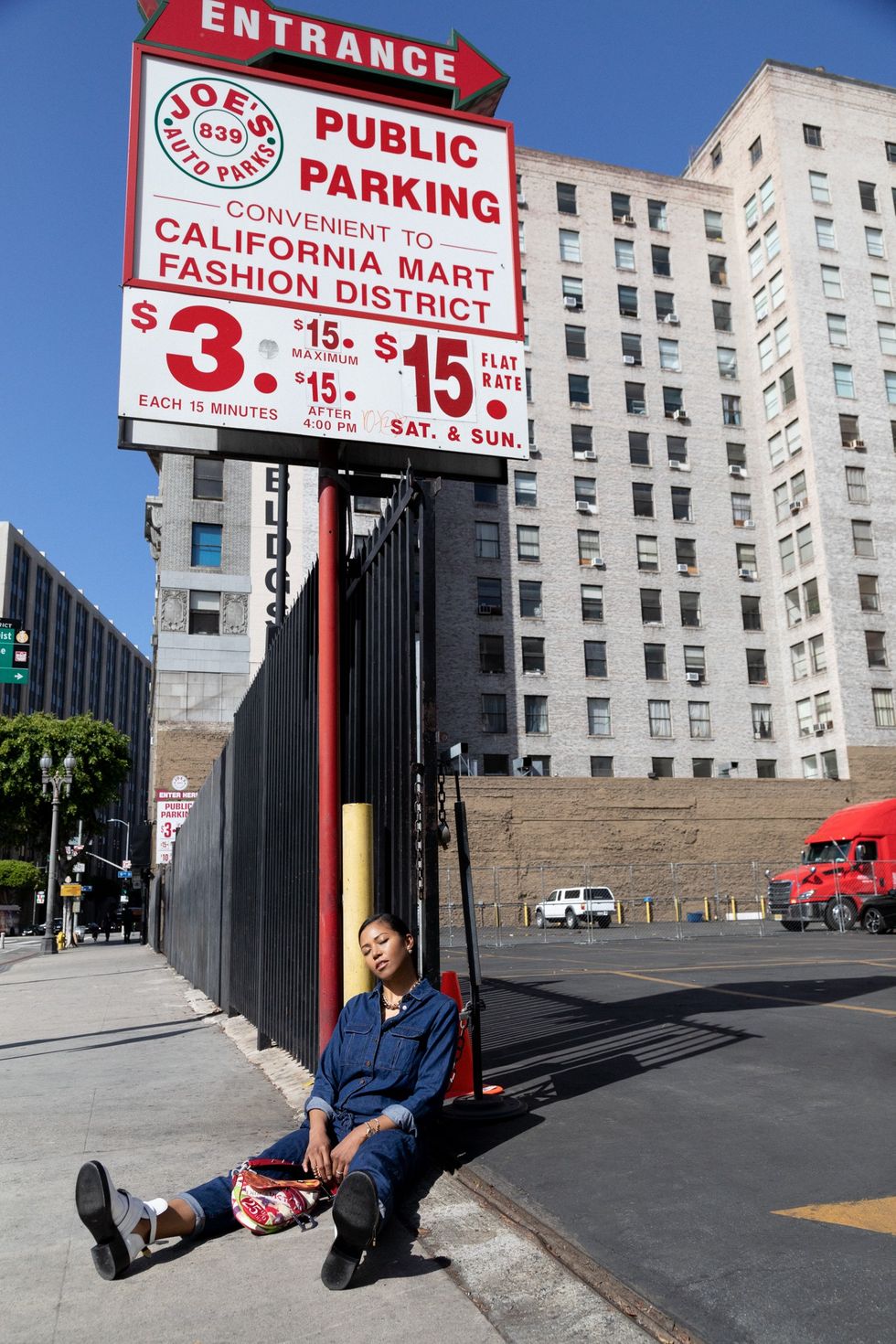 Felicia Lasala
Retrospectively, Amerie realized that she's only had about three or four massages since the birth of her four-year-old son, which her own husband encourages her to do more of. "The thing is, the way I handle my time is I have a lot to do, [but] I'm never going to sacrifice time from my child," she said adamantly.
Amerie continued, "Whatever I need to do, I can fit it in. We'll make it work. I'll stay up late or whatever it is, but those times are very important, like going with him to school, picking him up, family meals. Sometimes though, Mommy might have to miss dinner, and I don't like that, but [I'm] never missing bedtime because there's other certain things that for myself are important to me. "As she buckled down on her non-negotiables, she added that every parent has theirs, but she stands ten-toes down on hers, no matter how tough achieving the balance is.
"You always feel like there's a ball dropping somewhere, but my own personal thing is, I refuse to let the ball drop in the mom zone. I'm not going to do that," Amerie said powerfully. She thought back to her own parents, who she said were present in her life and encouraged her to do the best she can and always put her child first. However, she knew that it didn't mean to put herself on the back burner and not care for herself at all, but to know that child care and raising a human being is more than just cute Instagram moments and first words."It's such a beautiful gift, being a parent, and it's one that I take really seriously and that I love."
Why Don't We Let Women Do It All?
Amerie has always been a proud multihyphenate, and she's not the first woman to do so by balancing motherhood, personal time, her professional life, and all while looking good doing it. We've seen Rihanna run her beauty empire with Baby Fenty No. 1 and No. 2 on the way, and we've seen Beyoncé be a mother of three while planning a world tour and dropping one of the best albums of the decade with Renaissance.
But why is it that we still don't have total faith that women can truly have it all? We asked Amerie, and she said that we certainly can - but with some caveats.
"I've always been a big believer in any person, and we're talking specifically about women, can have it all, but not necessarily at the same time. Because there will be concessions you have to make," Amerie explained. She continued to express that you can make sure with every fiber of your being that nothing goes wrong while you're in mommy mode. You may slow up or backlog in other areas of your life because you're not giving it that same energy or attention.
Amerie added, "Let's just say you are 'hashtag mommy-ing,' and you are able to balance your work as well because maybe you're staying up later. You're tired, but maybe you are not seeing your friends as much as you wanted to, so it's been harder to maintain more of your friendship. I do think that these things all come at a cost, and maybe you're just balancing it all, but that can be very, very difficult."
She fully acknowledged that women routinely carry a lot of the weight of parenting, both physically and emotionally, in addition to the weight of keeping their marriage alive, having friends, and keeping food on the table. In the same breath, Amerie wants women who empathize with her to know that they're doing the best they can with what they have - and it's okay to give yourself time and grace.
"I've always been a big believer in any person, and we're talking specifically about women, can have it all, but not necessarily at the same time. Because there will be concessions you have to make."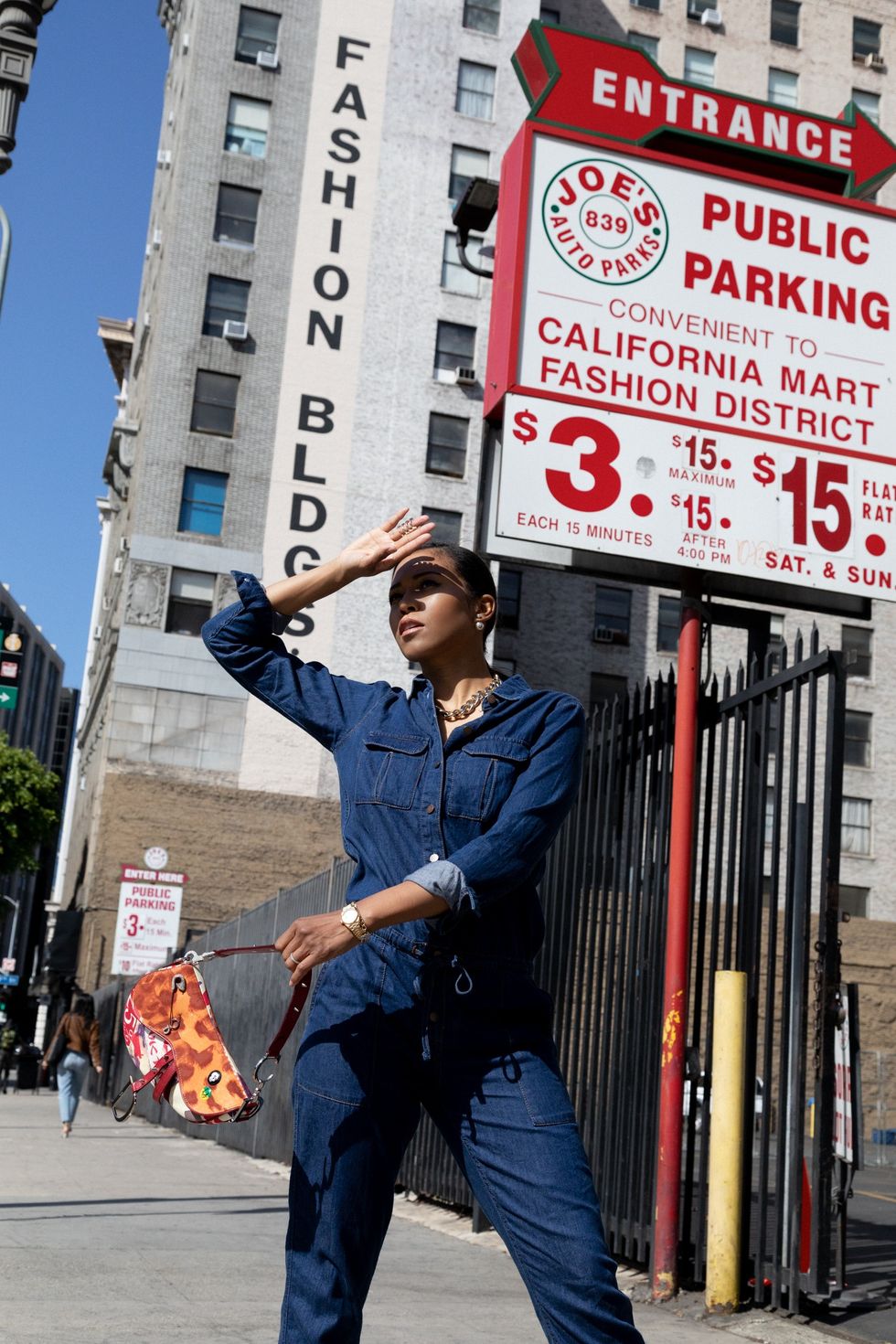 Felicia Lasala
"It's important, I think, for moms to know and women to know that you're not failing. It's very easy to see people doing things and [seeing] they're doing it well, and they're making it look so effortless, and it's just like, Well, why can't I get this right? Why am I struggling? Why am I not able to be on top of everything? And no one's on top of it," Amerie reassured. "You can't compare because you don't really know what's going on in everyone's life."
As a suggestion, the singer noted that instead of focusing on how life can be in disarray and escaping for a few moments in between, one would be better off establishing balance by picking two areas to excel in and putting them at the top of the priority list.
"Everyone has those fears. Everyone wonders if they could do it. You can do a lot more than you think. You can handle a lot more than you think, but it's not something that you have to do just because you feel like everyone does it," she encouraged first-time moms about entering the journey of motherhood. "If it's something that you feel called to do or you feel excited about, absolutely, but if you're feeling like you don't want to, then there's no need to do that. You don't have to follow anyone else's path."
Amerie added, "It is a very amazing thing, and it is a very life-changing thing. It is a very miraculous thing. Even though there are 8 billion people on this planet, the birth of a child, bringing another human being into this world, shepherding in another soul, that is a miracle every time."
For more of Amerie, follow her on Instagram @amerie. Her book, You Will Do Great Things, is out now.
Featured image courtesy of Amerie
You know that annoying buzzing sound that you get in your ear when a bee is whizzing by your ears? Imagine that noise gradually becoming louder and louder as your psyche tries to fight the inevitable as an indication that you're possibly about to have a psychotic break.
Welcome to Swarm.
Created by the minds of Donald Glover and Janine Nabers, who was also the writer on Glover's FX Atlanta show, Swarmfollows Dre (Dominique Fishback) as she fights for the love and adoration of a fictional pop superstar, for whom she is willing to travel across the country, spend her last, and take on new personas. Some may even say that the cult-like behavior demonstrated in the show is similar to that of the Beyhive- but you didn't hear it from us.
In addition to Fishback starring in Glover and Nabers' new Prime Video series - on top of gearing up to star in the new Transformers: Rise of the Beast film alongside Anthony Ramos - she had the opportunity to step behind the scenes as a producer. In contrast to her previous on-set experiences where directors didn't allow their actors to have access to the production side, Fishback was given the opportunity to see playbacks and watch what she referred to as "dailies," which in the world of acting refers to the measurement used to see how filming and the actors' performances are moving along.
"Originally, I didn't really want to watch dailies. Around the episode three or four, I was like, Let me watch the dailies, because I was trying it in so many different ways, and I wasn't quite sure how she was portrayed," Fishback told xoNecole about how she was working on set as her character Dre, who played opposite of Chloe Bailey and Damson Idris. "I wanted to make sure that even though she might be a little off, there's still throughlines with the things that she does. Even if we don't understand it as an audience, I need for her to understand why she does the things she does and is able to track."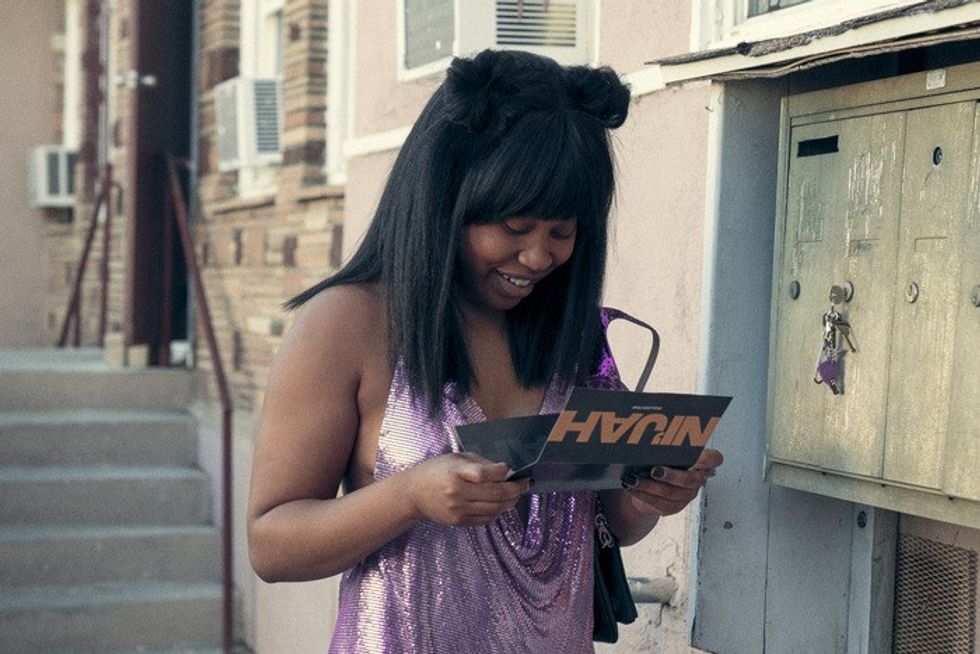 Warrick Page/Prime Video
While portraying Dre, who (without giving too much of Swarm away) is the definition of toxic pop culture stan culture, Fishback made it a priority to put her mental health first, especially while playing a character that endures so much trauma, anxiety triggers, and wavering manic depression spells. "One thing I asked for sure was that we had a therapist on set, especially for the days in which we had to do kill scenes," Fishback said. "And not just for me but other actors and for crew members because you never know how people are triggered in our lives, even though this is particularly acting."
Sometimes, Fishback would even receive visits from her friend of over 10 years and High School Musical alumna star Monique Coleman on set, which would help her find comfort in familiar faces while she was filming uncomfortable scenes.
"I took a lot of baths. I love baths," she revealed to xoNecole about her self-care routines outside of filming. "Did a lot of meditation and praying and asking God for guidance and to watch over me and my steps - and that was how I did it."
Overall, she found that the character of Dre would really challenge her range and versatility as an actress, which is what drew her to the project in the first place. "I told Donald that I wanted to do it because I didn't want to catch up to my own self as an actor, and in my life, I've been looking for freedom," she said. "In 2020 when we all got quarantined, [we] realized that freedom was in the mind and that we had a lot of limited thoughts and societal ideas that might be dictated in the way we show up in life, and so I wanted to extend that to myself as an artist."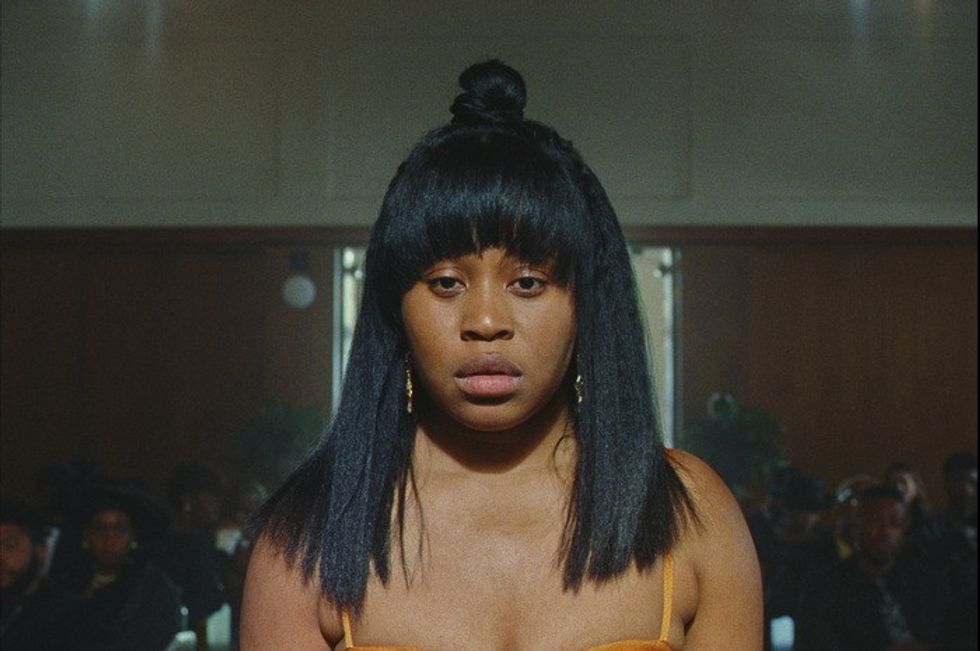 Courtesy of Prime Video
"I told Donald that I wanted to do it because I didn't want to catch up to my own self as an actor, and in my life, I've been looking for freedom."
Long before she was offered the role in Swarm, Fishback turned to Charlize Theron in Monster and Hilary Swank in Boys Don't Cry for inspiration to pursue projects that dug deep into the human psyche. Little did she know that her research would soon come in handy for one of the most highly-anticipated releases on the Amazon Prime video platform. But there was one piece of homework that Glover assigned Fishback, Bailey, and the rest of the cast and crew that would ultimately put her on a seesaw decision-making journey as to whether or not she was really equipped for the role she'd been praying for.
"He wanted us to watch The Piano Teacher - it's a French film, and that is crazy," Fishback prefaced. "But it really made me question myself as an artist because I was like, Am I that brave of an actor? I always thought I was a brave actor, but would I do that? I don't know if I would do that. What will I do? What won't I do? Sometimes you have to go further out to see where you land and see where you're comfortable, too, as well."
Once all was said and done with the filming of Swarm, Fishback made one of the best decisions that she possibly could have made for herself after filming a horror-thriller-suspense hybrid limited series with some of the most creative minds in the industry.
"After Swarm, I did not look for acting for six months at least. I told everybody, I was like, I'm taking a break, and I really let myself do that, which is a gift," Fishback revealed. "I think we could get scared, especially when things are essentially taking off or you don't want to miss opportunities, but what's for you won't pass you by. I really believe that, so if I believe that, I have to operate like that, and taking care of myself was first and foremost."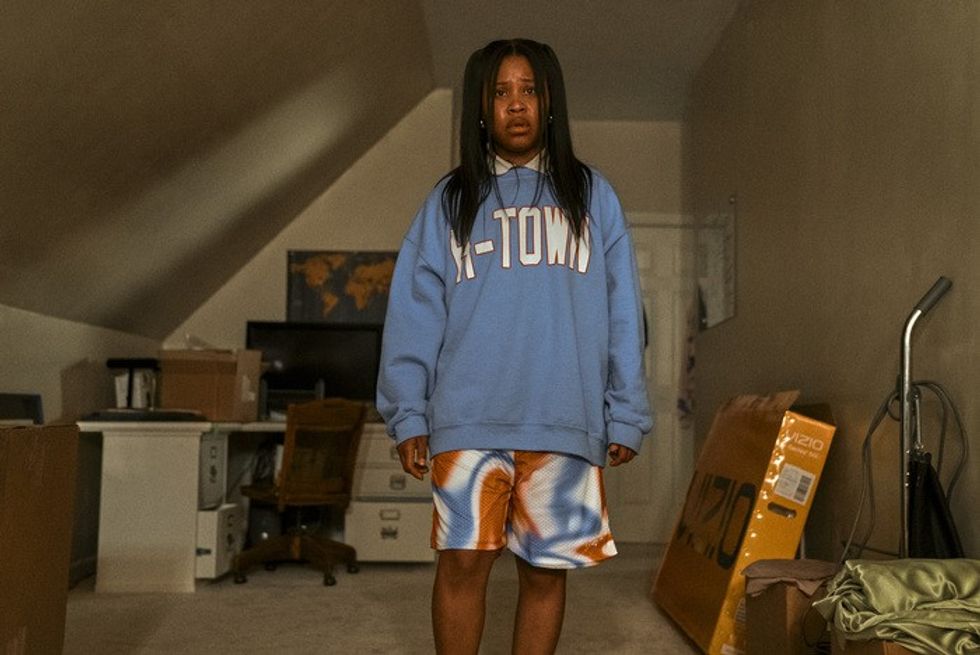 Quantrell D. Colbert/Prime Video
"After Swarm, I did not look for acting for six months at least... I think we could get scared, especially when things are essentially taking off or you don't want to miss opportunities, but what's for you won't pass you by."
Straightaway following the wrap of the show, Fishback traveled to her "favorite place in the world," which is Puerto Viejo, Costa Rica. "I stayed in the jungle for a week. In the middle where me and my friend, we stayed, there was the living room area [that] was all open on each side, so you really had access to the jungle. Then it just had a roof over top, so whenever it rained, you could still kind of be outside. The butterflies were going by in your living room and birds are flying by, and it was cool to be with nature that way."
Swarm is streaming on Prime Video.
Let's make things inbox official! Sign up for the xoNecole newsletter for daily love, wellness, career, and exclusive content delivered straight to your inbox.
Featured image by Corey Nickols/Getty Images for IMDb
The first time I met Olly Sholotan was at a Tier NYC fashion show during New York Fashion Week in Brooklyn. I was already a fan of Bel-Air, so I knew exactly who he was when my friend introduced us. And, not too much to my surprise, he was the exact opposite of the character he plays in the series, Carlton Banks. A good actor evokes emotion, but it takes a phenomenal thespian to take the audience on a journey filled with mental and psychological turmoil for the first time since Gossip Girl's Chuck Bass.
During our meeting, he shook my hand and greeted me with a genuine smile that was hard to forget. Fast forward just a few short months later, I dialed into the conference line excited to speak with Olly once again.
"I'm actually in a fitting right now, so if I have to take five seconds to put a shirt on, my apologies again," Sholotan said during our phone interview for xoNecole. He continued to tell me about the current state of his mental health before we dove into our candid conversation.
"Honestly, my mental health is doing great. Because we're about a week and a half or two weeks away from wrapping on Bel-Air, there's kind of this energy of 'Holy shit, we did it,' but we did it again—twice. I was literally just talking to Morgan Cooper (Bel-Air creator/EP) about this earlier today. I feel like as an artist, I'm in this space right now where I'm kind of becoming the artist I've always dreamed of being."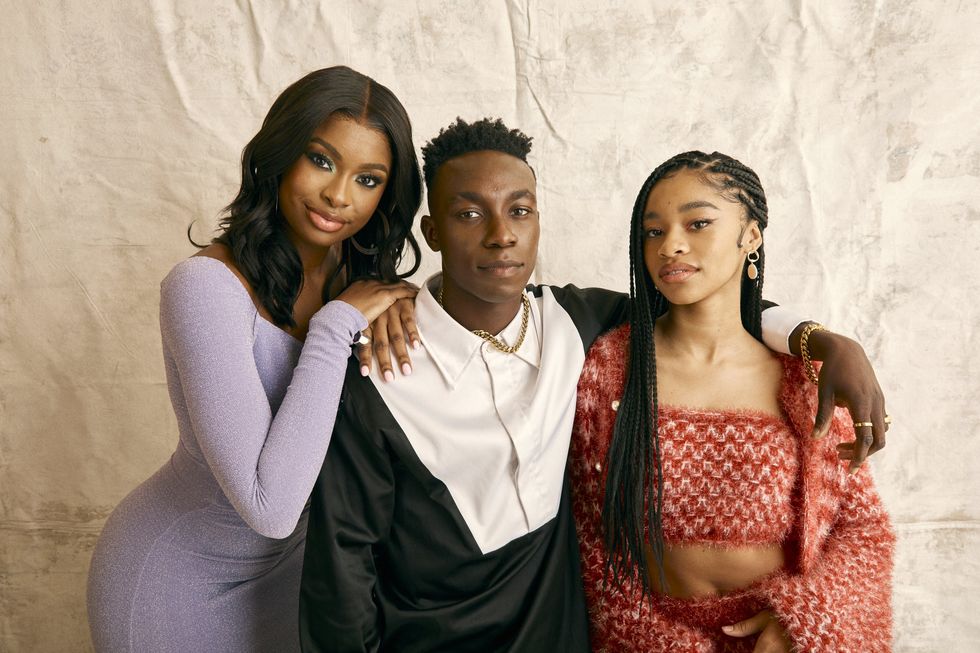 (L-R) Coco Jones, Olly Sholotan, and Akira Akbar of NBC's 'Bel-Air' pose for a portrait.
Benjo Arwas/Getty Images
The Peacock original series takes a drama-suspense-filled approach from a Gen-Z lens, in contrast to the original '90s feel-good sitcom. Played by Sholotan himself, Carlton is someone viewers love to hate, and the character has some of the most controversial story arcs in the cast, but what makes Carlton, Will (Jabari Banks), and the Banks clan so relatable is that we can see ourselves in each character as we go through our own journeys of discovering our own redeeming qualities.
During our Tuesday afternoon chat, we spoke about how he loves on himself while he's off-set, why it's important for Black men to practice self-care, and which reboot characters he would never get relationship advice from.
​xoNecole: How did you feel when you were first cast in 'Bel-Air' in comparison to you now amping up to wrap up production for the second season?
Olly Sholotan: It's funny because I don't think I've ever changed how I felt. I feel the same and different in a lot of ways, and from the moment I was cast, I think that there's an excitement that doesn't ever go away. There's the realization that your life is about to change in a way that is inconceivable and that is still a feeling that I experience every single day. Every single day, when I wake up before I go to work, before I go to set, there's that pinch me, I hope I'm not dreaming kind of feeling that doesn't go away.
In that way, it's different because there's a feeling of mastery that comes with just doing it two years now. We're about to wrap on the second season. A friend pointed out the other day that I shot 20 episodes of television, which when you put it like that, it's like along the way, I'm going to learn things. I'm a much different Olly now than when I started, and I feel like I've grown in so many ways that I'm really proud of.
​xoN: One thing that I love about 'Bel-Air' is that it normalizes conversations in the first season about anxiety and coping mechanisms, especially as it pertains to Carlton's storyline. What's the importance of having conversations about mental health when it comes to Black men?
OS: I think as a community in general, I don't think we do enough to center self-care in a way that isn't just 'go get mani-pedis,' but also just take care of your mental health, take care of your wellbeing. Find ways to cope with the stresses of life that are healthy. Especially as Black men, there is a pressure to suck it up, be a man, and be better. That's something that we've all experienced to a certain extent.
What I think is beautiful about my generation and in the coming generation right after me is we're really looking at that in the face and saying, "We don't have to be that way. We can be different. We can be better," and I think Bel-Air is one of the first shows in that. We're very much trying to lead by example in showing that there are ways you can talk about mental health as a Black community, as Black men, and do it in a healthy way that's productive.
​xoN: What are some self-care tools that you lean into when you're off set to make sure that your own mind is at ease?
OS: Honestly, I be taking a lot of naps. I find that when there is a problem and I take a quick 15-minute nap and I come back to it, I'm like, 'First of all, that seems a lot more doable.' I think it's less about the nap and more about the perspective. When you're hammering away at a problem over and over again and you take a step back from it, take a 10-minute walk, take a second to breathe, that makes the problem feel less insurmountable.

I recently started journaling, and it's funny because I was never a journaling type of person. I'm like, 'Why would I write anything down? I was born on the computer.' But journaling and writing down my thoughts has helped me work through them a little better.
​xoN: I'm not going to hold you. The first few episodes, well, and the majority of season one, I was not feeling Carlton. He was receiving a lot of hate, and a lot of fans don't know how to separate the character from the person. How did you feel when you were receiving a lot of that flack for a character that is nothing like you?
OS: Well, I mean, it's hard not to take it as a compliment. I'm going to be real with you because it is something that we as a creative team did on purpose. Carlton as a character isn't supposed to be someone you're supposed to like off the bat, at least in my head with the way I created that character. You're supposed to be presented with this flawed human that does a lot of things that you don't like. As the series goes on, you see more of yourself in him.
You're presented with this character that you don't really like, you think he's problematic, and as the season goes on and on, you're like, 'Dang, there's parts of him in me. I exhibit some of those traits. I can be like that.'
As far as me dealing with the hate, I mean, listen, the internet is the internet. I was born in '98. I think I started using the internet when I was however old a child is sentient enough to use the internet. I think I'm no stranger to how things can get out of control. I've learned to be able to separate myself. I know that the version of Olly that most people see on screen is just not the version of Olly that exists, and I've made peace with that.
"The internet is the internet... I've learned to be able to separate myself. I know that the version of Olly that most people see on screen is just not the version of Olly that exists, and I've made peace with that."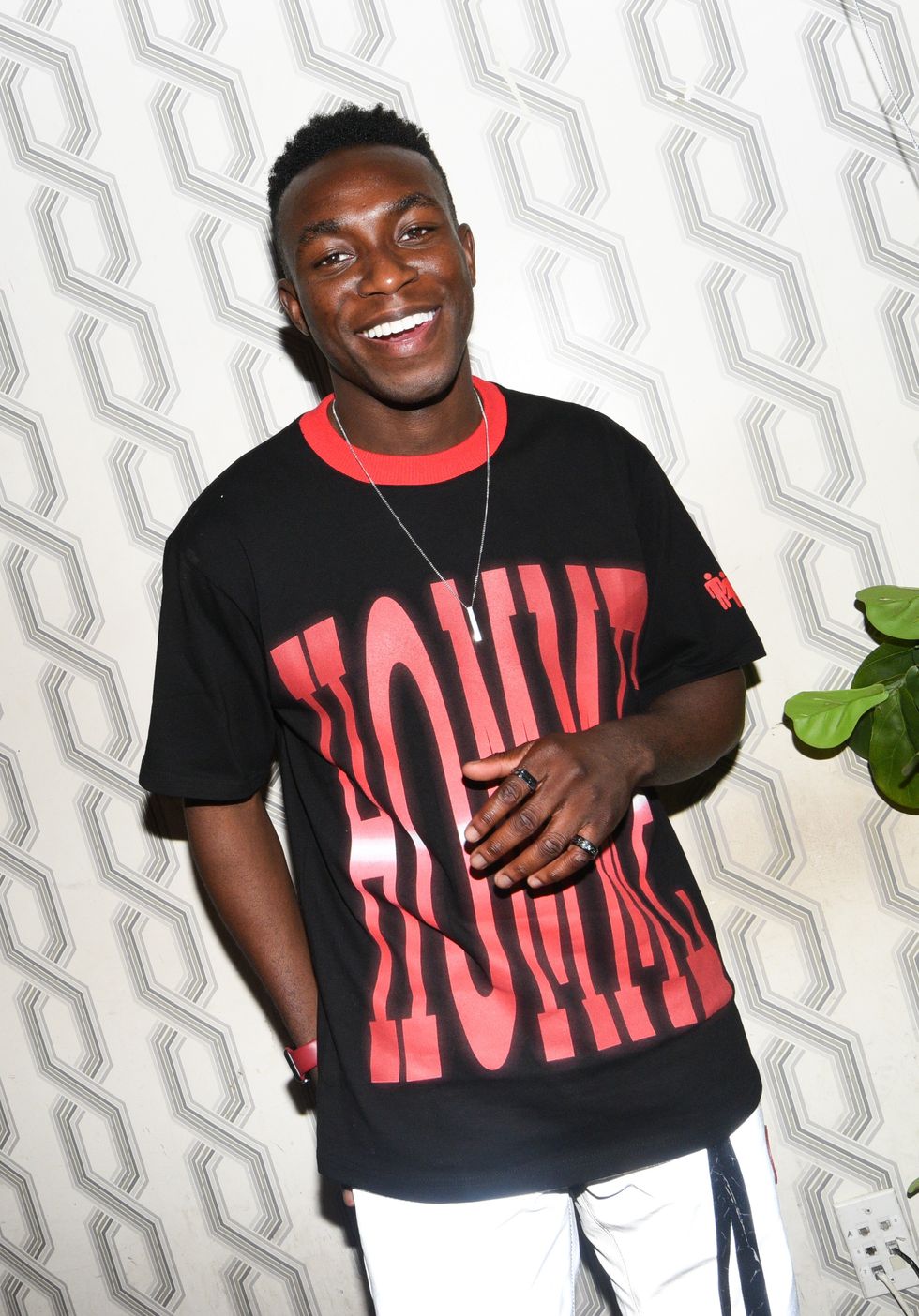 Vivien Killilea/Getty Images
Even going beyond the character, I think that there's an element of code-switching in all facets of life. I think the version of me that exists on Instagram, on Twitter, or whatever, it's so different than the version of me that my family sees at home. It's so different than the version of me that my coworkers see. It's different than the version of me that my loved ones see. I think that we sometimes forget when looking at the internet that whatever people are judging is a version of me that isn't all-encompassing, and that's okay sometimes.

​xoN: What's a piece of relationship advice that you would give Carlton that you think that he desperately needs?
OS: Love yourself, my dude, because that's the thing. I think a lot of Carlton's problems come from a lack of self-love at the end of the day. Part of the journey he goes on in season two and beyond is that it's about learning to love your shortcomings, learning to love your successes, learning to love your failures, because that is what makes it a complete human being.
I think he puts a lot of pressure on himself to be perfect. No one's perfect, and I think the aspiration for perfection while accepting very little else can get you in trouble.
​xoN: Which characters on the show do you believe would give you the best and worst love advice?
OS: Oh, Jazz (Jordan L. Jones), hands down, gives the best relationship advice. I mean, Jazz, he knows everything. He's been around the block, even though I don't know how old he is in the show. He's definitely older than Will and Carlton, but he's obviously not as old as Phil (Adrian Holmes) and Viv (Cassandra Freeman). Jazz gives [the] best advice, [and] Viv, too. Who would give the absolute worst advice? I don't know. I feel like that—as smooth as he is—Will be fucking up sometimes. So, he gives the worst advice. I just know it.

​xoN: ​​Overall, in real life, what's the best piece of self-love and wellness advice that you have ever received?
OS: Funny enough, it was from Will Smith. On the first day that we all got the role during season one, we were all sitting in the production office. We were about to do our first table read and Will couldn't be there, but he sent a message by proxy. He was like, "You guys are about to embark on the craziest journey of your lives. There will be ups, there will be downs, there will be left and rights, but lean on each other and take it one day at a time."

I very much sometimes get ahead of myself. I get very like, 'All right, well what's happening two months from now, two years from now?,' but I think the advice of taking it a day at a time, just living in this moment right here, has been an incredible act of self-love.
​xoN: ​​How do you define self-love, and what does self-love and wellness mean to you?
OS: For me, self-love is anything that's sustainable. Self-love is anything that you can wake up, do, go to bed, rinse and repeat for years and years. That's what self-love is. It's taking care of your immediate surroundings. That's not only your physical surroundings, but your psychological and mental surroundings too.

"Self-love is anything that's sustainable. Self-love is anything that you can wake up, do, go to bed, rinse and repeat for years and years. That's what self-love is."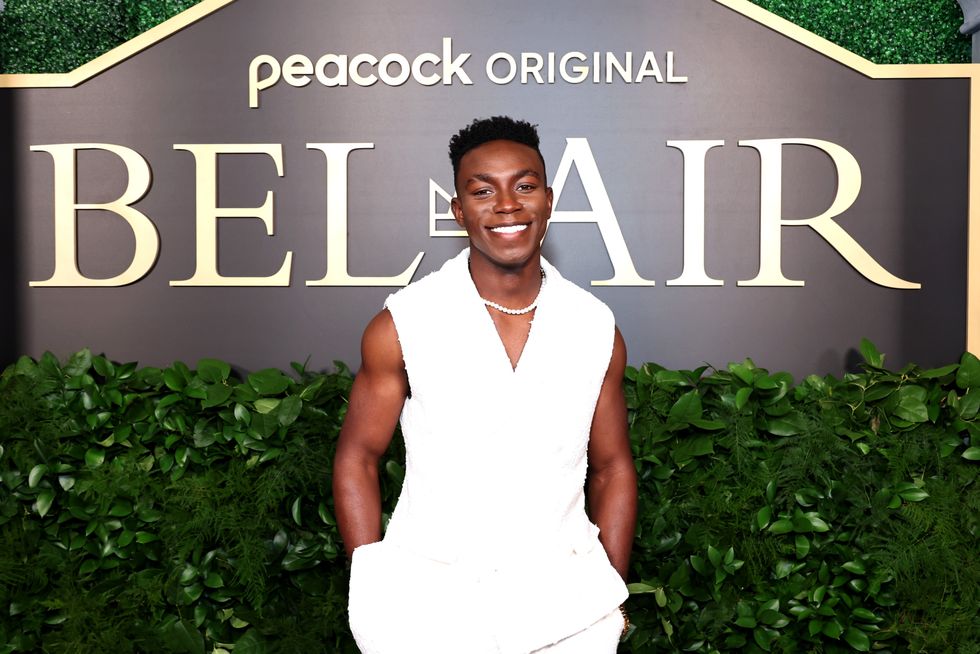 Amy Sussman/Getty Images
​xoN: What can we expect from the second season? Because the kids are itching. We want to know.
OS: Listen, you know I can't spoil anything, but I can tell you season two is going to be bigger. It's going to be more exciting. We have a lot more cameos, obviously. We already know Tatyana Ali is going to be in there, which is just incredible. What a phenomenal gift of her to give us her time. She's phenomenal. She's the most giving actress. She's phenomenal. It's truly a gift to have her with us.
I think that what I can say is you can expect quite a few more Will, Carlton shenanigans. Because I think that's something from the original series that people missed in season one, and you're getting quite a little bit of that in season two. And you can also be, rest assured, Carlton will be on his best and worst behavior.

For more of Olly Sholotan, follow him on Instagram @OllySho. The second season of Bel-Air is now streaming on Peacock.
Featured image by Amy Sussman/Getty Images
Kiersey Clemons isn't just a face worth stopping and staring at. The talent is undeniable. Since her breakout role as Diggy in Dope, alongside Shameik Moore, A$AP Rocky, and Chanel Iman, the millennial thespian has been continuing to secure bag after bag on screen, from thriller films Sweetheart and Antebellum to the side-holding Neighbors 2: Sorority Rising. She has also taken her wit, style, beauty, sass, and effervescence to her most recent project on Amazon Prime, which debuted ahead of Valentine's Day.
Directed by Dave Franco, Somebody I Used to Know follows the story of workaholic Ally (Alison Brie) who has a run-in with her ex, Sean (Jay Ellis), and begins to question every choice she's made up until that point. Things become more confusing for her feelings once she realizes that Sean is engaged to Cassidy (Clemons), who reminds her of a younger, feistier version of herself. The question remains when watching the film: Are Sean and Ally falling in love with each other all over again, or is it just the idea of what they once had bringing back the sparks?
During a conversation with xoNecole, Clemons got personal with contributing writer D'Shonda Brown about whether she believes in fate, her thoughts on romantic comedies, and her recipe for a fool-proof relationship.
xoNecole: What are your thoughts on romantic comedies, and how would you say that 'Somebody I Used to Know' challenges what a rom-com is?
Kiersey Clemons: I think all rom-coms kind of offer the same feeling. It's cozy, you can watch it by yourself, and you know what feeling you're going to be left with, which I think is the best thing about the genre. It's promising, like a horror movie. I know that I'm going to be scared - that's the point. I know that I want to watch it with other people, and someone has to sleep over because I don't watch scary movies without a sleepover. We're having a sleepover, and we're watching a scary movie. You're staying.

​xoN: How did playing Cassidy challenge you as an actor, as opposed to previous roles that you've had in the past?
KC: Probably keeping her so chill. Dave [Franco] was like, "No. She's like hella chill. You can even chill out even more." I got to the point where I was like, "You just want me to play someone who's high all the time?," and he was like, "Exactly." She is so unbothered. It's crazy to me.

​xoN: If you were in Cassidy's shoes, is there anything that would've been a non-negotiable for you when it came to your fiancé's best friend's behavior like, "Okay, this is unacceptable behavior. I have to say something"?
KC: I think that if it was a person acting the way that she's (Brie's character, Ally) acting, I would not be welcoming her into the space as much. I would definitely be having a real conversation with her like, "You're not coming to my wedding weekend."
​xoN: If you could give Cassidy and Sean a piece of advice before they jump the broom, what would you tell them?
KC: Can I be honest?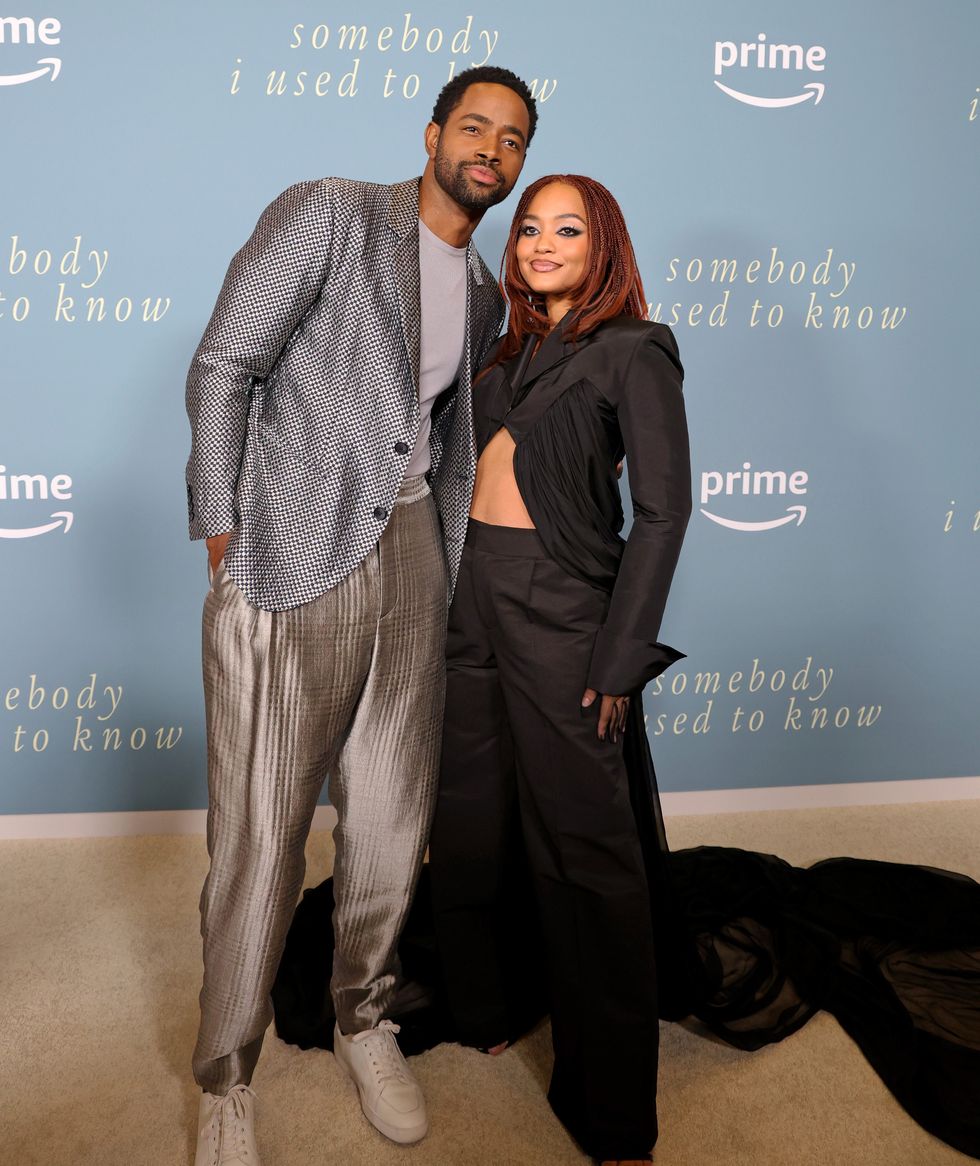 (L-R) Jay Ellis and Kiersey Clemons
Kayla Oaddams/WireImage
​xoN: It's a safe space.
KC: 'Y'all shouldn't get married.' I'm just saying. I mean, I love the end of the film because it doesn't always go the way that the person who's watching it, or even made it, thinks that it should go, but I don't think they are ready. I think they both have some developing to do. They both want to live in that fantasy world that I was talking about, but good for them; they're going through a phase. They'll probably get divorced later, it's fine. We all have to get divorced at some time.

​xoN: There was a point in time where Ally's character said that the way that she and Sean had reconnected was fate. Do you believe in fate, or do you believe in timely coincidences?
KC: I don't know if I necessarily believe in fate. I think I do believe in things lining up with intention, more than I do fate. Like when something happens that most people would call fate, I'm more so one of those people that's like, "I made this happen." Ugh, I hate to say that I've been manifesting it, but that's me. That's who I am.

​xoN: Do you believe that love should be an easy, smooth sailing train, or do you feel like nothing that you have shouldn't come without some type of tug of war?
KC: I think that it should be healthy, but if it's smooth sailing, you're not living in reality. I think that you are living in delusion, and living in a place of what you want life to be like. I think the best love, even with your friends, is [that] a lot of people want to be like, "I'm going to cut that person off," but I think if you're able to resolve conflict and communicate, that's real love.

​xoN: Another interesting part of the storyline was there's this compare and contrast between a life that you can have with love, and a life that you can have when you put your career first. What's the importance of having a balance of a person that you want to spend the rest of your life with, as well as a fulfilling career path?
KC: I think if there's anything that you also want to do for the rest of your life, it must be part of your purpose, and you should stick with that thing, but also if there's a person you want to do with that as well, then yeah, it has to be balanced. Committing to one thing or another, if I have to do that, I'm dropping both. I'm starting over, I'm doing something else. I don't like sacrificing everything. That's so weird. I'm not doing that. I ain't choosing.

"Committing to one thing or another, if I have to do that, I'm dropping both. I'm starting over, I'm doing something else. I don't like sacrificing everything. That's so weird. I'm not doing that. I ain't choosing."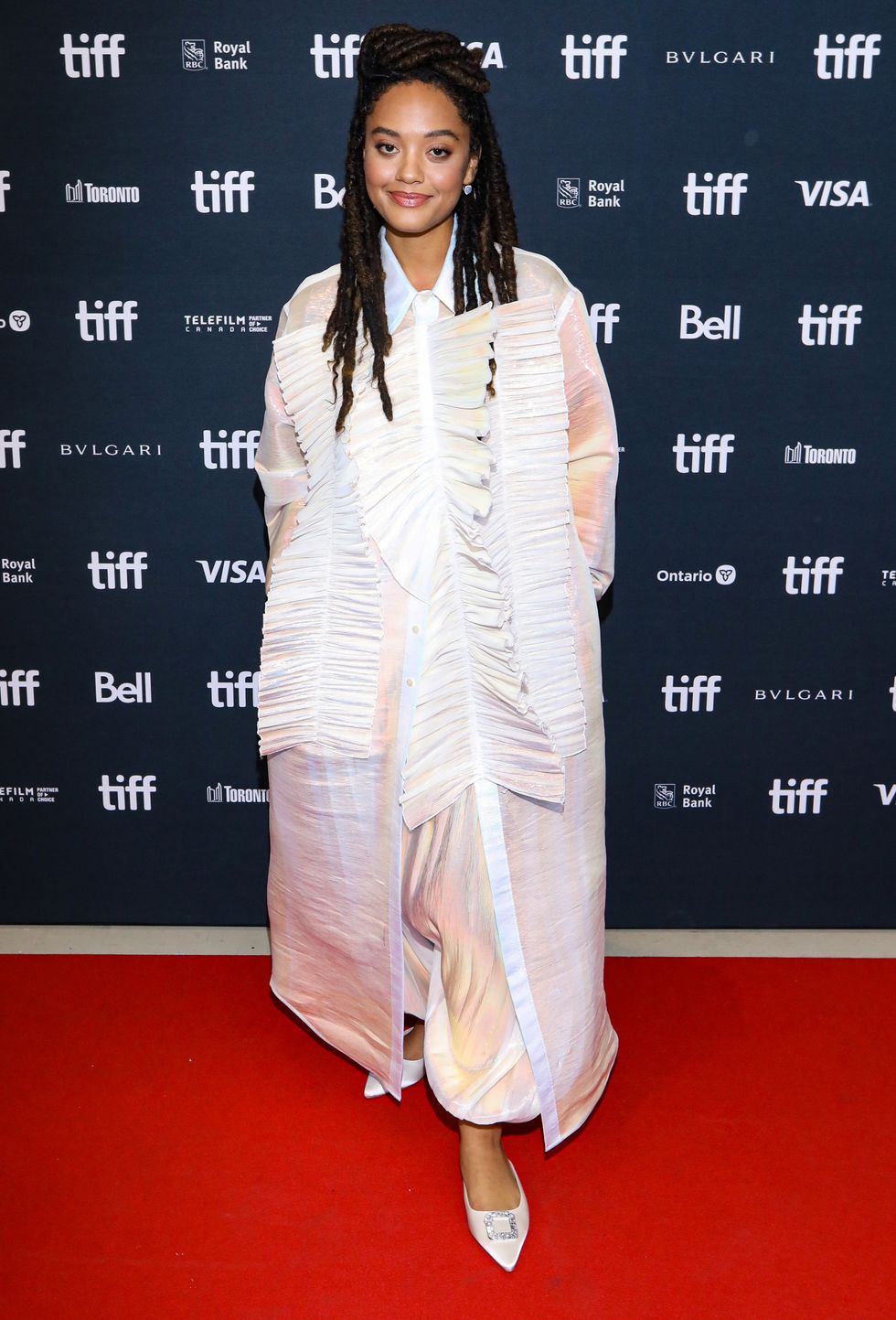 Jeremy Chan/Getty Images
​xoN: What does closing a door look like for you, and how do you personally address triggers from old relationships?
KC: I think it's closure, it's having a conversation, allowing yourself the space to heal from whatever it was and whatever happened. I kind of like the idea of resolve before going your separate ways. I think two people who are angry and have animosity, going their separate ways is... I don't know. It allows space for a grudge that personally, I don't like to have grudges, and that's also what creates triggers.

​xoN: In a relationship, what do you think is more important - communication, trust, or commitment?
KC: I think all of them. Commitment more so. Again, divorce [and] things happen, but you have to have trust and communication in any relationship if it's your family, your friends, or your partner - or what are you really doing?

​xoN: What's the most important piece of relationship advice you've ever learned that you still take with you to this day?
KC: Conflict, communication, resolution. I always keep that in mind. I just had that with a friend. They couldn't do the communication part and I was like, "We can't ever get to the resolution." I love when I have conflicts with my friends. I don't create it because it allows us to get to a place that is in here. I love that. I made it up. Doesn't it sound like a therapist told me?

​xoN: It does.
KC: You know what I also came up with yesterday? This has nothing to do with anything, except it does have to do with marriage and me thinking that I'm a therapist. By the way, it leads to nothing, but this is going to help people. We were talking about splitting duties in the house, like why don't people just do the job that they like? Even if you end up doing more things than me, if you like cleaning dishes, then you can clean the dishes. I like to vacuum.

I was like, okay, partners should have the list of things that need to be done in the house, and without looking at each other's piece of paper, from one to five, you rate out what you hate to do, being one, and what you like to do, being five. What brings you satisfaction? Vacuuming. Mwah, chef's kiss. And then that's how you decide what each person does. Don't I sound like a fricking marriage counselor?
Somebody I Used to Know is now streaming on Prime Video.
Featured image by Leon Bennett/Getty Images