Adulting is hard but packing up and moving from one living space to the next is even harder. As a young adult, leaving home to attend college 300 miles away, I was yearning for a change of scenery so much so I couldn't wait to pack my belongings and head to sunny southern California. With each transition, it wasn't an easy task, however, nine years and 10 roommates later, I finally have a place to call my own. As liberating as it is to be in a space that's all mine, this move is unlike any other. As a single woman, the responsibility of uprooting myself has been more challenging than I ever imagined. More than just saving dreamy home decor inspiration via Pinterest, making "my house a home" has been a process that's easier said than done.
---
As a professional fashionista, I'm naturally inclined to all that is aesthetically pleasing. While I've always envisioned the type of space I want to come home to every day, over the years how I see myself and the world has evolved tremendously. At the ripe age of 31, I want a personal retreat from the outside world and I'm determined to curate a space that is comfortable, inviting, warm and luxurious. At this moment in my life, a safe and tranquil environment is my top priority, one that is true to who I am inside and out.
To be at peace, I want to surround myself with furniture and decor that speaks to what inspires me.
Our home should be a true reflection of who we are and who we want to be but that's difficult if we don't know ourselves. Creating the perfect ambiance can be challenging so I enlisted the help of aesthetic entrepreneur Antoinette Arrington to help those of us on our journey by focusing on what matters the most when filling our space. When I first reached out to Antoinette, I was determined to find out how I can decorate my new apartment on a budget but as I began to speak with her, I began to focus less on saving money and more on personalizing my experience.
As an interior stylist and home decor expert, Antoinette shares tips on key elements that will bring life to any living space as well as inside advice on getting the home decor items you want no matter the price.
What's the first step when curating the perfect living space?
"My philosophy as an interior designer and stylist is that you live in a house but you are home. The things that you surround yourself with need to be an outward manifestation of where you've been or where you want to go. It's helpful to hone into who you are inviting into your space and share the results of your standards with because not everyone is going to get it and abuse it. My home doesn't have an open door policy, that's rule number one. If you're cultivating a space that inspires you towards your intentions, you don't have to lay out the welcome mat."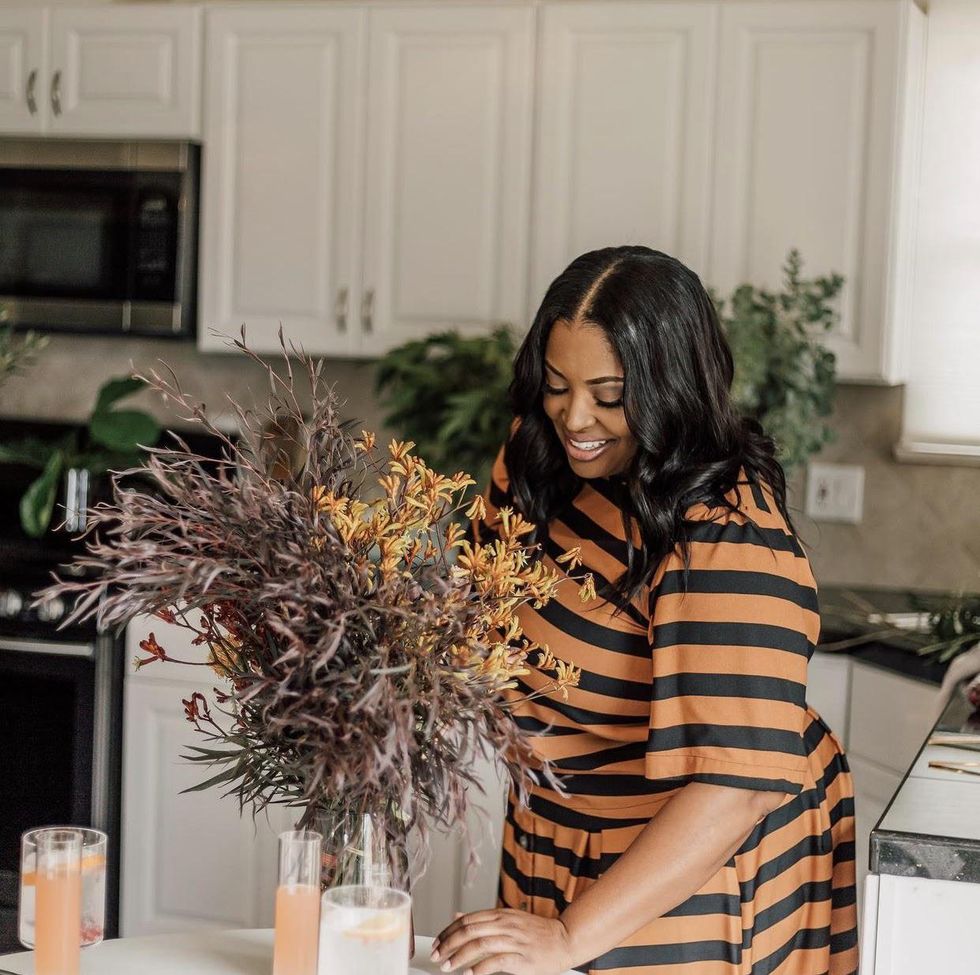 Antoinette Arrington, LA-based Interior Stylist & Founder of Haume
How can one avoid being overwhelmed when starting from an empty space?
"[Your living space] should be for you first and if you keep that in the forefront of your mind, that will influence how you shop and what you spend because luxury is subjective. Quality is how well something functions, luxury is how it makes you feel. Before shopping, you have to decide how you want a space to benefit you."
"Take your time in curating. Live in your home without any furniture for three months. Figure out where the light is, how your place sounds, how the temperature changes, and where you'll spend most of your time. Think of your perfect day and furnish that first."
"It may not be one room. It may be taking a hot bath, listening to music, and afterward putting on pajamas fresh out of the dryer and that you're climbing into bed wanting to watch a Netflix show so you buy bath sheets and make sure you have everything you need to enjoy a clean bathtub and a waterproof speaker. It also gets easier when those rituals start to change a bit, for example, going from a workout into the bath which may lead to investing in a corner of your home into a yoga studio or a gym. If you take the time to think of what you do, it's giving you an opportunity to figure out what you want. What's calling you?"
Speaking of shopping, any advice on how to avoid wasting money on items that we like at the moment but end up conflicting with the overall vision of what we want? 
"The biggest waste of money is buying something because it's cute but it doesn't work or buying something that works but you have to hide because you don't want anyone to see it. That's how you end up with garages and closets full of clutter. Also, know that your home is an evolving space."
"What you like in this season may change. Don't shop with the idea that you have to keep something for 20 years because you don't. Think of it as a museum which curates art. The Mona Lisa bounces from place to place, she's there for a time and then she goes off to the next and it doesn't disrupt her legacy or the experience of the art."
"Changing your home decor is an ebb and flow. Don't walk in the store and buy the entire display or every trendy piece, take your time and curate your home. Trust your own voice and instinct. Don't search for validation for friends and family. If you like something, buy it and if you don't like it it's OK, be informed with the retailer's return policy."
Strategies for investing in high priced furniture?
"You need to be informed of what things cost, especially with COVID-19, like delivery and lead times. Also decide whether you want to assemble it because that goes into cost, everything can't be DIY. You need to buy your time back. Are you going to enjoy the thing you put together and it fell apart? Will you get frustrated and never finish? When making big purchases, looking into platforms like 'Handy' or 'Taskrabbit' are fairly inexpensive when putting together your furniture. Find someone experienced in a product that you bought and while they're there, have them put together a bunch of stuff. There are a lot of ways to make your money work for you."
How can we surround ourselves with luxury home goods within our budget?
"Deciding what you want your life to look like and who you are going to share or not share with helps set your budget. Go to your dream store, if money is no object, add everything to the cart as if you were going on a shopping spree then go look at the cart. That puts the object in the forefront. People tend to see something, fall in love with it but hear the price and decide they are not worthy. It's completely emotional, it may not even be that you don't have the money, it can be offensive just to see the price because they haven't made the connection between quality, luxury, and cost. [The key is] changing your mindset to '[I'm] investing in myself and my life and my experiences,' instead of, 'This couch is an investment.'"
Where do you shop for quality home decor?
"My couch is from Living Spaces and people don't believe me when I share the link. I routinely shop at Target, CB2, vintage, and Etsy. I don't own or wear anything that is exceedingly expensive, it's the combination of how you experience me that gives you the idea that I'm investing in myself. I go to HomeGoods for coffee table books and kitchen organization items, great national brands that are cheaper than other big box stores. They also have a great condiment and organic food section. You can find great lamps and rugs as well. Get to know your local store and ask when they restock. Introduce yourself to the manager so they expect you if you're looking for something. Bring a picture of what you're looking for. I like Costco, Sam's Club and Big Lots specifically for outdoor furniture."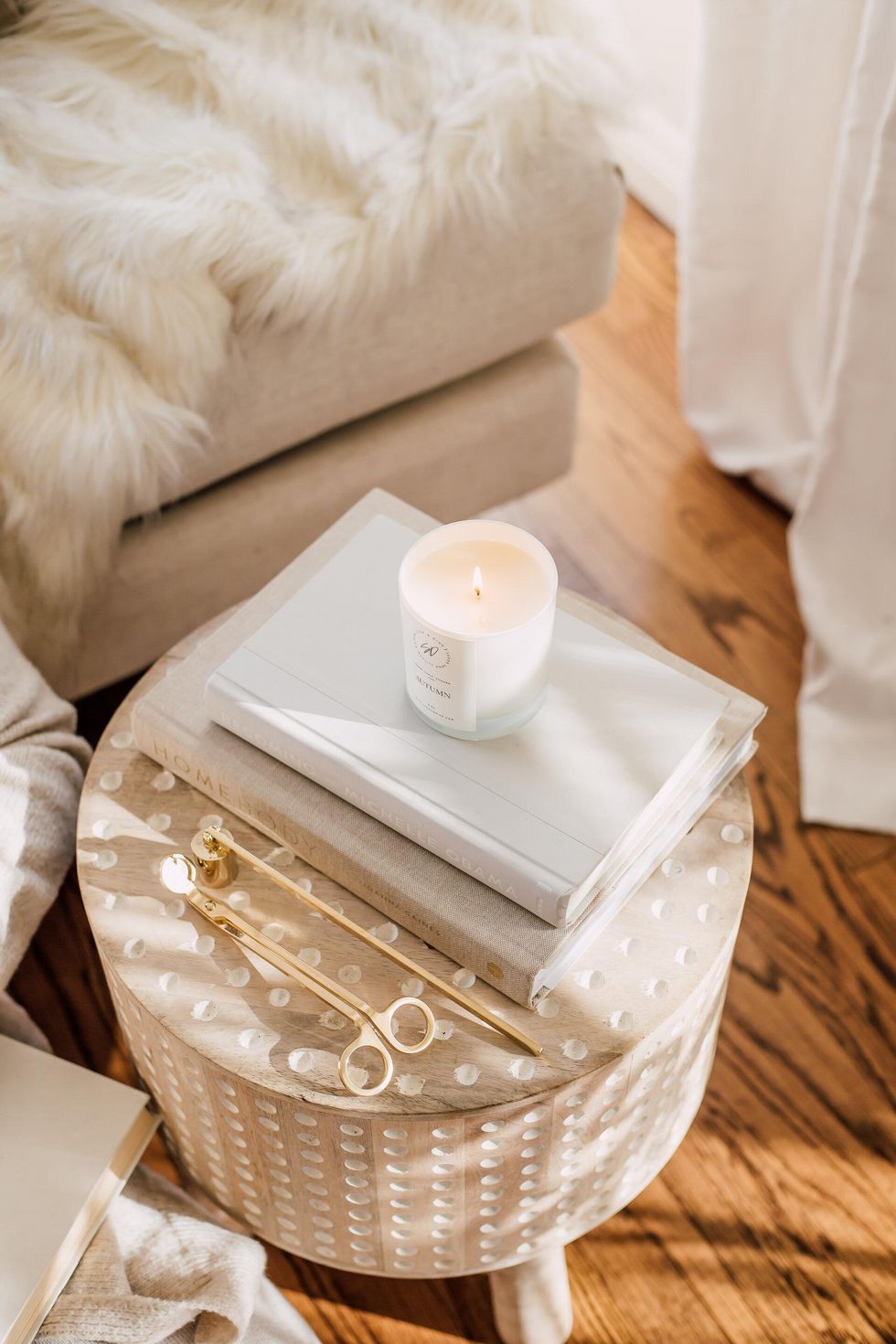 Courtesy of Antoinette Arrington
What are some accents that can elevate your at-home experience?
"Art can be expensive, however buy your favorite prints for a fraction of a cost, go to Michaels or IKEA for frames or get the piece professionally framed. When it comes to oversized art, paint it yourself for an abstract piece. If you see art you like but don't like the frame, change it or repaint it."
"You can buy a nice set of dishes which are inexpensive at places like CB2 or Ikea. Vintage cutlery from Etsy or really cute forks from Target. Cloth Napkins from World Market or CB2 are a couple bucks. Glassware is not expensive at all, they can be $10. You can buy really nice inexpensive glassware from CB2. You can start small. If you really want a nice plate setting, do it for you and eat lunch on it every day. Buy yourself nice forks and a couple cloth napkins and a pretty plate. You don't have to use champagne glasses for just champagne. Make yourself accustomed to using nice things and normalizing it. You wouldn't go to Crustaceans and use paper napkins and plastic forks. Hotels have glasses on the counter for you, nice lotions and pretty soap, do that at home."

When seeking inspiration for the overall aesthetic of our place, how can we bring our ideas together into one cohesive look?
"Having a design plan, the colors and textures you like as well as what you're drawn to. If you saw something in a store and thought about it all night, hopping in your car early in the morning hoping it's still there, what would it be? Buy those things. If there's a place you want to travel to, research how people there live and what their days look like. If it was Tulum, I'd have a hammock in my living room and no one could say anything to me about it. A corner with a hammock and a bunch of plants that reminds me of Mexico."
"When you travel, bring back a piece of art, a cup, mask, pottery or wall hanging and display it in your home. You can share experiences with your guests. Your home should be ground zero for everything you need to be. You shouldn't have to code-switch in your house or put on armor. You should be exactly who you are. Recognize yourself first at home and then go out in the world and introduce yourself to her."
"If you don't know who you are, you're going to let everybody tell you who they think you are."
I bought a Fiddle Leaf tree recently however I don't want to go overboard with taking on too many new responsibilities at once. What is your advice for new plant moms?
"Be honest and be realistic. Go to a local nursery, not a hardware store, even if you don't buy anything, ask someone who is accustomed to speaking with clients about their inventory and is well-versed on the types of plants and the type of lighting in your house that will help you make an informed decision. Tell them about your lifestyle, if you have air conditioning, if you're home a lot, will the plant get fresh air or if you'll need a grow light. All pretty plants aren't care-free. I would suggest something as low-maintenance as possible for your first plant."
"You will have to invest in plant food, repotting, and making sure it's watered. Start with one, something small that you access a lot so that if it dies, you'll notice. If your perfect day is sitting around with 15 plants taking care of their leaves and repotting, if that's calming, go ahead and jungle out. If that's not your thing, get an artificial plant that looks real. You don't have to have plants in your home."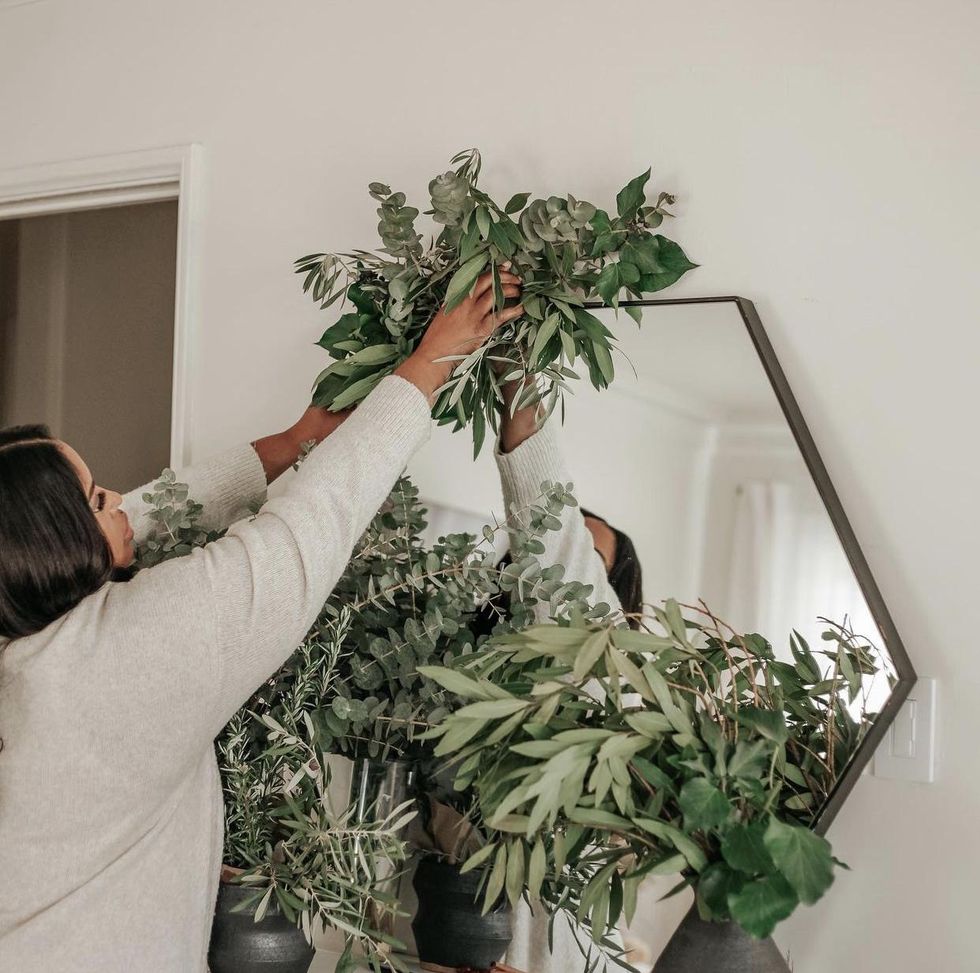 Courtesy of Antoinette Arrington
What are gems to keep in mind when making a house a home?
"There is no one combination of things that makes a house feel like home. It's a combination of happiness, intention, patience and investment that's going to make it feel like a home to you. You took the time, spent wisely, and you're living a life that incorporates all of your belongings. Do your due diligence when shopping for your home, you don't always have to fill an empty spot. No more cutting corners, have an abundance mindset when cultivating your space, but take your time! Filling your space too quickly can be a sign that there's something missing inside of you."
For more of Antoinette, follow her on Instagram.
Featured image courtesy of Antoinette Arrington