---
Now, more than ever, it's important to make your space sacred. Since COVID-19 came in like a flood, we have been spending more time in our dope abodes. Our souls need a safe space to shelter from all of the happenings outside of our doorsteps. Home is not only where the heart is but it's also where the peace is. It's the space that allows us to rest and recharge because black rest matters, too.

In resting, we recharge and we also begin to create the life and space we desire.
Journalist and content creator Marsha B. knows exactly what that means after her once comfortable life was shaken up. After seven years in a relationship, she woke up one day and decided she had to put herself first. While the breakup was one of the most amicable separations she has ever experienced, there was still one large blockade keeping her from her new chapter — their huge, two-bedroom apartment in Ditmas Park, Brooklyn.
Marsha's journey to her stylish sanctuary was nothing short of serendipitous. Her relationship ended on good terms so there were no qualms about her residing with her ex but her soul needed to started anew. A few months after the breakup, Marsha moved into a studio in the same neighborhood. It wasn't a deluxe apartment in the sky but it was the first stage in her building the life she wanted. However, her attempt to find solace in solitude quickly became a nightmare.
Reclaiming Her Time and Space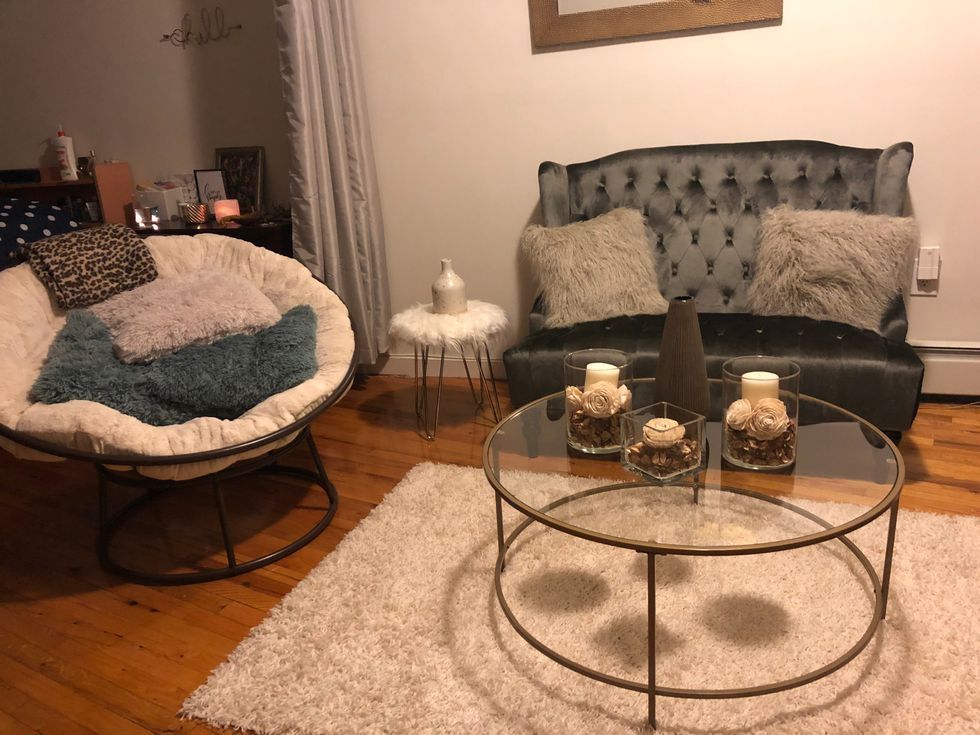 The studio apartment
Photo Courtesy of Marsha B.
"For my ex, it made no sense for me to leave. For me, it was vital to me really exploring what it meant to prioritize myself. I made the decision to find my own place. I moved in the wintertime so the neighborhood was generally quiet," she explained. "Once the weather hit 50 degrees, I realized I lived directly in front of a drug hub in Flatbush. Yes, directly outside of my front window was a trap van with drug dealers and drug addicts, reminiscent of the New Jack City movie."

The soundtrack of her life became fights heard in the middle of the night, undercover officers taking down addicts, and observed transactions as she walked into her building. She knew then that she had to go back to the drawing board in achieving the freedom she desired. She broke her lease. Her apartment complex let her know she'd be responsible for paying the rent through the remainder of her lease term. "I honestly didn't care," she said. "I had the money. I was going to do what I had to do to live comfortably."
Marsha found herself a few steps closer to the sanctuary she envisioned mid-apartment hunting when a broker reached out to her about a huge one-bedroom apartment available nearby. Located just 30 minutes from the studio she was renting, she decided to take a walk there. This time, she wanted to scope the neighborhood and be certain there were no trap vans hidden around the corner. The first thing that caught her attention was the size of the space. The living room alone was the size of the studio she was in the process of moving out of.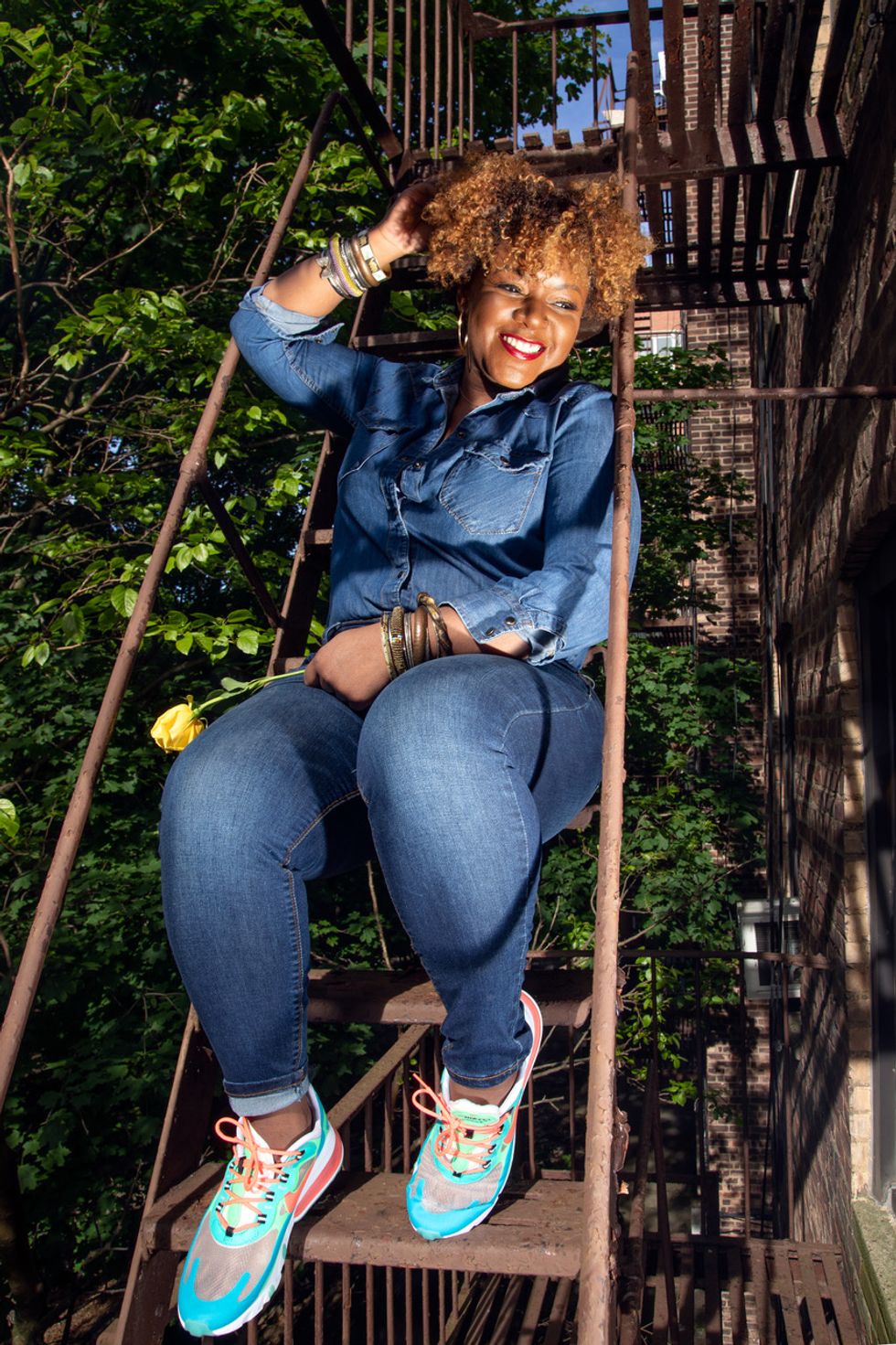 Photo Courtesy of Marsha B.
However, though the space was the size she longed for, it'd require a lot of work to truly be the space of her dreams. "This was a diamond in the rough," Marsha stated. "The kitchen had this horrible wallpaper from the 70's. The tiles on the floor were old and dirty. The walls honestly had never been painted since the tenant first moved in, 20 years ago. There were holes in the wall, a roach infestation, broken light fixtures. You name it, they had it. The broker let me know this apartment was being rented 'as is', so all my requests for the apartment to be improved were denied."

"I prayed long and hard about whether or not I should take this place. It was going to be a financial investment and I wasn't fond of spending so much on a place I didn't own. I adjusted to my abundance mindset: 'You have the money. You want to live comfortably. You will live here for as long as the universe will have you here. An investment in this apartment is an investment in you,'" she continued.
"I adjusted to my abundance mindset: 'You have the money. You want to live comfortably. You will live here for as long as the universe will have you here. An investment in this apartment is an investment in you.'"
The Stylish Sanctuary - Before & After:
And an investment it was indeed. Marsha got the keys to her apartment in October 2019 and since then has had her place fumigated and painted. She's retiled the dining room, kitchen and bathroom floors, stripped the wallpaper in the kitchen among other renovations she needed to in order to give her apartment the transformation she deserved. "I had to do everything on a budget because I still had to pay two months rent at my old spot, while paying rent at my new place," Marsha shared. "Then, there were moving costs, first month's rent, security, and broker's fee. And paint. Paint isn't cheap, especially when the apartment is gigantic."
But the hard work, money, and effort paid off and the peace she found afterwards was worth its weight in gold. "I am in love with where I live and I honestly don't ever want to leave!" she rejoiced about her stylish simple sanctuary.
The Transformation: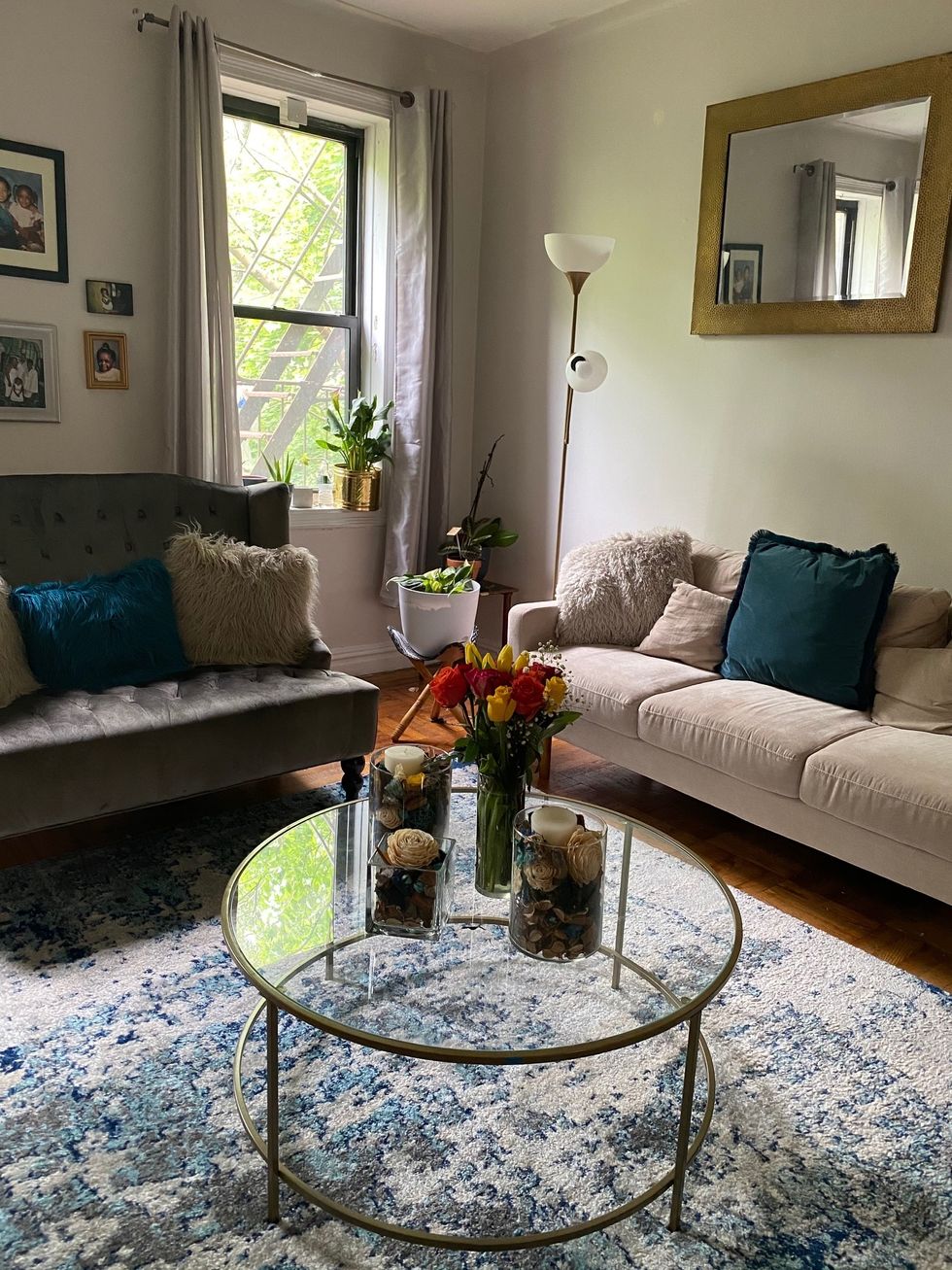 Photo Courtesy of Marsha B.
"It's important to invest in what you want. This apartment was in such horrible shape and if I weren't willing to invest in it, I might've settled for something mediocre. I am filled with pride when I look at my apartment and what it's morphed into."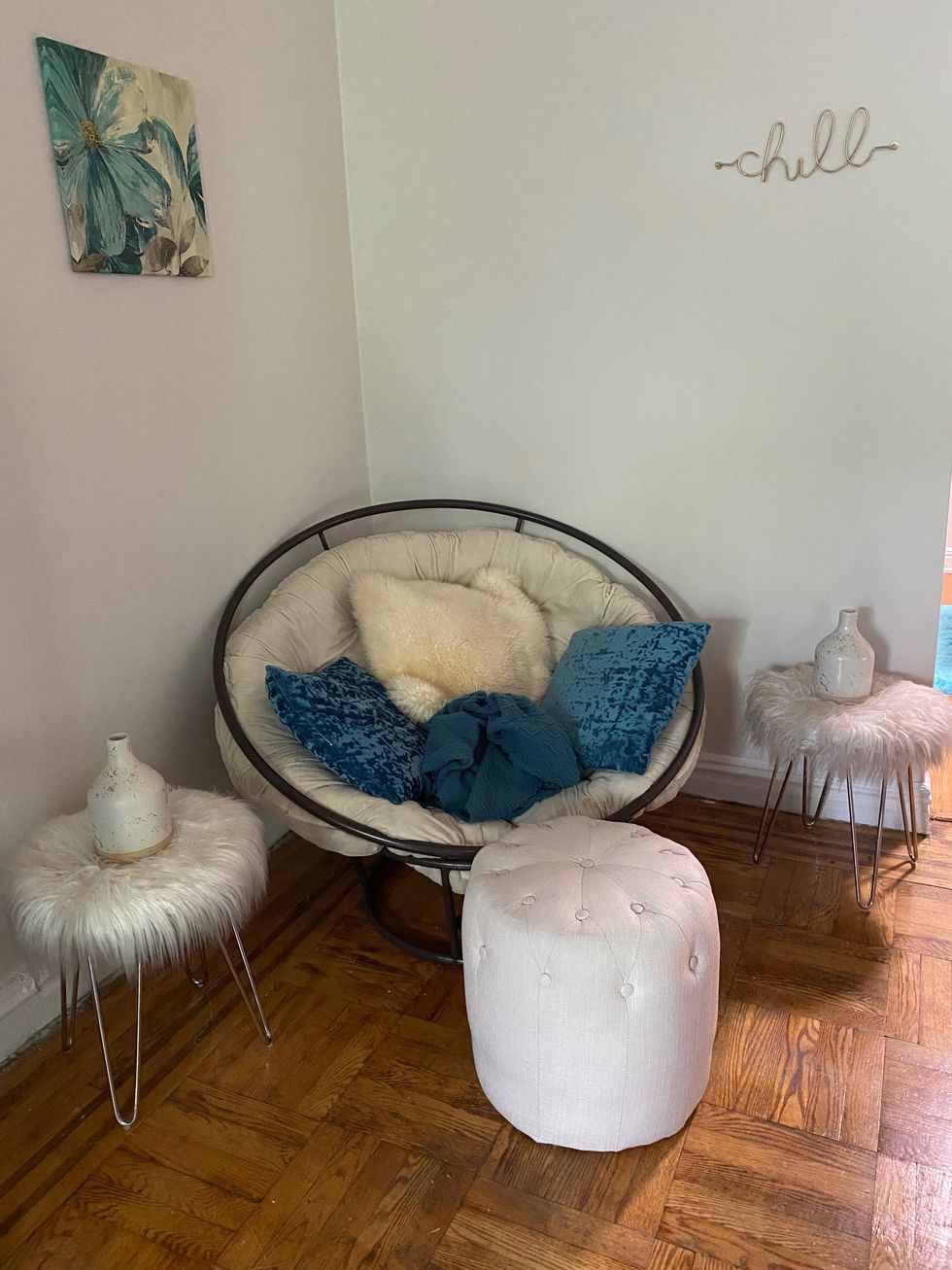 Photo Courtesy of Marsha B.
"I'd like to think that I manifested this apartment. I wrote down on a piece of paper, 'I will attract the perfect apartment for me. It will be in the perfect location. It will be safe and affordable.' I got exactly what I asked for. If I didn't shift into my abundance mindset, I could've possible lost out on an amazing living space. As far as rent goes, I only pay $55 more than I was paying in my studio. This apartment is four times bigger. No DIY projects, but I will throw this tip out there: Facebook Marketplace is the truth!"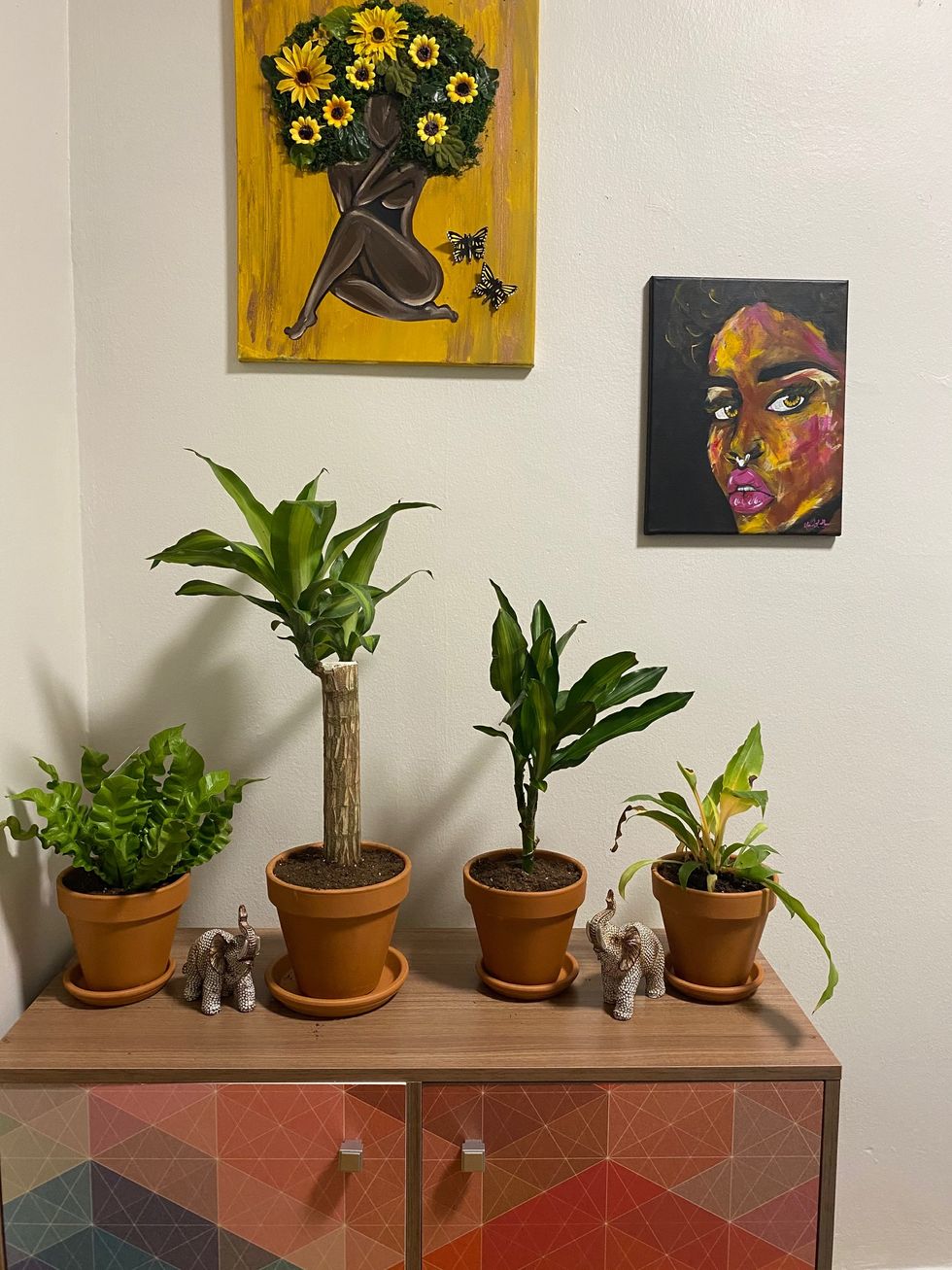 Photo Courtesy of Marsha B.
"My favorite part of my new space is my bedroom. I strategically left it out of my apartment tour because it's such a sacred space for me. If my home were a church, my bedroom would be the confessional. I'm very conscious of the energies I allow in there. I have affirmations written on the walls and I house my altar that keeps me spiritually grounded there. My personal rule is that there are no arguments or disagreements in my bedroom. It is literally a safe space for me."

Featured image courtesy of Marsha B.