While mantras and the dedication to more self-care and health practices are a beautiful way to press reset year-round, a lot of us forget how important it is to nurture our most sacred space. And by that I mean, our homes. While the outside world comes with stresses and responsibilities and chaos, your home very much embodies the eye of the storm. There you find peace, tranquility, and solace. And because it does, you shouldn't be afraid to elevate the way you think about it and how you make it work for you. Dare to do something different as you set your intentions for the rest of the year. Turn your home into a place that takes care of you.
Give these 10 feng shui tidbits a try and ignite a positive and nourishing energy shift in your life for 2022.
1

.

Keep Your Entryway Clutter-Free, Well-Lit, and Laced With an Inviting Aroma
Everyone who enters your home will take on the attitude and energy that greets them when the front door opens. Your entryway should inspire guests to bring only the happiest, healthiest parts of themselves into your home. We all have baggage, but bright paint and a fragrant scent will encourage your grumpiest neighbor to leave their negativity at the curb. Clutter-free means no trash, no stacks of mail, no piles of shoes, no shovels, and no raggedy coat racks in the doorway.
Make sure your home's entrance is saying, "Girl! Come on in here, so we can relax and have fun" as opposed to, "Ugh! What took you so long? I'm drowning in here!"
2

.

Designate a Place for Guest To Leave Their Shoes
For centuries, ancient Chinese feng shui pioneers have followed this rule: do not wear shoes in the house. Shoes carry gum, mucus, feces, and much more from the street into your home. Allowing people to walk around your home in their shoes is the equivalent of walking through Times Square barefoot. Secondly, letting shoes be worn in your home energetically represents people carrying their problems into your residence. As you can imagine, other people's issues to settle into your space can seriously interfere with your home's peace and positivity.
Do yourself a favor and always have the guests leave their shoes and their troubles at the door.
Tip: Keep a small basket of ankle socks on hand to offer those girlfriends whose toes haven't seen a pedicure in a while.
3

.

Protect Your Kitchen
The kitchen nourishes the family both literally and energetically. Anything that sustains you is worth protecting. It is best if you cannot see into the kitchen from the front door. Do something to cover your kitchen doorway. Energetically, visible access to the kitchen from the front door gives way to problems with nourishment-related health problems.
Tip: Use all four fires on your stovetop when cooking. Most people (especially singles) tend to use the same jet repeatedly. In feng shui, putting all stovetop jets into action energetically balances your body's health.
4

.

Shut the Bathroom Door (and Put the Toilet Seat Down)
Bathrooms are physically and energetically set up to "get rid of" what we no longer need or want. We all use the bathroom to wash away dirt and release other bodily things we are too ladylike to mention here. But did you know that bathrooms will energetically wash away your finances as well? Keeping your toilet seat up and the bathroom door open is the energetic equivalent of saying, "Here, take my money, I don't need it." So next time bae heads to the bathroom, tell them to put the lid down because your bank account depends on it.
5

.

Be Sure the Living Room Doesn't Feel Like a Museum
Living rooms should be set up for conversation. It is the room where "living" (being with loved ones, communicating, enjoying good company) is supposed to take place. Seating should be set up fairly close together, clutter-free, cozy and inviting. Furniture set far apart or lined up along the walls does not encourage "living" or togetherness. It's okay for the living room to look like the cover of ArchitecturalDigest, as long as it doesn't feel like the Smithsonian.
6

.

The Bedroom: Sleep, Sex and Solitude 
There are lots of fun, feng shui facts about the bedroom, so take note. Bedrooms are the lungs of the home where deep breathing (relaxation) should take place. Bedrooms are best when placed at the back of the home, where the energy is more yin. Every bed should have a headboard because, when we rest at night, energy from the universe enters our bodies through the tops of our heads. Too much cosmic intake can be overstimulating and disrupt your sleep. And lastly, do not store items underneath the bed. Doing so symbolizes underhanded, sneaky, or backstabbing behavior from others.
7

.

It's Electric! (And Unhealthy.)
Electrical currents are harmful to our human bodies. In modern times, it is hard to avoid. Nevertheless, there are things we can do to decrease our electrical exposure. What your grandmama said about not sitting so close to the TV is correct but the most vital place to reduce your contact with electrical currents is in your bedrooms. Free your bedroom of all electrical items like TVs, radios, and electrical alarm clocks.
If full-on monastery mode is not your cup of tea, then at least unplug the electronics before you sleep. Just plug everything into a power strip and turn the strip off at night. For those who sleep with their cellphones, try and break that habit by sleeping with all electronics a minimum of four feet away from the foot of the bed. And, yes…that includes your cellphone as it charges overnight.
8

.

Table Talk
When shopping for a table, keep this in mind. The most uncomfortable tables are those with a glass tabletop. Fear of breaking or cracking the table is a visitor's worst nightmare. People can't help but feel tension when they have to place something on a glass table. The stress is distracting and takes away from good conversation and fun activities. So, when you're redecorating, swap the glass out for wood, leather, or some other less fragile tabletop.
9

.

Big Windows and High Ceilings
When choosing a new home or apartment, be sure the top of the window frame is higher than the tallest resident or frequent overnight guest. Short window frames give college baller bae -- that uneasy, trapped feeling. We don't want that energy creeping into our relationship.
10

.

 Place a Protector Near the Entryway
Every queen needs protection. Feng shui suggests using a talisman at or near your home's entrance as a tool of security and an attractor of good vibes. Different cultures have different talisman items. The Chinese culture likes the Bagua or fu dogs, while a home of African descent may choose an Ankh or the Eye of Ra. The choice is yours.
Let's make things inbox official! Sign up for the xoNecole newsletter for daily love, wellness, career, and exclusive content delivered straight to your inbox.
Featured image by JGI/Tom Grill/Getty Images
Originally published on October 24, 2019
I'm one of those people who has a song in mind for almost any keyword said in a sentence. It's a gift and curse, to my friends and my readers. Today's song was "Sex Room" by Ludacris and however annoying it might be, I'm excited to get into it with you all. Netflix's recently dropped a new series – How To Build a Sex Room – which is for sure the adult HGTV series I never knew I needed. But it's so much better than any HGTV series and honestly better than anything I could've anticipated.
The show explores making practical sex rooms for those who will be using them. And a sex room doesn't always mean cold, dungeon vibes. No! Instead, part of what makes the show great is that they meet people where they are and really take into account the purpose or intended use for the sex rooms, in addition to personality. You get a good variety of luxuries mixed with the feelings of home.
And while I'm not going to spoil the show, I do want to get into what and why someone might need a sex room. Maybe you want one for yourself or maybe you're someone who passed the preview of this show and wondered, "What's the point?" If so, keep reading.
Reasons to Consider Having a Sex Room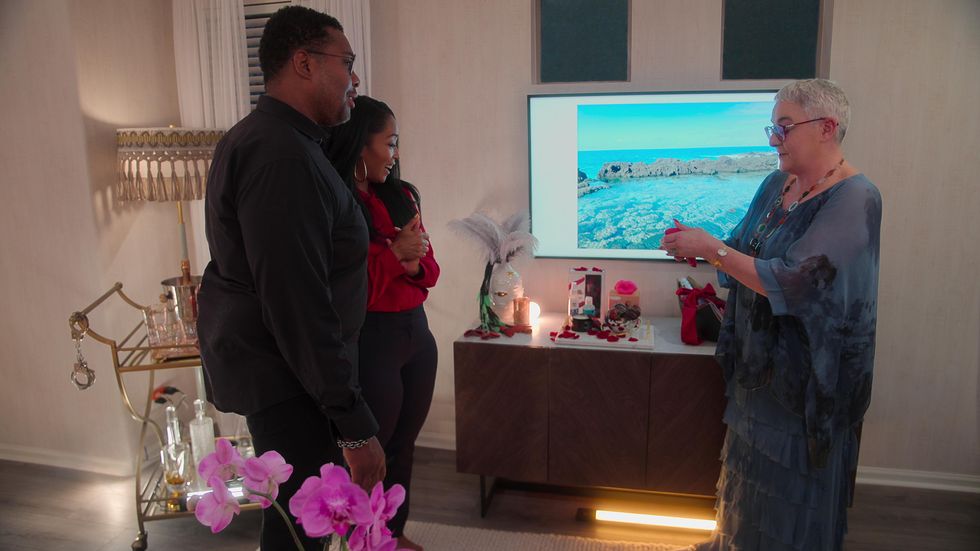 (L to R) Ryan, Raj, Melanie Rose in episode 102 of How To Build a Sex Room.
Courtesy of Netflix
1. Parental Control and Boundaries
Parents who co-sleep with their children may find it difficult to maintain an air of sexiness in the very room they once created their children in. Though we might say at a certain age parents should set boundaries, realistically keeping your child in their own room is not a boundary that's always possible. That said, parents might opt for a sex room in order to rejuvenate themselves back into the seductive period of courting prior to having children. Sometimes the boundary setting is simply a matter of changing the setting and opting for privacy in other, less seemingly dismissive ways. This can be accomplished with a sex room.
2. Separation of Home and Sex
While not every sex room is dungeon-style, some are. And regardless of the aesthetic, there may be people who wish to keep their preferred kinks as private as possible. I can't count on one hand how many times I've forgotten to put away my vibrator and someone walks into my home only to see it on the coffee table. And that's a normalized part of sex…masturbation. However, imagine having someone walk into your home and you forgot to put away your flogger or box of butt plugs, and so on? The sex room helps to provide an extra layer of privacy. Not because you wish to be secretive or feel shameful, but because keeping certain parts of your life separate from others is good form as far as boundaries go. Plus, it can be really sexy to have this part of your home where only you and your lovers exist.
3. Sex, Staycation Style
The monotony of being home and having sex in the same way, in the same place can sometimes be…annoying. But also coming across safe spaces to play with your partner can be equally…annoying. Having one at home allows you to escape the day-to-day without incurring the fees associated with sex clubs. Furthermore, there's this unspoken rule of exclusivity where you really have to know the right people in order to find kink scenes in certain cities. Having your own sex room eliminates the need for that as you create your own.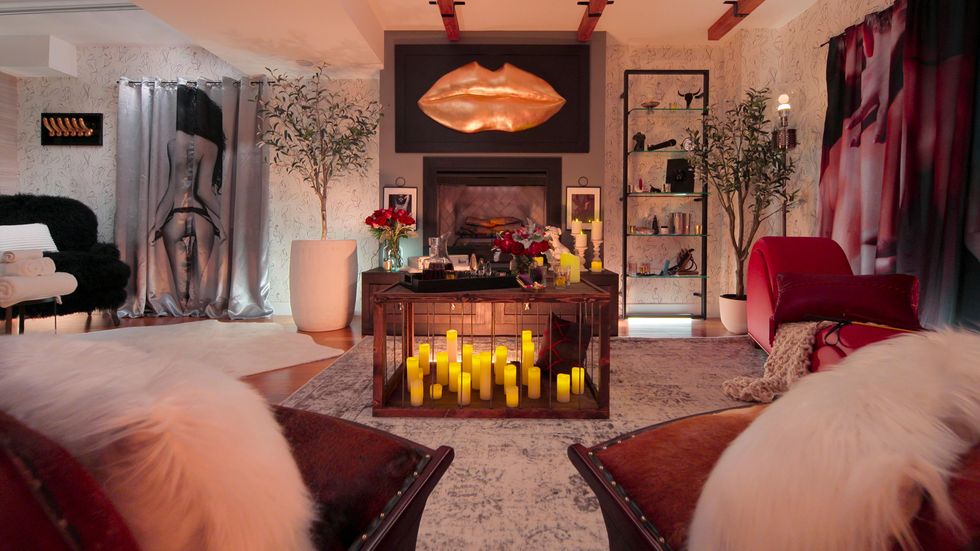 Courtesy of Netflix
4. Swinging Made Easy
​If one of your kinks is swinging, a sex room might just be mandatory. Not every city has swingers clubs and in my experience when they do have swingers clubs they aren't always diverse (age and race-wise). But having a sex room in your home allows you to host other couples consensually, thus minimizing the requirement of having to find a couple to swing with in exclusive spaces.
5. Safe Spaces and Such
For those who are into kink and wish to try out new gadgets and contraptions, I encourage you to do so safely. But hold please, because in this case, the safety I'm speaking of is more towards reading the requirements for hanging your equipment from walls and ceilings. Because this can be necessary for swings and such, some couples may opt for a sex room in an area in their house where the ceilings are more conducive to that type of sex gear – like the basement.
The bottom line is there are many reasons that people may want sex rooms. However, I think in any case it comes down to having a safe space to be able to reconnect or even connect with ourselves in ways that weren't made possible (for whatever reason) beforehand.
If this appeals to you, you may be wondering how to create a sex room for yourself, especially after watching the Netflix series How to Build a Sex Room. Here are some ways.
Self-Survey: Remember A.S.L via Aim? You should and if you don't you're far too young to be reading this article. But similar to that, you want to get a quick and dirty rundown of what you're looking for out of your sex room. So, in this case, A.S.L stands for "agenda, sex, and location."

Agenda – What do you wish to get out of this sex room? What is your why?
Sex – What type of sex or touch do you intend to have in this space? How do you intend to utilize this space? Is it a swinging space, or one that is just for you and bae? Do you want to explore new kinks or are you pretty airtight on the things you want to try?
Location – Where in your home do you envision this work of art being crafted? Are we keeping it in the bedroom or do we want it somewhere covert?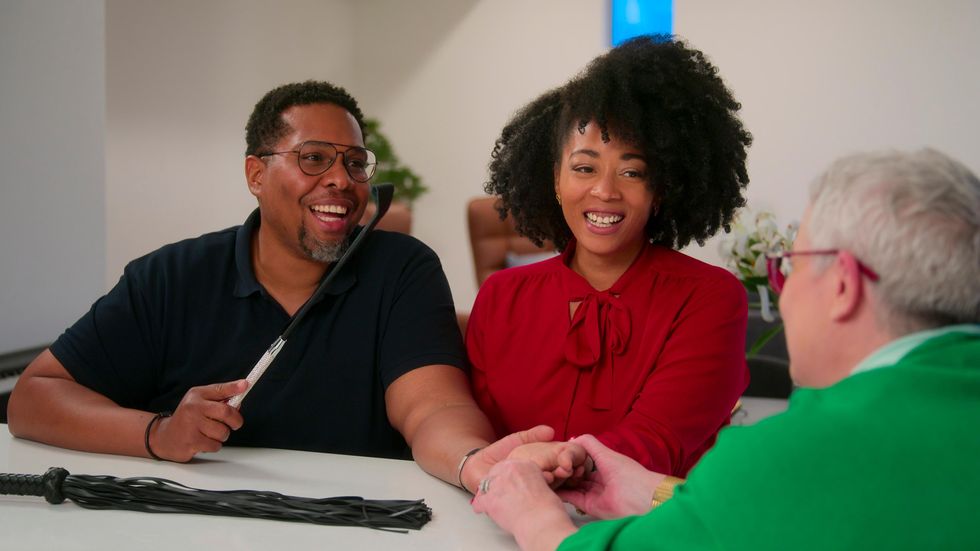 (L to R) Ryan, Raj, Melanie Rose in episode 101 of How To Build a Sex Room.
Courtesy of Netflix
DIY or For Hire: This one is rather simple. Hmm, on second thought, if you're someone who doesn't understand limitations, like me, you might have a difficult time realistically gauging how to go about building your sex room. Nevertheless, you must decide if this is something you want to pull a "do it yourself" with or if it requires you to hire a contractor. Perhaps a combination of the two – it simply depends on the answers to the first two questions.
Secret Shopper: Purchase the toys you'll need to fill this space. However don't get caught up like a kid at Christmas, as we want this space to be fulfilling but efficient – not cluttered. You might consider creating a list of must-haves to get you started and then creating a secondary. Wishlist.
Featured image courtesy of Netflix
Chloë is riding high with the success of her singles "Treat Me" and "Have Mercy" and it appears she likes to live that way too. In a recent Open Door episode for Agriculture Digest, the singer and actress showed off her Los Angeles high rise with a view that would make anyone jealous.
When you first walk into the apartment, you are hit with a beautiful entryway that features an oil canvas painting of Chloë and her sister Halle Bailey.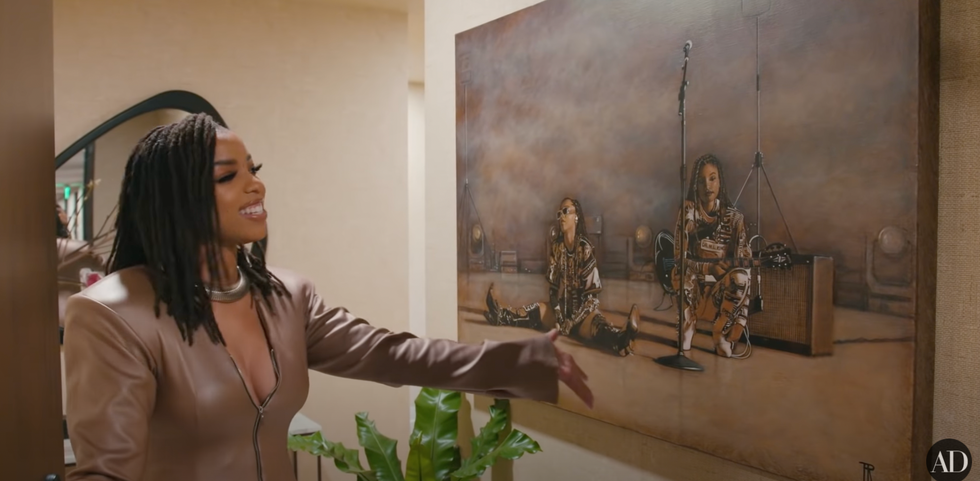 Architectural Digest/YouTube
"A friend gave me this oil canvas painting of us. We were performing at Global Citizen and I love it so much because it really just shows us in our element and chill and she's my best friend," she said. Continuing along the hallway, the 23-year-old stopped and shows off another painting. This one is an abstract painting from her "Have Mercy" video. While she thinks it's kind of weird to have photos of yourself in your home, she believes you can get away with it if it's done "artfully and tastefully."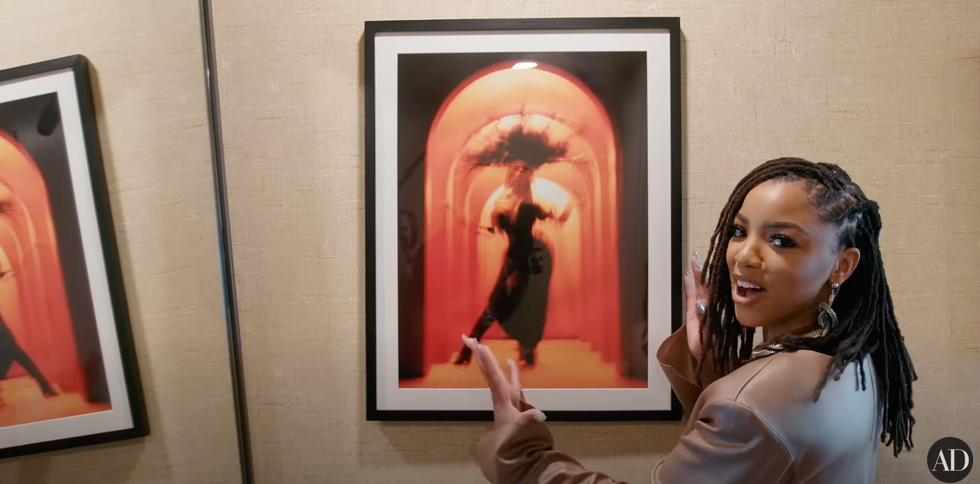 Architectural Digest/YouTube
Shortly after, she highlighted another still from the "Have Mercy" video. This time she was on the roof and she revealed an embarrassing story behind it. "Fun fact, I fell almost off of the roof," she said. "It was a great experience. I will always remember it. I will never forget that."
The apartment has two bedrooms, but she converted one of them into her music studio.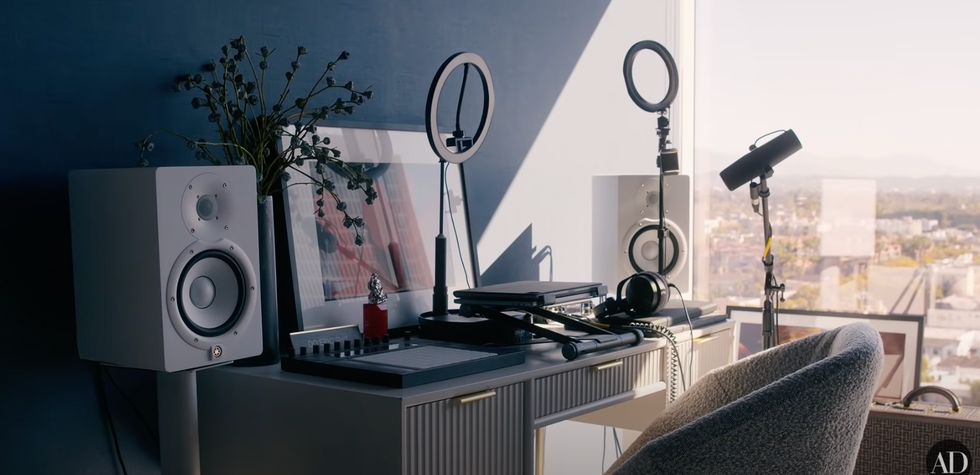 Architectural Digest/YouTube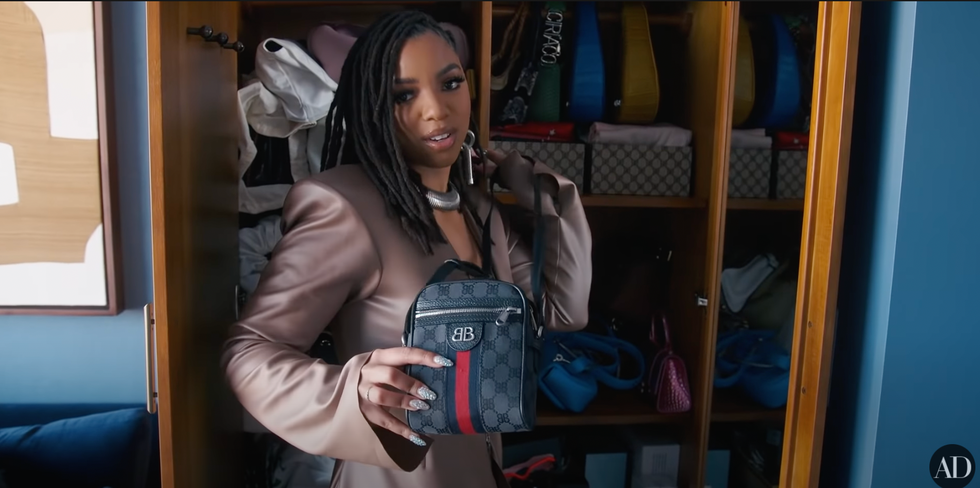 Architectural Digest/YouTube
There's no bed in it, but there is a sleeper sofa for when she has people stay the night. The room also has another photo of her and her sister. "I always have her around me because no matter how far or near we are, I just always like having a piece of her with me," she explained. The studio also has an armoire that is filled with the singer's handbags.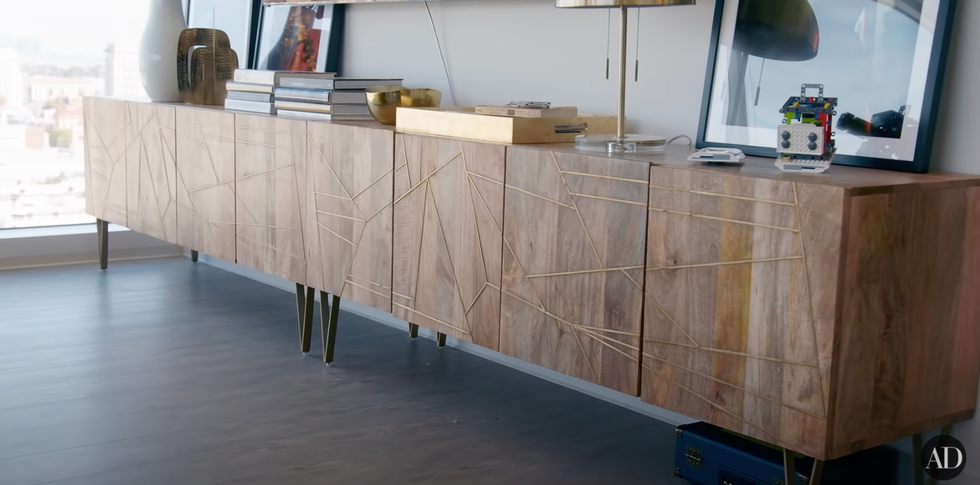 Architectural Digest/YouTube
Chloë's favorite colors are blue and yellow and you can see those colors throughout her home. But her favorite thing about her home is the view, which is no surprise there. Her apartment has floor-to-ceiling windows in the living area as well as her bedrooms.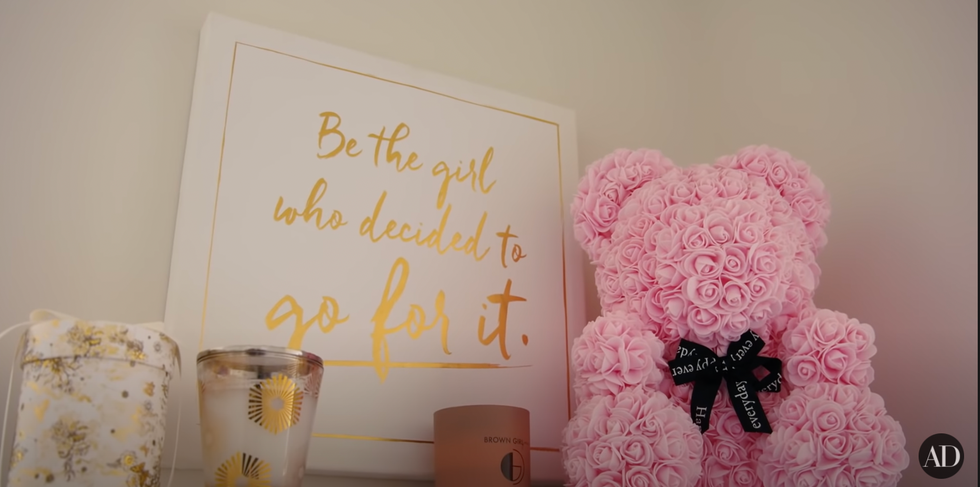 Architectural Digest/YouTube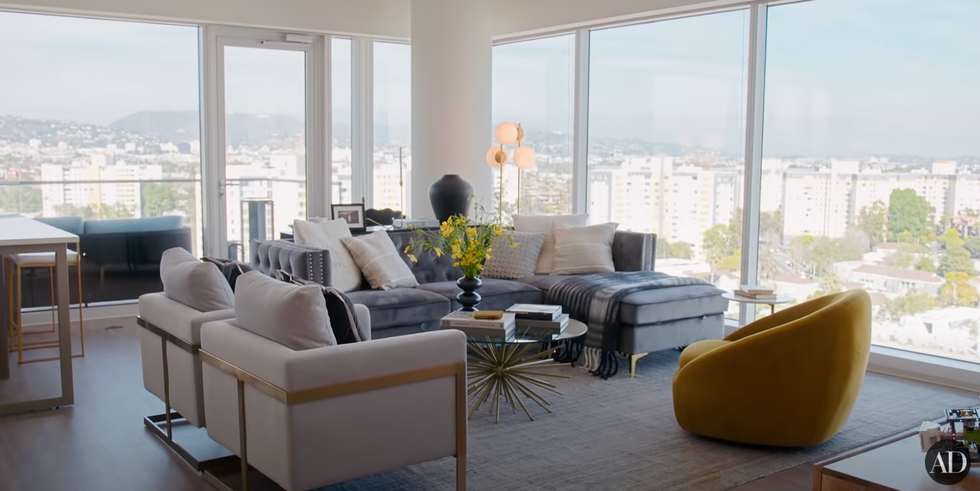 Architectural Digest/YouTube
Her living room consists of a cozy couch, chairs, and typically a huge whiteboard, which she said she put away because it had her tracklist on it. She also has a massive display of photos that were outtakes from a shoot she did a year ago.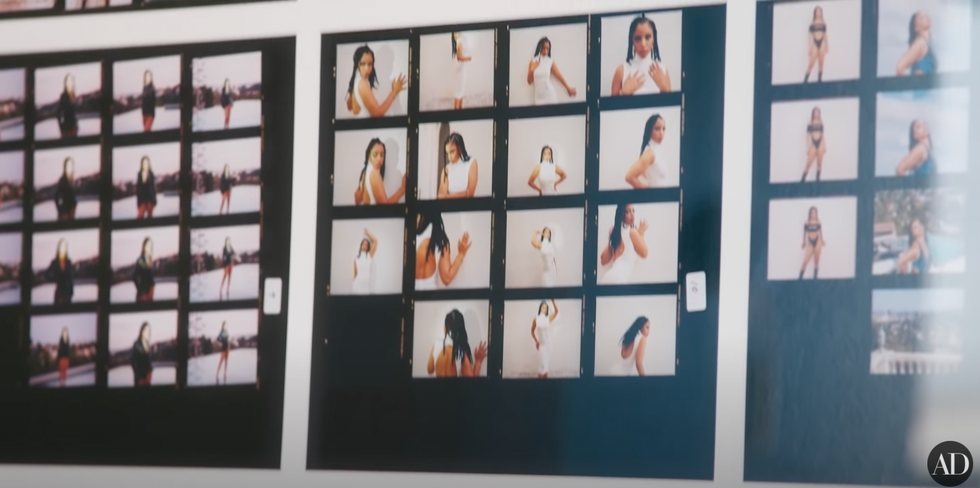 Architectural Digest/YouTube
"Not conceited, but I just love it because it's artful and it's me," she laughed. "And whenever I'm in sweatpants and hair-tied and I feel like, eh, I just look at that, I'm like okay, she's a little somethin', somethin'."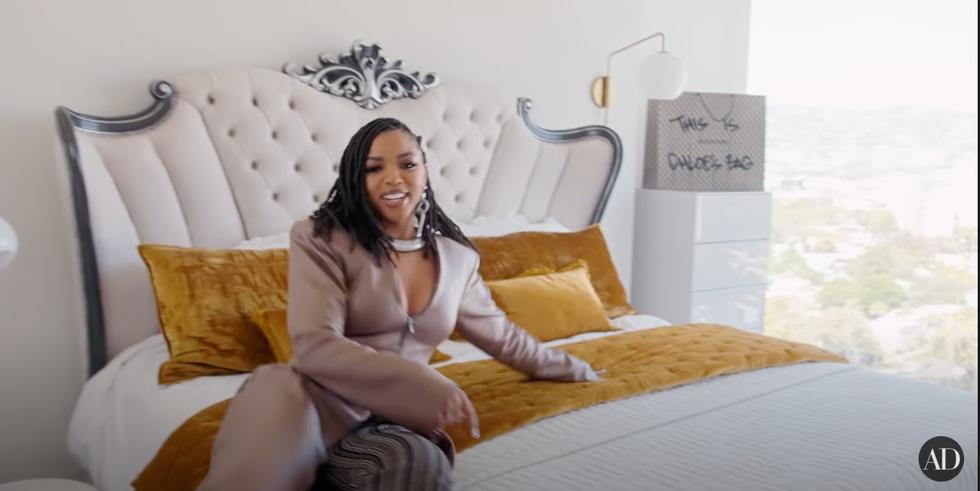 Architectural Digest/YouTube
She also has LEGOs that she works on, which she said calms her down. The Grown-ish star credited her godmother for designing her living place and giving it an "RB" vibe, which stands for "rich bitch." That vibe flows into her bedroom with a bed that is "fit for a queen." "I'm obsessed with my bed. Every time I lay in my bed I feel like a queen. My Godmom did the most amazing job." Another favorite thing in her bedroom is her hidden shoe rack.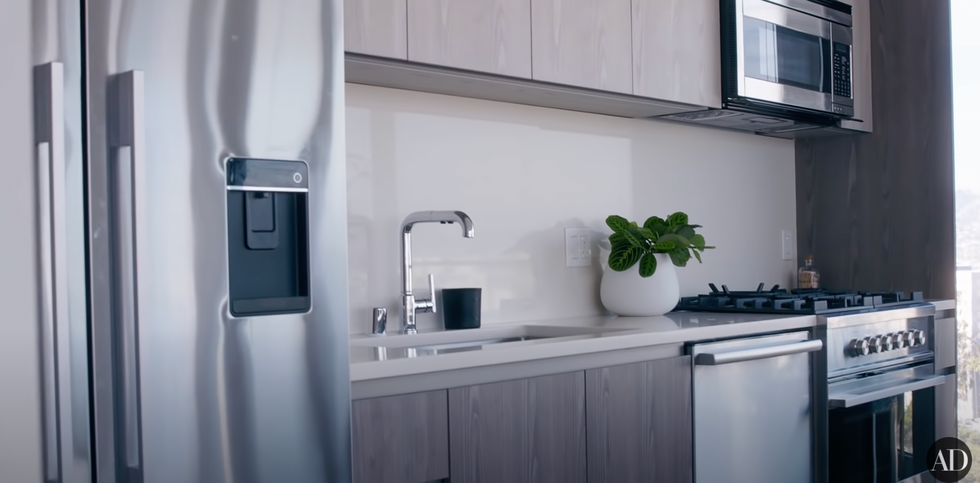 Architectural Digest/YouTube
When it comes to her kitchen, Chloë described it as a place where "I don't cook" due to her busy schedule. However, she does like making smoothies with her Nutribullet.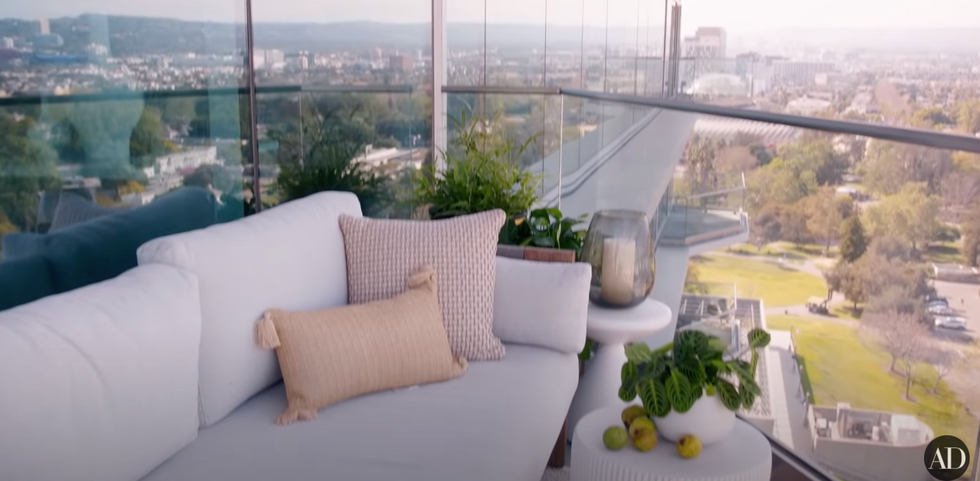 Architectural Digest/YouTube
Last but not least, Chloë took us out to her balcony where we got an up-close and personal view of L.A. She admitted that she likes to sit on her balcony and reflect on her life decisions. "This is where the deep thinking goes down," she said. "Sometimes have a nice glass of wine. Sometimes just chill out. I love it here."
Inside Chlöe Bailey's Elegant L.A. Apartment | Open Door | Architectural Digest
Let's make things inbox official! Sign up for the xoNecole newsletter for daily love, wellness, career, and exclusive content delivered straight to your inbox.
Featured image via Architectural Digest/YouTube
Who doesn't love spring? The sun is out, the plants are blooming and everything feels new again. Spring is often viewed as the time of renewal, hence the term spring cleaning, and rebirth for your mindset, spirit, and your personal space. While the first day of spring isn't officially until March 20, you can still get a jumpstart on breathing new life into your home.
With the weather already starting to warm up and nature peaking through from the once cold, wet ground, you too can turn your home from a dark and gloomy place to a bright, lively oasis.
Here's how to "spring forward" into action:
1

.

Declutter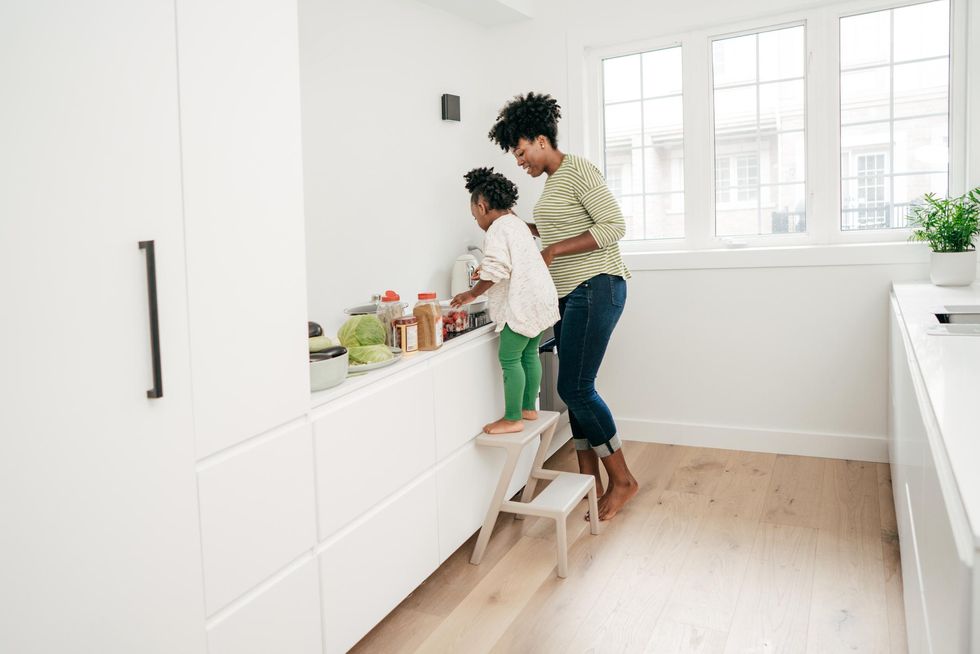 Getty Images
Decluttering is just the beginning of cleaning up your home. Now, is the time to get rid of the junk mail that is piled up on your kitchen counter and put away (or throw away) those grocery bags you saved up just because. When putting things away, you want to make sure that it is done so in an organized fashion. Dumping your items in another spot doesn't get rid of the clutter and it still leaves you in a state of confusion.
Just decluttering sometimes can make your space feel brand new and your mind at peace.
2

.

Clean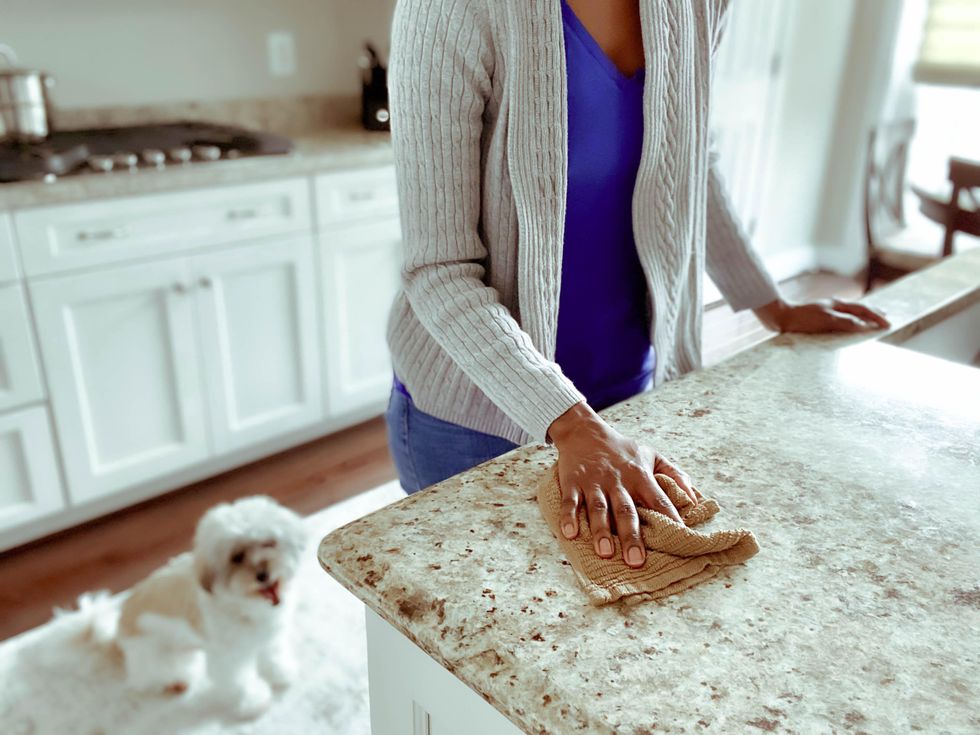 Getty Images
Spring cleaning is a thing for a reason. It is one of the foundations to refreshing your home because before you bring new items in to make your home look nice, you must first get rid of the dirt in the crevices of your bathroom and dust that's been building up on top of your fan. No judgment. We've all been there.
Some supplies you may need are a feather duster, broom, mop, glass cleaner, and vacuum. And Clorox wipes always gets the job done. If you're looking for something natural and greener, then you can try baking soda, lemon, or vinegar to clean home surfaces.
3

.

Pack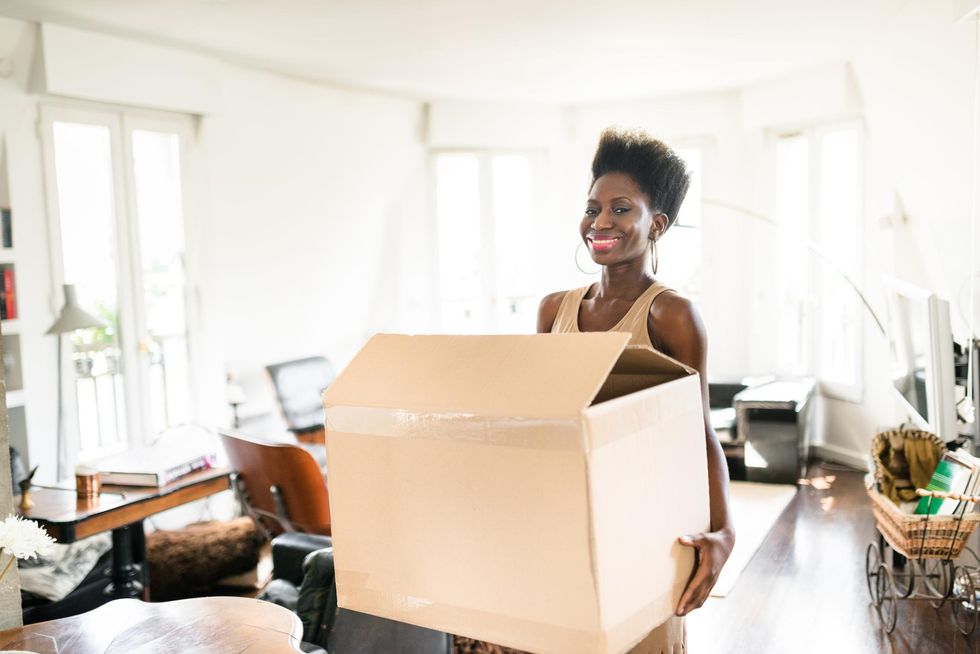 Getty Images
​Sun's out, bun's out! Okay, maybe not literally, unless you plan on being poolside all spring/summer (and that's your business.) But what we mean is, it's time to pack up the winter clothes and break out the spring and summer clothing. Winter clothes are bulky and so putting them away in storage bags can help make space for your spring/summer clothes that are usually lighter.
Don't want to put them in storage bags? You can also try putting them in the back of your closet. That goes for your accessories as well such as scarfs, hats, and your favorite pair of UGGs.
4

.

Plants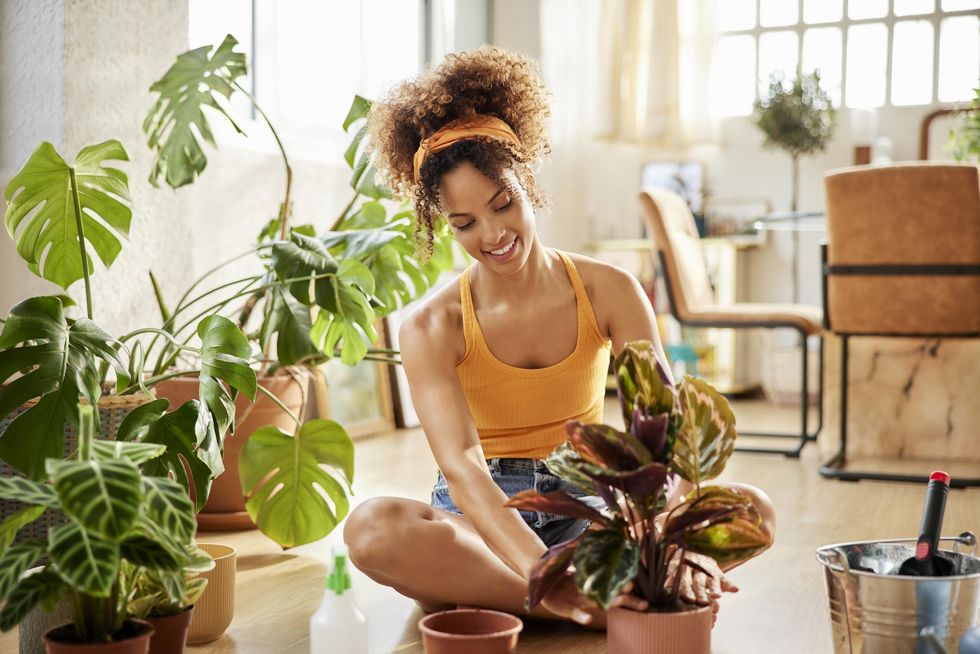 Getty Images
Plants can help spruce up any space, but for your home, they can make your living space feel like a place of refuge. Because plants are living organisms, they automatically breathe new life into your home and their presence alone makes you feel warm inside. Plus, we are a sucker for a good aesthetic and houseplants bring a certain vibe that can dress up in any room.
If you are a plant novice you can start with English ivy or a peace lily, which doesn't require a lot of maintenance. If you're ready to take being a plant mom to the next level, then you can try taking care of a fiddle-leaf fig tree that falls into the high-maintenance category.
Featured image by Getty Images
While I typically don't subscribe to the "Sex is great but have you tried…" sayings that seem so popular right through here (because sex is kinda incomparable), I do have a semi-short list of things that are somewhat like mental climaxes to me. Beyond the shadow of a doubt, the fall season is one of them. I like the cooler weather. I like the turning leaves. I like layering my clothes. I like hot apple cider and hot chocolate. Two of my favorite men ever (who are both gone now: my late fiancé and father) are both born in October. Weddings during the fall are dope. I personally celebrate Rosh Hashanah and it happens in the fall. I could go on and on. I really could.
Something else that I like about the fall is it's a cool time to do a bit of switching around when it comes to my home décor. Nothing really big or super expensive. Just some touches here and there that convey feelings of warmth, coziness and peace.
Listen, fall is literally right up the road. If you want to create a few looks in your house that will make you want to stay in more once the weather starts to drop closer to freezing, I've got 15 that you could easily pull off over the course of a weekend without breaking the bank in the process.
1. Go with Some Low-Watt Light Bulbs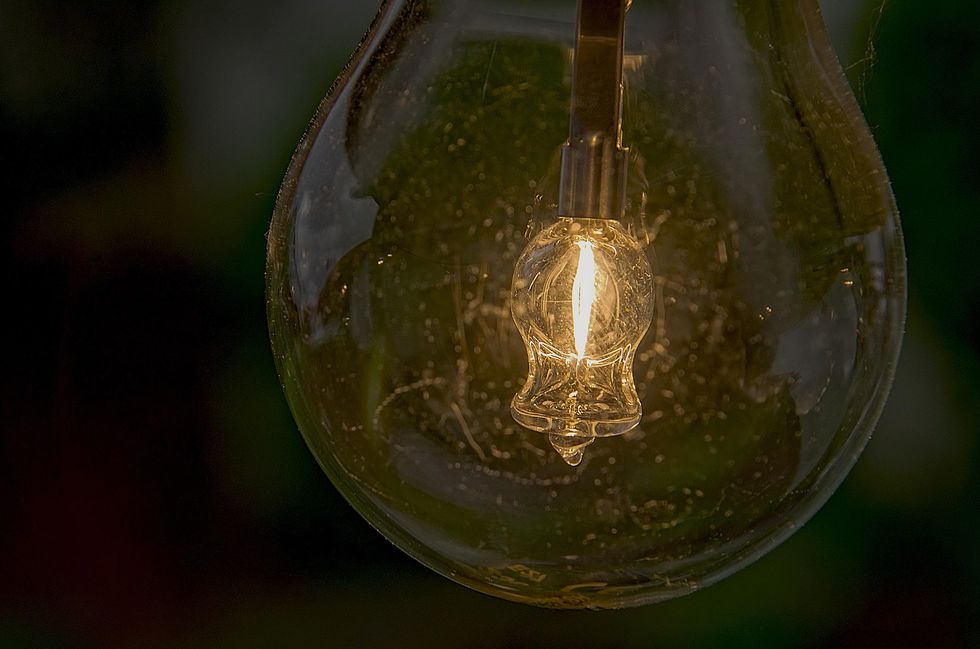 Although we've still got a couple of months before it will be time to "fall back" as far as daylight savings time goes, because it's darker during the autumn and winter seasons, this would be a good time to cop a few low-watt (40-watt or lower) light bulbs. They tend to offer a softer glow that can make the various rooms of your house feel warmer and more comfy.
2. Get Some Pine Cones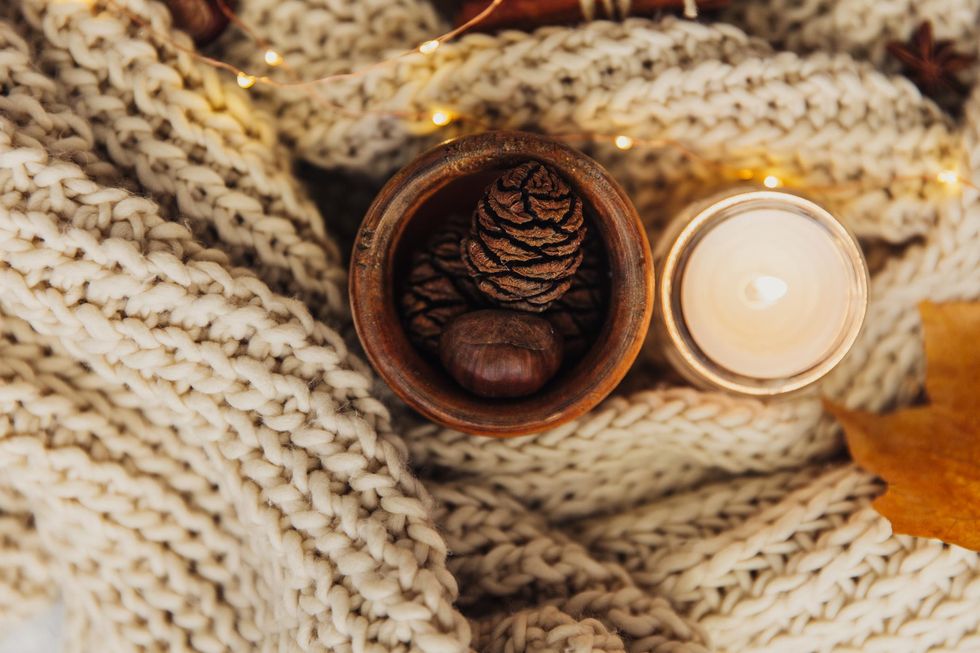 If there was a signature plant for the fall and winter season (other than poinsettias), it would have to be the pine cone. While technically, it's considered to be an "organ" in the family of Pinophyta plants, I doubt any of us would give those plants a second thought if it weren't for the pine cones that are hanging from them.

Anyway, I like pine cones so much that I've got a basket that's full of them that I keep in my living room, year-round. However, if you don't really dig them unless it's cold outside, we're about there. Pick some up and put them in a basket, a glass vase or even make a wreath out of pine cones to hang on your front door. As far as where to purchase some, local arts and crafts stores typically carry pine cones (especially as the fall season rolls in).
Oh and, if that wreath idea is something that you're interested in, click here for some step-by-step instructions.
3. DIY Some Fall-Themed Potpourri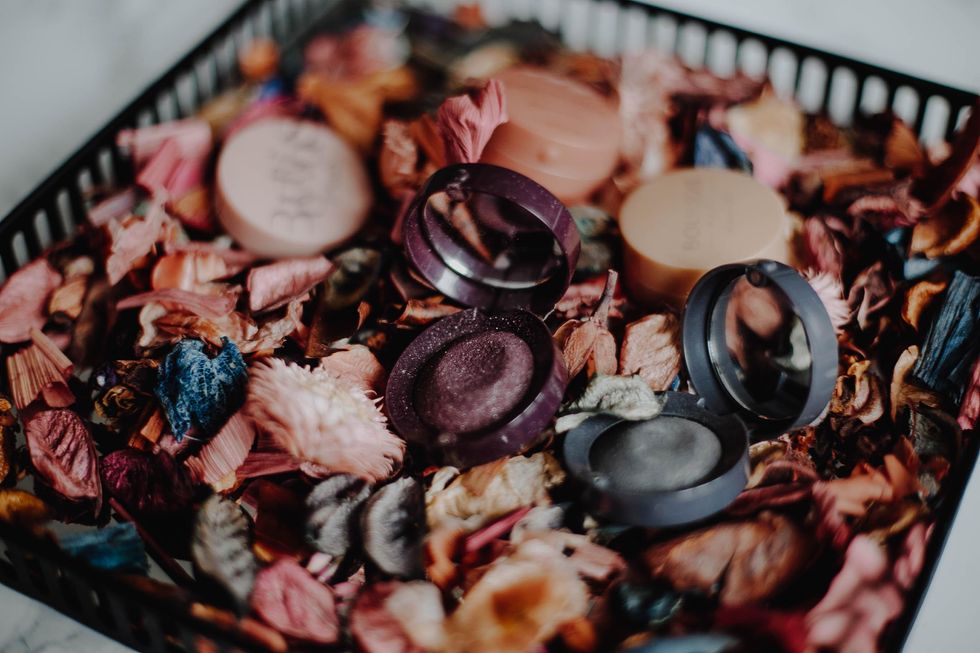 I don't know about y'all but something else that I'm a fan of is potpourri. It just has a way of making my house smell so, shoot, "delightful" is the word that immediately comes to mind. If you want to customize your own this year, it's pretty easy to do. A particular recipe that I like consists of "fall-ish scents" like apples, oranges, cranberries, cinnamon sticks, allspice and nutmeg. I found it on the blog, Pip and Ebby. You can check it out here.
4. Play Around with Kernels of Popcorn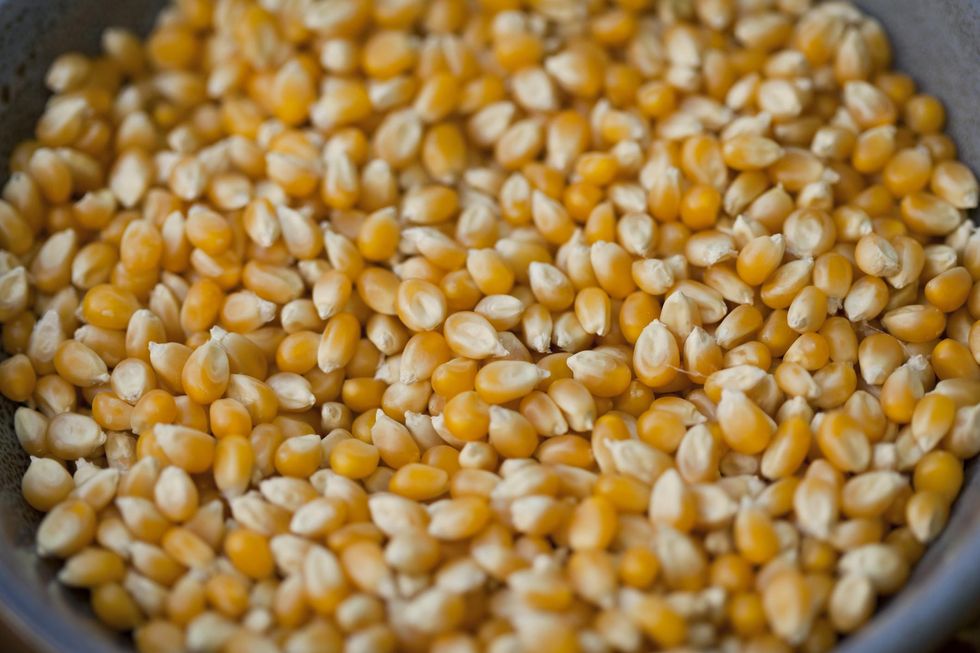 Speaking of centerpieces, if you plan on doing a little bit of entertaining over the next few months, a super inexpensive décor idea is to get yourself a couple of tall glass cylinder vases. Then fill them halfway with popcorn kernels and stick some in season fall flowers like sunflowers, chrysanthemums or pampas grass into them. Corn ears are something that's oftentimes seen a lot around Thanksgiving, so the popcorn kernels are something else that can speak "fall" in a subtle kind of way.
5. Decorate with (Preserved) Gourds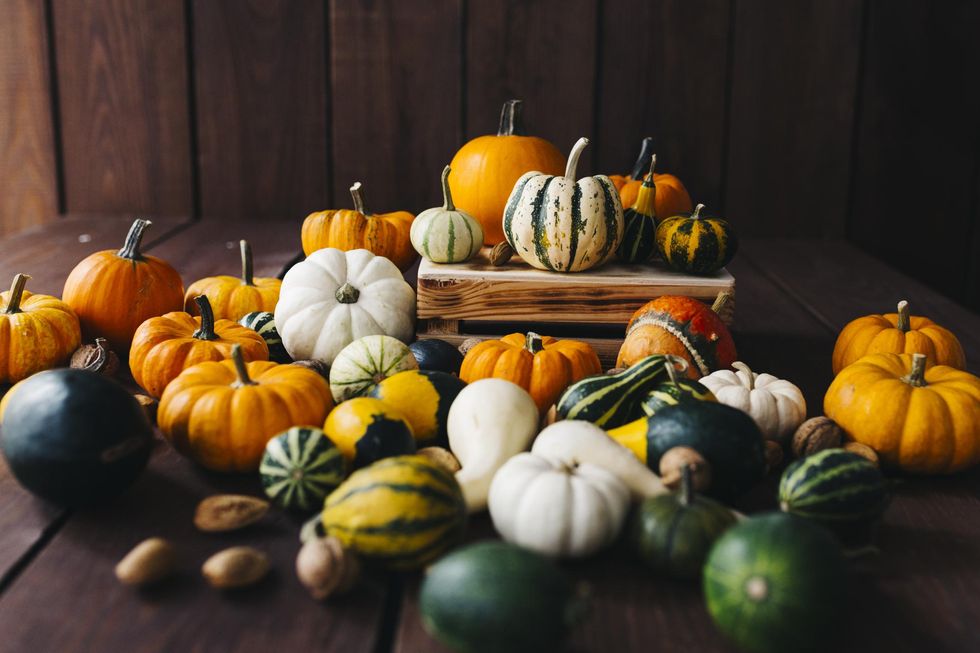 While in all honesty, gourds aren't the most fun to eat, they are a wonderful thing to decorate with. Matter of fact, I can't think of many fall harvest décor themes where I don't see them as a major focal point of the design. Whether you want to use them as candle holders, centerpieces, a hanging for your front door or something else, if you preserve them correctly, they can easily last for several weeks. On Sutton Place is a blog that can walk you through how to do just that (here).
6. Darken Your Window Treatments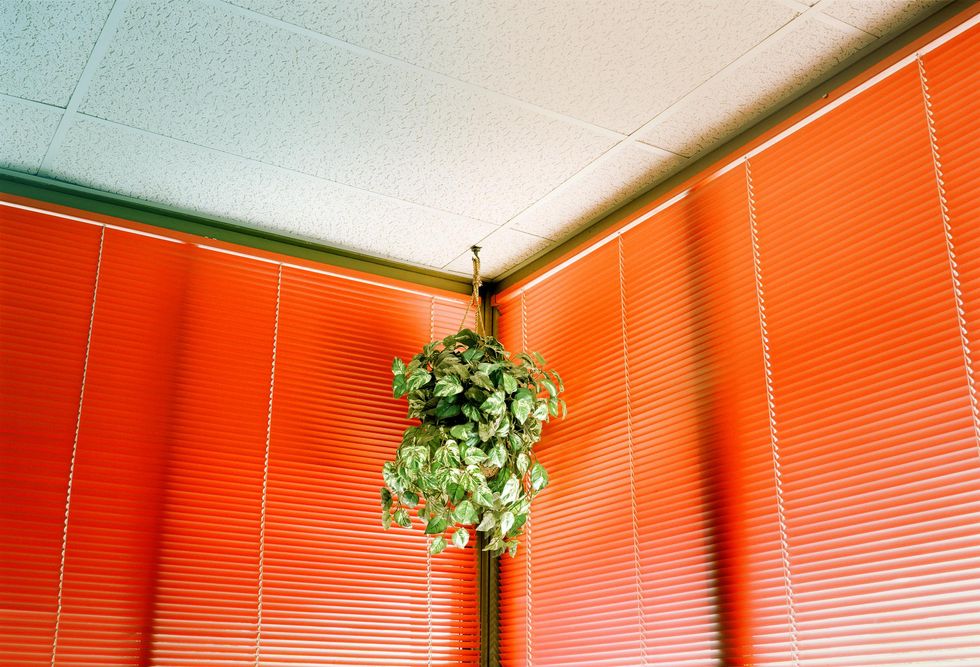 This particular point is a bit of a play-on words. The reason why I say that is because, if you want to block out the daylight so that you can sleep more while you're off during Thanksgiving (and later Christmas), I can certainly vouch for the fact that blackout curtains (and/or blinds) can get that done. The other spin on this point is to go with some window treatments that are darker in color. It can make various rooms of your house appear "richer".
7. Buy Some Pumpkin Shapes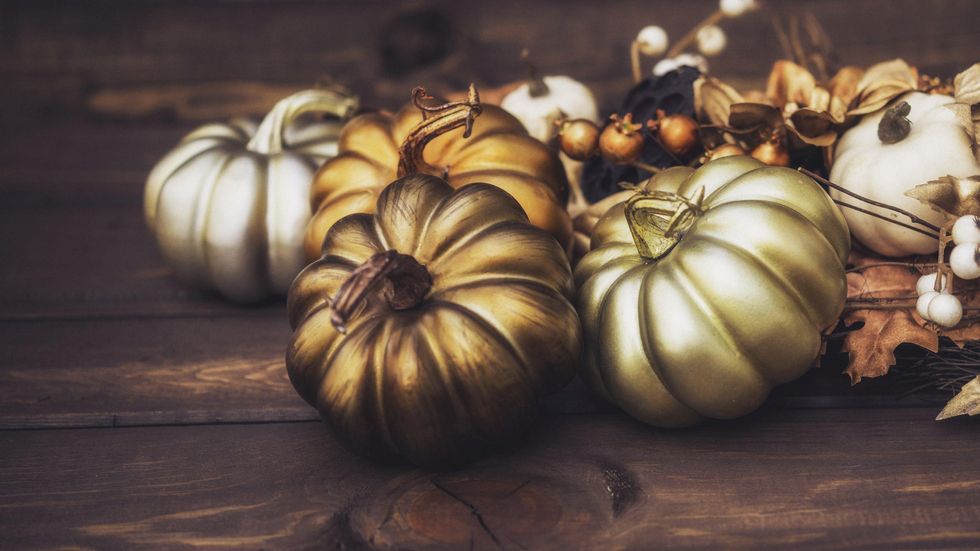 C'mon. We all know what the signature fruit for fall is — the pumpkin. One day, we'll have to get into the whole "which is better?" debate — pumpkin or sweet potato pie. For now, let me stay on topic and just say that whether or not you adore the taste of pumpkin, it can be cute to have some pumpkin-shaped ideas to decorate your house. Arts and crafts stores (along with places like Walmart and Target) typically have pumpkin stuff. If you think that the orange ones are a little too "country" or even corny, look for metallic ones instead. I saw some on Grandin Road's website that I thought were pretty dope (check it out here).
8. Invest in Some Huge Pillows and/or an Ottoman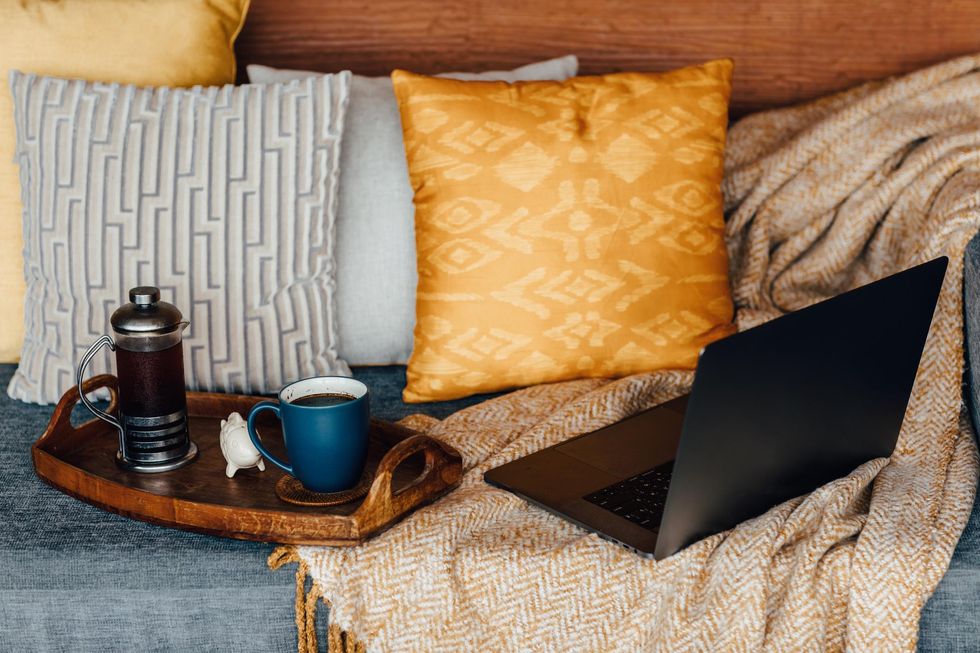 Two things that can make even a really nice place feel more like a dorm room (and not in a good way) are bare walls and a lack of big ole' pillows. Keeping this in mind, beside my loveseat, there's a space that's designated for nothing else other than some really large pillows; they really help to make my living room look and feel more comfortable. Or, if you want to fill up an area but you don't want anything too large or bulky, an ottoman may be just what you need.
In the spirit of fall, go with hues that immediately bring autumn to your mind — white or off-white, shades of brown, shades of orange, deep greens, metallics, greys or even purple. The cool thing about this particular tip is you can store the pillows elsewhere once fall/winter is over. Also, if you're looking for another décor theme, the ottoman can be reupholstered or you can put a throw blanket or something over it once a new season arrives.
9. Hang Some Faux Autumn-Colored Foliage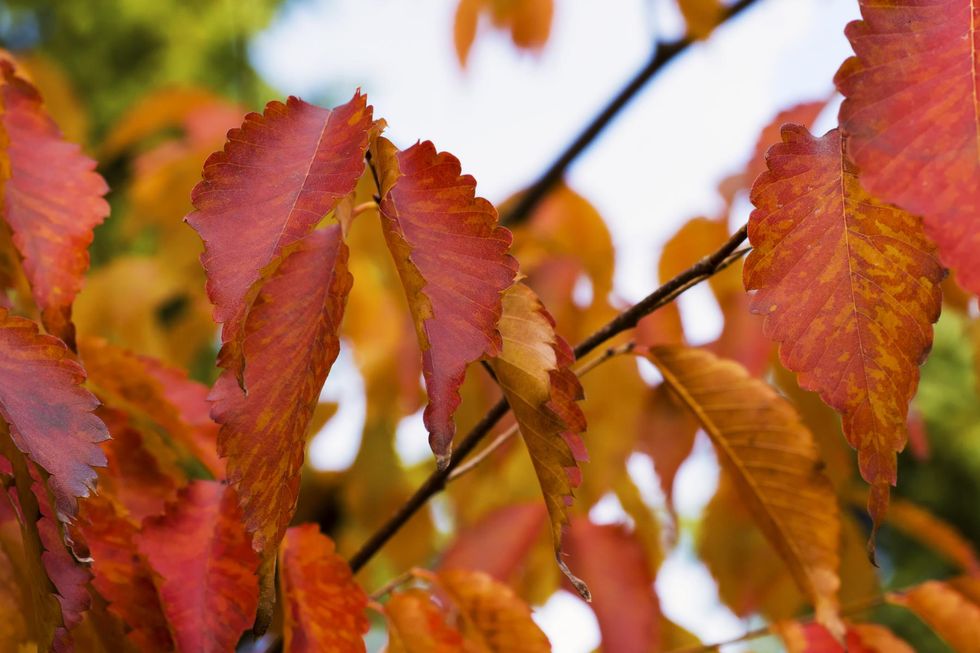 Fall is usually the time of year when folks are down for hanging twinkle lights around their bed (you know, since it's darker longer outdoors. Plus, it's a precursor for Christmas decorations).
If you'd like to have more of a nature-like feel, how about going with some faux foliage that comes in autumn colors like yellow, orange and red? Listen, I've got a nice sized fake tree in my bedroom and it's one of the best things I've ever purchased.
You can get faux foliage at your local arts and crafts store too.
10. Look for Some Jewel-Toned "Accessories"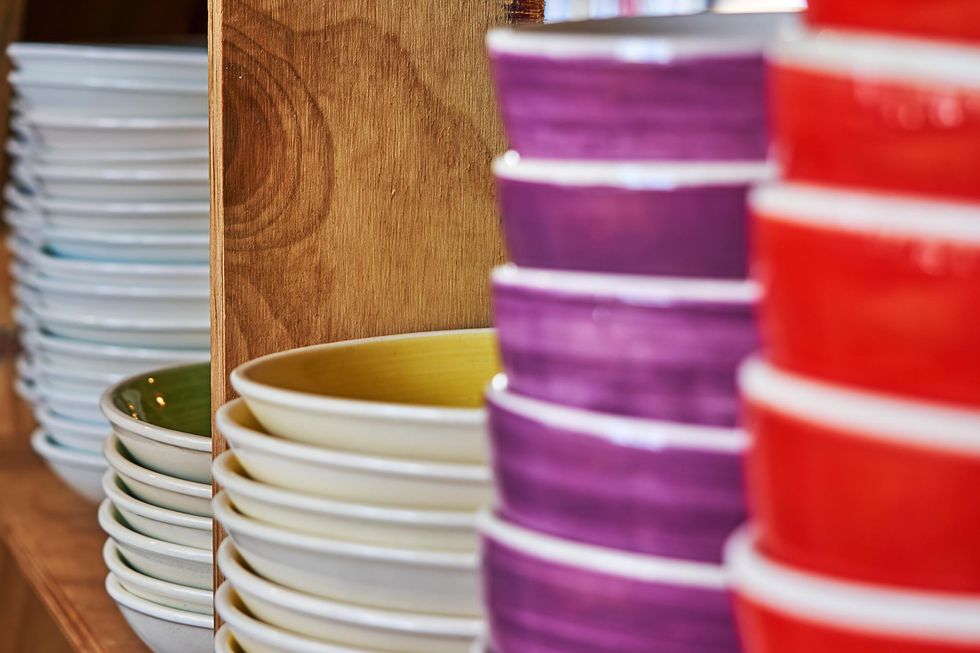 Colors that reflect autumn leaves are very popular when it comes to home décor. Something else is the rich shades that derive from jewel tones. If you're curious about what falls under that category, it's literal jewel colors like sapphire, ruby and emerald. Dishes, picture frames, glasses, shower curtains, linen, serving trays, plant holders, vases, blankets, pillows — these are just some of the ways that you can add jewel tones into your décor in order to add some elegance that says "fall" in the most sophisticated way possible.
11. Bring in Some Fall-Scented Essential Oils (or Candles)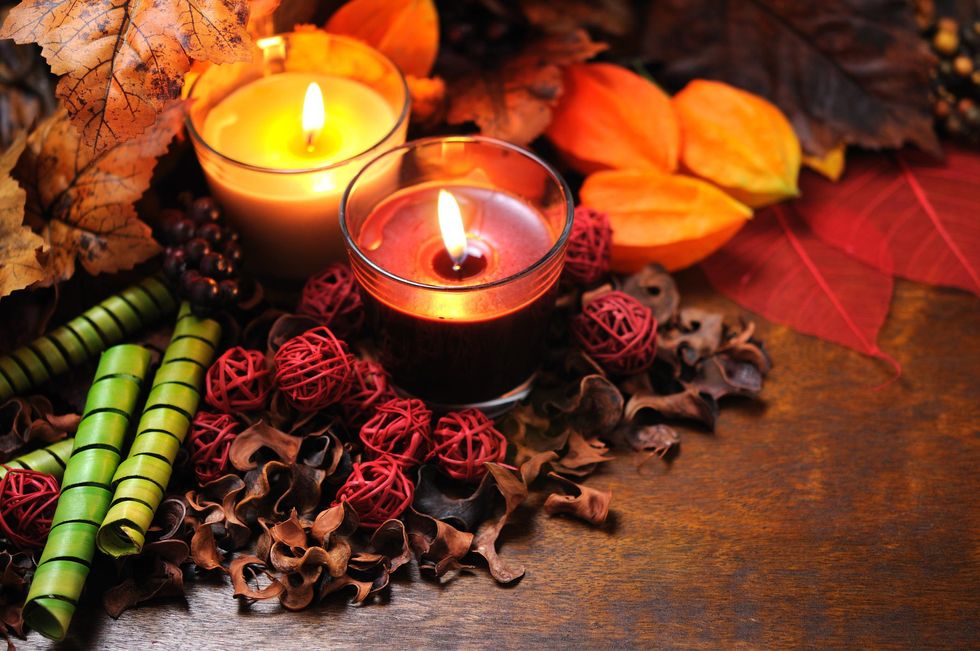 Other than potpourri, another way to keep the various rooms of your home smelling fall-themed-divine is using an oil diffuser or some scented soy candles (it can't be said enough that soy candles burn cleaner and last longer) that come in some of the season's signature scents. Some of those would include vanilla, apple, pomegranate, fig, sandalwood, berry, patchouli, spice, sage and the combination of frankincense and myrrh.
12. Accent with Cinnamon Sticks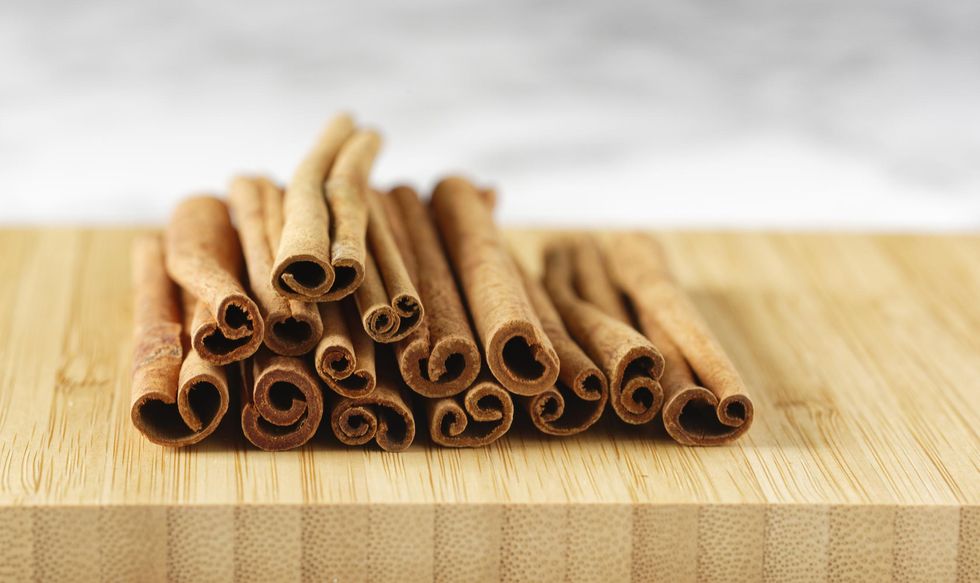 Another scent that's amazing for fall is cinnamon. One way to incorporate it into your candles is to get some cinnamon sticks that you can line up all around, say a vanilla-scented tall candle that you've got. Can anything smell better than that? Lawd. Anyway, tips on how to DIY this can be found on the Home Stories A to Z blog here.
13. Put Some Autumn Leaves in a Contrasting-Colored Vase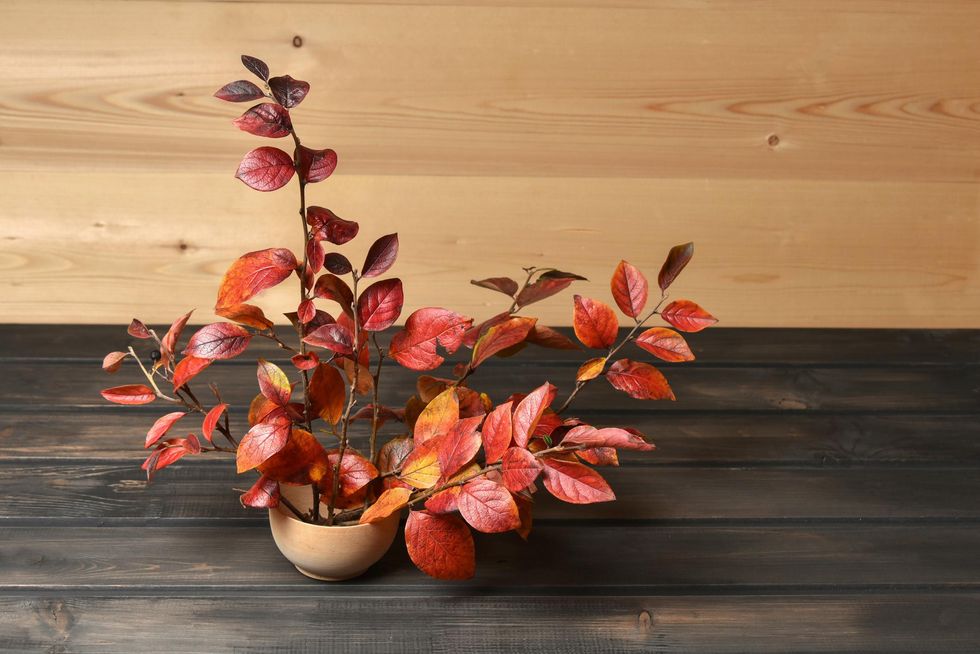 My maternal grandmother used to press plants and flowers a lot. Matter of fact, I've got a large beautifully framed piece of her work in my living room. Since the vibrant colors of autumn leaves are also a huge part of fall décor, if you want to press your own leaves, check out Red Ted Art's list of ways to make that happen here.
Another cool take on autumn leaves is to cut down a few small branches and then put them in a vase that is a totally different color from them like a royal blue or a deep purple. That way, the leaves will "pop" as the combo makes your home office desk or even a centerpiece in your kitchen look "fall ready" with a bit of a modern twist.
14. Get Some (More or New) Throw Blankets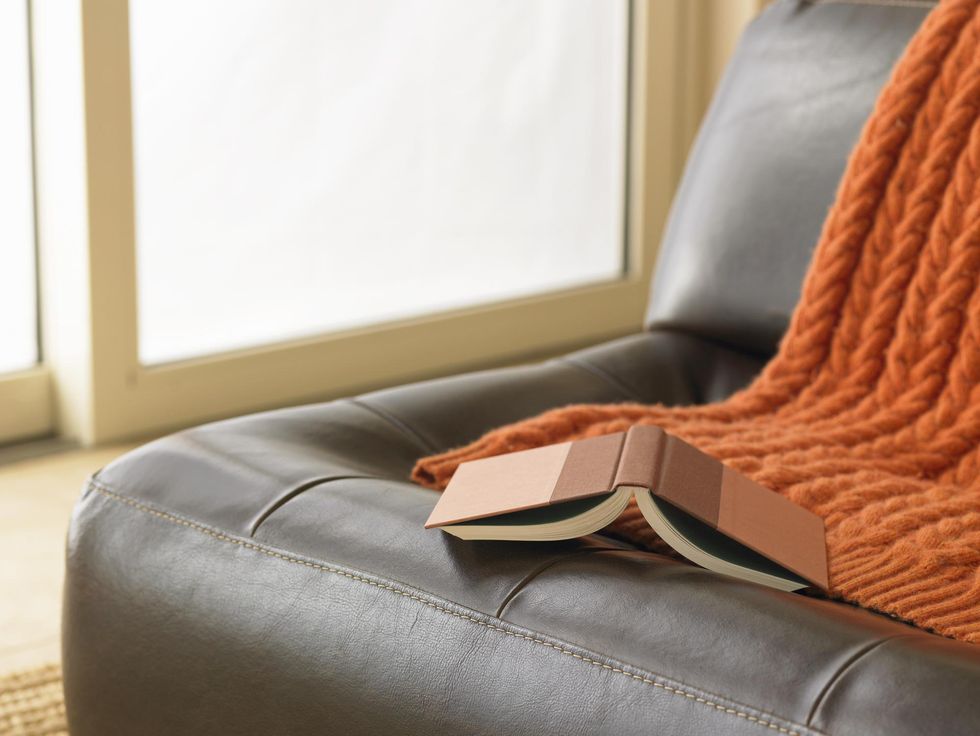 I think I've told y'all before that I don't even know how many throw blankets I've got in my house at this point; that's how much I adore them. I like to put them across my ottoman, drape them over my loveseat and I really like at the foot of my bed. A particular kind that I currently don't have is what I'm gonna invest in this year — a huge cable knit throw blanket. Without a doubt, throw blankets are warm, they're cozy and they definitely are a great way to make your house look like it's all about the fall (and winter) season.
15. Add Some (More or New) Throw/Area Rugs Too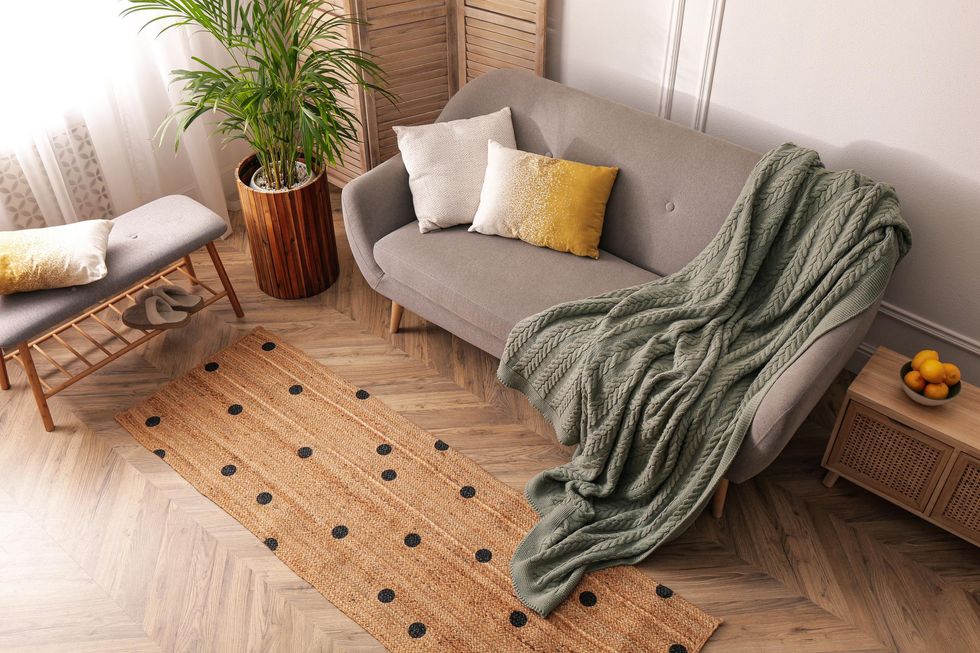 Speaking of "throw stuff", there is something that looks very inviting about a throw/area rug on the floor. Here's the thing about them too — they literally help to keep the rooms in your house warmer (especially if you've got hardwood floors). As bonuses, they can make it more comfortable to walk around barefoot and they even can reduce the noise in the rooms that they are in because they absorb sound from the air (wild). The throw rugs that I have keep my neutral carpeting from looking "blah". One or two in your place could make a dramatic difference. Just in time for the fall season that is definitely on its way.
Join our xoTribe, an exclusive community dedicated to YOU and your stories and all things xoNecole. Be a part of a growing community of women from all over the world who come together to uplift, inspire, and inform each other on all things related to the glow up.
Featured image by Getty Images
Spending more time indoors has forced me to re-examine my home life, compelling me to create a space that is conducive to maximum peace and comfort, which also means a space that is aesthetically pleasing. One way to effectively advance towards my goal of ultimate serenity is living in a thoughtfully curated and organized clutter-free zone with everything having a proper place. Although a perfectly organized home looks as if it's only seen on TikTok or Pinterest, I'm finally ready to make it my everyday reality.
It can be difficult taking on home projects without feeling tired and overwhelmed from all of life's other responsibilities. When thinking of getting our homes in order, no matter your family size, tasks such as organizing can sound overwhelming and expensive, especially when working with limited space and a limited budget. In need of expert advice, I enlisted the help of LA-based professional organizer Charlotte Upshaw to jumpstart the process. Lending her expertise with projects large and small from LA-based brands to family home projects, Charlotte is known for her beautiful and masterful work when it comes to maximizing any space, perfect for individual and family needs.
Keep scrolling to check out our conversation for insight on how to get started on decluttering your home to live your best gratifying life.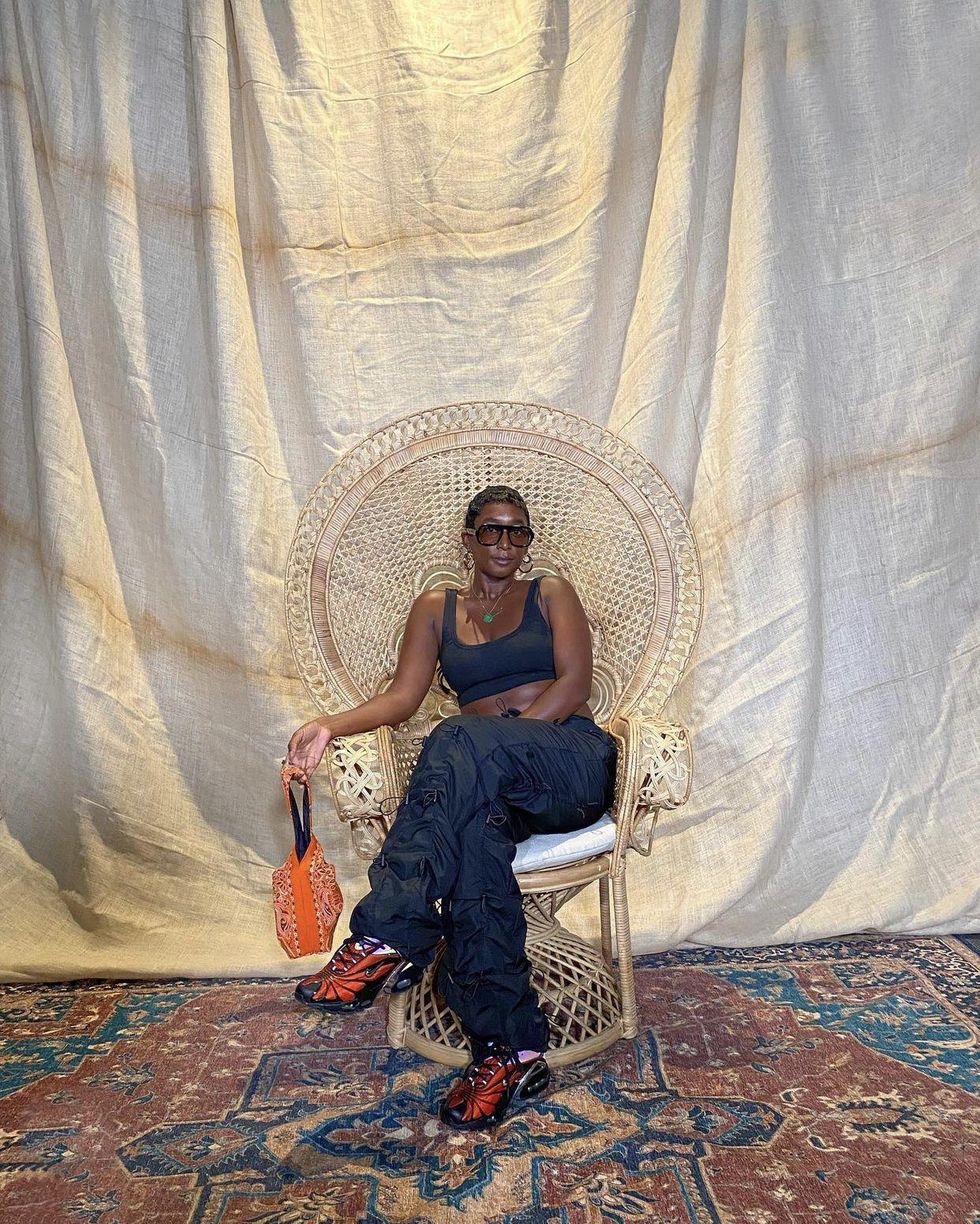 Meet Charlotte Upshaw, "the Iverson of organizing."
Courtesy of Charlotte Upshaw
1. What's the first step when tackling a home organization project?
"At the beginning of a project, it's important to access what you have. The best way to do so is by pulling everything out of the space you want to organize, then do an honest edit of things you no longer need. Editing is very important here so that you're not re-cluttering your space all over again."
2. What about bathroom tips for women like myself with tons of makeup and hair products with limited drawers and cabinets? 
"When it comes to bathrooms, categorizing is important. I like to organize according to category and store it as such. I'm not big on crowding a sink with product. I suggest editing down to everyday essentials if anything. Stackable containers are great for bathrooms and allow you to get the best of your space under the sink."
3. Any closet hacks for those of us struggling to work with minimal storage space but want to maintain an aesthetically pleasing atmosphere? 
"I always tell clients that vertical space is important, so make sure you're using all of the height as well as width. Getting rid of original boxes is a huge help; bulkiness takes up much-needed space. A few of my favorite closet products that I always suggest for those with storage space are slim hangers (they come in various colors and textures), drop front shoe containers, and 's' hooks for purses and accessories. Another thing I do is use decorative bins that can function as both as storage and a cute piece of furniture."
4. For those that feel like a professional organizer would be too expensive, what are a few tips on organizing on a budget? 
"First, I want to clarify the misconception that professional organization services are expensive and unfeasible. It's a great investment because it's essentially a lifestyle elevation. However, when organizing on a budget, I suggest doing things in phases. Whether that's buying new hangers and getting rid of your old ones or tossing flimsy shoe boxes that are taking up too much space. The Container Store is actually not as expensive as people assume; their perks program is extremely rewarding. Your local Target is always a good resource for organizational and aesthetically pleasing things as well."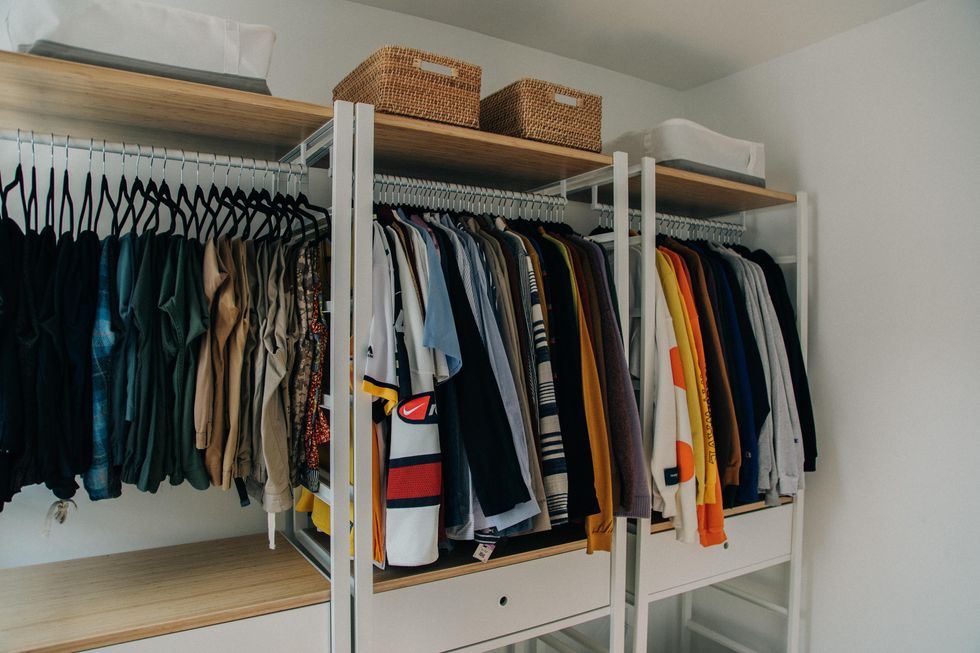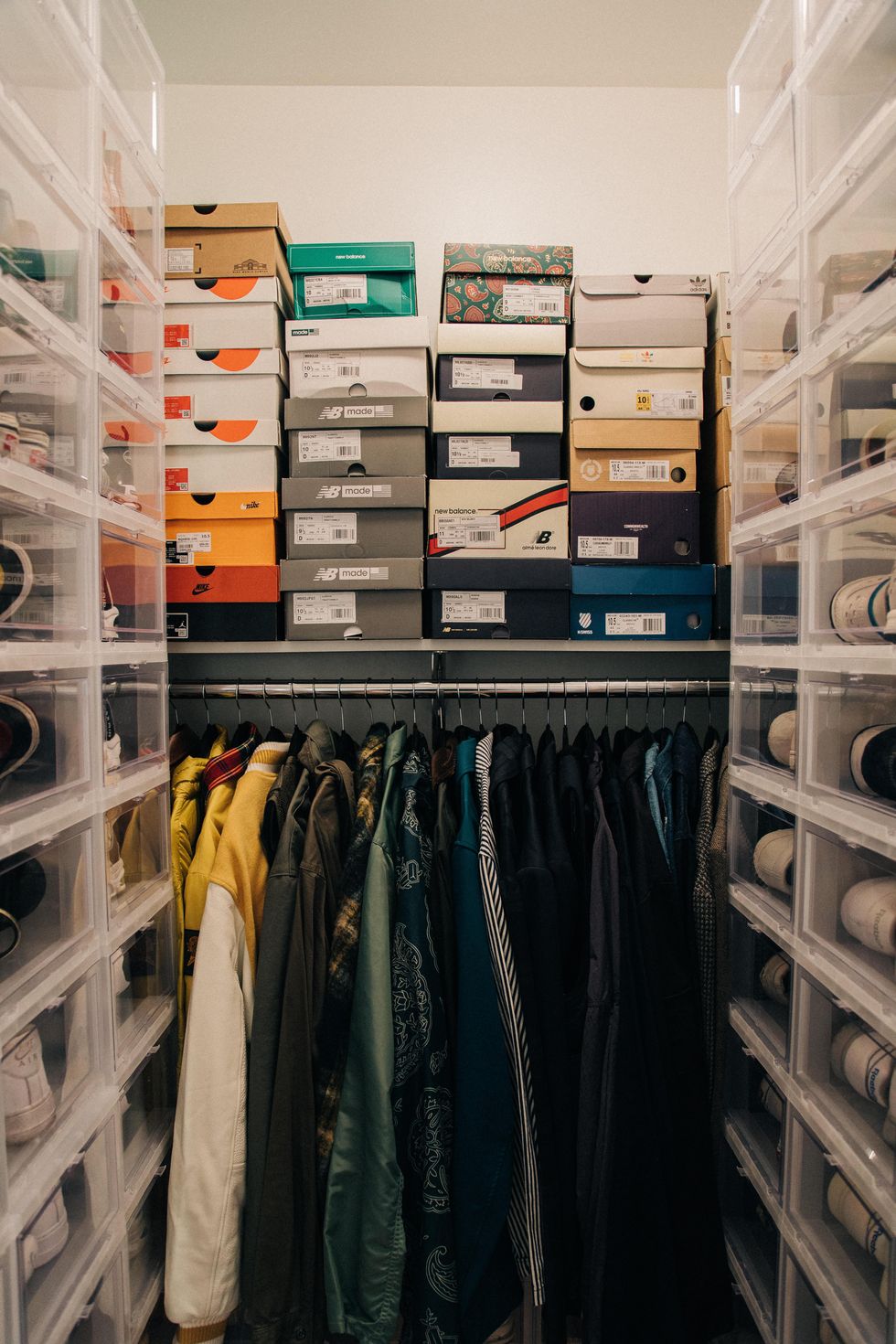 5. I have a hard time organizing overall but the amount of accessories I own such as jewelry and sunglasses are overwhelming. Any suggestions on storing these smaller items?
"I love an open acrylic tray for sunglasses and accessories. They can easily just lay flat, lined up and look great on a dresser."
6. Growing up, a junk drawer and utensil holder were the only two things organized in our kitchen, ultimately causing me to create the same bad habit. What are a few kitchen organization ideas I can adopt to break this cycle?
"Drawer organizers! Adjustable drawer organizers can be used for more than utensils. You can find them at Target, Amazon, etc. I also love incorporating clear fridge bins whenever I can to create the most refrigerator space."
7. You mentioned hiring a professional organizer is more affordable than people assume. For those that are now considering this new lifestyle elevation, what can they expect from an expert such as yourself vs. an everyday DIY project? 
"By hiring me you're paying for a specific creative execution. DIY is great for the short-term but I feel like everyone needs to have an organizer get their space to another level. DIY projects are time-consuming and the result sometimes doesn't meet the initial vision you may have had. Essentially, once I come in and create a system for you, I'm setting the tone and you just have to maintain it. It's absolutely worth holding off on that pair of shoes or bag you were going to cop and hiring an organizer instead."
For a more detailed home organization consultation, feel free to contact Charlotte on Instagram @CHELF.LIFE.
Featured image by Westend61/Getty Images