While I typically don't subscribe to the "Sex is great but have you tried…" sayings that seem so popular right through here (because sex is kinda incomparable), I do have a semi-short list of things that are somewhat like mental climaxes to me. Beyond the shadow of a doubt, the fall season is one of them. I like the cooler weather. I like the turning leaves. I like layering my clothes. I like hot apple cider and hot chocolate. Two of my favorite men ever (who are both gone now: my late fiancé and father) are both born in October. Weddings during the fall are dope. I personally celebrate Rosh Hashanah and it happens in the fall. I could go on and on. I really could.
Something else that I like about the fall is it's a cool time to do a bit of switching around when it comes to my home décor. Nothing really big or super expensive. Just some touches here and there that convey feelings of warmth, coziness and peace.
Listen, fall is literally right up the road. If you want to create a few looks in your house that will make you want to stay in more once the weather starts to drop closer to freezing, I've got 15 that you could easily pull off over the course of a weekend without breaking the bank in the process.
1. Go with Some Low-Watt Light Bulbs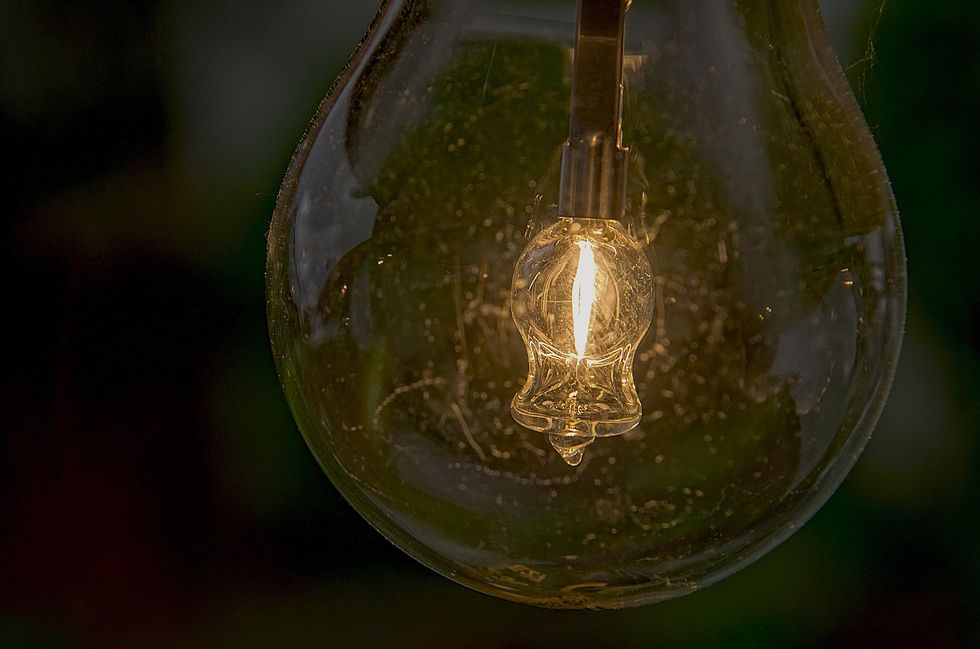 Although we've still got a couple of months before it will be time to "fall back" as far as daylight savings time goes, because it's darker during the autumn and winter seasons, this would be a good time to cop a few low-watt (40-watt or lower) light bulbs. They tend to offer a softer glow that can make the various rooms of your house feel warmer and more comfy.
2. Get Some Pine Cones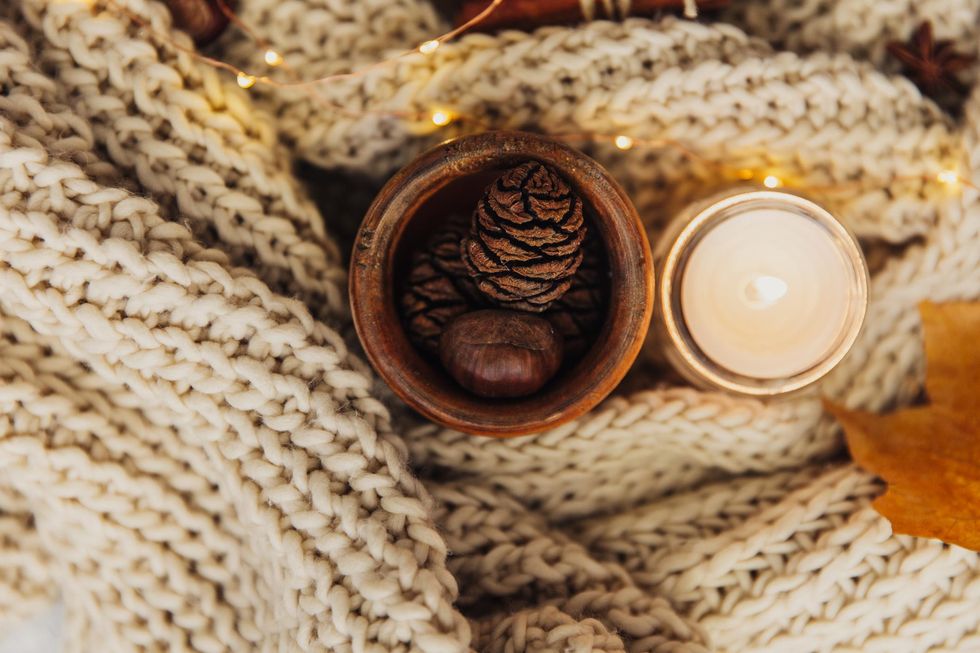 If there was a signature plant for the fall and winter season (other than poinsettias), it would have to be the pine cone. While technically, it's considered to be an "organ" in the family of Pinophyta plants, I doubt any of us would give those plants a second thought if it weren't for the pine cones that are hanging from them.

Anyway, I like pine cones so much that I've got a basket that's full of them that I keep in my living room, year-round. However, if you don't really dig them unless it's cold outside, we're about there. Pick some up and put them in a basket, a glass vase or even make a wreath out of pine cones to hang on your front door. As far as where to purchase some, local arts and crafts stores typically carry pine cones (especially as the fall season rolls in).
Oh and, if that wreath idea is something that you're interested in, click here for some step-by-step instructions.
3. DIY Some Fall-Themed Potpourri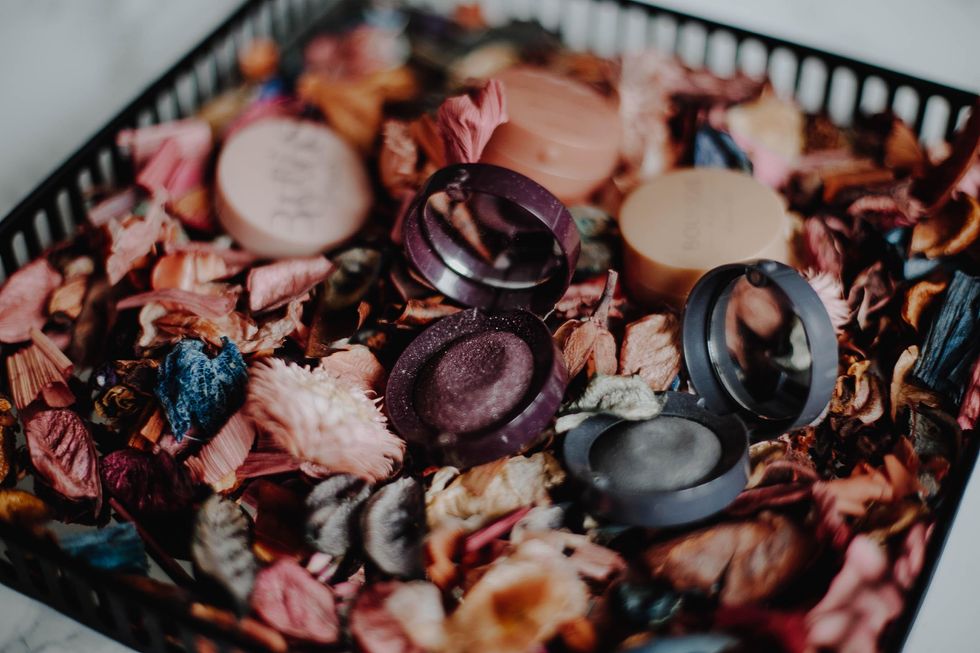 I don't know about y'all but something else that I'm a fan of is potpourri. It just has a way of making my house smell so, shoot, "delightful" is the word that immediately comes to mind. If you want to customize your own this year, it's pretty easy to do. A particular recipe that I like consists of "fall-ish scents" like apples, oranges, cranberries, cinnamon sticks, allspice and nutmeg. I found it on the blog, Pip and Ebby. You can check it out here.
4. Play Around with Kernels of Popcorn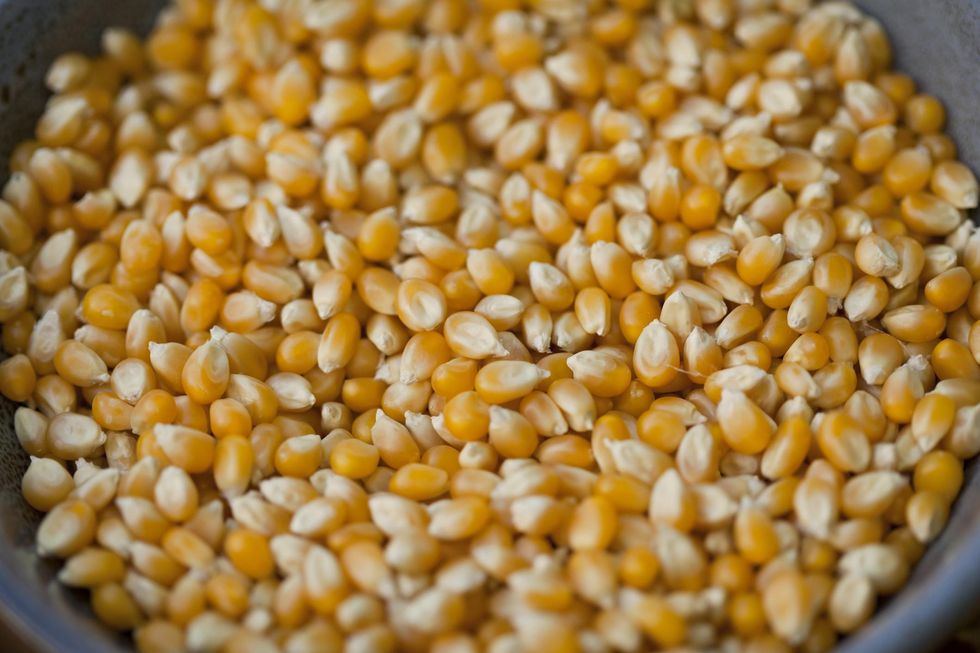 Speaking of centerpieces, if you plan on doing a little bit of entertaining over the next few months, a super inexpensive décor idea is to get yourself a couple of tall glass cylinder vases. Then fill them halfway with popcorn kernels and stick some in season fall flowers like sunflowers, chrysanthemums or pampas grass into them. Corn ears are something that's oftentimes seen a lot around Thanksgiving, so the popcorn kernels are something else that can speak "fall" in a subtle kind of way.
5. Decorate with (Preserved) Gourds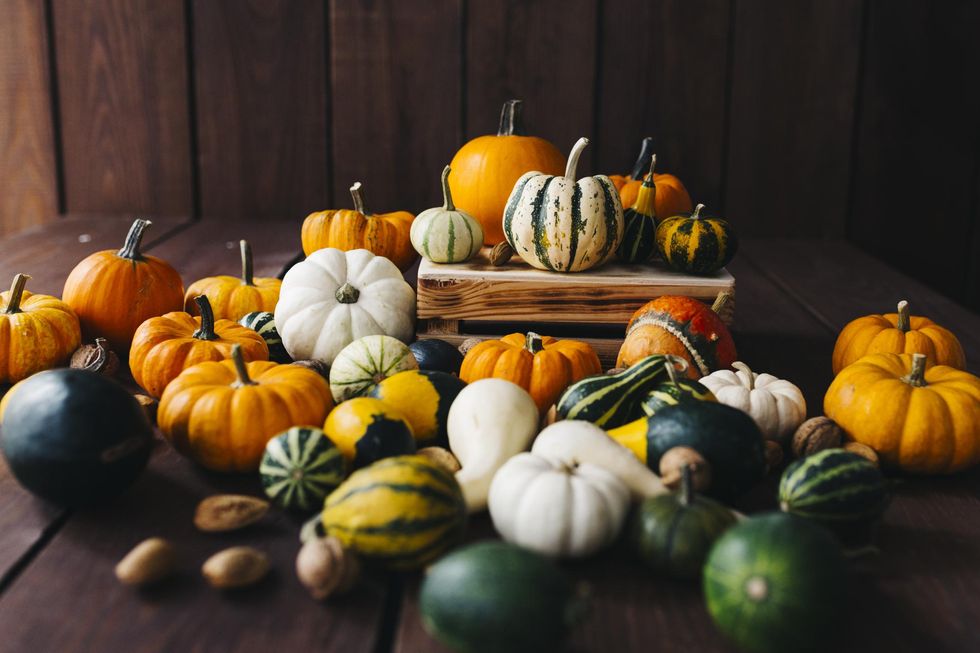 While in all honesty, gourds aren't the most fun to eat, they are a wonderful thing to decorate with. Matter of fact, I can't think of many fall harvest décor themes where I don't see them as a major focal point of the design. Whether you want to use them as candle holders, centerpieces, a hanging for your front door or something else, if you preserve them correctly, they can easily last for several weeks. On Sutton Place is a blog that can walk you through how to do just that (here).
6. Darken Your Window Treatments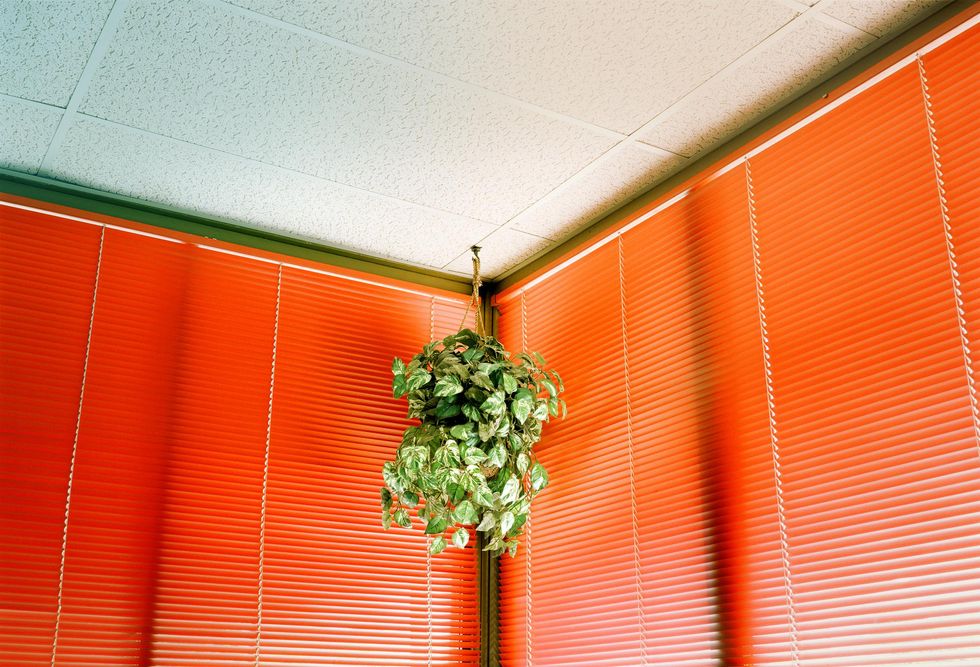 This particular point is a bit of a play-on words. The reason why I say that is because, if you want to block out the daylight so that you can sleep more while you're off during Thanksgiving (and later Christmas), I can certainly vouch for the fact that blackout curtains (and/or blinds) can get that done. The other spin on this point is to go with some window treatments that are darker in color. It can make various rooms of your house appear "richer".
7. Buy Some Pumpkin Shapes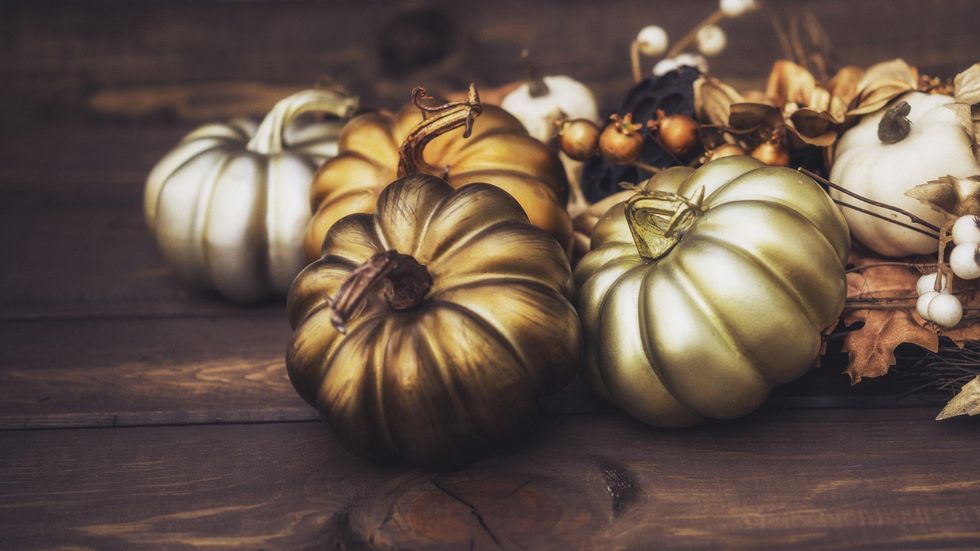 C'mon. We all know what the signature fruit for fall is — the pumpkin. One day, we'll have to get into the whole "which is better?" debate — pumpkin or sweet potato pie. For now, let me stay on topic and just say that whether or not you adore the taste of pumpkin, it can be cute to have some pumpkin-shaped ideas to decorate your house. Arts and crafts stores (along with places like Walmart and Target) typically have pumpkin stuff. If you think that the orange ones are a little too "country" or even corny, look for metallic ones instead. I saw some on Grandin Road's website that I thought were pretty dope (check it out here).
8. Invest in Some Huge Pillows and/or an Ottoman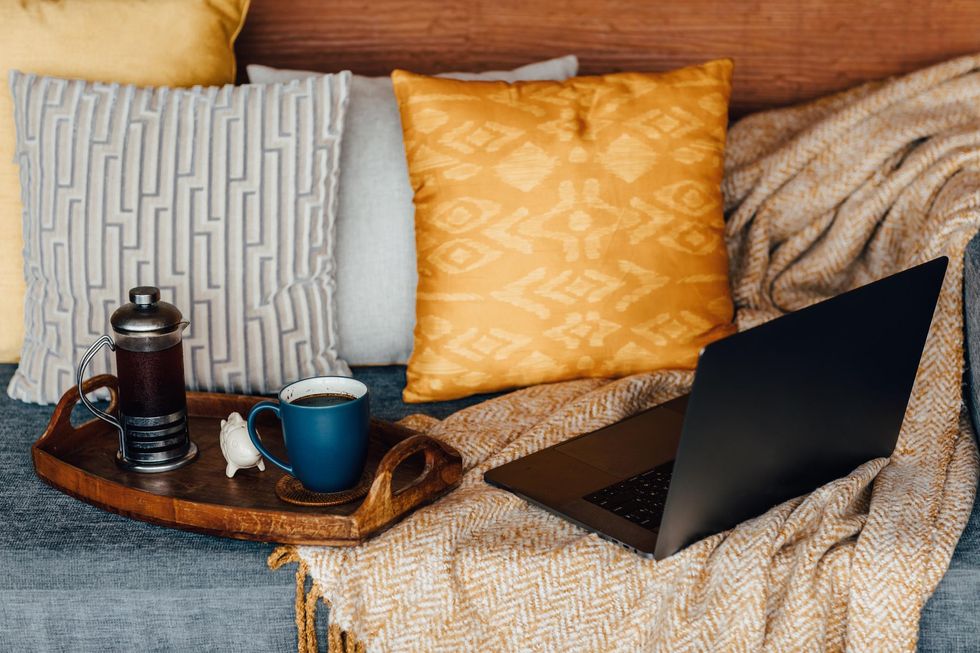 Two things that can make even a really nice place feel more like a dorm room (and not in a good way) are bare walls and a lack of big ole' pillows. Keeping this in mind, beside my loveseat, there's a space that's designated for nothing else other than some really large pillows; they really help to make my living room look and feel more comfortable. Or, if you want to fill up an area but you don't want anything too large or bulky, an ottoman may be just what you need.
In the spirit of fall, go with hues that immediately bring autumn to your mind — white or off-white, shades of brown, shades of orange, deep greens, metallics, greys or even purple. The cool thing about this particular tip is you can store the pillows elsewhere once fall/winter is over. Also, if you're looking for another décor theme, the ottoman can be reupholstered or you can put a throw blanket or something over it once a new season arrives.
9. Hang Some Faux Autumn-Colored Foliage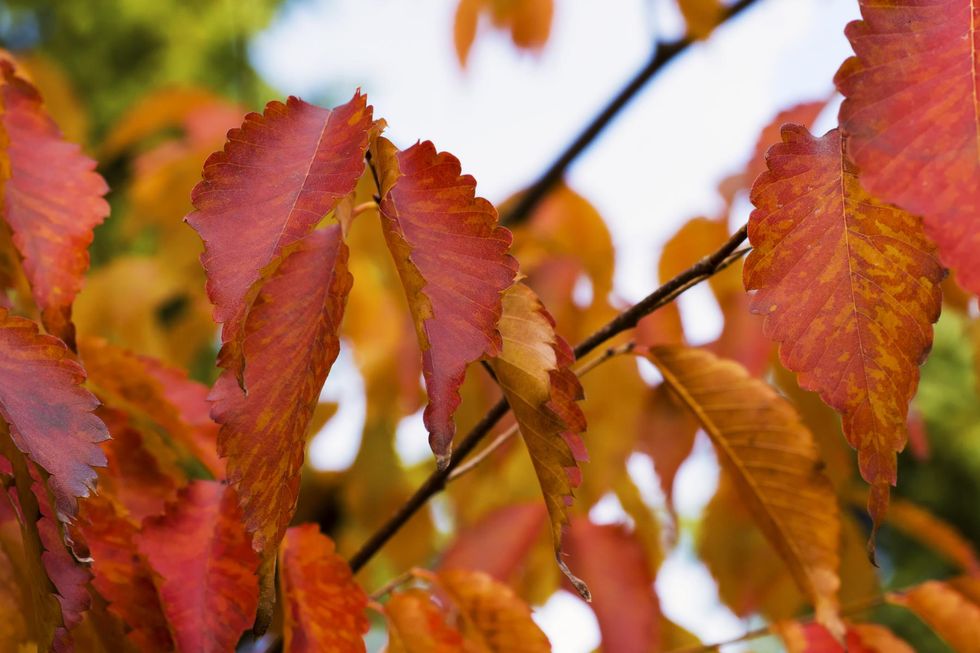 Fall is usually the time of year when folks are down for hanging twinkle lights around their bed (you know, since it's darker longer outdoors. Plus, it's a precursor for Christmas decorations).
If you'd like to have more of a nature-like feel, how about going with some faux foliage that comes in autumn colors like yellow, orange and red? Listen, I've got a nice sized fake tree in my bedroom and it's one of the best things I've ever purchased.
You can get faux foliage at your local arts and crafts store too.
10. Look for Some Jewel-Toned "Accessories"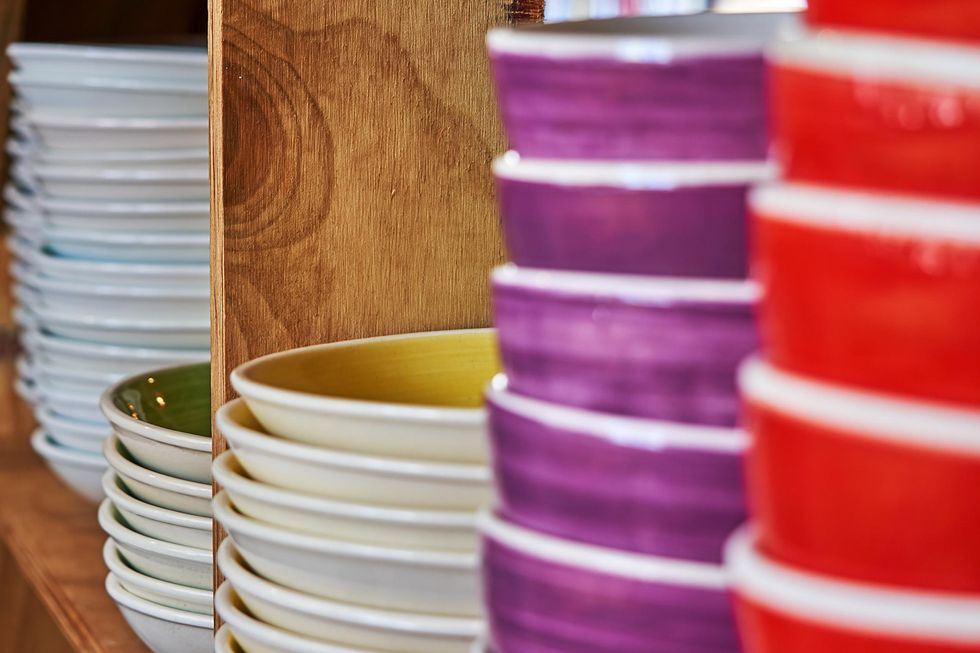 Colors that reflect autumn leaves are very popular when it comes to home décor. Something else is the rich shades that derive from jewel tones. If you're curious about what falls under that category, it's literal jewel colors like sapphire, ruby and emerald. Dishes, picture frames, glasses, shower curtains, linen, serving trays, plant holders, vases, blankets, pillows — these are just some of the ways that you can add jewel tones into your décor in order to add some elegance that says "fall" in the most sophisticated way possible.
11. Bring in Some Fall-Scented Essential Oils (or Candles)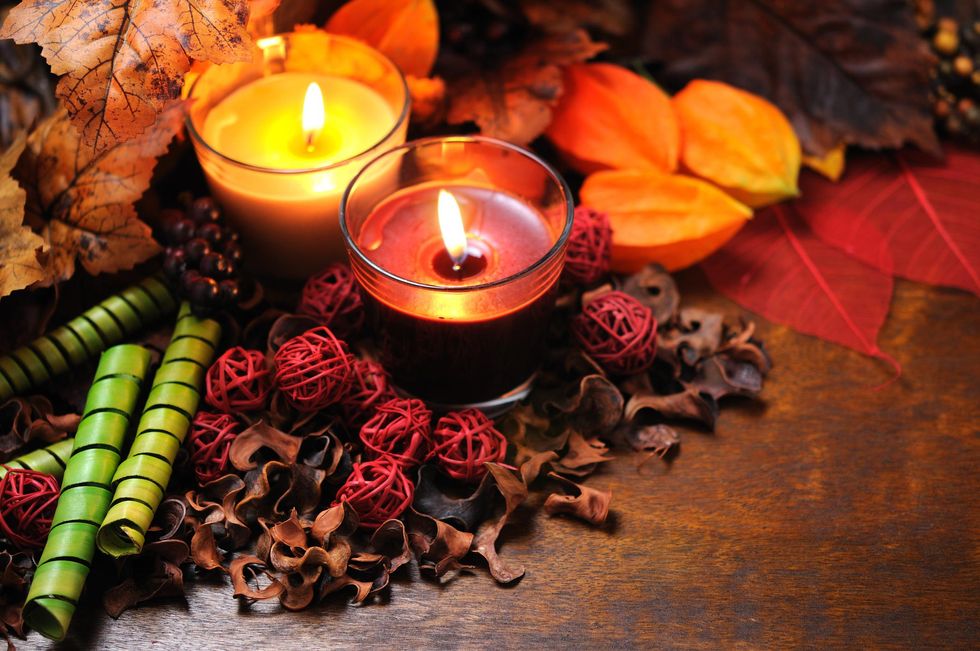 Other than potpourri, another way to keep the various rooms of your home smelling fall-themed-divine is using an oil diffuser or some scented soy candles (it can't be said enough that soy candles burn cleaner and last longer) that come in some of the season's signature scents. Some of those would include vanilla, apple, pomegranate, fig, sandalwood, berry, patchouli, spice, sage and the combination of frankincense and myrrh.
12. Accent with Cinnamon Sticks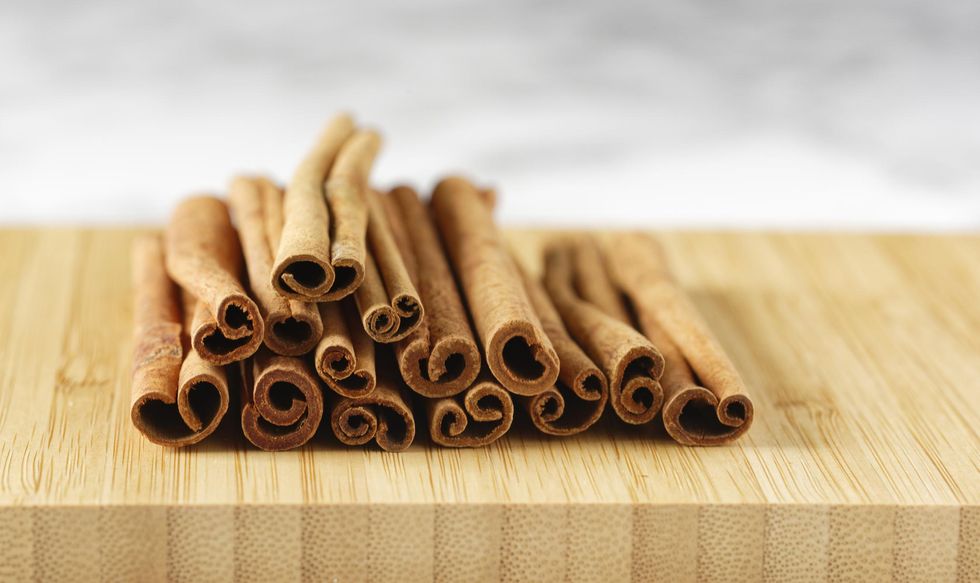 Another scent that's amazing for fall is cinnamon. One way to incorporate it into your candles is to get some cinnamon sticks that you can line up all around, say a vanilla-scented tall candle that you've got. Can anything smell better than that? Lawd. Anyway, tips on how to DIY this can be found on the Home Stories A to Z blog here.
13. Put Some Autumn Leaves in a Contrasting-Colored Vase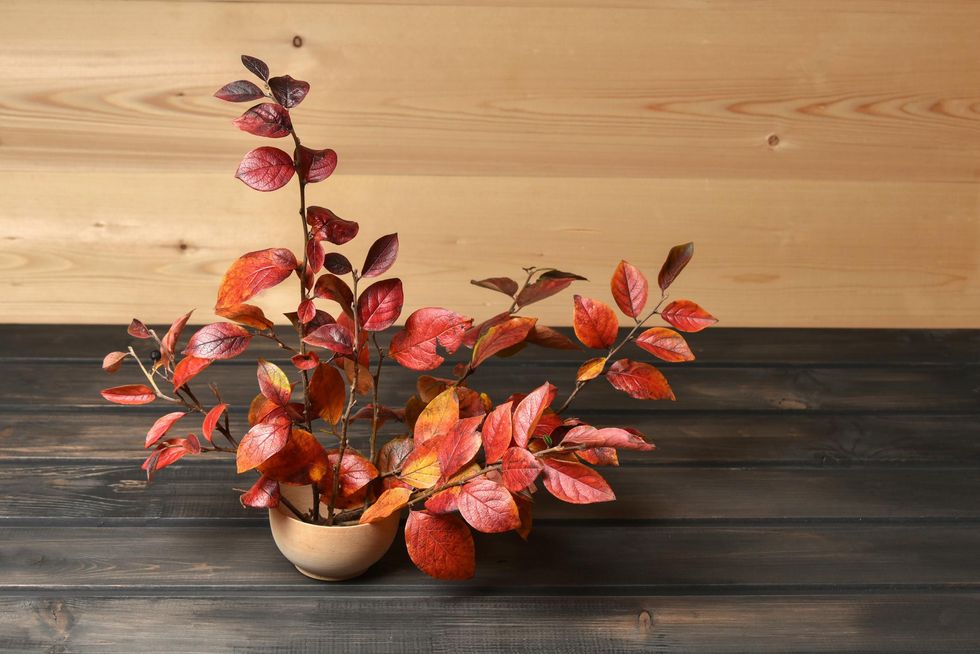 My maternal grandmother used to press plants and flowers a lot. Matter of fact, I've got a large beautifully framed piece of her work in my living room. Since the vibrant colors of autumn leaves are also a huge part of fall décor, if you want to press your own leaves, check out Red Ted Art's list of ways to make that happen here.
Another cool take on autumn leaves is to cut down a few small branches and then put them in a vase that is a totally different color from them like a royal blue or a deep purple. That way, the leaves will "pop" as the combo makes your home office desk or even a centerpiece in your kitchen look "fall ready" with a bit of a modern twist.
14. Get Some (More or New) Throw Blankets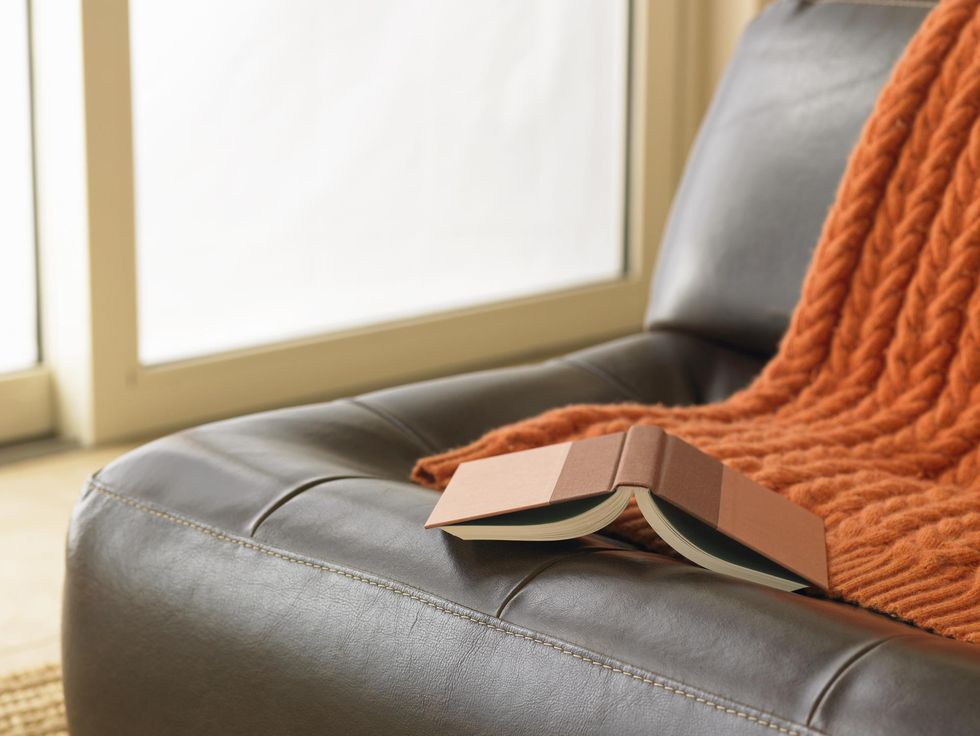 I think I've told y'all before that I don't even know how many throw blankets I've got in my house at this point; that's how much I adore them. I like to put them across my ottoman, drape them over my loveseat and I really like at the foot of my bed. A particular kind that I currently don't have is what I'm gonna invest in this year — a huge cable knit throw blanket. Without a doubt, throw blankets are warm, they're cozy and they definitely are a great way to make your house look like it's all about the fall (and winter) season.
15. Add Some (More or New) Throw/Area Rugs Too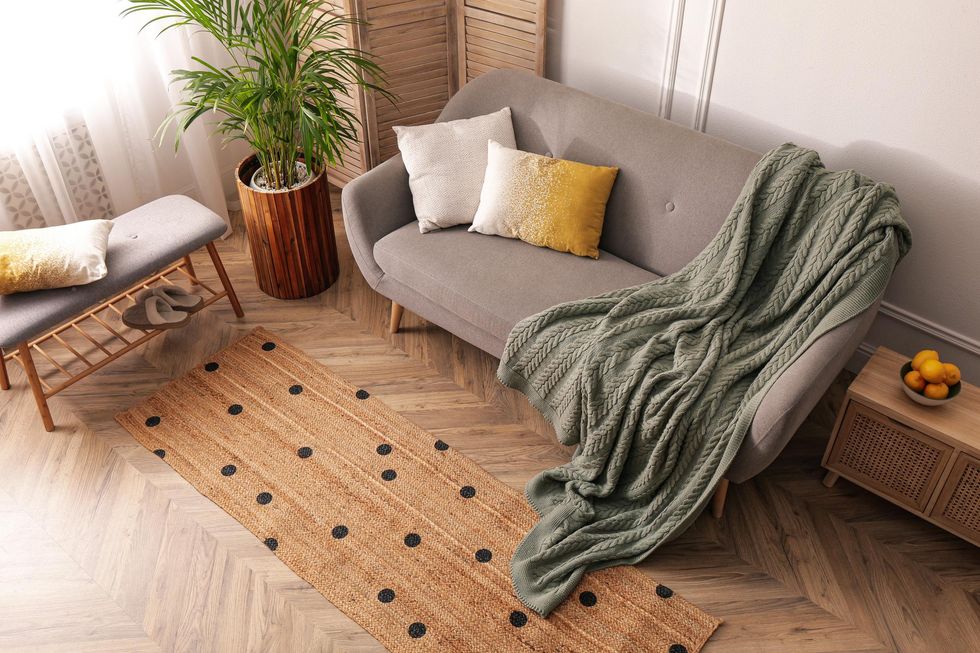 Speaking of "throw stuff", there is something that looks very inviting about a throw/area rug on the floor. Here's the thing about them too — they literally help to keep the rooms in your house warmer (especially if you've got hardwood floors). As bonuses, they can make it more comfortable to walk around barefoot and they even can reduce the noise in the rooms that they are in because they absorb sound from the air (wild). The throw rugs that I have keep my neutral carpeting from looking "blah". One or two in your place could make a dramatic difference. Just in time for the fall season that is definitely on its way.
Join our xoTribe, an exclusive community dedicated to YOU and your stories and all things xoNecole. Be a part of a growing community of women from all over the world who come together to uplift, inspire, and inform each other on all things related to the glow up.
Featured image by Getty Images
Keep reading...
Show less
Spending more time indoors has forced me to re-examine my home life, compelling me to create a space that is conducive to maximum peace and comfort, which also means a space that is aesthetically pleasing. One way to effectively advance towards my goal of ultimate serenity is living in a thoughtfully curated and organized clutter-free zone with everything having a proper place. Although a perfectly organized home looks as if it's only seen on TikTok or Pinterest, I'm finally ready to make it my everyday reality.
It can be difficult taking on home projects without feeling tired and overwhelmed from all of life's other responsibilities. When thinking of getting our homes in order, no matter your family size, tasks such as organizing can sound overwhelming and expensive, especially when working with limited space and a limited budget. In need of expert advice, I enlisted the help of LA-based professional organizer Charlotte Upshaw to jumpstart the process. Lending her expertise with projects large and small from LA-based brands to family home projects, Charlotte is known for her beautiful and masterful work when it comes to maximizing any space, perfect for individual and family needs.
Keep scrolling to check out our conversation for insight on how to get started on decluttering your home to live your best gratifying life.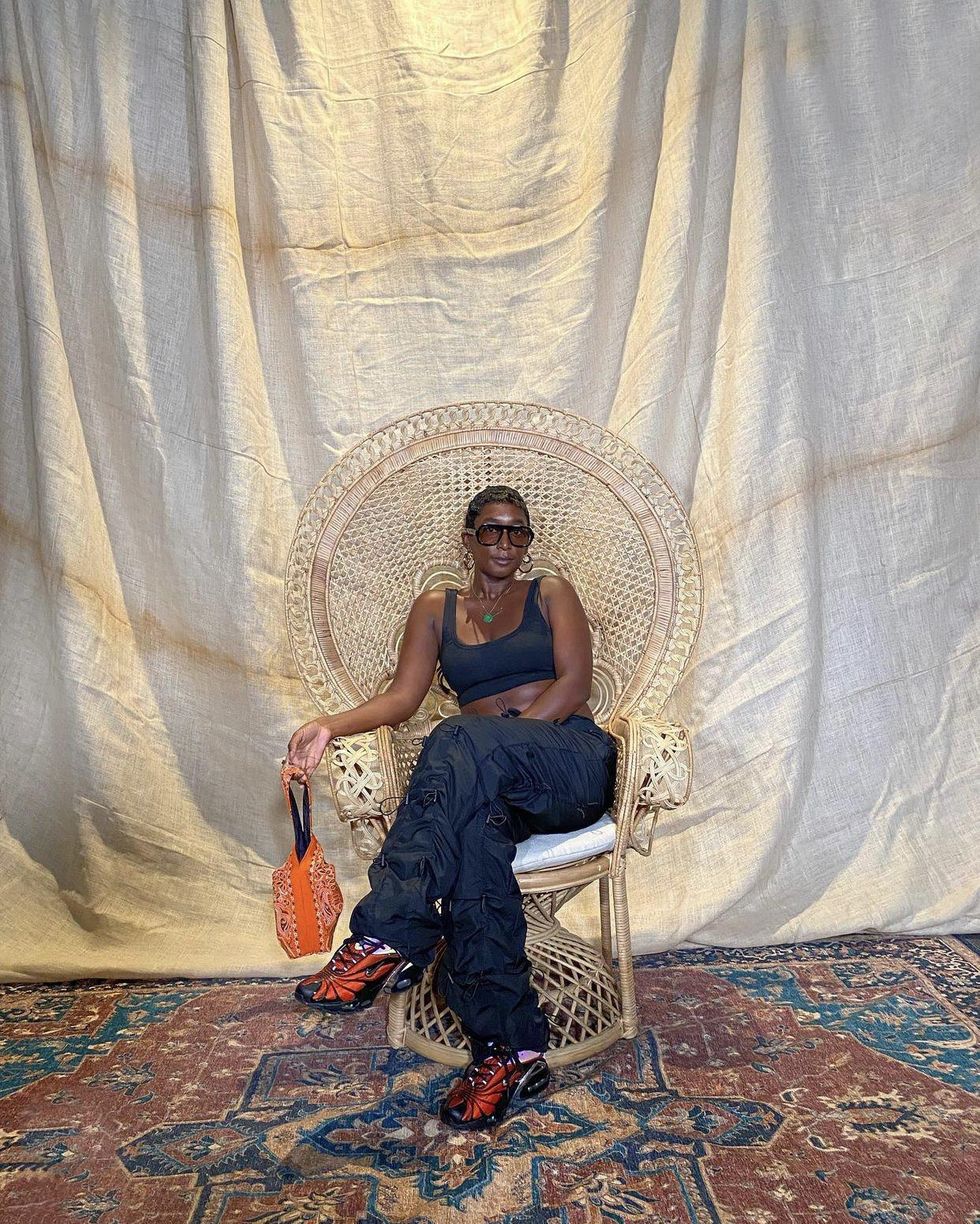 Meet Charlotte Upshaw, "the Iverson of organizing."
Courtesy of Charlotte Upshaw
1. What's the first step when tackling a home organization project?
"At the beginning of a project, it's important to access what you have. The best way to do so is by pulling everything out of the space you want to organize, then do an honest edit of things you no longer need. Editing is very important here so that you're not re-cluttering your space all over again."
2. What about bathroom tips for women like myself with tons of makeup and hair products with limited drawers and cabinets? 
"When it comes to bathrooms, categorizing is important. I like to organize according to category and store it as such. I'm not big on crowding a sink with product. I suggest editing down to everyday essentials if anything. Stackable containers are great for bathrooms and allow you to get the best of your space under the sink."
3. Any closet hacks for those of us struggling to work with minimal storage space but want to maintain an aesthetically pleasing atmosphere? 
"I always tell clients that vertical space is important, so make sure you're using all of the height as well as width. Getting rid of original boxes is a huge help; bulkiness takes up much-needed space. A few of my favorite closet products that I always suggest for those with storage space are slim hangers (they come in various colors and textures), drop front shoe containers, and 's' hooks for purses and accessories. Another thing I do is use decorative bins that can function as both as storage and a cute piece of furniture."
4. For those that feel like a professional organizer would be too expensive, what are a few tips on organizing on a budget? 
"First, I want to clarify the misconception that professional organization services are expensive and unfeasible. It's a great investment because it's essentially a lifestyle elevation. However, when organizing on a budget, I suggest doing things in phases. Whether that's buying new hangers and getting rid of your old ones or tossing flimsy shoe boxes that are taking up too much space. The Container Store is actually not as expensive as people assume; their perks program is extremely rewarding. Your local Target is always a good resource for organizational and aesthetically pleasing things as well."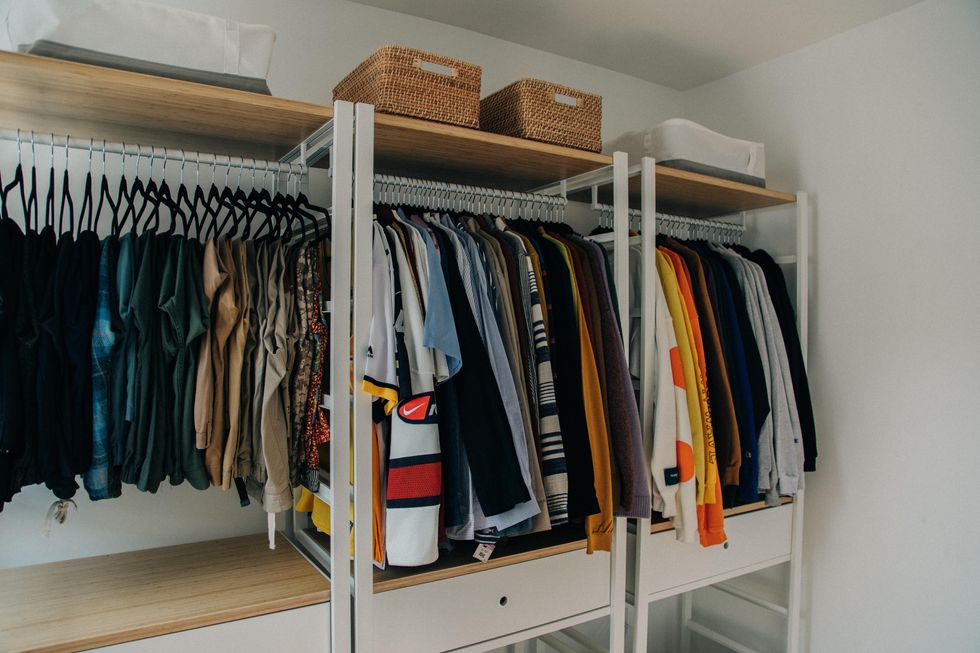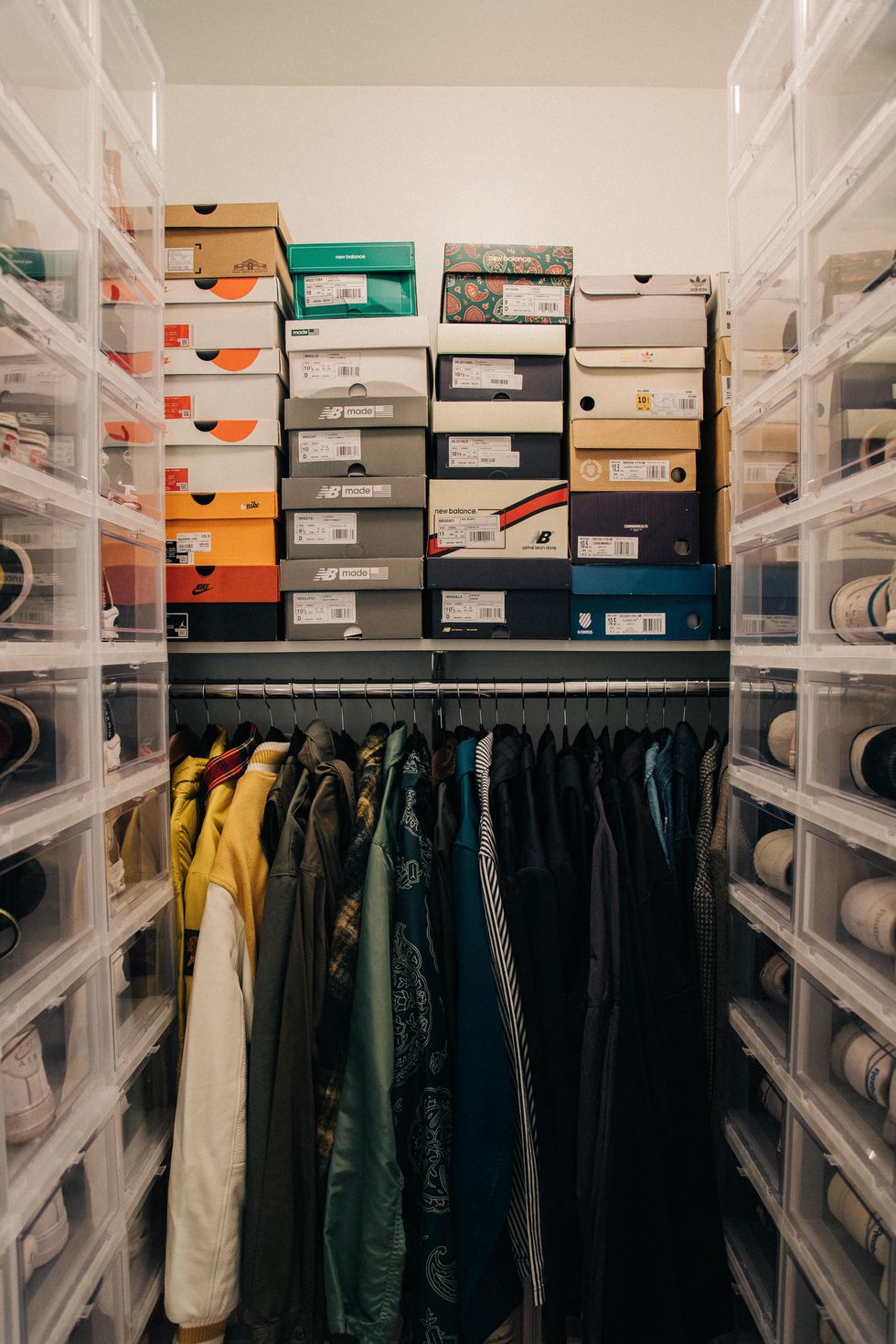 5. I have a hard time organizing overall but the amount of accessories I own such as jewelry and sunglasses are overwhelming. Any suggestions on storing these smaller items?
"I love an open acrylic tray for sunglasses and accessories. They can easily just lay flat, lined up and look great on a dresser."
6. Growing up, a junk drawer and utensil holder were the only two things organized in our kitchen, ultimately causing me to create the same bad habit. What are a few kitchen organization ideas I can adopt to break this cycle?
"Drawer organizers! Adjustable drawer organizers can be used for more than utensils. You can find them at Target, Amazon, etc. I also love incorporating clear fridge bins whenever I can to create the most refrigerator space."
7. You mentioned hiring a professional organizer is more affordable than people assume. For those that are now considering this new lifestyle elevation, what can they expect from an expert such as yourself vs. an everyday DIY project? 
"By hiring me you're paying for a specific creative execution. DIY is great for the short-term but I feel like everyone needs to have an organizer get their space to another level. DIY projects are time-consuming and the result sometimes doesn't meet the initial vision you may have had. Essentially, once I come in and create a system for you, I'm setting the tone and you just have to maintain it. It's absolutely worth holding off on that pair of shoes or bag you were going to cop and hiring an organizer instead."
For a more detailed home organization consultation, feel free to contact Charlotte on Instagram @CHELF.LIFE.
Featured image courtesy of Charlotte Upshaw

Keep reading...
Show less
Something that I used to start my weekend off with (that I need to get back to doing) was picking up some fresh flowers to either put in my living room or bedroom. They're not just pretty and uber feminine; flowers in your home can relieve stress, improve your mood and (get this) even improve your memory over time. In fact, the only downside that I can see is how quickly they die after getting them.
That's where this article comes in. If, like me, you adore having flowers bloom in your space yet you can't financially justify getting a new batch every couple of days, here are some fresh floral hacks that can at least double the amount of time your flowers have (probably) been lasting at your place.
1. Make Your Own Flower Food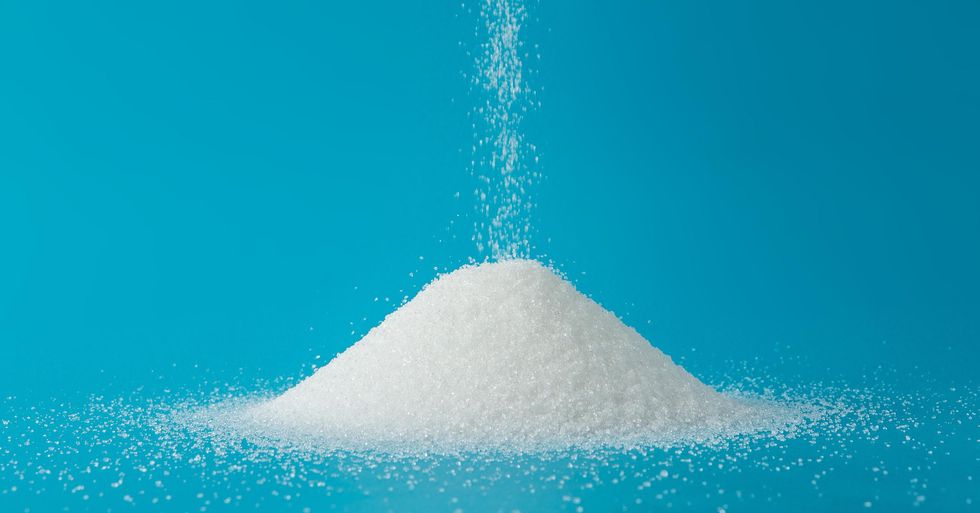 Did you know that if you take proper care of your flowers, they can last for as long as 12-14 days? One way to up your chances of this happening is to "feed them". They need some (white) sugar to stay in full bloom, citric acid to reduce the chances of your petals wilting and, if you want to keep bacteria at bay, bleach can make that happen.
Two of the best "foods" that I've seen consist of a half-crushed aspirin in a cup of water or two tablespoons of fresh lemon juice combined with a tablespoon of sugar, a half-teaspoon of bleach and a quart of water. Adding either of these should give your flowers at least an extra week of longevity than just water alone.
2. Play Around with Water Temperatures a Bit
So, what if you bought some flowers and most of the buds are tightly closed? No problem. Cut the stems at a slanted 45-degree angle and then put them into a glass of warm water. After a couple of minutes, transfer the flowers to a container of cold water and leave them there for 20 minutes or so. It'll blow your mind, how quickly your flowers open up (kinda like what happens to our energy levels whenever we take a cold shower).
3. Don't Always Use a Vase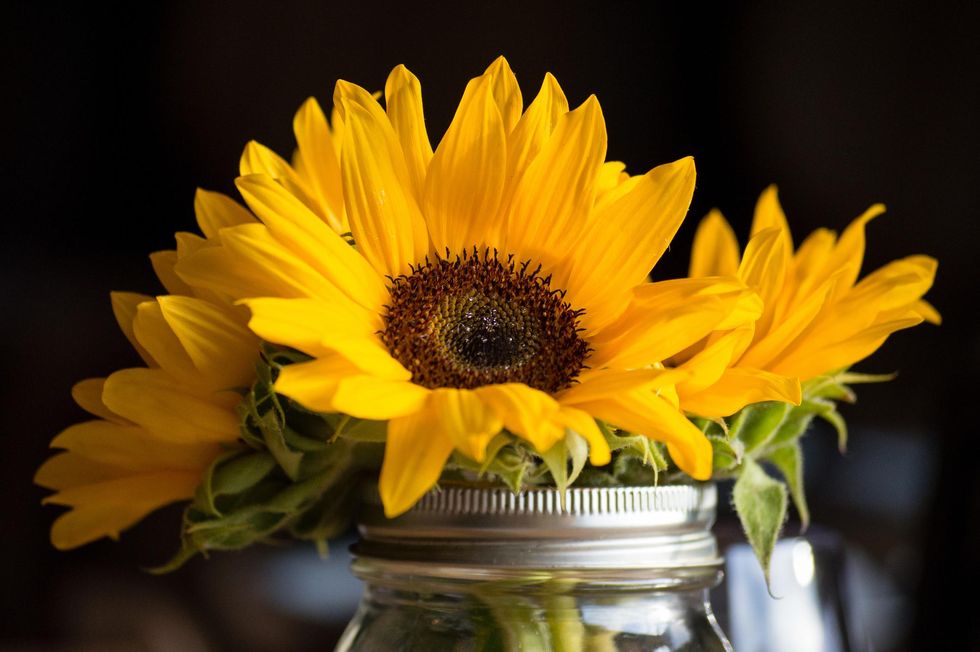 Something that can totally change the appearance of your floral arrangement is to put them in something other than a vase. Teacups, Mason jars, planters, dessert dishes, tea kettles, cookie jars and pitchers are all things that can give your floral presentation a bit of a unique touch.
4. Stack Your Vases When You Do
As far as pretty presentations go, have you ever put a smaller clear vase inside of a larger one? If they're around ½" apart and you add some water and thinly sliced lemons along the side of them, the lemons will look like they are suspended in water. It's a very easy way to create a beautiful centerpiece.
5. Add Some Fruits, Veggies and/or Berries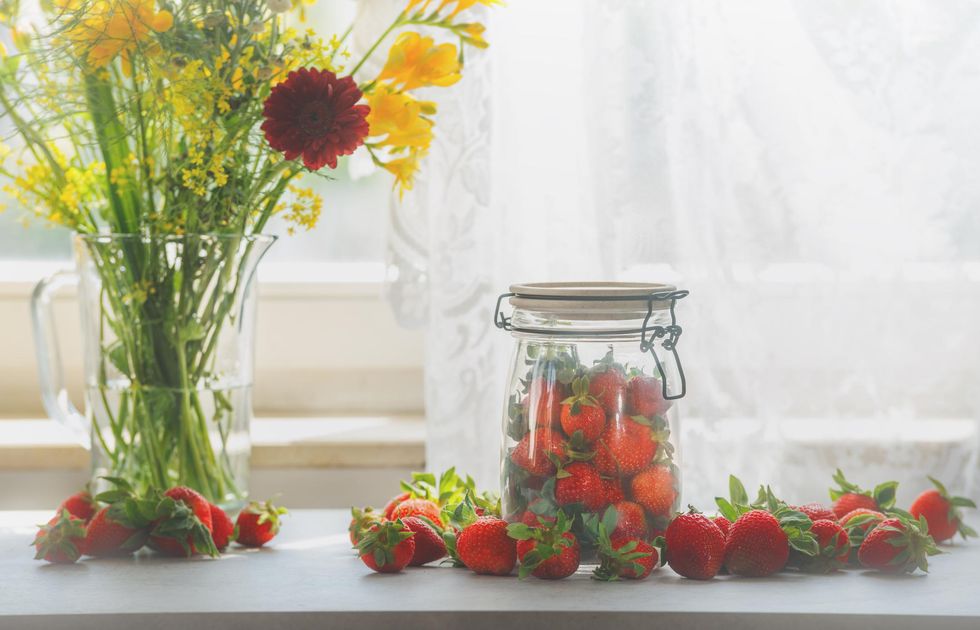 Speaking of creative centerpieces, a big mistake that a lot of people make is they simply put flowers into a vase and that's it. Adding a couple of limes and tangerines, carrots or blueberries and blackberries (if not all of these things) to a clear container can instantly make your flowers aesthetically pleasing, even if you've only got a few stems of carnations or roses on hand.
6. Get Your Flowers a Little "Drunk"
If you like vodka, hook your flowers up with 7-10 drops of it (along with a teaspoon of white sugar). For whatever the reason, when flowers are starting to wilt, they wake right on up with they've got some vodka running through their stems. It's a cool way to get another day or so outta your flowers if you do it.
7. Put Your Wilted Petals on Ice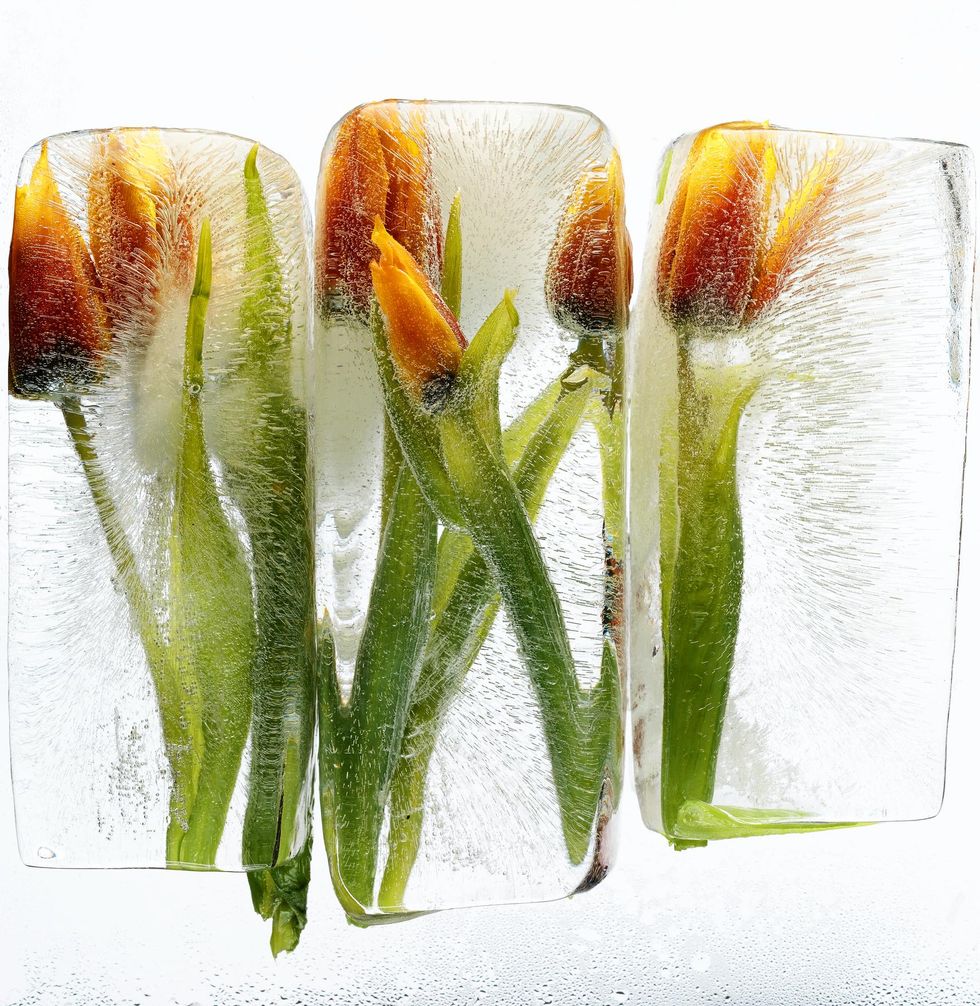 Ice cubes are dope on a couple of levels. Not only can they help to revive wilted petals, they're also a great way to conserve water. Meaning, if you notice that your flower vase could use a little more water after a couple of days, simply drop an ice cube or two into it. It'll wake your flowers up and keep your water bill down at the same time.
8. Drop a Penny in Your Flowers' Water
If you want your flowers to last longer, you're actually supposed to change the water no less than every three days. If you just read that and was like "yeah right" because of your hectic schedule, a cool hack is to drop a penny into your vase. The reason why this is so effective is because the acid in the penny will help to keep harmful bacteria and fungus away.
One of my favorite flower hacks ever!
9. Try Some Hairspray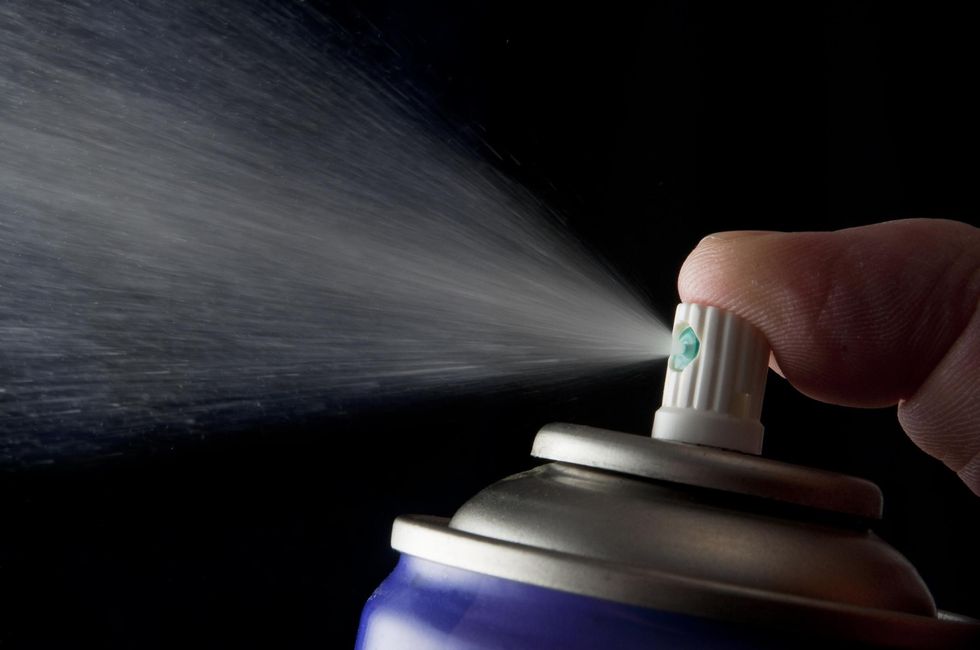 Got some hairspray in a cabinet somewhere? Believe it or not, something that will help your flowers to remain their vibrant hues is to spray a little bit of hairspray onto their petals. Just make sure to hold the canister far enough away that the force of the spray doesn't damage the petals in the process. Do this every couple of days for the best results.
10. Avoid the Holiday Season (When It Comes to Florists)
Personally, I can't tell you the last time I hit up a professional florist for a floral arrangement. I will definitely just cop some flowers at a grocery store. However, if going to the florist is totally your thing, it's important to keep in mind that going there around a holiday (like Valentine's Day, Mother's Day, Christmas, etc.) is pretty much the worst time because the prices are typically hiked all the way up. Your best bet is gonna be going right after a particular holiday is over because that's when businesses have too much stock that they are trying to get rid of. Because of that, flowers and floral arrangements are oftentimes sold at a 50-60 percent discount. You'll have the flowers you want without breaking the bank in the process. Enjoy!
Join our xoTribe, an exclusive community dedicated to YOU and your stories and all things xoNecole. Be a part of a growing community of women from all over the world who come together to uplift, inspire, and inform each other on all things related to the glow up.
Featured image by Getty Images
Keep reading...
Show less
Adulting is hard but packing up and moving from one living space to the next is even harder. As a young adult, leaving home to attend college 300 miles away, I was yearning for a change of scenery so much so I couldn't wait to pack my belongings and head to sunny southern California. With each transition, it wasn't an easy task, however, nine years and 10 roommates later, I finally have a place to call my own. As liberating as it is to be in a space that's all mine, this move is unlike any other. As a single woman, the responsibility of uprooting myself has been more challenging than I ever imagined. More than just saving dreamy home decor inspiration via Pinterest, making "my house a home" has been a process that's easier said than done.
As a professional fashionista, I'm naturally inclined to all that is aesthetically pleasing. While I've always envisioned the type of space I want to come home to every day, over the years how I see myself and the world has evolved tremendously. At the ripe age of 31, I want a personal retreat from the outside world and I'm determined to curate a space that is comfortable, inviting, warm and luxurious. At this moment in my life, a safe and tranquil environment is my top priority, one that is true to who I am inside and out.
To be at peace, I want to surround myself with furniture and decor that speaks to what inspires me.
Our home should be a true reflection of who we are and who we want to be but that's difficult if we don't know ourselves. Creating the perfect ambiance can be challenging so I enlisted the help of aesthetic entrepreneur Antoinette Arrington to help those of us on our journey by focusing on what matters the most when filling our space. When I first reached out to Antoinette, I was determined to find out how I can decorate my new apartment on a budget but as I began to speak with her, I began to focus less on saving money and more on personalizing my experience.
As an interior stylist and home decor expert, Antoinette shares tips on key elements that will bring life to any living space as well as inside advice on getting the home decor items you want no matter the price.
What's the first step when curating the perfect living space?
"My philosophy as an interior designer and stylist is that you live in a house but you are home. The things that you surround yourself with need to be an outward manifestation of where you've been or where you want to go. It's helpful to hone into who you are inviting into your space and share the results of your standards with because not everyone is going to get it and abuse it. My home doesn't have an open door policy, that's rule number one. If you're cultivating a space that inspires you towards your intentions, you don't have to lay out the welcome mat."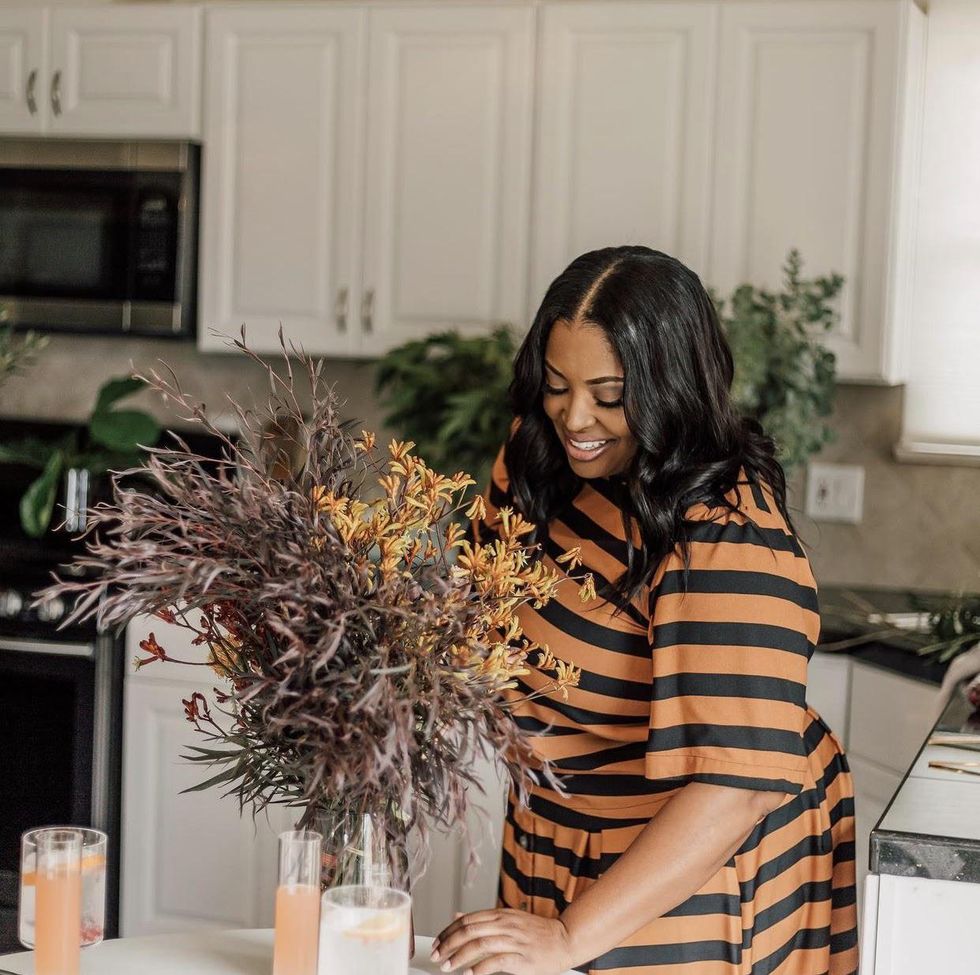 Antoinette Arrington, LA based Interior Stylist & Founder of Haume
How can one avoid being overwhelmed when starting from an empty space?
"[Your living space] should be for you first and if you keep that in the forefront of your mind, that will influence how you shop and what you spend because luxury is subjective. Quality is how well something functions, luxury is how it makes you feel. Before shopping, you have to decide how you want a space to benefit you."
"Take your time in curating. Live in your home without any furniture for three months. Figure out where the light is, how your place sounds, how the temperature changes and where you'll spend most of your time. Think of your perfect day and furnish that first."
"It may not be one room. It may be taking a hot bath, listening to music and afterwards putting on pajamas fresh out of the dryer and that you're climbing into bed wanting to watch a Netflix show so you buy bath sheets and make sure you have everything you need to enjoy a clean bathtub and a waterproof speaker. It also gets easier when those rituals start to change a bit, for example, going from a workout into the bath which may lead to investing in a corner of your home into a yoga studio or a gym. If you take the time to think of what you do, it's giving you an opportunity to figure out what you want. What's calling you?"
Speaking of shopping, any advice on how to avoid wasting money on items that we like at the moment but end up conflicting with the overall vision of what we want? 
"The biggest waste of money is buying something because it's cute but it doesn't work or buying something that works but you have to hide because you don't want anyone to see it. That's how you end up with garages and closets full of clutter. Also, know that your home is an evolving space."
"What you like in this season may change. Don't shop with the idea that you have to keep something for 20 years because you don't. Think of it as a museum which curates art. The Mona Lisa bounces from place to place, she's there for a time and then she goes off to the next and it doesn't disrupt her legacy or the experience of the art."
"Changing your home decor is an ebb and flow. Don't walk in the store and buy the entire display or every trendy piece, take your time and curate your home. Trust your own voice and instinct. Don't search for validation for friends and family. If you like something, buy it and if you don't like it it's OK, be informed with the retailer's return policy."
Strategies for investing in high priced furniture?
"You need to be informed of what things cost, especially with COVID-19, like delivery and lead times. Also decide whether you want to assemble it because that goes into cost, everything can't be DIY. You need to buy your time back. Are you going to enjoy the thing you put together and it fell apart? Will you get frustrated and never finish? When making big purchases, looking into platforms like 'Handy' or 'Taskrabbit' are fairly inexpensive when putting together your furniture. Find someone experienced in a product that you bought and while they're there, have them put together a bunch of stuff. There are a lot of ways to make your money work for you."
How can we surround ourselves with luxury home goods within our budget?
"Deciding what you want your life to look like and who you are going to share or not share with helps set your budget. Go to your dream store, if money is no object, add everything to the cart as if you were going on a shopping spree then go look at the cart. That puts the object in the forefront. People tend to see something, fall in love with it but hear the price and decide they are not worthy. It's completely emotional, it may not even be that you don't have the money, it can be offensive just to see the price because they haven't made the connection between quality, luxury and cost. [The key is] changing your mindset to '[I'm investing in myself and my life and my experiences,' instead of, 'This couch is an investment.'"
Where do you shop for quality home decor?
"My couch is from Living Spaces and people don't believe me when I share the link. I routinely shop at Target, CB2, vintage, and Etsy. I don't own or wear anything that is exceedingly expensive, it's the combination of how you experience me that gives you the idea that I'm investing in myself. I go to HomeGoods for coffee table books and kitchen organization items, great national brands that are cheaper than other big box stores. They also have a great condiment and organic food section. You can find great lamps and rugs as well. Get to know your local store and ask when they restock. Introduce yourself to the manager so they expect you if you're looking for something. Bring a picture of what you're looking for. I like Costco, Sam's Club and Big Lots specifically for outdoor furniture."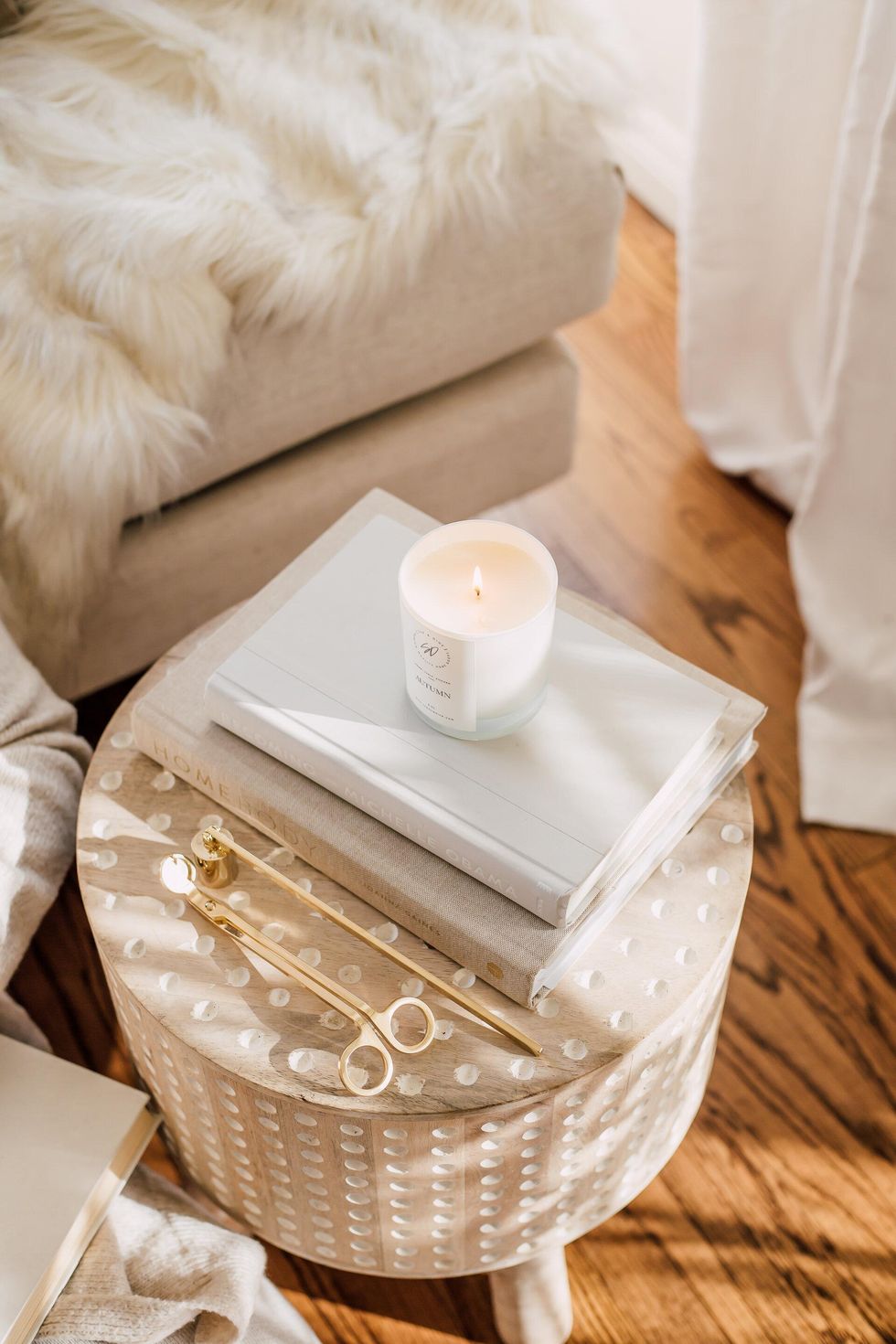 Courtesy of Antoinette Arrington
What are some accents that can elevate your at-home experience?
"Art can be expensive, however buy your favorite prints for a fraction of a cost, go to Michaels or IKEA for frames or get the piece professionally framed. When it comes to oversized art, paint it yourself for an abstract piece. If you see art you like but don't like the frame, change it or repaint it."
"You can buy a nice set of dishes which are inexpensive at places like CB2 or Ikea. Vintage cutlery from Etsy or really cute forks from Target. Cloth Napkins from World Market or CB2 are a couple bucks. Glassware is not expensive at all, they can be $10. You can buy really nice inexpensive glassware from CB2. You can start small. If you really want a nice plate setting, do it for you and eat lunch on it every day. Buy yourself nice forks and a couple cloth napkins and a pretty plate. You don't have to use champagne glasses for just champagne. Make yourself accustomed to using nice things and normalizing it. You wouldn't go to Crustaceans and use paper napkins and plastic forks. Hotels have glasses on the counter for you, nice lotions and pretty soap, do that at home."

When seeking inspiration for the overall aesthetic of our place, how can we bring our ideas together into one cohesive look?
"Having a design plan, the colors and textures you like as well as what you're drawn to. If you saw something in a store and thought about it all night, hopping in your car early in the morning hoping it's still there, what would it be? Buy those things. If there's a place you want to travel to, research how people there live and what their days look like. If it was Tulum, I'd have a hammock in my living room and no one could say anything to me about it. A corner with a hammock and a bunch of plants that reminds me of Mexico."
"When you travel, bring back a piece of art, a cup, mask, pottery or wall hanging and display it in your home. You can share experiences with your guests. Your home should be ground zero for everything you need to be. You shouldn't have to code switch in your house or put on armor. You should be exactly who you are. Recognize yourself first at home and then go out in the world and introduce yourself to her."
"If you don't know who you are, you're going to let everybody tell you who they think you are."
I bought a Fiddle Leaf tree recently however I don't want to go overboard with taking on too many new responsibilities at once. What is your advice for new plant moms?
"Be honest and be realistic. Go to a local nursery, not a hardware store, even if you don't buy anything, ask someone who is accustomed to speaking with clients about their inventory and is well-versed on the types of plants and the type of lighting in your house that will help you make an informed decision. Tell them about your lifestyle, if you have air conditioning, if you're home a lot, will the plant get fresh air or if you'll need a grow light. All pretty plants aren't care-free. I would suggest something as low-maintenance as possible for your first plant."
"You will have to invest in plant food, repotting, and making sure it's watered. Start with one, something small that you access a lot so that if it dies, you'll notice. If your perfect day is sitting around with 15 plants taking care of their leaves and repotting, if that's calming, go ahead and jungle out. If that's not your thing, get an artificial plant that looks real. You don't have to have plants in your home."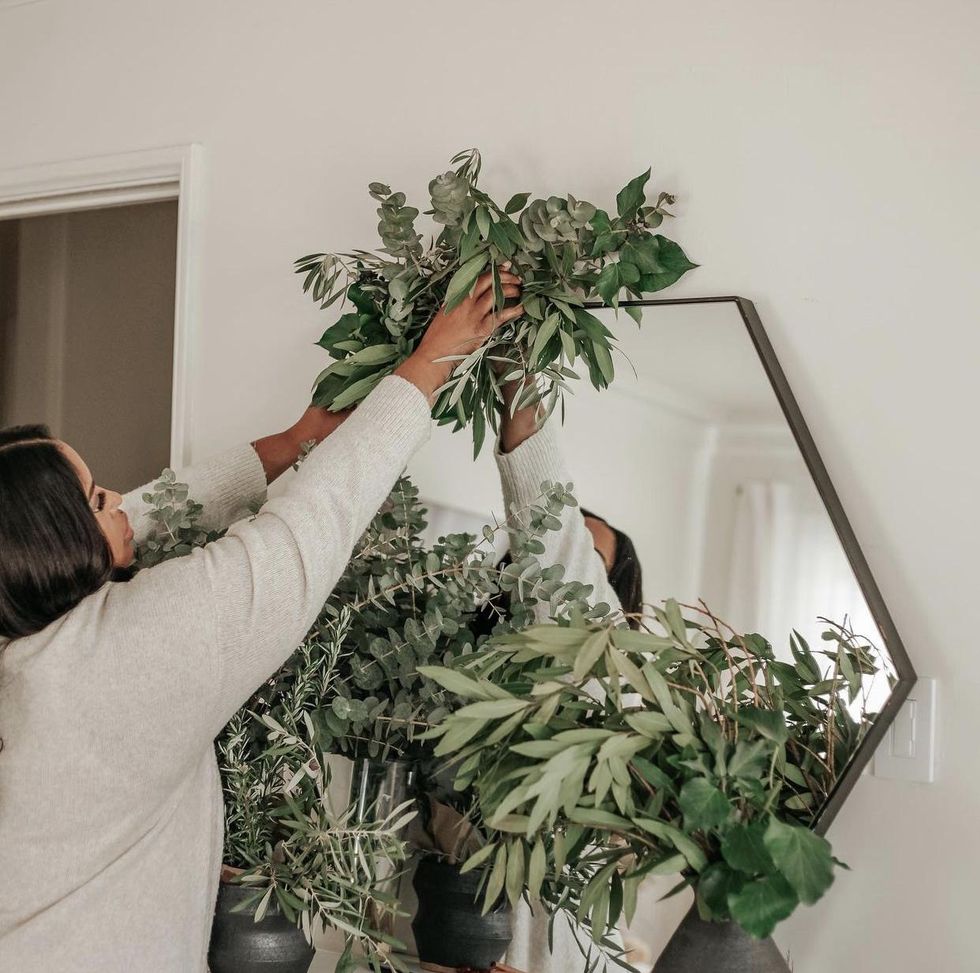 Courtesy of Antoinette Arrington
What are gems to keep in mind when making a house a home?
"There is no one combination of things that makes a house feel like home. It's a combination of happiness, intention, patience and investment that's going to make it feel like a home to you. You took the time, spent wisely, and you're living a life that incorporates all of your belongings. Do your due diligence when shopping for your home, you don't always have to fill an empty spot. No more cutting corners, have an abundance mindset when cultivating your space, but take your time! Filling your space too quickly can be a sign that there's something missing inside of you."
For more of Antoinette, follow her on Instagram.
Featured image courtesy of Antoinette Arrington
Keep reading...
Show less
According to Statista, "Approximately 82 percent of Americans aged 22 to 30 who bought a home were first-home buyers, whereas only just under half of the homebuyers between 31 and 40 bought their first home in that year." This means, unsurprisingly, most first-time homebuyers tend to be in the beginning stages of a budding career, taking higher-education courses, and trying to keep up with student loan payments.
Gen Z and Millenials have so much to juggle already, purchasing a house can feel like another stressor — but a little education about what it's really like to buy a house can simplify the process.
Take Advantage of First-Time Homebuyer Benefits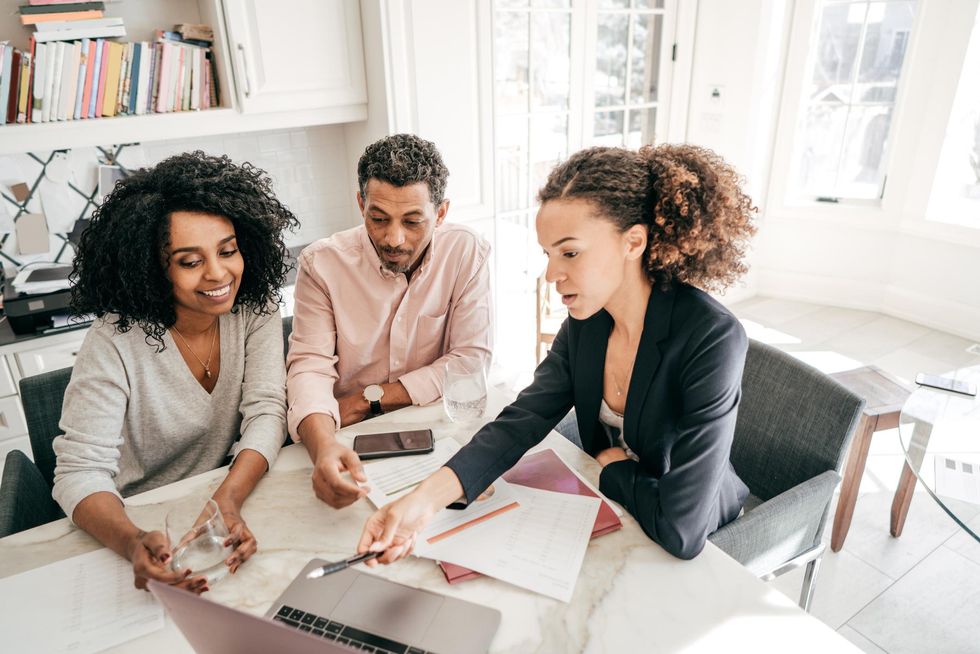 kate_sept2004/Getty Images
Buying a home as a first-time homebuyer can be nerve-wracking, but your "first-time" status unlocks several perks. First-time homebuyers are eligible for loan programs, tax breaks, and assistance programs that are created to increase homeownership accessibility. You might even still qualify for first-time homebuyer programs, even if you've owned a home before. Don't neglect options created to help you on your journey to homeownership. Know your options.
First-Time Homeowner Loan & Assistance Programs
FHA Loans - An FHA loan is a government-backed mortgage that is guaranteed by the Federal Housing Administration, but issued by private lenders. It's hands down the most popular loan option for first-time homebuyers since they have low down payment and credit requirements.
USDA Loans - USDA loans are mortgage loans backed by the U.S. Department of Agriculture that make housing affordable in rural areas. Since they're government-backed loans, they can provide lower interest rates. On top of low-interest rates, borrowers don't have to pay a cent towards the down payment.
Good Neighbor Next Door - The Good Neighbor Next Door Program was created by The U.S. Department of Housing and Urban Development (HUD) to strengthen communities by offering teachers, law enforcement, firefighters, and EMT's the ability to purchase homes at a reduced rate. Purchase HUD homes for 50 percent off the list price with a low down payment of $100.
There are several first-time buyer programs to choose from. Do your research to track down the option that fits your needs.
Address Your Financial Health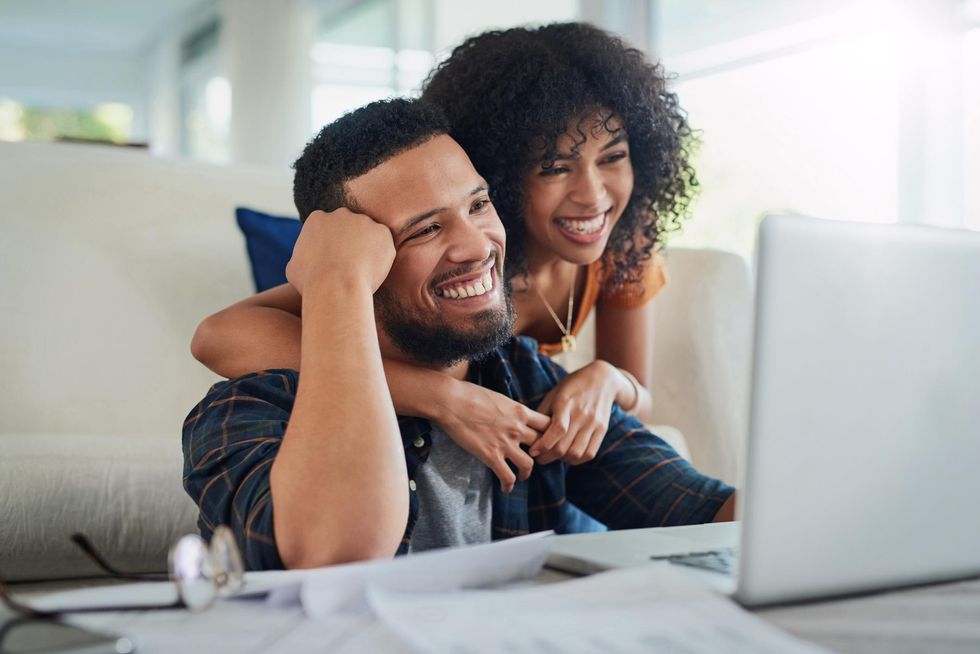 LaylaBird/Getty Images
Review Your Credit. Even though the average credit score for homebuyers in America is 731, most people can qualify for conventional loans with a credit score of at least 620. But, a lackluster credit score doesn't kill your homeowner dreams. You can still buy a home with bad credit if you know your available options.
Calculate Your Expenses. Mortgage payments can take up a good portion of your expenses, but living expenses can as well. It's hard to narrow down your list of potential homes when you don't know what you can afford long-term. Before looking for a home, sit down and calculate your living expenses. This can include an estimation of monthly car payments, student debt payments, entertainment expenses, retirement savings, and other regular commitments.
Check Your Current Savings. If you have savings tucked away, that still might not be enough since you have to consider upfront costs, long-term and closing costs. Trust and believe, you don't want money getting in the way of landing the perfect home and keeping that home in the long-term.
Do you have enough savings to cover your down payment? If you're not financing your home using a program that eliminates a down payment, then it's important to know what you're expected to pay upfront when purchasing a house. Make your life easier and use a down payment calculator to estimate your potential costs, so you have the money prepared when you're ready to buy your brand new home.
When purchasing a home, you have to consider if you can afford the home in the future as well. It's smart to have an emergency savings account that can cover at least 3 to 6 months of living expenses on top of savings that are specifically for the costs that come with purchasing a home.
Find A Home & Make An Offer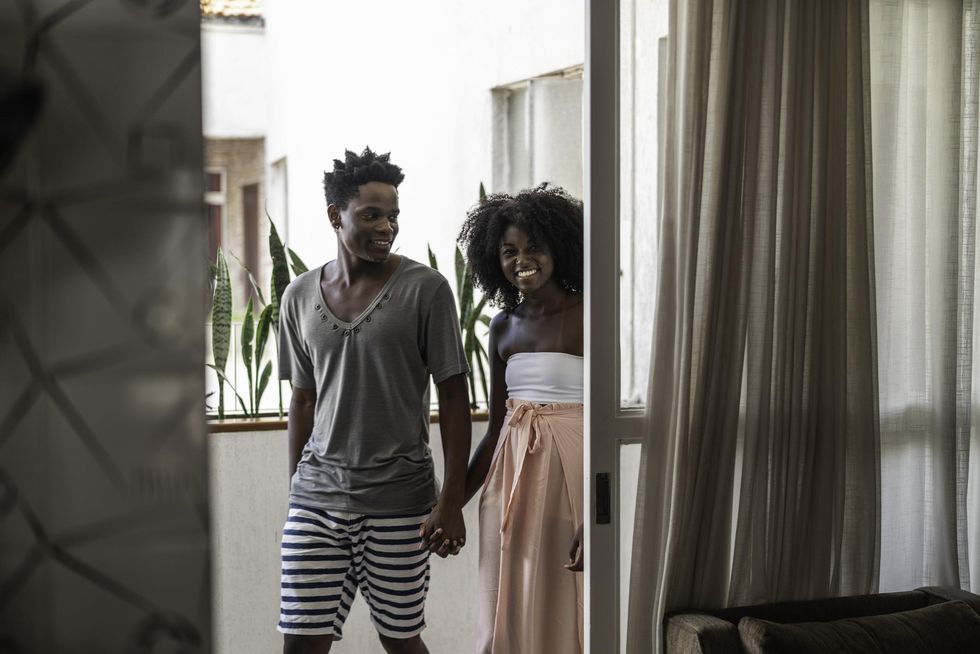 FG Trade/Getty Images
Once you have your finances figured out, it's time to start searching for a fabulous home with all of the features you've envisioned in your head. The entire process of searching for a home can be overwhelming, which is why it will make your life a whole lot easier to hire a local real estate agent. And, homebuyers on the lookout can scour online listings or take a drive through your desired neighborhood to see if any homes are for sale.
When you've finally found a house that you'd like to call home, the only thing left to do is make an offer. If you choose to work with a real estate agent, your agent will help you to decide how much money to offer the seller in exchange for the home and any other conditions you want to put on the table. The real estate agent will present your offer and conditions to the seller's agent who will accept your offer or propose a counteroffer.
As the buyer, you can accept their offer or present your own counteroffer, and this process can continue until an agreement is made. Or, until one of the parties decides to opt out of the negotiation process.
Close On The Home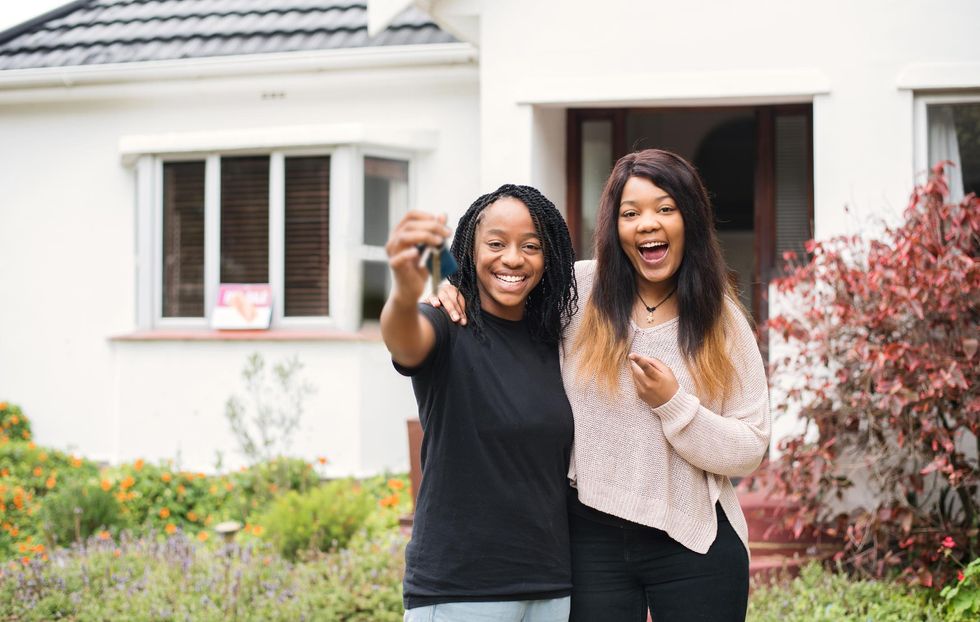 NickyLloyd/Getty Images
If you get to this point, congrats! It's time to sign your name on the dotted line on several documents and cross your fingers that the deal doesn't fall through the cracks. This is the time to focus on closing costs which can include purchasing home insurance, getting a home appraisal, and any extra fees.
In 2020, the homeownership rate amounted to a striking 65.85 percent! Who knows, after exploring your first-time homebuyer programs, addressing your financial health, and finding your dream home, you could be a part of that large chunk of American homeowners.
You're armed with the tools to start your search for a home fit for a queen like yourself, so there's nothing between you and your homeownership goals now. Happy house hunting!
Featured image by kate_sept2004/Getty Images
Keep reading...
Show less
When you're moving out of your apartment, it feels like there's so much to do in such a small amount of time. While worrying about your new residence, you have to also think about your old place of residence. The entire process can be an emotionally taxing experience, especially if you haven't planned your move in advance. Actually, OnePoll surveyed 1000 Americans, to find out 45 percent claimed moving is easily the most stressful event in life. Thankfully, you can plan for a smooth exit if you know the things you need to do before you move out of your apartment.
1

.

Give Your Landlord A Notice To Vacate Letter
It's 2021, most people aren't writing letters day-to-day, but it is customary to write one for your landlord. Landlords don't want vacant apartments, which is why renters are expected to write a notice to vacate letter within the timeframe stated on the lease.
Usually, the notification timeframe is at least 30 days before your move date, but some landlords require at least 90 days' notice. Read your lease carefully; you don't want to accidentally break your lease.
2

.

Pack & Make Moving Arrangements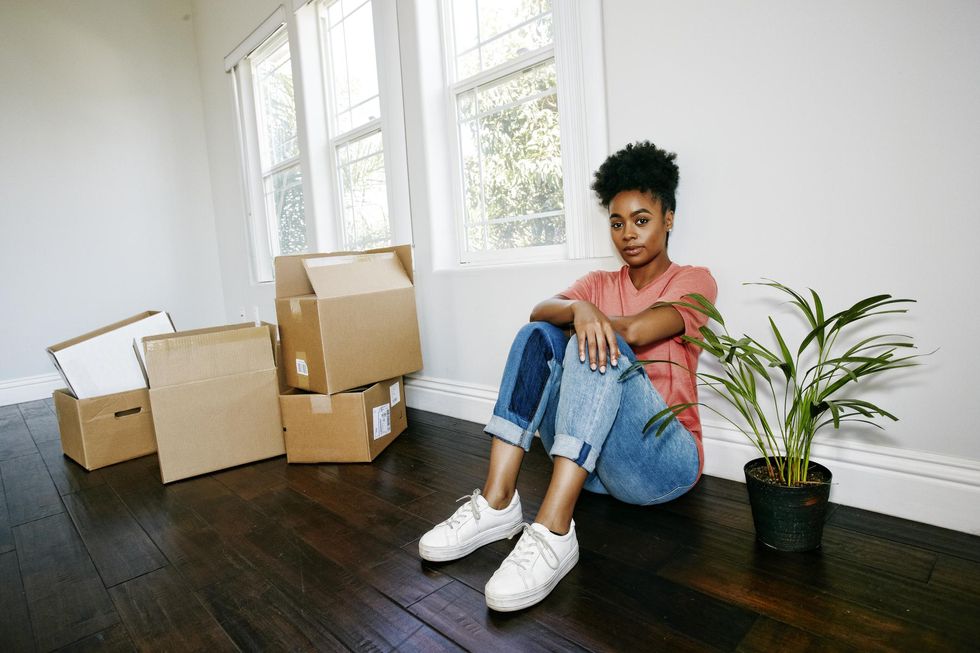 Getty Images
Alright, so this is a no-brainer. You can't move into your new apartment without your beloved wardrobe and your hand dandy air fryer. Packing is one of the most grueling parts of moving out of your apartment, so it's best if you don't save packing to the last minute.
After you've packed everything, there's still the huge obstacle of actually getting your belongings to your new apartment. That's why you need to decide how you're going to move. Are you moving everything by yourself and using your car? Do you need to call friends and family to give you a hand? Do you need to rent a moving van? Or, would you rather bypass the stress of moving by using a moving company? Whichever choice you make, it's best to plan in advance.
3

.

Assess The Damages
If you don't know which apartment repairs you're responsible for fixing, it's time to find out. If not, a landlord might send you an overpriced bill for that punctured wall when you could have easily patched that up yourself.
You don't want to be held liable for any damages that might've been created while renting that'll prevent you from receiving your security deposit or sticks you with an added bill. If your landlord is up to it, arrange a walk-through to identify any damages you'll be held responsible for.
4

.

Collect Your Security Deposit 
Remember that security deposit you dreaded paying when you originally signed the lease? Well, if your apartment is up to your landlord's standard, you'll be able to put that money back into your bank account where you wanted it to stay in the first place. Don't forget to collect your earned security deposit before you say goodbye to your old apartment.
5

.

Spring-Clean Your Apartment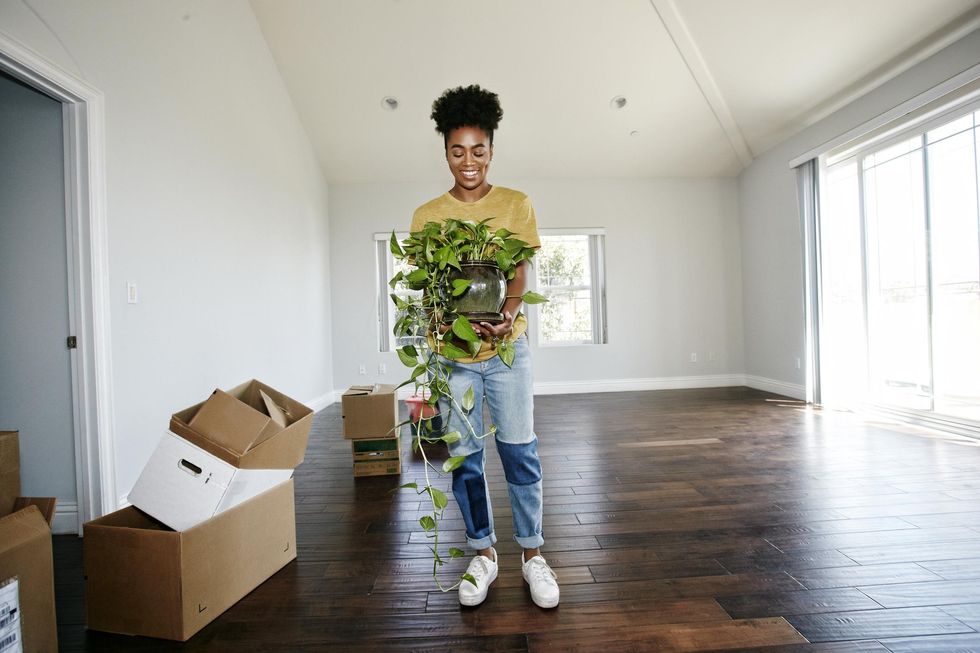 Getty Images
Many landlords aren't simply checking for damages when you leave your apartment, but also the cleanliness of your apartment. Don't give your landlord an excuse to hold back your deposit. Mop, vacuum, dust, do whatever you need to do to ensure the apartment looks like it did when you originally moved in.
6

.

Cut-Off Utilities & Extra Services
Before closing that apartment door for the last time, give a quick call to your utility providers. You don't want to be stuck battling service providers about charges from services you aren't even using anymore.
Oftentimes, you only need to close accounts affiliated with certain utilities: water, electric, gas, and electric. But, you might not need to cancel utilities like wi-fi or cable. Simply let your provider know you're planning to change addresses but still want their services for a different apartment. Plus, this can create a smooth transition into your new apartment, so you don't have a long process before accessing the precious wi-fi that you can't live without.
Movers looking for an apartment change tend to leave for a variety of reasons: minimizing rent costs, upgrading their available space, avoiding noisy neighbors, relocating for a job. It doesn't matter the reason, just be sure to cross items off of your to-do list, so you don't regret anything later on.
Featured image by Getty Images
Keep reading...
Show less