In a recent feature with Apartamento Magazine, the one and only Solange sat down to discuss her creatively curated abode that she's owned since she was just 19 years old. It's a loft in the hills of a bustling Hollywood, which the publication described as a mix of "organic modernism, her own furniture designs, and Black art and vernacular objects she has collected over the years."
And now, Solange and her creative agency, Saint Heron, are gearing up for a new furniture collection so you can bring a piece of her home too.
It all started when Mama Tina boasted her pride in her youngest's latest interview:
"Solange bought this loft at 19 years old. She totally remolded it and decorated every corner of it! She designs the most gorgeous furniture that is so artistic! She is an awesome furniture and home decor designer. Everything in her furniture line will be available soon! Look for it!"
Here's what we know:
The line is in collaboration with IKEA (or at least it was). 
Back in 2018, IKEA announced its highly anticipated collaboration with Saint Heron, and slowly released details over a two-ish year span. In a press release, they introduced the collaboration as a forthcoming series of home goods that "explores how inspiration from music, arts, fashion, urban culture, architecture, sounds and aesthetics can come alive and be combined with functional home design."
Solange and Co. have been tight-lipped about updates since the originally scheduled release in 2021, but whether the partnership remains is unclear.
There have been a few delays.
​Press, news, and updates surrounding the rollout of the furniture line, initially began in roughly 2018. Over the course of 2-3 years, there were new updates, but never a release date or debut, which, based on IKEA's website, was scheduled to be presented in 2021. The frequent delays are the root of the IKEA partnership uncertainties.
The furniture collection will be a Saint Heron Project, not a Solange project.
​Saint Heron describes itself as a cultural hub, working to build an inclusive community based on artist and artisan collaborations and collective work such as sculptures, ceramics, music, visual art, and performance art. It is reported that Saint Heron will serve as the face of the partnership.
But the furniture collection will still be heavily influenced by Solange's aesthetic and vibe. 
According to Armina Mussa, Co-Art Director of Saint Heron, we can expect "design objects with multifunctional uses. In this collaboration with IKEA. We hope to empower imagination and deepen the thought behind usability."
*internally screaming*
Not much else is known about when we can expect to empty our bank accounts on whatever Ms. Solange has up her sleeve. But we'll damn sure be ready to purchase one of everything when we find out.
Let's make things inbox official! Sign up for the xoNecole newsletter for daily love, wellness, career, and exclusive content delivered straight to your inbox.
Featured image by Dia Dipasupil/WireImage
Sure, the Philadelphia Eagles are playing against the Kanas City Chiefs this weekend, but I'm only here for the food and our girl Rihanna. And I'm sure I'm not alone. As far as I'm concerned, Super Bowl LVII is slated to be an iconic one due to the re-emergence of the multi-hyphenate mogul who has been sorely missed on the music scene. Behind said scenes, RihRih has been getting her life personally as a new mom to her son with A$AP Rocky and building a literal empire with the success of the Fenty brand that has upgraded her net worth to that of a billionaire.
And with her returning to the stage at the infamous Super Bowl halftime show, the news has the internet reeling and acts as a reminder that this is Rihanna's world and we're all just happy to be here. The only thing that can make such an auspicious occasion even more legit is adding a little alcohol to the mix.
Whether you're hosting a Super Bowl party or even taking in the Rihanna halftime festivities solo dolo, the following drinks are light and lit and just what the celebration calls for. Find those recipes below.
Featured image by Sheriden Chanel/xoNecole
In many cultures, going to grandma's house for the holidays has always been the thing to do. But as we get older, things change. We move to new cities, start our own families, and our grandparents may no longer be around, so our homes may now be the holiday destination for extended family. However, playing host can be a hassle, especially during the holidays when your home becomes your family and friends' home for a short period. And if this is your first year hosting the holidays at your place, you can be in for a rude awakening if you don't make the necessary preparations beforehand.
We spoke to NYC-based experience curator and owner of POP! by Yaz, Yasmin "Yaz" Quiles to help guide first-timers. According to Yasmin, an experience curator is "someone who not only focuses on an actual event but the entire experience and that can mean anything from the first point of contact, things from an invitation, a website, all the way to the end and after effects."
If you are hosting the holidays in your home, it is important to touch on all of these points so that way your guests can have an experience to remember. Here are the steps to successfully host family and friends for the holidays.
1

.

Plan and Organize:
Before people start showing up to your house, you must plan out what you need and for how many people. It's also a great time to be creative. "The first part is the dream part because it's the fun part. What do I envision my event to look like? What do I want my people to feel when they come to my space? Ask all of the questions for the first point of contact," says Yasmin. "What kind of invitation [am I using?] Who am I inviting? What kind of music are we listening to? The food. So, you start thinking about what the vision is, and then after the dreaming, you organize your thoughts."
That includes putting together a budget. "See what you have access to, what you need help with, and what you may need to outsource," she advises. Meaning, this is the time to decide if you and your family will be cooking or if everyone will chip in to get dinner catered.
2

.

Repurpose Your Items: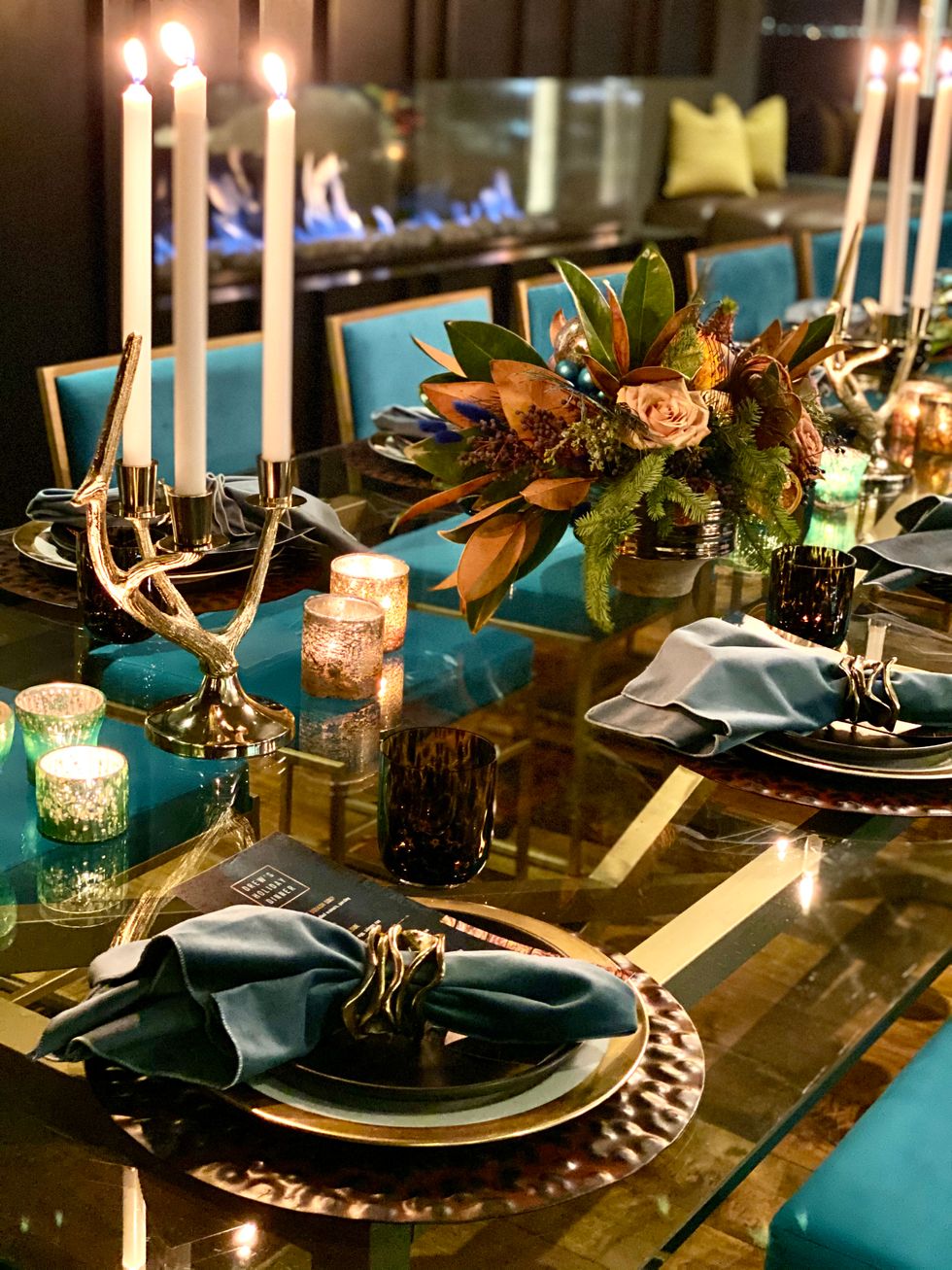 Photo courtesy of Yasmin Quiles
As you continue to plan and organize, it's important to take stock of what you already have at home. This can also help you stay within budget. If you have a limited budget then start thinking about how to utilize what you already have in a innovative way.
"I also like to start with inventory. What [are] items in your house that you can use? That way you can determine what it is that you have to get," she suggests. "I feel like a lot of people always put together a list and it's always 'buy, buy, buy, buy,' versus 'oh, wait a minute, I actually do have some things that I can utilize and I can just use it in a different way.'"
For example, "Utilizing a console as a small bar area or creating fake fireplaces. I think there are ways to use items in your space so that you don't have to continue to fill it up with new things."
3

.

Make Your Guests Feel Like They Are at Home:
Ever heard the saying, "mi casa es su casa?" You want your space to make guests feel like a home away from home and having a cozy place to sleep plays a major part in that. Be realistic about how many people you can fit comfortably in your home. "Figure out how much space you have in your house and how many people you can truly accommodate," she says. "What that means is even if you have a two-bedroom apartment, what are some creative ways you can create some space for them? Is it an air mattress or is it getting a hotel that is close to you; Airbnb's?"
You also want to provide your guests with the necessary accouterments and the gift of convenience. If you have certain rituals in your home, you want to make sure your guests can also participate in them. "What I love to do with my guests, I always love to make them feel like they're at home even when they are not, so I like to replicate the things I love in a hotel room. In our house we take off our shoes so we always have disposable slippers here that people can slide on or brand new socks in a basket," she explains. "That way they can feel immediately comfortable the moment they pass the threshold in your house."
"And in the bathroom or if there's a powder room, I like to put together a little welcome basket and it can be something as simple as here's your towel, here's your washcloth, all the little toiletries you may need," she adds. "I give them their own little stash, that way they don't feel like they're burdening me by asking, 'oh, do you have q-tips' or whatever it is. It's all already set up there for them and it makes them feel so welcome and thought of."
4

.

Food and Entertainment: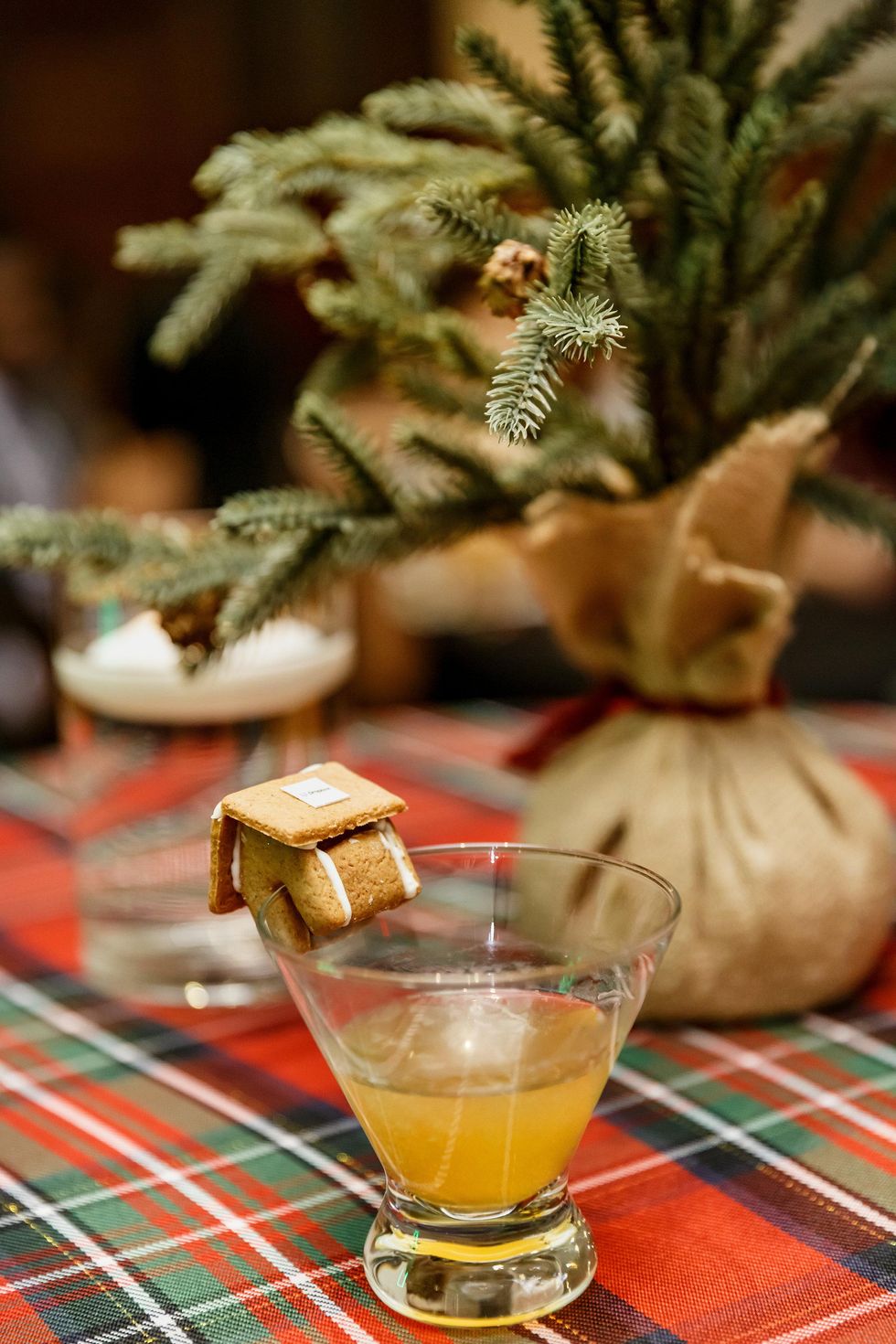 Photo courtesy of Yasmin Quiles
Along with welcome baskets, the Afro-Latina entrepreneur also enjoys putting lists together with a few of her recommendations. Think, welcome lists you receive at hotels and Airbnb. "I'll put together a short list of my favorite restaurants, my favorite channels or shows to watch that way they can be entertained while I'm doing other things," she says.
The holidays involve a lot of cooking and so going out to eat may not be an option. But neither is eating mac and cheese, collard greens, and ham all day, every day. So, it's best to provide options for your guests. "When people go to other people's homes, they really want the house experience so eating out is great, it's fine, but I think it really makes people happy when immediately there at home at your house," explains Yasmin.
"What I like to do is immediately have an assortment of snacks available and that means everything from the folks that are on a diet to folks who want to indulge and have a little bit of everything. That way we have a good selection. And [I like to have] things that can be left out for a couple of days as well so I'm thinking pre-packaged items that way [they can] 'grab and go.'"
5

.

Activities:
When having guests stay over for a few days, you should want to do more than just stay in and look at each other the whole time. Similarly to the way Yasmin advises providing a list of recommendations for eating out and indoor entertainment for guests, she suggests providing guests with a list of favorite stores or favorite markets with recommendations of what to buy.
This can also be a great time to show your guests where you live by going on walks or a scenic drive. "A lot of times these holiday celebrations happen when we are in the midst of planning and doing things and doing all the last-minute errands. Another thing I like to do is photo albums, people love photo albums."
Yasmin recommends having a physical photo album that you and your guests can look through or a digital frame such as Aura Frames that holds photos online that you can continue to add to.
6

.

Music:
What's left is providing the ambiance. One of the many ways that people do this is by having a playlist. Creating a playlist is fun but can also be time-consuming. Not only do you have to add your auntie's favorite Christmas song to the playlist but you may also want to take a trip down memory lane with your siblings and jam to a throwback from your childhood. Yasmin reveals a solution, which she refers to as an "elevated" experience.
"You can hire a DJ. They can do a set on Twitch," Yasmin says. "There's a chatroom function so you can put it on your TV, so all the guests who are there can listen to the music live but if there are guests who can't make it for whatever reason, they can tune in and participate via the chat."
The experience curator also suggests having a quiet space for those who are more introverted or need a break from the loud music and crowd.
7

.

The Breakdown:
Whether you and your family decide to cook together or hire a caterer, cleaning up after a big event is always a buzz kill. Yasmin recommends outsourcing help as a way to enjoy yourself and not worry about the aftermath. "Clean up can be a big hassle. It is okay to get a cleaning team. It is okay to hire a bartender. It is okay to hire anybody who can make your job easier," she assures.
"The point of these events really is to connect and I feel we get so caught up in the doing that we forget that and the party ends and we're like 'dang, I didn't get to have a conversation with my best girlfriend who I haven't seen in six months.' Give yourself permission to outsource so that you can have a good time."
For more information about Yasmin, you can visit her website at yazquiles.com and follow her on Instagram @popbyyaz.
Let's make things inbox official! Sign up for the xoNecole newsletter for daily love, wellness, career, and exclusive content delivered straight to your inbox.

Feature image courtesy of Yasmin Quiles
While mantras and the dedication to more self-care and health practices are a beautiful way to press reset year-round, a lot of us forget how important it is to nurture our most sacred space. And by that I mean, our homes. While the outside world comes with stresses and responsibilities and chaos, your home very much embodies the eye of the storm. There you find peace, tranquility, and solace. And because it does, you shouldn't be afraid to elevate the way you think about it and how you make it work for you. Dare to do something different as you set your intentions for the rest of the year. Turn your home into a place that takes care of you.
Give these 10 feng shui tidbits a try and ignite a positive and nourishing energy shift in your life for 2022.
1

.

Keep Your Entryway Clutter-Free, Well-Lit, and Laced With an Inviting Aroma
Everyone who enters your home will take on the attitude and energy that greets them when the front door opens. Your entryway should inspire guests to bring only the happiest, healthiest parts of themselves into your home. We all have baggage, but bright paint and a fragrant scent will encourage your grumpiest neighbor to leave their negativity at the curb. Clutter-free means no trash, no stacks of mail, no piles of shoes, no shovels, and no raggedy coat racks in the doorway.
Make sure your home's entrance is saying, "Girl! Come on in here, so we can relax and have fun" as opposed to, "Ugh! What took you so long? I'm drowning in here!"
2

.

Designate a Place for Guest To Leave Their Shoes
For centuries, ancient Chinese feng shui pioneers have followed this rule: do not wear shoes in the house. Shoes carry gum, mucus, feces, and much more from the street into your home. Allowing people to walk around your home in their shoes is the equivalent of walking through Times Square barefoot. Secondly, letting shoes be worn in your home energetically represents people carrying their problems into your residence. As you can imagine, other people's issues to settle into your space can seriously interfere with your home's peace and positivity.
Do yourself a favor and always have the guests leave their shoes and their troubles at the door.
Tip: Keep a small basket of ankle socks on hand to offer those girlfriends whose toes haven't seen a pedicure in a while.
3

.

Protect Your Kitchen
The kitchen nourishes the family both literally and energetically. Anything that sustains you is worth protecting. It is best if you cannot see into the kitchen from the front door. Do something to cover your kitchen doorway. Energetically, visible access to the kitchen from the front door gives way to problems with nourishment-related health problems.
Tip: Use all four fires on your stovetop when cooking. Most people (especially singles) tend to use the same jet repeatedly. In feng shui, putting all stovetop jets into action energetically balances your body's health.
4

.

Shut the Bathroom Door (and Put the Toilet Seat Down)
Bathrooms are physically and energetically set up to "get rid of" what we no longer need or want. We all use the bathroom to wash away dirt and release other bodily things we are too ladylike to mention here. But did you know that bathrooms will energetically wash away your finances as well? Keeping your toilet seat up and the bathroom door open is the energetic equivalent of saying, "Here, take my money, I don't need it." So next time bae heads to the bathroom, tell them to put the lid down because your bank account depends on it.
5

.

Be Sure the Living Room Doesn't Feel Like a Museum
Living rooms should be set up for conversation. It is the room where "living" (being with loved ones, communicating, enjoying good company) is supposed to take place. Seating should be set up fairly close together, clutter-free, cozy and inviting. Furniture set far apart or lined up along the walls does not encourage "living" or togetherness. It's okay for the living room to look like the cover of ArchitecturalDigest, as long as it doesn't feel like the Smithsonian.
6

.

The Bedroom: Sleep, Sex and Solitude 
There are lots of fun, feng shui facts about the bedroom, so take note. Bedrooms are the lungs of the home where deep breathing (relaxation) should take place. Bedrooms are best when placed at the back of the home, where the energy is more yin. Every bed should have a headboard because, when we rest at night, energy from the universe enters our bodies through the tops of our heads. Too much cosmic intake can be overstimulating and disrupt your sleep. And lastly, do not store items underneath the bed. Doing so symbolizes underhanded, sneaky, or backstabbing behavior from others.
7

.

It's Electric! (And Unhealthy.)
Electrical currents are harmful to our human bodies. In modern times, it is hard to avoid. Nevertheless, there are things we can do to decrease our electrical exposure. What your grandmama said about not sitting so close to the TV is correct but the most vital place to reduce your contact with electrical currents is in your bedrooms. Free your bedroom of all electrical items like TVs, radios, and electrical alarm clocks.
If full-on monastery mode is not your cup of tea, then at least unplug the electronics before you sleep. Just plug everything into a power strip and turn the strip off at night. For those who sleep with their cellphones, try and break that habit by sleeping with all electronics a minimum of four feet away from the foot of the bed. And, yes…that includes your cellphone as it charges overnight.
8

.

Table Talk
When shopping for a table, keep this in mind. The most uncomfortable tables are those with a glass tabletop. Fear of breaking or cracking the table is a visitor's worst nightmare. People can't help but feel tension when they have to place something on a glass table. The stress is distracting and takes away from good conversation and fun activities. So, when you're redecorating, swap the glass out for wood, leather, or some other less fragile tabletop.
9

.

Big Windows and High Ceilings
When choosing a new home or apartment, be sure the top of the window frame is higher than the tallest resident or frequent overnight guest. Short window frames give college baller bae -- that uneasy, trapped feeling. We don't want that energy creeping into our relationship.
10

.

 Place a Protector Near the Entryway
Every queen needs protection. Feng shui suggests using a talisman at or near your home's entrance as a tool of security and an attractor of good vibes. Different cultures have different talisman items. The Chinese culture likes the Bagua or fu dogs, while a home of African descent may choose an Ankh or the Eye of Ra. The choice is yours.
Let's make things inbox official! Sign up for the xoNecole newsletter for daily love, wellness, career, and exclusive content delivered straight to your inbox.
Featured image by JGI/Tom Grill/Getty Images
Originally published on October 24, 2019
I'm one of those people who has a song in mind for almost any keyword said in a sentence. It's a gift and curse, to my friends and my readers. Today's song was "Sex Room" by Ludacris and however annoying it might be, I'm excited to get into it with you all. Netflix's recently dropped a new series – How To Build a Sex Room – which is for sure the adult HGTV series I never knew I needed. But it's so much better than any HGTV series and honestly better than anything I could've anticipated.
The show explores making practical sex rooms for those who will be using them. And a sex room doesn't always mean cold, dungeon vibes. No! Instead, part of what makes the show great is that they meet people where they are and really take into account the purpose or intended use for the sex rooms, in addition to personality. You get a good variety of luxuries mixed with the feelings of home.
And while I'm not going to spoil the show, I do want to get into what and why someone might need a sex room. Maybe you want one for yourself or maybe you're someone who passed the preview of this show and wondered, "What's the point?" If so, keep reading.
Reasons to Consider Having a Sex Room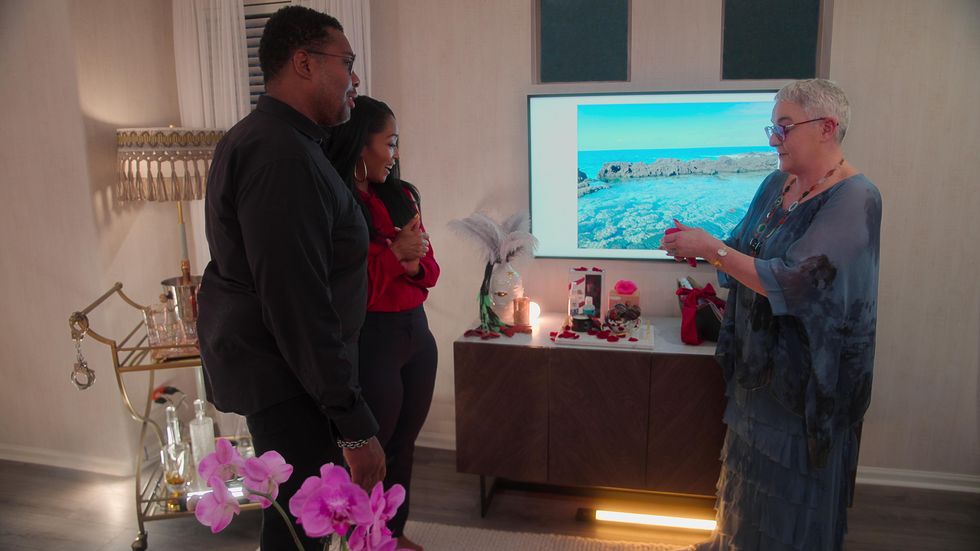 (L to R) Ryan, Raj, Melanie Rose in episode 102 of How To Build a Sex Room.
Courtesy of Netflix
1. Parental Control and Boundaries
Parents who co-sleep with their children may find it difficult to maintain an air of sexiness in the very room they once created their children in. Though we might say at a certain age parents should set boundaries, realistically keeping your child in their own room is not a boundary that's always possible. That said, parents might opt for a sex room in order to rejuvenate themselves back into the seductive period of courting prior to having children. Sometimes the boundary setting is simply a matter of changing the setting and opting for privacy in other, less seemingly dismissive ways. This can be accomplished with a sex room.
2. Separation of Home and Sex
While not every sex room is dungeon-style, some are. And regardless of the aesthetic, there may be people who wish to keep their preferred kinks as private as possible. I can't count on one hand how many times I've forgotten to put away my vibrator and someone walks into my home only to see it on the coffee table. And that's a normalized part of sex…masturbation. However, imagine having someone walk into your home and you forgot to put away your flogger or box of butt plugs, and so on? The sex room helps to provide an extra layer of privacy. Not because you wish to be secretive or feel shameful, but because keeping certain parts of your life separate from others is good form as far as boundaries go. Plus, it can be really sexy to have this part of your home where only you and your lovers exist.
3. Sex, Staycation Style
The monotony of being home and having sex in the same way, in the same place can sometimes be…annoying. But also coming across safe spaces to play with your partner can be equally…annoying. Having one at home allows you to escape the day-to-day without incurring the fees associated with sex clubs. Furthermore, there's this unspoken rule of exclusivity where you really have to know the right people in order to find kink scenes in certain cities. Having your own sex room eliminates the need for that as you create your own.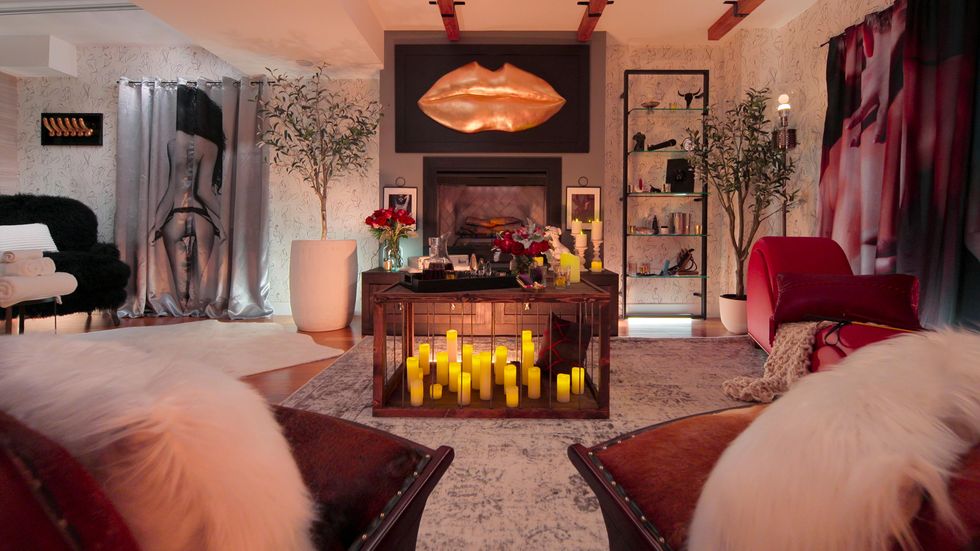 Courtesy of Netflix
4. Swinging Made Easy
​If one of your kinks is swinging, a sex room might just be mandatory. Not every city has swingers clubs and in my experience when they do have swingers clubs they aren't always diverse (age and race-wise). But having a sex room in your home allows you to host other couples consensually, thus minimizing the requirement of having to find a couple to swing with in exclusive spaces.
5. Safe Spaces and Such
For those who are into kink and wish to try out new gadgets and contraptions, I encourage you to do so safely. But hold please, because in this case, the safety I'm speaking of is more towards reading the requirements for hanging your equipment from walls and ceilings. Because this can be necessary for swings and such, some couples may opt for a sex room in an area in their house where the ceilings are more conducive to that type of sex gear – like the basement.
The bottom line is there are many reasons that people may want sex rooms. However, I think in any case it comes down to having a safe space to be able to reconnect or even connect with ourselves in ways that weren't made possible (for whatever reason) beforehand.
If this appeals to you, you may be wondering how to create a sex room for yourself, especially after watching the Netflix series How to Build a Sex Room. Here are some ways.
Self-Survey: Remember A.S.L via Aim? You should and if you don't you're far too young to be reading this article. But similar to that, you want to get a quick and dirty rundown of what you're looking for out of your sex room. So, in this case, A.S.L stands for "agenda, sex, and location."

Agenda – What do you wish to get out of this sex room? What is your why?
Sex – What type of sex or touch do you intend to have in this space? How do you intend to utilize this space? Is it a swinging space, or one that is just for you and bae? Do you want to explore new kinks or are you pretty airtight on the things you want to try?
Location – Where in your home do you envision this work of art being crafted? Are we keeping it in the bedroom or do we want it somewhere covert?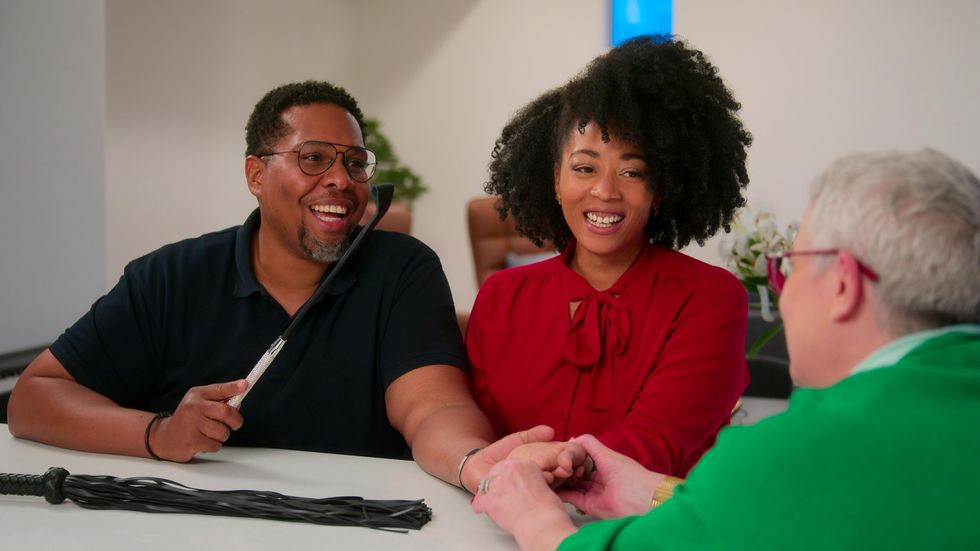 (L to R) Ryan, Raj, Melanie Rose in episode 101 of How To Build a Sex Room.
Courtesy of Netflix
DIY or For Hire: This one is rather simple. Hmm, on second thought, if you're someone who doesn't understand limitations, like me, you might have a difficult time realistically gauging how to go about building your sex room. Nevertheless, you must decide if this is something you want to pull a "do it yourself" with or if it requires you to hire a contractor. Perhaps a combination of the two – it simply depends on the answers to the first two questions.
Secret Shopper: Purchase the toys you'll need to fill this space. However don't get caught up like a kid at Christmas, as we want this space to be fulfilling but efficient – not cluttered. You might consider creating a list of must-haves to get you started and then creating a secondary. Wishlist.
Featured image courtesy of Netflix
Chloë is riding high with the success of her singles "Treat Me" and "Have Mercy" and it appears she likes to live that way too. In a recent Open Door episode for Agriculture Digest, the singer and actress showed off her Los Angeles high rise with a view that would make anyone jealous.
When you first walk into the apartment, you are hit with a beautiful entryway that features an oil canvas painting of Chloë and her sister Halle Bailey.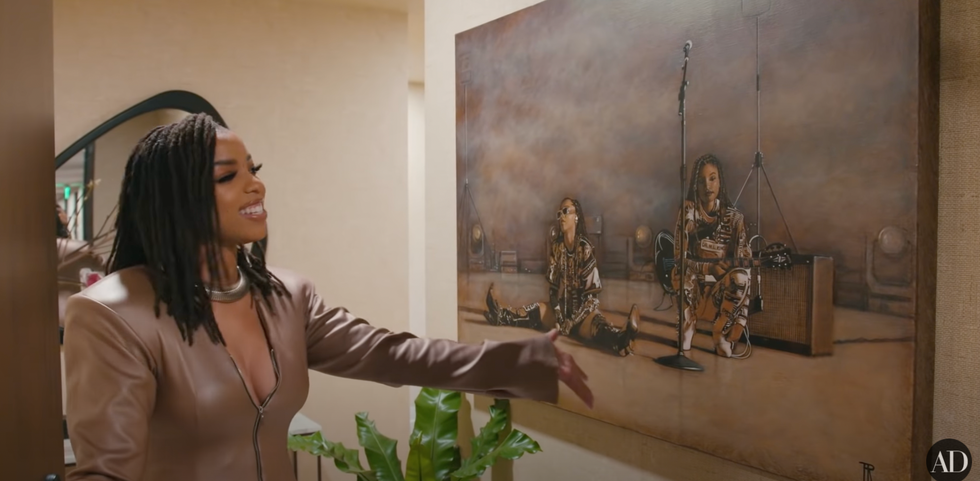 Architectural Digest/YouTube
"A friend gave me this oil canvas painting of us. We were performing at Global Citizen and I love it so much because it really just shows us in our element and chill and she's my best friend," she said. Continuing along the hallway, the 23-year-old stopped and shows off another painting. This one is an abstract painting from her "Have Mercy" video. While she thinks it's kind of weird to have photos of yourself in your home, she believes you can get away with it if it's done "artfully and tastefully."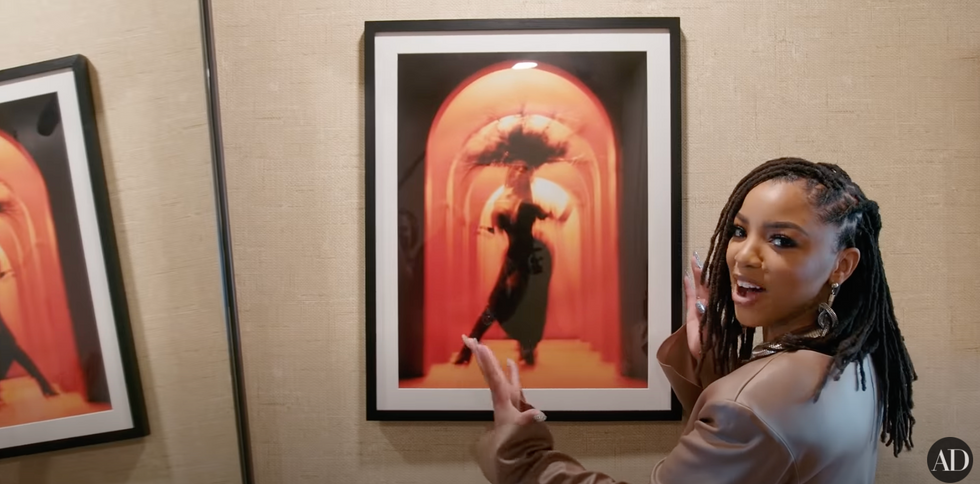 Architectural Digest/YouTube
Shortly after, she highlighted another still from the "Have Mercy" video. This time she was on the roof and she revealed an embarrassing story behind it. "Fun fact, I fell almost off of the roof," she said. "It was a great experience. I will always remember it. I will never forget that."
The apartment has two bedrooms, but she converted one of them into her music studio.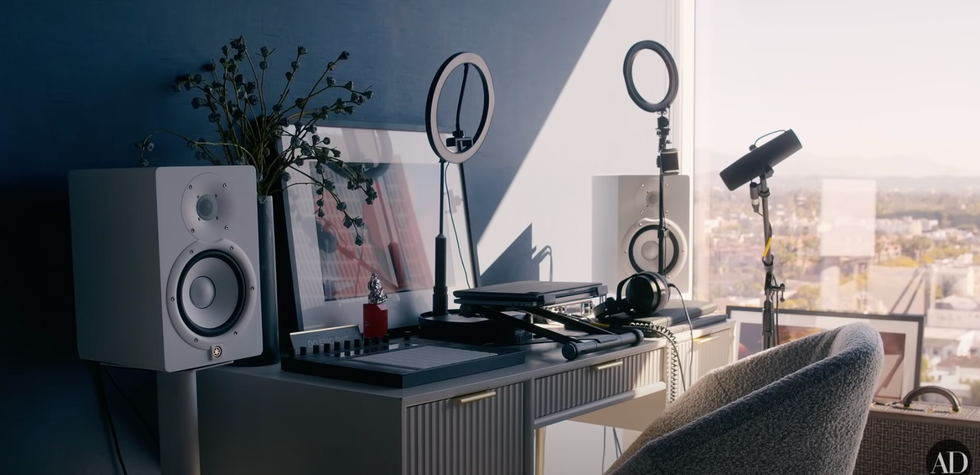 Architectural Digest/YouTube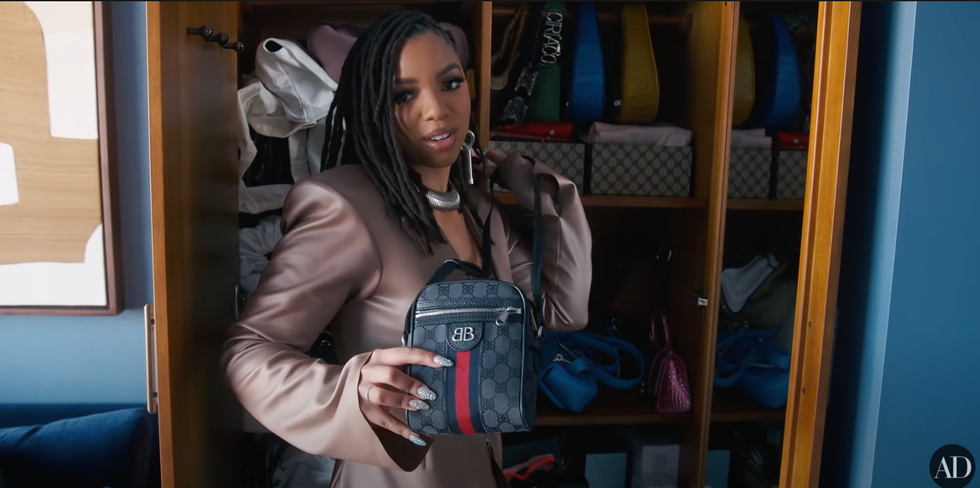 Architectural Digest/YouTube
There's no bed in it, but there is a sleeper sofa for when she has people stay the night. The room also has another photo of her and her sister. "I always have her around me because no matter how far or near we are, I just always like having a piece of her with me," she explained. The studio also has an armoire that is filled with the singer's handbags.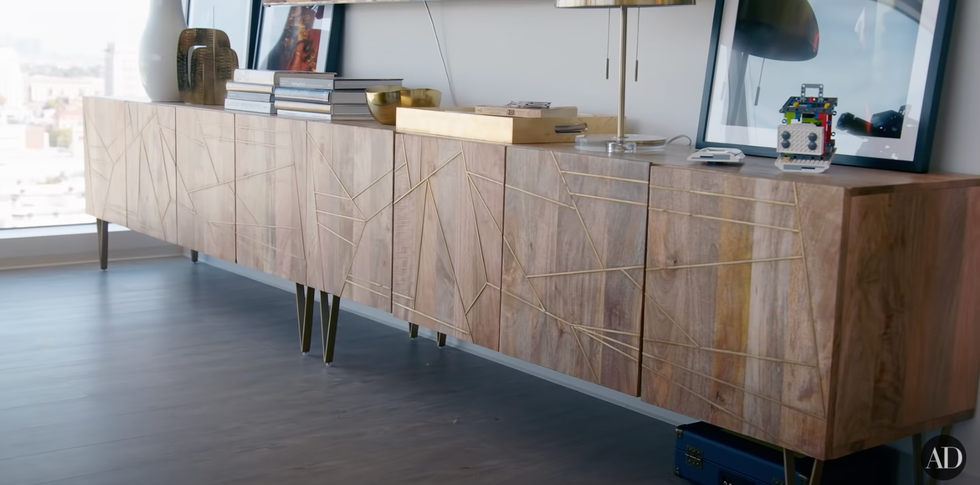 Architectural Digest/YouTube
Chloë's favorite colors are blue and yellow and you can see those colors throughout her home. But her favorite thing about her home is the view, which is no surprise there. Her apartment has floor-to-ceiling windows in the living area as well as her bedrooms.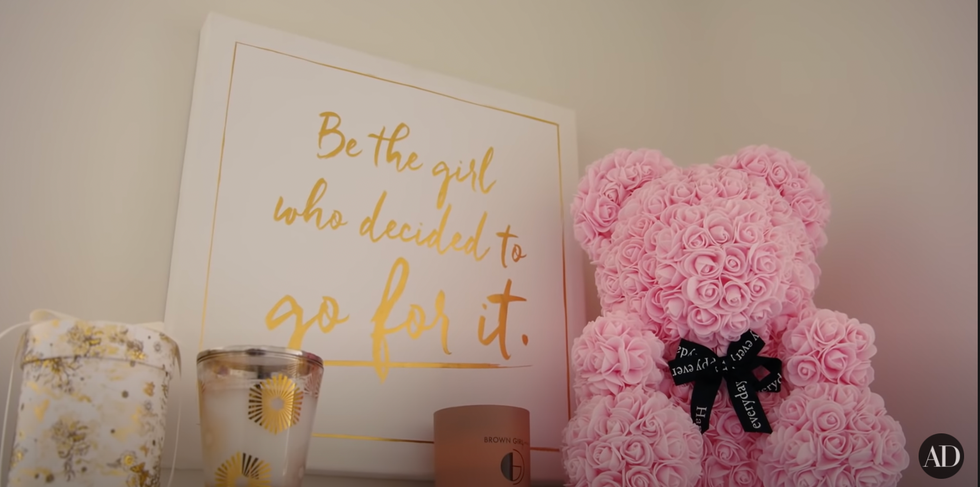 Architectural Digest/YouTube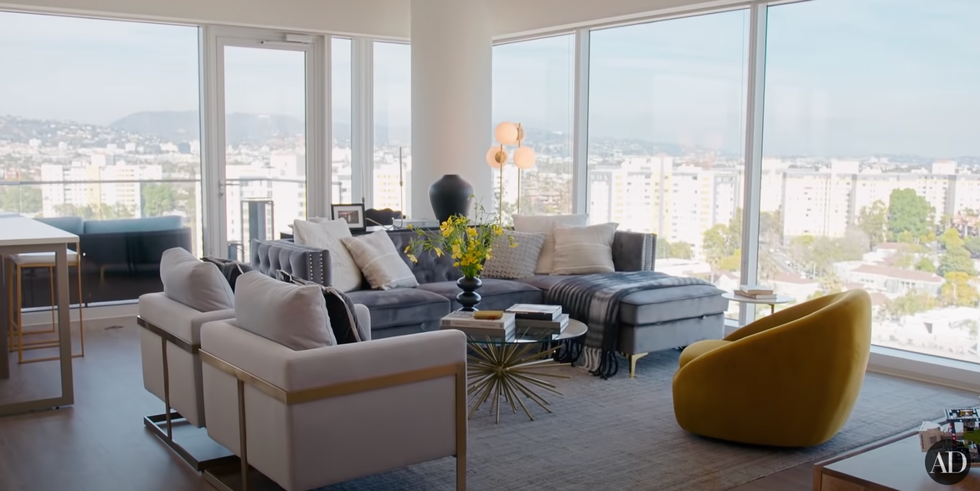 Architectural Digest/YouTube
Her living room consists of a cozy couch, chairs, and typically a huge whiteboard, which she said she put away because it had her tracklist on it. She also has a massive display of photos that were outtakes from a shoot she did a year ago.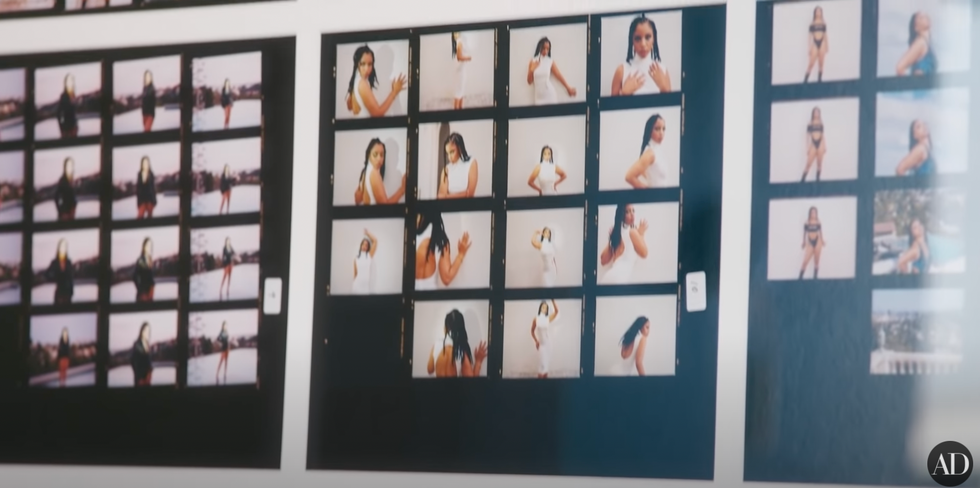 Architectural Digest/YouTube
"Not conceited, but I just love it because it's artful and it's me," she laughed. "And whenever I'm in sweatpants and hair-tied and I feel like, eh, I just look at that, I'm like okay, she's a little somethin', somethin'."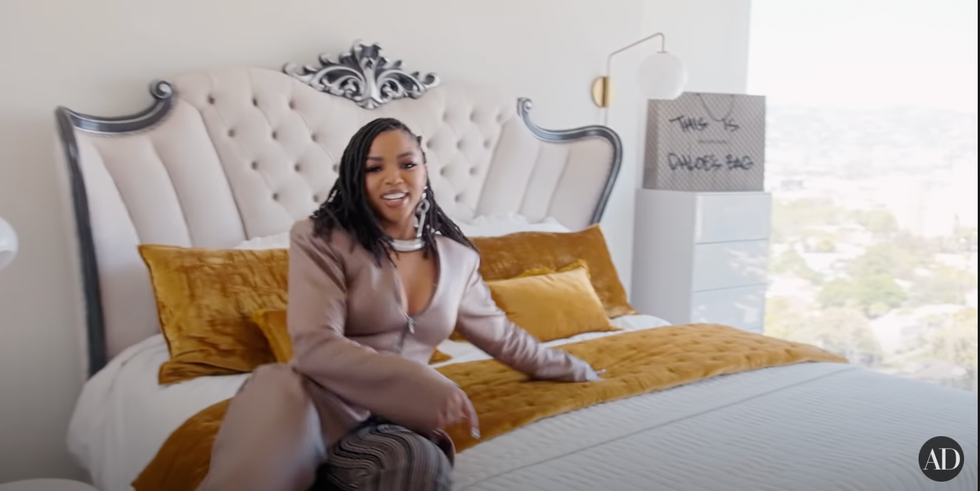 Architectural Digest/YouTube
She also has LEGOs that she works on, which she said calms her down. The Grown-ish star credited her godmother for designing her living place and giving it an "RB" vibe, which stands for "rich bitch." That vibe flows into her bedroom with a bed that is "fit for a queen." "I'm obsessed with my bed. Every time I lay in my bed I feel like a queen. My Godmom did the most amazing job." Another favorite thing in her bedroom is her hidden shoe rack.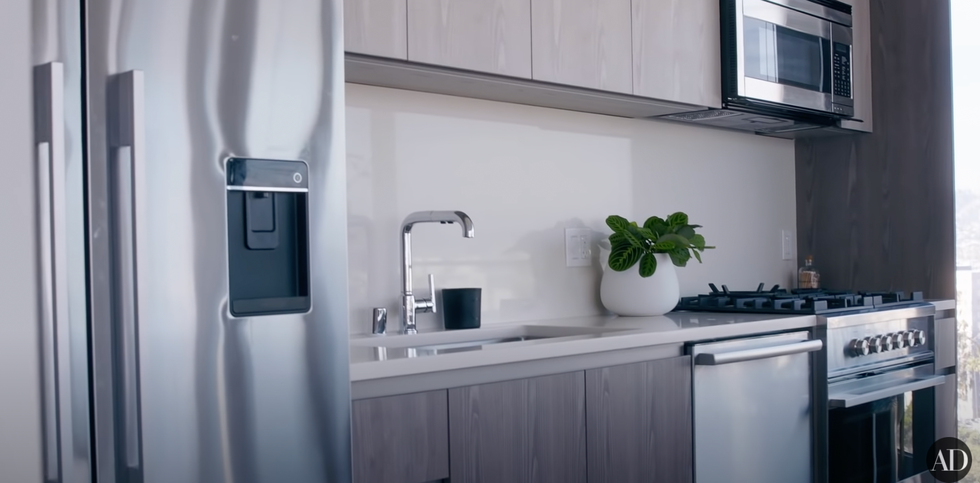 Architectural Digest/YouTube
When it comes to her kitchen, Chloë described it as a place where "I don't cook" due to her busy schedule. However, she does like making smoothies with her Nutribullet.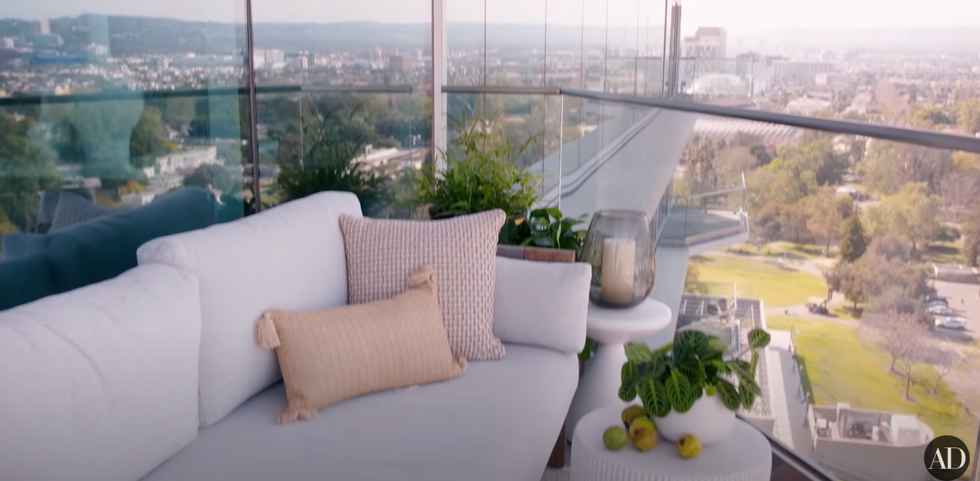 Architectural Digest/YouTube
Last but not least, Chloë took us out to her balcony where we got an up-close and personal view of L.A. She admitted that she likes to sit on her balcony and reflect on her life decisions. "This is where the deep thinking goes down," she said. "Sometimes have a nice glass of wine. Sometimes just chill out. I love it here."
Inside Chlöe Bailey's Elegant L.A. Apartment | Open Door | Architectural Digest
Let's make things inbox official! Sign up for the xoNecole newsletter for daily love, wellness, career, and exclusive content delivered straight to your inbox.
Featured image via Architectural Digest/YouTube