In xoNecole's quarterly series Dope Abodes, we tour the living spaces of millennial women, where they dwell, how they live, and the things they choose to adorn and share their spaces with.
It's a warm summer's day when McKenzie Renae invites us into her home.
Upon entering, the young creative has an instantly inviting aura that her space also reflects. Soft candles are lit, and on her speaker is the new H.E.R. record that just dropped, providing the perfect ambience to her undeniably dope abode. Whether it's for her hair or her sense of style, McKenzie has made waves on the internet as a woman to follow. And as we take in a tour of her place, we are reminded that the Atlanta-based multi-hyphenate (who also contributes to xoNecole from time to time) is the host of a wealth of knowledge on styling, a fact that effortlessly lends itself to her overall decor aesthetic.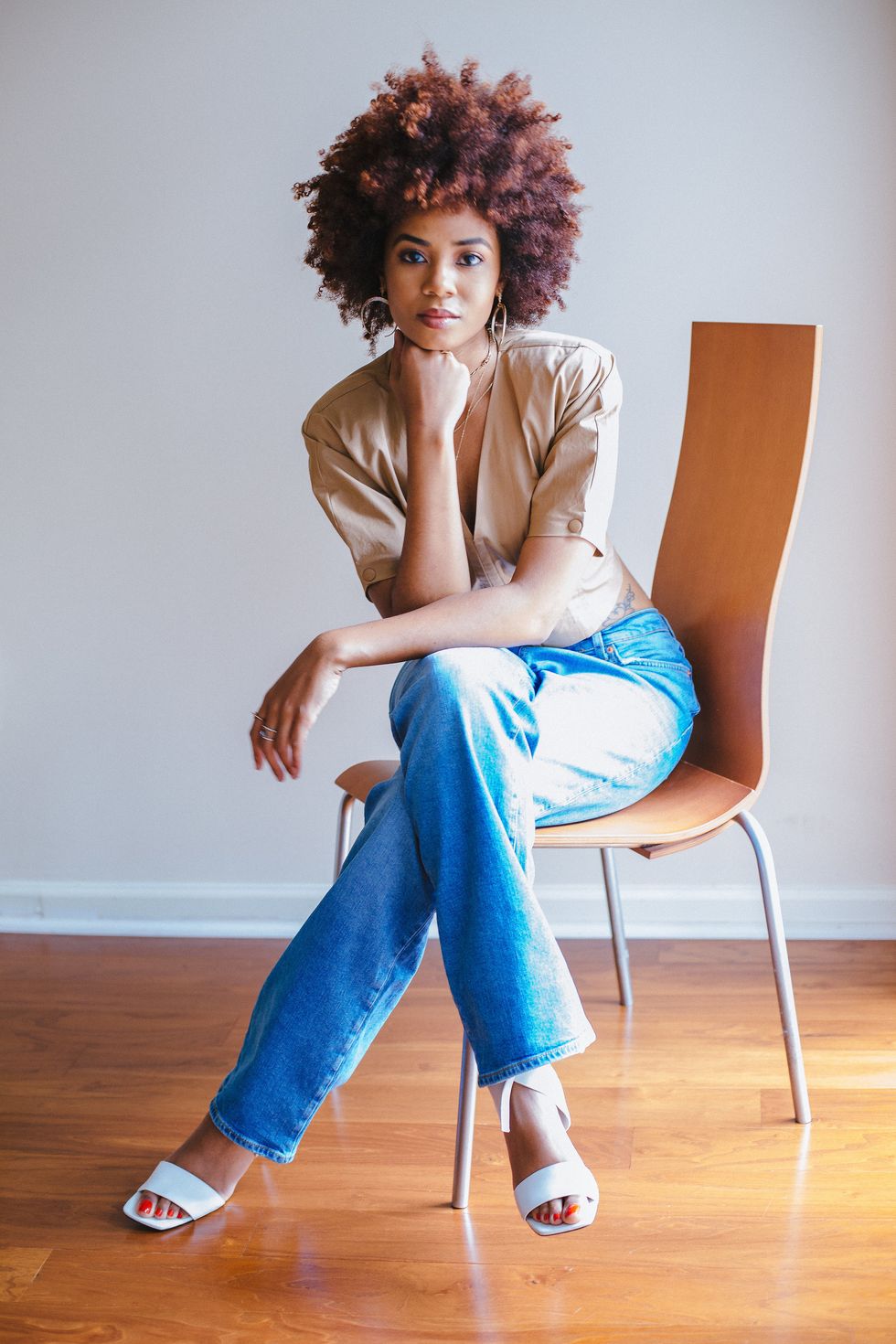 McKenzie Renae
Photo By: Sanniyah Sloan Photography/xoNecole
"My favorite thing about my home is that I feel like it's me," McKenzie shared with us. "I've lived in two different apartments and I was finding my style, but I really feel that this is really a reflection of who I am, and I feel really good about walking home every day. It's just a feel-good feeling. I don't have a favorite piece, it's just the feeling I get when I come home."
In addition to an apartment tour, xoNecole was able to see the full extent of the magic behind her eye for flair while getting some backstory on the pieces she chose to live with her in her Buckhead condo.
Something Blue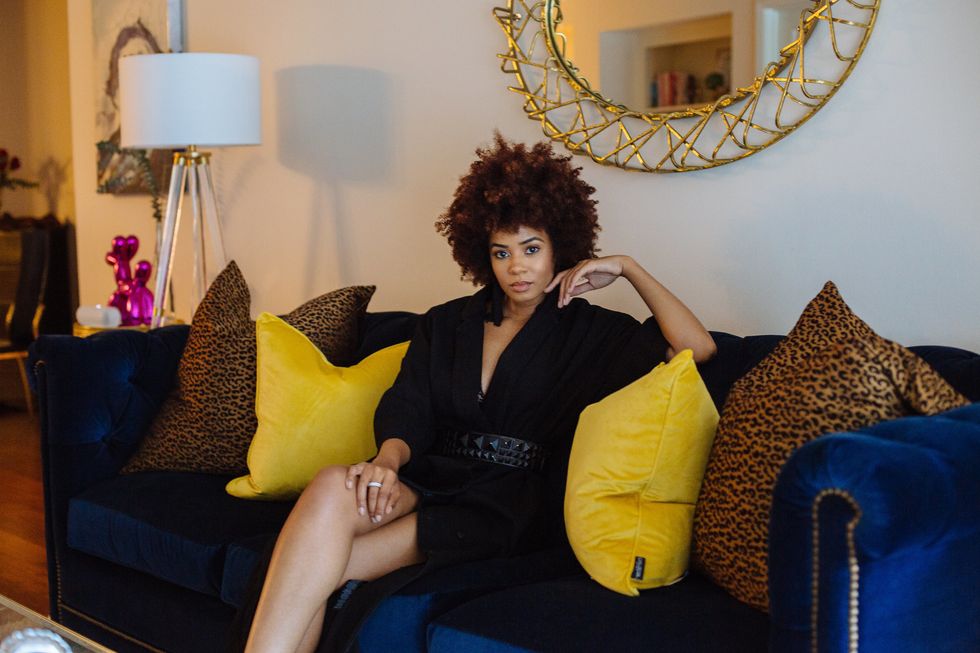 Photo By: Sanniyah Sloan Photography
"I styled everything [in my apartment] around this one sofa. I knew I wanted a royal blue tufted sofa. That's what I wanted, and I searched high and low for it. That's the first thing I started with and everything else I designed around that one sofa. I love it. I got it from Arhaus. It's my one investment piece in the entire house," she laughed. "And then everything just kind of came around it."
Barbie Dreams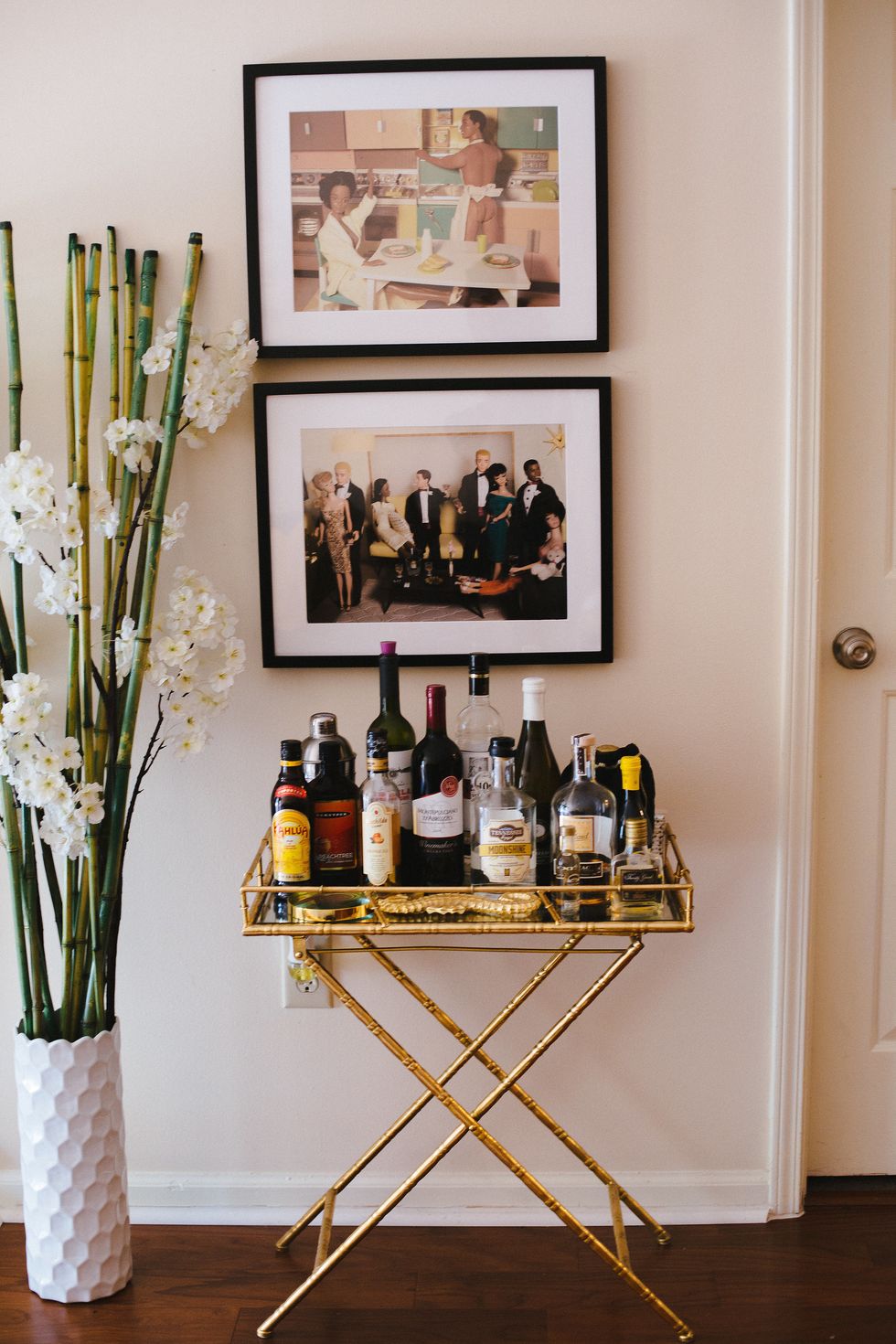 Photo By: Sanniyah Sloan Photography
"These Barbie dolls on the wall are actually vintage Barbies that I got in New York when I went for my birthday this year. They had all different kind of layouts, like Barbies on the beach, and it's all vintage," she recalled fondly. "I thought it was kinda cool because he had black Barbies."
Off the Wall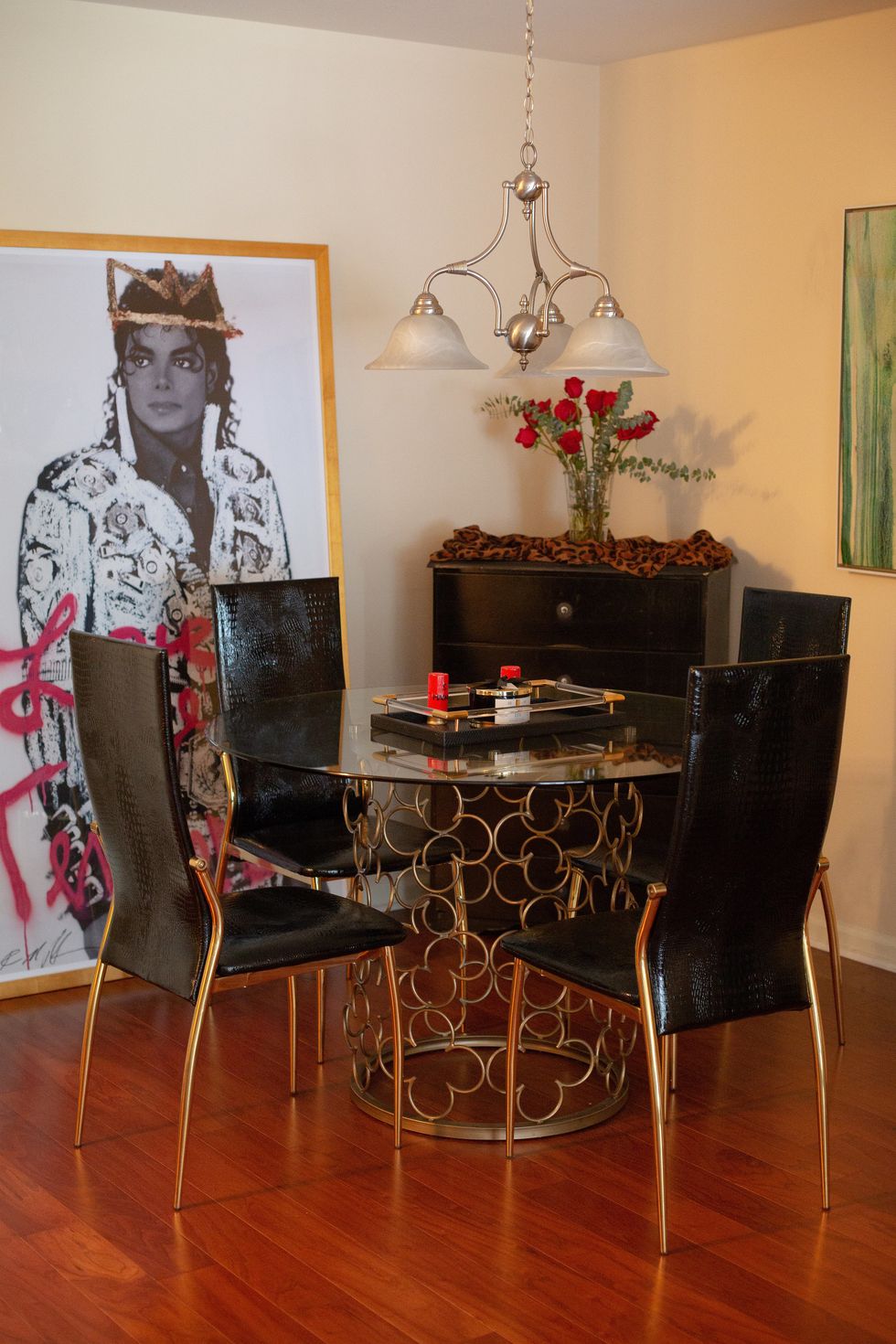 Photo By: Sanniyah Sloan Photography
"I bought this Michael Jackson piece at American Signature Furniture. I thought it was really cool and I really wanted a big piece of art. Big art is expensive and I'm a newbie at figuring out what my taste in art is, so I thought this was cool. The graffiti on top of Michael and the crown - I really liked it. It was a great deal and I just had to have it. It was perfect for the wall. I want to say I got this table from Overstock.com. And I think I got the chair from the same website."
Tunnel Vision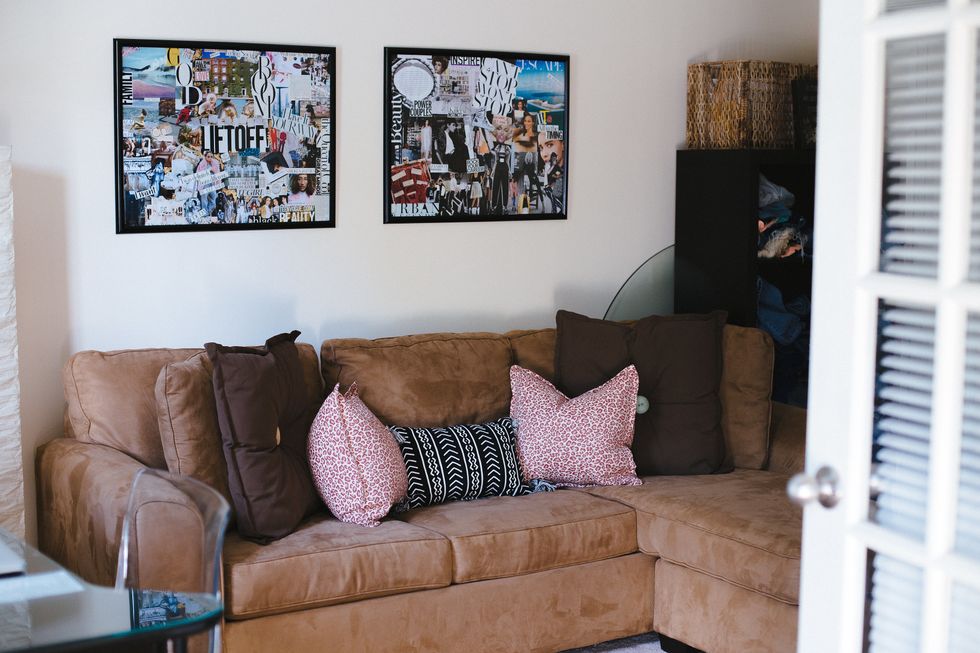 Photo By: Sanniyah Sloan Photography
"I wanted my vision boards to really speak to me - not just be thrown up there. Visuals are everything to me, so it needs to look nice, look neat, and make sense. I have it organized in certain ways on the vision board, and different words that stand out to me, and the gold that's on there - just to kind of make it look more like art so that it's not so temporary. Because I feel like your visions can last, it doesn't just have to apply to one year," McKenzie reflected.
BOSS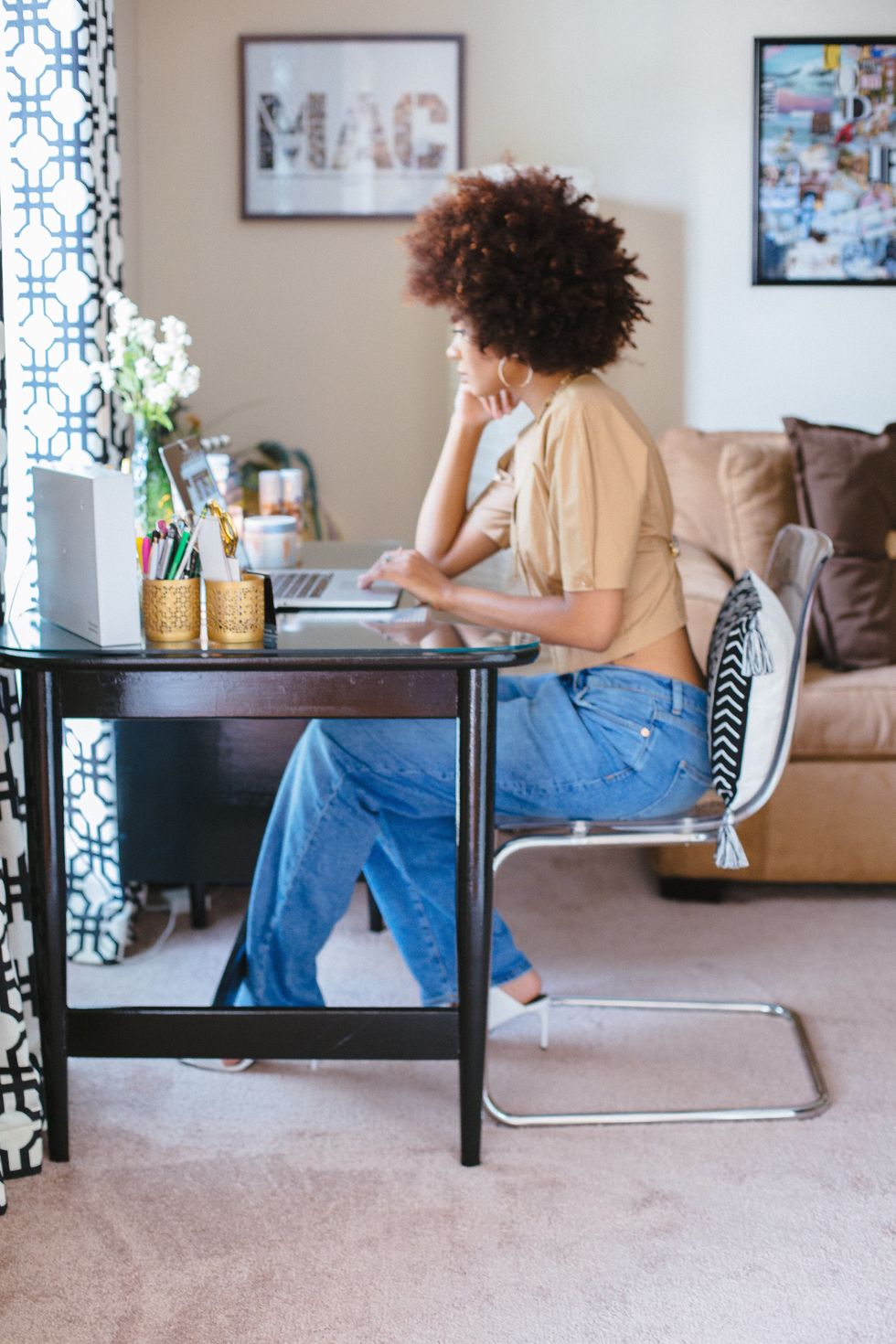 Photo By: Sanniyah Sloan Photography
"I love my desk area the most. My desk in my office is actually a vintage desk that I redid." She continued, "It's comfy in here, it's quiet in here. I write in here a lot. I read in here a lot. I like to create vision boards and stuff like that. I create my jeans in here. I take a lot of my product shots in here when I'm doing reviews. It's also my guest room when I have guests over."
Keep up with McKenzie by following her on Instagram.
Click through the gallery below to tour her dope abode, as well as some of the intimate details that make her apartment feel like home:
Photos By Sanniyah Sloan Photography for xoNecole

Originally published on April 6, 2019
In xoNecole's Dope Abodes, we tour the living spaces of millennial women, where they dwell, how they live, and the things they choose to adorn and share their spaces with.
The stay-at-home struggle isn't nearly as stressful when you actually like where you live, which is exactly why Atlanta-based plant mom Domonique Shante has carefully curated a simple sanctuary that meets her needs in all the best ways.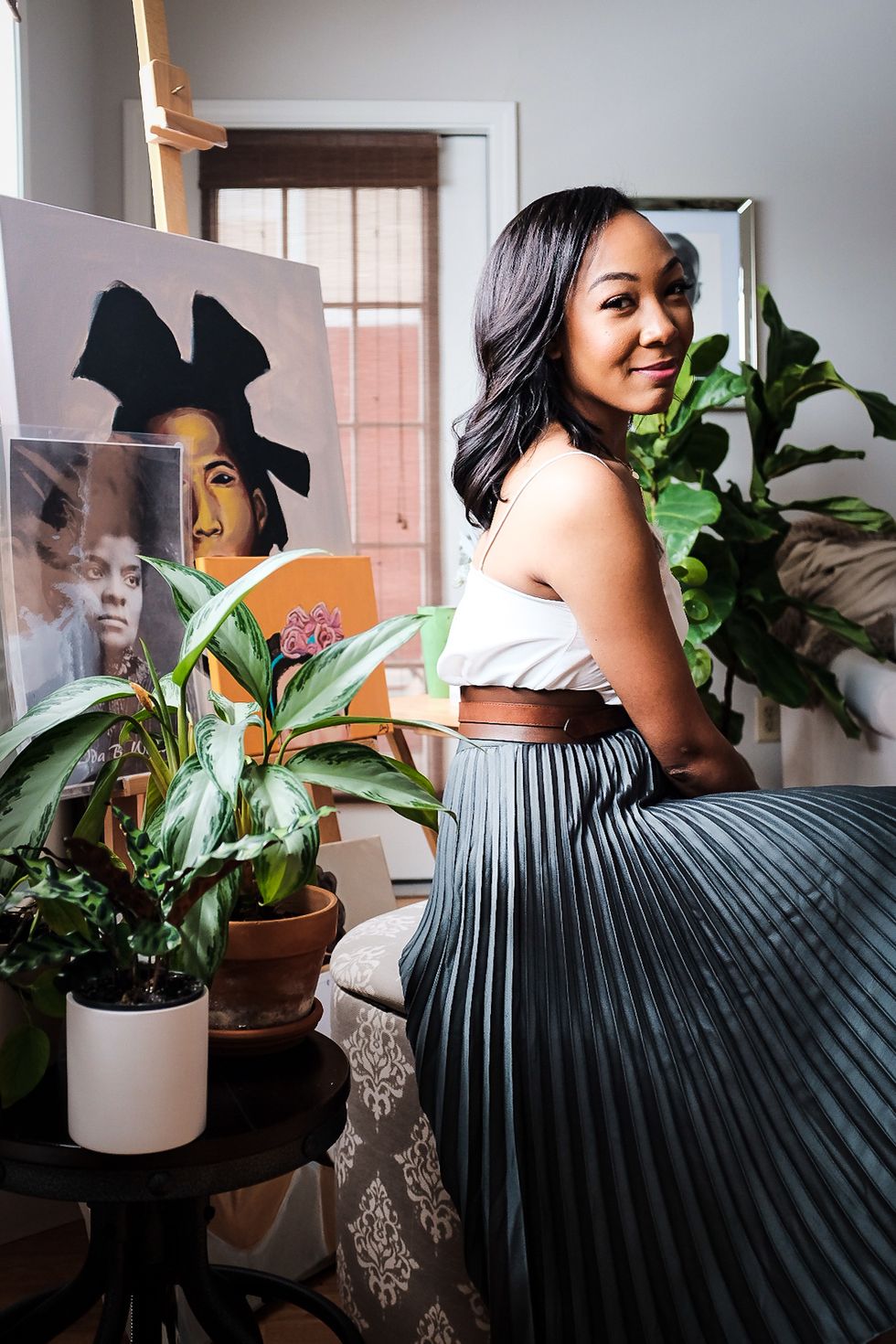 Terrence Porter for xoNecole
Before the pandemic, Domonique invited xoNecole into her dope abode for an exclusive home tour where she gave us all the details on how to make your home a hub for creativity, which, according to this marketing manager starts with making your space your own. "I wanted to slowly put together a more eclectic feel. Because when I first moved in, it was very minimalistic and everything was cream. I liked that but it's not super practical to keep that up and it just got kind of boring after a while."

"I started l switching things up and putting things in different random places," Dominique explained, "Like my 'Brainstorm Boulevard' sign––I found that a marketing trade show––and I just threw that in there."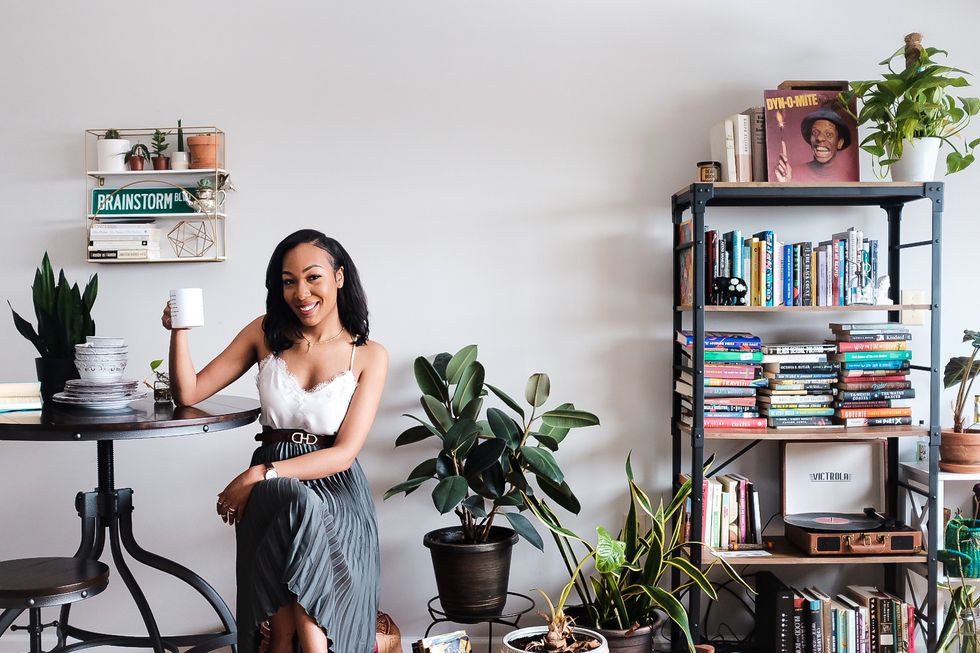 Terrence Porter for xoNecole
As the creator of the Livre Cafe, an online book club community with a focus on Black literature and art, the budding horticulturist says that she often retreats to her creative corner whenever she's feeling inspired. A dedicated plant mom, artist, and book enthusiast, Domonique shared that because she wears so many creative hats, it was important that her dwelling keep that same energy. She told xoNecole, "It's a very open space, like a blank canvas. I get to do whatever I want with it."

We talked more with Domonique about her museum of books, why every home needs a creative corner, and how she keeps more than 15 house plants alive and thriving at the same damn time. Here's what we learned:
*Some links are affiliate links. If you purchase an item from an affiliate link, xoNecole might earn a small commission.
Book Club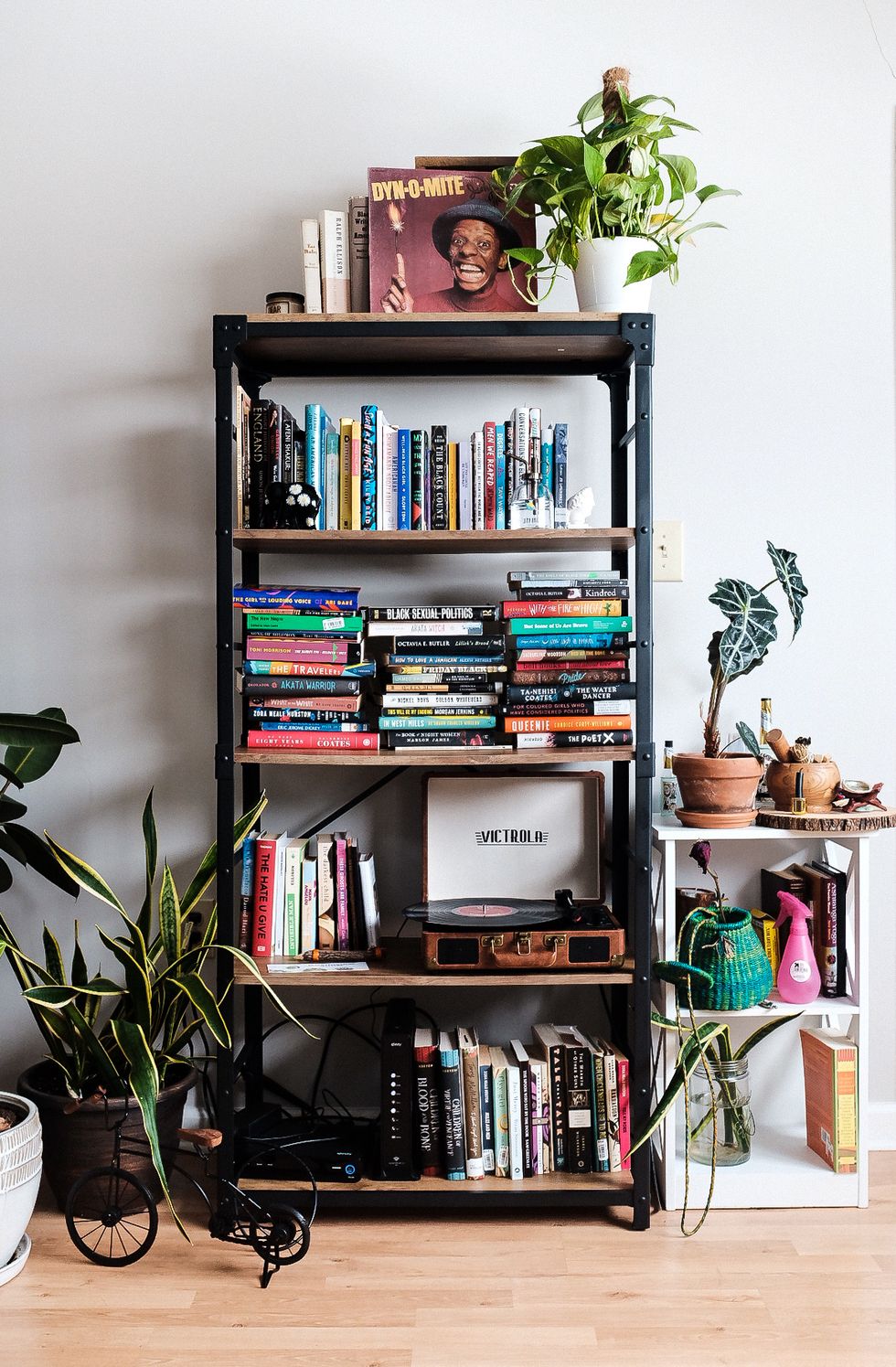 Terrence Porter for xoNecole
Reading represents a large part of Domonique's identity. As an avid reader, she has a goal to read at least 30 books a year. That passion was partially what led to her founding her company, Livre Cafe. The other part? A lack of representation. "I've always been a reader. I've always loved reading. And it got to the point where I would go out, I would buy books, I would see what's popular, what should I read next. And it was all either white artists or white writers or white adjacent. So I was like, you know what, I'm gonna just put it put together a blog so everybody can have at least a syllabus or somewhere to refer to you if they want it to read Black stories by Black people."

Her love of Black literature also lends itself to a lot of her apartment's decor choices. "I like to use my favorite things as decorations. I like plants as decorations. I love to even use books as decorations, and I change things around a lot. So, I strategically placed certain books in certain places just as representations of who I think I am."
Nature Feels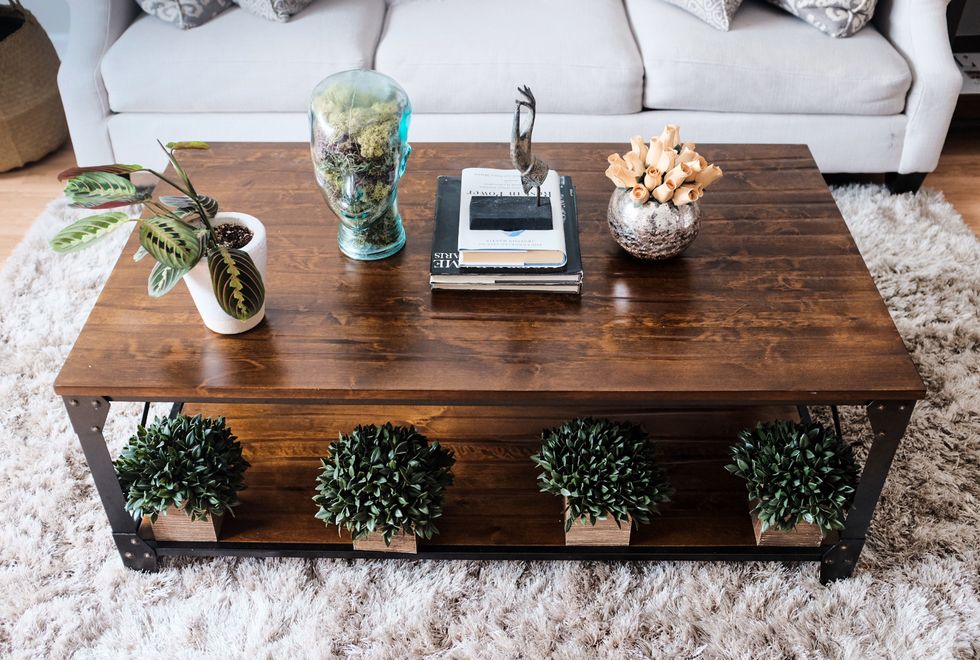 Terrence Porter for xoNecole
The 29-year-old considers her 15 plants her babies and named them all, sometimes after writers she loves. From the fiddle-leaf fig named Malachi to the snake plant and pearl plant named Audre Lorde and James Baldwin respectively, her creativity drips even from the leaves of the unique decorations that line her place.
For anyone who desires to hone their green thumb, Domonique offered this sage advice: "The easiest way to become a plant mom is to buy two plants, learn what your plants are, and learn how to take care of them. Once you master the plant that you have, or the plants if you want two––I always say get two to start––but once you master the ones you have, then you become more comfortable and you can get more."
Around The Globe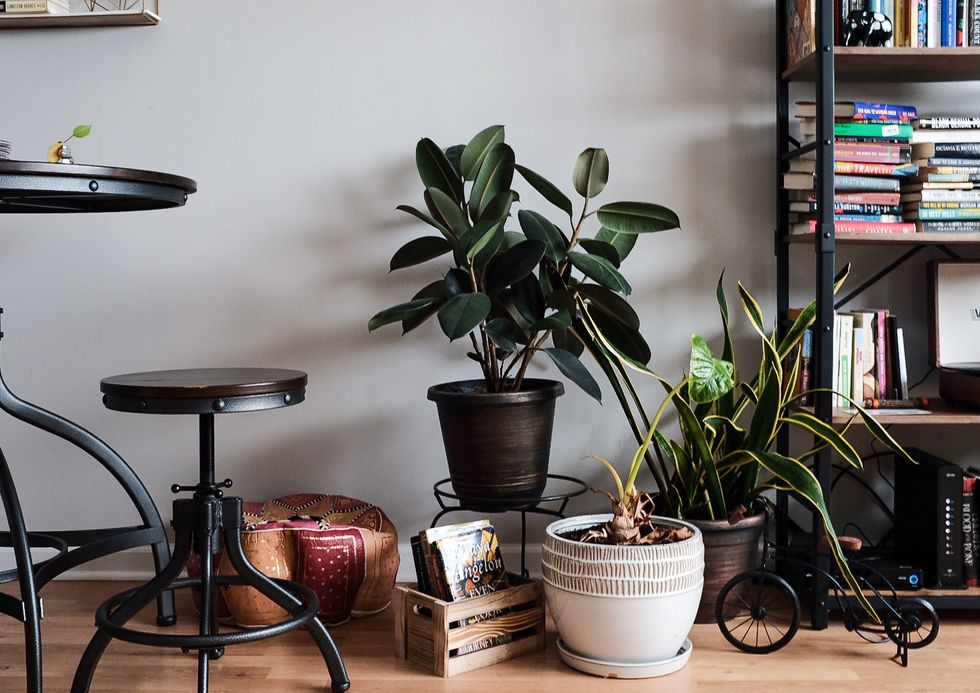 Terrence Porter for xoNecole

Domonique incorporates tangible memories she brings back from her travels into her space as well. She noted an eclectic cushion she got from Morocco as well as bookends she brought from her time in Wales and Amsterdam as standout decor pieces that add color and texture to her home while adding a one-of-kind piece of history.
The Creative Nook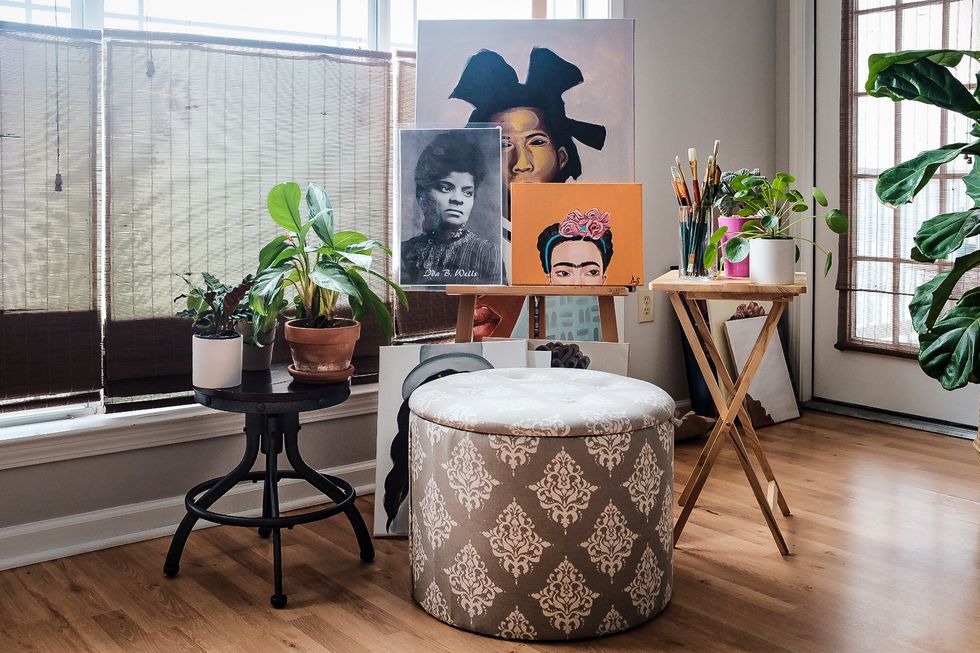 Terrence Porter for xoNecole
The living room of Domonique's two-bedroom apartment is one of her favorite spaces for a couple of reasons. Not only is it the focal point of her plant haven and extensive book sanctuary, it also doubles as her own creative space. "When I tell you this is my favorite spot in the house, this is my favorite spot," Domonique explained. "I haven't painted in a long time but I used to, that used to be part of my routine. I would come home, sit down for a minute, read, and then try to finish a painting. I still have three unfinished paintings over there that I haven't touched."
The Connecticut native's weapon of choice is acrylic on canvas, something she fell into because of the matriarch of her family. "My grandmother was an artist, so I used to paint with her and then I stopped. I don't really know why. She would buy me all these supplies and I just didn't do it. And it wasn't until actually after she died and she left me a bunch of her supplies, I brought them back home from Connecticut and I was like, 'I want to paint something.' And I just started painting after that."
Tuned-In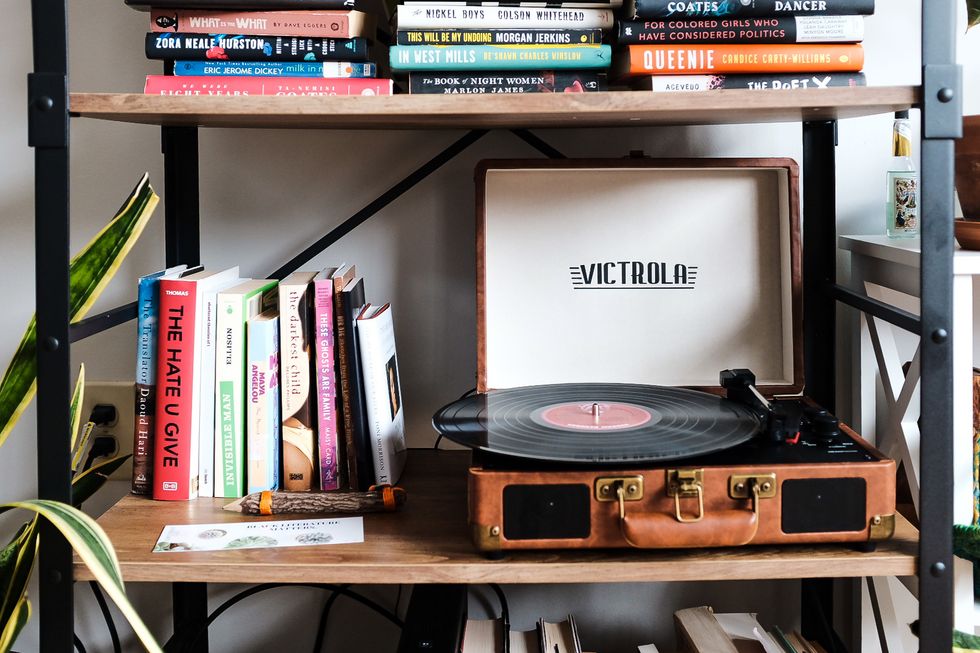 Terrence Porter for xoNecole
"My newest thing is my record player. I love it. My first record is a comedy record by Jimmy Walker. I'm a huge Good Times fan. So that's like one of my favorite things in my house right now other than my plants."
Click through the gallery below to tour her dope abode, as well as some of the intimate details that make her apartment feel like home:
For more of Domonique, follow her here!

Featured image by Terrence Porter for xoNecole.
In xoNecole's quarterly series Dope Abodes, we tour the living spaces of millennial women, where they dwell, how they live, and the things they choose to adorn and share their spaces with.
Outside, the brisk January air sent cold shivers up our spines, but inside Jersey-based interior artist Bailey Li's firehouse station loft, warmth radiated from the bright hues and plush fabrics adorning her space.
Everywhere we looked – the textured, downy sofas in the living room, the canopied bedroom boudoir area, the gilded bar cart – vintage artifacts and structurally bold pieces intermingled in a delicate dance. No piece overpowered the other yet demanded attention in its own right. An artistic oxymoron if you will.
Even warmer than the heat radiating from the clusters of candles arranged throughout her space, Bailey's smile drew us in immediately. "Every time I design a space or paint a technique on a wall, I am tapping into infinite intelligence, source energy, and the pulse of unlimited love that I always have access to. I never want to forget to show love and compassion to others who could very well be out in the world feeling alone and/or suffering from depression— especially Black women. If I had my way, everyone would have a well-designed space that makes them feel extraordinary; I truly believe it's essential to one's well being."
Tell us about yourself.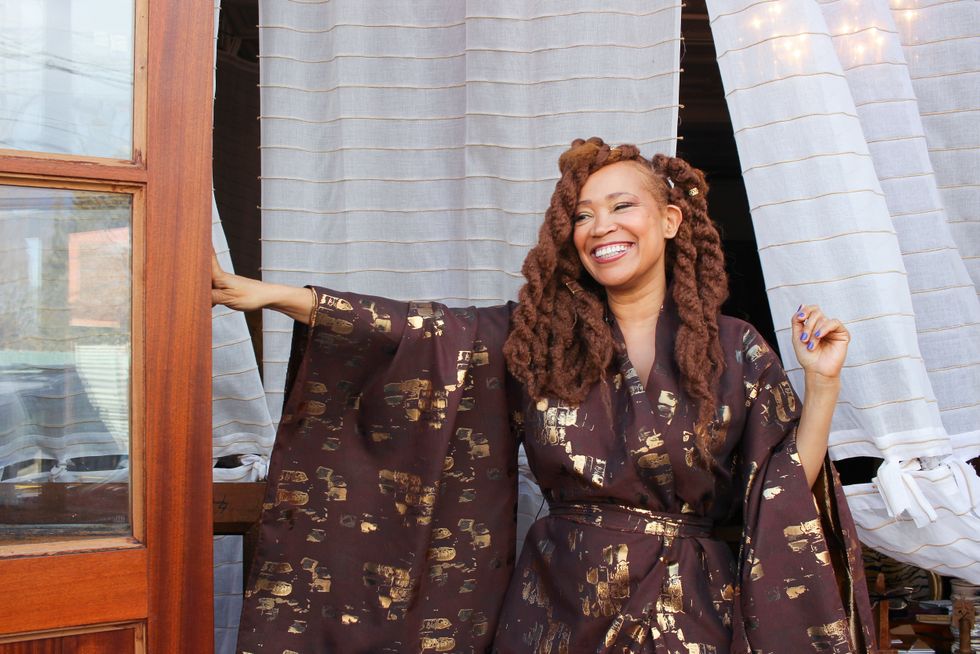 Photo by Ana Rice for xoNecole
"My clients say that I'm an artist. Lately, many of them have been calling me a 'life-changer', which is music to my ears! That's what this is all about for me – transforming spaces and lives through my artistry. I'd like to think of myself as an interior artist/creative who designs spaces, hand paints walls, makes bespoke chairs, and more. Interior design has helped me uncover my true passion—bringing out the best in people by interpreting who they are at their core and translating that through their environments. The impact that my work has on my clients' lives is truly the reward I seek."
Tell us a bit about what environment you were seeking to create in your space and the thought process behind your decorative choices.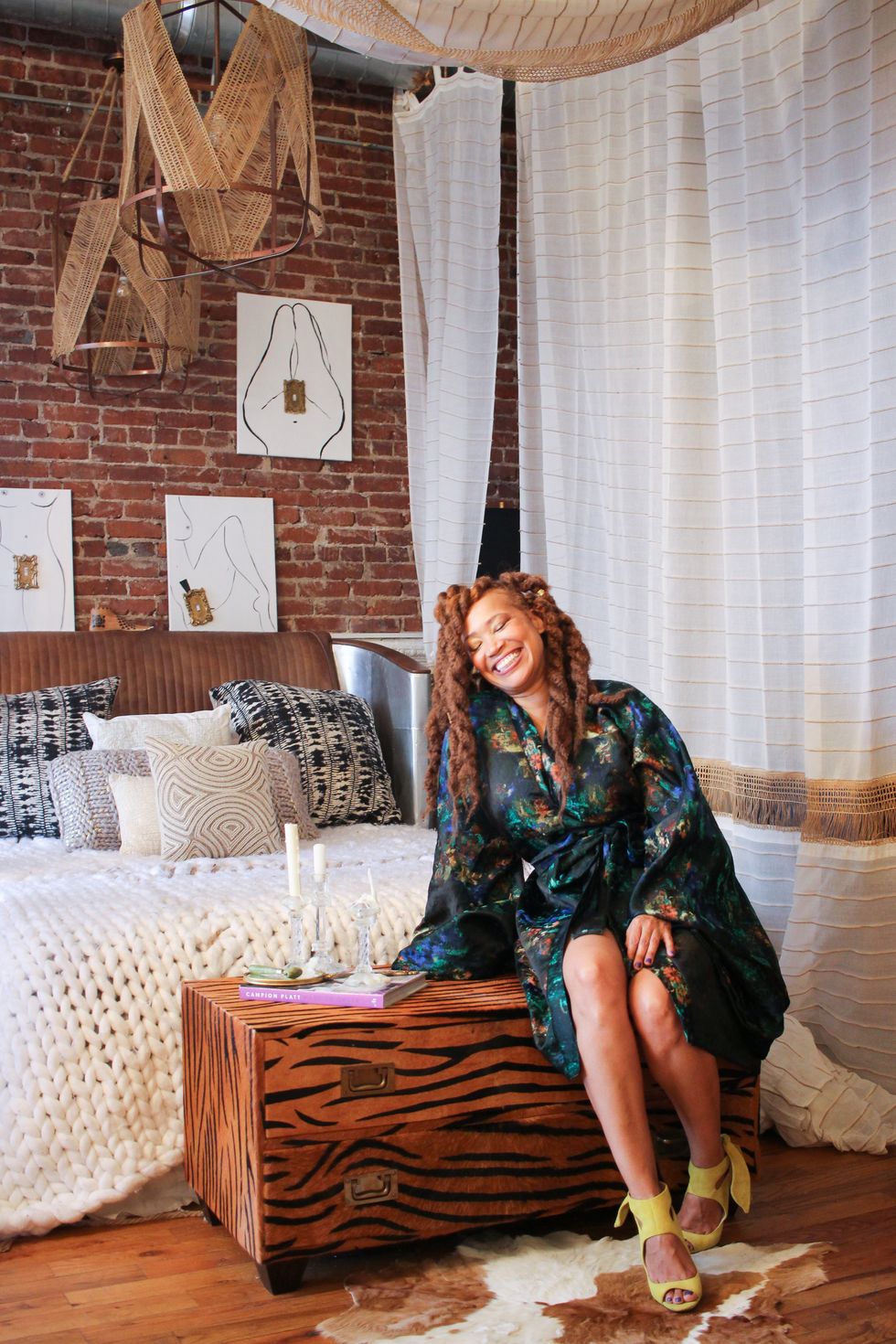 Photo by Ana Rice for xoNecole
"My space is representative of three components: who I was, who I am, and most importantly, who I am becoming! Deep down I've always been fearless, it's just who I am. It's exemplified through my work and now my home. My ability to curate and recreate the old with the new, adding a modern pop to an antique is something I've been doing for over 10 years. The craftsmanship and character of antique and vintage pieces are so intriguing to me.
"The fact that I live in a firehouse loft/art gallery blows my mind. It's a creative live/work loft and it speaks to the artist that I have become. I have pushed myself and stretched myself; as a result, many talents I had no idea I possessed emerged. My bespoke chairs and hand-painted walls have become my canvases. I truly feel like an artist in my home and my artistry is being actualized by the fact that I am able to live and create in the same space."
"It's a creative live/work loft and it speaks to the artist that I have become."
How did you approach finding and financing your place?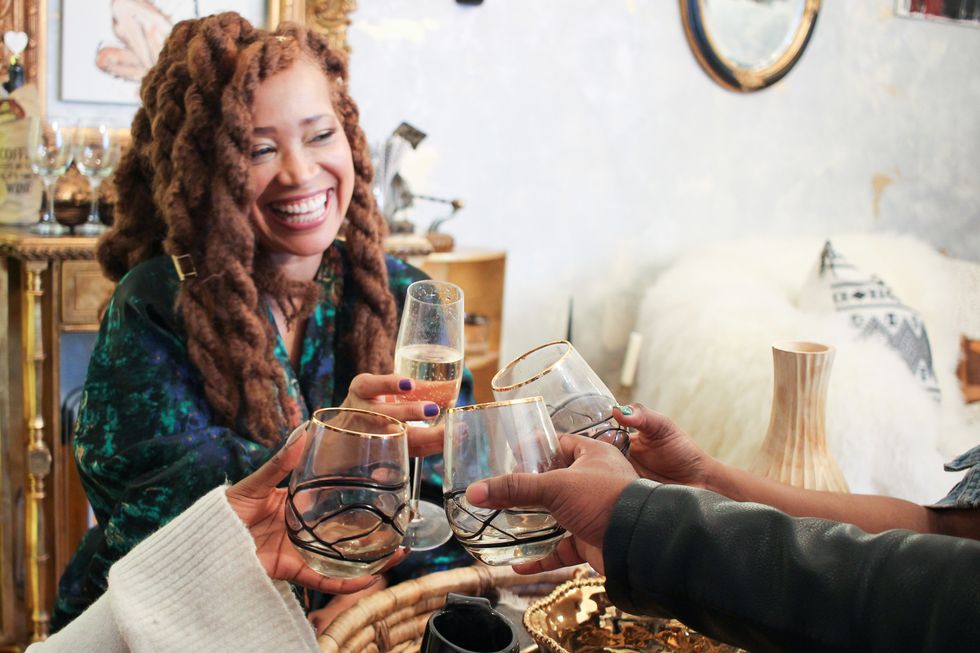 Photo by Ana Rice for xoNecole
"I live in a creative live/work art gallery loft located in the Valley Arts District of Orange, New Jersey and I've been renting here for two years. Discovering the Valley Arts District through an organization called Hands Inc. was such a huge breakthrough for me. I am able to lease this beautiful firehouse abode at a reasonable rate. I recommend anyone who is an artist/creative to seek out communities that have active art initiatives in place. They typically offer affordable live/work, loft-style spaces to creatives – it's a great way to gain exposure and be surrounded by like-minded people."
How do you feel your space impacts your mental health and happiness?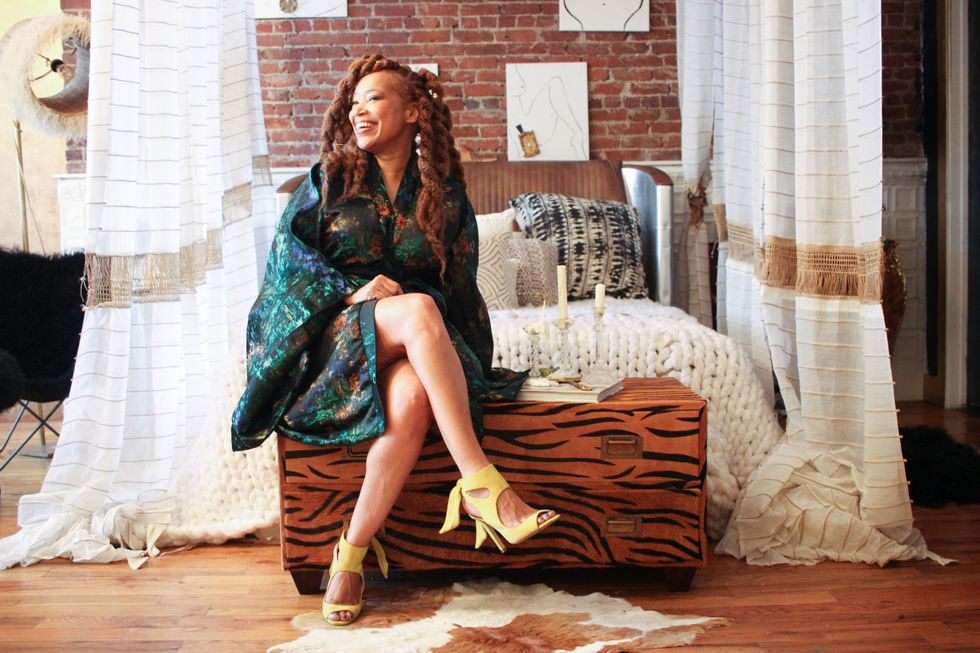 Photo by Ana Rice for xoNecole
"The shape of furniture, the colors of the walls and floors, the lighting and arrangement of it allabsolutely influences how we feel and perform on a conscious and subconscious level. I'veincluded subliminal reminders and cues that stimulate positive feelings and thoughts throughoutmy space. For instance, if you look closely at my hand-painted copper colored doorway it hasthe words 'You Are Not Alone' inscribed on it. I painted those words as a reminder to myself thatI am not alone; every waking day is proof that the creator is present."
In addition to an apartment tour, xoNecole was able to sit down with Bailey to discuss her design ethos, neuroaesthetics – the impact of our spaces on the way we feel, and some of her favorites pieces present within her Orange, NJ firehouse station loft:
Vaginas Are Lit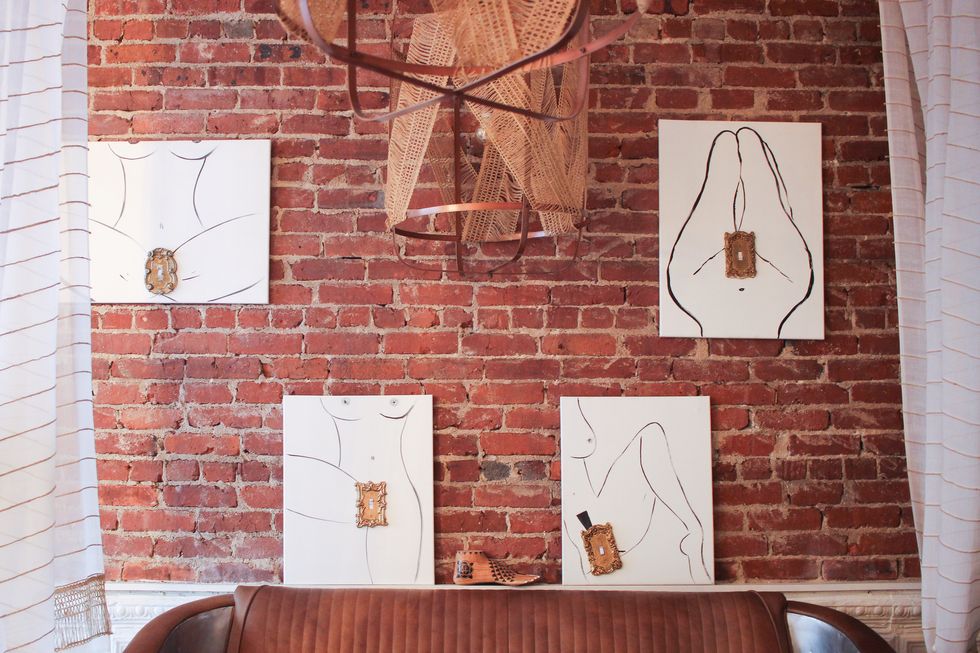 Photo by Ana Rice for xoNecole
"Recently, I did an art exhibition where I featured my art installation, 'Vaginas Are Lit'. I created these paintings on canvases with silhouettes [of vaginas] with antique light switch plates and bulbs that lit up. It was an interactive moment for people since they could actually come into the exhibition and 'turn on' the vaginas. Whoopi Goldberg happened to be a fan of [the installation] and ended up purchasing the first two [pieces], which was a very proud moment [for me]. 'I was like, Oh my God, I'm an artist!'"
Sweet Escape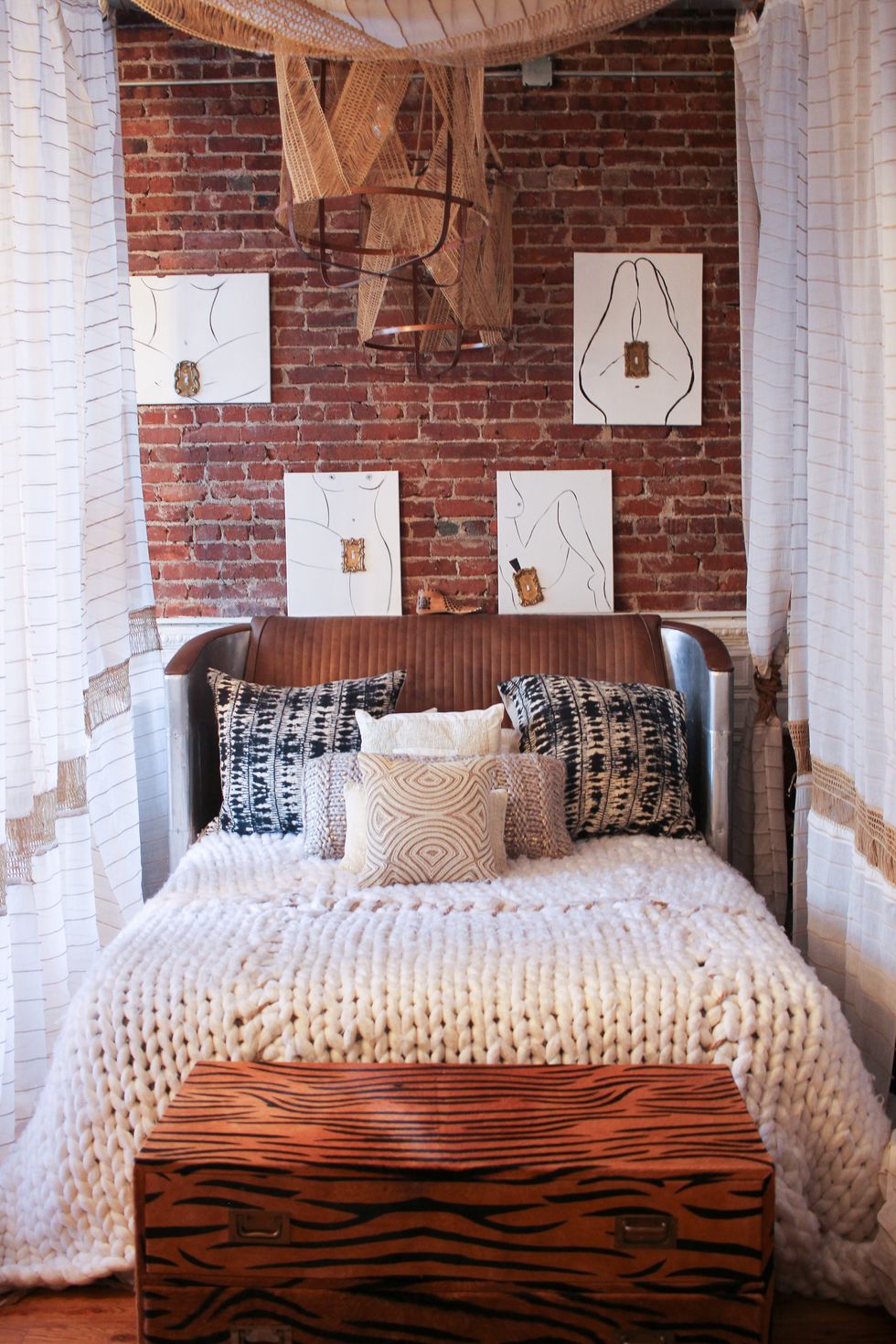 Photo by Ana Rice for xoNecole
"Growing up, there were times that I didn't have my own room. I remember visiting my sister's friend's house when we were young and seeing her bedroom. It was a little girl's dream come true! She had a canopy bed with drapery to match, beautiful pastel walls, and dolls for days. I remember leaving there feeling sad knowing that my grandparents could not afford to give me a room like that.
"As an adult, I can finally have my version of a dream canopy. It's nothing like that little girl's bedroom, but it certainly represents the girl in me. The feminine canopy is juxtaposed with a masculine leather and sheet metal aviator headboard, gauzy sheer drapery with jute trim and huge industrial style metal light fixtures that I also embellished with jute trim.
Although it's one my favorite areas in my apartment, my boudoir was a painstaking process because I did not know where to put my bedroom in this wide open space. I originally had my bed over by where the living room is, and then I decided that I wanted to switch it up. I created this canopy to give me a little bit of privacy and delineate the areas [in the apartment], but still, leave it wide open."

Something Old, Something New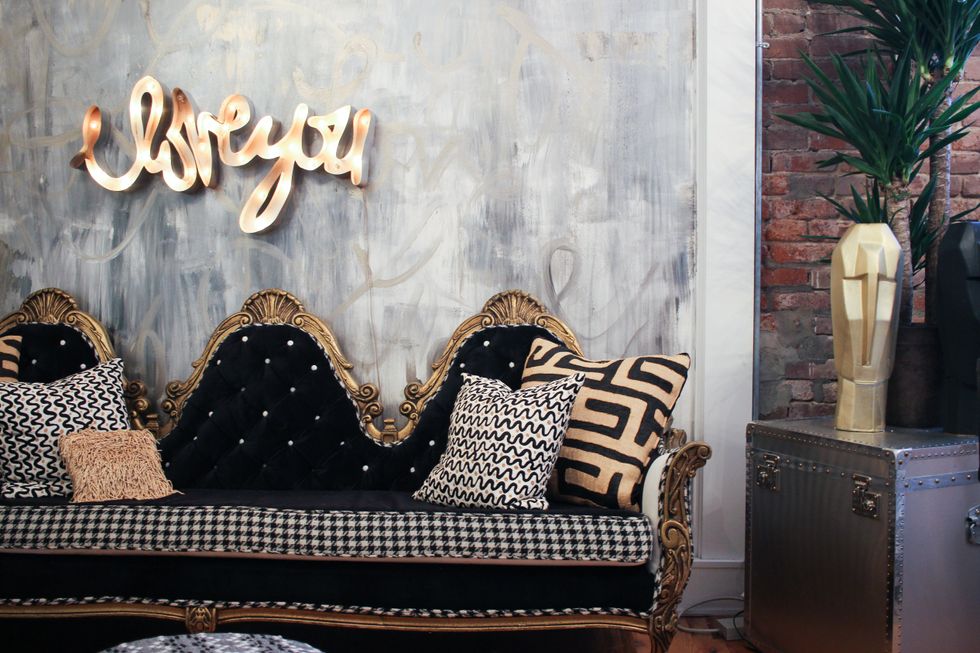 Photo by Ana Rice for xoNecole
"15 years ago, I bid on [this couch] and it was originally Pepto-Bismol pink! I had it reupholstered in the black velvet that you see here today. It was originally in my showroom for sale and I was so happy no one bought it because… it's mine."
On the Run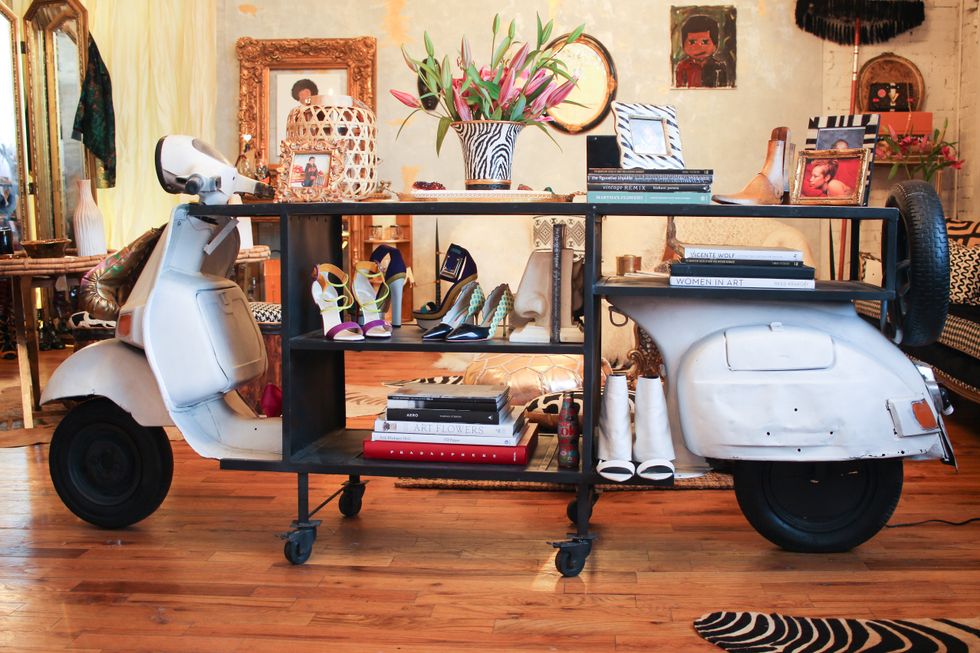 Photo by Ana Rice for xoNecole
"In my early twenties, I always dreamt of driving around town in a Vespa wearing high heels; my vintage scooter console satiates that desire! Every time I look at it parked in the middle of my loft, I feel adventurous and free.
"I discovered this vintage scooter console at Sierra Trading, believe it or not. I just fell in love. I had to have it. And, it lights up, which I thought was really cool! In a loft space like this, I thought it was a great aesthetic piece that serves a dual purpose. It's a shelf where I can display my favorite objects – my favorite shoes, my favorite books, stones that I love. Again, [this loft] is an open space and it's very hard to find storage and this [console] can be used to show some of my favorite things."
Indoor Picnic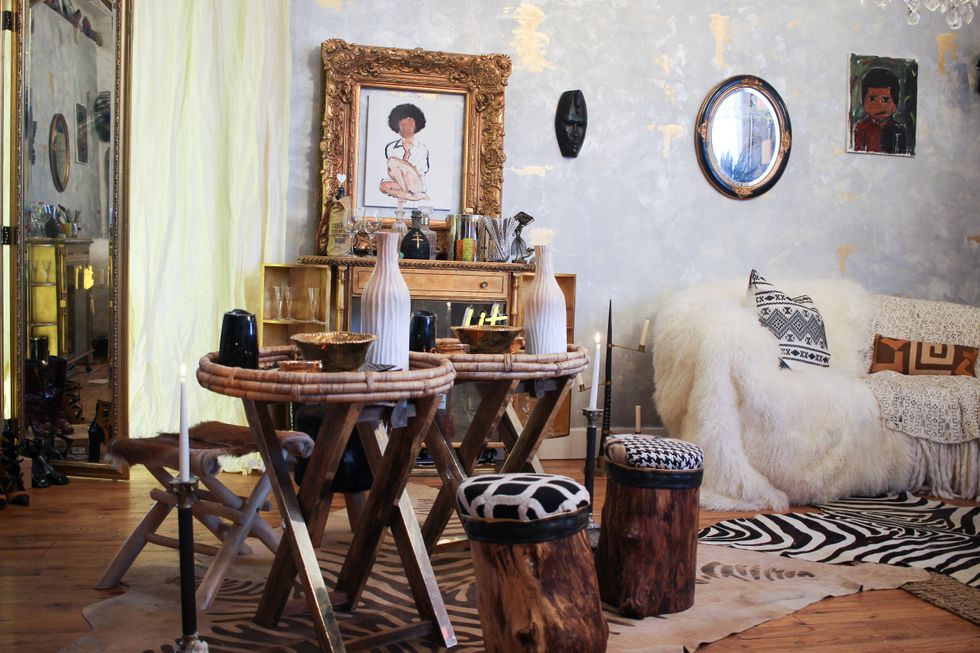 Photo by Ana Rice for xoNecole
"My dining room table is a unique experience. I don't have room for a full-out dining area, but I did want to create an indoor picnic moment where you can have anything from a romantic dinner to a nice little community area where you can catch up with friends."
Click through for more pics of Bailey's gorgeous live/work loft:
Photo by Ana Rice for xoNecole
Favorite part of your home? My boudoir bedroom area
Favorite song? "Adore" by Prince
Favorite vacation? Tulum, Mexico
Next vacation? Bali and Morocco
Team iPhone or Android? iPhone
Favorite social media platform? Instagram
Favorite hair product(s)? Fermented rice water and African Chebe powder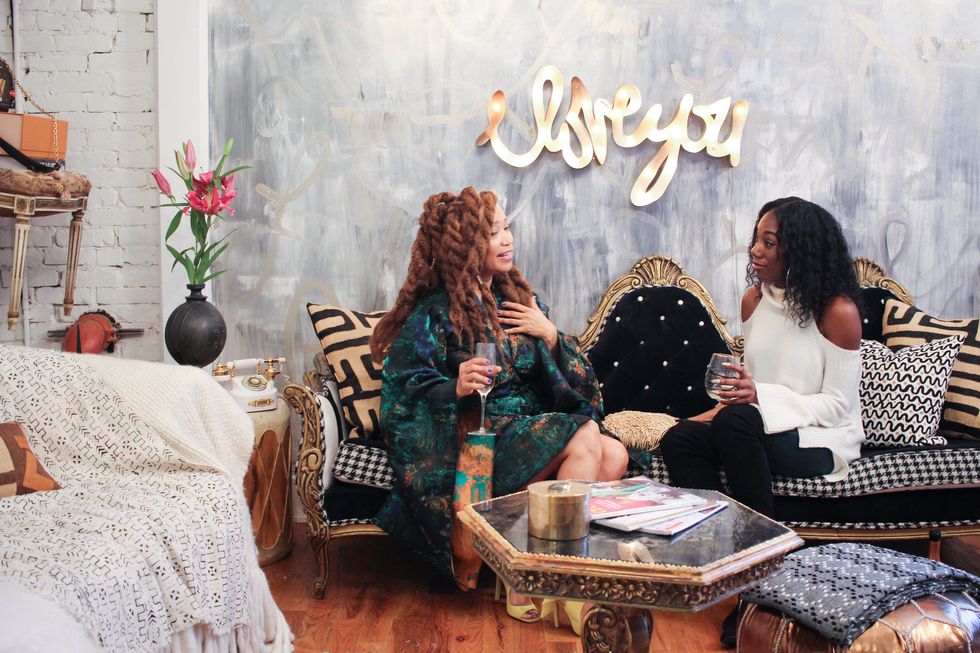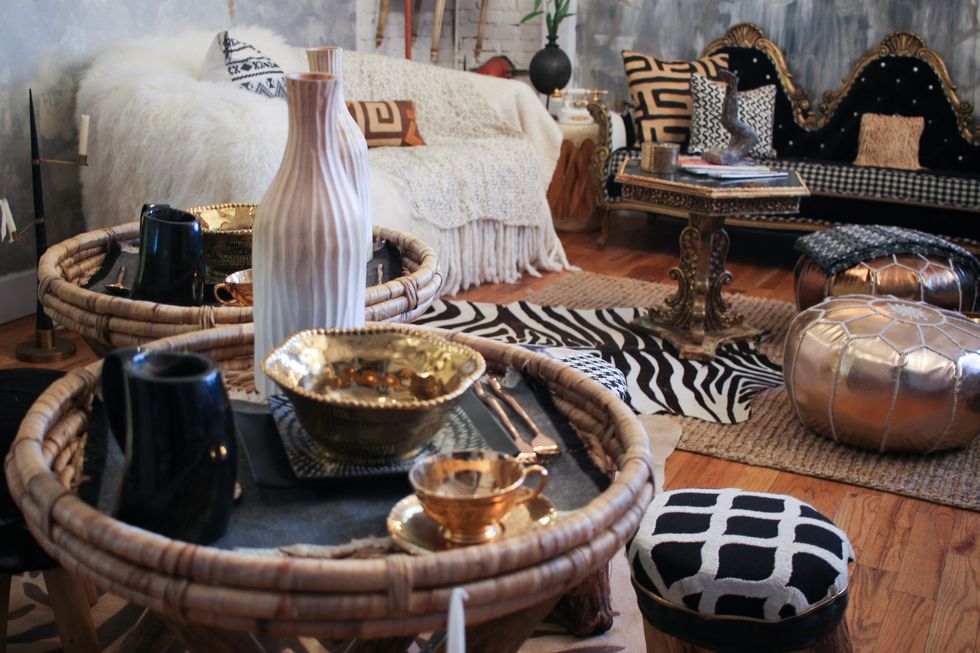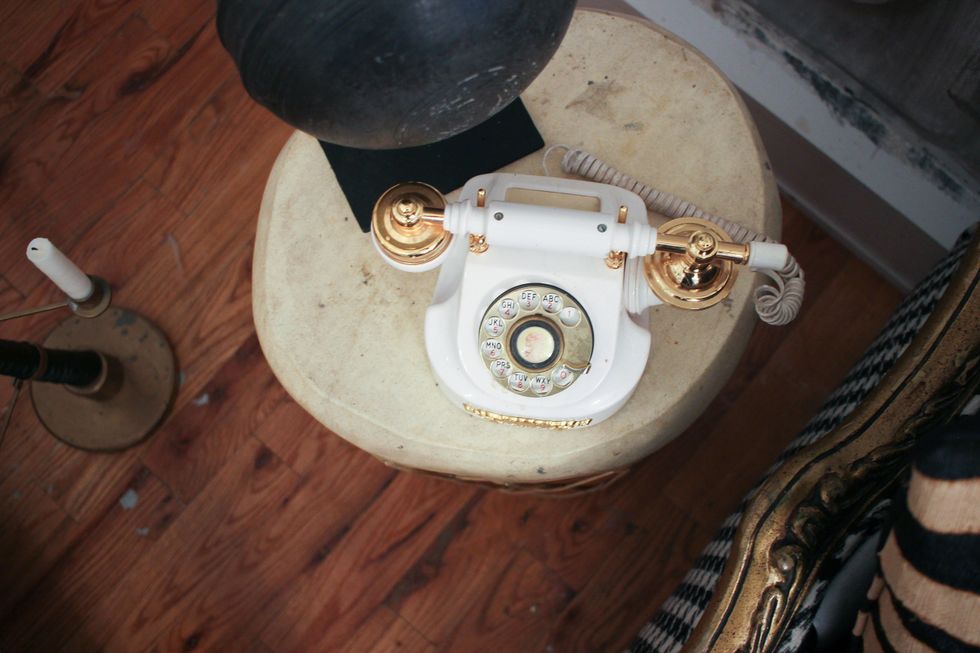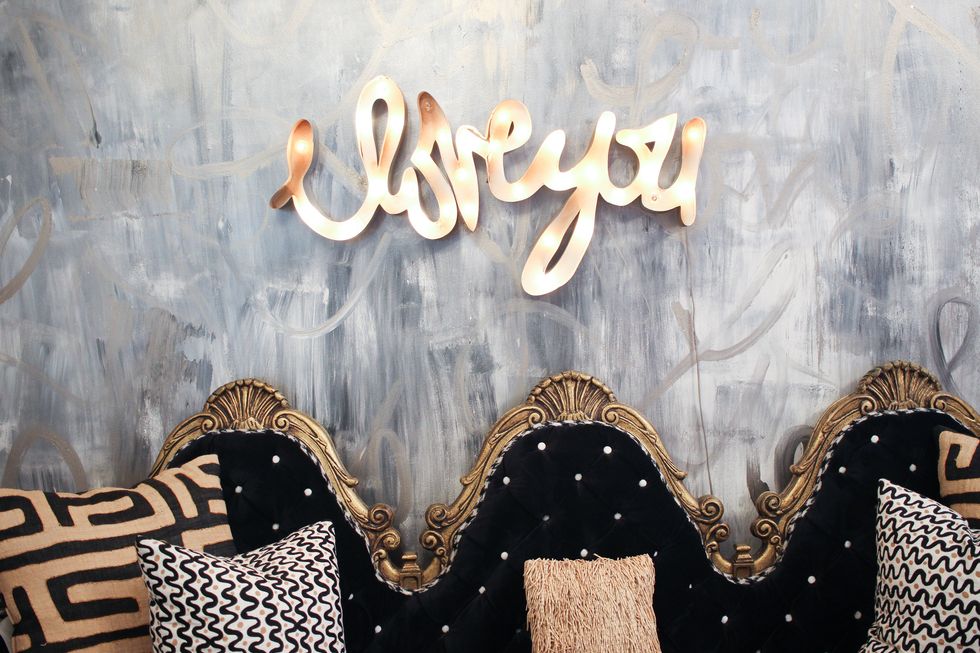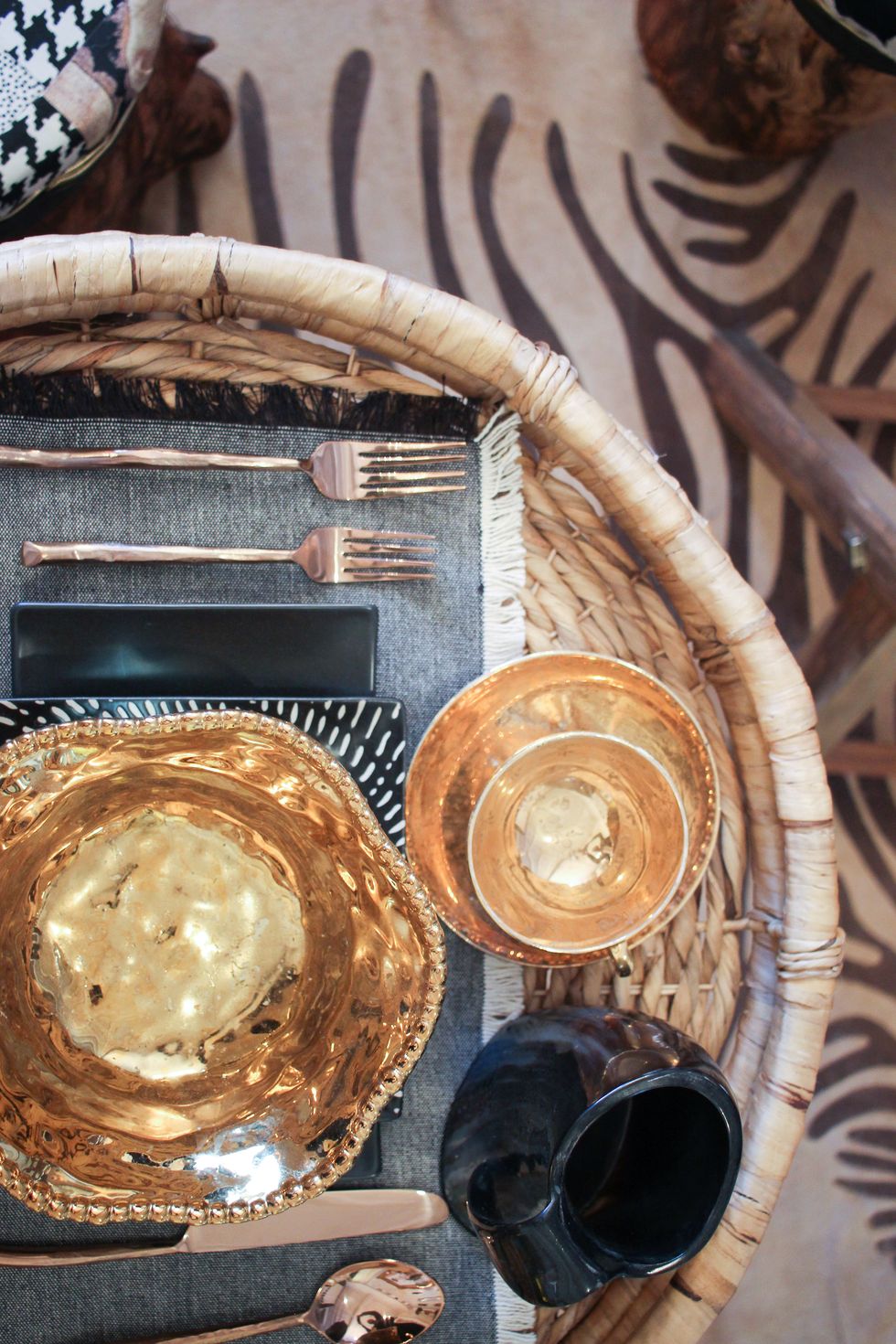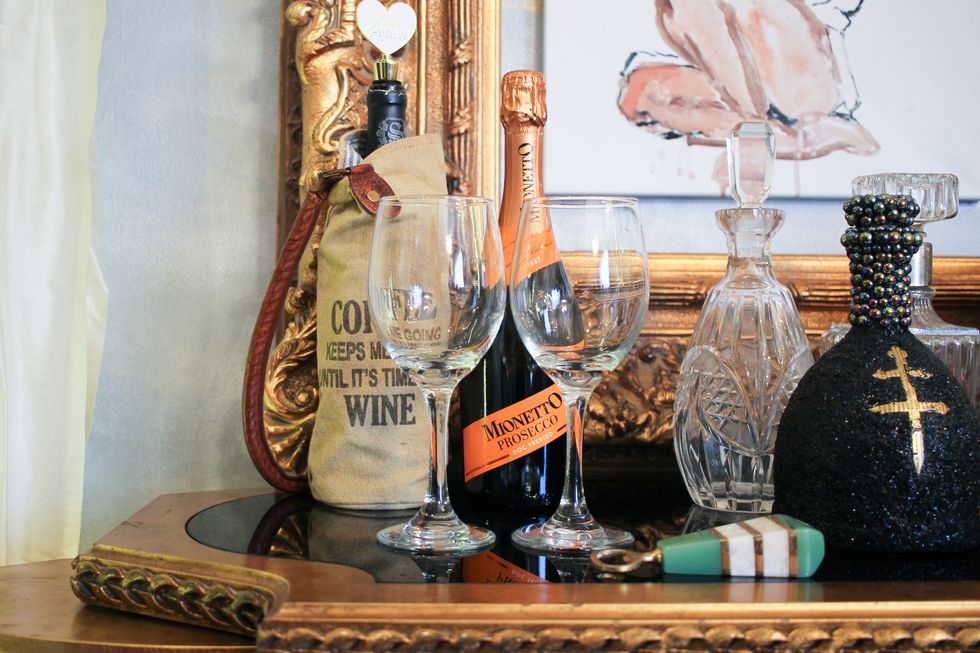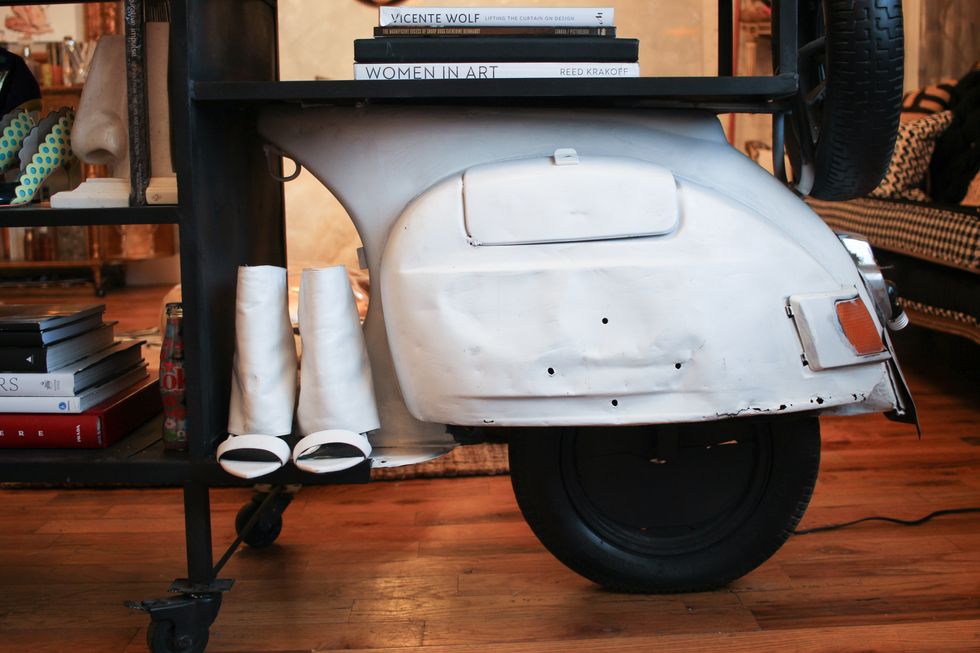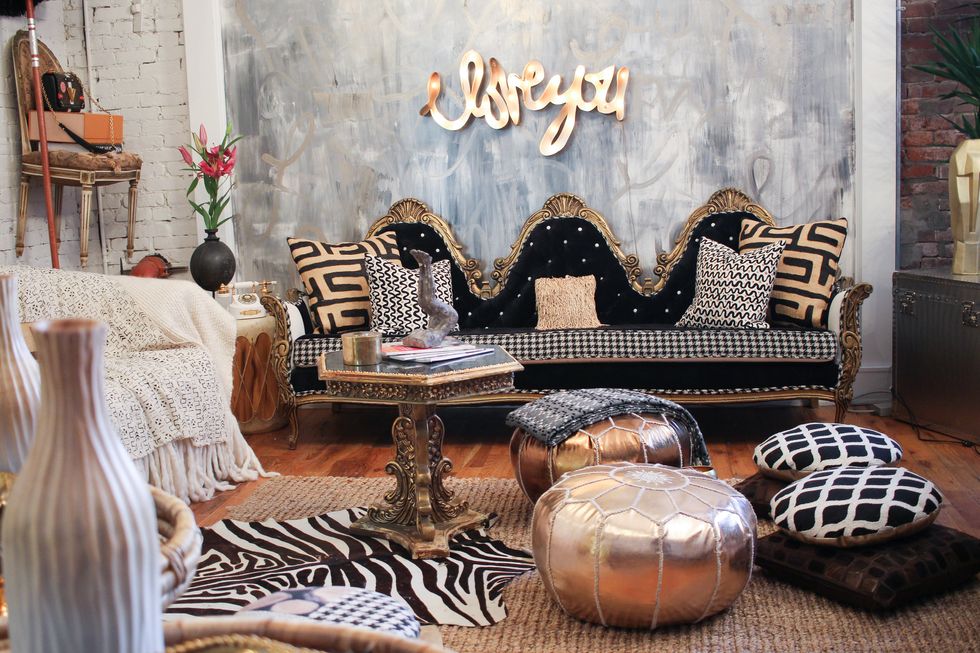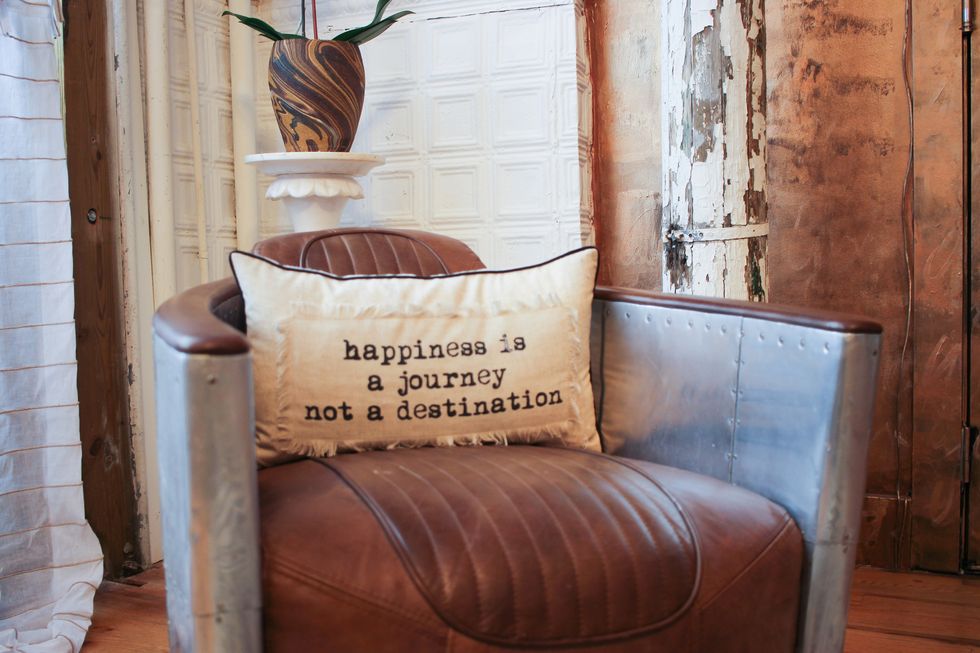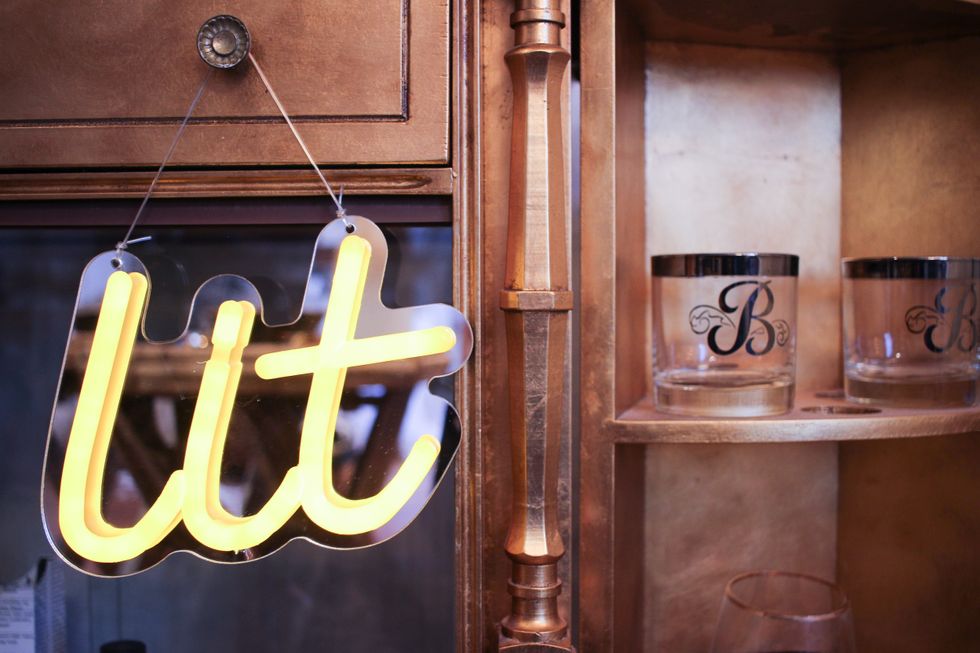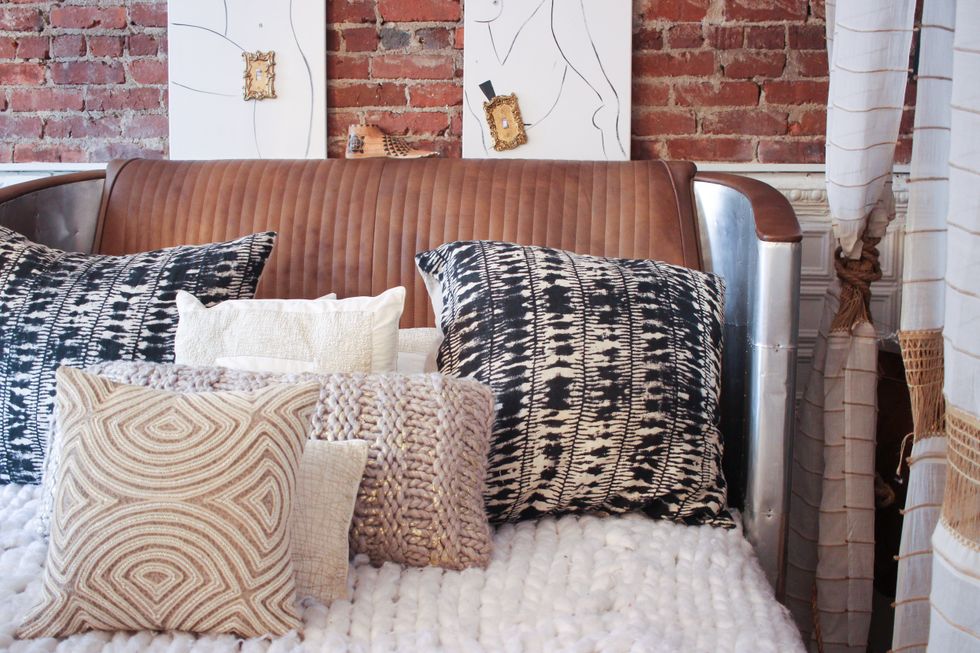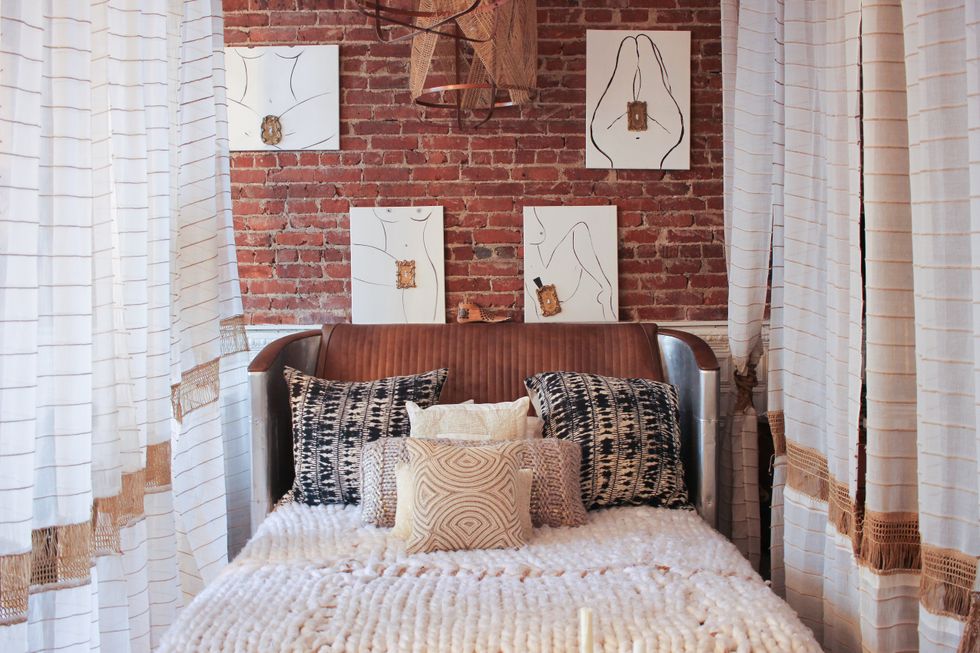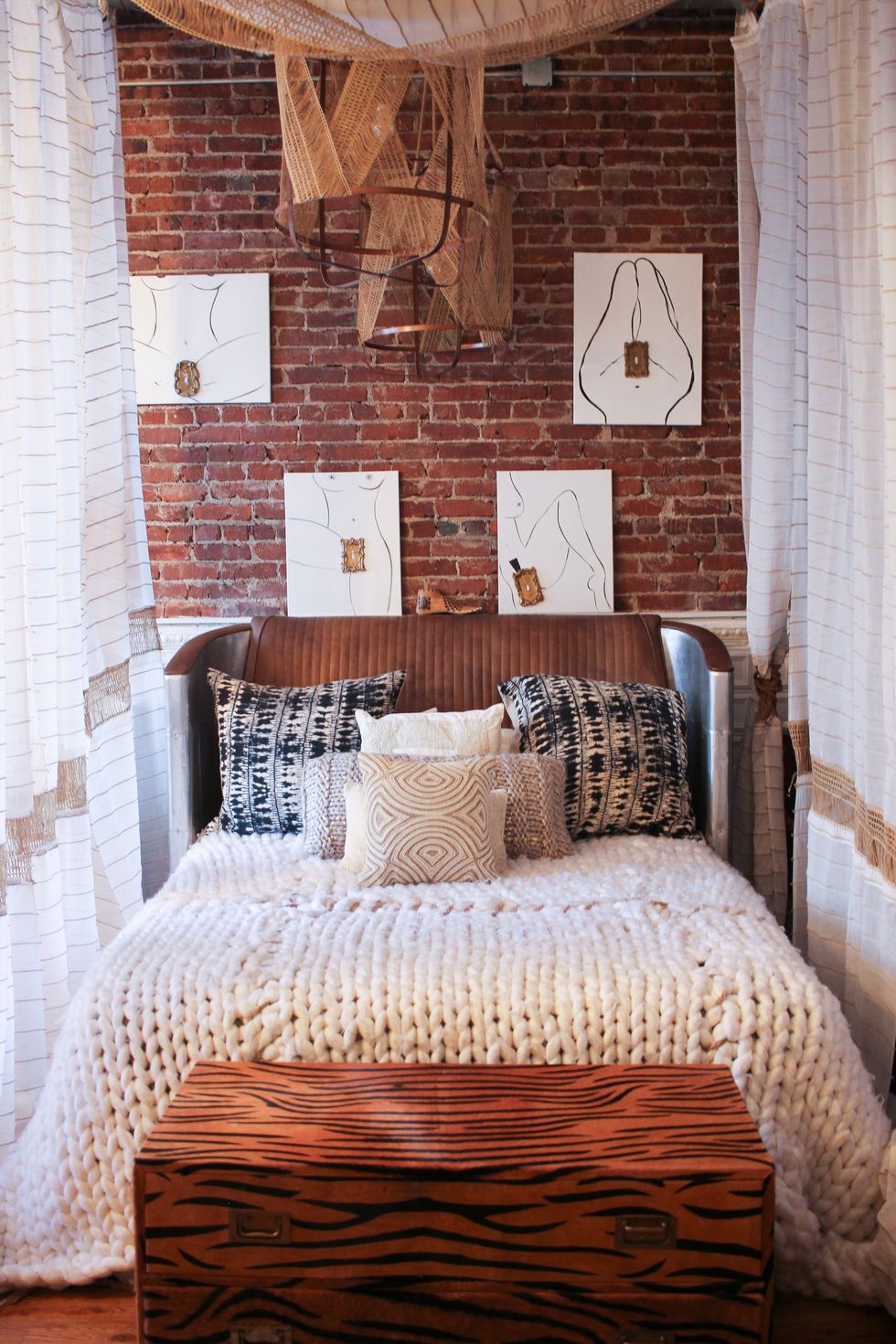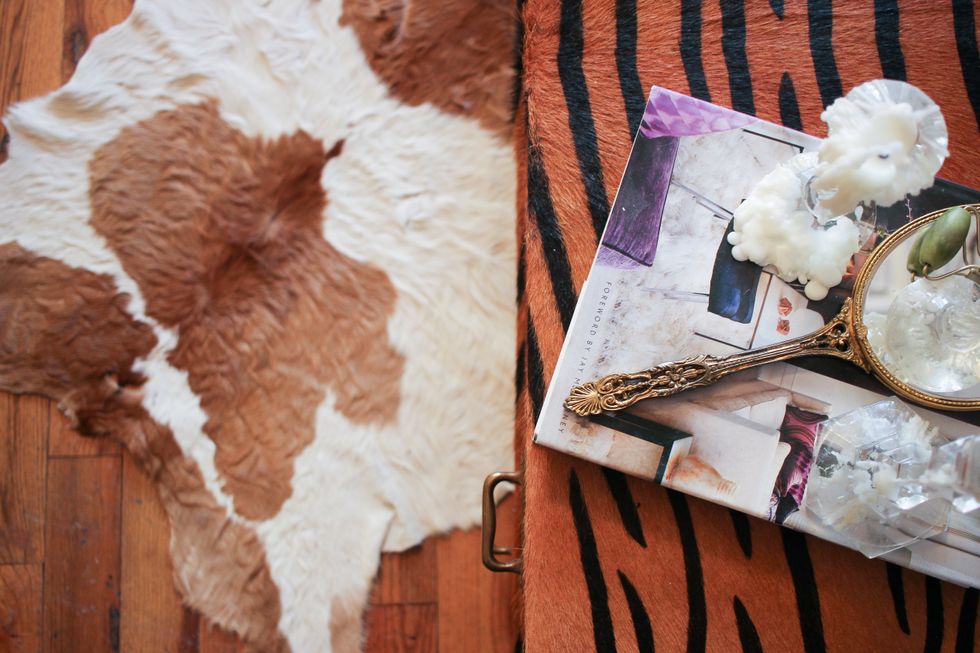 All photos by Ana Rice
For more Bailey Li, give her a follow on Instagram @interiorista_baileyli and @designedbybaileyli.
In xoNecole's Dope Abodes, we tour the living spaces of millennial women, where they dwell, how they live, and the things they choose to adorn and share their spaces with.
The best things in life are simple and sometimes the most exciting part of waking up is knowing that you're at home. While jet setting the world and securing a bag may be a whole mood, you also need a peaceful landing strip to recollect and recharge. According to Atlanta native and professional wellness savage, Ashley Marietta, your home should be a place that heals you from the inside out.
The work-from-home creative and her boyfriend, Forte, who is a producer, share a two-bedroom apartment in the Lindbergh area of Atlanta that is abundant with foliage, crystals, and a whole lot of zen. While one room of the house acts as Forte's in-house studio, the rest is adorned with plant life and vintage finds found at thrift stores and estate sales.
The creative says that she inherited a love of plants from her mother, who Ashley hails as a "master gardener", and is now working to cultivate has a mini-conservatory of her own while she pursues an education in herbalism. She told xoNecole, "I'm just really in the wellness field. I'm an herbalism student. I love anything that has to do with herbs and nature, natural remedies."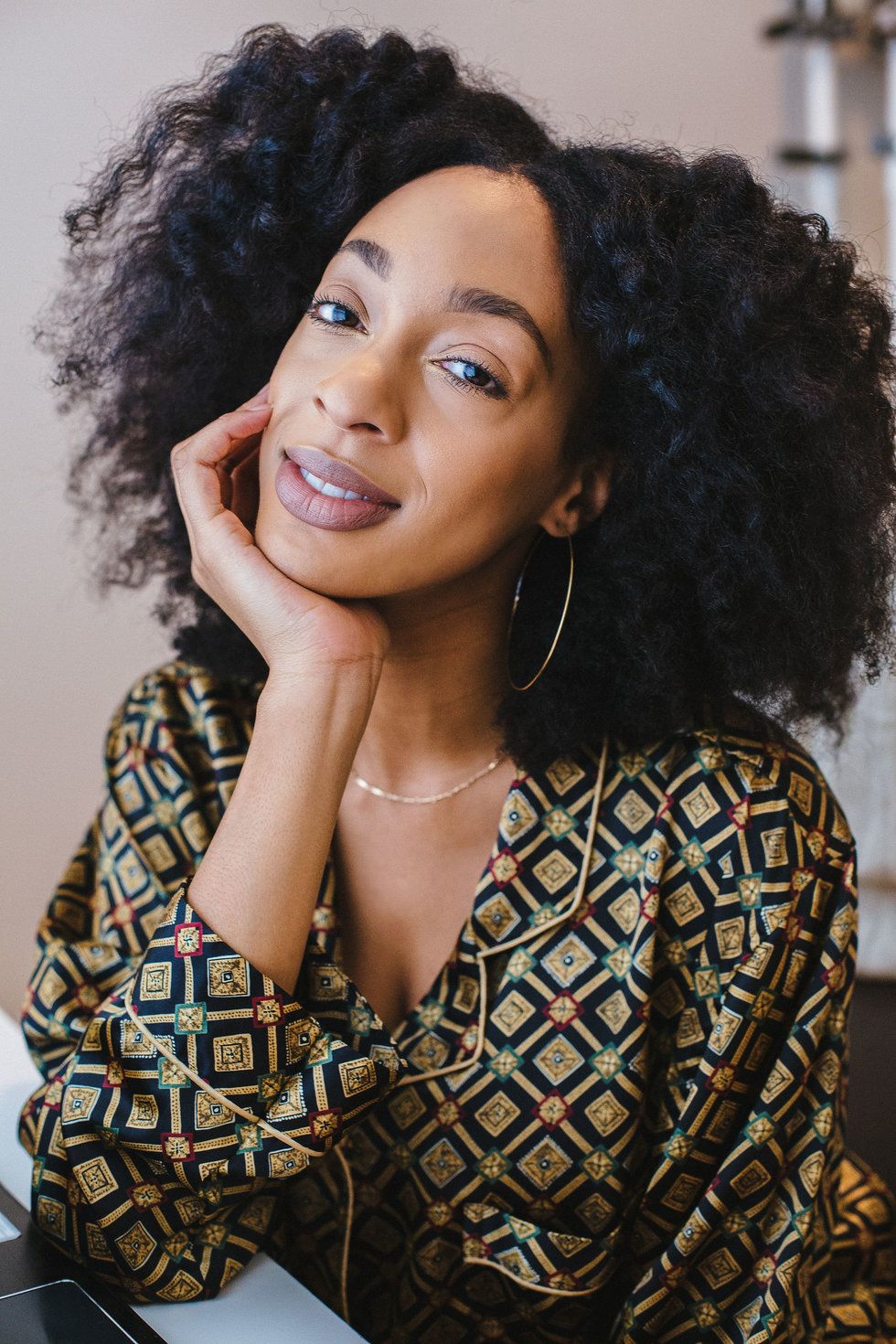 Photo by Sanniyah Sloan for xoNecole
To Ashley, her plants are not only a hub of medicinal properties, but they also hold a great deal of sentimental value. Aside from her aloe vera, majesty palm, and bamboo plants, Ashley says that there is one very special piece of greenery that will forever hold a place in her heart. She shared that when she was fired from the last 9 to 5 she ever had, she left with nothing but a shrub and a dream. She explained, "I love this plant because I got fired from this job and that's the last job I ever had. And when I left I had a piece that was [very small] and I took it with me. And I grew it from there, so that's my baby. We came up out the mud together, literally."

We got a glimpse into this herbal hottie's simple sanctuary on an exclusive tour, where Ashley gives us the details on what she looks for in a home and how to make minimalist magic on a budget:
Manifest & Chill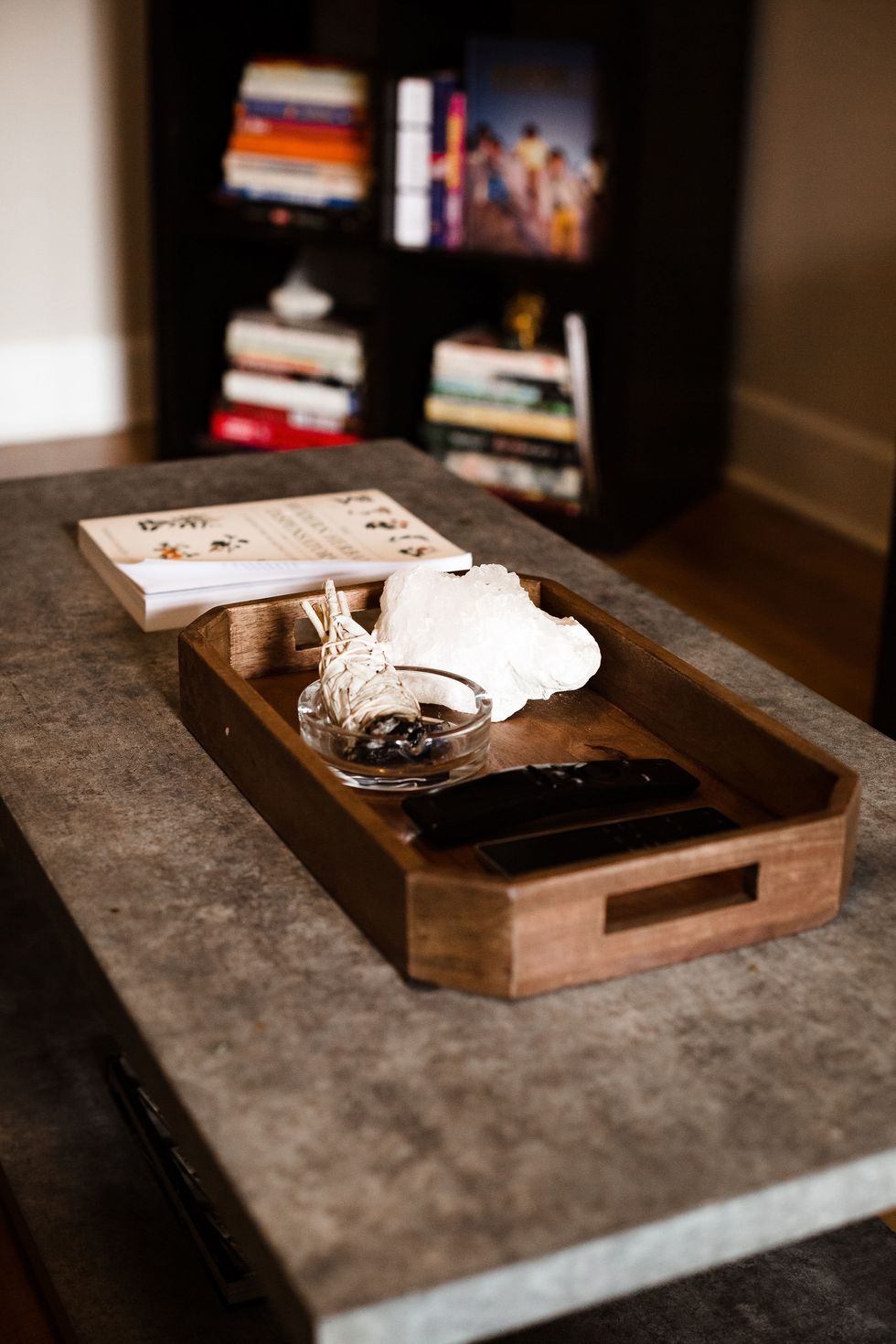 Photo by Sanniyah Sloan for xoNecole
"I'm not playing about my energy, I sage once a week," she told xoNecole sternly. "I don't even know if the whole crystal vibe is real, but mentally, it makes me feel better, so I keep my crystals on deck. I have crystals everywhere, in the bathroom, on the bookshelf. At the very least, they claim that they deflect cell phone waves, allegedly."
Frugal Finds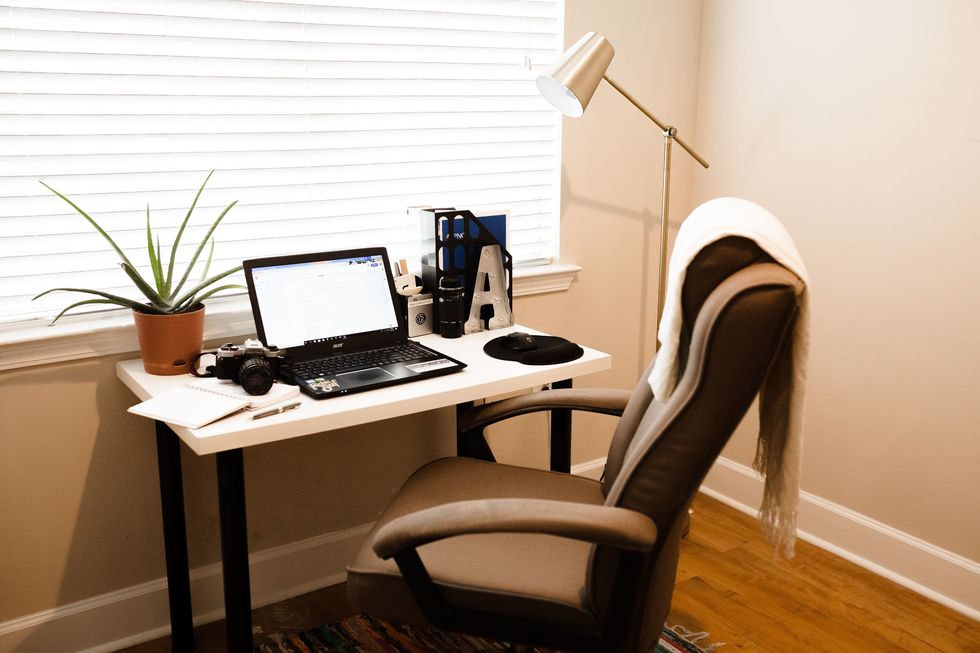 Photo by Sanniyah Sloan for xoNecole
"I try to treasure hunt because I'm just now starting to make stable money. So before this point, I had to really hunt for things that were nice but affordable. Even Ross for me was expensive. So I would say thrift stores and estate sales are really cool. Because it's stuff you can't find anywhere else or people are just basically trying to get rid of it."
Vanity Fit For A Queen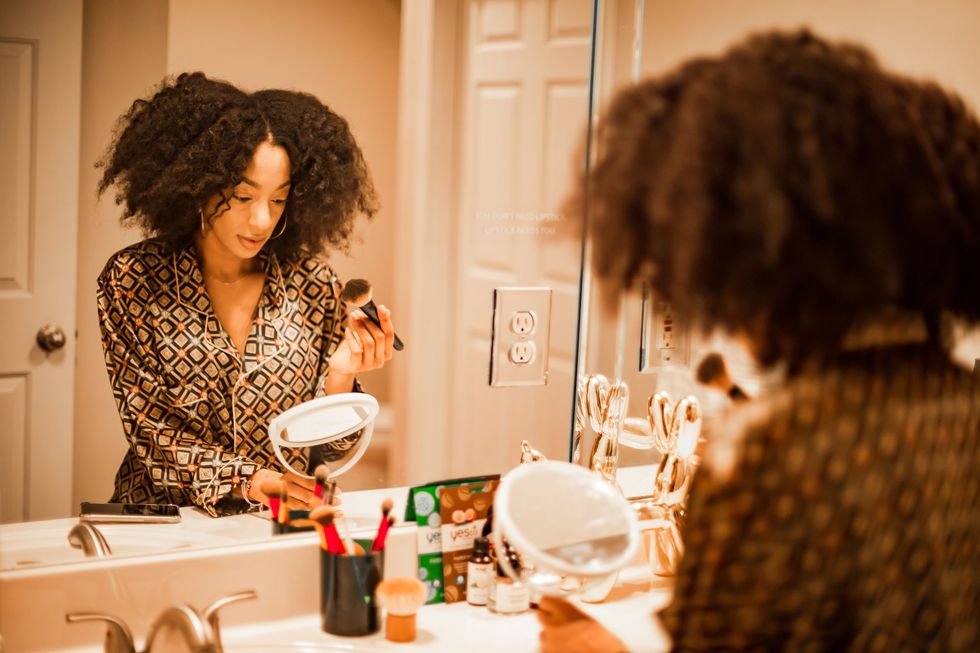 Photo by Sanniyah Sloan for xoNecole
"I'm not gonna lie, this is why we even ended up here. This is what sold us on [our home] because we were like, 'Eh, it's okay, whatever.' Then we saw the bathroom, we were like, 'Okay cool.' 'Cause he and I, we used to fight to get ready in the morning to get ready. So it definitely was a selling point," Ashley laughed. "I could stay in here forever. I really take pride in it. When I get ready to go, it's my time to kind of pause and meditate and just take a breather. And then I start getting ready and just zen out instead of rushing like I used to."
Comfy Corner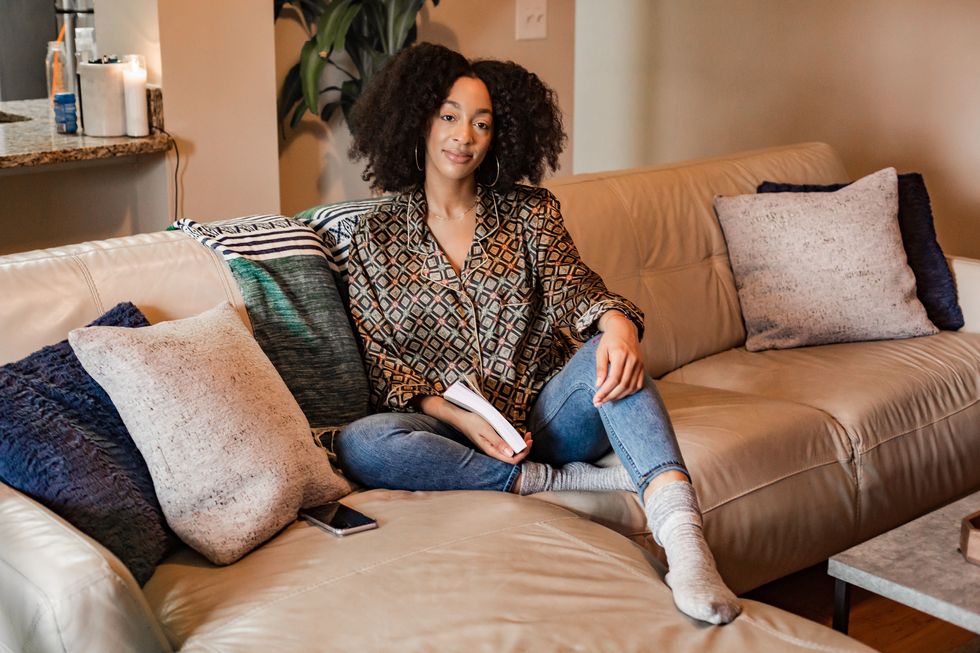 Photo by Sanniyah Sloan for xoNecole
"My boyfriend and I are both antisocial and we both like to just chill and relax. So even though we're like together in one space, it's not invasive because we're able to do our thing. We'll kind of congregate here which is is why I love this couch."
Vision Boards & Views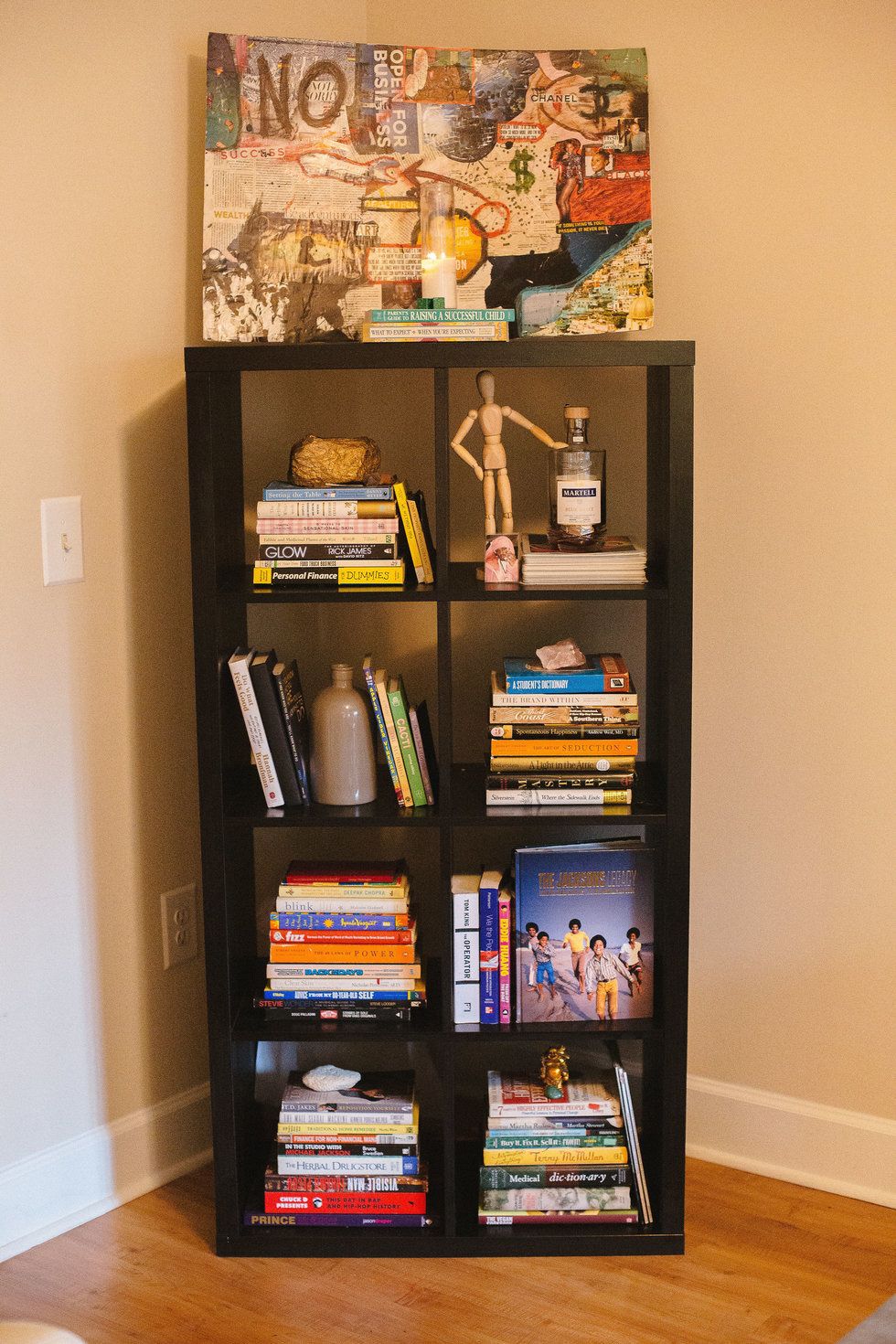 Photo by Sanniyah Sloan for xoNecole
In regards to her vision board and its very bold writing of the word "no", Ashley shares a sentiment a lot of us feel about the powerful boundary-setting word. "I just felt like I need to say 'no' more and not out of like negativity, but just out of respect for myself. This is like the year of me focusing on me. I think I was like really considerate of everyone else and helping other people build their brand. So I said, this the year I want to focus on my health, my wealth, be more of an entrepreneur. Just feeling like I don't have to be tethered to people, family and doing what I gotta do for myself and knowing that my wealth will overflow into them. I know that's like complicated but that's literally what I'm thinking when I did this."
Click through the gallery below to tour her dope abode, as well as some of the intimate details that make her apartment feel like home:
Keep up with Ashley by following her on Instagram @AshleyMarietta!
Featured image by Sanniyah Sloan for xoNecole