---
In xoNecole's Dope Abodes, we tour the living spaces of millennial women, where they dwell, how they live, and the things they choose to adorn and share their spaces with.
The stay-at-home struggle isn't nearly as stressful when you actually like where you live, which is exactly why Atlanta-based plant mom Domonique Shante has carefully curated a simple sanctuary that meets her needs in all the best ways.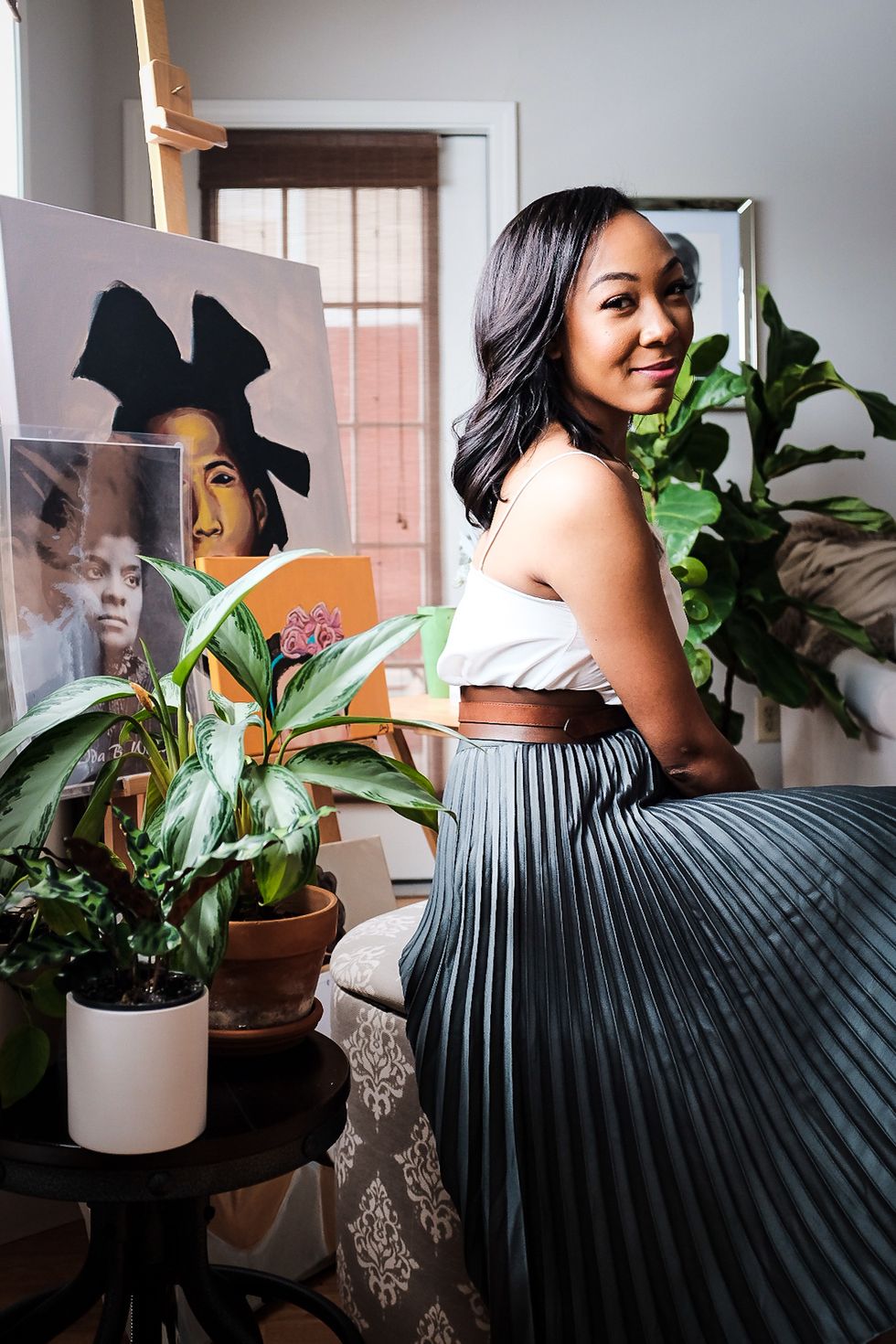 Terrence Porter for xoNecole
Before the pandemic, Domonique invited xoNecole into her dope abode for an exclusive home tour where she gave us all the details on how to make your home a hub for creativity, which, according to this marketing manager starts with making your space your own. "I wanted to slowly put together a more eclectic feel. Because when I first moved in, it was very minimalistic and everything was cream. I liked that but it's not super practical to keep that up and it just got kind of boring after a while."

"I started l switching things up and putting things in different random places," Dominique explained, "Like my 'Brainstorm Boulevard' sign––I found that a marketing trade show––and I just threw that in there."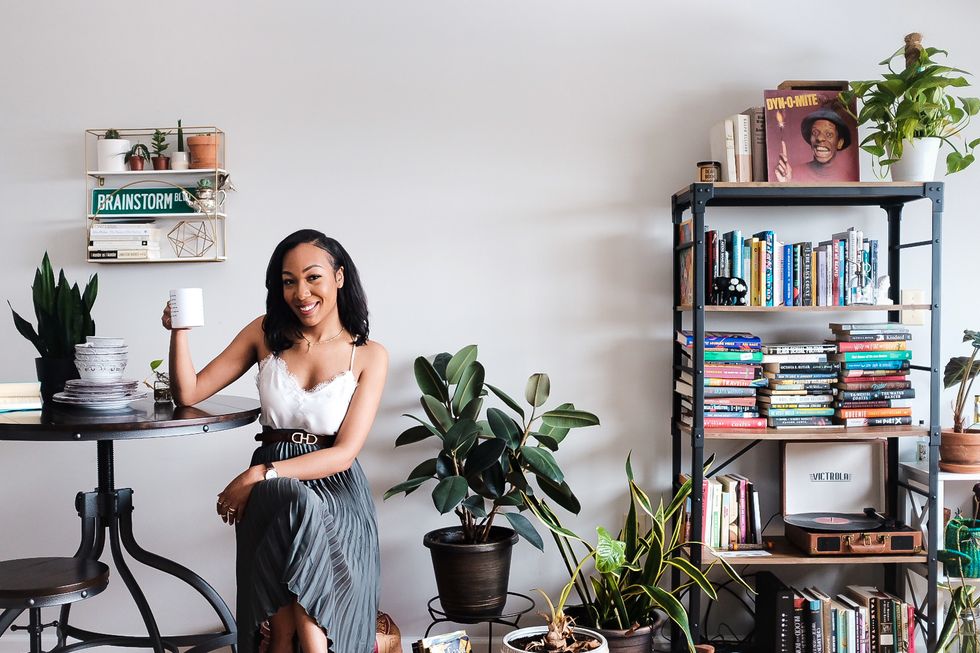 Terrence Porter for xoNecole
As the creator of the Livre Cafe, an online book club community with a focus on Black literature and art, the budding horticulturist says that she often retreats to her creative corner whenever she's feeling inspired. A dedicated plant mom, artist, and book enthusiast, Domonique shared that because she wears so many creative hats, it was important that her dwelling keep that same energy. She told xoNecole, "It's a very open space, like a blank canvas. I get to do whatever I want with it."

We talked more with Domonique about her museum of books, why every home needs a creative corner, and how she keeps more than 15 house plants alive and thriving at the same damn time. Here's what we learned:
*Some links are affiliate links. If you purchase an item from an affiliate link, xoNecole might earn a small commission.
Book Club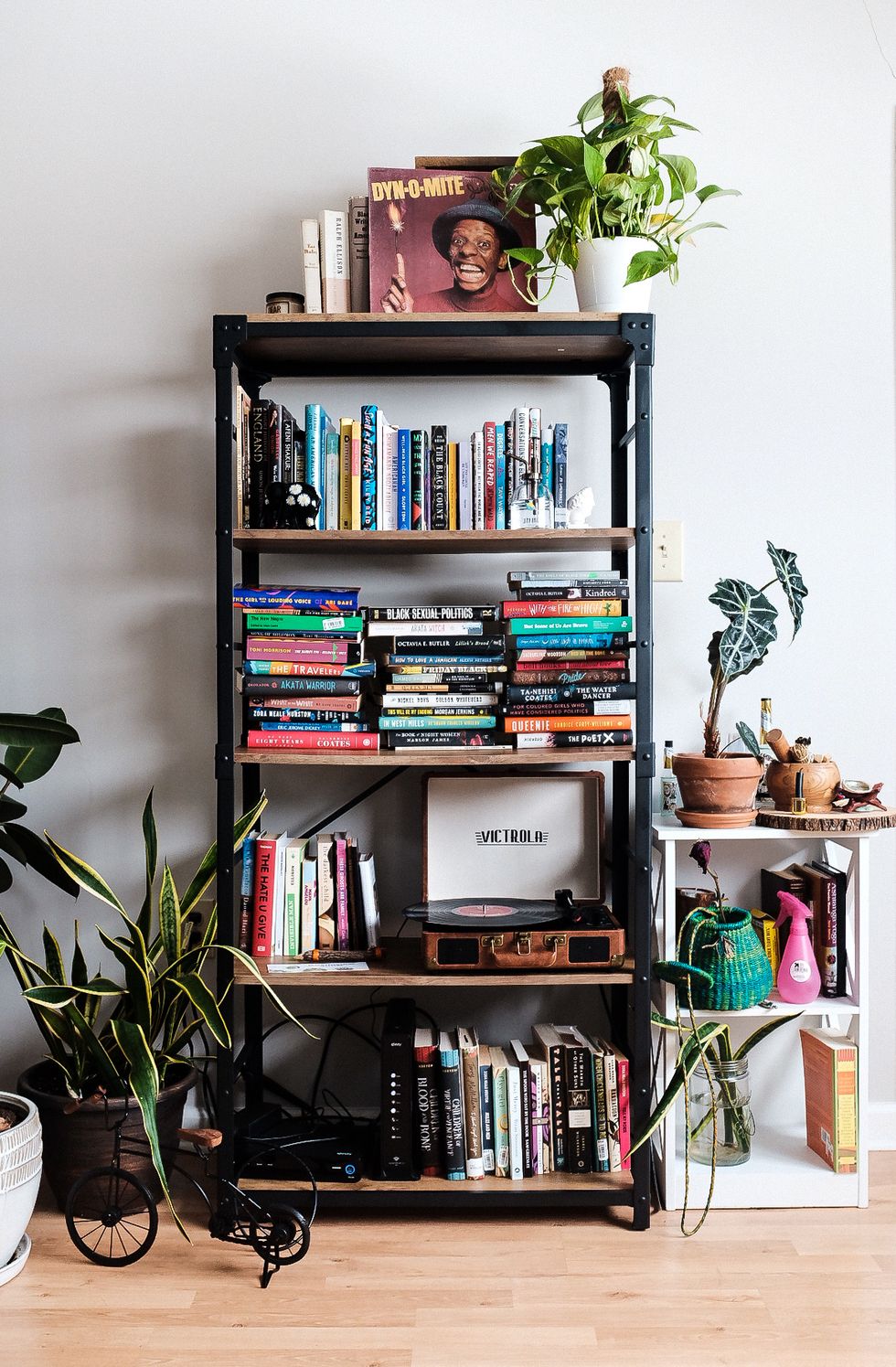 Terrence Porter for xoNecole
Reading represents a large part of Domonique's identity. As an avid reader, she has a goal to read at least 30 books a year. That passion was partially what led to her founding her company, Livre Cafe. The other part? A lack of representation. "I've always been a reader. I've always loved reading. And it got to the point where I would go out, I would buy books, I would see what's popular, what should I read next. And it was all either white artists or white writers or white adjacent. So I was like, you know what, I'm gonna just put it put together a blog so everybody can have at least a syllabus or somewhere to refer to you if they want it to read Black stories by Black people."

Her love of Black literature also lends itself to a lot of her apartment's decor choices. "I like to use my favorite things as decorations. I like plants as decorations. I love to even use books as decorations, and I change things around a lot. So, I strategically placed certain books in certain places just as representations of who I think I am."
Nature Feels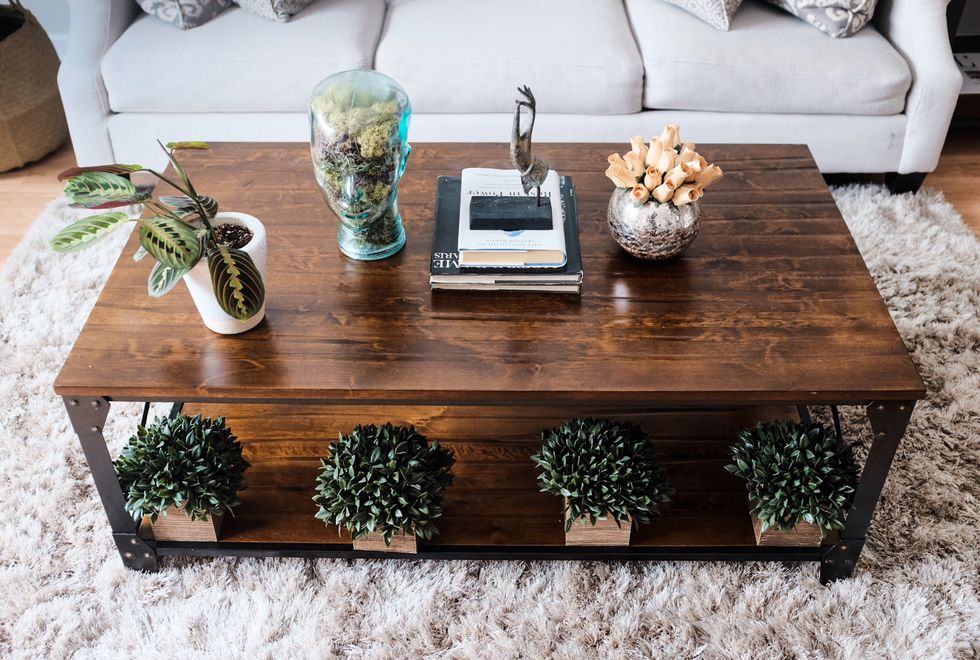 Terrence Porter for xoNecole
The 29-year-old considers her 15 plants her babies and named them all, sometimes after writers she loves. From the fiddle-leaf fig named Malachi to the snake plant and pearl plant named Audre Lorde and James Baldwin respectively, her creativity drips even from the leaves of the unique decorations that line her place.
For anyone who desires to hone their green thumb, Domonique offered this sage advice: "The easiest way to become a plant mom is to buy two plants, learn what your plants are, and learn how to take care of them. Once you master the plant that you have, or the plants if you want two––I always say get two to start––but once you master the ones you have, then you become more comfortable and you can get more."
Around The Globe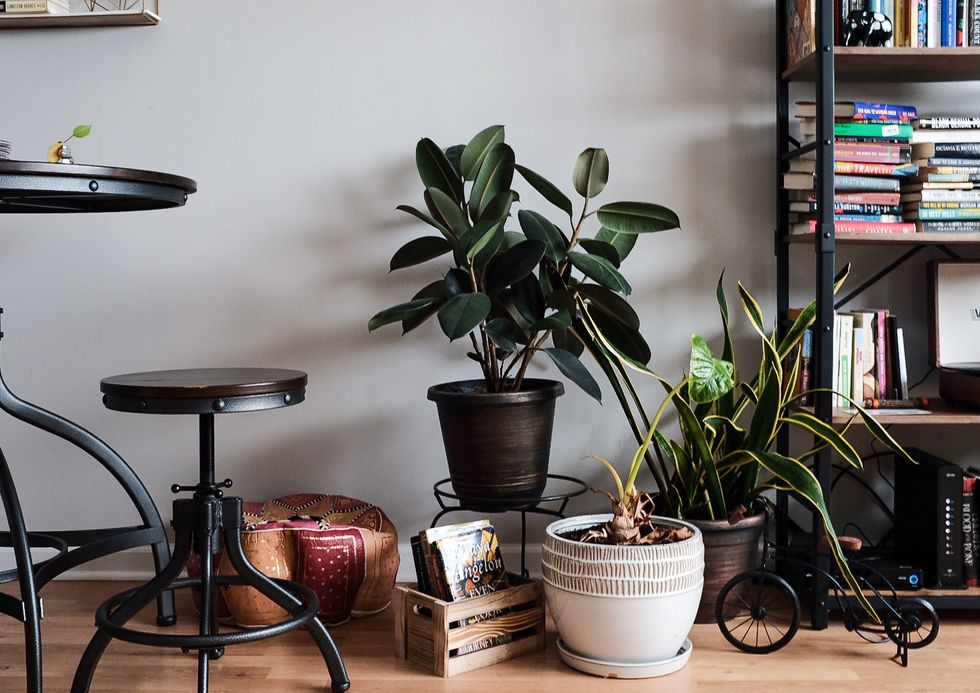 Terrence Porter for xoNecole

Domonique incorporates tangible memories she brings back from her travels into her space as well. She noted an eclectic cushion she got from Morocco as well as bookends she brought from her time in Wales and Amsterdam as standout decor pieces that add color and texture to her home while adding a one-of-kind piece of history.
The Creative Nook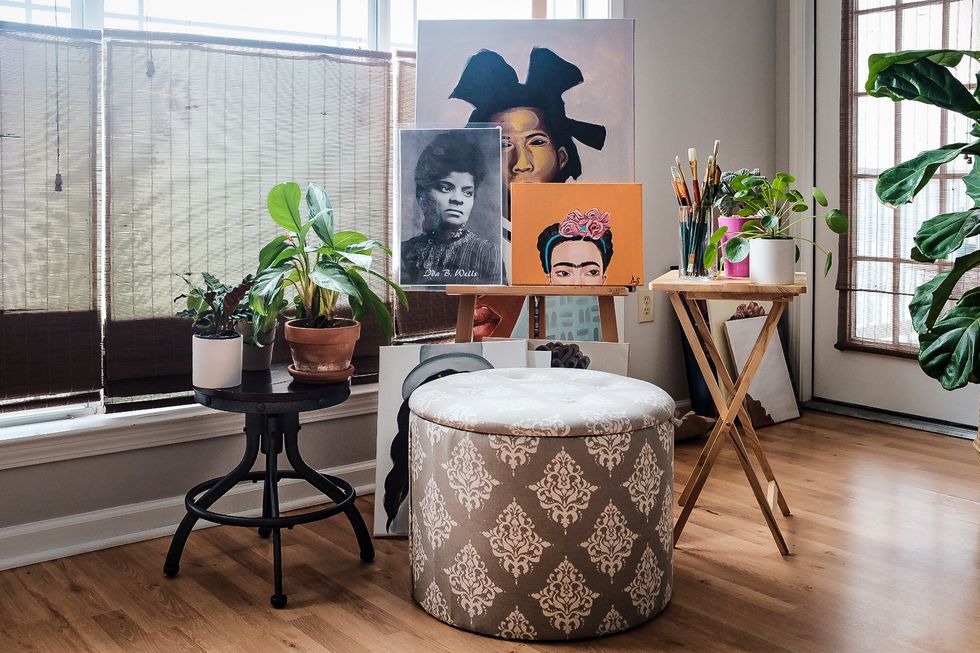 Terrence Porter for xoNecole
The living room of Domonique's two-bedroom apartment is one of her favorite spaces for a couple of reasons. Not only is it the focal point of her plant haven and extensive book sanctuary, it also doubles as her own creative space. "When I tell you this is my favorite spot in the house, this is my favorite spot," Domonique explained. "I haven't painted in a long time but I used to, that used to be part of my routine. I would come home, sit down for a minute, read, and then try to finish a painting. I still have three unfinished paintings over there that I haven't touched."
The Connecticut native's weapon of choice is acrylic on canvas, something she fell into because of the matriarch of her family. "My grandmother was an artist, so I used to paint with her and then I stopped. I don't really know why. She would buy me all these supplies and I just didn't do it. And it wasn't until actually after she died and she left me a bunch of her supplies, I brought them back home from Connecticut and I was like, 'I want to paint something.' And I just started painting after that."
Tuned-In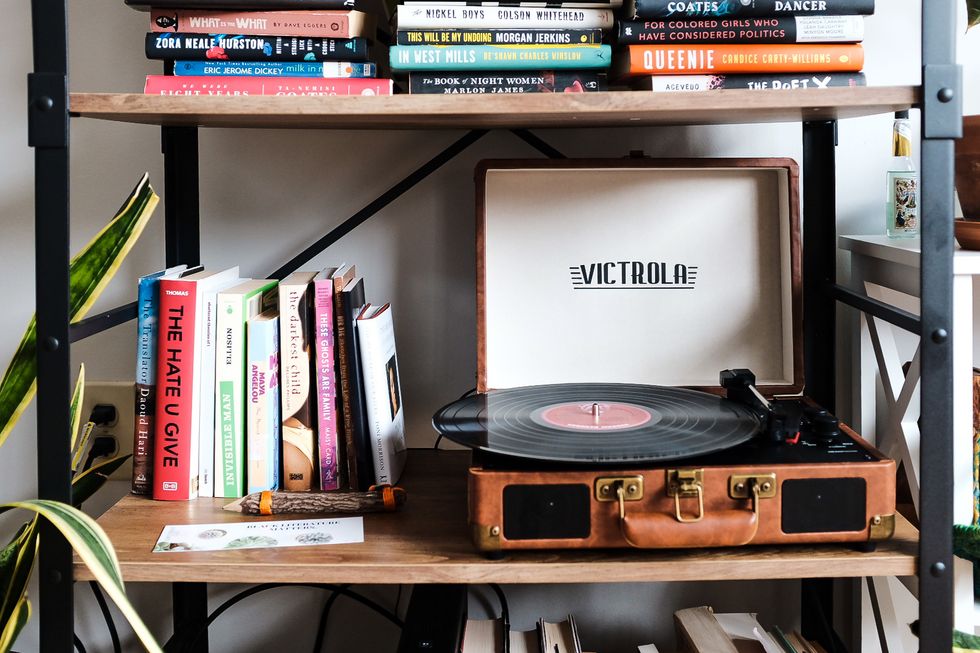 Terrence Porter for xoNecole
"My newest thing is my record player. I love it. My first record is a comedy record by Jimmy Walker. I'm a huge Good Times fan. So that's like one of my favorite things in my house right now other than my plants."
Click through the gallery below to tour her dope abode, as well as some of the intimate details that make her apartment feel like home:
For more of Domonique, follow her here!

Featured image by Terrence Porter for xoNecole.