---
Reiki energy healer, primordial sound meditation educator, spiritual psychology practitioner, best-selling author, and wellness entrepreneur. These are just a few titles that the unconquerable Devi Brown holds in the wellness industry. After reaching the peak of her career in the music industry and becoming a top-notch radio personality, she began to believe that something was missing. As she dug deeper into her spiritual and wellness journey, she began to share her healing and spiritual findings through Karma Bliss, which has ultimately put a focus on carving a space in the wellness industry for women of color.
Today, Devi Brown serves as the Chief Impact Officer at Chopra Global, where she will "help drive Chopra Global's creative direction, content strategy, and impact efforts, as well as provide guidance and insight to best serve the company's mission of democratizing well-being and bringing expanded consciousness to a global collective," according to a recent press release on behalf of Chopra Global. Tonia O'Connor, CEO of Chopra Global, says the team is "grateful to have her" and dubs Devi as "one of the most respected voices in well-being."
xoNecole caught up with the wellness expert, author, and Chopra certified educator of Primordial Sound Meditation about her devotion to spiritual connection, her passion for advocacy for women of color in wellness, and how her career as a music executive led her to her new role with Chopra Global, who recently launched a new mobile app.
On her initial interest in the wellness industry and carving spaces for women of color:
"Curiosity about personal transformation and spirituality has always been at the core of who I was since childhood. I believe that so much of who we are, our innate skill sets and even the longings and interests that we have were determined before we got to earth, so in that regard I know that so much of my connection to this work is above me. In real-world not just spiritual world reality though I was drawn to explore healing modalities and wellness as I began to experience 'busy burnout' while working in broadcasting and entertainment. I was hitting milestones and fitting the 'success' model that society had taught me to measure myself against but it always felt like something was missing, like there was a void, or like I wasn't really meeting my full human potential.
"As I began to explore that new understanding and started shifting my lens of perception, this new view also extended to the way I experienced my past, present and future. Once you start really working on yourself and accepting yourself, it's as if the floodgates open and an outpouring of deeper understandings begin to happen in every aspect of your life.
"For women of color, I believe access to tools to enhance overall life well-being is of the utmost importance. Women of color are the most marginalized and unsupported group of people in the world. Specifically, black women in the United States. We have to joyfully care for ourselves first which is so counterintuitive to anything we have ever been led to believe."
On how the music industry prepared her for her new career move at Chopra Global:
"Working in entertainment and broadcasting can truly prepare you for almost anything (laughs). Something that I loved about that time in my life was the way it fed my curiosity about the human condition. The way it allowed me to connect with people from all walks of life and all backgrounds. How to really get clear on my thoughts and how to read a crowd quickly. It also taught me how to not take things personally. When I was a little girl growing up in L.A., we were always stuck in traffic and listening to the radio.
"I remember being in awe of the sacredness I experienced with being connected to someone I didn't know over the airwaves and feeling like they were a companion on that leg of my journey, which at the time was just the freeway drive from home to school. That desire for connection to help people feel seen and heard is what still drives me today, except now I get to connect people to themselves and to tools of transformation as opposed to headlines and music."
On her plans on using her role and Chopra Global as a platform to elevate wellness for women of color:
"When I first deep-dived into my wellness journey, first starting with being a retreat and summit participant with various collectives, then as student of different schools and certification programs, then as an entrepreneur starting my own wellness business; it was never lost on me that 99% of the time I was the only Black millennial person in every single space I occupied. This was especially true when I first started almost a decade ago. Some of these events ranged in size from 40 people all the way up to 500+ people. No matter the size, I never saw anyone that looked like me.
"I've spent a very long time investigating what that understanding meant to me, the barriers to healing that exist for POC and how that impacted my/our journey (and sometimes lack thereof). Much of that and more is what I am incredibly excited about helping to shift not just within the company but within the wellness industry as a whole. I'm looking to get more [people of color] certified as teachers and healing practitioners and help create events that include more diverse speakers and attendees as well as implementing the best ways to apply knowledge of barriers various cultures and communities have to healing and how to most authentically help people expand emotionally and embody well-being practices based on those unique but pervasive barriers to entry."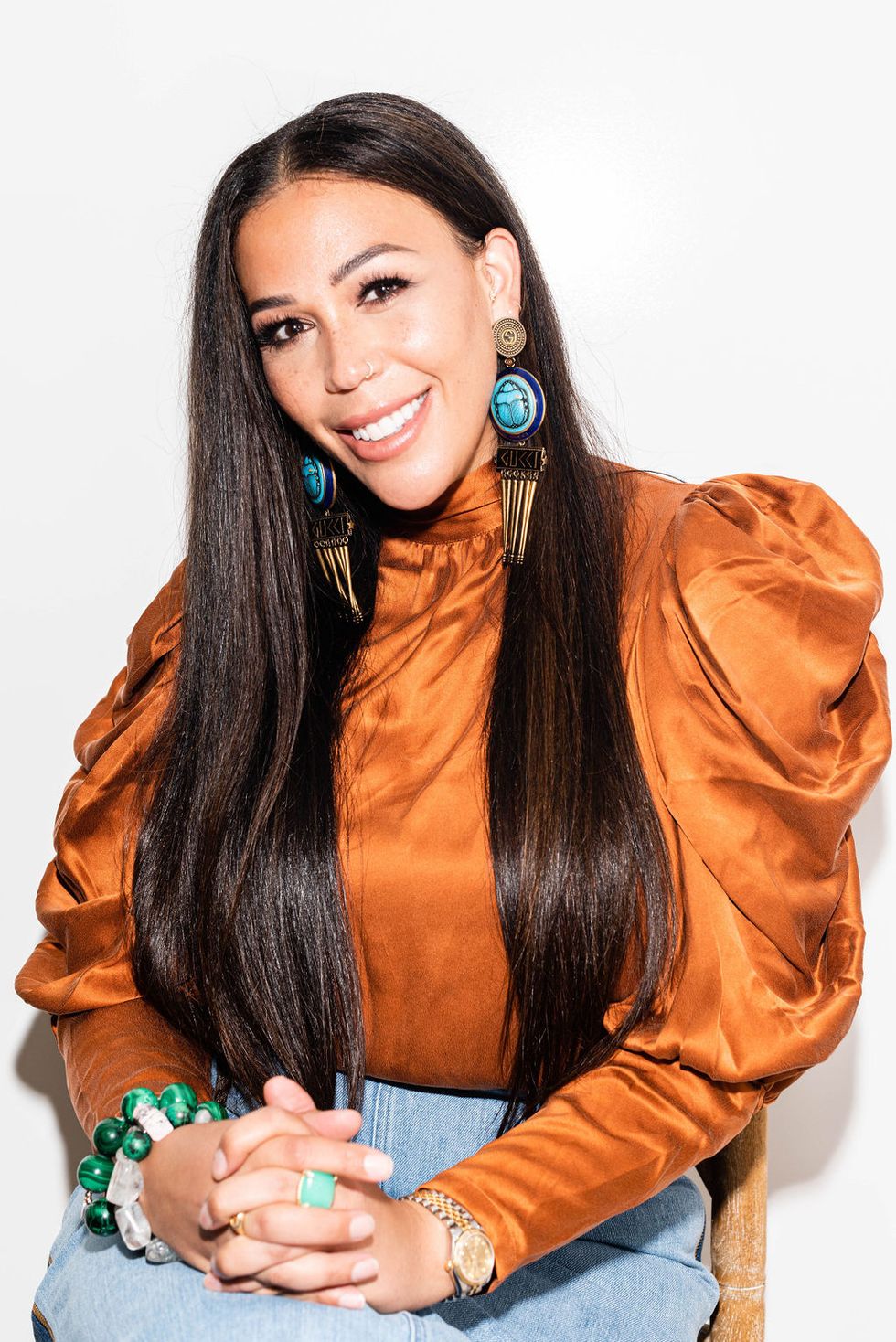 Courtesy of Devi Brown/22 Spring
On how she has been personally impacted by Deepak Chopra's work:
"Deepak's work very literally changed the trajectory of my life and informed my ability to identify my purpose and mission. I think like most, by nature of him being a spiritual pioneer for the last nearly 30 years, I was aware of his books and some of his philosophies but it wasn't until a chance opportunity to attend one of his signature retreats at the height of my busy burnout/ego investigation while still working in broadcasting that I was able to access deeper parts of my spiritual experience. Deepak has authored over 90 books but my entry point to deeper understandings of higher consciousness came through his 7 Spiritual Laws of Success and Perfect Health. I first learned to meditate and how to come into a space of acceptance, detachment from outcome and peace through his life's work. He taught me how to really be with myself and experience a lightness of being in all I did and do."
On wellness, self-care and self-love practices in her everyday life:
"Personal wellness/well-being is the top priority of every facet of my life. It's my foundation and fuel. The quickest road to purpose and personal evolution is found in your daily spiritual practice or routine. For me that looks like an am and pm practice. In the mornings I meditate, stretch, pray, say affirmations, play my sound bowl and read a couple pages from a soul-nourishing book. In the evening I clear my energy, light some copal, pray, journal, play music to raise my frequency and dance. I've really taken advantage of COVID/social distancing clearing my calendar to supercharge my practice at night. I've been really intentional with how I use all this new 'me' time and I've loved the way it is sharpening me. This moment in time is truly an opportunity to become the 2.0 versions of ourselves if we let it."
On spiritual activism and generational trauma:
"I experience spiritual activism as a way of infusing your core spiritual beliefs into the way you show up for yourself and others. This past winter and spring, I noticed a lot of the traditionally white wellness and spiritual communities weaponizing systems of belief as a way to bypass what has been happening in the world and as a way to insulate themselves against deeper understanding of real world human experiences for people of color. I believe that if you have healed and expanded yourself, it is a spiritual duty to go out of your way to insert yourself and these compassionate understandings into the world in real time in a way that is of service to all oppressed and marginalized people.
"A core piece of dissolving intergenerational trauma is educating ourselves on our own family systems and adding in the lens of the role society, systemic racism and capitalism played in our brokenness. To be healed and have regular access to peace we must accept ourselves. To accept ourselves as Black women, we have to radically stand in our truths and regularly set self-honoring boundaries."
"We have to cast down the mechanism of forced resilience and emotional bypass and allow ourselves to heal. We need to prioritize our happiness and well-being first. As we do that, energetically we create healing and freedom for our entire lineage past, present and future."
Featured image by 22 Spring