Who am I?
For such a profound question, it's an answer that steadily changes. I am always metamorphosing into new versions of me. It's the reason why I've gone years without a bio on my personal blog. When I hit a moment of satisfaction or shame within myself, I can't sit with or savor it long enough before I am reaching and aiming for something else. Something new.
---
This is the process of someone piecing together parts to make a whole.
I am constantly refining and redefining who I am. I've wrestled with understanding my existence and wrote about my racial-ethnic identity as a Black Latina for xoNecole years ago. Publicly, I've documented a deteriorating relationship with my mother and the search for my other half through an unidentifiable father . By the other half, I do not mean in respect of another human soul intertwined in harmony with my own being, although not knowing the origins of my birth story did play a vital role in how I sought and see love. There are so many moving and missing parts to me. This evolutionary story of who am I and the road to self-actualization is why I find comfort in Beyoncé's visual albums, more often, than in the music itself. She is always giving me what I need when it comes to identity.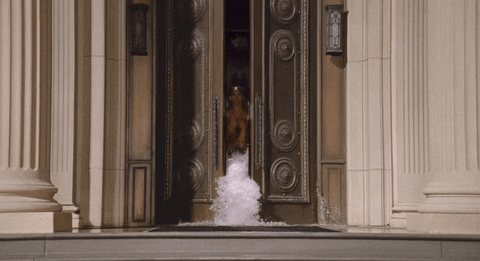 Beyonce Lemonade GIF
Giphy
Bey's film version of Lemonade came at the right time in 2016. Perhaps even divine timing for most of us, myself included. We dissected pieces of the 65-minute film in academia, through blog posts, and over social media.
Her personal story—this beautiful fusion of intuition, denial, anger, apathy, emptiness, accountability, reformation, forgiveness, resurrection, hope, and redemption—mirrored our own Black lives.
Our womanism and the fruits of our wombs. Our homes and our healing . Lemonade 's release happened around the time of my own birth , a Saturn return, the elements of water, and womanhood centering itself in my own world. It was life-changing for me.
Black Is King is no different.
Sunday was spent with my now three-year-old who thought an afternoon in bed would bring another edition of Frozen II . I wanted to push Black imagery to the forefront. To accompany the darkness of Black Is King 's opening, we heard:
"I feel like I'm not a king yet. But, like, I got potential for it, you feel me? But I'm not there yet, you feel me? Like, I know I got the capabilities to. But sometimes I don't know how to navigate."
The opening felt like home, a familiar territory. I know that even with gaps in between the early chapters of my life, I still have lands I need to explore within myself. Who am I as the (great)granddaughter of Alabamian women and military men? Who am I beyond them? Black Is King 's purpose is to transcend brick walls and to "come home to" who we inherently are. This has been the mission of my thirties thus far.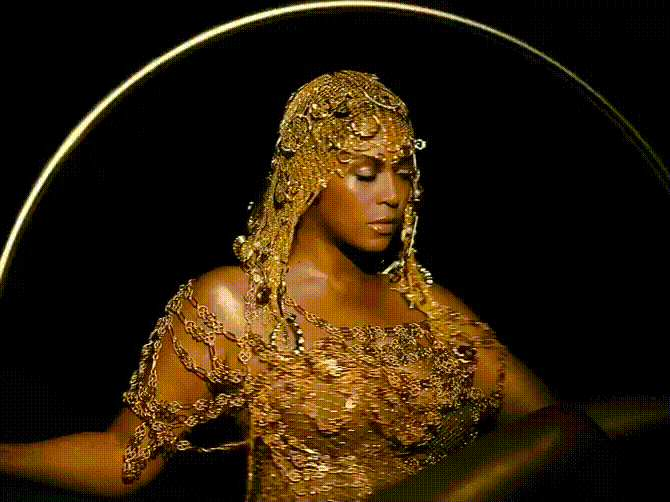 "Meant to celebrate the breadth and beauty of Black ancestry," Beyoncé said of the film's intent:
"We are all in search of safety and light. Many of us want change. I believe that when Black people tell our own stories, we can shift the axis of the world and tell our REAL history of generational wealth and richness of soul that are not told in our history books. With this visual album, I wanted to present elements of Black history and African tradition, with a modern twist and a universal message, and what it truly means to find your self-identity and build a legacy…This is a story of how the people left MOST BROKEN have EXTRAORDINARY gifts."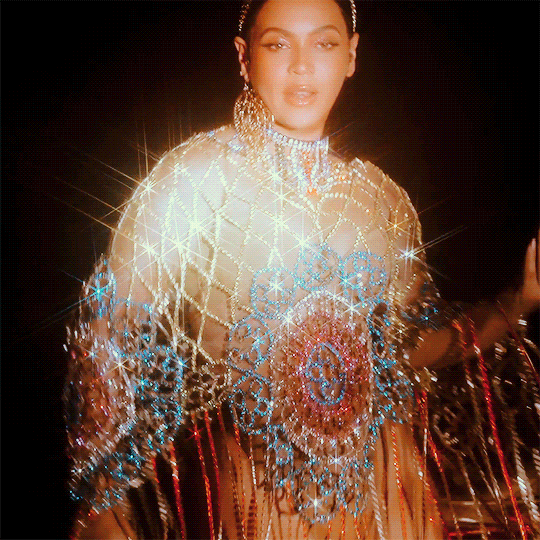 The Lion King was always that one childhood film that had endless knowledge to draw from, but I was always pulled to the lesson that it's important to (1) know who you are and (2) know where you come from. Bey's incorporation of Africa's lands, its native people, its color, and culture, alongside her family, reiterated just that.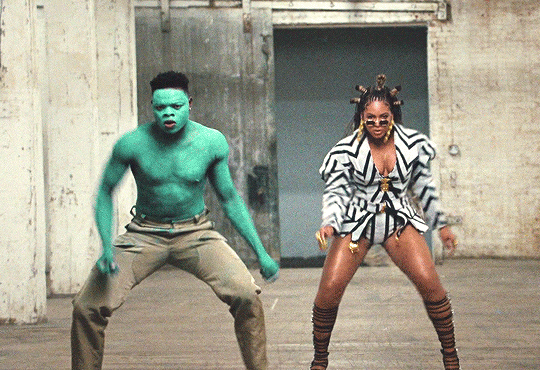 It was in Blue Ivy 's showcase of sass and stardom at the tender age of 8 that warmed me throughout, knowing there was a Brown skin girl who would grow up with the awareness of who she was and who came before her.
So many of us were once Black girls who transformed into Black women with no recollection of the past that made us.
With tears, I celebrated the rising star that fell from the sky in the form of a meteor within the film, knowing Blue and Rumi were the exception to this visual dedication to Sir, and hoping the same for my own children. This was a moment of hope.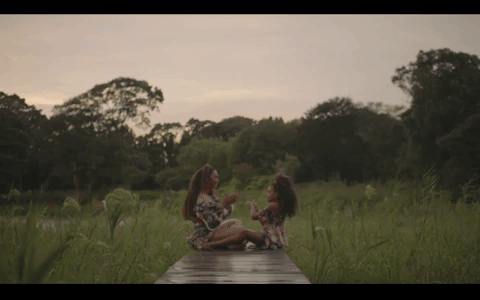 It was in the mesh of flesh in Kelly Rowland and Beyoncé's intimate face-to-face embrace; Bey's insight on women as saviors and protectors with our own set of plights; the encouraging poetry of Warsan Shire in lines like " Life is a set of choices. Lead, or be led astray. Follow your light. Or lose it "; and the joyous inclusion of Afrofuturism at a time where tomorrows aren't promised for Black folks, that allowed me to see how Black Is King is more than just a retelling of a classic Disney movie.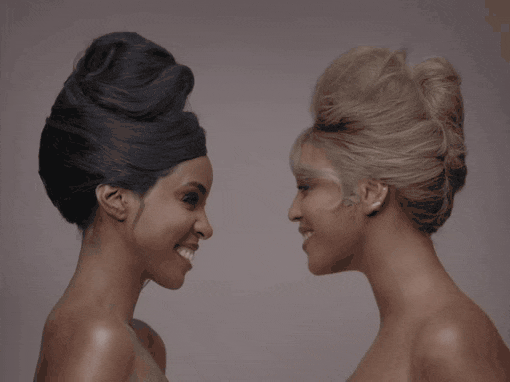 Black Is King/GIF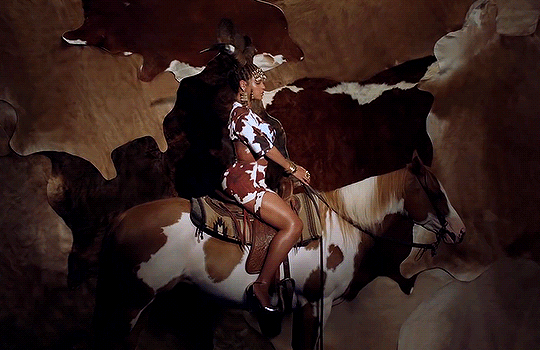 It was in these visual connections and pleas to return to our ancestry that confirmed for me to drop my reservations about wandering into DNA-testing territory, in order to glue the holes of my story together for the sake of myself and the children rooted in me. Introspection is dark and heavy. I have yet to weave together the puzzles by way of genetic testing, out of skepticism. What will I find? What is in me? Who's "blood keeps the score of [my] blessings and [my] trials?"
Learning of your lineage and coming into yourself comes with criticism—internally and from outside forces.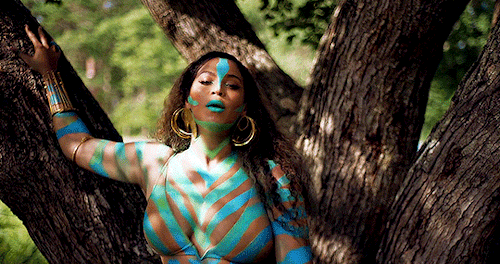 Black Is King/GIF
As evident in the film's growing opposition . Appropriation, a lack of understanding to an unfamiliar culture that many are attempting to reclaim, and BIK being seen as "an African aesthetic draped in capitalism " are all understandable critiques worthy of a deeper exploration into where African-Americans fit in, and what table we get to sit at.
Beyoncé is no stranger to criticism, nor is she exempt because of her status in pop culture on an international scale, or how she's elevated Blackness in modern times.
But to knock the messenger before weeding out the message is something I can't get behind (and no, I have never been a devout member of the Hive). Jay said it excellently in Black Is King : " Understand that good and evil often appear together. Nothing is complete on its own...It's not always a battle; it's a conversation. "
Maybe the art, the film's symbolism, and its relation to my own life blinds me to "the bigger issues", truth be told. But my identity and understanding my existence is just as important. To this I sing, " They'll never take my power, my power, my power. .."
Beyoncé associating Blackness with wealth/regality is corrective promotion and y'all need to be happy about it. too often blackness is associated with struggle/poverty. and the messaging I get from her often is that wealth and regality lives inside us, it's not always material.

— coffee bae (@iamsashakae) July 31, 2020
so many black people are taking African black diaspora courses in college. majoring/minoring in it. returning to af… https://t.co/2TDbNxTpnG

— coffee bae (@coffee bae) 1596232681.0
"To live without reflection for so long might make you wonder if you even truly exist."
Who are you?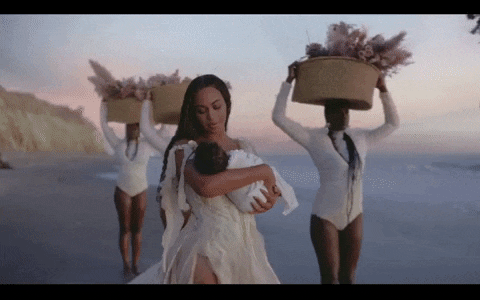 For years, I was bound to the narrative that I was solely a descendant of enslaved people with ties to Latin cultures and African countries. After mass consumption of films centered on that history as a child, I was turned off by "urban novels" that pushed hood love chronicles, life in projects and poverty, and the countless ways incarceration plays a guest role in our upbringing, as classic as they are.
My Black card would be revoked for sure if I told you how many street lit books I didn't read. Not because of access, but because I wanted a new account of how my life could possibly be. Because the school wouldn't teach it. Because American history tried to erase it—word to Nick Cannon . It's why I've stopped watching movies on slavery made by white men that win awards and yearn for new stories by way of my own telling or others.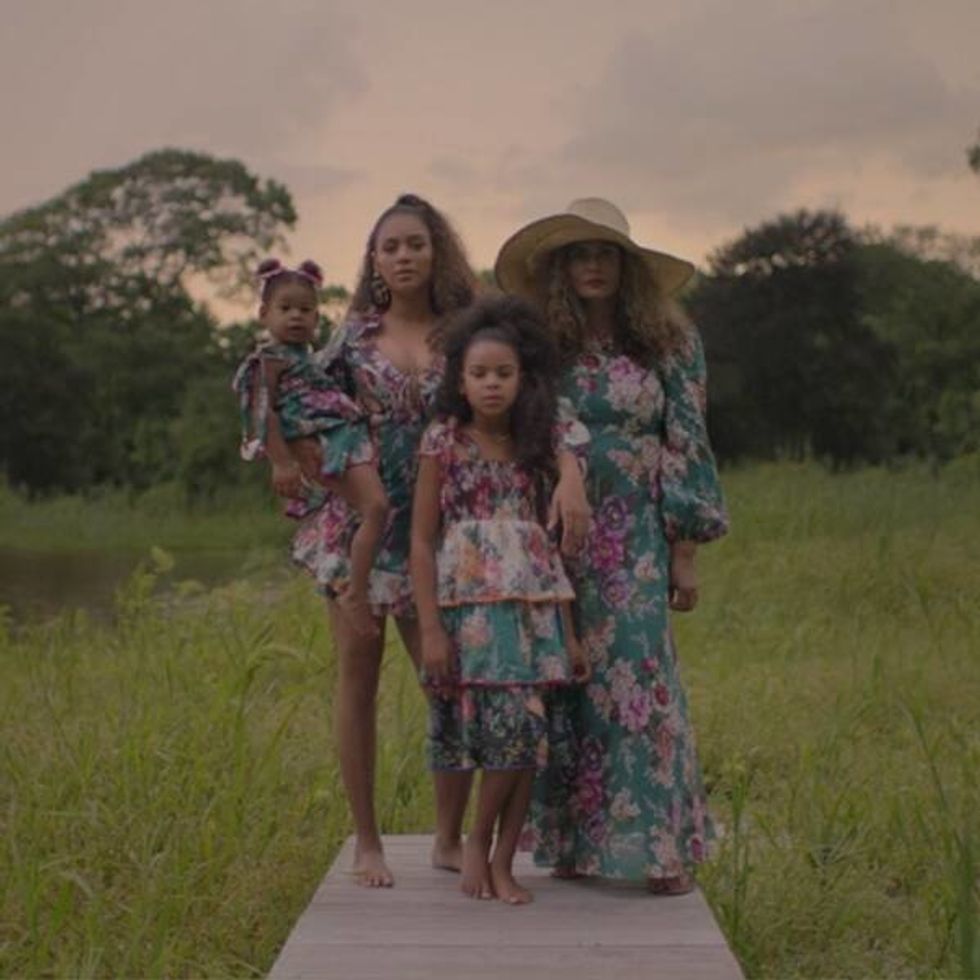 Black Is King/Disney Plus
Perhaps I am not an offspring of African royalty, a reoccurring point made by critics from the African diaspora on Black Is King. Everyone isn't cut from the finer cloths and Africa shouldn't be romanticized by fantastical accounts of its history and inaccurate reflections of its modern times. I know this. But what I also know is:
I know that my resilience as a Black woman stems from some deeply rooted part of me. I know that my ability to make do with little and transform it into the most as a Black mother is ingrained in the women buried inside. I know "the Orishas hold [my] hand through this journey that began before [I was] born."
As a storyteller, I know the most used line in The Lion King to be true: that "we are all connected in the great circle of life." I am trying to piece together my own constellations and find my way home in a human game of chess.
I am both the pawn and a Queen.
Featured image by Black Is King/GIF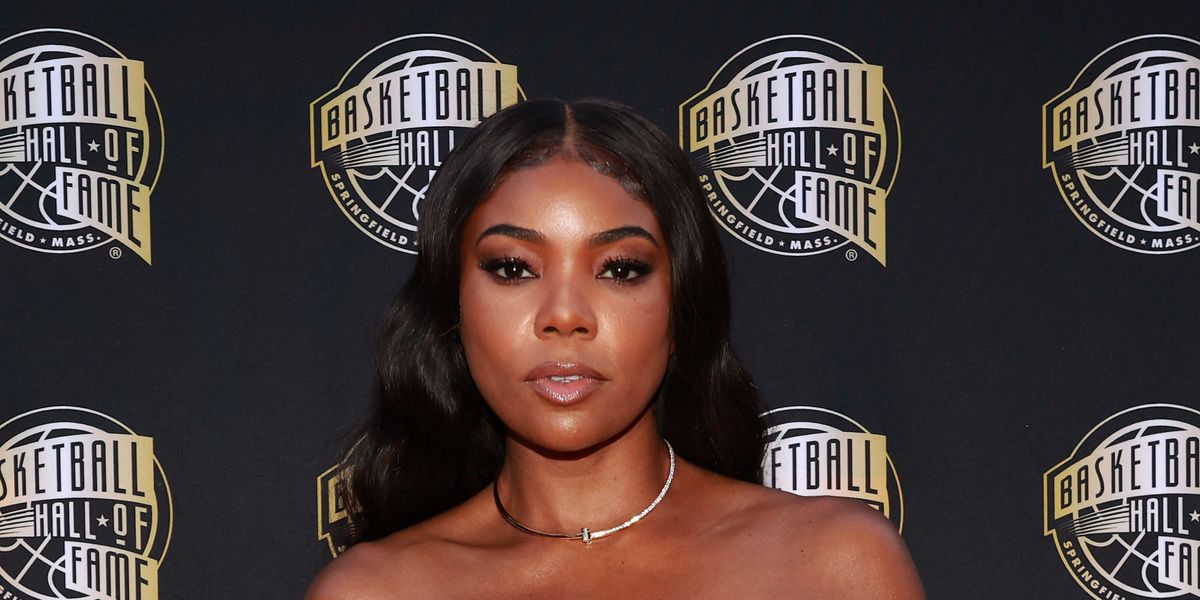 Whenever Gabrielle Union graces the movie screen, she immediately commands attention. From her unforgettable scenes in films like Bring It On and Two Can Play That Game to her most recent film, in which she stars and produces Netflix's The Perfect Find , there's no denying that she is that girl.
Off-screen, she uses that power for good by sharing her trials and tribulations with other women in hopes of helping those who may be going through the same things or preventing them from experiencing them altogether. Recently, the Flawless by Gabrielle Union founder partnered with Clearblue to speak at the launch of their Menopause Stage Indicator, where she also shared her experience with being perimenopausal.
In a xoNecole exclusive, the iconic actress opens up about embracing this season of her life, new projects, and overall being a "bad motherfucker." Gabrielle reveals that she was 37 years old when she was diagnosed with perimenopause and is still going through it at 51 years old. Mayo Clinic says perimenopause "refers to the time during which your body makes the natural transition to menopause , marking the end of the reproductive years."
"I haven't crossed over the next phase just yet, but I think part of it is when you hear any form of menopause, you automatically think of your mother or grandmother. It feels like an old-person thing, but for me, I was 37 and like not understanding what that really meant for me. And I don't think we focus so much on the word menopause without understanding that perimenopause is just the time before menopause," she tells us.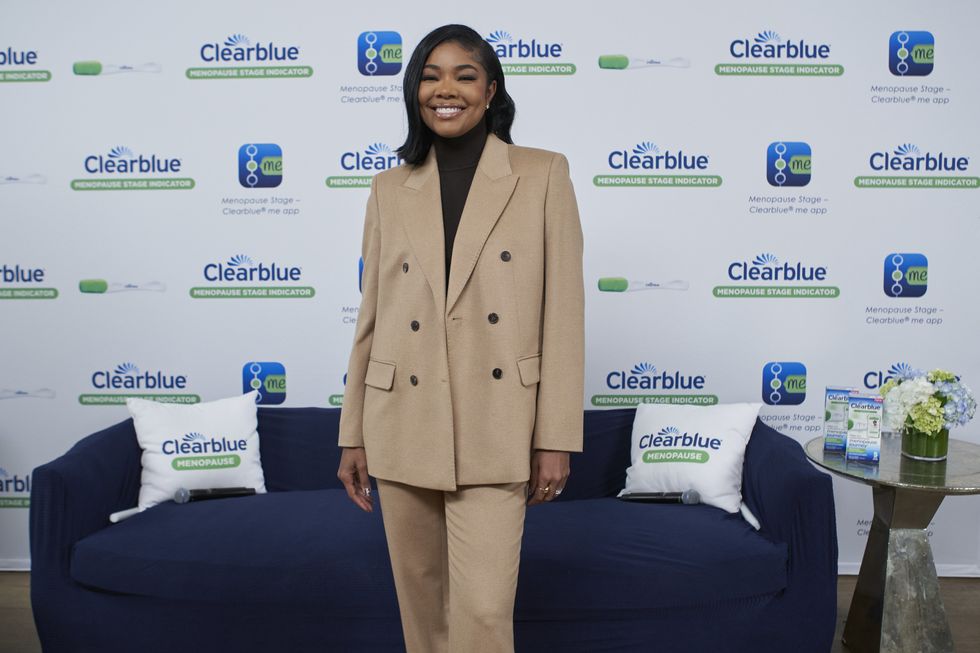 Gabrielle Union
Photo by Brian Thomas
"But you can experience a lot of the same things during that period that people talk about, that they experienced during menopause. So you could get a hot flash, you could get the weight gain, the hair loss, depression , anxiety , like all of it, mental health challenges , all of that can come, you know, at any stage of the menopausal journey and like for me, I've been in perimenopause like 13, 14 years. When you know, most doctors are like, 'Oh, but it's usually about ten years, and I'm like, 'Uhh, I'm still going (laughs).'"
Conversations about perimenopause, fibroids, and all the things that are associated with women's bodies have often been considered taboo and thus not discussed publicly. However, times are changing, and thanks to the Gabrielle's and the Tia Mowry 's, more women are having an authentic discourse about women's health. These open discussions lead to the creation of more safe spaces and support for one another.
"I want to be in community with folks. I don't ever want to feel like I'm on an island about anything. So, if I can help create community where we are lacking, I want to be a part of that," she says. "So, it's like there's no harm in talking about it. You know what I mean? Like, I was a bad motherfucker before perimenopause. I'm a bad motherfucker now, and I'll be a bad motherfucker after menopause. Know what I'm saying? None of that has to change. How I'm a bad motherfucker, I welcome that part of the change. I'm just getting better and stronger and more intelligent, more wise, more patient, more compassionate, more empathetic. All of that is very, very welcomed, and none of it should be scary."
The Being Mary Jane star hasn't been shy about her stance on therapy . If you don't know, here's a hint: she's all for it, and she encourages others to try it as well. She likens therapy to dating by suggesting that you keep looking for the right therapist to match your needs. Two other essential keys to her growth are radical transparency and radical acceptance (though she admits she is still working on the latter).
"I was a bad motherfucker before perimenopause. I'm a bad motherfucker now, and I'll be a bad motherfucker after menopause. Know what I'm saying? None of that has to change. How I'm a bad motherfucker, I welcome that part of the change."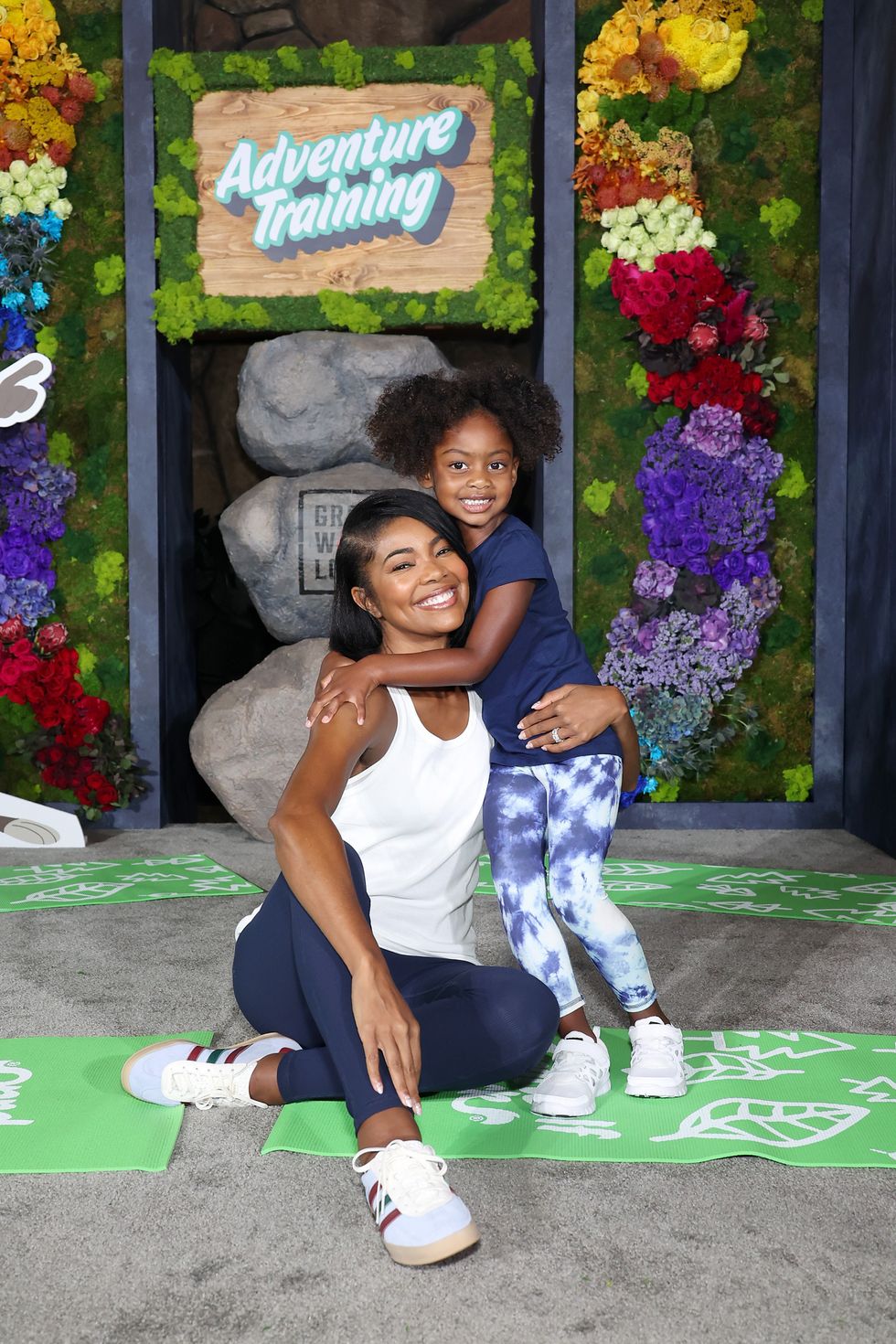 Gabrielle Union and Kaavia Union-Wade
Photo by Monica Schipper/Getty Images
"I hope that a.) you recognize that you're not alone. Seek out help and know that it's okay to be honest about what the hell is happening in your life. That's the only way that you know you can get help, and that's also the only other way that people know that you are in need if there's something going on," she says, "because we have all these big, very wild, high expectations of people, but if they don't know what they're actually dealing with, they're always going to be failing, and you will always be disappointed. So how about just tell the truth, be transparent, and let people know where you are. So they can be of service, they can be compassionate."
Gabrielle's transparency is what makes her so relatable, and has so many people root for her. Whether through her TV and film projects, her memoirs, or her social media, the actress has a knack for making you feel like she's your homegirl. Scrolling through her Instagram, you see the special moments with her family, exciting new business ventures , and jaw-dropping fashion moments. Throughout her life and career, we've seen her evolve in a multitude of ways. From producing films to starting a haircare line to marriage and motherhood , her journey is a story of courage and triumph. And right now, in this season, she's asking, "What's next?"
"This is a season of discovery and change. In a billion ways," says the NAACP Image Award winner. "The notion of like, 'Oh, so and so changed. They got brand new.' I want you to be brand new. I want me to be brand new. I want us to be always constantly growing, evolving. Having more clarity, moving with different purpose, like, and all of that is for me very, very welcomed."

"I want you to be brand new. I want me to be brand new. I want us to be always constantly growing, evolving. Having more clarity, moving with different purpose, like, and all of that is for me very, very welcomed."
She continues, "So I'm just trying to figure out what's next. You know what I mean? I'm jumping into what's next. I'm excited going into what's next and new. I'm just sort of embracing all of what life has to offer."
Look out for Gabrielle in the upcoming indie film Riff Raff , which is a crime comedy starring her and Jennifer Coolidge, and she will also produce The Idea of You , which stars Anne Hathaway.
Feature image by Mike Lawrie/Getty Images
Victoria Monét has had an incredible year. Thanks to the success of the widely popular " On My Mama " that went viral, the singer/ songwriter's Jaguar II album debuted in the top 10 of Billboard's Top R&B Albums chart. She also went on to headline her own sold-out tour . So, when the MTV VMAs happened in September, everyone was surprised to learn that Victoria's team was told that it was "too early" for the "Smoke" artist to perform at the award show. However, a couple of months later, the mom of one received seven Grammy nominations, including "Best R&B Album" and "Record Of The Year."
Victoria is currently in London and stopped by The Dotty Show on Apple Music and shared how she feels "validated" after being dismissed by the VMAs.
"It really does feel nice and validating because, in my head, the reason why I wanted to be a performer at the VMAs or award ceremonies like that is because I felt like I am at the place where I should. I would work really hard to put on the best show that I could, and I was excited to do so," she said.
"And I guess the best way to describe it for me is like when you're like on a sports team, and the coach is like, 'No, you gotta sit this one out.' When they finally put you in, and then you score all these points, and it feels like that feeling. You're like, yes, I knew it wasn't tripping, but I knew I worked hard for this, and so it's been super validating to just have these accolades come after a moment like that, and I know the fans feel vindicated for me.
While her fans called the VMAs out on their decision, the "Moment" singer kept it cute and is still open to performing at the iconic award show. "I feel no ill towards them because it's just maybe that's just truly how they felt at the time, but I hope their mind has changed," she admitted.
Aside from recognition from the Grammys, she has also received praise from legendary artists such as Janet Jackson , Kelly Rowland , and Usher .
Feature image by Amy Sussman/WireImage for Parkwood