---
Isn't Beyoncé just the best? But seriously, the singer/songwriter/producer/actress who rose to fame as the lead singer of multi-platinum quartet (and later trio) Destiny's Child has become a centerpiece in culture and entertainment. What's most inspirational is that she's done it all while being unapologetically Blackity, Black, Black, BLACK.
She's constantly reminding us of who we are with projects that feel like carefully-crafted love letters to the Black culture and experience. Her latest work, Black Is King, is no exception—it actually might be her most melanin-rich work yet. The visual album dropping July 31 on Disney+ is a nod to her 2019 project, The Lion King: The Gift, but more importantly serves as "a celebratory memoir for the world on the Black experience."

For Black women especially, Beyoncé is always a mood. In honor of her Black Is King release, we're reminded of all the times she put Black women front and center in her work.
When She Introduced The World To Chimamanda Ngozi Adichie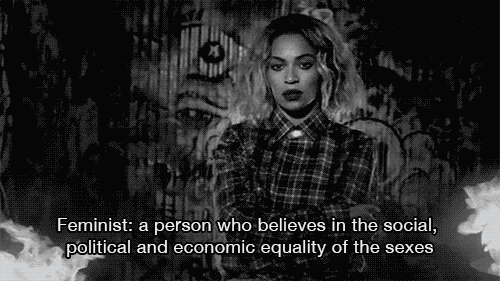 In 2013, Beyoncé changed the game with the midnight drop of her self-titled visual album, a first of its kind. This was also the album where we really saw Bey come into her own and shed light on the feminist movement. For the bridge of her song "***Flawless", Bey sampled a TEDxTalk given by celebrated Nigerian author Chimamanda Ngozi Adichie titled, "We should all be feminists".
Adichie's talk is mainly focused on the status of women in Nigeria ("Because it is where I know and where my heart is," Adichie explains), however, Bey chose to feature lines that resonate to all women:
"We teach girls to shrink themselves. To make themselves smaller. We say to girls 'You can have ambition. But not too much. You should aim to be successful. But not too successful. Otherwise you will threaten the man.' Because I am female, I am expected to aspire to marriage. I am expected to make my life choices always keeping in mind that marriage is the most important. Now marriage can be a source of joy and love and mutual support, but why do we teach to aspire to marriage, and we don't teach boys the same? We raise girls to see each other as competitors. Not for jobs or for accomplishments which I think can be a good thing, but for the attention of men. We teach girls that they cannot be sexual beings in the way that boys are. Feminist: a person who believes in the social, political, and economic equality of the sexes."
When She Made Lemons Into Lemonade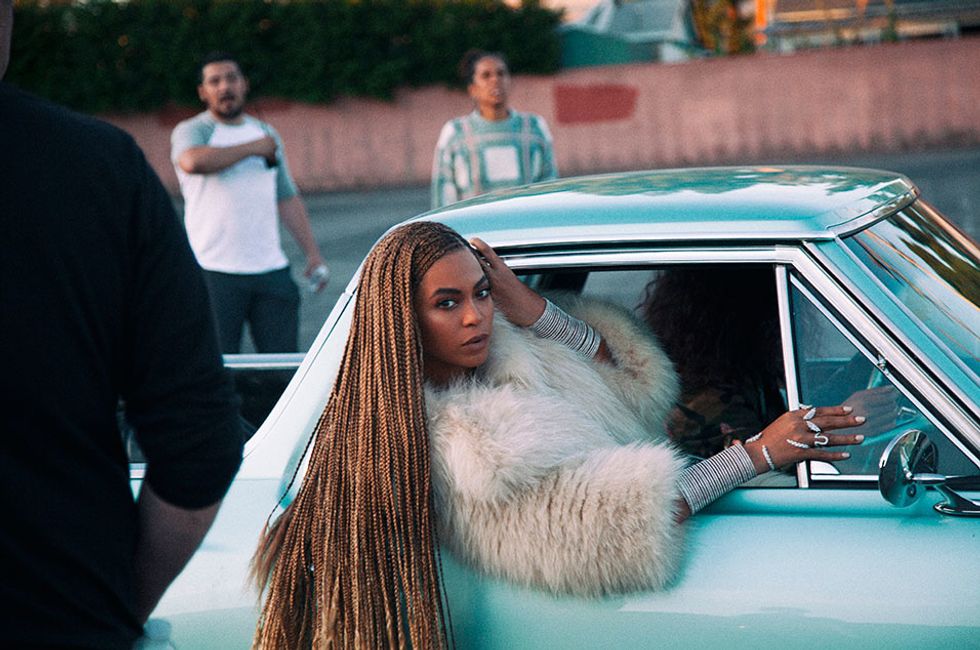 Lemonade was Beyonce's second visual album drop and premiered on HBO. This project played like an ode to Black women, gave a new meaning to "baby hair and afros", and renamed a style of braids worn by generations as "Lemonade Braids". Here's how:
Where there is sweetness in life, there is also bitterness, and no one has quite made lemons into lemonade like the Black woman. Lemonade represents the Black woman at her fullest self, her most vulnerable, her most angry, and her most powerful. In a series of songs that walked us through a pathway of different emotions, we saw ourselves in visuals and heard our pain and pleasure through sound. She showed the power and strength of Black women, but also our softness, our worries and fears through lyrics, melodies and stunning images. We cried, we laughed, and we ultimately healed. Then, there was the not-so-subtle shoutout to Black hair in "Formation" when she sang, "I like my baby hair, with baby hair and afros" after internet trolls tried to come for daughter, Blue Ivy's hair. And how could we ever forget the summer of 2016, when "Lemonade Braids" went mainstream? #BeyDidThat
When She Brought The Black Panthers To The Super Bowl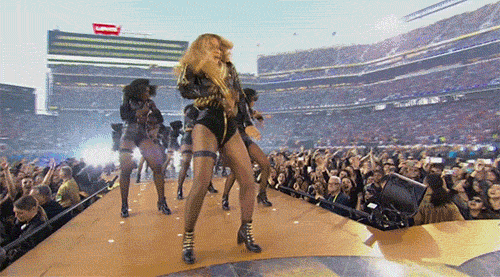 At the Super Bowl 50 Halftime Show, Beyoncé and her troop of female dancers strutted across the field for a "Formation" performance in Black Panther party realness. The bold move shed light on the Black Panther Party, a revolutionary socialist political organization which originated in 1966 for the self-defense of Black people. Considering that historically Black women are the most unprotected and underserved demographic in America, seeing Queen Bey lead the charge out onto the field in front of an audience of nearly 100 million people across the country was a MOMENT for Black women everywhere.
When Coachella Became Beychella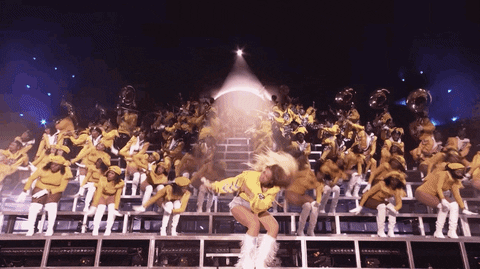 The year was 2018. Coachella became Beychella and Beyoncé's performance that paid homage to HBCUs finally gave the institutions the love they deserve. Historically Black Colleges and Universities created specifically for the advancement of the community are an experience like no other––just ASK any HBCU alum!
"So I studied my history, I studied my past, and I put every mistake, all of my triumphs–my 22-year career–into my 2-hour Homecoming performance." – Beyoncé
When She Brought Us All To Homecoming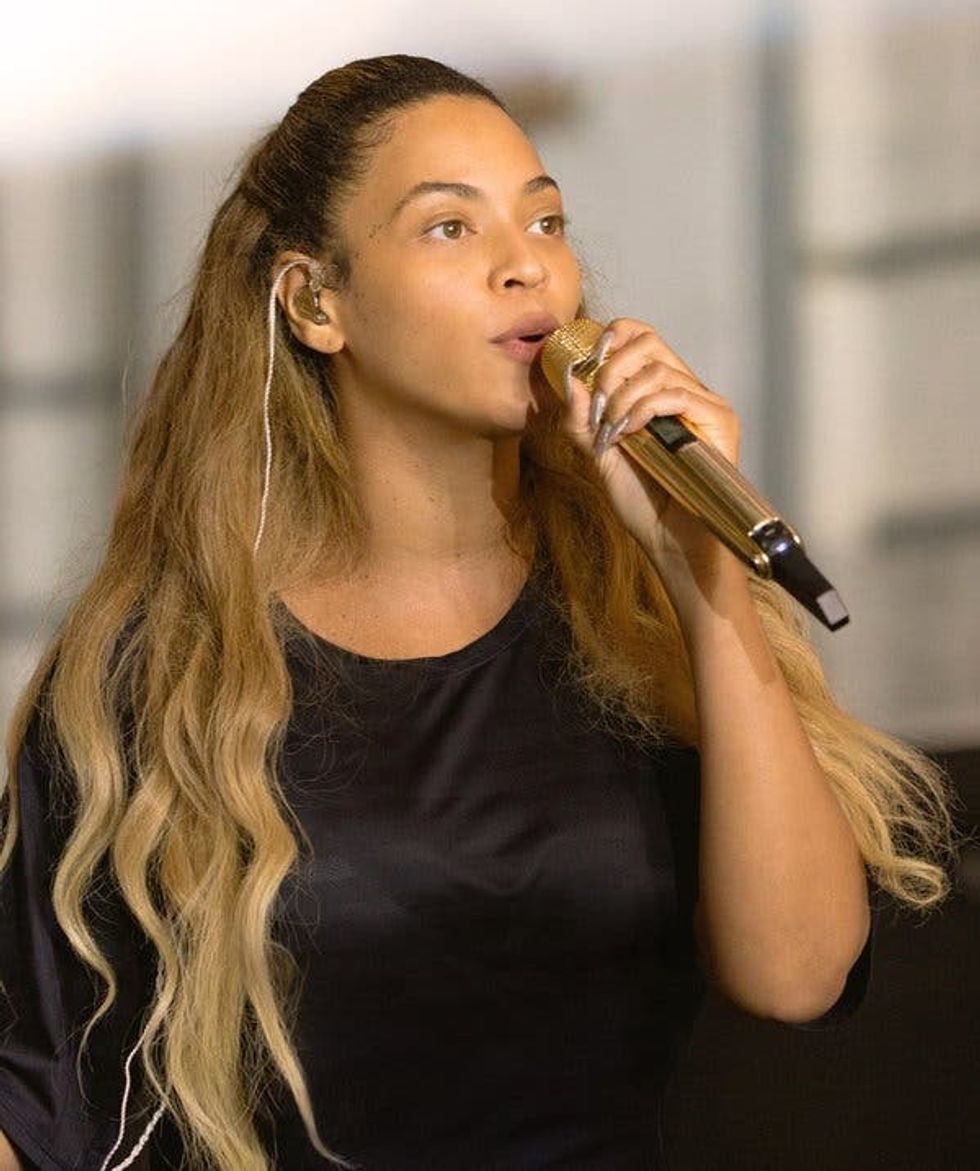 It's just like Beyoncé to take her epic performance at Coachella and turn it into a documentary that we can watch over and over again. The doc as a whole serves as motivation for any woman trying to achieve a goal, but if you break it up piece by piece, there are easily digestible nuggets of motivation in the inspiring quotes by Black women she sprinkles throughout the film. Toni Morrison, Alex Walker, and Danai Gurira are just a few of the women whose words of wisdom pop up on-screen. Here's one we love:
"To me we are the most beautiful creatures in the whole world, Black people. And I mean that in every sense." — Nina Simone
When She Dropped "Black Parade"
"Black Parade" dropped on Juneteenth (June 19) and every line is an ode to the culture. With Black Lives Matter protests abound in respond to poilce brutality and a pandemic literally killing at rapid numbers, this track was necessary. So, when she says this verse, we really felt it:
"Hold my hands, we gon' pray together
Lay down, face down in the gravel
We wearin' all attire white to the funeral
Black love, we gon' stay together"
Featured image by Giphy.