Only Beyonce Giselle Knowles-Carter has the power to make it feel like Christmas in April. Today, Queen Bey dropped her Netflix doc, Homecoming: A Film By Beyonce, which is a documentary based on her history-making Coachella performance and it has the internet in shambles.
The doc was written, produced, and directed by Beyonce and has us all wondering, is there anything this woman can't do?
---
It's also so wild to think she did all of this while probably also working on Everything is Love and conceptualizin… https://t.co/bEkP6SBJT7

— Brittany Luse (@Brittany Luse)1555514322.0
Last year, Beychella (the only 'chella we acknowledge) was the family reunion we didn't know we needed, and now, thanks to the popular streaming service, we can get an inside look at what it took to make it happen. As the first black woman to headline Coachella, Beyonce has broken the glass ceiling with her patent leather stiletto boots and proven that there is true beauty in coming from a painful past.

If you no longer have your ex's Netflix password or just haven't had a chance to check it out yet, here's what you missed:
This Documentary Was Black AF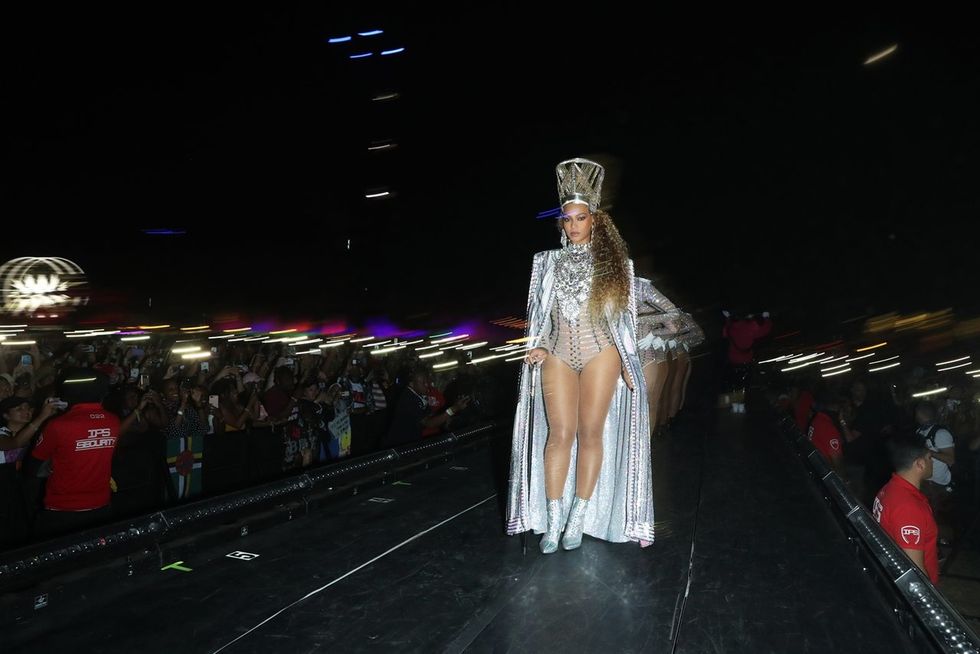 Beychella was the blackest thing that's ever happened to Indio, California and we are here for it. From her tribute to Caribbean culture and singing the Negro National Anthem, to engaging the audience in a crowd-wide swag surf, Beyonce showed love to black culture in a major way. Beyonce picked each dancer personally and said in the documentary that it was extremely important for her to give representation to people of color who have ever felt rejected based on how they look.
"My college was Destiny's Child. Instead of me pulling out my flower crown, it was more important that I brought our culture to Coachella. Creating something that will live beyond me — that will make people feel open and like they're watching magic, like they're living in a time that's super special, a day that they will never relive. That's what I want."
According to Beyonce, she always wanted to go to an HBCU but since her chaotic entertainment career started at such an early age, she was never given the opportunity. Centered on a fictional sorority, her two-weekend performance was her own version of Homecoming and celebrated historically black colleges and universities everywhere. Black excellence was truly epitomized. And there was so. Much. Swag. Bey said:
"I wanted a black orchestra. I wanted the steppers. I needed the vocalists. I wanted different characters. I didn't want us all doing the same thing. And the amount of swag is just limitless. Like, the things that these young people can do with their bodies and the music they can play, and the drum rolls, and the haircuts and the bodies and the … it's just not right. It's just so much damn swag."
Homecoming proves that we celebrate black history every damn day, we don't need a month.
Surprise! Issa album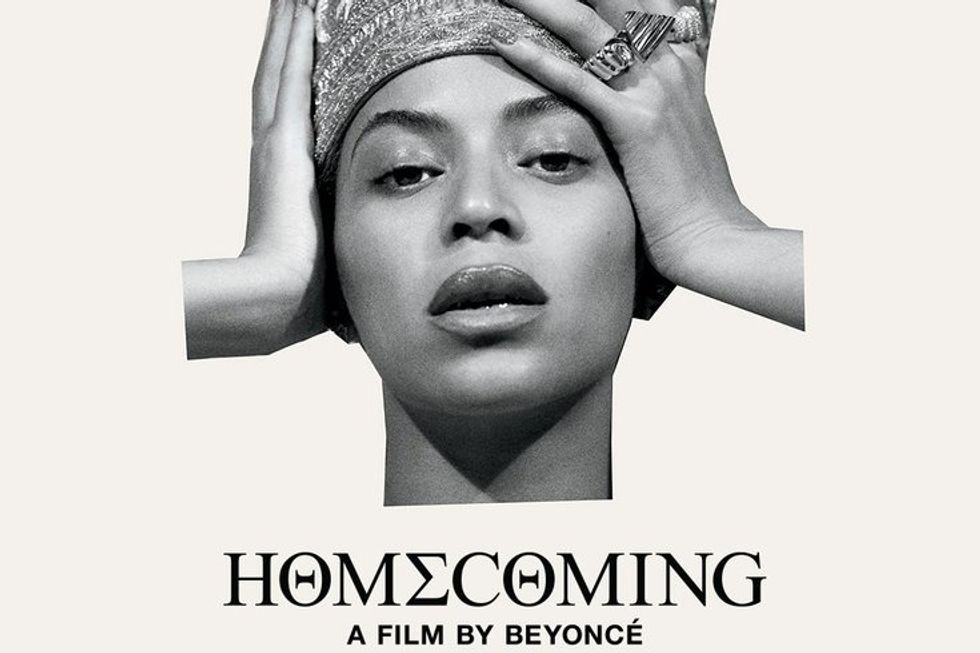 www.beyonce.com
Although you can normally only catch Bey's latest drops on Jay-Z's streaming service, Tidal, in honor of Bey's new documentary, a surprise album just appeared on ALL platforms featuring a live performance tracks of all the songs at Beychella and a few extra (which adds up to 40) because she's lit like that.
If you haven't yet, make your way over to your streaming service of choice and check out Bey's New Orleans-infused version of Frankie Beverly's classic cookout hit, "Before I Let You Go".
It Was A Family Affair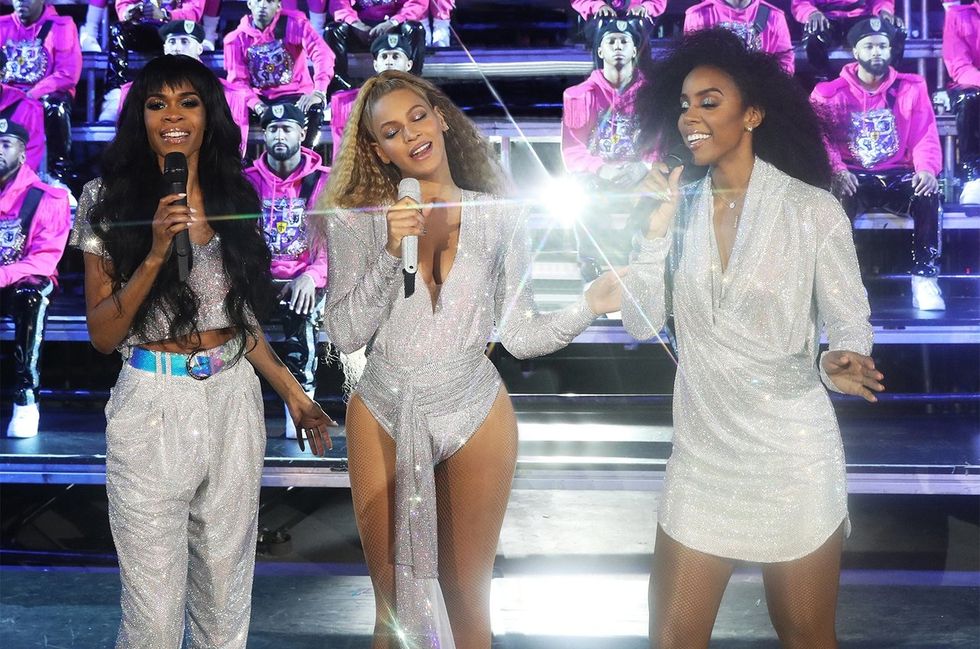 The Carter kids made a few of their own cameos in Bey's new doc, including a scene where Blue Ivy joins her mom's rehearsal in true diva fashion. In the past, Bey and Jay have been very cautious about keeping their children out of the public eye; luckily, Homecoming was a rare, but adorable exception.
Along with Carter Royalty, we get to see Jay and Bey as crazy in love as they were in 2003 as well as the rest of Bey's tribe offer some major support on stage. It was Beyonce's goal to make every single person at the festival feel like family, and that chemistry definitely showed up on stage.
"If you know me, you know my family is the biggest priority is my life. My family is my sanctuary, my weakness, and my strength. They're my tribe, and it was important that we all felt like family."
Bey Opens Up About Difficult Pregnancy With Rumi & Sir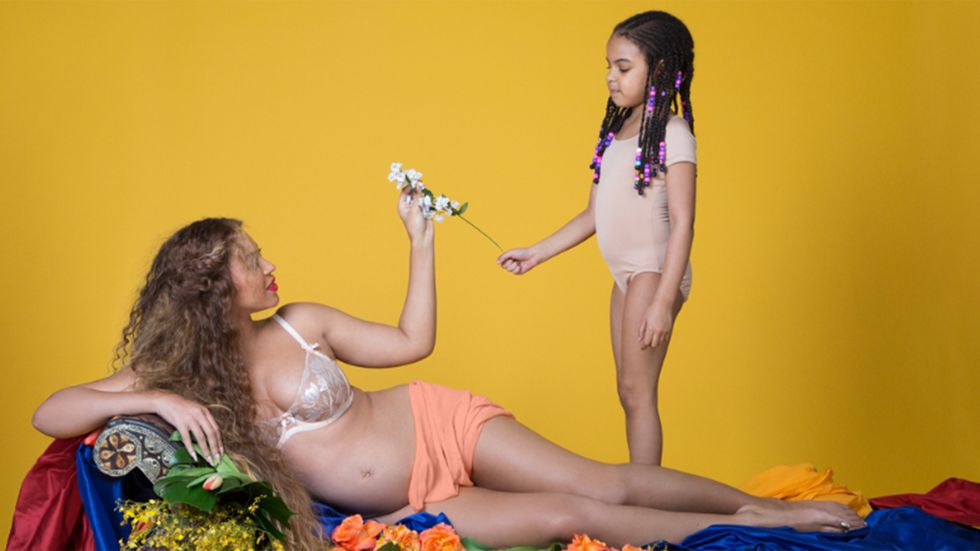 Instagram/@Beyonce
Beyonce makes being a mother of three, wife, and world-renowned superstar look easy, but after watching this documentary, you'll find that the reality is quite the contrary. Beyonce revealed that she was actually supposed to headline Coachella in 2017, but when she discovered her unexpected pregnancy with twins Sir and Rumi, she was forced to change her plans. In the documentary, she shared that her pregnancy with the twins was difficult and changed her body in ways she had never imagined.
Beyonce shared that she was 218 pounds when she gave birth, and there were several causes for panic in the delivery room. Along with developing preeclampsia and high blood pressure, there was a chance that one of the twins wouldn't survive:
"In the womb, one of my babies' hearts paused a few times so I had to get an emergency C-section."
Although Bey's Coachella performance was a major event that she's worked toward her entire life, she revealed that it is a marathon that she will never run again:
"What people don't see is the sacrifice. I definitely pushed myself further than I knew I could. And I learned a very valuable lesson. I will never, never push myself that far again."
…And Her Postpartum Journey Wasn't Exactly A Walk In The Park Either
One thing I truly appreciate about Beyonce is her transparency and ability to keep it all the way 100, and in this doc, she's as real as they come. Queen Bey shared that after giving birth to the twins, she realized that her body would never be the same, and at first, that was a tough pill to swallow. In the days leading up to the history-making performance, the entertainer said:
"In order for me to meet my goals, I'm limiting myself to no bread, no carbs, no sugar, no dairy, no meat, no fish, no alcohol … I'm hungry."
Sheesh, I feel you sis. Along with sacrificing time with her family and her kids, Beyonce shared that she also was forced to sacrifice some of her sanity. She explained:
"A lot of the choreography is not technical, it's about feeling. And that's hard when you don't feel like yourself. I had to rebuild my body from cut muscles. It took me awhile to feel confident enough to freak it and give it my own personality. In the beginning it was so many muscle spasms. Just, internally, my body was not connected. My body was not there. My mind wanted to be with my children. What people don't see is the sacrifice. I would dance and go off to the trailer and breastfeed the babies. And the days I could, I would bring the children."
Bey sacrificed a grueling eight months as a new mom for a performance that would go down in history. Although we've seen other biopics and documentaries about the side-effects of stardom, none have ever told a story of motherhood and self-discovery in the way that Homecoming has. Which brings me to my next point...
Beyonce Is The Boss We All Aspire To Be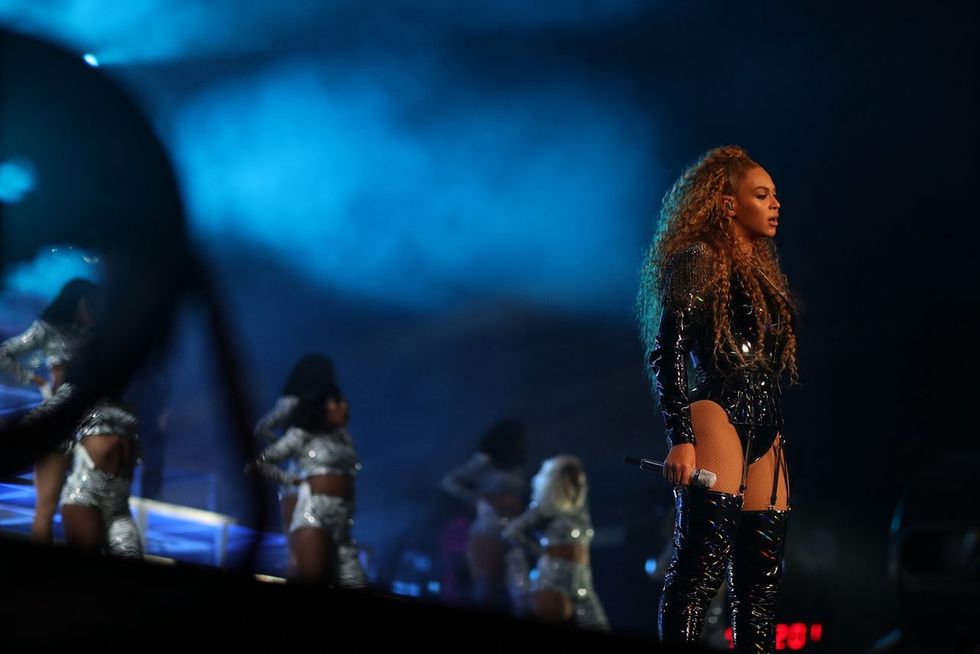 Is it just me, or does watching Beyonce work make you want to make you work even harder? Queen Bey has proven time and time again that she's not bossy, she's the MF boss, and this fact is apparent all up and through this documentary.
Beyonce shared that she personally selected every element of her historical performance, and despite her postpartum fatigue, she powered through eight months of rigorous rehearsals to perfect a moment in time that she hopes will transcend generations.
"I respect things that take work. I respect things that are built from the ground up. I'm super specific about every detail. I personally selected each dancer, every light, the material on the steps, the height of the pyramid, the shape of the pyramid. Every patch was hand-sewn. Every tiny detail had an intention."
I once heard my pastor say that the harvest is not to be consumed by the tree, meaning that the fruits of your labor aren't only for you to enjoy. When you sew a seed, like Beyonce has by giving people of color a platform to display their beauty and talents on a worldwide platform, you can't help but flourish, sis. Bey said that it's her hope that her work inspires others to do the same.
"As a black woman, I used to feel like the world wanted me to stay in my little box. And black woman often feel underestimated. I wanted us to be proud of not only the show, but the process. Proud of the struggle. Thankful for the beauty that comes with a painful history and rejoice in the pain. Rejoice in the imperfections and the wrongs that are so damn right. I wanted everyone to feel thankful for their curves, their sass, their honesty – thankful for their freedom. It was no rules and we were able to create a free, safe space where none of us were marginalized."
In the words of the H-Town Queen herself:
"If my country ass can do it, they can do it."
Queen Bey is a true reminder that true success isn't just about personal gain, it's about putting others on, too.
Featured image by NETFLIX / PARKWOOD ENTERTAINMENT