Whenever you witness a Beyonce concert – whether live or virtually – you will almost certainly GET YOUR LIFE! Her latest Cochella performance – which has now been appropriately renamed as "Beychella" – was no exception.
---
The iconic Slayonce wowed festival-goers and live streamers alike as the first black woman to ever headline the nearly two-decade run of the Coachella Valley Music and Arts Festival. Queen Bey reportedly had 11-hour rehearsals leading up to the big event and it definitely showed in the flawless execution that the singer gave during the two hour HBeyCU-inspired performance where all of us pledged BDK with pride.
I wish you could've seen me rushing to my computer to see what was easily one of THE best performances I've ever witnessed…and I've been to A LOT of Beyonce concerts. #Beyhive
Prior to watching the performance, little did I know that I was going to receive a good word at church that morning, followed by another encouraging and uplifting message from the "Queen" herself. May you be inspired by a snippet of what I believe were some of the major life lessons from Beychella.
1. Black girl magic isn't a fairytale, it's a reality.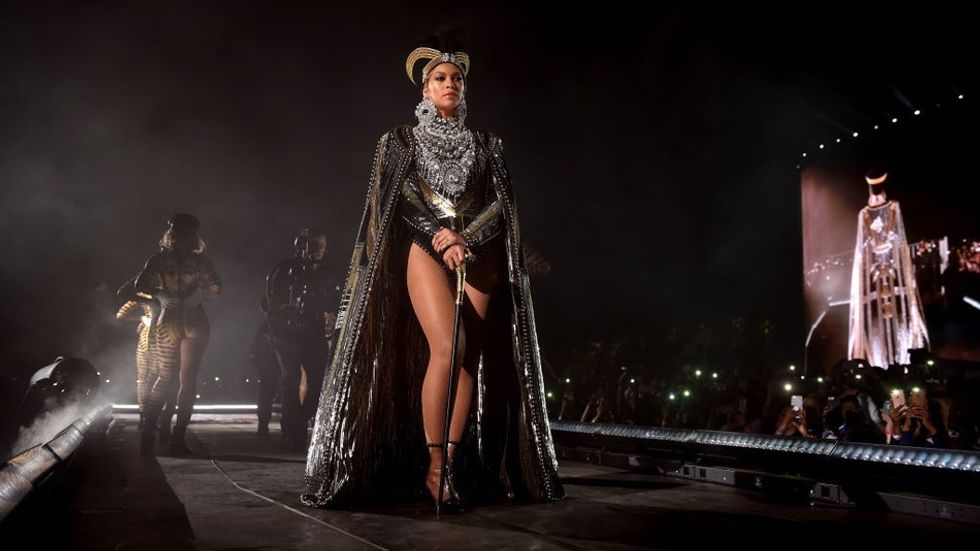 Getty Images
The mere fact that Beyonce was the first African-American woman to headline Coachella was wonderful enough, but she took it a step further (figuratively speaking) when she played aloud a snippet from Malcolm X:
"The most disrespected woman in America, is the black woman. The most unprotected person in America is the black woman. The most neglected person in America, is the black woman."
In a society where often times white is celebrated and black is condemned, and then on a platform where the audience was primarily white, Beyoncé used the Coachella stage to celebrate every black woman in the world. She put everyone on notice and let everyone know that black women matter; we are smart, we are powerful, we are talented, and we are everything that some people think we are not. We are as valuable as every other human being on this Earth. It was a testament to the fact that when other people underestimate us, God upgrades us.
2. Embrace who you are and where you are.
I used to be so scared of my "thirties" because I did not want to let go of my twenties. Being that I'm the same age as Beyonce and after seeing her do what she did, I'm even more encouraged to accept who I am and where I am at this present moment.

For instance, remember when Beyonce used to do the back bend to "Deja Vu" and when she used to squat all the way down on certain songs like "Get Me Bodied"? This time around, I noticed she didn't execute these dances all the same, but she STILL brought it (performed her tail off). She was basically like, "I'm grown. I've had three children, and I'm not about to bend all the way down and I'm going to use this bench to twerk on." I was here for all of it, because the same is true for me and many of us – I can't do it like I used to…and that's okay.
3. One woman's healing can be a part of another woman's healing.
I think it's pretty obvious that Beyoncé has had some life challenges as it relates to having children, career-related changes (early on), and more recently, her highly publicized marriage. Even if we weren't paying attention to news or the blogs, we could hear it in her songs, we saw it in her videos, and more importantly, we felt it in our hearts because at some point or another we have been where she's been.

Her performance was proof that you can turn your pain into power, and you can bounce back despite what you may have gone through.
There was a moment when she was sitting on one of the bleachers and there were ladies to the left and right side of her laying their heads on one another. For me, it was a reminder that we carry each others' burdens, but we also carry the healing and power that comes with it. That's why Beyoncé can sing a song, I can write a book, or women can recite a speech and touch so many women across the world. It's not because our lives are exactly the same. Instead, it's because we can relate to each other. It is my hope that we can be more open to women and their stories, and allow their experiences to help encourage and inspire us along our respective journeys.
4. You can find love without losing yourself.
In other words, your life doesn't have to end just because you fall in love, get married, or have children. I think we can all admit that Beyonce probably has a lot more help than most of us everyday women. Nevertheless, she has found a way – in between being a global superstar, wife, mother, daughter, sister, humanitarian (amongst other things) – to still live her life.

Yes, she is a wife, but she is also a boss and clearly she still makes time for her loved ones and friends. She is still committed to pursuing her passion and it doesn't look like she's close to giving that up anytime soon.
5. There is room for everyone to shine.
I love the quote that says, "A candle doesn't lose its light by lighting another candle." When you're aware of what God has called you to do and when you know He has created a path specifically for you, then you don't have to cut down another woman and it makes it that much easier to stay in your lane.

A woman who is confident enough with herself is able to acknowledge the confidence and beauty of another.
Beyonce had no problem giving so many different people their time to shine. From the Destiny's Child reunion, Solange's appearance, the Les Twins, her dancers, the choir, her background singers, the guest dancers, her band, the marching band, and everyone in between – she made it so that everyone felt a part of HER show. She knew this was a HUGE moment for her at Coachella, but it was obvious that she wanted so many others to be a part of this special night.
As my dear sister Andromeda (founder of Women by Choice) likes to say, "When women support women, we all win." Beyonce is winning because she genuinely wants her squad and all of those around her to win. Ask yourself, "when is the last time I encouraged or allowed another woman to shine?"
6. Pursue your passions persistently even when life throws you a curve ball.
We can plan all day for stuff, but life has a way of throwing some unexpected detours at us along our journey. However, when the unexpected happens, keep moving forward anyway.

During the show, Beyonce was performing and being the phenomenal superstar that she is, but towards the end, I noticed she started having issues with her wardrobe. Beyonce had given it all she got that her wardrobe was starting to fall off of her. Nevertheless, and in good ol' Beyonce fashion, she kept it moving and didn't miss a beat. She made adjustments, but she didn't let that stop the show. Not to mention the fact that although she planned to perform last year, she embraced the natural and blessed interruption that was her pregnancy. She used that time to dream up and develop what was ultimately one of the greatest, if not THE greatest shows of all time.
Don't allow disruptions to deter you from your destination.
What were some of your favorite moments from Beychella? Feel free to comment below.
*Article originally published on Shonda Brown White
Featured image by Giphy