---
Remember those midday naps we were called away from playtime for when we were kids? I hated them. It seemed like they lasted forever and we spent more time pretending to be asleep, waiting for the moment to be told we could get up - fake yawning and returning to play - than we did actually resting. Now incorporating a nap into my daily routine is essential. I even schedule naps into my Google Calendar when necessary. I take my lunch break and will walk my tail out to my car and close my eyes for 15 minutes.
With all the conversations about self-care, I recognize that we often leave out the simplest and most important forms of self-care in favor of the fancier, pop cultural fads. Getting the daily rest we need is one of the best self-care tenants we can live by. As women on the rise, we've got people to see, things to do, and places to be and we need to be at our brightest, quickest, and most alert to make the moves we're here for. We need to rejuvenate on the regular. Adequate naps help tremendously with that.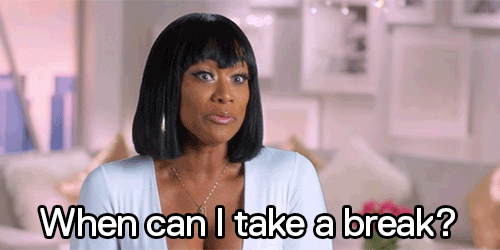 media.giphy.com
My girlfriends and I agree: We regret the naps we goofed our way through as kids and will dare anybody to disturb the few we get now. It's hard enough trying to adult and get enough rest but when you throw in the curveball of how to get adequate rest, it can all become a bit trickier.

You might think, "Well, don't you just close your eyes and drift to sleep?" Not necessarily. Consistent studies show that there are proven ways to ensure you're napping to the best of your ability and getting the most out of each nap you take. I've taken the liberty of pulling some of the best tips to getting the best abbreviated shut-eye:

What ways can you begin to be more mindful and proactive about getting more rest? Let us know in the comments!
Featured image by Getty Images.
Related Articles:
7 Things Successful Women Do Differently Before Bed - Read More
"Team No Sleep" Is A Ridiculous Concept - Read More
Why I Refuse to Take My Phone To Bed - Read More