Say that you were to unofficially poll all of the couples who are either married or living together about the current state of their sex life. When it comes to the ones who might say that things are currently less-than-stellar, if you asked them why that was the case, I would be close-to-floored if a roaring majority of them didn't say that it had something to do with how tired they are.
Y'all, the reason why I've written articles for this platform like "The Self-Care Bedtime Routine Every Single Woman Needs", "Yes. Married Couples Should Definitely Have A Nighttime Routine." and "These Sleep Hacks Will Make Getting A Good Night's Rest So Much Easier" is because there is no way around the fact that reportedly 50-70 million people in America aren't getting adequate rest which is highly problematic on a myriad of levels. Sleep deprivation can cause mood swings; effect concentration and performance; trigger anxiety and depression; weaken your immunity; throw your hormones off balance; reduce your metabolism; increase your chances of being diagnosed with diabetes or having a stroke or heart attack; age your skin; cause you to gain weight and, as it specifically relates to this particular article, tank your libido. What's really a trip is this is just 10 of the many reasons why getting less than 6-8 hours a sleep on a regular basis is so not good for you.
Today, though, in the hopes of motivating more long-term couples to "get it in" more often, let's look at the very intimate relationship that sex and sleep have with one another. I'll do so by hitting six reasons — three points a piece for each— why they really do work hand in hand with one another.
1. SEX Stimulates Sleep-Inducing Hormones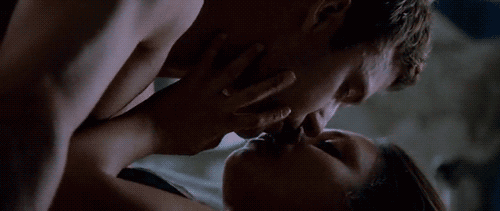 I know a lot of women who get irritated if/when their partner falls asleep right after sex. If you're one of them, don't be mad at the guy — that's the way he was created. The reality is that once men ejaculate, they release a combination of chemicals and hormones — norepinephrine, serotonin, oxytocin, vasopressin, nitric oxide and prolactin. Not only do all of them help him to feel calmer but prolactin levels actually increase during sleep, period.
Besides, don't act like you don't have moments when you want to catch some immediate zzz's as well which makes total sense because sex can raise your estrogen levels which makes REM sleep so much better as well. Not only that but sex also decreases the stress hormone cortisol in the body too. If you put all of this together…if you've been having a hard time getting to sleep lately, when's the last time you had some sex? It can definitely beat any sleeping pill on the market. Hmph. If you disagree, I've got some serious questions for you.
2. SLEEP Balances Your Hormones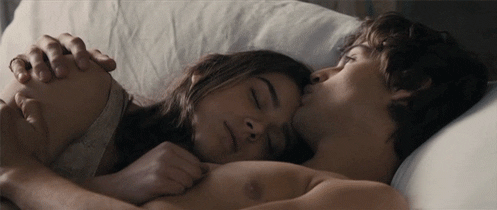 Have you ever wondered why, when you're PMS'ing or on your period, if you're pregnant or if you're going through menopause, you either can't seem to fall asleep to save your life or you can't seem to get enough sleep even if you've slept for hours on end? Usually, the underlying cause is that your hormones have either spiked up or severely dropped which has put your system into a bit of a tailspin. And here's the thing — when your hormones are off, your libido oftentimes is too. Interestingly enough, many times the remedy for both issues is to get more sleep. One of the main reasons why is sleep helps to regulate your cortisol levels so that your hormones can level out. And when your hormones are good, your energy and interest in sex tend to improve, significantly so.
3. SEX Can Physically Make You Look Forward to Going to Sleep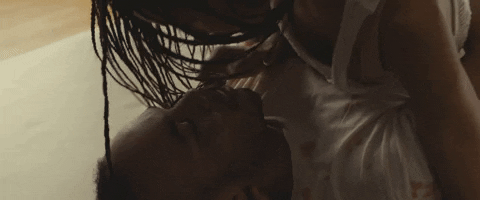 If you're someone who puts off going to sleep because, when your body is still, that's when you experience discomfort that you don't seem to notice otherwise, that's another reason why sex before bedtime can be really good for you. For one thing, did you know that sex is a natural pain reliever? No joke. Whenever you engage in the act, it releases endorphins that can make body aches (especially back-related ones) so much easier to bear. Also, if you're someone who constantly has your sleep disrupted because you've got to pee during all of hours of the night, sex is an act that helps to strengthen your pelvic floor so that incontinence is less of an issue. Something else to keep in mind is there are studies that link a lack of sleep to high blood pressure and guess what? Having sex can help to decrease your blood pressure; that's because oxytocin reduces stress and the less internal stress you've got going on, the greater chance your blood pressure will remain at a healthy level.
4. SLEEP Rejuvenates So That Your Libido Stays Intact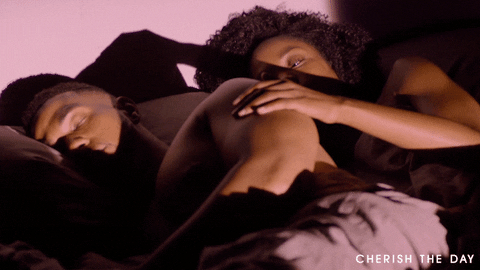 Ah, the layers right here, boy. Let's go with men first. If you're all about having more sex and sleep but the problem is your partner struggles a bit with erectile dysfunction, a fascinating thing that sleep also does is help his system to produce more testosterone so that he's in the mood to have more sex and is physically more capable of getting and maintaining an erection.
As far as we're concerned, because sleep not only helps to balance out our hormones, it can also give us a lot more energy and make having orgasms easier to experience, sleep is also a healthy and proven way to boost/maintain our libido. In fact, I read that one study that said just one additional hour of sleep can increase a woman's chance of wanting to have sex the next day by as much as 14 percent. Hmph. As if you needed another reason to take a nap, right?
5. SEX Bonds You to Your Partner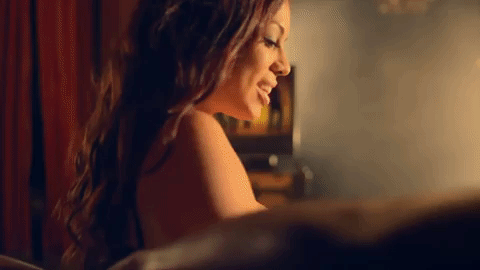 A couple of years ago, I wrote an article for the platform entitled, "We Should Really Rethink The Term 'Casual Sex'". The gist of it was, even if you believe that you can have sex with someone and not mentally or emotionally bond to them, there's no way around the fact that you do end up physically connecting on some level. That's because oxytocin — the hormone that has the nicknaming "the love hormone" — levels increase during the act of sex. And when you feel closer to someone after copulation, that can make you feel safer and stress-free. So much that you may be all about curling up under them and falling asleep — if not for the entire night, at least for a couple of hard-snore-filled hours. Ain't nothin' like sleep after sex. Absolutely nothing, chile.
6. SLEEP Bonds You to Your Partner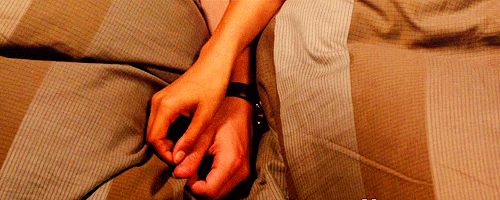 Is there anything better than spooning after a great sex session? It's hard for me to think of too many things that top it. And here's the thing — once you receive the oxytocin high that chemically bonds you to your partner, you can then get another "dose" of it by cuddling up to them as you fall asleep too (check out "Fall's Coming: 8 Wonderful Health Benefits Of Cuddling"). Not only does the oxytocin help you to get to sleep, it can also assist you in falling asleep more soundly so that you can wake up the next day in a better mood and, quite possibly, desirous of even more sex. Perhaps even some morning sex (check out "Here's How To Make Morning Sex...Sexier"). Yeah, funny how all of this works, full circle. #wink
Join our xoTribe, an exclusive community dedicated to YOU and your stories and all things xoNecole. Be a part of a growing community of women from all over the world who come together to uplift, inspire, and inform each other on all things related to the glow up.
Featured image by Getty Images
Keep reading...
Show less
In xoNecole's Finding Balance, we profile boss women making boss moves in the world and in their respective industries. We talk to them about their business, and most of all, what they do to find balance in their busy lives.
As the summer comes to an end, we must welcome the time for change. Say goodbye to summer and hello to cooler weather! And we know what that means ladies: We have to switch up our fashion trends, how we wear our hair, and even our skincare routines. When it comes to skincare, we as Black queens have to make sure our products are on point for all the seasons. It is crucial for us to protect our blessed and melanated beauty.
You would think with the amount of trends and dollars being put behind beauty brands, that there would be better representation in the medical field to help us understand our skin better from the jump. Unfortunately, Black physicians only make up 5% of the physician population, and if we want to talk about Black dermatologists specifically, well that number is even lower.
Recently, I interviewed Brianna Olamiju, a resident doctor who graduated this past May and is joining that 3% helping to keep all shades of our skin healthy and poppin'. Brianna's interest in medicine began during childhood. She wondered why few doctors looked like her. As a college student, she majored in race and ethnicity studies at Columbia University in New York City and went on to attend medical school at Yale University. Now that she's in a new chapter in her journey, Brianna is focusing on balancing her personal as well as her professional life.
"Before I am a physician, I am a friend, a daughter, and a mentor. While I love being a doctor, those are the titles I cherish the most."
Representation is so important for our community, in all industries. We must receive the best care from our doctors, especially those who look like us. In this installment of Finding Balance, we talked to Brianna about being a Black woman in medicine, setting personal goals, and the importance of your own self-care survival kit.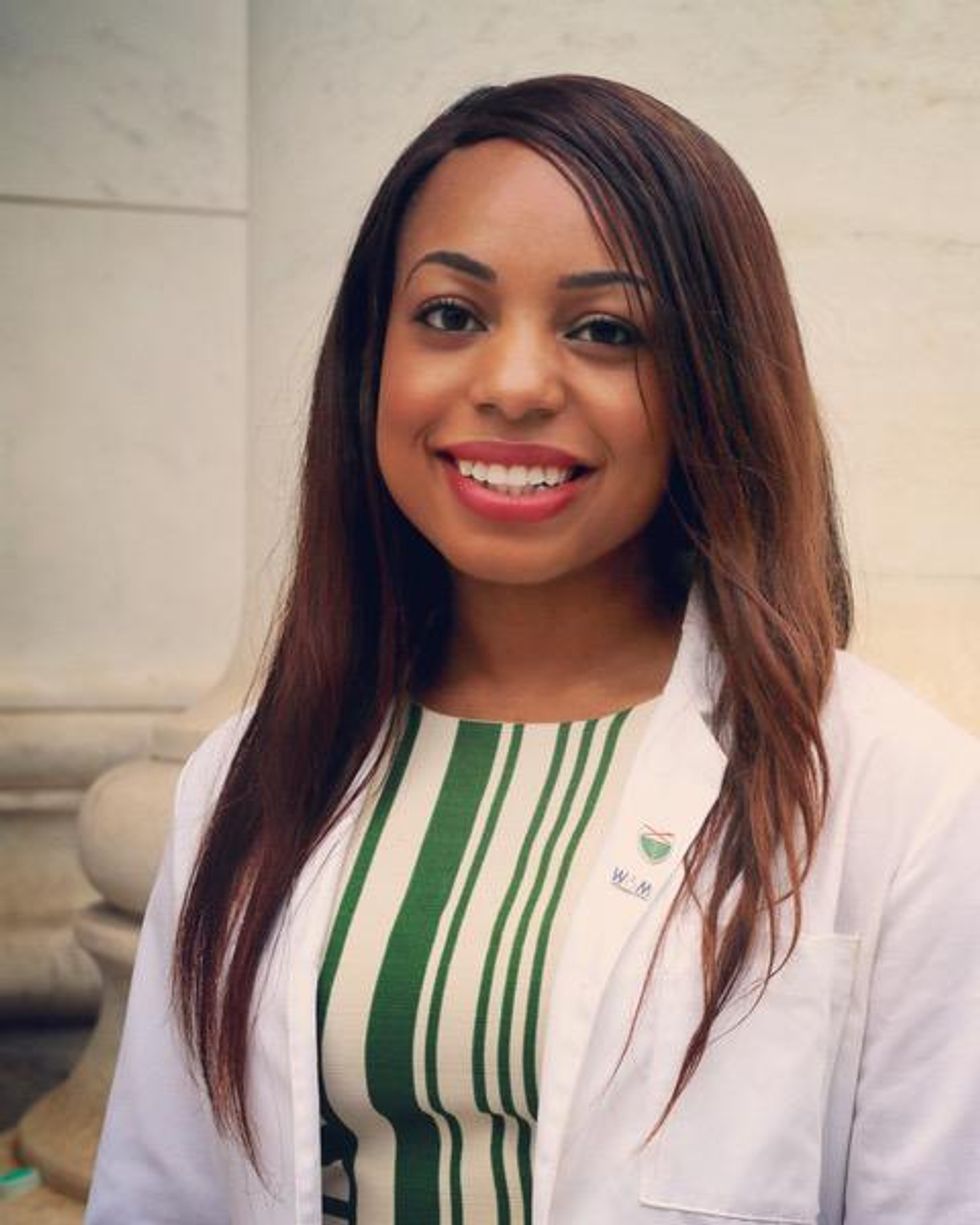 Courtesy of Brianna Olamiju
What is your WHY?
Brianna: Each and every day, I go to work to serve my patients. I know there are a lot of patients in need and I see the joy on some of their faces when I walk in the room and they see a Black doctor. My goal as a Black doctor is to help decrease healthcare disparities. I didn't see a lot of Black doctors growing up, so I aspire to be someone younger girls can look up to if they want to pursue the medical field as well.
At what point in your life did you understand the importance of pressing pause and finding balance in both your personal and professional life?
So, as you can probably guess, medical school is very demanding. There were times where I would question myself about how badly I really wanted this. I remember studying for my first board exam for three months and it would take 8 to 10 hours each day. I would find myself feeling really sad and anxious during that time. Then, I realized I had to take a step back and start taking better care of myself. So I started reconnecting with my family and friends and added working out more into my routine to feel more balanced.
What did a typical week in medical school look like for you?
In medical school, each year is different. In my last year of my medical school, I did a research year, so I was studying dermatological conditions on [minority] patients. I would visit different patients and learn their stories of what they were experiencing. There were also times when I would run data stats to see what treatment options are best for patients to help their skin.
How do you wind down at night?
I usually try to go to a gym class because it gives me the structure that I need. In the gym, I've also been able to find community. The gym has really helped me let go of the day and get ready for the next one.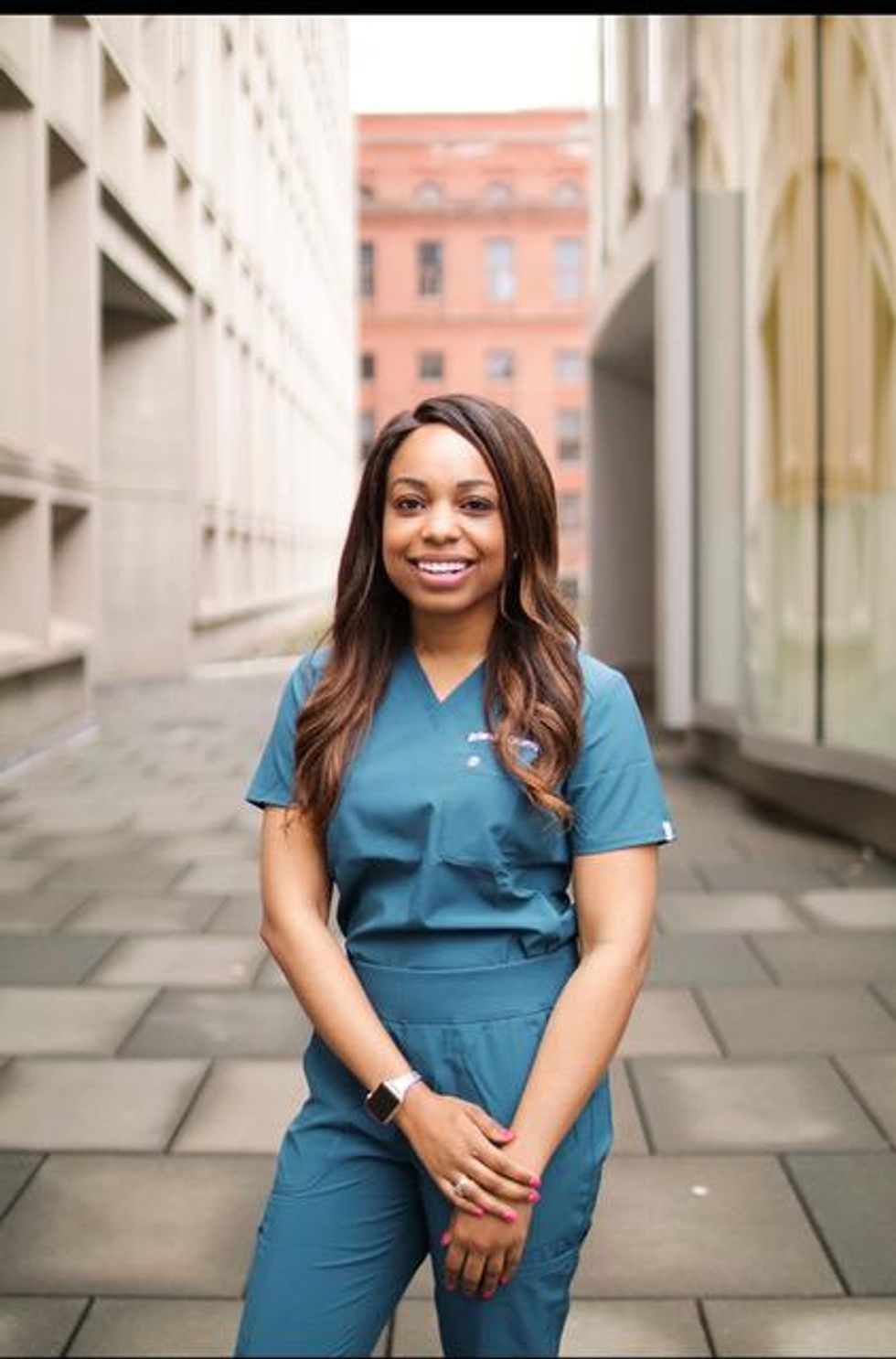 Courtesy of Brianna Olamiju
What advice would you give other Black women who are looking to pursue medical school?
Medical school can be hard for anyone, but [going to] medical school and being a Black woman can make things tougher. You are going to experience microaggressions and it's important to assert yourself to remind people that you belong there. We are needed in the field so you must push through, ignore the naysayers, and remember your why.
What would you say is your favorite self-care practice and why?
After a long busy day, I like to give myself quiet time. I like to reflect on the day and I like to reaffirm myself. Being the only Black woman can really negatively affect your self-confidence so I love meditation and my quiet time. I have so many thoughts swirling in my head all day, so during that quiet time, I am able to process my thoughts better. After being by myself away from the noise, I feel recharged and ready to take on anything.
What advice do you have for busy women who feel like they don't have time for self-care?
To-do lists have been so key for me. Ever since college, I have been using to-do lists to help keep me on track. Checking off something from your list is a really good feeling, too. Another thing that I encourage women to do is to just say "no." While a lot of people want to get a "yes," saying "no" is a form of self-preservation. Saying "yes" all the time to different people can get so draining. So once you learn to say "no," it makes you feel better and it is the best boundary you can create for yourself in order to really prioritize self-care.
"I encourage women to do is to just say 'no.' While a lot of people want to get a 'yes,' saying 'no' is a form of self-preservation. Once you learn to say 'no,' it makes you feel better and it is the best boundary you can create for yourself in order to really prioritize self-care."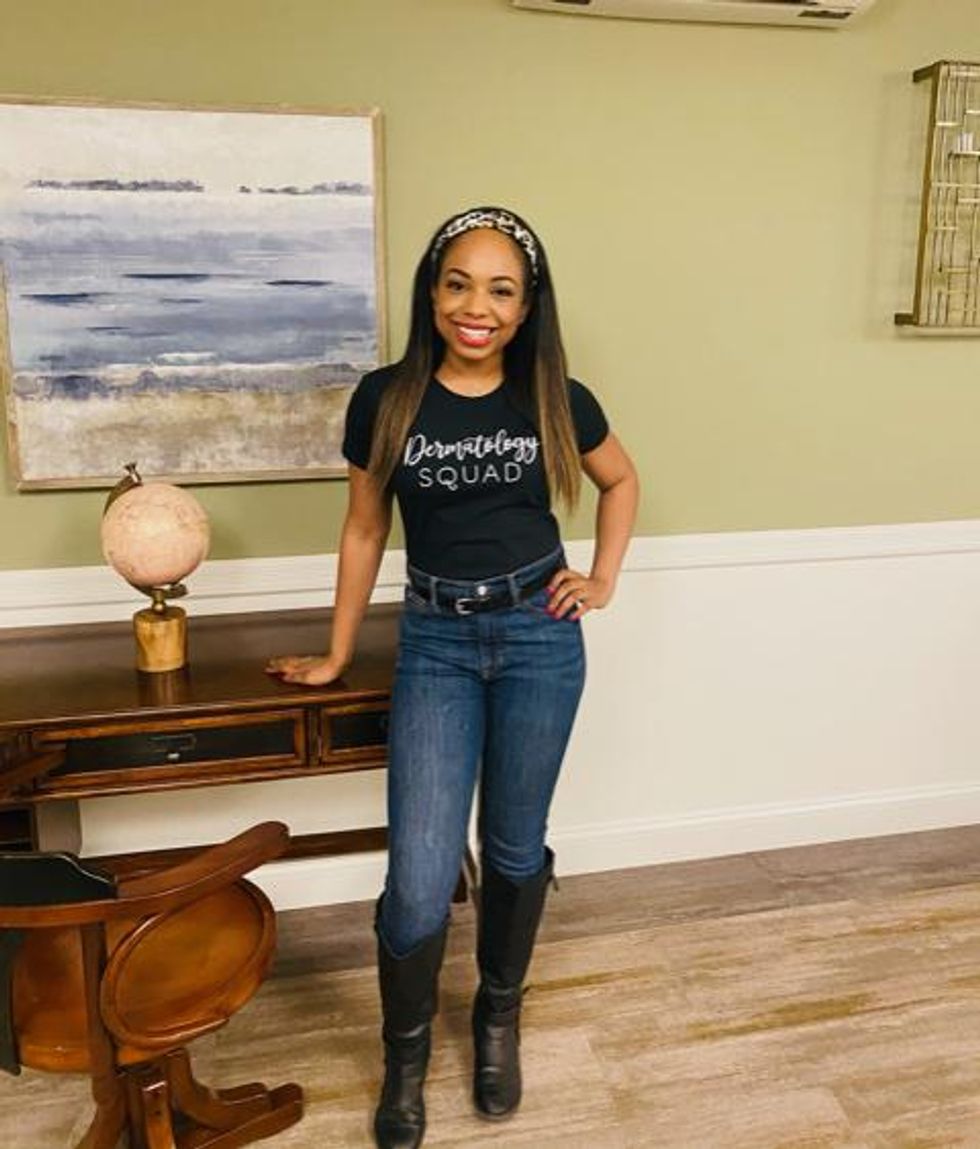 Courtesy of Brianna Olamiju
When you are going through a bout of uncertainty or feeling stuck, how do you handle it?
I usually like to lean in on my people or my family for advice and get their feedback. But more importantly, I pray when I am feeling anxious and focus on calming my mind, whether that is [by] listening to some smooth R&B or meditative sounds.
What are some lessons about unhealthy habits you learned from in medical school that you apply as a full-time dermatologist?
I've learned that less is more. It is better to be involved in a few activities and completely immerse yourself in them rather than being in too many activities and spreading yourself thin. In the beginning, I thought it would look good on my resume to be involved in a lot of things to impress people, but I learned from my mentors that it is better to be deeper in a small number of activities than shallow in many activities. So when trying to balance it all, I'll make sure I have enough on my plate where I still have room to just breathe.
If you could create your own self-survival kit, what would be the top three self-care items you'd list?
On this list would be another list and that is my to-do list (laughs). The next thing on my list would be a reminder to get seven hours of sleep a night. Sleep is everything for me. My third item is my skincare routine. As a dermatologist, you know I have to add that in there, as cheesy as it may sound!
What does success mean to you vs happiness?
I consider success to be building your career and reaching those personal milestones—when you're really making sure you're growing every single day. For happiness, happiness is being at peace with yourself. You feel comfort with yourself, your future, and surrounding yourself with the people you love the most.
For more about Brianna, follow her on Instagram @brianna_med.
Learn more about Brianna by following her on Instagram @brianna_med.

Featured image courtesy of Brianna Olamiju
Keep reading...
Show less
Keke Palmer is easily one of our favorite tell-it-like-it-is celebrities. From her up close and personal revelation of her battle with adult acne to doing it for the culture at the MET Gala to admitting she's "sorry to this man," Keke is known to give it to you straight, no chaser. And it's that commitment to being unapologetic in telling her truth that draws others to her like the light that she is.
But just because Keke has gotten to a place where she is celebratory of her truths (the good and the bad), doesn't mean the booked and busy hustler didn't at one time struggle. By the age of 15, Keke had experienced runaway success after her breakthrough role in the film Akeelah and the Bee, subsequent film and television roles, and a debut album, So Uncool.
And by 2008, Keke was one of the highest paid child stars on TV, earning a cool $20,000 per episode of her hit Nickelodeon show, True Jackson, VP. However, her accomplishments didn't stop her from experiencing trauma, in fact, it exacerbated it. In a conversation with Chromebook for their The Adulthood series, the Virgo Tendencies songstress revealed:
"When I was about 17, things started to get really, really crazy success-wise and it really just switched the dynamics of my family. They didn't really understand the trauma I was going through when it came to being famous. I was thinking about getting emancipated. And I had a conversation with my attorney and he said, 'You know, you don't have to do this. Many people have experienced what you're going through. You just have to set boundaries.'"
Boundaries became a game-changer for the young star who seemed to learn early on what it takes many of us years to understand. Setting boundaries is an act of self-love that serves as a reminder to yourself and those around you that your wants and needs also matter. A lack of boundaries was costing the actress her peace of mind.
"Boundaries are the stepping stone of self-respect and thus teaching other people how to respect and love us. When we don't know our own boundaries, it kind of becomes difficult to blame other people for what they may say or do. When I was a kid, girl, I would just stop talking to people forever. A lot of those people didn't even know what they did. I was actually cutting off a lot of good people do love me and would want to know how to best be there for me."
The 28-year-old also credited self-care practices as a cornerstone to allowing her to arrive in spaces as her best self and being more in tune with who she is on her best day instead of her worst. Through mindfulness, meditation, and stillness, negative self-talk is just one of the things her self-care game has helped her overcome.
"I can say from my experience as a Black American woman, there's a lot of stuff that you have to choose to block out. And that's not you being passive, that's you paying attention to the goal. It's important to add practices in your life to help refuel you. Mindfulness, meditation -- it allows the space for you to be objective to your own thoughts..."
"When I'm active in my practices, I'm able to catch myself much more quickly when I start to do bad self-talk. And when we're sometimes dealing with so many things in the world, we don't even realize all we need is a bit of stillness to help balance us back out."
Watch Keke Palmer talk about boundaries and the importance of self-care below: 
Featured image by Taylor Hill/WireImage
Keep reading...
Show less
The concept of going to therapy has now been made mainstream as all things mental health matters have been brought to the forefront. While prioritizing our mental health is something this panorama and 2020 overall has emphasized is of the utmost importance, enforcing boundaries and amplifying self-preservation is still something seen as a radical act of self-love among Black women. And it's because so many of us are still unlearning hard lessons of toxic strength and resilience that brainwashed us into believing we have to have our capes on at all times.
We are so used to being all things to all people, we often forget ourselves, so the Naomi Osakas and Simone Bileses of the world doing their part to emit a battle cry of "no" in lieu of placing themselves first has been yet another thing to add to the list of things "we love to see" for the culture. In her recent cover story with British Vogue, Zendaya added her voice to the growing mental health conversation by revealing why she is such an advocate for therapy.
Despite the undoubtable M's in her bank account and her award-winning projects on deck, the Hollywood starlet had trouble navigating uncertain times as shakily as a lot of us did outchea last year. She described what she went through emotionally as a "kind of taste of sadness where you wake up and you just feel bad all day, like what the f**k is going on? What is this dark cloud that's hovering over me and I don't know how to get rid of it, you know?"
After encountering one of her most difficult years to-date, Zendaya decided to look to therapy to help pull her out of her dark moments. She explained to British Vogue:
"Yeah, of course I go to therapy. I mean, if anybody is able to possess the financial means to go to therapy, I would recommend they do that. I think it's a beautiful thing. You know, there's nothing wrong with working on yourself and dealing with those things with someone who can help you, someone who can talk to you, who's not your mom or whatever. Who has no bias."
Zendaya is not alone in expressing the gratitude for the peace of mind she's experienced since investing in therapy. In fact, here are 9 more celebs on why they are advocates for going to therapy.
Issa Rae
In a 2019 interview for Fuse's The Read with Kid Fury and Crissle, Issa Rae admitted that she hadn't really considered going to therapy a priority until hearing the stories of the two co-hosts and how they've done the work. She also noted that watching her mother and grandmother as Black women carry around burdens with no one to help them with it served as another reminder to invest in therapy as an act of self-care.
"...I think the first time I finally made the time to go was just last year. I did three little sessions and I fucked with it. But it is important to not necessarily go because you think something's wrong, but you should if you're in an industry like this, prioritize it because nobody else will. And that's what I've learned just throughout my journey here."
Taraji P. Henson
Taraji P. Henson has been doing the work and paying it forward through her work with her foundation, Boris Lawrence Henson Foundation. Per The Jasmine Brand in 2019, Taraji P. Henson revealed:
"I suffer from depression. My anxiety is kicking up even more every day, and I've never really dealt with anxiety like that. It's something new… It [fame] was fun at first, but the older I get, the more private I want to be. I think there's a misconception with people in the limelight that we have it all together, and because we have money now and are living out our dreams, everything is fine. That's not the case. When they yell 'Cut' and 'That's a wrap,' I go home to very serious problems. I'm still a real human."
In regards to investing in therapy, she went on to say:
"You can talk to your friends, but you need a professional who can give you exercises. So that when you're on the ledge, you have things to say to yourself that will get you off that ledge and past your weakest moments."
Janelle Monae
Janelle Monae is another entertainer who has made it no secret that she looks at going to therapy as a vital part of her self-care regimen.
"When I first started getting a check, I went to therapy. Therapy is important. And being a Black woman that was not something that was pushed in my community, it was always 'pray about it, God will take care of it'. I believe in a higher power but I also believe that that higher power gives you people on Earth to help walk you through some of your darkest times and help you cope and deal."
Gabrielle Union
"You need to find a way to talk about the darkest parts of your life. I've been in therapy for the last 25 years. Whatever path you need to take to heal, it's the best one."
Big Sean
A couple of years ago, rapper Big Sean got real about the "why" behind him taking a year-long hiatus to take care of his mental health. Shortly thereafter, he became more candid about his experience with anxiety and depression and how therapy ultimately helped him gain clarity.
"I just felt lost. You know what I'm saying? I didn't know how I got there. I've been meditating since I was 17 years old. You know, that helps with anxiety, depression all those things. All those things that I felt. But it wasn't doing it all the way for this, so I knew that this required some special attention.
"So what I did was, I started therapy. I got a good therapist. You know what I'm saying? I was blessed enough to talk to some super-spiritual people. And they made me realize one thing that I was missing in my life, and that was clarity."
Keke Palmer
Keke Palmer is another young celebrity that has been candid about her bouts with anxiety and depression throughout the years. She opened up to Cosmopolitan about being in therapy for years as a means to cope with her mental health issues:
"Being able to say how I feel, that was something that was so hard for me for so long. If you grow up in the industry, it forces you to be agreeable at all times. When it came to saying 'I'm tired and I want to figure out how to balance my life better,' 'I feel lonely, 'I'm afraid of my stardom' — those things I could not say."

Kelly Rowland
In a 2018 chat with Oprah Daily about mental health, Kelly Rowland opened up about what inspired her to go to therapy:
"I realized I didn't want to try to figure things out by myself. I can try as much as I can, but doing it all myself, I'd end up driving myself insane circling the same situation and same problem over and over again."

She continued:
"Sometimes people feel like faith and praying...and don't get me wrong, I have faith and I pray and I do believe I'll get through things with that also. But I like to talk to somebody who has the insight of psychology, too. There are other connectors. It's important that we understand that as well."
Halle Berry
"I've done therapy on an as-needed basis since I was probably 10 years old. My father was an alcoholic and a very abusive one, and my mother knew the value of providing me with the outlet of an unbiased person to talk to. So I've done that all my life when times get stressful. It really helps me deal with stuff."
Kerry Washington
"Therapy helped me realize that maybe it's OK for me to communicate my feelings. Instead of literally stuffing them down with food, maybe it's okay for me to express myself.
"I say that publicly because I think it's really important to take the stigma away from mental health. My brain and my heart are really important to me. I don't know why I wouldn't seek help to have those things be as healthy as my teeth. I go to the dentist. So why wouldn't I go to a shrink?"
Featured image by Elisabetta A. Villa/Getty Images
Keep reading...
Show less
The last year and a half has been the most challenging and bittersweet experience to go through for many people globally. Nothing feels the same since the pandemic hit, losing loved ones, sacred romantic relationships falling apart, excessive jobs loss, employment uncertainty, and coping with the ongoing mental health crisis. It's all just been extremely overwhelming, to say the least. And I know that human beings are the most adaptable species on Earth but the downpour of complex events to work through all at once feels disheartening.
It may sound a bit odd, but I believe that this season is a pruning season for better yet to come; but before we can access any of it, we have to learn to be present with our emotions and tend to them by focusing on our internal self-care. The lessons we have learned within the last year and a half are going to equip us and generations to come to be more proactive and emotionally prepared to work through trauma because we started seeking the healing generations before us needed.
See some of the mindful activities I've been doing to tend to my emotional and mental health during this season.
Processing Grief During the Pandemic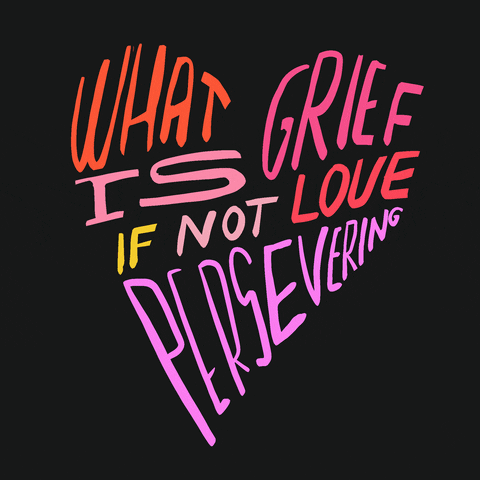 Sticker Love GIF by BrittDoesDesign
Giphy
Grief is one of the most transformative emotions we all experience as human beings. What has my mind in loops regarding grief is that it looks so different on each individual. For some people, it's hard to miss, and on others, it's hard to spot; but we all go through grief one way or another. Most people, inclusive of myself until recently, would often associate grief only with losing a loved one or losing a significant lover or friend. But as I dive further into investigating grief, I'm learning that it's so much more than just losing loved ones – as if that's not enough to work through. For example, the new normal of predominantly working from home for many people is a form of grief as well. I miss getting ready for work daily, doing my hair in cute styles, adding touches of make-up, and my favorite part of it all is reading books during my commute.
So what has this pandemic taught me? Never get too comfortable with anything or any person because it's all temporary.
You can love without attachment, boundaries are necessary for every relationship, and it enables us to figure out more things alone and become more self-sufficient. No one person can be your everything, you need different things from different people, and it's a healthy way to analyze where some people may be a better fit for a job than others in various areas of your life. Also, grief is a tough emotion to work through. Just because you were there with another person who knew that person as deeply as you, it doesn't mean they didn't experience it differently; you need to be open to respecting other people's version of processing grief.
Grief is equivalent to letting go of what was, and I think letting go is needed from time to time; when you are too controlling of anything, it becomes problematic. Release what was and trust that God will equip you with better.
The other option is leaving a situation because you didn't have another choice and finding something better that suits your necessities in that season. Either way, don't be afraid of change; embrace it; your intuition/spirit never lies to you.
Processing Transition During the Pandemic
Change neon light signagePhoto by
Ross Findon
on
Unsplash
Transitioning is such a bittersweet emotion; it's like for beginner swimmers, one foot in the deep end of the pool and one foot in the shallow end. It raises a lot of uncomfortable emotions, inclusive of fear, anxiety, doubt, etc. Being forced to leave jobs or schools because of the pandemic is far from easy, but I promise you learning a new skill or two to adapt will not hurt you; it will strengthen you in more ways than one. Transitioning feels even scarier in these uncertain times because nothing feels set in stone because of Delta and COVID cases going back up.
But in reality, we never had control of anything, we just always assumed we did, and the pandemic made me realize that.
If this season taught us anything, it's to take your time and do the best you can in anything you choose to pursue. Everything will show its true colors over time, whether it was a seasonal run or for the long haul; either way, each experience is supposed to teach you something new, so pay attention to the details. This is what's going to carry you through shaky transitional timeframes in life. You got this. You have autonomy over your life!
Self-Care Tools To Equip You During the Pandemic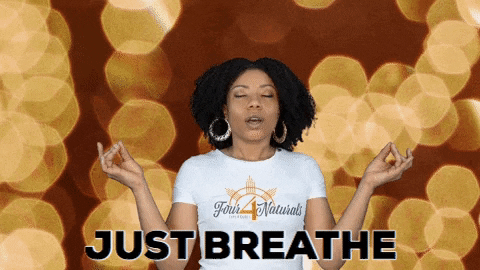 Black Girl Love GIF by Shalita Grant
Giphy
Let me tell y'all, ladies, if you think external self-care is where it's at, then you've been lied to as I have been. Getting your nails, hair, lashes, massage, etc. done is all great in the moment, but internal self-care is for the long run. Being more honest with yourself regarding what you're feeling can initially be very uncomfortable, but the more you do it, the more comfortable you become with exploring your emotions and getting to the root of things.
During this season, my five go-to self-soothing things to do are: journaling freeform or with journal prompts, getting back into therapy, meditation (slowing down the mind is essential to be more present), talking to specific friends to talk through rough patches, and keeping my bible close.
There are also these essential emotional intelligent card games that I've been playing by We're Not Really Strangers, where you can play the card game with a friend, or you can use them as journal prompts to dive further into your self-awareness and healing. Some of the most helpful card games I've been hooked on are their self-awareness kit, the healing edition, the break-up kit, the forgiveness edition, and the self-love edition.
Take your time and be gentle with yourself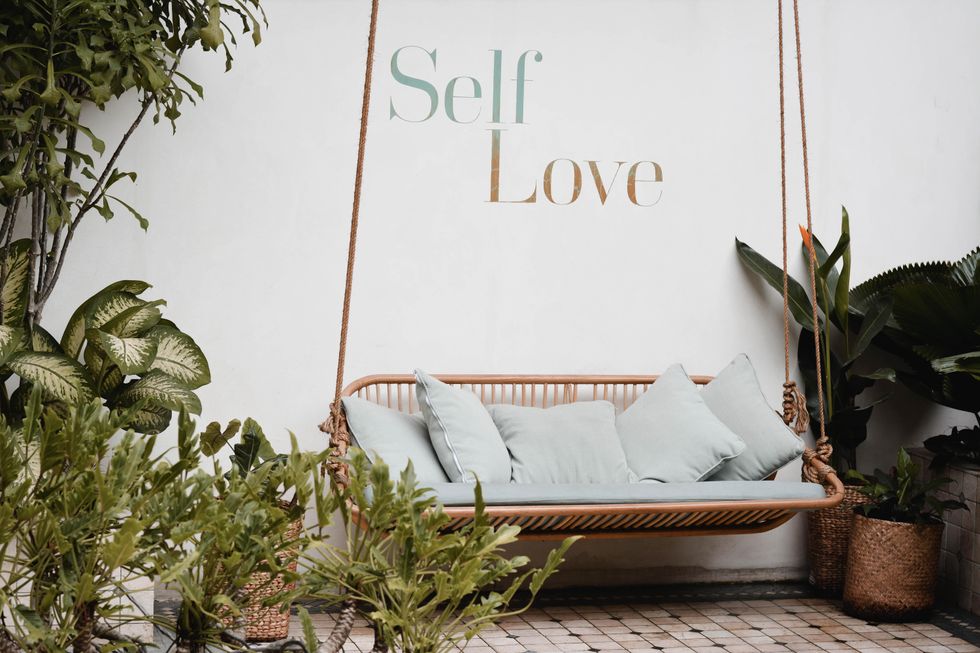 Photo by
Content Pixie
on
Unsplash
Just because a lot of places are opening back up doesn't mean you need to be running to every open door. Take your time and listen to your body; it's asking you to slow down for a reason. Leave space to process your grief, some things are easy to let go of, and others take more time, either way, allow yourself to process these emotions and stop trying to rush yourself to what may look like the next best thing until you deal with what's going on with you now. The right opportunity won't miss you, so don't go running around with that scarcity mindset.
You can and will step into what's for you once you honor what's going on now. Give your mind, body, and soul the empathy you extend to others and heal your wounds.
Featured image by Getty Images
Keep reading...
Show less
Tell me something real quick. Do you have a bedtime routine? I don't mean do you wash your face and brush your teeth before retiring for the night. I'm thinking that, for most of us, that's a given. What I mean is do you treat getting ready for sleep as something special? Because, after all, every time you put your head on your pillow, the next 6-8 (or more) hours are going to help refuel and rejuvenate you for the day that lies ahead.
That's why I personally believe that creating a bedtime routine is a true act of self-care. If you agree but you've never really gotten around to putting an "official" plan together, here are 12 tips that you can either take literally or use as a guideline — things that can make getting ready for bed fun to do and your quality of sleep so much better for you.
1. "Dress Up". For Yourself.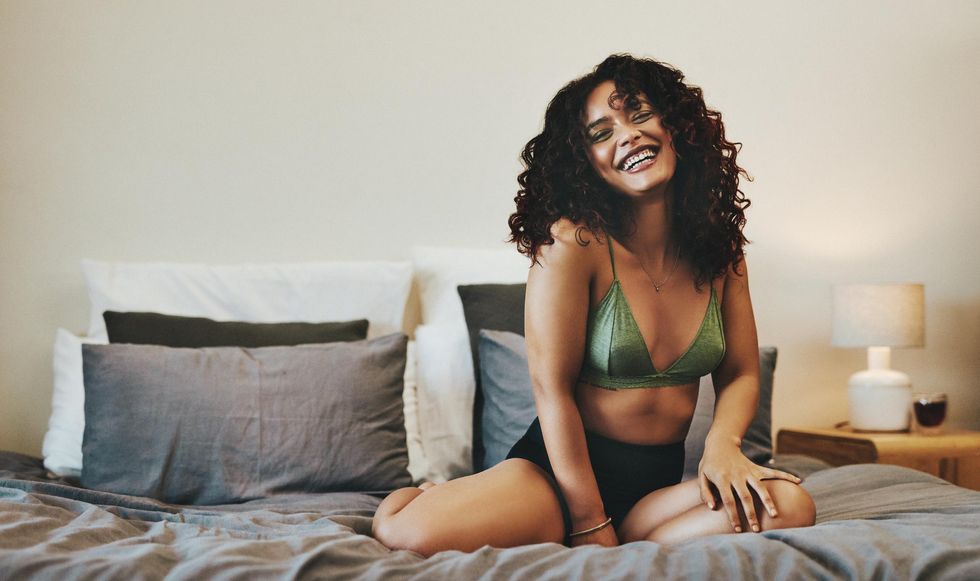 OK, so here's what I mean by this. While it actually is best to go to bed with absolutely nothing on at all (check out "Yes, Sleeping Naked Could Help Your Anxiety & Sleep Pattern"), if, for whatever the reason you're not comfortable doing that, please avoid a ratty T-shirt or pajamas that you've had since you just got out of college. Y'all, if you're doing this sleep thing right, you'll be in your bed for at least 6-8 hours, so why not treat your body to some sleepwear that is cute and comfortable? Just make sure that whatever you go with that it is made out of a breathable fabric (so that your skin can breathe). I mean, you invest in clothes for every other occasion, right? Why should what you will spend one-third of your entire life in look like a hot ass mess? By the way, the blog Shop with Leslie actually has a list of pajamas and loungewear brands that you can purchase from Black-owned companies. You can check it out here.
2. Treat Yourself to a Nighttime Snack
While it's a pretty common rule that you shouldn't eat 2-3 hours before turning in (so that your body can digest your food, so that you can fall and stay asleep easier), I'm pretty sure you know your system and what it can and can't handle around bedtime. If you happen to be someone who craves a bit of a snack, some foods that can actually help you to sleep better include figs (the magnesium in them can calm your nerves and increase your sleep time); sweet potatoes (the potassium, magnesium and calcium in them can relax you — sweet potato fries, anyone?); oatmeal (it's a natural source of melatonin); popcorn (it's a whole grain that has carbs that help to make tryptophan in your system); almonds (they're another good source of melatonin); watermelon (the choline in it will help you to remain asleep); pineapple (the properties in it will help to boost your melatonin levels); yogurt (the properties in it make falling asleep easier to do); salmon (the vitamin D and omega-3 fatty acids in it will increase your serotonin levels), and dark chocolate (it's also loaded with magnesium and we already discussed what it can do).
If you want something to wash all of this down with, some warm oat milk, some tart cherry juice (which is also a good source of melatonin) or some chamomile tea (which is a natural relaxant) will all hit the right spot.
3. Spray Your Pillows with a Sleep-Inducing Essential Oil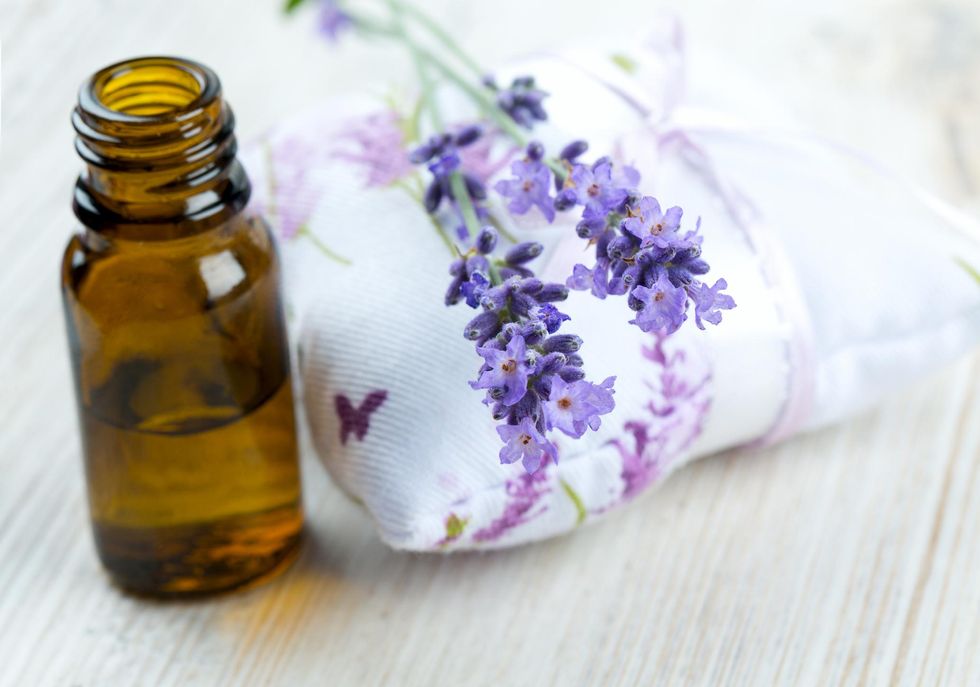 If you're like me and you enjoy lighting a couple of scented candles around bedtime yet you're afraid that you might fall asleep and forget to blow them out, how about spraying your pillows with an essential oil that is proven to help you get a good night's rest instead?
Some of my favorites include lavender (it lowers your blood pressure and relaxes you); peppermint (it's awesome if you struggle with seasonal allergies or you're sensitive to dust and you're looking for a way to not sneeze all night long); sandalwood (it contains mood-stabilizing properties that can help to calm your mind and nerves); marjoram (it has a great reputation for physically and mentally inducing feelings of tranquility), and ylang ylang (it's great at lowering your blood pressure and heart rate).
Just put 10-12 drops in a small bottle of distilled water and spray your pillows about an hour before turning in. Trust me, it's divine.
4. Make Sure You've Got a Leg Elevation Pillow
If you're looking for a way to stimulate blood circulation, reduce body swelling and/or soothe back or leg pain, a leg elevation pillow is totally what you need. The reality is that around 70 million Americans have some sort of struggle with falling or staying asleep. Since the fetal position, being on your side or lying on your back (did you know that only eight percent of us do this?) are the best sleep positions, it's pretty easy to get your legs into a position where you can get the most out of this kind of pillow. Anyway, Prevention did a feature on some of the best ones that are currently on the market. You can check it out here.
5. Do Some Stretches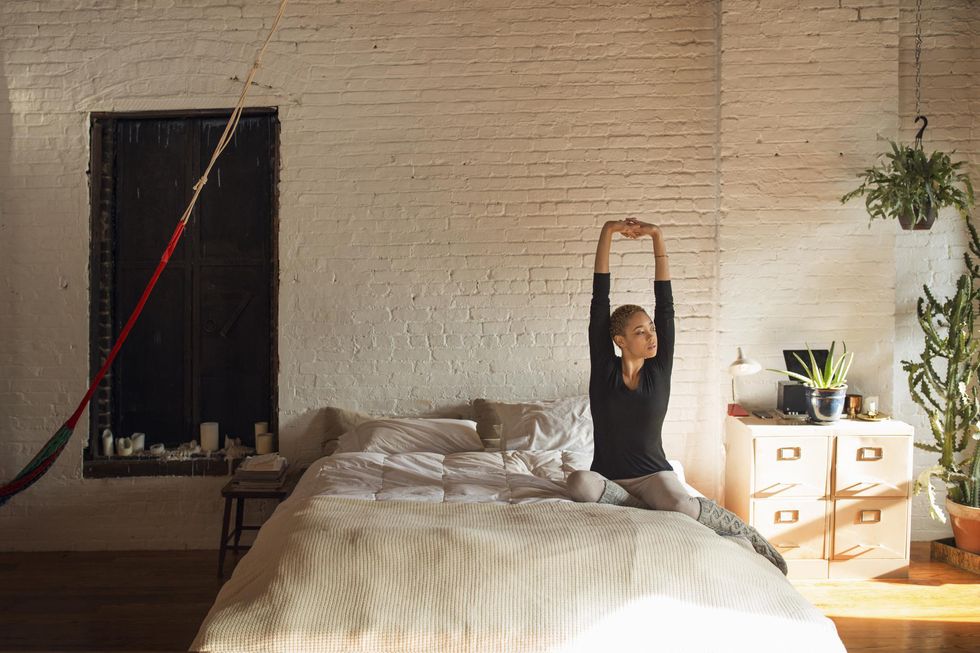 Speaking of increasing blood flow, when was the last time that you took out at least five minutes to do some stretching before turning in? Not only is it a great way to stimulate blood circulation, it also can help to significantly reduce muscle tension too. You can check out a video that features some pretty easy bed-related stretches here.
6. Play Some Nature Sounds
Personally, when it comes to what I like to hear while I'm sleeping, it's either silence or the sound of rain. Since I've been incorporating ASMR into my sleep routine, I feel so much more refreshed when I wake up in the morning.
The reason why nature sounds are a good sleep agent is because your brain is able to process sounds like rain, wind, ocean waves, birds and thunderstorms as being non-threatening. This, in turn, decreases its natural flight-or-flight response and helps your mind to relax so much better.
How cool is that?
7. Pamper Your Lips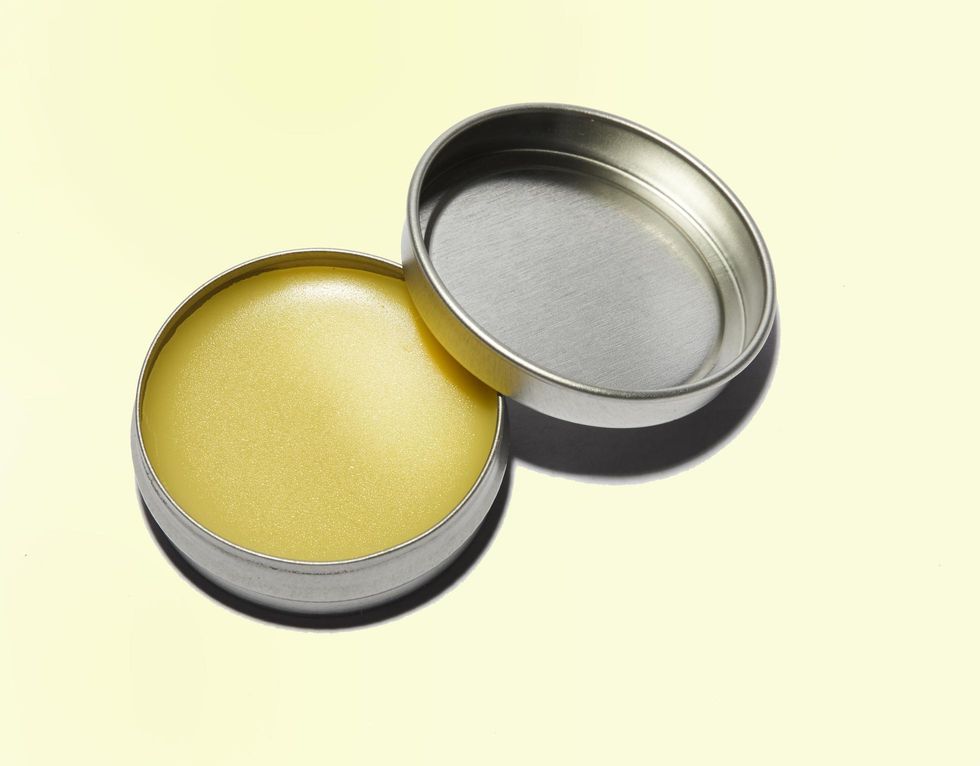 I don't know about y'all but something that actually will wake me up in the middle of the night are dry lips. Like they will literally annoy the crap outta me. That's why I've gotten into the habit of applying some shea butter onto them before turning in. The properties in shea butter instantly help to soothe my lips so that when I wake up, they still feel soft and moisturized. If you're not sleeping alone, add a bit of honey to your butter. Chile, just trust me on that. #wink
8. Give Yourself a Head Massage
Another really effective way to reduce stress and tension is to give yourself a quick 5-7 minute head massage. This is especially beneficial if you're attempting to go to sleep when you have a bit of a headache or you're really worried about something because the increased blood flow can help to decrease discomfort and relax you. Just make sure to especially focus on your temples (they protect an artery known as the meningeal artery which supplies blood to the outer covering of your brain) and that you apply a little bit of lavender oil (mixed with a carrier oil like sweet almond or grapeseed; straight lavender can "burn" super sensitive skin) to really penetrate your head and make you feel so much better.
9. Write Down Something You Did That Day That You Are Proud Of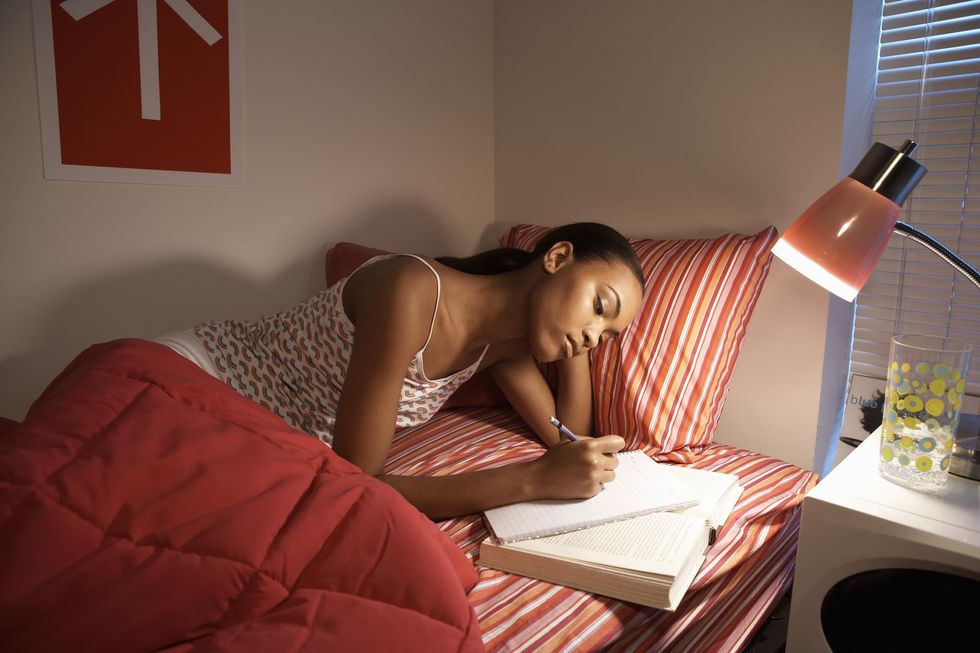 Just a few more steps. Now that you're feeling more tranquil and serene, pull out your journal and write down something that you accomplished throughout the day that you're super proud of. Be as specific as possible (including the time of day that "it" happened). This can help you to fall asleep on a positive note which is always a plus when you're looking to get a good night's rest. Also, since you're documenting these kinds of moments, it can be something truly wonderful to reflect on every 3, 6 or 12 months.
10. Have a Mini "Burning Ceremony"
If the last thing that you like to do is brush your teeth before getting into your bed for good, before walking in there, pull out a sheet of paper and quickly jot down something that you need to release from the day too.
Going to bed with burdens on your mind can hinder sleep and also cause you to wake up on the wrong side of the bed, if you're not careful. So, whatever it is that causes you to low-key cringe when you reflect back on it, put that on the paper, stand over your sink, flick your lighter and burn it. It's symbolic of letting the day go and preparing for what lies ahead.
11. Devote 30 Minutes to a Book or Podcast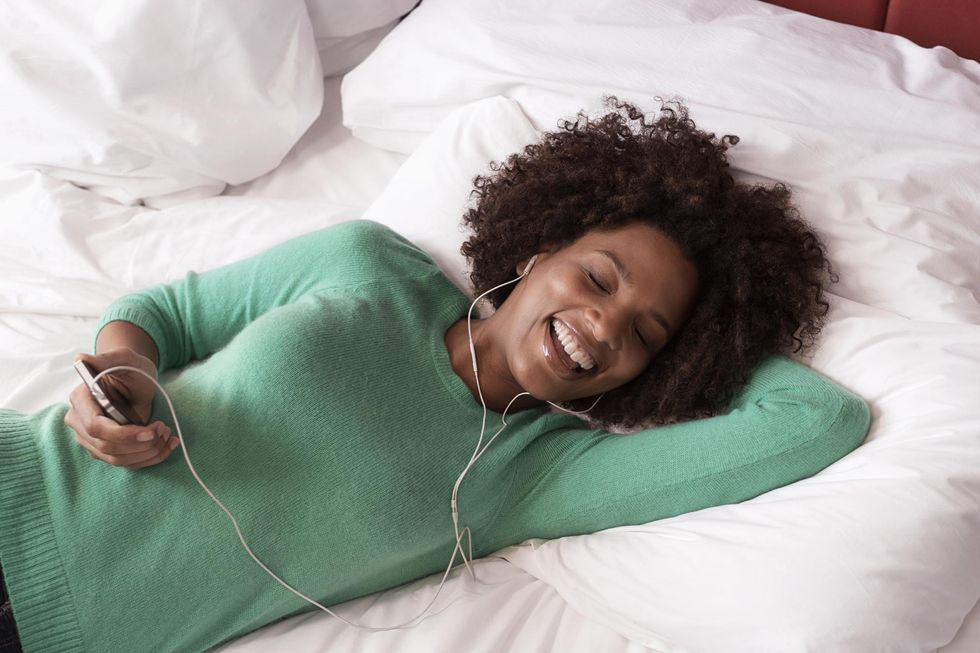 Quality time with yourself is super important. So, definitely make sure that you make the time to be able to read a chapter of a book or listen to at least part of an episode of your favorite podcast. You know, if there's one thing that nighttime should be seen as, it's when you can pamper yourself by doing something that you really enjoy — something that your hectic daytime schedule hinders you from partaking in. Besides, reading is another proven way to cultivate a great sleeping environment and there is also scientific evidence that podcasts (so long as they aren't super "deep") can help you to sleep better as well.
12. Establish a Set Bedtime
I think it's crazy that folks totally get why children should be on a sleep schedule and yet they don't make the connection on why they should have one too. Going to bed around the same time every night supports your inner clock getting into a set routine which can also make sleeping easier. Everything that I just mentioned, you should be able to do within an hour. So, try and be intentional about going to bed around the same time each and every night (at least throughout the week). It will make easing out of bed and into the next day's schedule more than just bearable. Watch out and it could almost be a pleasure, chile.
Join our xoTribe, an exclusive community dedicated to YOU and your stories and all things xoNecole. Be a part of a growing community of women from all over the world who come together to uplift, inspire, and inform each other on all things related to the glow up.
Featured image by Getty Images
Keep reading...
Show less