Lord have mercy. I remember when I used to be pretty codependent. Because of that, I would find myself giving a ton to people who barely offered crumbs in return. This kept my starving which kept me thinking that crumbs were all I would ever get to somewhat fill me. That's why I'm so thankful for the time that I took to really figure out what it means to value myself. "Value" is a dope word because it speaks of worth, it speaks of importance, it speaks of acceptance, respect and esteem. And the truth is, until we truly value ourselves, we can't expect someone else to do it. We really can't.
While this form of self-love requires quite a bit of time, energy and effort to learn, I do have some life hacks that can help to put you onto the right path, if you're interested. 15 things that will hopefully remind you that validating yourself isn't about ego. It's about self-preservation, so that you can truly live your best life.
1. Turn Your Phone Off for an Hour a Day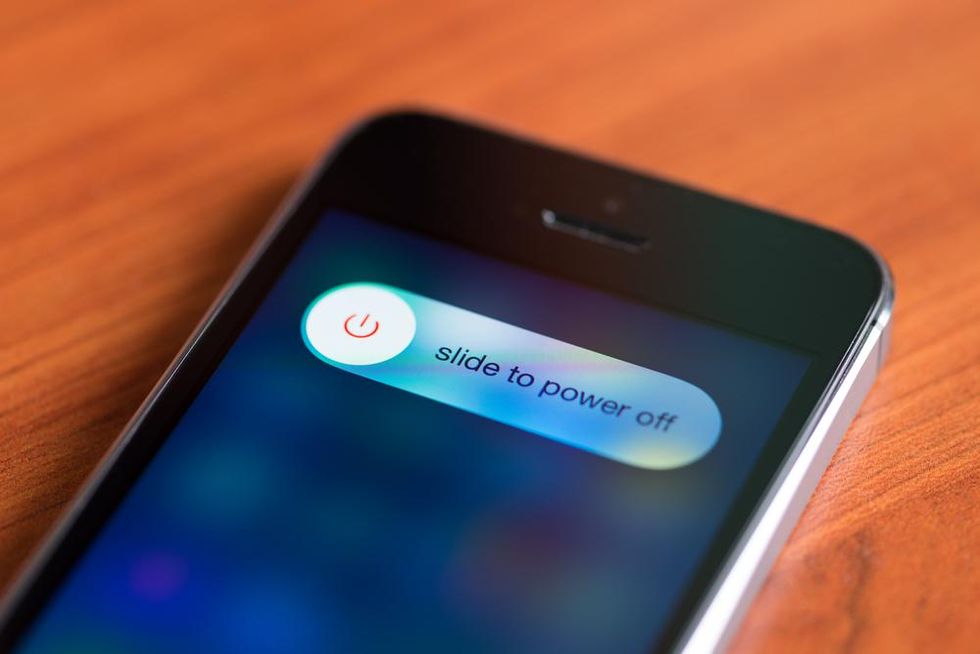 Let's start with the phone. When I read that Americans tend to spend about five and a half hours on the phone every day, I've gotta admit that I thought it was much higher than that. Still, when you factor in that you should be getting no less than 6-8 hours of sleep every night, that you're probably working (at least) eight hours a day and also that there are only 24 hours in a day, that is still quite a bit of talking time. While sometimes being on the phone can be fun (like when you're catching up with a friend or reading something on Black Twitter), it's still a data source, and constantly taking in information can be taxing—both mentally and physically. So, give yourself a break by putting your phone on silent or airplane mode for at least an hour, whether it's on your commute to and from work, during your lunch break or right when you get home. It's the kind of "woosah" that you probably didn't know you needed…until you actually do it.
2. Toast Yourself at the End of Each Workday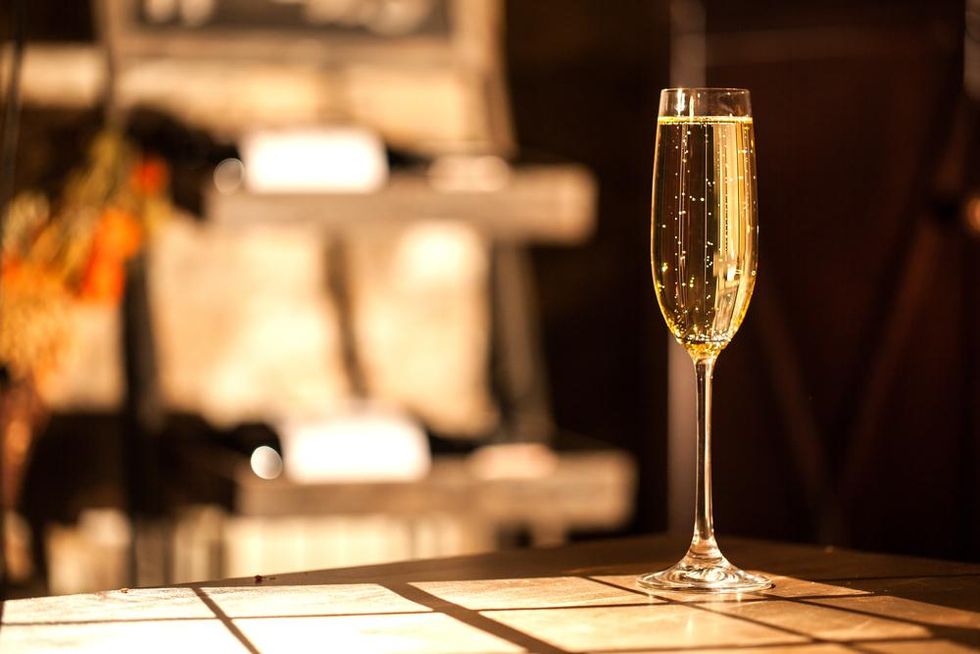 I've mentioned the importance of toasting before. It's a practice that acknowledges accomplishments or what you appreciate about someone.
Well, who said that you shouldn't toast your damn self from time to time—let me tell it, every single day? Why? Because it helps you to remember that each day is different and there is certainly, at least one thing, that you've done in every one, that you can feel proud about.
Now, I'm not trying to turn anybody into a lush; therefore, I'm not encouraging you to down liquor every time (sparkling cider is cool too). Just make sure that you have a special drink set aside (along with a toasting glass that is only used for this purpose) and that you deliver a toast to yourself, at the end of each day. You deserve it.
3. Pamper Your Hands and Feet Every Week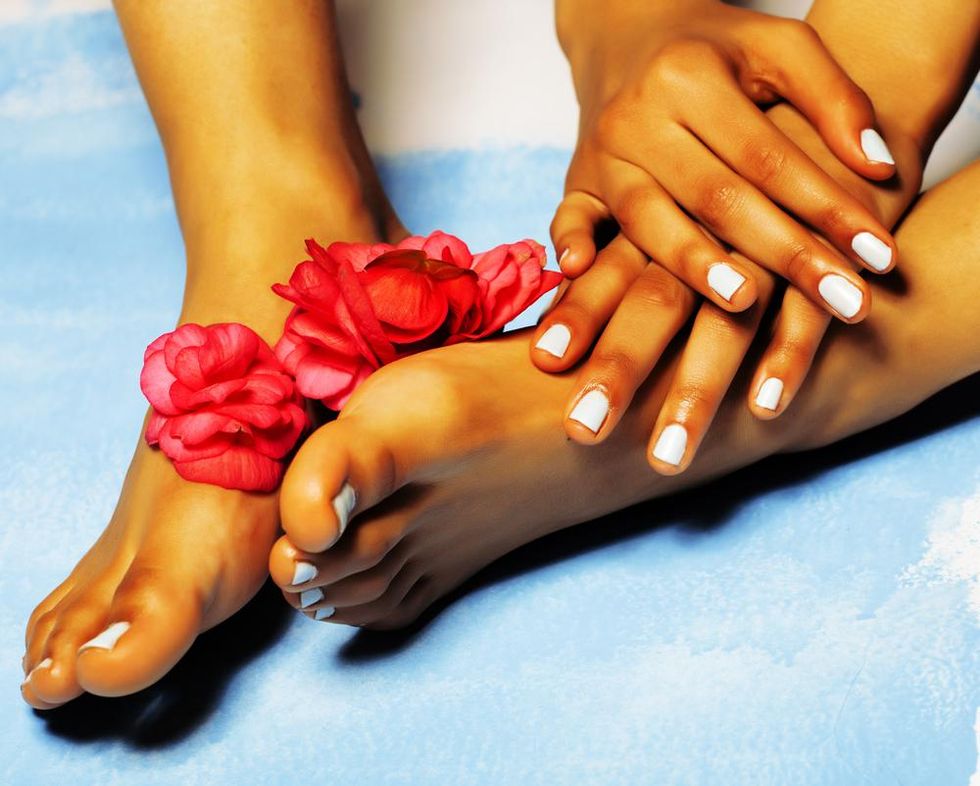 I try and get mani/pedi twice a month. Yet even on my "off" weeks, I still put forth the effort to do something that would pamper both my hands as well as my feet. I might give myself a foot soak, a hand massage or change the color of my nails. Aside from the fact that tending to your hands and feet is a great form of pampering and self-care, this is also a simple act that reminds you to get off of the roller coaster of life, slow down and do something that will make you feel a little better. So, definitely set aside 30-60 minutes each week to watch a favorite show and tend to your hands and feet while you're doing it. It's an easy way to immediately look and feel so much better.
4. Take Yourself on a Date Once a Month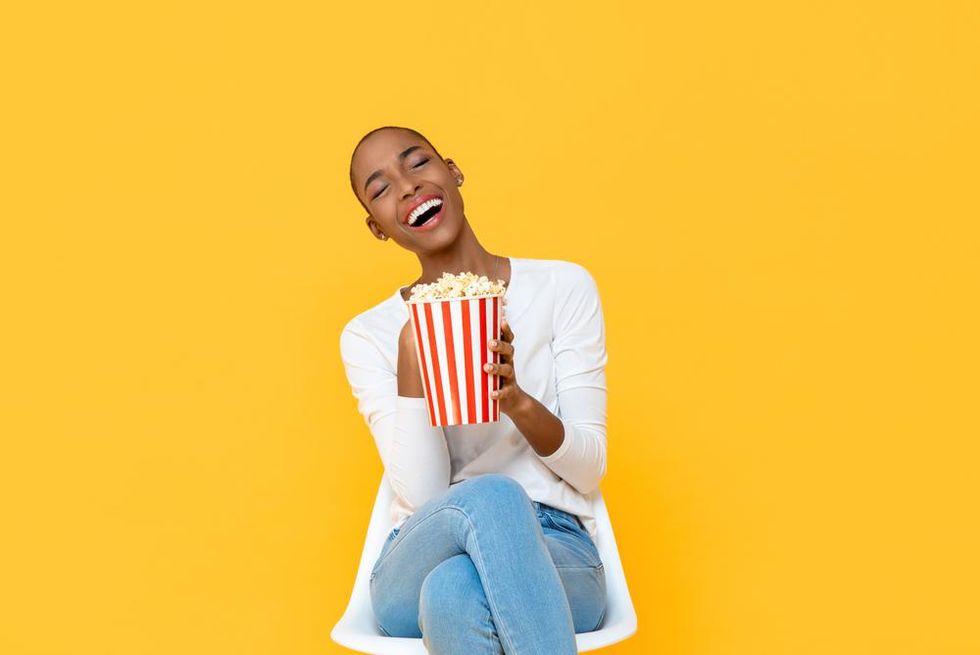 A couple of years ago, I wrote an article for the platform entitled, "15 Date Ideas Based On Your Love Language". As you can tell from the title, it was all about customizing dates in a way that will make your partner feel like their personal love language is being spoken to them (you might also want to check out "This Is How To Apply Love Languages To Your Friendships"). Well, along these same lines, when's the last time you took your own self on a date that speaks your own primary two love languages? A massage can be physical touch. Treating yourself to a movie can be quality time. Going out and purchasing something that you've always wanted, simply because you've always wanted it, can fall into the category of gifts. Volunteering for a day at a cause that is near and dear to your heart and then taking yourself to dinner can be acts of service. Blowing up a favorite quote, 10 things that you like about yourself or your mission statement and then shopping for a frame so that you can hang it in your bedroom or home office, can be words of affirmation. Of course, these are just some ideas. Still, making sure that you actually set aside some time to enjoy things that you truly adore is another profound way to remind yourself of your value. When's the last time you've done it?
5. Create a List of What Makes You a Great Woman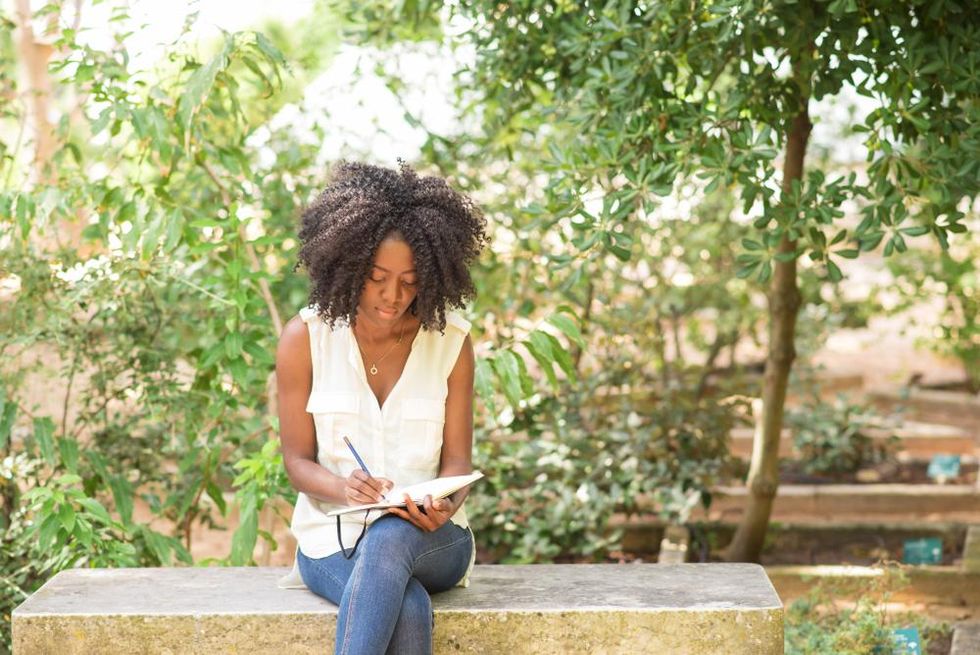 It really is a damn shame, how many of us are so quick to list the things that we don't like in ourselves while going radio silent on the things that we do. I know, off the rip, it might come off as being arrogant to brag on yourself; in this case, though, it's a conversation that is totally being you and yourself. Sometimes, in the midst of all of the lessons, mistakes and even drama, we can lose sight of how awesome we really and truly are. That's why I'm all about folks comprising a list of what makes them great. Not good. GREAT. I'm actually an advocate of them doing it a few times a year too because, as we evolve, we change. So does how we see ourselves. So sis, when you get a sec, bullet point a list of no less than 10 things that you think makes you pretty damn awesome. Then put it somewhere that is easily accessible on the difficult days when you need a reminder. We've all got things that make us stand head above the rest in our circle. It's OK to document what those things are and feel good about them. It's a private list. It's up to you who else you want to know.
6. Invest in a (New) Gemstone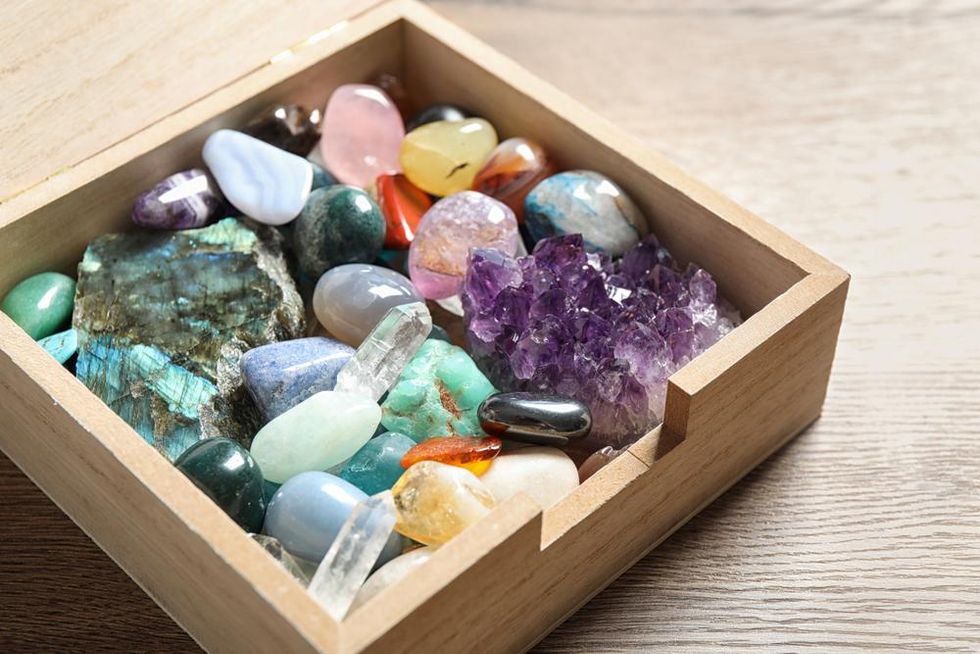 Over here at xoNecole, we're pretty big on gemstones and crystals (check out "I Use Jewelry To Tap Into My Spirituality & Sexuality", "8 Healing Crystals You Need To Feel More At Peace" and "The Best Healing Crystals For Your Zodiac Sign"). Matter of fact, it's usually around my birthday when I'll think about the head and heart space that I'm currently in and will cop myself a ring or pair of earrings in a gemstone that reflects it. For instance, right now, I've got two white opal rings on my hands. Before I knew what the stone represented, I was drawn to them. They represent goodness, love, nurturing, positive energy and protection from the heavenlies. Anyway, gemstones are dope because they're oftentimes affordable (like on Etsy), plus, there's an abundance of different ones to choose from. Who said you need a special occasion to adorn yourself? If this sounds like something you'd like to do, click here and here to learn more about gemstones and what they mean/symbolize.
7. Get More of Your Favorite Color

One of my godchildren will be 10 this coming June and I must say, that's she's quite amazing—especially when it comes to arts and crafts. Anyway, one day, out of the blue, she sent me an email asking what my favorite color and scent was. Honestly, shades of brown are what I like the most in this season; however, I'm into blues and greens as well and that's what I told her. Then I thought about the fact that it's been a minute since I've been intentional about getting things that are in my favorite colors and that inspired me to put doing just that on my to-do list.
Color psychology is fascinating because the colors that we're drawn to can reveal a lot about where our psyche is overall. For instance, if you are a blue-kind-of-person, it could mean that either you're naturally calm or you desire more peace in your life. Red? Red is all about love, passion and desire. Purple represents royalty, wisdom and extravagance. Yellow is about energy, joy and friendship. If grey is your thing, you tend to like (or want) balance in your life.
Psychology literally means "the science of the mind". So, if you're in a season where you want to emphasize or even shift some of where you are mentally, bring more of your favorite color into your world. You might be amazed by how much it can influence you. For the better.
8. Design a De-Stress Space in Your Home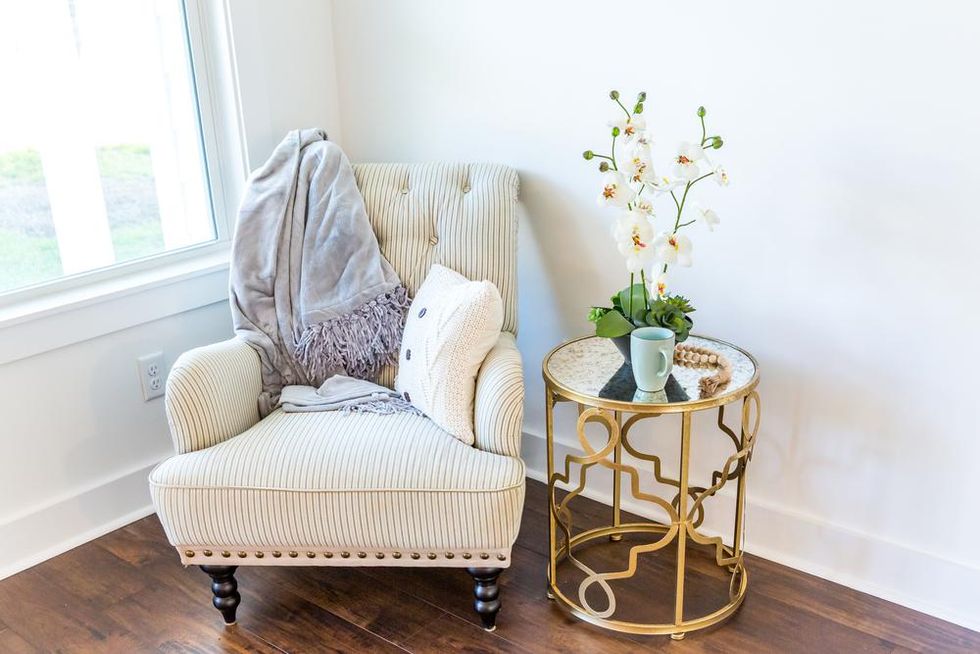 Tell me something. What area in your house, when it comes to mind, immediately makes you think "de-stress"? If you can't really think of one, there's no time like the present to cultivate an area like that. In the article, "12 (Affordable) Ways To Make Your Bedroom More Tranquil & Beautiful", one of the things that I shared is how beneficial it can be to make your own reading nook. That's one idea. Another thing you could do is purchase several big throw pillows, blankets and a long ottoman that you can lay—and daydream—on. Or, how about surrounding an area on your back deck with plants so that you can have your own lil' oasis to enjoy an afterwork glass of wine? The point is, pretty much every space in our home has a function. It would be a shame if you didn't carve out someplace, somewhere, for you to do absolutely nothing other than chill out.
9. DIY a Skincare Product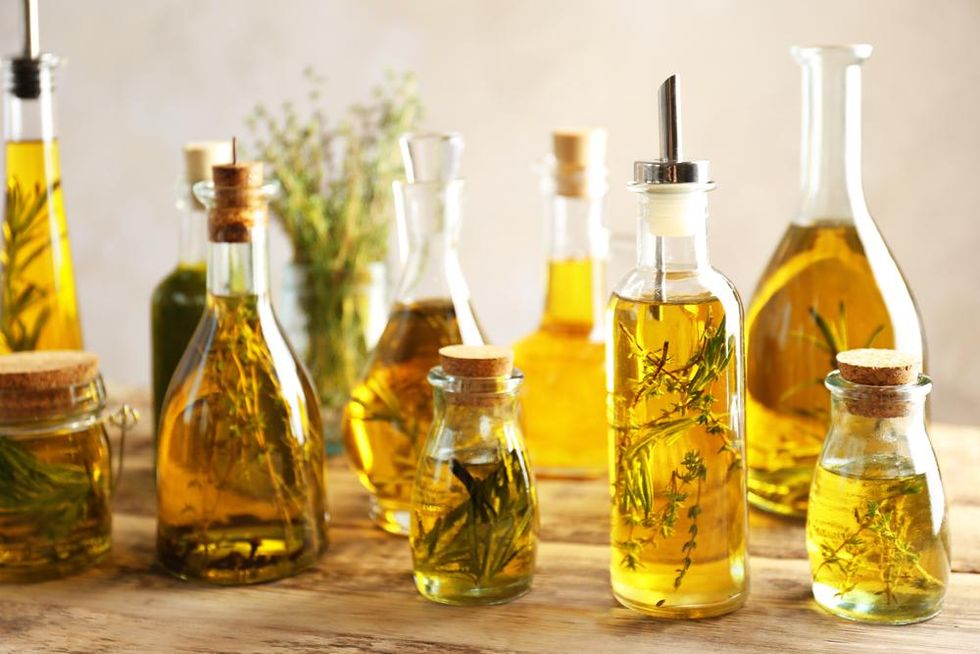 Right now, as I'm writing this, I am making my own herbal infused oil for my hair. I get excited when I do it because I am able to control exactly what I put onto my head. Also, I always like the results that I get. The same thing applies when I make my own bubble bath, lotion or even lip balm. And here's the thing—it doesn't require as much cost or effort that you might think that it does. Plus, making your own skin (or hair) care products is another way to love on yourself because, rather than running to the drug or grocery store and getting something that has a ton of chemicals in it, you're making a move that says, "I want to take extra special care of my body. I want to be in control of my health by making my own stuff."
Anyway, if this is something that you'd like to try, Hello Glow has some homemade bubble bath recipes here; Measuring Flower can walk you through how to make your own lotion here; the YouTube channel Whole Elise will show you how to make all-natural tinted lip gloss here; the YouTube channel Real Creative Real Organized will explain how easy it is to make your own deodorant here; Tip Junkie has nine different kinds of nail polishes that you can create here and, if you want to learn how to DIY some herb infused oil for your hair or skin, it's pretty easy if you follow these directions on Garden Therapy's site right here.
10. Throw Some Stuff Out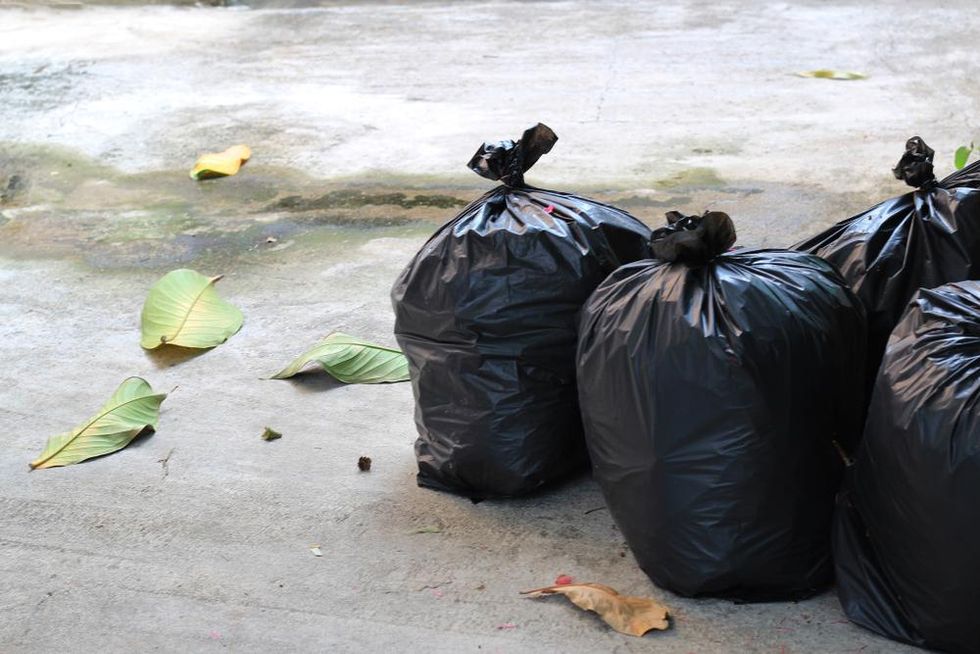 Something that I've slowly become more and more of over the years is a minimalist. When it comes to defining what that means, I once heard someone say that being a minimalist is about having the right things instead of just having a lot of stuff. Since living this way, there's less clutter in my space, I've decreased my financial stress, my utility bills are lower (because being a minimalist and becoming more eco-friendly basically go hand in hand) and life is way more simplified, all the way around. And you know what? A simple life tends to be an easier and even fuller one.
That's why I'm a huge advocate of taking out, at least a couple of times a year, to throw some ish out. Come on—you know that if you haven't worn that skirt in two years, read that magazine in five or used that foundation in 10 months that you're probably not going to (and don't get me started on all of your hair products and make-up!). Letting stuff go is freeing. It also makes room for better things. We value ourselves when we make space for upgrades.
11. Use Your Personal Days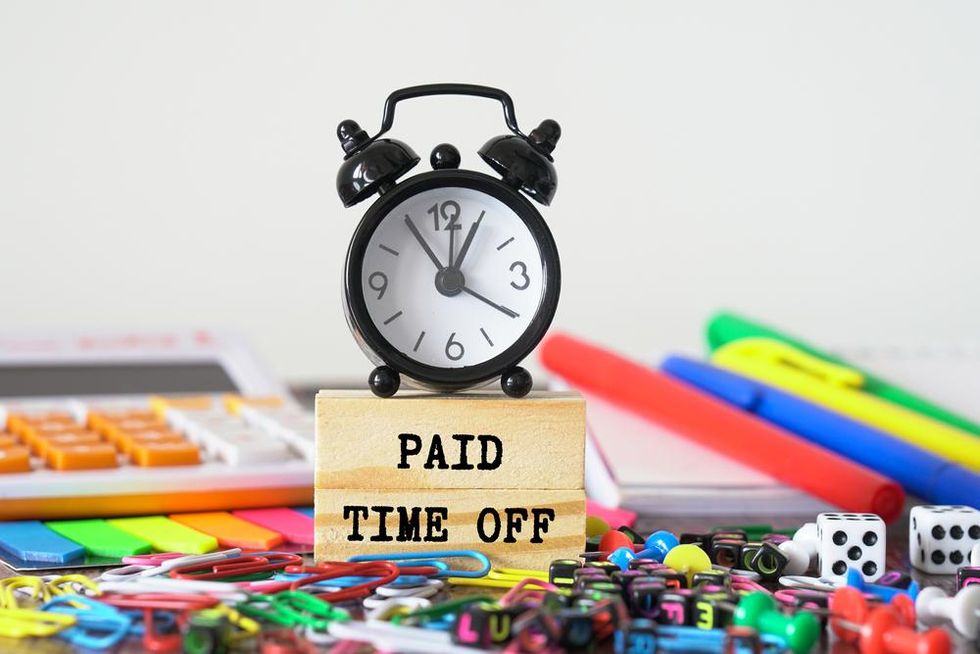 It's a damn shame, how many people I know who don't take their lunch breaks, let alone their personal days. This fact was further confirmed to me when I read an article on The Muse's site. It said that a lot of companies are trying to be slick and merge personal (days to go to the doctor, attend a funeral, etc.) and vacation days together (what in the world?!). That's why, if you're someone who is interviewing for a job, you should definitely check out the company's PTO policy and be open to negotiating your time off.
That said, you're not going to win a prize for not using your personal days and it's certainly no one's business why you need to. So, if you've got some days stored up and you can't remember the last time you've used one, this is your sign to do just that. Some stuff, you can't get done if you don't. Some stuff, you need to take care of, so make sure that you do. (Pretty sure I don't have to say this about vacation days as well…right?)
12. Conduct a Negativity Test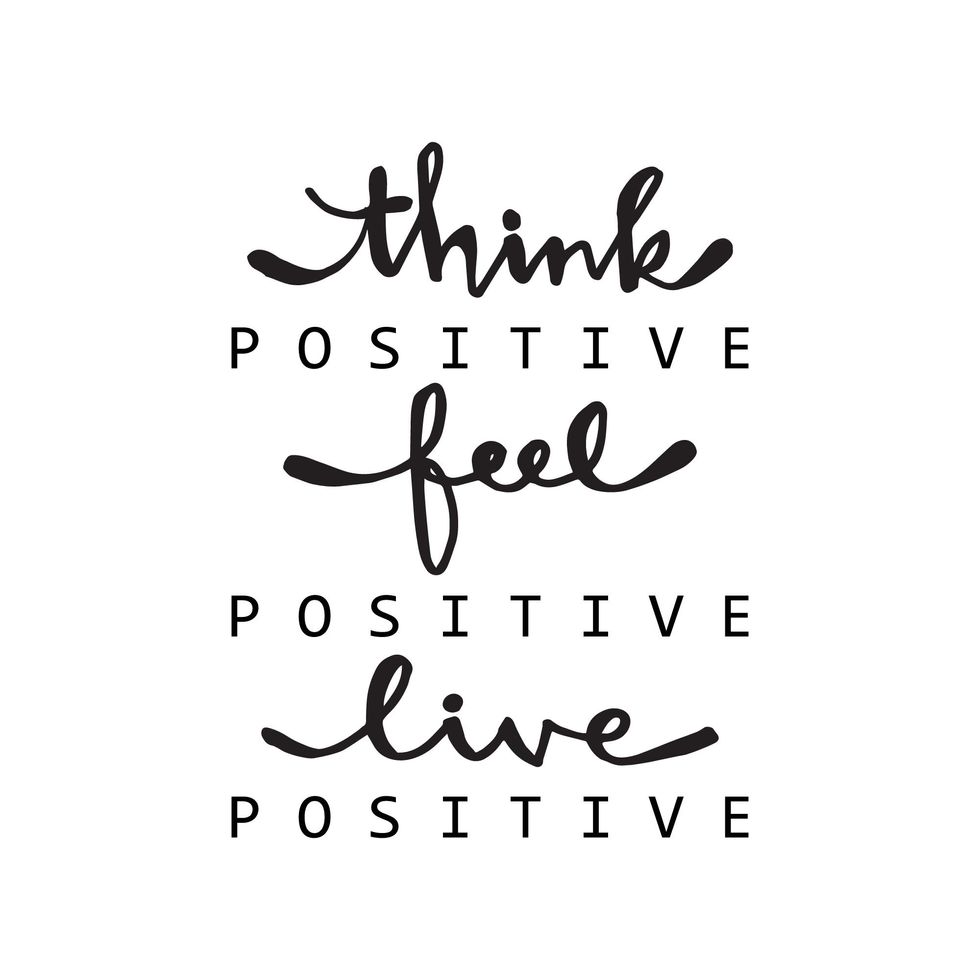 One of the reasons why I don't regret not being on social media is because, even when I tiptoe onto certain platforms to see what's going on, I find myself saying, "Damn. Do you wake up angry or gaslighting every single day?" It really is kinda crazy, just how many people live in a constant space of negativity, sometimes without even really noticing. That's not good either because being negative all of the time can lead to low energy levels, a weakened immune system, depleted brain chemicals, unhealthy relationships and/or a defeated mentality. Knowing all of this is actually why I removed myself, even from certain family members, because they are so toxic that they thrive off of negativity which makes them very difficult—and exhausting—to be around.
Unfortunately, some of us have dwelled in toxic energy for so long that we don't even realize it anymore. So, how can you know if you're leaning long and hard towards being a negative person?
You get triggered easily.
You complain. A LOT.
You expect the worst out of people.
You pick fights—online and off.
You stay stuck in the past.
You don't know how to celebrate anything.
You state things in the extreme (you know, "always" and "never").
You make excuses for any and everything that's your fault.
You self-sabotage.
People tell you that you're hard to deal with. Personally and/or professionally.
If you see yourself in at least three of these 10 points, something needs to change—sooner than later too. As much as a lot of people dwell in negativity, it's kinda ridiculous to do because there really aren't a lot of benefits that come with doing so. Life is too short and you are two precious to dwell in bad/dark energy most of the time. Whether it's going to a therapist/counselor/life coach, talking it over with a dear friend or removing yourself from the people, places, things and/or ideas that have got you in that kind of space, shift towards positivity. Life can only get better if/when you do.
11. Have a "Hard" Conversation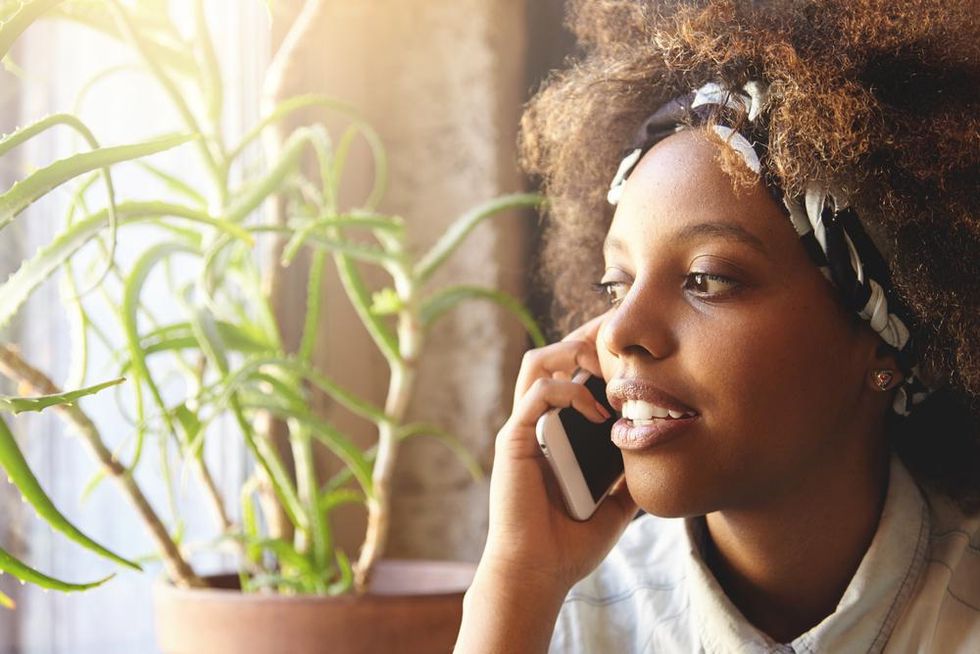 There are so many of us who find ourselves more stressed, worried or depleted than we ever need to be and it's all because we remain in situations with people (whether personal or professional) that really aren't serving us. Why do we do that? A part of the reason is because we do everything in our power to avoid having some really hard conversations—ones that may be uncomfortable yet can actually make our lives easier in the long run.
Listen, I don't care if the conversation is with a controlling or narcissistic parent, an emotionally abusive boss, your spouse, a friend—shoot, it might even be a noisy neighbor that is getting on your very last nerve…when you learn to speak up for yourself, set some limits and express your needs and expectations, it helps you to become more confident. It also reminds you of the fact that, far too often, we tend to settle more than we ever should.
So long as you're clear and respectful in your approach, what's the worst thing that can happen by addressing what needs to be said? If what immediately comes to your mind is it could ruin the relationship—well, if your needing to get your needs met or something that is truly bothering you off of your chest comes with such dire consequences, you were in something far more toxic than you probably realized. Coming to that conclusion will be for your greater good, sis. Wins all the way around.
14. Forgive Yourself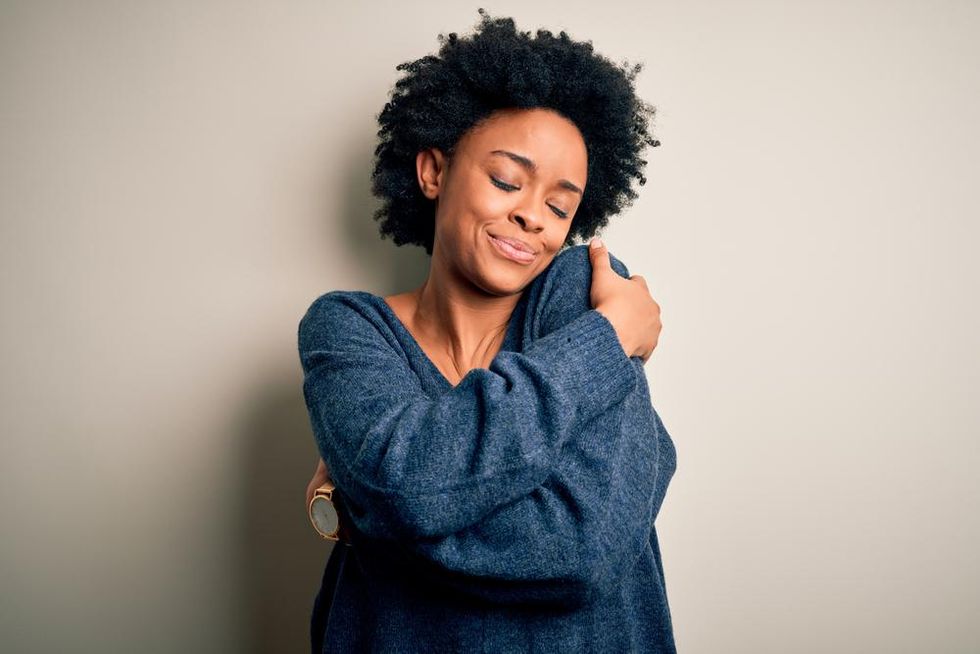 I know a lot of people who live in the space of unforgivingness. Know what else? Interestingly enough, I don't know too many where it's beneficial for them to do so. As much as a lot of folks think that it's punishing the person who hurt them to not forgive them, more times than not, all it does is keep the one who was offended stuck. And that can lead to bitterness, a fear of moving on in a healthy way with other people and/or constantly seeing life through that same situation—all because they chose to not let ish go.
When it comes to past abuses and disappointments, trust me, if life was handing out trophies, I'd at least get one of those short elementary school field day ones. Yet accepting that the past cannot change, accepting that I've also done some pretty f'ed up stuff in my day too and also realizing that sometimes the pain is the lesson that helps us to evolve and do things differently—all of this has brought a quality to my life that I didn't have when I was just…pissed all of the time. Forgiveness might seem like you're telling someone that what they did was OK. It's not. It's telling yourself that it's OK to release the situation, set better boundaries and get on with your life. Why would you deprive yourself of that?
15. Learn How to Wait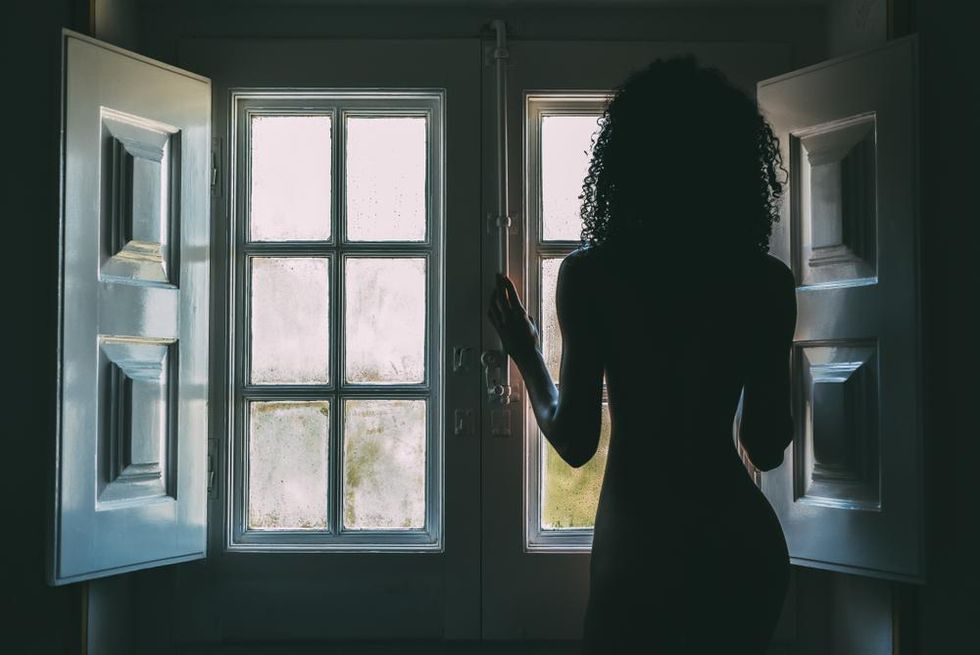 If you check out the article "Bless Up: 8 Scriptures To Remind You That God Sees You", one of the references that I make is one of my all-time favorite Message Version Scriptures: Romans 8. I'm a doula, so a part of the reason why I like it so much is it compares waiting to being pregnant. In it, it mentions that sometimes waiting can be really uncomfortable. Still, the longer we wait, the larger we become as individuals and the more joyful we end up being once what we are waiting for actually prepares itself to arrive.
As I close this out, words cannot express how much so many of us miss out on the best that is in store for us, all because we're impatient. That's why, what I want to encourage you to do is to value yourself, love yourself, honor yourself enough to do what one of my favorite definitions of wait says—"hold oneself in readiness". Personally, it was very humbling for me to come to the conclusion that if I'm waiting on something, chances are, God is allowing me the grace and mercy to realize that I'm not as "ready" for it/them as I might think that I am. Indeed, the waiting season can be extremely humbling and yet, another Scripture says that with humility comes promotion (Luke 18:14). Not only that but "By humility and the fear of the Lord are riches and honor and life." (Proverbs 22:4—NKJV)
You're worth waiting for, right? Because you are something of extreme value. Treat your blessings with the same mindset. Waiting isn't a bad thing. Waiting is about two things getting ready for what's in store. When it comes to knowing what you're deserving of, there's not too much of a better life hack than that.
Join our xoTribe, an exclusive community dedicated to YOU and your stories and all things xoNecole. Be a part of a growing community of women from all over the world who come together to uplift, inspire, and inform each other on all things related to the glow up.
Featured image by Getty Images
Keep reading...
Show less
Like many of you, I grew up watching The Cosby Show and was always in complete awe of Clarie Huxtable. To me, Claire Huxtable was that beautiful, highly intelligent, super badass mom and wife that I dreamt to one day be. Not only was she a true boss in her professional life (remember, she was a PARTNER at her law firm), but she also held it down in the house for her five kids and husband and looked like she had it all. #boss
While I know that Claire Huxtable was a fictional character and that in real life, there's truly no such thing as always "having it all", there are some women that have managed to simultaneously successfully juggle the titles of "wife", "mother", and "boss" just like Auntie Claire did.
Recently, I was able to catch up with these successful working moms and wives and they shared how they manage to be the best wife and mother they can be, while also fulfilling their career dreams. Keep reading to learn more about their "happy life, happy wife" hacks!
Juggling Unrealistic Expectations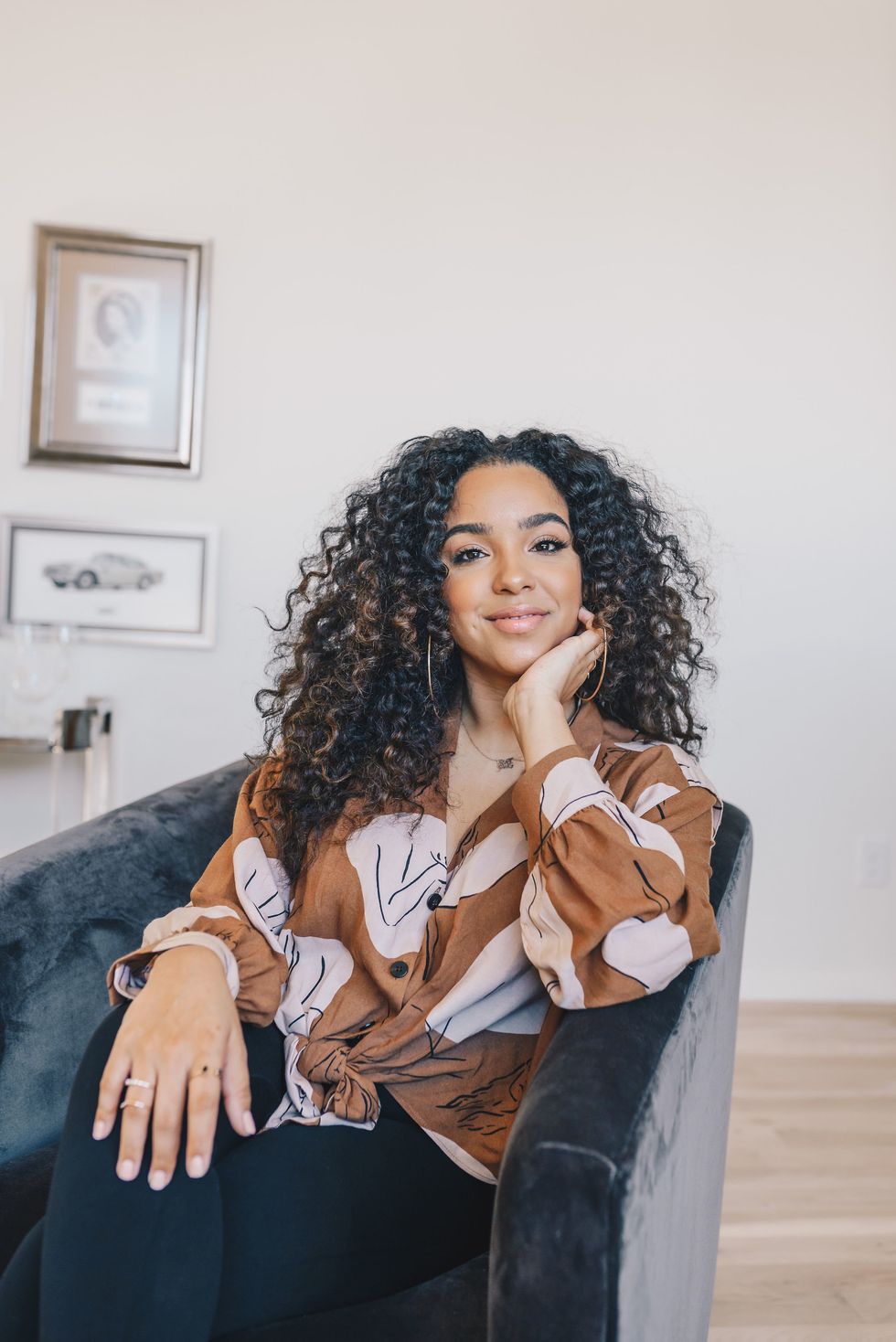 Courtesy of Jade Kendle
Jade Kendle, CEO & Founder of #LifeIsContent
"Being a woman in 2020 comes with so many expectations. I try to remind myself that there's no one to chase. There's no one chasing me. It's about me practicing excellence, not just when it's easy, but when it's hard."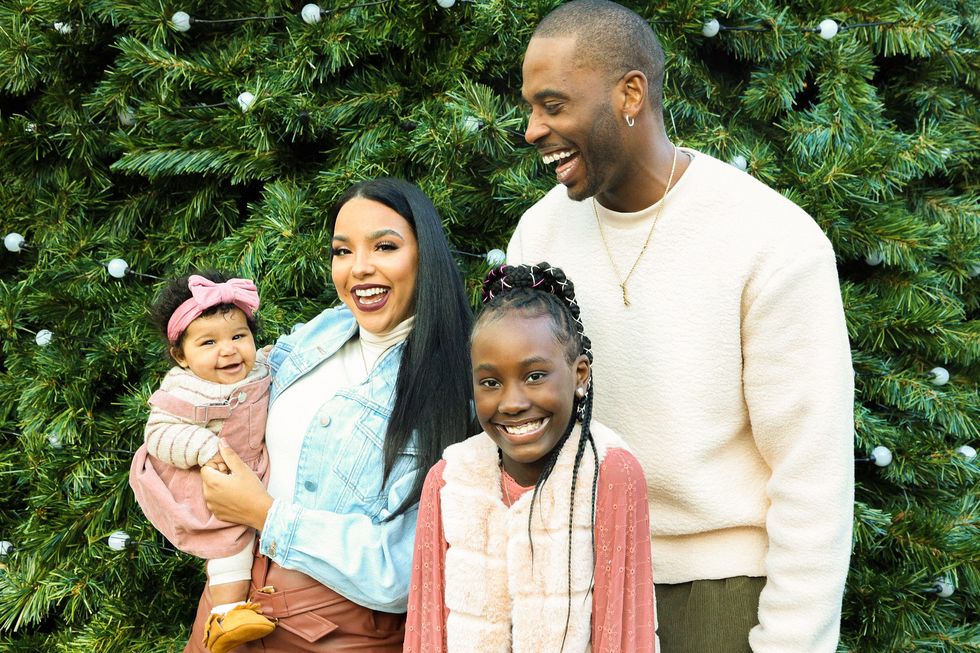 Courtesy of Jade Kendle
"I'm always having to mitigate the expectations I put on myself, and others. I'm always trying to be my best, and sometimes that impacts me (and others) negatively. I put too much pressure on myself to be the best that it becomes stressful when there's no way I can ever be perfect at everything - no matter how hard I try!
"Being a woman in 2020 comes with so many expectations. I try to remind myself that there's no one to chase. There's no one chasing me. It's about me practicing excellence, not just when it's easy, but when it's hard. It looks like coming out of a frustrating moment and reflecting on how things could've had a better outcome and making a commitment to do better. Continuously evaluating and reconnecting to my ultimate why - helps me let go of that 'perfectionist' energy."
The Self-Care Struggle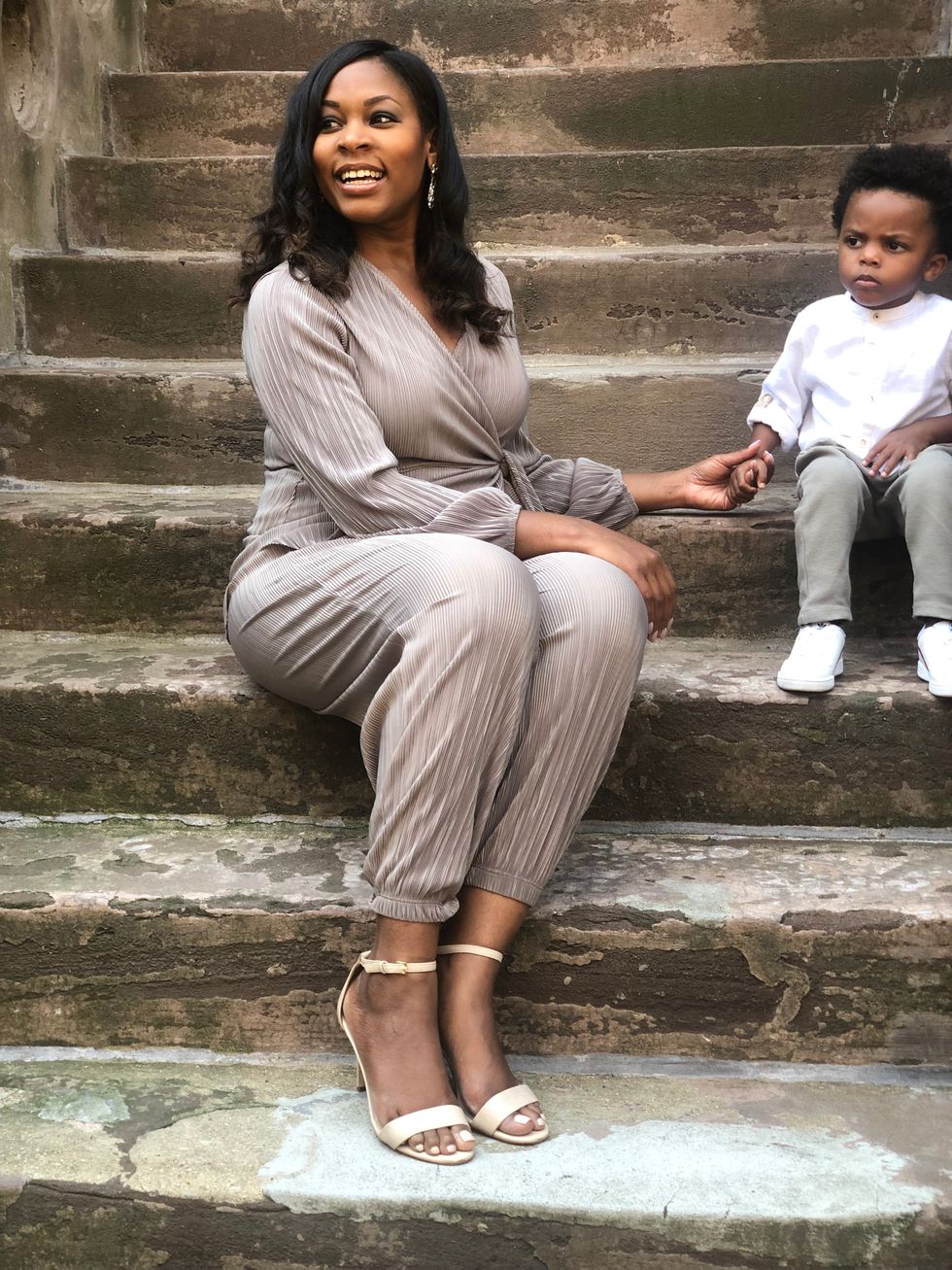 Courtesy of Shakyna Bolden
Shakyna Bolden, Brand Partnerships at xoNecole & Founder of Little Village Collective
"Last year was incredibly tough for me because overnight I went from being a stay-at-home mom to starting a new venture. It was overwhelming and at times too much... That being said, I can't take another year of neglecting my body, mind and spirit while trying to build my family and career. So I started 2020 with the intention to prioritize my well-being."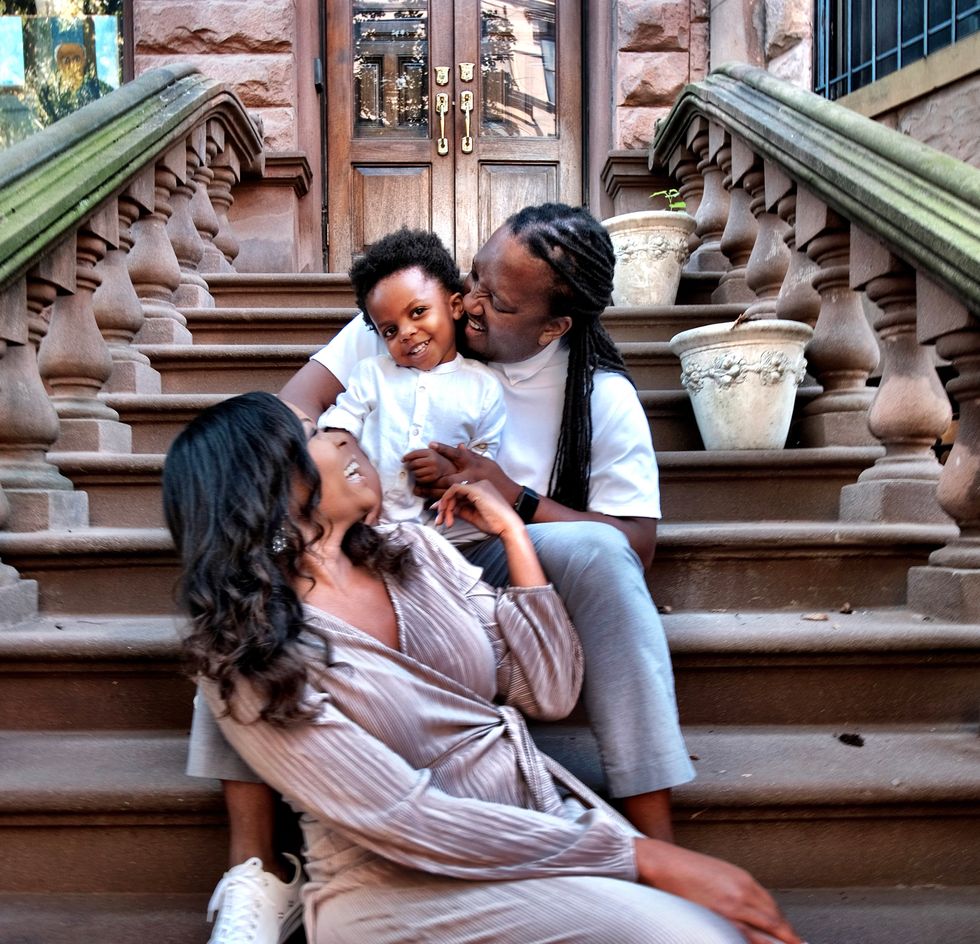 Courtesy of Shakyna Bolden
"Currently, I'm struggling the most with self-care and consistently maintaining a sacred space/daily regimen that builds my mind, body and spirit so that I can perform better in all areas of my life from my work to my mothering and being a great partner. Last year was incredibly tough for me because overnight I went from being a stay-at-home mom (only working part-time) to starting a new venture. It was overwhelming and at times too much.
"To be honest, I gained all my post-baby weight back that I had worked so hard to lose, suffered from extreme exhaustion, fatigue, and burnout, faced role dynamics shift in my partnership and so much more. That being said, I can't take another year of neglecting my body, mind and spirit while trying to build my family and career. So I started 2020 with the intention to prioritize my well-being.
"I would say support is VITAL to juggling work and home. My partner unquestionably shares in household responsibilities on everything from taking care of our son to cooking. When I travel for work, he's on complete daddy duty and we have family and friends that truly support us as well. Lastly, I'm blessed to be able to work from home and have a flexible work schedule that helps me be fluid in my work and home. There's no secret at xoNecole that I'm a mom. A lot of times in the workplace moms have to sneak off or apologize for momming, but that's not the case with me."
Dealing With Guilt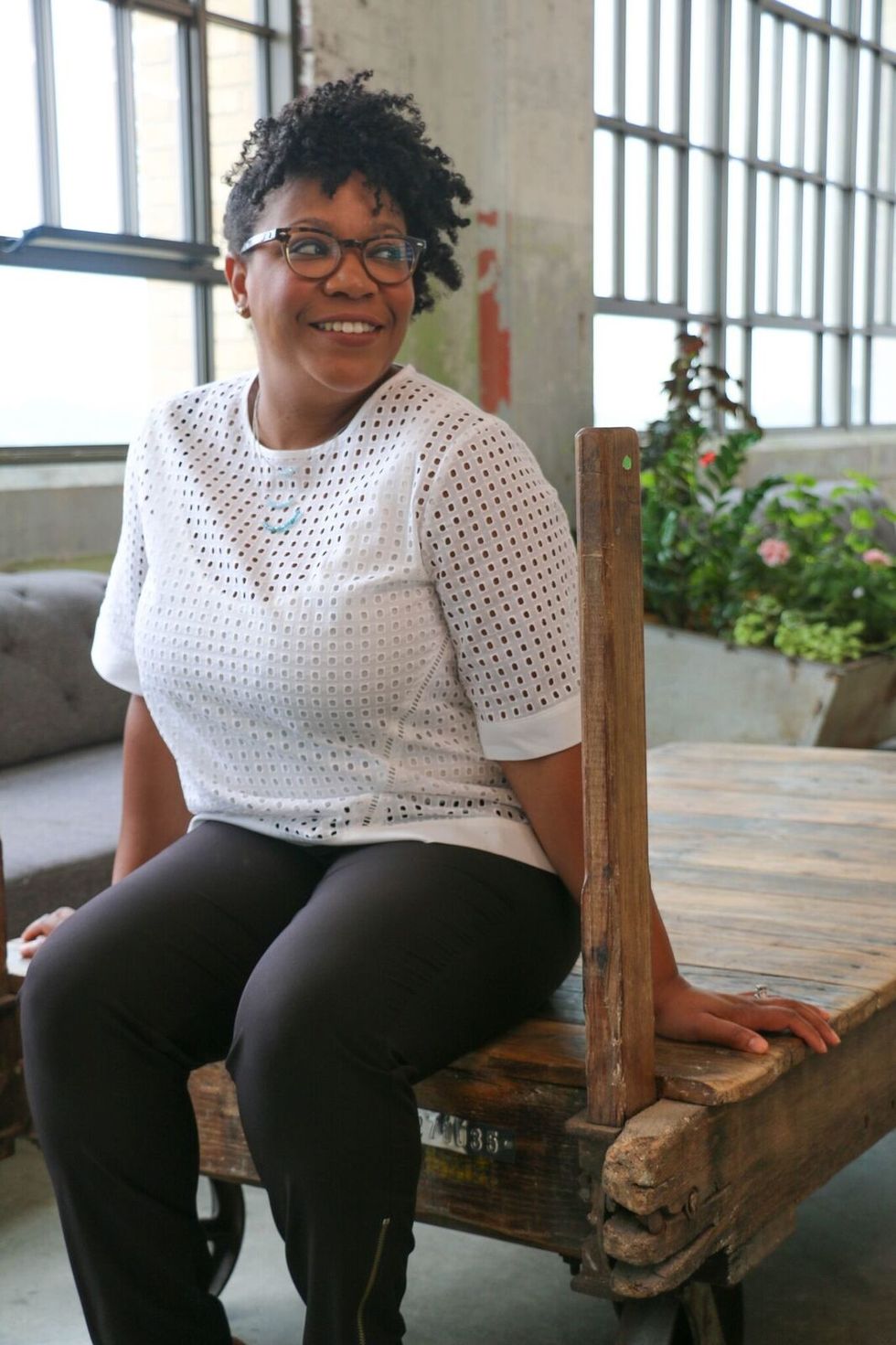 Courtesy of Ashley N. Cash
Ashley N. Cash, Interview and Salary Negotiation Expert
"Sometimes I feel guilty for losing my patience, forgetting an important date, saying no to a birthday party, or getting frustrated with my husband. I overcome guilt by reminding myself that I am a human, I'm doing my best, and giving myself grace in those imperfect moments."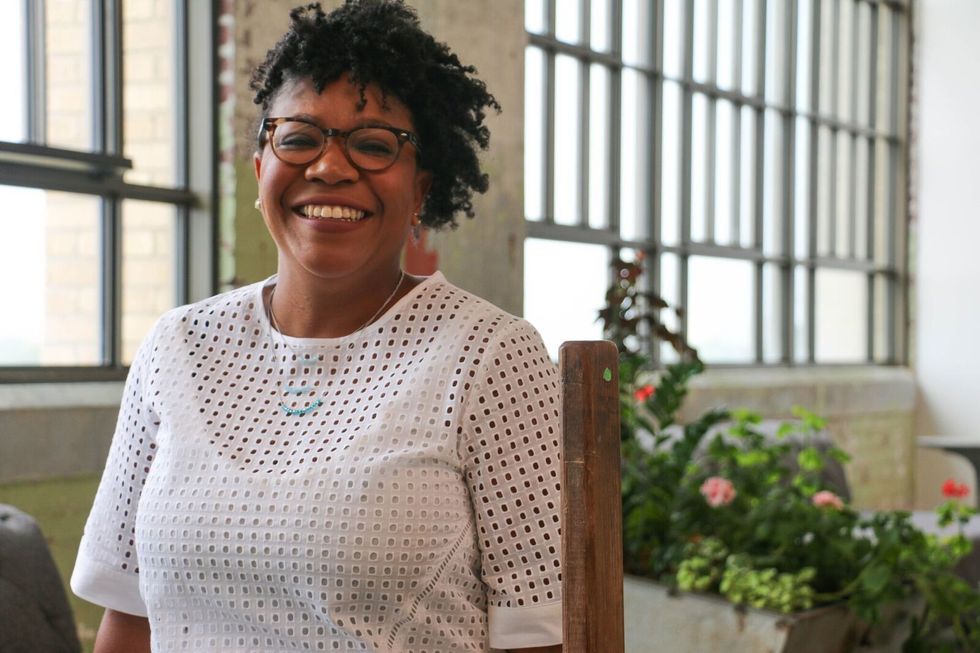 Courtesy of Ashley N. Cash
"Mommy guilt is a thing...there are days when I feel guilty about the moments where work pulls me away from my family. Sometimes I feel guilty for losing my patience, forgetting an important date, saying no to a birthday party, or getting frustrated with my husband. I overcome guilt by reminding myself that I am a human, I'm doing my best, and giving myself grace in those imperfect moments (so many imperfect moments, ha!).
"My other mommy guilt hack is using feeling guilty as a trigger to give myself a quick reminder of all the other things that I've done right and done well, which is really a hell of a lot (shoutout to my therapist for that one). Which is another mommy boss hack: Have an outlet or two to help you clear your head and get out of wife, mom, work mode. My outlets are scheduling alone time doing something I enjoy by myself and seeing my therapist once a month.
"I think I'm able to be a great wife, mom, and entrepreneur all at the same time because I'm good at aligning what I do with what's most important to me at home and in business, asking for what I need and saying no when I need to because I'm not afraid of missing out on anything. I'm positive that there's enough time, money, clients, and opportunities in the world and that I don't have to trade marriage and motherhood to have them. I think that's an abundance mindset with a little bit of grace mixed in."
Trying to Find Balance in an Unbalanced World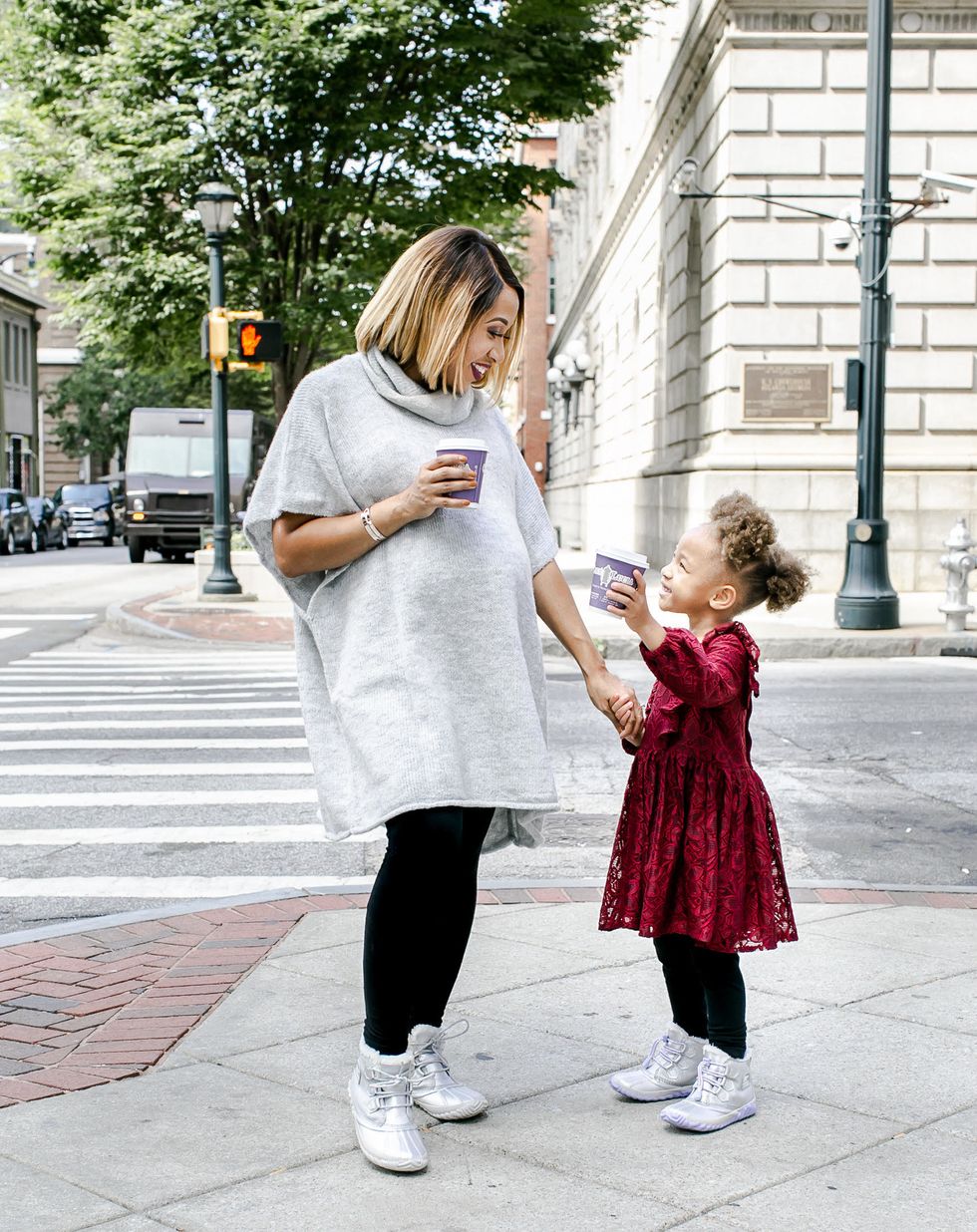 Courtesy of Mattie James
Mattie James, Entrepreneur & Influencer
"What I had to come to terms with is that balance looks different every day. Some days, I kill it as a mom and entrepreneur, but not so much as a wife. Other days, I'm the wife of the year, an amazing mom but my business was put on the backburner. And guess what? That's fine."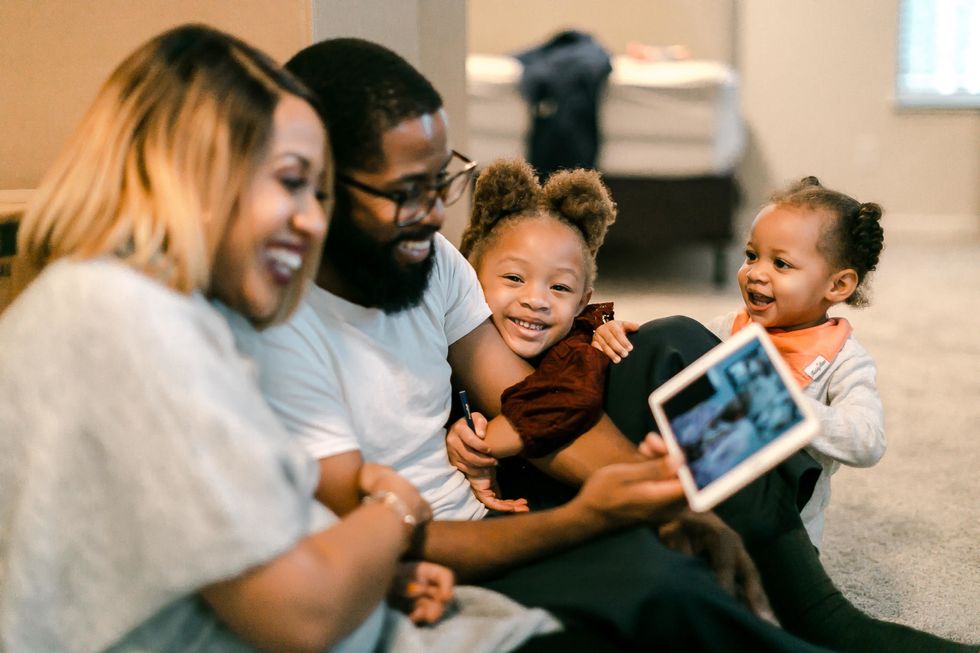 Courtesy of Mattie James
"What I had to come to terms with is that balance looks different every day. Some days, I kill it as a mom and entrepreneur, but not so much as a wife. Other days, I'm the wife of the year, an amazing mom but my business was put on the backburner. And guess what? That's fine, because there's always tomorrow and I'm not obligated to be everything to everybody at all times.
"What I do oblige myself with is self-care. Because when I take care of myself, I can be the fullest version of any of the roles in my life including wife, mother or entrepreneur. I'm not interested in being any of those things running on an empty tank. Self-care is what keeps me full. It helps me achieve balance."
Featured image courtesy of Shakyna Bolden
Originally published May 2, 2020
Keep reading...
Show less
I don't know who needs to hear this but, you are not (and should not be) the end-all-be-all solution to everyone's problems. Burnout is a real issue among women, and it often stems from overcompensating, over-performing, and overextending yourself until you finally give zero F's and become over it.
I recently came across a term that made me do a double-take on my own life: overfunctioning. According to the experts at Psychology Today, overfunctioning happens when you go above and beyond to control a situation and other's perceptions and feelings around it. You try to become the hero who will do anything to make sure that all is well, even if it means putting yourself last or not getting what you truly want.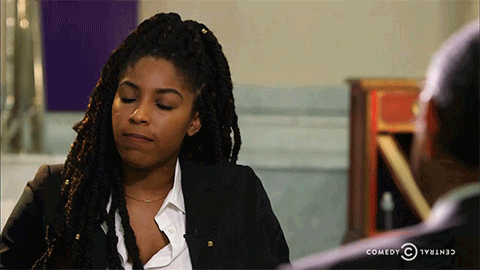 Image via Giphy
A study found that 70 percent of working women have experienced burnout since the start of the pandemic. In addition to being "Zoomed" to death, women have to deal with household and care-giving responsibilities, educational pursuits, and other commitments that put them in overfunctioning mode.

Here's what overfunctioning looks like:
Excessive people-pleasing to avoid disappointing others
Avoiding saying "no"
Setting goals for other people without their permission
Taking on more responsibilities even when you are not asked
Enabling bad behaviors in others
Always talking and never listening to others
Giving unsolicited advice
Feeling like a victim when others do not recognize your efforts
As an overfunctioner, your anxiety is the driver of your actions because in your mind, if you are not in control of everything, something has to go wrong eventually. You may argue that overfunctioning is "just how it is" or "just the way you are," but it's actually a response to anxiety related to things that honestly have nothing to do with you.
Here's the thing: For so long, we've heard the narrative of being a "strong Black woman." We have to be tough, resilient, independent, and ready to take on life without a flinch because that is what we were taught to do. However, we have to be conscious enough to understand when we follow generational or societal trends by default or subscribe to the need to constantly be in control at all times.
Whatever your reason, take time to understand the emotional, physical, and mental toll overfunctioning can take on your life. "Doing the most" gives you an illusion of being in control when, in reality, you are losing control of yourself.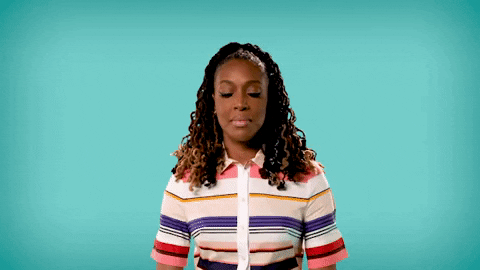 Image via Giphy
If you're overfunctioning, understand this:
You don't always have to be the bigger person if it's to your own mental and physical detriment.
You don't always have to give people, work, and situations every bit of your being.
You don't always have to find a solution just because someone comes to you with a problem.
You don't always have to be a helicopter wife, girlfriend, parent, or friend, trying to stop others from learning from their own mistakes.
You are ultimately responsible for yourself and how you react and respond to life.
You will find better peace of mind knowing that you can eliminate burnout when you stay and operate within your lane and live a life where you can let your hair down and let others do the same, live life, and learn for themselves.
Are you a member of our insiders squad? Join us in the xoTribe Members Community today!
Featured Image via Shutterstock
Keep reading...
Show less
In life, I live for two things - food and a solid self-care routine. Having a weekly restart routine has been an influential part of my mental health, but it hasn't always been this way. In the past, I have fallen victim to the old 2017-2018 trend of #TeamNoSleep. The idea of grinding seven days a week, 24 hours a day, and 365 days a year towards your goals was once the ultimate burnout cocktail I drank daily.
Through conversations with friends and loved ones, I've come to realize many of us have suffered from a case of burnout. Especially people of color and those who come from Caribbean backgrounds. As black and brown people, we more than likely watched our elders work harder than their white counterparts for the "American dream". Witnessing them sometimes work two to three jobs and placing self-care on the backend. To them, overworking was a form of survival.
Fast forward to today, self-care is becoming an increasing priority within the black and brown community. We realize that our mothers' and fathers' work ethics may have been effective in the short-term but not sustainable in the long-term. Although most of us are doing our best to keep our cup in flow, it's natural for us sometimes to get caught up in overdrive. Here are some rituals to offer an assist with your reset button.
Sleep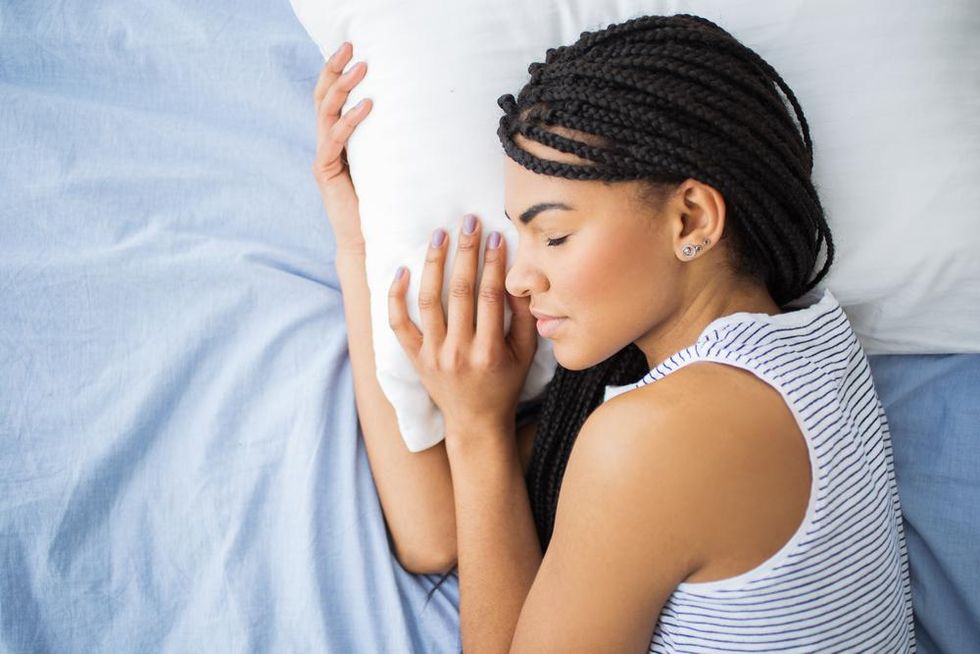 Shutterstock
Sleep is a simple yet very effective way to recover from a case of burnout. Sadly, sleep can also be hard to come by when you're feeling overwhelmed or stressed. It has been very easy for me to feel guilty for honoring my body with rest in my experience. The pressure of guilt had caused me to push myself when I had nothing left. My lack of rest also contributed to mood and productivity. When our bodies lack rest, our brains are naturally less alert and reactive.
Making sleep a priority has helped me recover from several cases of burnout. There are many benefits to resting your body. According to health.gov, a few of those benefits are thinking clearer, interpreting conversations, reducing stress, anxiety, mood, and overall productivity. Our bodies and brains need rest for us to operate as our best selves.
Sun 
When I am feeling burnt out, it's only natural for me to need space to myself. On the contrary, I find I can also become a little too comfortable in isolation. Purposely avoiding human contact because I'm not ready to open up about how I am "really" feeling. During these times, my body and mind are weakest, and so are my thoughts about myself. I slowly begin to suffer in the darkness of my thoughts, and that's when I know it's time to let the light shine on me.
Mother nature is our friend; she is always here to help and is an excellent energy source. When we are in a state of burnout or need to reset, we are also more likely to fall into depression. Burnouts can cause us to feel low and lead to isolation because we don't have the energy to be social. Although it's important to remember that burnout isn't depression and depression isn't burnout - it's also essential to know one can lead to the other. During these times, it's healing to enjoy the company of the sun.
There are many benefits of using the sun as a source of healing. Some of those benefits include increasing your mood, easing depression, as well as increasing your energy. A perfect way to get in your vitamin D source is by taking a simple 10-15-minute walk (with sunscreen, of course). We also recognize that during these spring months, there may be more rain than shine. Investing in a sunlight lamp can also be a great way of supplementing your source of vitamin D on those rainy days.
Self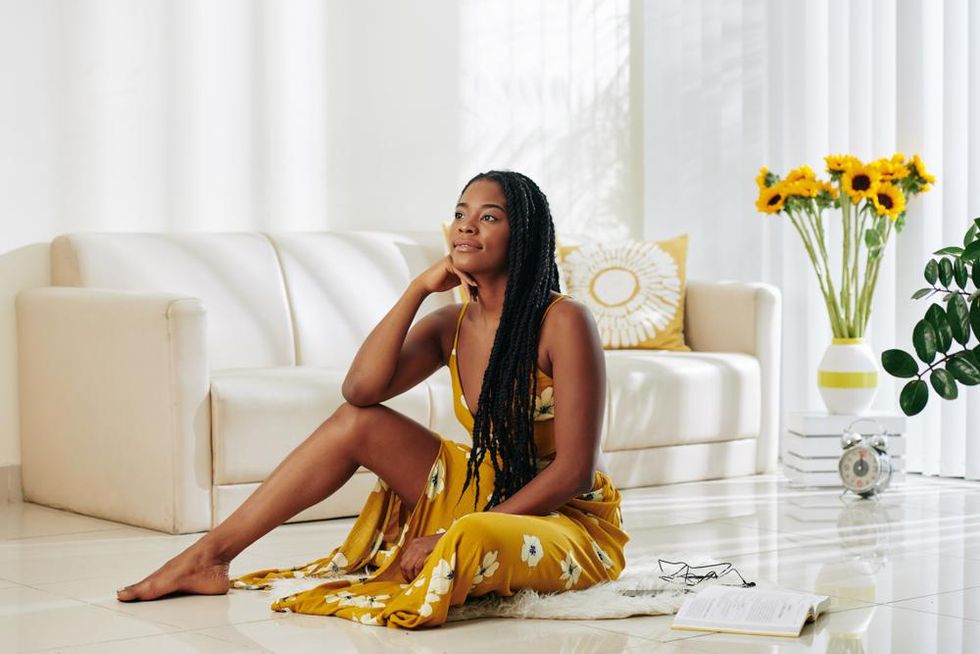 Shutterstock
I believe we can find growth in every situation, even the position we place ourselves in. Over the years, I have realized that burning out is also a perfect time for some self-reflection. I enjoy asking myself questions like, "How did I get here?" and "What habit can I change?" I discovered self-reflection helps me adopt better habits and prevent future burnouts.
A perfect way to incorporate self-reflection during your time of rejuvenation is journaling. Taking time to write out our thoughts and emotions can help guide us to how we got there in the first place. Journaling prompts are a great source to help us learn how we can make gentle decisions for ourselves in the future. To help you get started on your self-reflection journey through journaling prompts, please click here.
Finally, remember to be gentle with yourself. We understand being a #bossbabe is hard, but also remember how deserving you are, Queen! You are worthy of a break, sleep, and success! Heck, you're worthy of success while you sleep! When you're a queen building a kingdom, it's only right to take a moment to polish your crown. Rest easy!
Are you a member of our insiders squad? Join us in the xoTribe Members Community today!
Featured image by Shutterstock

Keep reading...
Show less
In xoNecole's Finding Balance, we profile boss women making boss moves in the world and in their respective industries. We talk to them about their business, and most of all, what they do to find balance in their busy lives.
Are you familiar with the show Snowfall? If not, you should definitely grab a nice bottle of wine, a snack, and get ready for a good binge, because you are missing out, sis! Snowfall is an FX show, co-created by the late John Singleton, that highlights the first crack epidemic in Los Angeles and how it impacts the community, especially the black community. The show stars Damson Idris, who plays Franklin Saint, a 20-year old drug dealer who gets in over his head in the drug game. But there are always two sides to a story. While we see how drugs have brought extra cash in people's pockets, Snowfall also shows how drugs have changed the lives of black people forever. Recently, we sat down with actress Gail Bean, who plays Wanda Bell, a strong young woman who unfortunately becomes an addict to the crack product. While I am not going to give you any spoilers to this amazing show, the character Wanda shows the realness of the evolution of addiction and by Gail's words, that "the day before your life changes, it's just a normal day."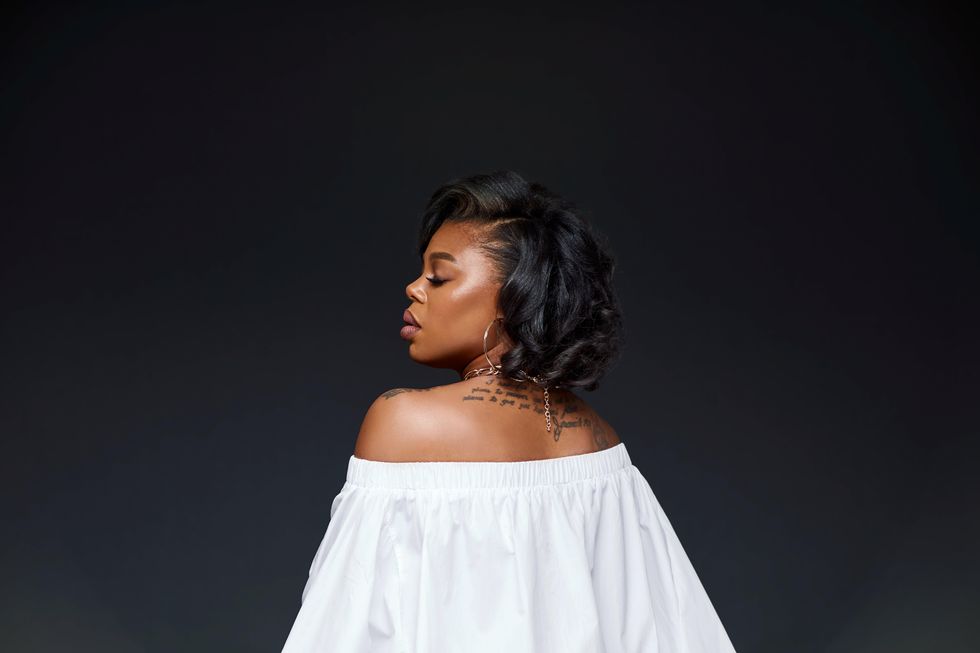 Shot by: @stephonx_ Stephon WilliamsCourtesy of Gail Bean
Growing up, Gail Bean has always had a passion for the arts. Snowfall is not her first big role on the screen either. The Atlanta native starred in the Kris Swanberg's Sundance film festival hit Unexpected in 2015. In this film, Gail played Jasmine, a promising high school student who unexpectedly gets pregnant and builds an unlikely friendship with her teacher; who happens to be pregnant at the same time. While Gail Bean continues to follow her passion in acting, Gail Bean's main priority is to break down barriers for the black community. Gail wants to show others after her, the possibilities of making a name for yourself in this world and making a positive impact.

In this installment of Finding Balance, we talk to Gail Bean about resilience, setting boundaries, and tapping into your passion to ultimately find balance.
xoNecole: Tell me about your process for getting into the character of Wanda [in 'Snowfall']. 
Gail Bean: I use my personal experiences with other people and I have done extensive research. With my research, I watched documentaries to really understand the progression of people when they first become crack addicts and see what happens over time. I learned so much about people's stories where they were prom queens or athletes before drugs took over. I also would do volunteer work at My Friend's House when I lived in LA. With My Friend's House, I was able to pass out food, clothes, and toiletries for people who live on Skid Row. I was also able to get up close and personal with people who were addicts.
What made you want to become an actress? Did you always see yourself working in television and film growing up?
I have always loved performing. I was a senior in high school when I decided I wanted to pursue drama. I actually really loved law growing up. I thought I was going to be the female Johnnie Cochran (laughs). But I believed acting would challenge me more. No shade to the lawyers out there (laughs)! After I graduated college, I moved to LA, where I started acting full-time and took it seriously.
What is your "why"?
This sounds so professional, but this is really the truth (laughs). I want to break down barriers for the black community. I really want to make the road to success, whatever that may look like, easier. My goal is to inspire others to broaden their perspective on what a career could look like for them. There are so many paths we can take in order to reach a lifestyle that we want to live. There are already obstacles out there to make sure we do not make it to the top. So I want to help change the mentality that we can't make it out here. No matter what other people may say, delay does not mean denied.
"There are so many paths we can take in order to reach a lifestyle that we want to live. No matter what other people may say, delay does not mean denied."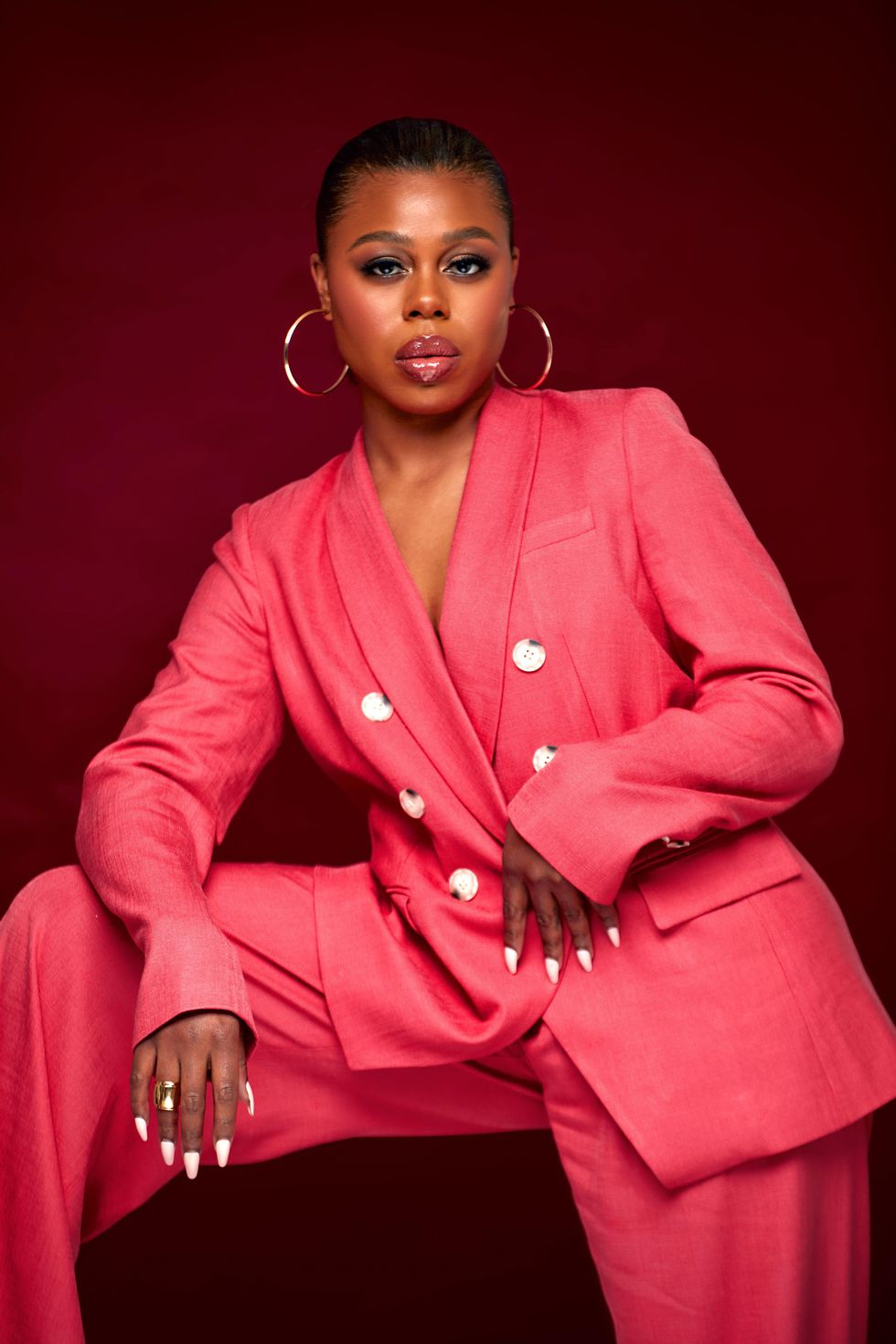 Shot by: @stephonx_ Stephon Williams
Courtesy of Gail Bean
At what point in your life did you understand the importance of pressing pause and finding balance in both your personal and professional life? 
At what point? Now (laughs). I have always been the person to be there for everybody and be everywhere whenever someone would call. But right now a lot of things--a lot of good things--are all happening at once. In order for me to really find balance, [I have] to work, but also make time for my family. My family is truly the one thing that keeps me grounded. I have been intentional in making uninterrupted family time into my schedule.
How would you describe the perfect self-care day for yourself?
OK, so BOOM (laughs). A perfect self-care day for me would start off with a nice mimosa in the morning and a bubble bath. Then I would go on a bike ride. After my bike ride, I would have a dance party in my house followed by a funny movie. Then I would go get a massage, the 90-minute session and not the 60-minute one, so they can stretch me all the way out (laughs). Lastly, I would like to come home to a personal chef cooking dinner.
How do you practice self-love?
How I like to show myself self-love is through gifts. This is also my love language. So normally, I would buy myself something or buy someone else something. Just receiving or giving a small token of appreciation makes me feel really good inside.
What advice do you have for busy women who feel like they don't have time for self-care?
Get your rest. Rest has to be mandatory for self-care. As women, we are always working and we think to ourselves, 'Oh, I just have to do this last thing.' Then that one thing turns into another thing. Pretty soon, you missed out on taking a break. Get that nap in, sis. Because what you do in 12 hours, with a nap, baby you can get it done in five hours. Also don't be afraid to tell people "no". It's OK to put your phone on Do Not Disturb during the day, so you can have that uninterrupted time. I know that can be hard because you may feel like you might miss something. But any opportunity that is meant for you, will not miss you. You can't be afraid to put yourself first.
"Rest has to be mandatory for self-care. I know that can be hard because you may feel like you might miss something. But any opportunity that is meant for you, will not miss you. You can't be afraid to put yourself first."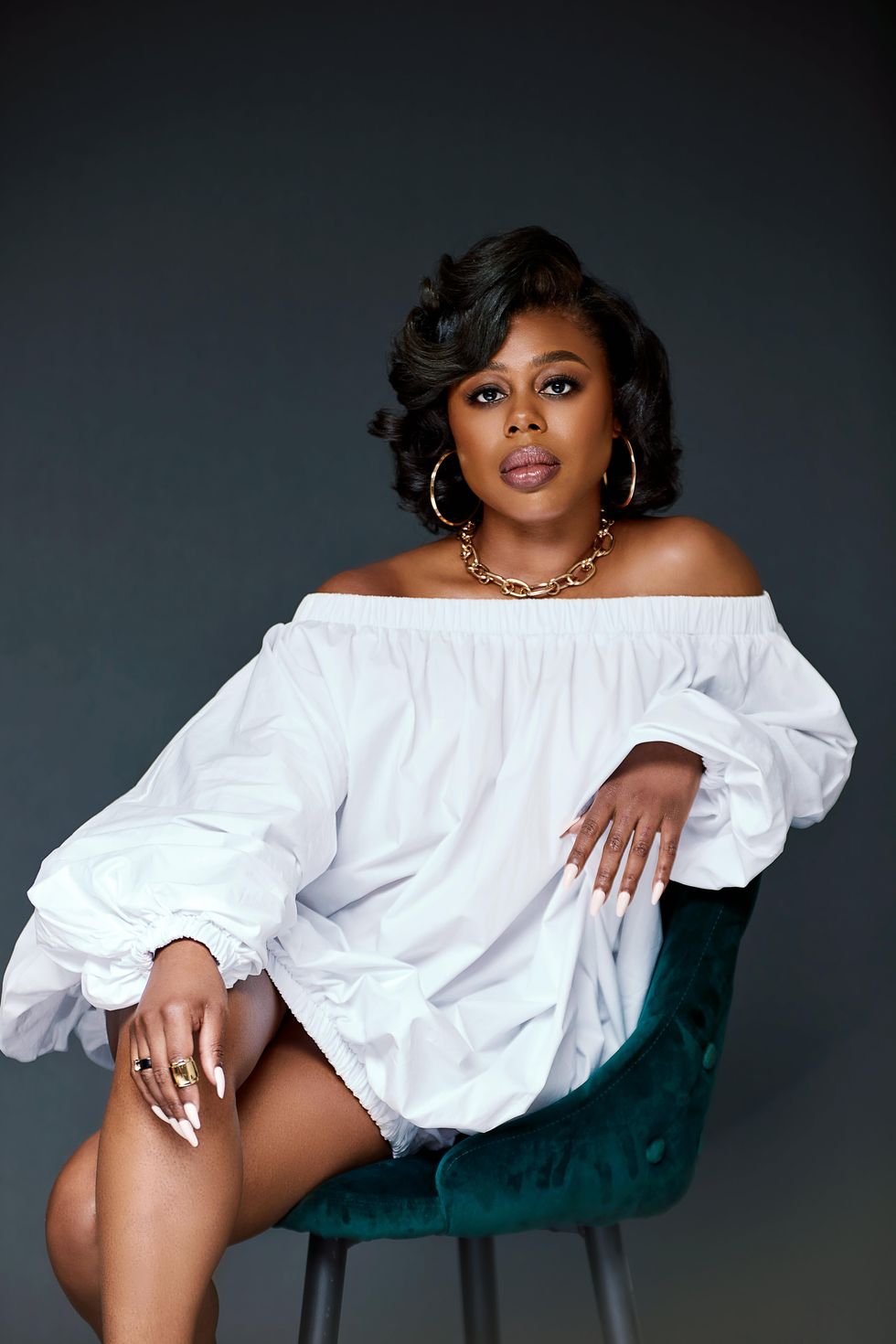 Shot by: @stephonx_ Stephon Williams
Courtesy of Gail Bean
How do you find balance with:
Friends?
My friends definitely understand my schedule. But I would say the best thing that has helped my friendships is communication. So many relationships are ruined because of bad communication. My friends and I make sure we check-in on one another since there are times we can't hang out because we are busy. But my friends and I are able to pick up where we left off regardless.

Love/Relationships?
Girl, let me tell you. My boyfriend is so supportive and patient with me, that having balance with him is literally the easiest thing. I am the person who is always in a rush and he is the complete opposite (laughs). I am so used to being in a rush because of what I do and he helps me slow down sometimes. Honestly, he is my balance.
Exercise?
On a weekly basis, I like to go skating and I love boxing. I actually started boxing for an audition I had. I wanted to make sure I prepped for the role, but I fell in love with it and I haven't put it down since. I can be a little aggressive (laughs).
When you are going through a bout of uncertainty, or feeling stuck, how do you handle it?
First, I acknowledge my feelings and then I allow myself to go through it. I tell myself to sit with any negative feelings for 24 hours. After those 24 hours, I say positive affirmations, listen to worship podcasts, or even put on a sad movie. People try to tell you not to watch a sad movie when you're sad, don't listen to that. If there is someone in that movie that can cry with me, then we can cry together (laughs)!
"I acknowledge my feelings and then I allow myself to go through it. I tell myself to sit with any negative feelings for 24 hours."
And honestly, what does success and happiness mean to you? 
There is this YFN Lucci song where he says, "Fame is when people know you. Notoriety is when people know your work." Success to me would be seeing my passion flourish with uplifting the black community, but it is also about notoriety. I don't care about being a celebrity, to be honest. More importantly, I want my work to mean something for people. I want the work I put in with my characters to last through generations.
For happiness, happiness is being at ease. Knowing that my family is taken care of is happiness for me. Knowing that I am loved and I can give love to other people any way that I can is happiness. Paying it forward where you are happy with yourself, you are able to spread happiness.
For more of Gail, follow her on Instagram.
Featured image courtesy of Gail Bean

Keep reading...
Show less
Megan Thee Stallion has been on a clear cut mission to reign supreme since she arrived on the scene. With her debut studio album, Good News, dropping last year, she has been going nonstop with maintaining a public persona, releasing new music, features on songs, award ceremonies, heartbreaks and love, and all the in between.
But now, sis says no more, as she is taking the time to recharge and regroup.
Posting to her social media to make the announcement, the Grammy-winning rapper shared an animated video accompanied by a computerized message which read:
"Megan Thee Stallion is recharging! Due to the demands of the Hot Girl lifestyle <Meg> has now entered a period of regeneration to prepare for what's next. ....In her absence; mgmt will manage all social posting on behalf of Thee Hot Girl Coach. [[Thee Hotties]] lead a brave //RESISTANCE in anticipation for the return of their Fearless Captain!"
This "period of regeneration" is to prepare for music festival season, where she's scheduled to perform at Rolling Loud Miami and Afro Nation Portugal in July, as well as Bonnaroo and Parklike in September.
Meg assured her fans that the moment was a regrouping period only, also adding the following:
I'll be back when it's time 🔥

— TINA SNOW (@theestallion) April 22, 2021
Call me selfish, but I'm a little hurt by this. I love how she has interrupted music, by normalizing a woman's need to put herself first. But it looks like she is taking her own advice, which I'm all the way here for too. After all, the Savage rapper has had a tumultuous year, from her mom's untimely passing, to literally being shot by mini-men which she befriended. She's gained endorsement deals and respect and friendship from most of her peers. She has done more in a year than most artists do in there entire career and sis is tired, m'kay?!

And since we are all about self-care around here, I say hit that island and enjoy allllll of your hard work.
As someone who has personally dealt with a mother passing, I can relate to the need to take a step back. As Black women, we carry the burden of the constant need to be more than--to be better, happier, stronger. We don't often receive opportunity to be vulnerable. Even after she was shot, the music industry was forced to check themselves on why it was that the men didn't support her, or defend her. So now that she has found peace, I can't think of a better time to focus on herself.
So Meg, enjoy the breeze, the break, and the bae. We'll be right here when you get back!
Are you a member of our insiders squad? Join us in the xoTribe Members Community today!

Featured image by Lev Radin/Shutterstock.com
Keep reading...
Show less