For many, the new year signifies a time for growth, new beginnings, and fresh starts. It's a time to set the tone for the year ahead by making resolutions, setting intentions, and creating lists of goals. All for the sole purpose of improvement and to manifest the life of one's dreams. Over the years, like millions of people worldwide, I have made numerous commitments towards having a healthier lifestyle.
As a yo-yo dieting, backsliding vegan, I have gained and lost weight many times. At my healthiest, I was a strict pescatarian who worked out six days a week and ran four miles a day. I logged every meal, so as not to exceed my 1400-a-day calorie allotment. On my cheat days, I did extra workouts to make up for whatever I ate. And I weighed myself twice a day, once in the morning and at night, to make sure the number on the scale did not move.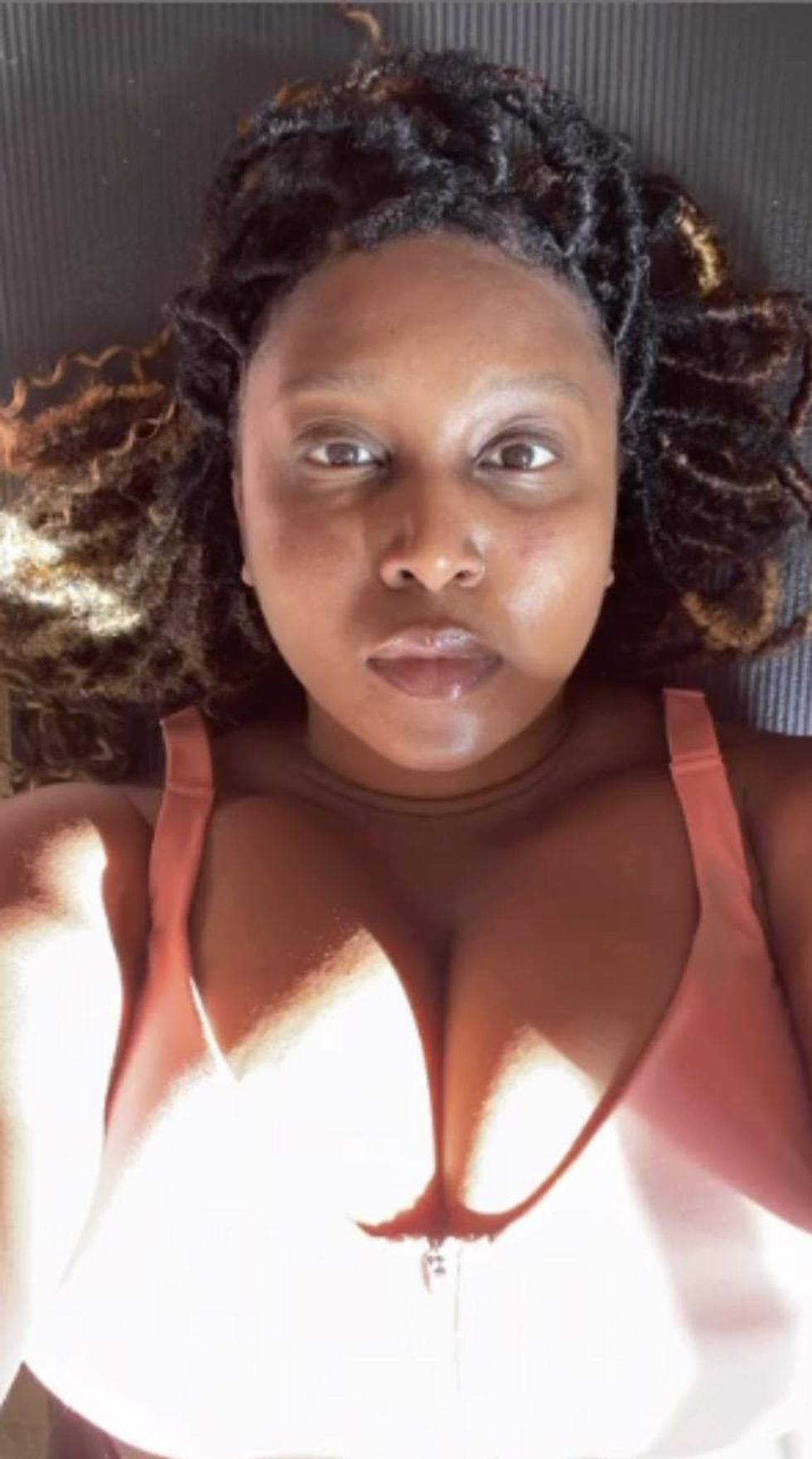 Racquel Coral
Over time, though, I became burnt out with that lifestyle and began to shy away from it. I found that it wasn't sustainable because of the restrictions that I had placed on myself. That and, it was no longer fun. So I traded in my workout time for unlimited hours on the couch watching TV and relying on meal delivery apps instead of cooking. Which did a number on my waistline, causing me to balloon to my heaviest weight of 260 pounds and a size 18/20.
All of that changed last year when I decided to be more intentional about my health. This time around, I opted for small actionable goals, rather than harsh food restrictions and hours in the gym. I ditched the scale, relying solely on my clothes and waist beads as indicators of my weight loss. And I vowed to not take any before and after photos. This weight loss journey was personal.
In the beginning, I committed to exercising 4-5 days a week for 20-30 minutes. Doing this helped me find enjoyable workouts that I could quickly do first thing in the morning before work. As far as food, I gave myself permission to eat whatever I wanted.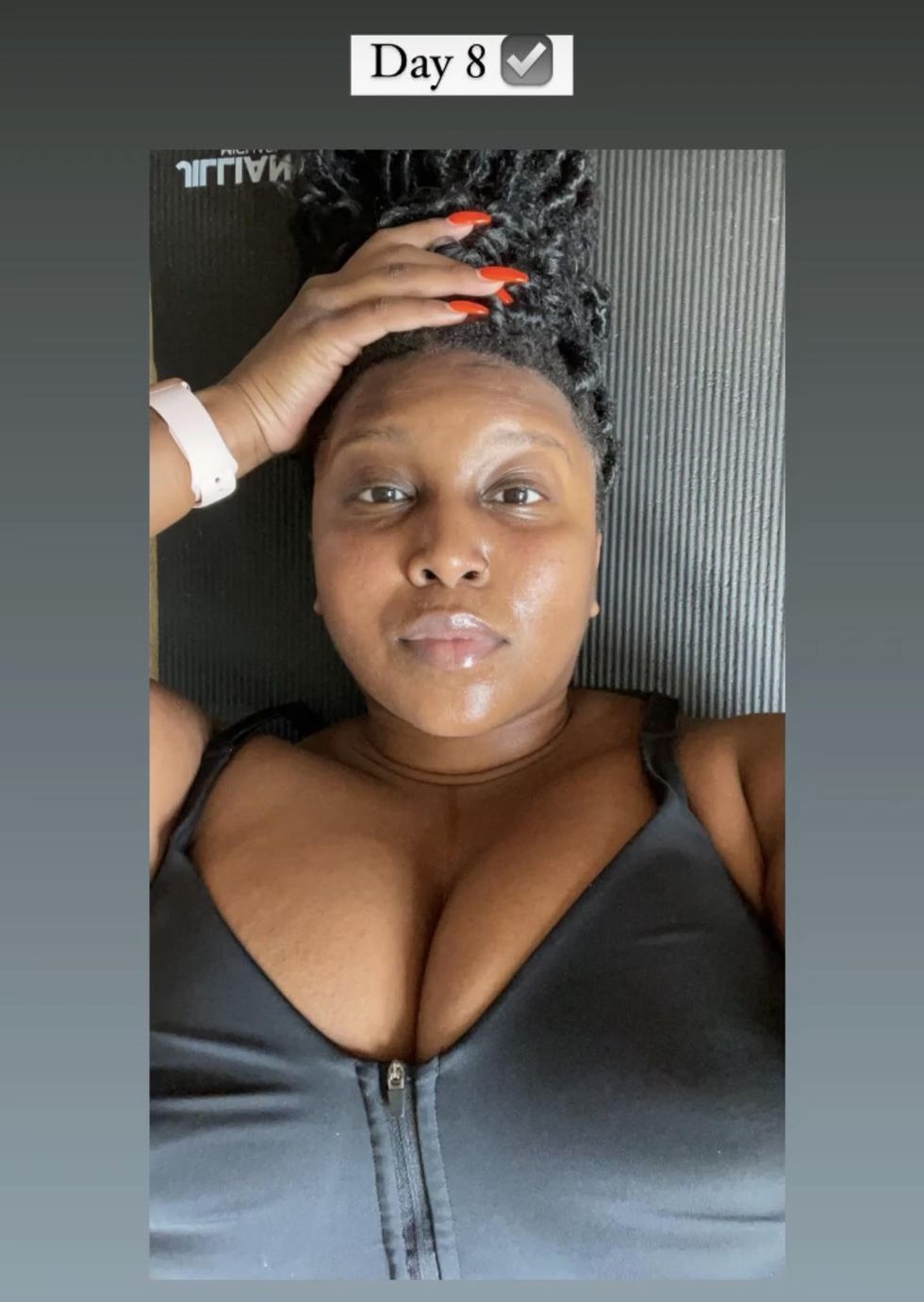 Racquel Coral
This was key because I wasn't as hyper-focused on how much I could or could not eat. It allowed me to enjoy my food without shame or guilt or waiting until my cheat day for a treat. It also helped me in making healthier food choices. So while I knew that I could eat whatever I wanted when I wanted to, I didn't. And on those days when I wanted to eat junk, I allowed myself to.
Those small changes caused me to view working out and weight loss differently. Finding the fun in it and making it a true lifestyle change. I finally discovered my groove and started enjoying the changes in my body along the way.
A few weeks into my newfound healthy living journey, I began to crave working out. It became as much of a routine for me as brushing my teeth. So I decided to work out every day until my body told me not to. As fate would have it, for Lent, a former classmate made a post on Instagram saying that she would work out every day until Easter and invited others to join her. Since at the time I was already around 30 days of nonstop exercise, I made the decision to keep going. This time adding yoga to my nighttime routine a few days out of the week, as I found that it helped with releasing everything from the day and aided in my sleep patterns.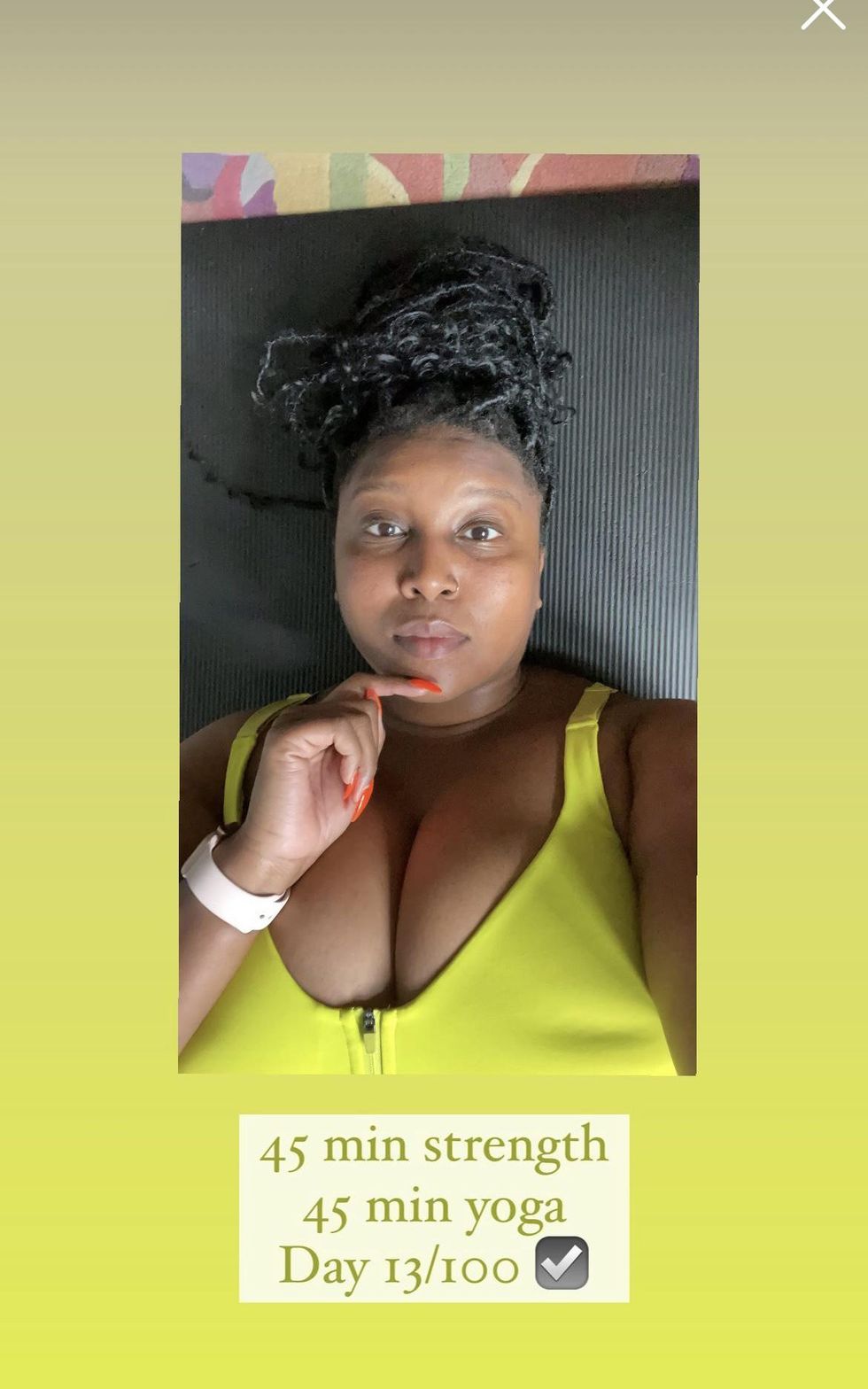 Racquel Coral
I reached my 100th day on May 4th. Now, I could have kept going, but I decided to stop so that I could revel in what I had just done. Over the course of three and a half months, I had gone from four years of no physical activity to successfully completing 100 days of exercise.
I transformed my entire approach to working out to not something that I have to do, but rather, something that I get to do. Not to mention, I went from a size 18/20 to a 14/16. One of my biggest takeaways from that experience was to honor my body by showing it gratitude. For every pushup, plank, down dog, or mile walked, it was a form of gratitude. Gratitude for not breaking down on me. Gratitude for going that extra step. Gratitude for every function that performed the way that it was supposed to.
Another takeaway was that working out is a form of self-care. A tool to help with issues surrounding our mental health. A way to boost our self-confidence. A reminder to find our happiness.
As Black women, we live some of the most sedentary lifestyles, so regular physical activity is paramount. In addition to what we eat, consistent exercise is a form of preventative medicine. So you can't fully practice self-care if you're neglecting to move these beautiful vessels that house and carry us each day.
In the beginning, I said that my weight loss journey was personal. It was more than losing a few pounds and going down a couple of sizes. It was the opportunity to get reacquainted with my body by giving it the grace to move as it saw fit. And to show love to it for never failing me, even at times when I have failed it.
Featured image by Getty Images
Keep reading...
Show less
My goddaughters' mom thinks it's comedy that I look for two different presents whenever my birthday rolls around. I mean, even though both of my "babies" and I are Geminis, it's not like I give the 10-year-old and two-year-old the same present, so why should I get a collective one from them? Not to mention the fact that they really get off easily because I don't observe holidays. Shoot, I better get my gifts (LOL)! And since I am single, I make sure that on my birthday, I gift myself as well. I mean, I love me — why shouldn't I celebrate and treat myself?
Along these same lines, if you are someone who totally adores this time of year, while you're out getting things for others, why wouldn't you get a couple of goodies for you too? I totally think that you should, which is why I've got a list of 10 different ways for you to treat yourself this Christmas. Most are super affordable. All have their own special significance. And each will help you to feel good about the holiday season — even if there is no reason to use any mistletoe…quite yet.
1. A New Color
When you get a chance, check out an article that I wrote for the site a couple of years ago entitled, "Understanding Color Psychology Will Sharpen Your Lens On Life." It can give you a bit of an intro, not just into what certain colors represent but why you might gravitate to the ones that you do, along with why that attraction might change from time to time. You know, something that I recommend some of the clients that I work with to do is to pick a color that represents where they are in their relationship in this season. Then I suggest that they get some things in their home that reflect that exact hue. For instance, if red is a couple's "thing" because it represents things like love, passion, and courage, bringing some red into their bedroom could help to bring the energy surrounding those words into their dynamic.
Along these same things, why not "gift yourself" with a favorite new color this holiday season? It can help you to gain some perspective when it comes to how you want to end 2021 and also how you want to enter into 2022. It might sound odd on the surface, but I promise you that it can clear up a few things. For instance, while I'm more of a neutral kinda gal, I'm into brighter colors right now. I know that means that I'm about to show more of the extroverted side of my ambivert personality over the next few months. I can just feel it. More professionally than personally…but still. Anyway, this recommendation is totally free. Can't hurt to give it a shot.
2. A New Bathrobe and Pair of Slippers
One of the best things about going to a high-end spa or hotel is those extremely comfy bathrobes. OK, so the one that you've got hanging on the back of your bedroom or bathroom door, how's it currently holding up? Hmph. Do you know what's a trip about those? We're supposed to wash them every 3-4 wears (like our towels) and we're supposed to get a new one every couple of years. Are you following through on either one of these things?
As far as slippers go, my nail tech gets pissed at me, almost every time I go to get a pedicure because she knows that I am barefoot all of the time in my house and she's constantly reminding me of all of the bacteria and fungus that I could be picking up off of my floors. So, while socks are more my thing, a new pair of slippers can be a wise move for you too. Not only can they keep all of the "stuff" away from your feet but the warmer your feet are, the easier it is for blood to circulate to them which is good for your immunity in so many ways. (By the way, slippers need to be replaced every six months.)
3. New Bedding
Shoot, isn't shedding 30,000-40,000 dead skin cells every minute of the day enough of a reason to not only wash your sheets every week but to get some new bedding right about now? At this point, I probably have more sheets than I will ever need yet there's something about how different fabrics, colors, and patterns give me a different experience when I'm reading, watching a movie, or getting ready to fall asleep in my bed.
A part of the reason why I've written articles for the site like "12 (Affordable) Ways To Make Your Bedroom More Tranquil & Beautiful" is because, if you're doing life right, you should be spending around one-third of your time in your bed (sleeping and/or sexing), so why wouldn't you invest in the kind of bedding that beckons you to do just that? Bedding shouldn't be treated like an afterthought. It absolutely should be a top priority purchase, at least a couple of times a year.
4. A New Journal
I've written about sex journaling (here), self-love journaling (here), and even vaginal mapping (here) for this platform before. A part of the reason is because, as a writer, I'm a huge fan of journaling. Also, because I've got several full journals at this point and I know for a fact that they helped me to write my past two books and a couple of ones that I am working on now, I know that journaling is amazing when it comes to documentation and reflecting on personal growth and progress. There are also studies that say journaling can help to tap into new levels of creativity; can better your communication skills; is excellent when it comes to reducing stress and anxiety levels; can assist with both setting and tracking both short- and long-term goals; can help to strengthen your memory; can boost your self-confidence levels and is a great way to spend some quality time with yourself as well.
That's why I'm all about setting aside at least an hour a week to do nothing but journal. I also think it's wise to get two new ones every year — one for your personal life and another for your professional life. It's the kind of investment that is truly incomparable on every level. And new ones represent a fresh start.
5. A New "Symbolic" Gemstone
While a lot of people spend time understanding zodiac signs, I personally am more into understanding various gemstones. Not only are they beautiful to look at but a lot of them have some really profound meanings. I started doing this when I was reading about all of the different ones in biblical Scripture and I haven't stopped since. Anyway, something that can be cool to do is to do your own research on them, meditate on a stone that you really gravitate to in this particular season of your life, and purchase a pendant, some earrings, a ring or bracelet that is made from that very stone.
Beadage is a website that has a list of over 100 gemstones and crystals, along with their pictures and meanings (you can look for yourself right here). Every year I do this and I adore, not just all of my pieces, but what they represented at each stage of my journey. It's a beautiful tradition. (Etsy carries a ton of different options at affordable prices if you decide you want something but you're on a really firm budget. Just go to the site and put the name of the stone in the search field.)
6. Some Sexy Underwear
Personally, I think it's kind of crazy that some women think that lingerie/sexy underwear is unnecessary if no one is looking at them in it but them. Chile, I have so much stuff that it's almost criminal at this point and I adore putting it on, just for myself. There's something about wearing silk and satin in really sensual cuts and styles that affects my walk, my tone of voice, and my energy all the way around. Some of us really need to get out of the habit of thinking that sexiness is for someone rather than being just who and what we are.
A new stash of sexy underwear can certainly help to emphasize this very point. If you need some tips on how to make the best selections for your personal taste and body type, check out "Lingerie Hacks: How To Choose The Best Kind For Your Body Type." Then check out "10 Black AF Lingerie Brands To Buss It In This V-Day & Forevermore," so that you can support Black-owned businesses.
7. Some Takeout for the Week Between Christmas and New Year's
I like to cook. So much that I do it, pretty much six times a week. One day a week, though, I will either go out and pick something up or have it delivered and, every time that I do it, I feel like I am treating myself. I know exactly what I'm getting. I don't have to prepare it. And because of the containers that the food comes in, I don't have to clean up afterward either. Although you may be with family and/or friends on Christmas Day, definitely set some money aside to order some food in the week between Christmas and New Year's Day.
Don't overthink it either. Choose whatever puts a huge smile on your face as you binge-watch a show, catch up on a podcast, or vibe to some of your favorite playlists. (If you're still "iffy" about takeout right through here, check out "10 Safety Practices For Ordering Takeout (During A Pandemic)".)
8. A Wine or Flower Subscription
Wine is packed with antioxidants. Studies show that it can help with your heart health, libido, digestive system, vision (because it reduces inflammation and oxidative stress that could damage your eyesight over time) and it can even help to prevent cancer cells from forming (and that's just for starters!). Fresh flowers are a wonderful thing because they are proven to reduce stress and anxiety, plus they can improve your mood and even your memory! At this point, I can't even tell you how many times I've emphasized the importance of celebrating yourself on this site.
In 2022, make it a practice to either toast your accomplishments (both small and large) with a new bottle of wine or end your week with some fresh flowers. You can make this really easy by purchasing a wine or flower subscription. They aren't as expensive as you might think either. Some wine subscriptions are less than $20 a bottle and some flower subscriptions are under $40 a month.
9. A New Bank Account (and/or New Stock)
Something that I recommend married couples get is a sex jar (you can read why here). Something that I recommend singles do is have an account (or your own jar if you can keep it in a safe place and have the self-control to not take money out of it). No, not a checking or savings one (I'm thinking that is a given). I mean one that solely goes towards a plan that you have that you keep not manifesting because you think you can't afford it — a trip, a class, funds to start an Etsy page or your own company…money that can help you to get to the next level in some area of your life.
While we're on the topic of coins, something else that can help to make big things happen is investing in some stock. No time (or space) to get deeply into that now but man, speaking with a financial consultant about how to invest a few dollars can be truly life-altering (I know too many people in my life who can personally attest to this!). A good example is cannabis stock. Don't let these white folks reap all of the benefits from investing in that lane. If you want to do more research in this area, click here, here, and here for intel on some of the best cannabis-related stocks to invest in right now.
10. A Spa Day
I recently read a tweet that said something along the lines of, "Next year, I'm done acting like waxing and getting my nails done is pampering. That is maintenance." That woman and I definitely "see each other" because I've been on that page for quite a while now. Listen, I've only had a couple of full-on spa days in my life and they weren't cheap. Oh, but they were super duper worth it. Even if you can't make a spa day happen by Christmas — shoot, even if you've got to wait until around this time next year — definitely make it a top priority to book an all-day spa appointment sooner than later.
I mean, get a full body massage, take advantage of some aromatherapy, get a few facials (face, hand, feet, etc.), do some microdermabrasion — go all out! You'll honestly need a good $600-1000 to pull it off but if you save $85 starting now until next December, you'll have $1000 and $20 for a tip. It will remind you to really indulge yourself, hold you accountable to saving for it, and remind you that your beautiful single self is totally worth it. Happy Holidays!
Featured image by Getty Images
Keep reading...
Show less
As the holiday craze saunters in and the countdown to the end of the year begins, life's level of chaotic can feel like it's in overdrive. This can result in mental health becoming less of a priority and burnout taking on new meaning, which can leave many of us feeling stressed AF and insanely depleted. Not only is seasonal affective disorder a real thing, but the past two years have been trying. To say it lightly, life has been life'n. This also means that we have to extend ourselves more grace because we are all having our own human experience.
We wanted to round up some ways you can balance your mood for those days when you need a little extra help. Ahead, find some tips and tricks approved by experts.
Try journaling.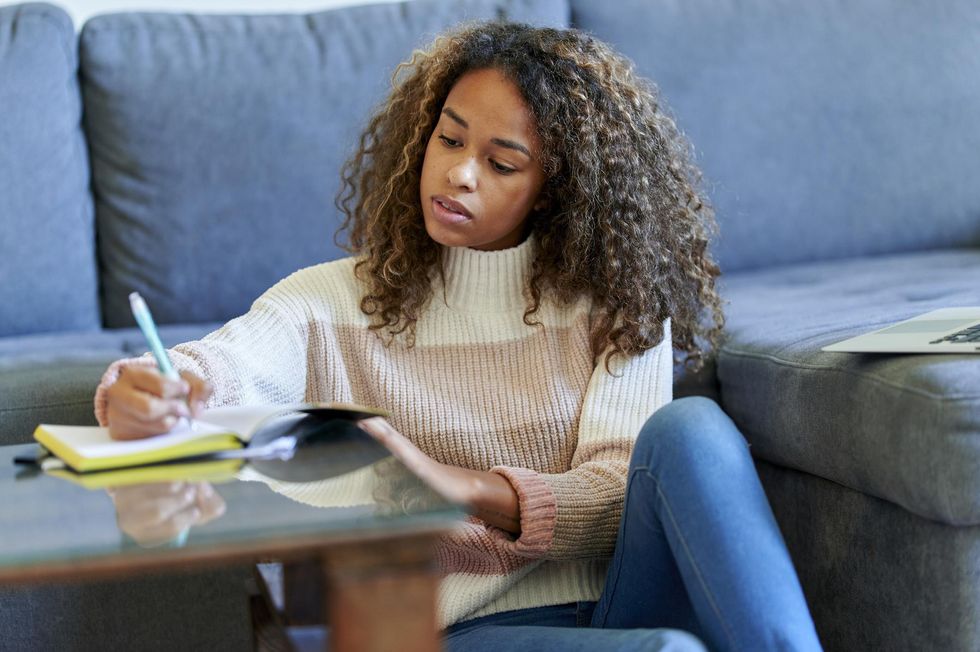 Getty Images
Journaling is a surefire way to add some sunshine to your life. According to Mental Health Therapist, Breigh Jones-Coplin, journaling is honestly a game-changer for our mental health. "It is a way of release— externalization. Our brains take in so much information each day and the process of journaling can provide an "emptying" effect where we clear up cognitive and mental space. This can help us feel less foggy, less anxious, and ultimately more relaxed. Journaling also provides perspective."
According to Breigh, when we put our worries, fears, feelings, and thoughts on paper, they become a journal entry— something less real and something separate from us. "This allows us space to take a step back and see things for what they are and find clarity, which is definitely a mood booster within itself. My personal favorite benefit of journaling is that it slows us down and gives us space to reflect. Reflection is where learning and healing take place. Any time we can gift ourselves the gift of release, clarity, and reflection, it's a win."
Switch up your diet.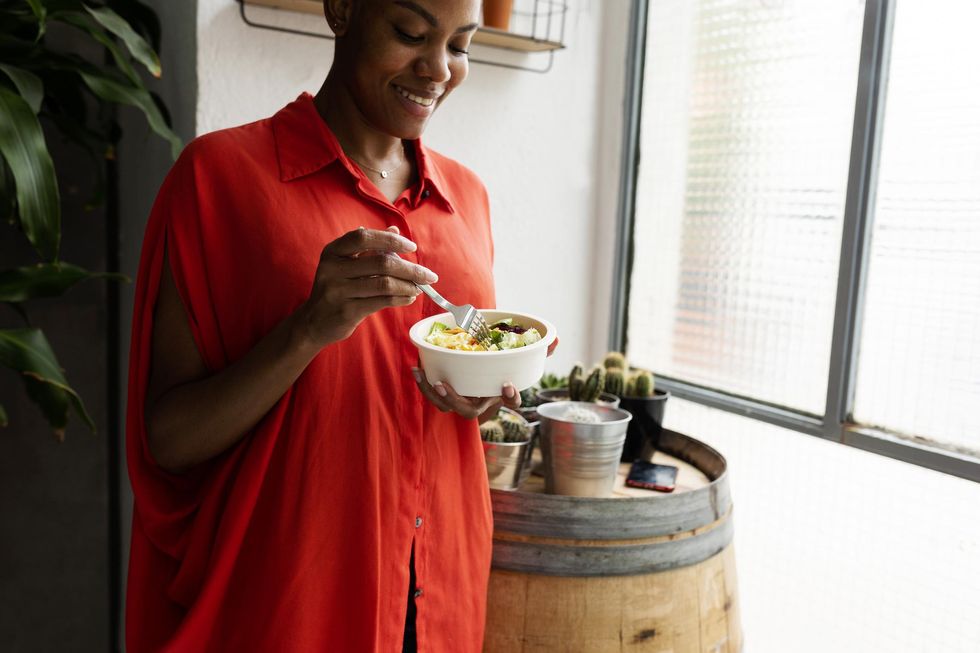 Getty Images
Turning to food when you're feeling stressed AF is normal for many folks. We just have to be mindful of how we manage that relationship with food and consume foods that level up our mood. Some of those foods include:
Salmon
Dark chocolate
Spinach & leafy greens
Berries
Yogurt & other probiotics
Bananas
Oats & nuts
Did you know that 90% of your body's serotonin is produced in your gut? That proves that a healthy gut equals a good mood.
Meditate.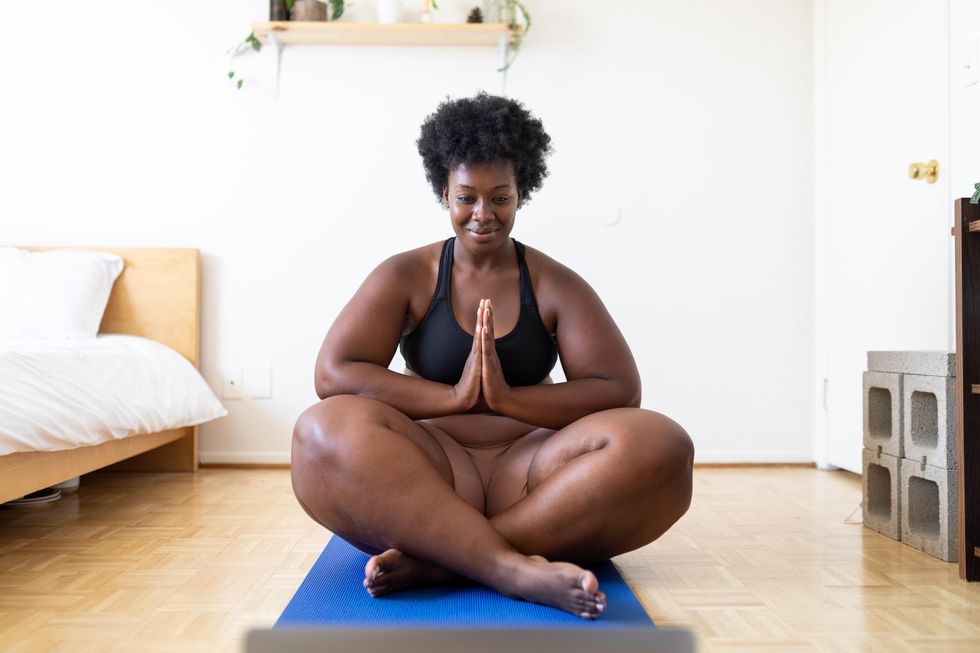 Getty Images
Ten minutes of meditation was found to decrease future-oriented worrying and boost focus ability in the present. While it can be hard to mute your thoughts, it is the fastest way to reduce stress. For thousands of years, meditation has been used to free your mind and yes, the rest will follow. Benefits range from gaining a new perspective on stressful situations to increasing self-awareness to reducing negative emotions.
We have found that guided meditation helps with focus and relaxation. Apps like Shine and Headspace serve as a support system and self-care ritual full of daily meditations.
Take a digital detox.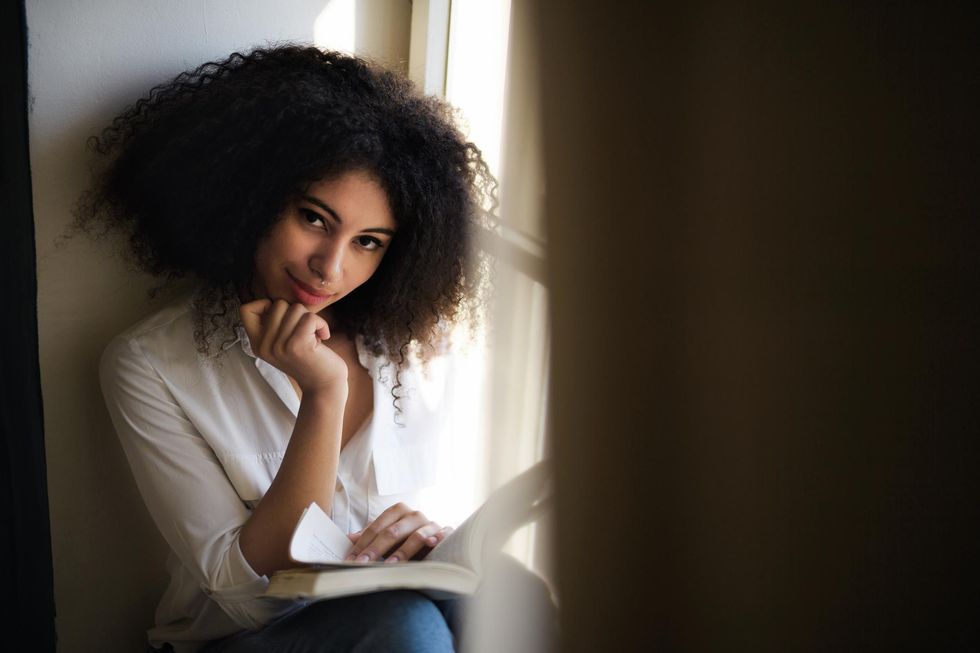 Getty Images
We all need a digital detox every now and then. Constant connectivity is proven to affect work-life balance. Kendra Cherry, MS, via Verywell Mind writes, "That feeling of always being connected can make it difficult to create boundaries between your home life and work life. Even when you are at home or on vacation, it can be hard to resist the temptation to check your email, respond to a text from a colleague, or check in on your social media accounts."
Social media alone can make you compare your journey to others and that is the ultimate thief of joy. You can start your digital detox by muting notifications, spending more time in nature, or not going online when you wake up.
Move your body.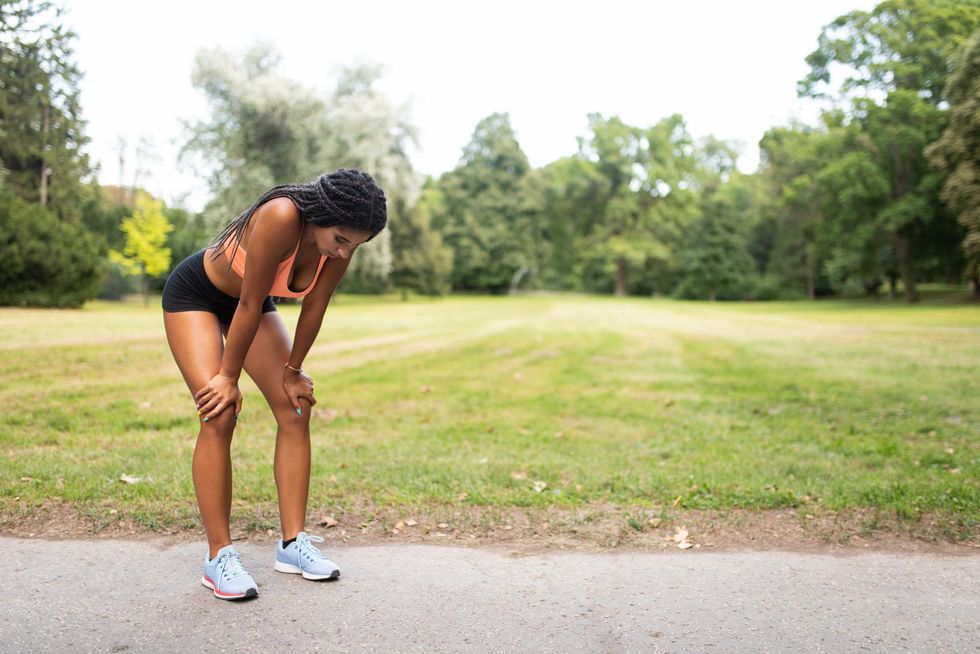 Getty Images
Between better heart health and increased endorphin levels, moving your body is essential. Dr. Gotlin of Mt. Sinai Hospital told Everyday Health, "Endorphins are our body's natural hormones that get released when we are doing something that requires a burst of energy — they are the things that make us perform, make us move."
According to the Journal of Science and Medicine in Sport, aerobic exercise is top tier when it comes to helping ease symptoms of depression.
For more inspiration, self-care, and healing tips, check out xoNecole's Wellness section here.
Featured image by Getty Images

Keep reading...
Show less
Love is kind. When it comes to how the Good Book defines love, the first word that is used is "patient." The second? It's kind. I can't tell you how many times I've sat in a counseling session with a married couple and been like, "Wow. Have y'all ever been kind to one another? Like…ever?" I also can't keep up with how many times I've noticed people whose words and actions, about and towards themselves, seem to be lacking in kindness too.
And since I wholeheartedly believe that there is absolutely no way that you can claim to love anyone, including yourself, without exhibiting vast levels of kindness, I thought it would be a good idea to share with y'all some helpful ways to start being kinder to yourself. So that you can see yourself in a better life. So that you can love yourself (even) more.
1. Determine to Extend to Yourself Kindness, Compassion and Respect
Recently, someone asked me to name three things that I thought people who are too hard on themselves were lacking. What immediately came to mind was kindness, compassion, and respect. And just what do all of these things look like when it comes to how you should express them to yourself?
To be kind is to be considerate, gentle, and even indulgent. That said, do you constantly put other people's feelings and needs above your own, even to your detriment? If so, you're not being very kind to yourself. When you make mistakes, do you constantly rehash them and blame yourself to the point of invoking emotional self-abuse? If so, you're not being very kind to yourself. Are you the one who constantly gives to others and yet you can't recall the last time you did something special for yourself? If so, you're not being very kind to yourself.
Compassion? Self-compassion is all about doing what the definition of compassion speaks about — "a feeling of deep sympathy and sorrow for another who is stricken by misfortune, accompanied by a strong desire to alleviate the suffering". When something bad — or even unpreferred — happens to you, it's OK to extend sympathy, yes, to yourself. And when you are truly self-compassionate, you tend to be proactive as all get out about figuring out how to limit the time of suffering that you must endure. That might mean that a break-up requires going to therapy. Or that the end of a friendship will cause you to want to get closure so that there is peace between the two of you. Or if you've had a health scare, rather than beating yourself up over what you think you could've done differently, you figure out how to move more wisely going forward.
And respect? Respect is about esteem and esteem is about being valued. Do you require that the people in your life treat you like they value you? While we're at it, do you treat yourself like you value yourself? So much chaos, confusion, and frustration could be alleviated if we made it a point and practice to be kinder, more compassionate, and required to be treated with respect in this life.
2. Schedule in Quality Time with Yourself
By this time, I'm pretty sure you know what the five love languages are — physical touch, words of affirmation, acts of service, gifts, and quality time. Yet when it comes to loving on yourself, how good are you at expressing your own top two love languages? While my love languages are physical touch and words of affirmation, when it comes to being kind to myself, I know that all five need to be applied and that quality time, especially, needs to be a top priority.
Quality time with yourself is about turning off your notifications and reading a book. Quality time with yourself is about taking your own self on a date every once in a while. Quality time with yourself is about going on a walk before breakfast or after dinner, just to clear your mind. Quality time with yourself is about pulling out a piece of paper and writing down things that you like about yourself and are proud of. Quality time with yourself is about really listening to your mind, body, and spirit so that you can acknowledge when one or all of these areas express exhaustion or the need for some sort of pampering.
I don't know about y'all but the older that I get, the more I realize that 24 hours go by pretty quickly, and oftentimes, a lot of that time, goes to everyone but myself. Well, it used to be that way. For the past few years, I am all about giving myself some much-needed quality time. And you know what? I'm much calmer and far more focused and centered because of it.
3. Master the Art of Self-Comfort
Recently, I took a trip to go visit my goddaughters. One is 10 and the other is 2. Something that the two-year-old has mastered in a way that the 10-year-old hasn't (yet) is the ability to self-soothe. And boy, if that won't preach, I don't know what will! Although we are not an island, it's still important to know how to comfort oneself instead of always relying on other people to do it. Why? For one thing, folks are human and humans are fallible which means, at some point, they are going to disappoint you. Secondly, no one should be given so much power that if you have a need that they can't — or won't — meet, you are instantly in shambles because of it.
If you get bad news and your bestie pushes you to voicemail, you should be able to comfort yourself. If you had a hard day and your partner can't immediately discuss it with you, you should be able to comfort yourself. If you have moments when you don't feel as insecure as you would like, you should be able to comfort yourself. At the end of the day, self-comfort is all about being able to reassure yourself that you're a good person, that things are going to work out in due time and you're going to be OK until they are — and until that happens, you will figure out how to make yourself more comfortable in your reality.
Self-comfort is a superpower that doesn't get nearly enough props. I promise you that if you master it, it will totally change your life.
4. Devote Time, Each Day, to Your Dreams/Passions
A motto that I made up and live by, more and more, is "Chase nothing. You were born with your purpose and even your dreams come to you, so chase nothing." Instead, honor your dreams and passions by investing some of your time and talent into them. Not every once in a while. Not even for an hour, a couple of times each month. While you're in the process of putting your to-do list together, carve out 20 minutes to do something as it directly relates to a personal goal that you want to achieve.
The reason why this should be seen as an act of kindness is that just think about it — every day, a lot of us give someone else 6-12 hours of our time, oftentimes to build their dreams and passions on some level. By being intentional about setting some time aside for your gifts, your ambitions, your desires, it reminds you that what you want to manifest is important; so important that it deserves your undivided attention — not occasionally…daily.
5. Learn What Your Limits Are
As a survivor of many forms of abuse, whenever I'm asked to simplify that definition of abuse, while I do like what I once heard Dr. Phil say many years ago (that it's the "abnormal use of something"), I think it's about dismissing or disrespecting someone's limits; especially after someone has stated what they are. This goes back to my goddaughters again. As close as I am to them, whenever I see them, I don't rush to touch them. I let them know that I am thrilled to be in their presence, that I love them, and then either I will ask for a hug or wait for them to come to me. That's because their personal space is their personal space. A part of the reason why I'm so hypersensitive to this is that I grew up around people who, quite frankly, didn't give a damn about my boundaries — even to the point of giving me diaries, reading them, and then punishing me for what they read.
Even as an adult, in real-time, I will state certain things that I don't want to happen as it directly relates to myself, and some of my relatives will railroad right over what I said and do what they want anyway. Disrespectful. Whew, so disrespectful. And when we grow up not having people to 1) teach us boundaries and/or 2) honor our boundaries, we can grow up not knowing how to set the proper limits either. That results in us being people pleasers and/or exhausting ourselves and/or feeling bad whenever we say "no." Listen, people who truly love and respect you are going to adhere to your limits because they will want you to do the same for them. If you have gone so long without having any — or providing consequences to those who dishonor them — this is a textbook example of not being very kind to yourself. Isn't it about time that you start?
6. Treat Yourself. Daily.
When it comes to self-care content, you are probably never going to see a time when I'm not going to shout out the importance of treating yourself in some shape, form, or fashion. First, it gives you something to look forward to. Second, it reminds you of how important it is to reward — "something given or received in return or recompense for service, merit, hardship, etc." — yourself. Third, it "programs" you into the habit of doing something special for yourself, just because.
So, whether it's a pedicure after work, a luxurious bubble bath at home (check out "How About You Treat Yourself To A Luxurious Fall-Themed Bath?"), some takeout from your favorite restaurant (check out "10 Safety Practices For Ordering Takeout (During A Pandemic)"), a half a pint of your favorite ice cream (wink), or hopping on a site to purchase something that you've been eyeing for a while now — get used to planning to treat yourself. Not (just) on your birthday. Not only on special occasions.
Hell, every day is a special occasion, if you ask me. Be kind to yourself by loving on yourself by treating yourself. It's a simple practice that goes a really long way.
7. End Each Day, Acknowledging the Things You Did Well
It never fails. Whenever I ask someone to list five things that they like and then five things that they don't like about themselves, they ALWAYS start off with the "dislike" side. While there really is such a thing as a "negative bias" (which is why it's important to be hypervigilant about the amount of negativity that you take in from people and devices on a daily basis), oftentimes we can "rewire our brain" by focusing on the positive more often. One way to do that is to make a commitment to yourself, each and every day, to not close your eyes until you have vocally acknowledged at least three things that you did well that day. If it was showing up to work early, say it. If it was biting your tongue to keep the peace with someone who lives to trigger you, say it. If it was choosing not to break your budget to get something that honestly can wait a few more weeks, say it.
There is plenty of scientific data to support the fact that when we say things out loud, that makes it easier for us to remember them. So, make a promise to yourself, right here and right now, that you won't let one more day go by without "clapping for yourself", verbally, for a job well done — so that you can get used to "staying in the light" by thinking about the more positive side of things; especially as it relates to yourself.
8. Let Each Day Go at the End of Each One
This final point, oh, I'm preaching to the choir, right here, chile. You know, there's a Scripture in the Bible that says, "'Be angry, and do not sin': do not let the sun go down on your wrath, nor give place to the devil." (Ephesians 4:26-27 — NKJV) I like these verses because 1) they're a reminder that there is nothing wrong with being angry; you just need to make wise choices in your anger and 2) they drive home the fact that holding a grudge is basically begging for trouble up the road — that it really is best to learn how to just…let things go.
For the record, I personally don't think that "letting things go" means not holding people accountable if they wronged you, that you should suppress your feelings if something doesn't sit well with you or that you should pretend like things are OK when they clearly aren't. To me, letting go is 1) purposing in your mind to control only what you can; 2) deciding to "state your cause" when the time is right and not nag once you do; 3) forgiving so that you aren't harboring negativity; 4) extending the grace and mercy that you would want to receive if the shoe was on the other foot; 5) not letting what happened yesterday have some much power over you that it wrecks an entirely new day.
Meditation can help you do this. Prayer can help you do this. Sharing your feelings in a safe space like with your spouse, significant other, or a close friend can help you to do this. Just make sure that you do it. Because when you make the choice to not internalize, harbor, or constantly rehearse things, it can prevent you from feeling anxious, overwhelmed, or totally stressed out.
Yep, letting stuff go is definitely an act of kindness because it ultimately helps you approach things from a place of peace and productiveness instead of bitterness and stagnation. And when you do this, you are being good to yourself — and when that transpires, life oftentimes is kinder to you as well. Hmph. Funny how that plays out, huh? Yeah. Exactly.
For more inspiration, self-care, and healing tips, check out xoNecole's Wellness section here.
Featured image by Getty Images
Keep reading...
Show less
If you read enough of my content on this platform, you already know that 1) fall is my absolutely favorite season and 2) I'm all about a good pampering. Which brings me to this question — when is the last time that you pampered yourself? I don't mean what I generally consider to be maintenance moves like scheduling a mani/pedi appointment or even getting a massage; no, I mean, when's the last time you did something that falls into the category of indulgence? Pure, sheer and totally unapologetic self-indulgence.
If you're a bit stumped in finding the correct answer, perhaps these 12 "nudges" will inspire you to do something that will make you feel a little "self-spoiled" over the next couple of days. As a bonus, they're all fall-themed too. How dope is that?
1. Put Some Fall-Themed Flowers (or a Wreath) in Your Home Office and Bedroom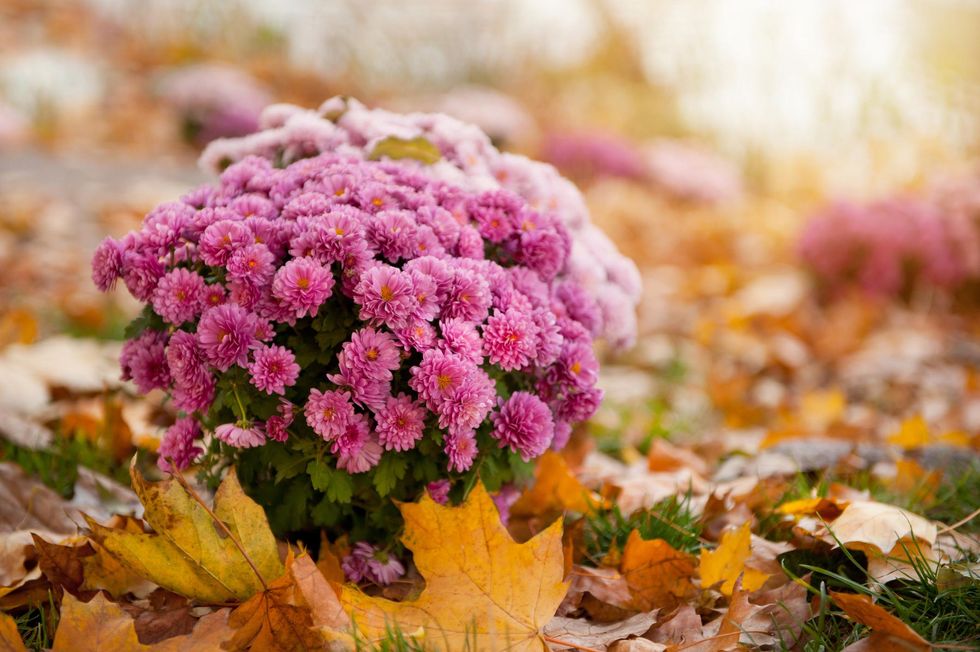 While some people get fresh flowers for their home for purely aesthetic reasons, the reality is there are a lot of health benefits that come with doing it too. Fresh flowers can help to get you into a better mood. Fresh flowers can inspire creativity. Fresh flowers can reduce stress. Fresh flowers can even help you to physically heal at a quicker pace and sleep more soundly. So, in the spirit of all things fall, why not get some blooms that are at their peak right now? Some of those include chrysanthemums, pansies, and anthers.
Or, if flowers aren't really your thing, how about hanging up a wreath? I've got a couple that is made out of nothing but twigs; yet, surprisingly, they feel very "autumn" and make my living room and bedroom feel extra cozy because they are on my walls. You can usually find them at a local arts and crafts store; especially around this time of the year.
2. Get a Humidifier That Comes with a Diffuser 
Something that I've been saying, on loop, to anyone who will listen, is in this season of COVID that we're in, it's an absolute must that you bless your space with a humidifier. The main reason why is because viruses like COVID, colds, and the flu struggle in low humidity (however, if you check out "10 Really Good Reasons To Get Yourself A Humidifier This Fall," you'll see that it comes with some other benefits as well). Although the humidifier that I have doesn't have this particular feature, I have owned one that comes with a diffuser so that essential oils are able to "run" along with the mist that comes out. The result is whatever room a humidifier is in, it smells absolutely divine. If this piques your interest, oh so Spotless is a site that offers up some reviews on a few humidifiers that have diffusers. You can check them out here.
3. Create a Simmer Pot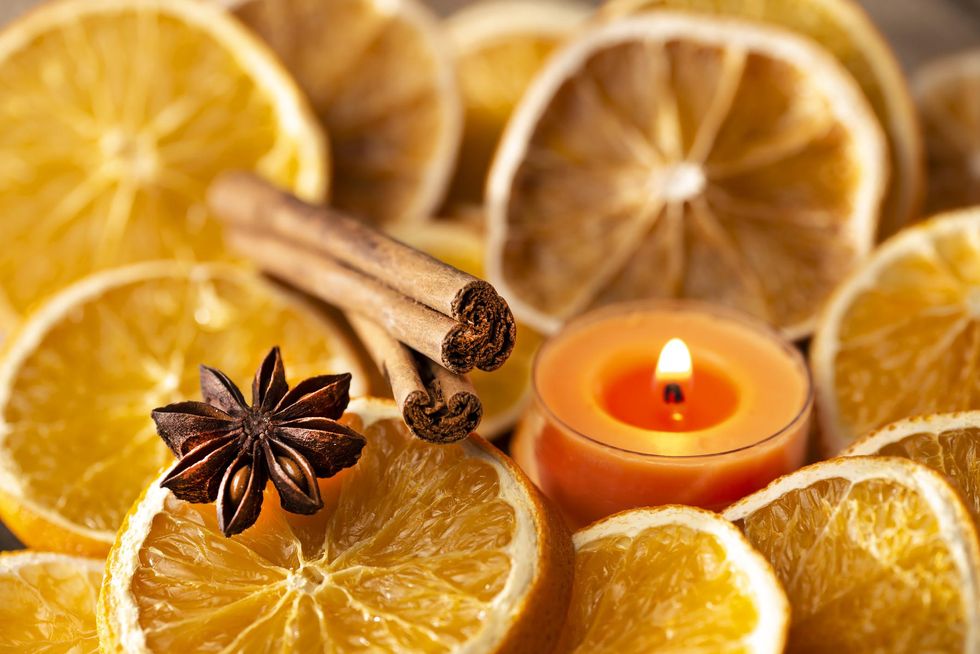 Another way to make your home smell amazing is to create your own simmer pot. It's basically when you put a whole bunch of fruits, herbs, and spices together into a pot, then you let them simmer on your stove for a few hours. Something that I really like about this suggestion is you can combine certain ingredients in a way where you can sip them as a delightfully warm or cool drink once you're done. So, for two hours, a mixture of apples, oranges, and cinnamon sticks can appeal to your nose, and then you can drink it while watching a holiday film — wonderful. Tipnut offers up 15 simmer pot recipes. If you want to check them all out, you can do so by going here.
4. Add Some Fairy Lights
Personally, I'm someone who likes to sleep in pitch-black darkness. Still, whenever I go to someone's house and they have tiny fairy lights hanging up in their bedroom, I always think it looks really… "enchanted" is the word that first comes to mind. And since we're in "fall back" season, as far as time goes, a little more light (even if it's in your office or kids' room) certainly can't hurt. Just a thought.
5. Pick Up a Couple of Pairs of Moisturizing Socks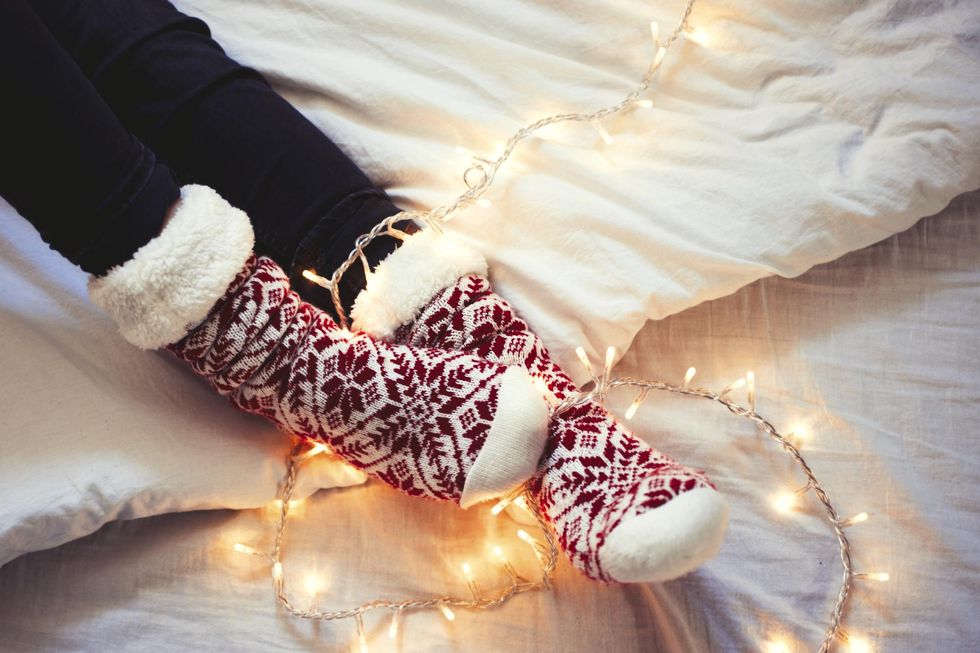 Switching gears a bit, how about giving your feet some extra tender loving care? Something that one of my goddaughters is a huge fan of is what she calls "lotion socks" although they are technically referred to as being moisturizing socks. Long story short, they are super comfy socks that have lotion "built into them" (although some, you've got to apply the lotion yourself). Not only does this help to make your feet feel unbelievably soothed and stress-free, but it can also keep your feet moisturized too. If you wanna cop a pair, Mom Junction reviewed over 10 of 'em. The ones with five toes for each sock certainly caught my attention. Check that list out here.
6. Make a Fall-Inspired Body Scrub
If you want to pamper your skin by unclogging its pores, removing dead skin, and brightening your complexion, exfoliation is the way to go. Making your own body scrub is one of the best ways to do it. In the spirit of autumn, how about making a scrub that smells like the fall season? A vanilla body scrub (recipe here) is good for you because vanilla is rich in the kind of antioxidants that fight aging and free radicals. A pumpkin body scrub (recipe here) is great because it's filled with Vitamin C and beta-carotene; both are able to stimulate the production of collagen. And finally, an apple scrub (recipe here) will do your body good because the properties in apples help to hydrate your skin, protect it from UV damage (which yes, also can happen in the fall and winter), reduce the appearance of dark circles underneath your eyes, tone your skin and even out your complexion.
7. Invest in a Brown Matte Lip Color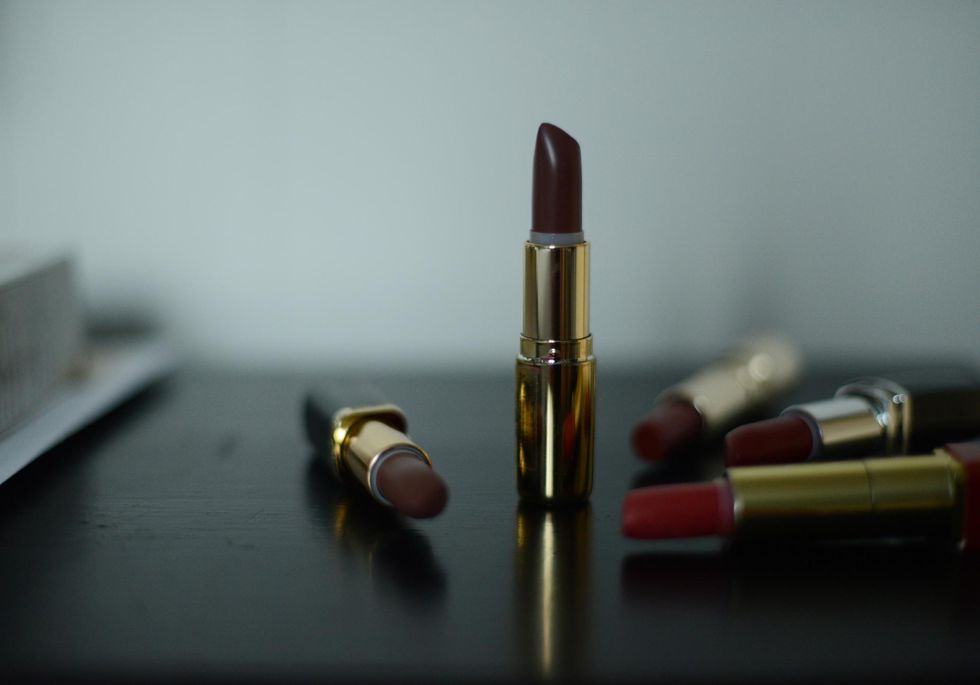 When the temps are cold and the wind is blowing, you definitely want to make sure that your lips are well-moisturized. Do that by first exfoliating them (like with a DIY lip scrub), applying a "base" like shea butter (I sleep with shea butter on my lips at night), and then applying lip color. This season, a hue that is really big is a deep shade of brown (which looks absolutely amazing on us!). Make sure it's one that has a bit of a matte finish. Yeah, I know you're probably still wearing your mask (damn COVID!), but you've got to take it off at some point and your lips will look amazing once you do if they are covered in a beautiful brown color.
8. Get Accessories in Classic Fall Colors
Remember how I said in the intro that pampering is ALL ABOUT indulgence. I don't care if you've already got a good purse and some cute boots from last year — treat yourself to a few more accessories that are in signature fall colors including grey, brown, blue, orange, green, and red. One of my favorite things about accessories is they bring so much detail to an outfit. Plus, they're a great way to "switch up" a look if you don't have a lot of money to ball out on a new wardrobe this year.
9. Buy a Cable Knit Blanket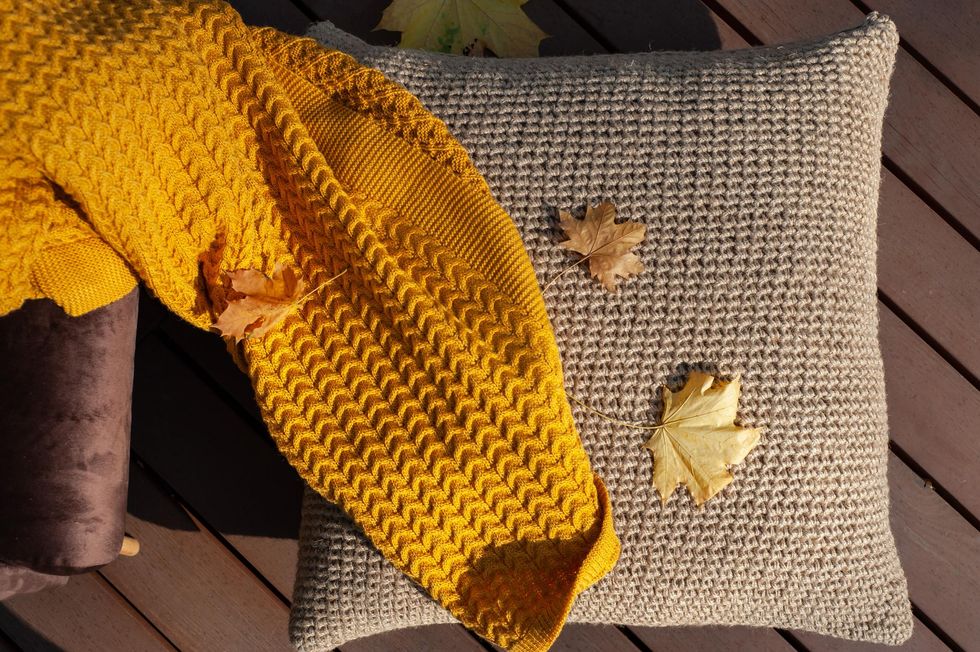 Personally, I'm of the belief that no matter how many blankets you already have, you really can't own enough of them — especially during the fall and winter seasons. So, if you don't already have a cable knit one, what are you waiting for? Something that's especially cool about this particular kind of blanket is it can keep you warm when you're cold yet it also has the ability to adapt to other temperatures which means that a cable knit blanket can pamper you all year-round…if you let it.
10. Use Hurricane Lanterns for Your Fall Soy-Scented Candles
Is there anything more romantic, seductive, or fall-invoking than a bedroom that is lit up with nothing but candles? Whether you're sleeping alone or with someone, to me, the answer is "no". Still, this ain't the movies, so you need to be careful lighting some up and then falling asleep. Something that can significantly decrease the risk of something catching on fire is putting your candles inside of a hurricane lantern or glass terrarium boxes. Just make sure that the candles are soy (they are cleaner and burn longer) and they have a fall scent to them. Some that fall into that category include apple, pomegranate, vanilla, pine, cinnamon, pumpkin, butterscotch, pecan, amber, and musk.
11. Bake (or Order) the Hell Outta Some Sweets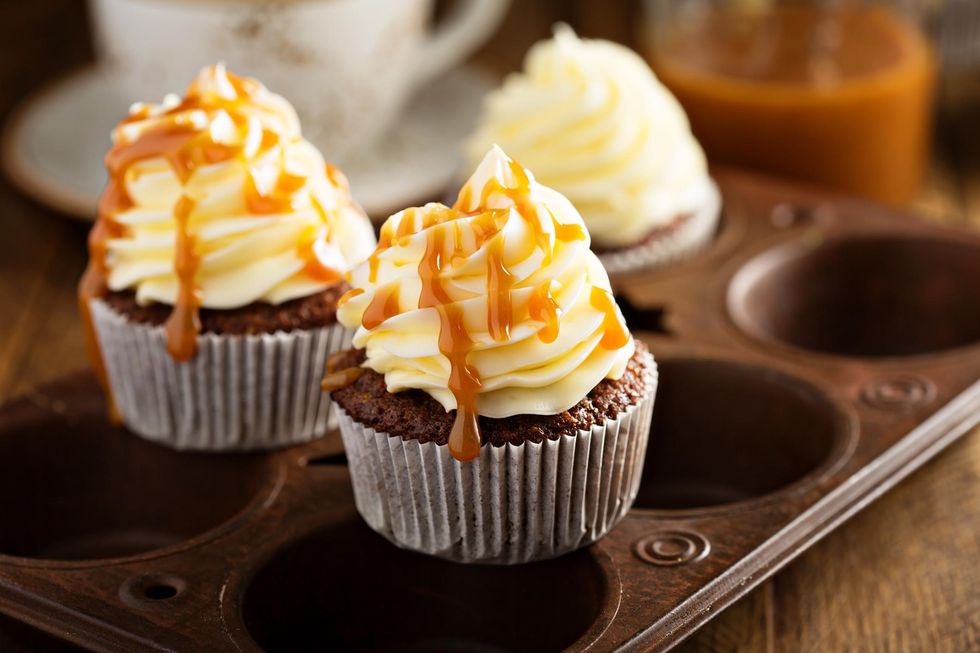 Although comfort food is pretty much bomb any season of the year, is there anything better than a hot bowl of soup or some soul food when it's freezing cold outside? While you probably don't want to go crazy out in these streets, why would you deny yourself the joy of a homemade baked good or even ordering some autumn-themed desserts right about now? Apple crisp (recipe here). Pumpkin spice cupcakes (recipe here). Pumpkin brownies (recipe here). Cranberry apple cobbler (recipe here). Vegan butternut squash pudding (recipe here). All sweet. All comforting. All autumn-themed.
12. Learn How to Make Mulled Wine and Herb Infusion
Pampering isn't truly pampering if you're not setting aside some time to sip on something that makes you feel good from head to toe, right? As we close this out, two drinks that have "fall" written all over them are mulled wine (which is red wine with spices added to it) and herb infusion (which is basically making tea except you are adding a lot more herbs and allowing them to steep for a much longer period of time). Since a lot of mulled wine recipes feature cinnamon (which is full of antioxidants) and/or nutmeg (which is a powerful detoxifier) and the herbs in teas can be super ideal for your immune system (check out "10 'Uncommon' Teas You Should Add To Your Stash (& Why)"), these two options are absolutely perfect for this time of the year.
A delicious mulled wine recipe is here and if you want to learn how to DIY an herb infusion, click here. How can all of these tips not make you feel pampered as you embrace even more of what fall has to offer, chile? Enjoy!
For more inspiration, self-care, and healing tips, check out xoNecole's Wellness section here.
Featured image by Getty Images

Keep reading...
Show less
If you've ever been up late on Pinterest trying to scroll yourself to sleep, you've probably come across a photo of a luxurious bathtub filled with an array of floral elements, herbs, and sometimes even slices of fruit. This commonly used practice is known as a spiritual bath within the mystical community.
These baths combine various elements of nature, including sea salt as a major component, to adjust our energetic frequency in times that we may be low on vitality, psychologically overwhelmed, or just stuck in some area of our lives.
The Benefits of Taking a Spiritual Bath for Wellness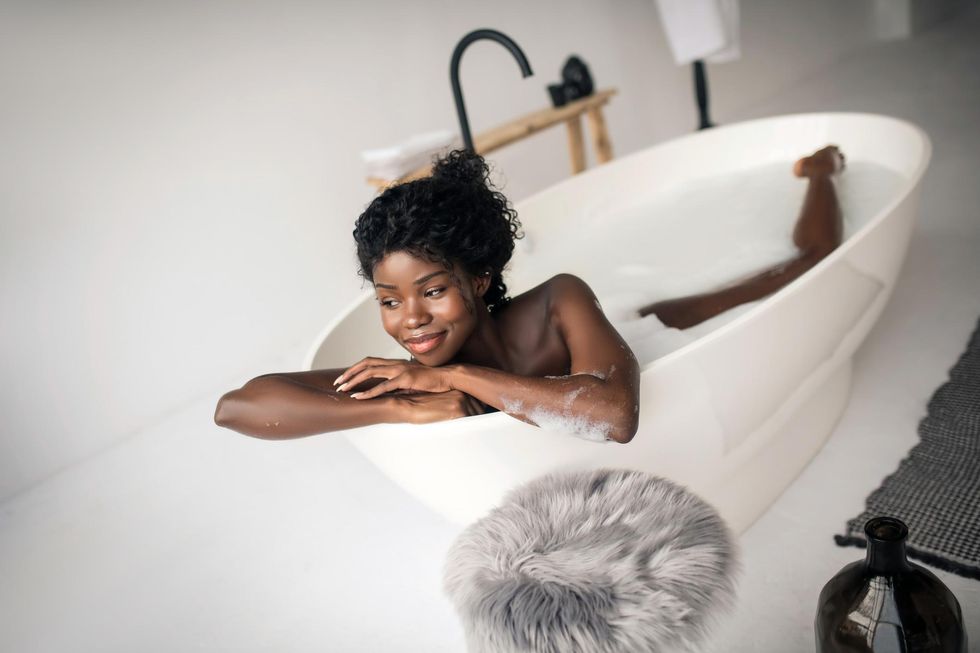 Getty Images
So what are the benefits of taking a spiritual bath? They can vary in nature depending on the ingredients you use and the intention you set prior to taking the bath. However, the most common purpose of a spiritual bath is to cleanse not only the physical body but also the etheric body (a.k.a. the aura).
Energy is everything and in our fast-paced, technologically-driven lives, it's easy for our aura to be impacted by external stimuli—whether it be the people we interact with (even digitally), the environments that we frequent, and even the entertainment that we consume. Everything has a signature, energetic imprint that can either harmonize with your vibes or disrupt them entirely (if you identify as empathic or a Highly Sensitive Person, then you're all too familiar with this concept).
We can't always control how much we engage with the outside world but we can equip ourselves with the energetic tools needed to cleanse, protect, and uplift our energy along with a host of other good things.
Cleanse Your Energy With Spiritual Baths
Wondering if a spiritual bath is what you need? The answer is yes. This simple, yet highly effective practice, can be used by anyone in addition to the routines that you may already use to cleanse your energy whether that's smudging, praying, using crystals, or speaking positive affirmations over yourself. If you're up for it, you can even combine these various energy clearing techniques in a self-care ritual.
Check out the how-to guide below for making your own spiritual bath to help you counteract negative vibes and the S.A.D. blues:
Ingredients for a Spiritual Bath Energy Cleanse 
Sea Salt
Calendula (Marigold)
Jasmine Flowers
Bay Leaves
Lemon(s)
Orange(s)
Lemon Verbena Essential Oil
Lavender Essential Oil
Eucalyptus Essential Oil
How-to: Spiritual Bath Energy Cleanse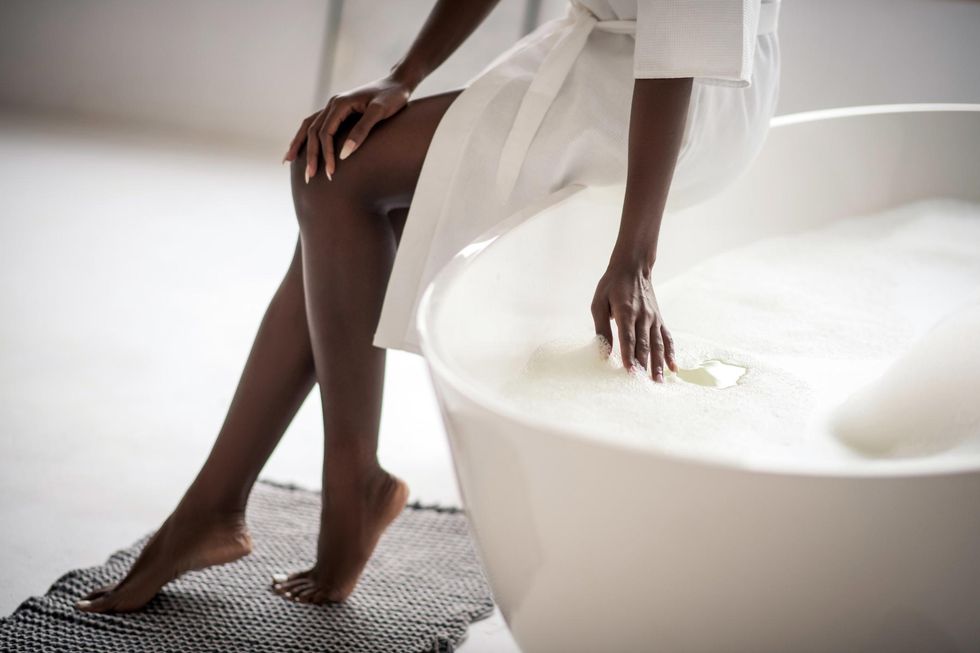 Getty Images
Prior to preparing your spiritual bath, make sure your environment is clean. Scrub your tub, burn some Sage, and shower before you take your bath. You may wish to light some candles to set the mood for your spiritual bath.
After taking your shower and rinsing the tub, prepare your bath water to a temperature of your liking. Add at least 1 cup of sea salt to the water.
Sprinkle the Calendula, Jasmine, and Bay leaves into the bathtub (if you have sensitive skin, you may want to try soaking your feet first). Feel free to use just as little or as much as you'd like.
Slice up a few lemons and oranges and add them to the bathwater as well.
Pour a few drops of Lemon Verbena, Lavender, and Eucalyptus oil into the bathwater.
Swirl the bathwater around with your hand while saying a prayer or setting your intention for the bath (Example: "May these various elements join together to cleanse my aura of energies that don't belong to me.")
Soak in the bath for at least 30 minutes. Relax into the water and allow all of your worries to drift away as you engage with the fragrances and sensations of the natural elements against your skin.
When you're done soaking in your spiritual bath, drain the water and gather the flowers, herbs, and fruit to either discard them in the trash or to offer them back to the earth by placing the elements at the base of a tree. Thank your Higher Power for assisting you in this cleansing process.
Featured image by Getty Images
Originally published November 8, 2020
Keep reading...
Show less