There seems to be a big question mark over our heads when it comes to sex during pregnancy. When ironically enough, the same way the baby got in is the same way it's going to get out (in a lot of ways). A wise person said that to me – I just can't recall who, so consider this to be a shoutout to a real one because in all actuality it's true.
While people tend to view sex as a very monolithic thing, in reality, oral sex is in fact sex and so is masturbation. With that said, it seems likely that there might be some confusion as to whether masturbation is 'acceptable' during pregnancy. And the answer is: YES! Yes, you can absolutely masturbate. More often than not all types of sex are welcome, however, some positions might require adaption.
There are exceptions to the rule and to be safe, you should absolutely double-check with your OB. But if you have a low-risk pregnancy without complications, it's typically a safe bet that you can pass go and collect your 200 in the sex department.
If everything checks out from your doctor, here are four benefits to masturbating while pregnant, according to experts.
1. Reduces Anxiety and Stress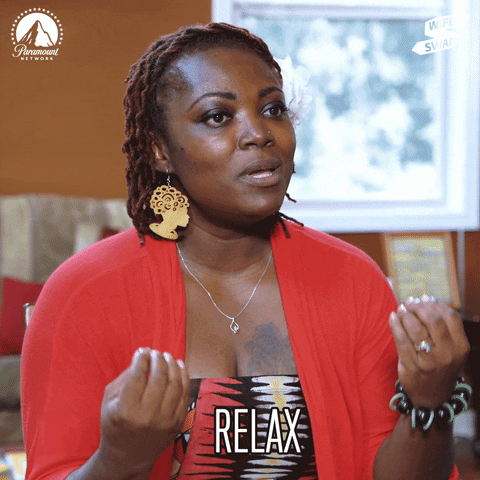 Giphy
The ease you wish to feel might be possible with the help of an orgasm or two. Clinical Sexologist and Sex, Intimacy, and Relationship Advisor Katie Lasson explains, "Not only is masturbation safe for the majority of pregnant women, but it can also be a great stress reliever. Masturbation when followed by orgasm releases the feel-good hormones such as oxytocin into our bodies. This helps to make us feel calm and relaxed. As an added bonus your unborn baby will also get the benefit of these feel-good hormones."
She adds, "A lot of women find that their libido increases during pregnancy so masturbation can be a great way to manage that. You may notice some mild cramping in your stomach after you reach orgasm but that is normal. If you experience any pain, seek medical help immediately. Some women also experience more intense orgasms when they're pregnant."
2. Melatonin Vibes
Any parent will tell you that you should sleep as much as you can before the baby gets here. However, postpartum and the body changes experienced during each stage of your pregnancy can make sleeping well difficult. During the prenatal phase, one might find themselves coping with insomnia due to your belly growing and/or breast and body aches. And when you do finally get to sleep, you might experience nightmares that are said to be caused by the anxiety of bringing a child into this world. Trouble sleeping might also be coupled with a newfound ability to snore due to pregnancy rhinitis.
Due to the 'feel-good hormones' mentioned in the previous post, masturbation or bringing yourself to orgasm also makes for a better night's sleep.
3. Inducing Overdue Babies
Suzannah Weiss, certified sex educator, sex/love coach, and trained doula, says, "If you're pregnant past your due date, masturbation (as well as partnered sex) can also be a way to bring on labor. Sexual pleasure, especially when it involves orgasm, releases oxytocin, which can stimulate labor contractions, and prostaglandins, which help the cervix dilate. The only thing to be careful about is not to insert anything into your vagina after your water breaks."
Additionally, Weiss recommends trying the following items if you're someone who has difficulty reaching where you need to be, to get where you want to go (if you catch my drift). "Sex toys such as wand vibrators may be helpful," she begins, adding that a few other accessories, such as this pillow can also prove reliable for achieving orgasm.
4. Sense of Pre-Parent Self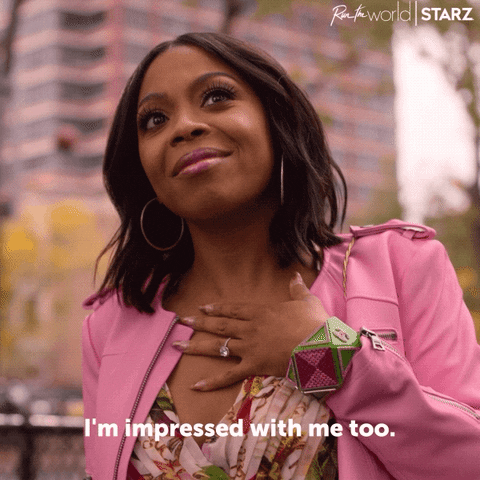 Giphy
You don't stop being a sexual or sensual being just because your journey is evolving into motherhood. Masturbation is a great way to remind yourself of who you are in the process of becoming more. "As a woman's body changes during pregnancy, they may become more confident and feel more feminine and desirable – or less. Masturbation can help [those expecting] stay connected to their body and find ways to satisfy needs they may not be able to otherwise or like they were accustomed to before pregnancy. In turn, this can help her keep her sense of self during these changes," according to the Director of Kiiroo's Helen Zeal.
Before you partake in getting your solo sex session on, it is also worth noting that "in the third trimester of your pregnancy, sometimes orgasm after masturbation can increase the frequency of your Braxton Hicks contractions." Relationship Expert Psychologist and Sex Therapist Tatyana Dyachenko confirms that this occurrence is pretty normal.
Without a doubt, there are some amazing benefits to masturbating during pregnancy. Let us know if you decide to try it.
Let's make things inbox official! Sign up for the xoNecole newsletter for daily love, wellness, career, and exclusive content delivered straight to your inbox.
Featured image by Getty Images
Keep reading...
Show less
Oftentimes, in the Black culture, we place a high value on independence, particularly when it comes to achievements like getting an education, buying a house, or starting a new business. And this may be because many of us equate success with self-sufficiency. Make no mistake, independence isn't a bad thing. But I think it's also important to recognize that neither is dependence.
"I can do it myself."
That was my go-to response. Even though there were times when I didn't actually know how I was going to do it. I sure as hell wasn't going to concede to that idea. There were even times in my warped thinking when I had convinced myself that some people only offered help (usually in the form of money) because they assumed I needed it. And I often did. But I wasn't going to cop to that, either. I'd figure it out, and once I did, I'd feel so much better about myself. Or so I thought.
I read a meme online that said, "Hyper-independence is a trauma response to not being taken care of well." And on that particular day, it resonated with me in a way I didn't quite expect.
Featured image by Getty Images
Keep reading...
Show less
Chilling Adventures of Sabrina and You actress Tati Gabrielle is giving fans a glimpse into her beauty routine. While she is known for her bold makeup looks on the red carpets and in the Netflix series, she reminded fans that she is just a simple girl who believes that "less is more."
Skin Care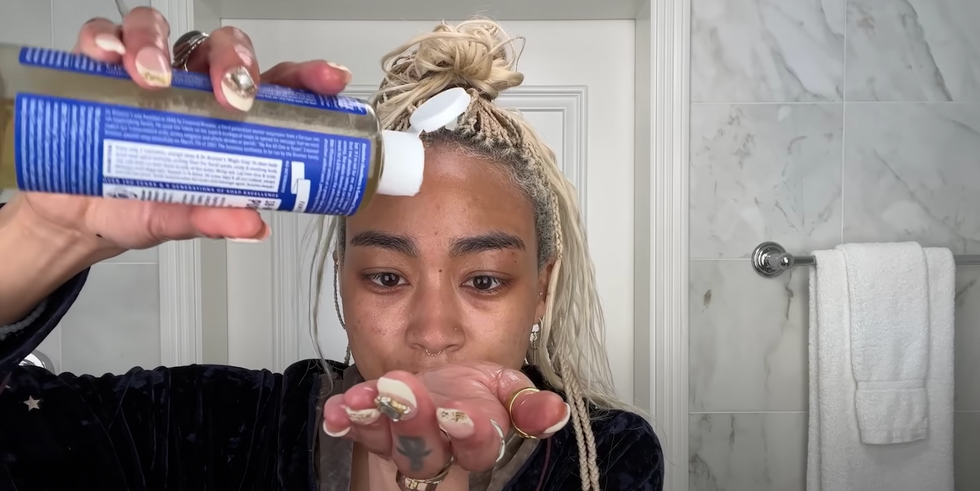 Vogue/YouTube
In the Vogue Beauty Secrets video, the 26-year-old started off cleaning her face with Dr. Bronner's Pure Castille Soap in Peppermint. She then used Dr. Dennis Gross Pewter DRx SpectraLite FaceWare Pro, which comes in three settings. When she moved on to Dr. Dennis Gross Alpha Beta Extra Strength Daily Peel she began opening up about her skin journey. The Korean and Black actress revealed that her skin started to change in her 20s.
"When my skin changed, it became a big shock to me and I didn't know what to do," she said. "I started trying all these products that I think at first made things worse." So, she decided to scale back the products she was using and also stop touching her face.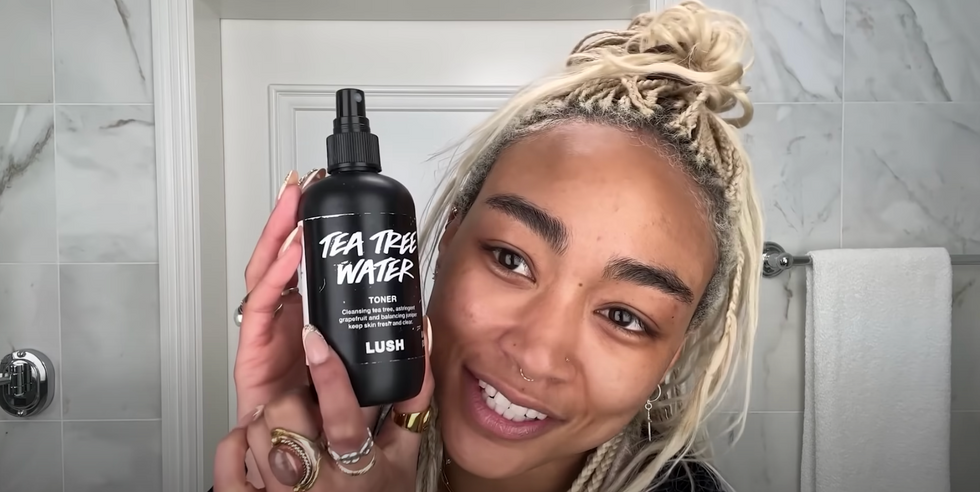 Vogue/YouTube
She loves using Lush's Tea Tree Water toner and following it up with Cosrx Two in One Poreless Power Liquid. "My mom is Korean and my dad's Black," she said. "I have all these weird combinations of my skin, hair, everything. My mom was kinda learning with me as I was growing up."
She ended up learning a lot about skin care and makeup while on set. "When I'm on set filming, I find that I have to be very diligent about my skincare routine because– a lot of makeup every day. Sometimes you're sitting in your makeup for up to 12 hours a day," she said. "With me doing Sabrina, that was of course a lot of makeup 'cause it was stylized. I just had to be very disciplined."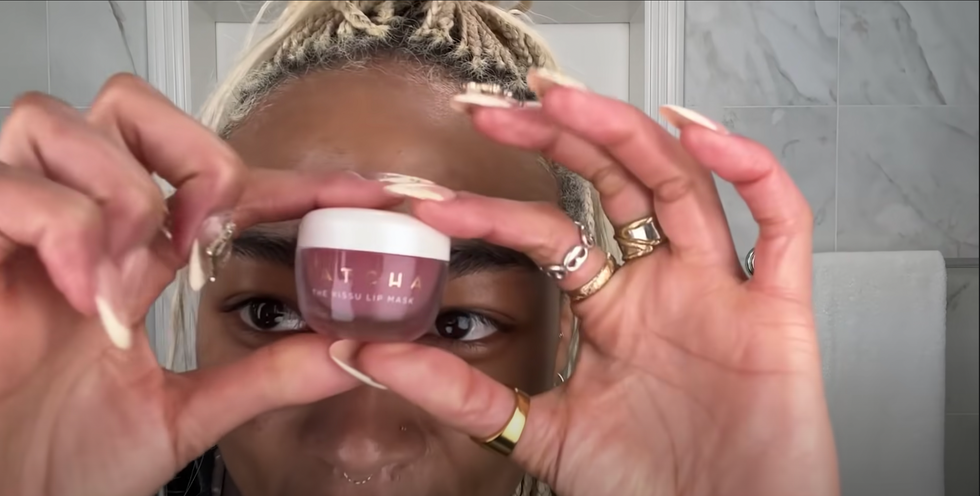 Vogue/YouTube
She used Cosrx Advanced Snail Peptide Eye Cream and revealed that she had eczema around her eyes and eyelids. And then she ends her skin care routine with Tula Protect + Glow Daily Sunscreen Gel Broad Spectrum SPF 30 and Tatcha The Kissu Lip Mask. "I definitely think skin care is a part of self-care. It's loving on yourself to give your skin what it needs to have your spa day every day," she said.
She loves to be by the water and so beach days are a must for her. "I didn't use sunscreen before and I'm realizing within the last year how important it is especially because I have a quite bit of scarring."
Makeup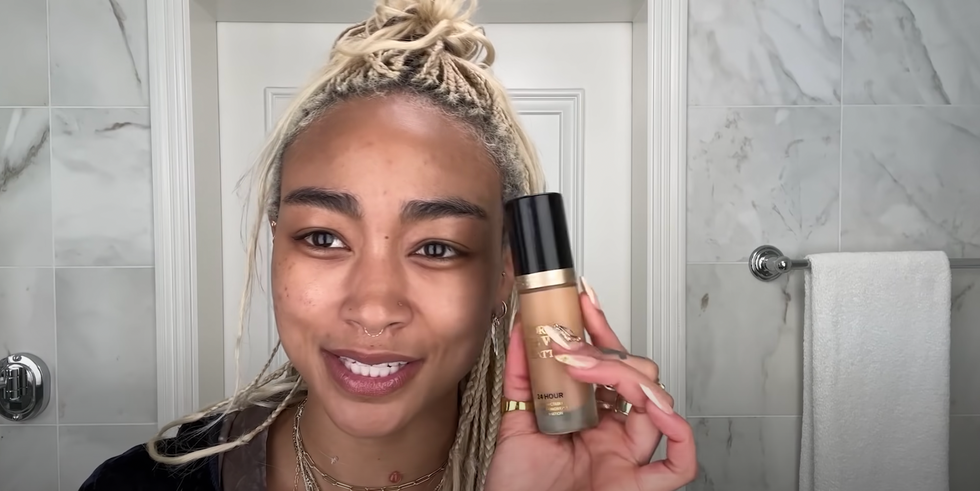 Vogue/YouTube
"What I start with always is the Tatcha Liquid Silk Canvas [foundation]. I started using it when I did Sabrina," she said. But for the video, she decided to go with the Too Faced Born This Way Matte Foundation. "I usually do a soft layer first. Then, if I want to cover my spots a little bit more and sometimes I don't cover my spots because; free the imperfections. Sometimes we don't need to cover up everything because that is a part of us as well."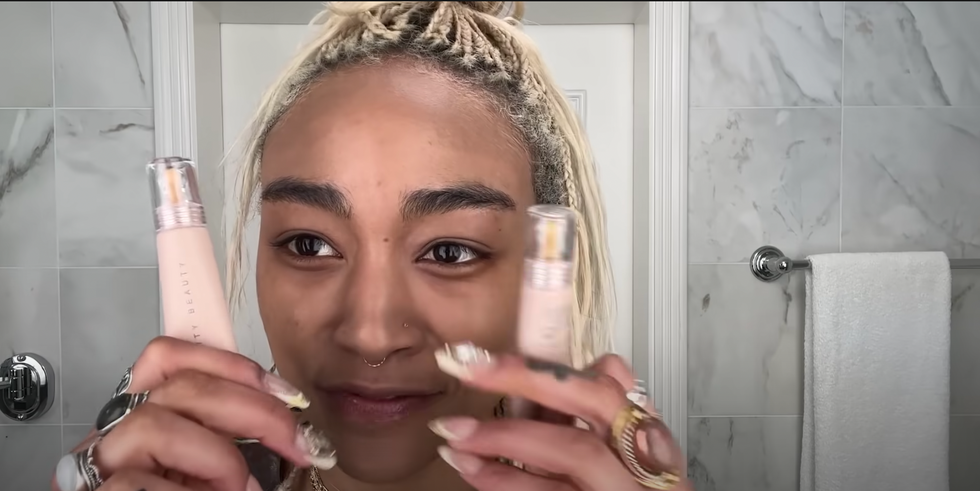 Vogue/YouTube
After applying foundation, she used Fenty Beauty Bright Fix Eye Brightener and Lush Charisma Skin Tint for contouring. She then applied Glossier Cloud Paint on her cheeks to "accentuate my apples."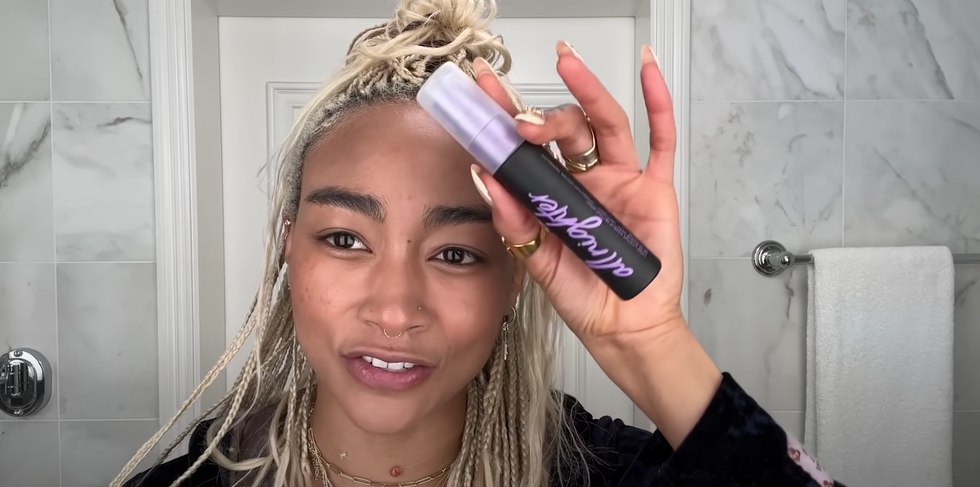 Vogue/YouTube
After using One/Size Ultimate Blurring Setting Powder to reduce shine, she topped it off with Urban Decay All Nighter Long-Lasting Makeup Setting Spray. "When I was filming season three of You and we had to wear masks on set constantly, I found that this (setting spray) helped a bunch with keeping things in place so we didn't have to do as much touch-ups."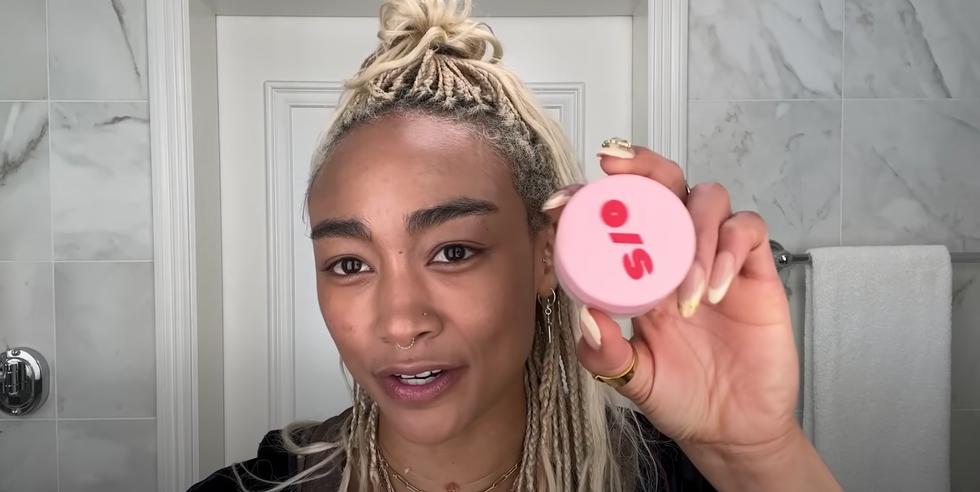 Vogue/YouTube
While the characters she plays on television often require her to wear a lot of makeup, her everyday look isn't as bold. "Less is more," she said. "Especially when I first started getting into makeup and my skin started sort of messing up a bit. Of course, I got self-conscious for a while, but by having that piece of advice, it never let me fall into trying to cover, cover, cover, cover, cover even with acne and scars and everything still allowed me to find love for myself and be able to look in the mirror and still be like I am pretty."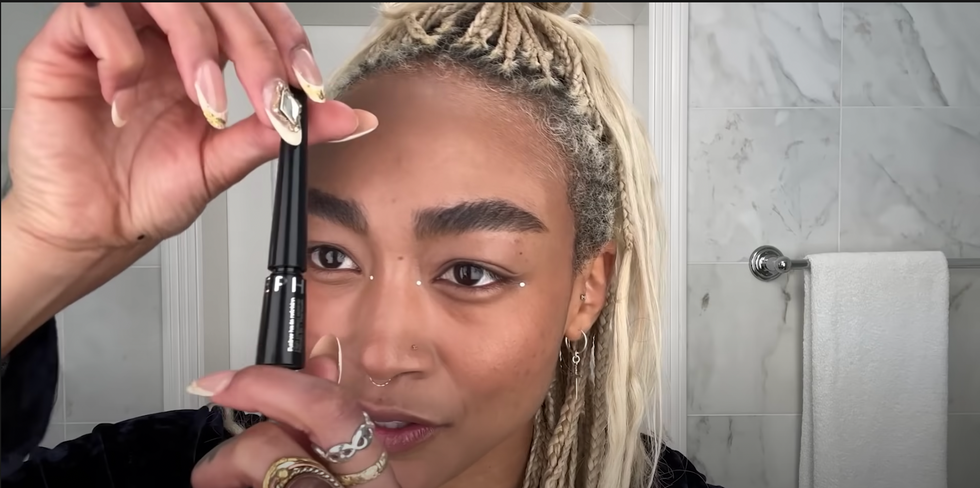 Vogue/YouTube
One of the beauty trends that she likes to partake in is applying dots around her eyes. "I started doing dots four or five years ago. I just found it as a way to shape my eyes out without using eyeshadow and things," she said. When it comes to her looks, Tati likes to make a statement from head to toe.
She ended her routine by adding baby hairs using Texture ID Edge Taming Gel because she loves the way it frames her face.
Tati Gabrielle's Guide to Statement-Making Makeup | Beauty Secrets | Vogue
Let's make things inbox official! Sign up for the xoNecole newsletter for daily love, wellness, career, and exclusive content delivered straight to your inbox.
Featured image still via Vogue Beauty Secrets/YouTube
Keep reading...
Show less
Arielle Simone, also known across social media as the Holistic Mami," has gained an audience online for talking about wellness and her holistic approach to health.
Whether she's advocating for hot yoga or telling people to take their gut health seriously, Simone is always giving us the tea on how to get physically and spiritually aligned. xoNecole spoke with Simone about how to romanticize your life and start your wellness journey as a Holistic Mami too.
xoNecole: Have you always been into wellness and if not what made you want to get into it?
Arielle Simone: I was not always into wellness, but I was always into moving my body. I used to eat whatever whenever. I noticed that my skin was really bad. My balance was really bad. I was consistently bloated and constipated. I was a model originally. I used to model and I was very dehydrated, not taking care of myself. Now my skin is really clear. I take care of my diet. Things have definitely started to get better.
xoNecole: What does an average day look like for you?
AS: I wake up at six A.M. and I pray, journal, meditate, stretch – in that very order. And I read a lot. My morning routine is two hours, I'm gonna be honest it's a solid two hours. Then I cook or I go to the gym. I get on the computer and do some work. I write some wellness content. I spend time with my snake.
Some days, I don't eat super super nutritious, but I think it's important to find a balance between what feels good and what is good.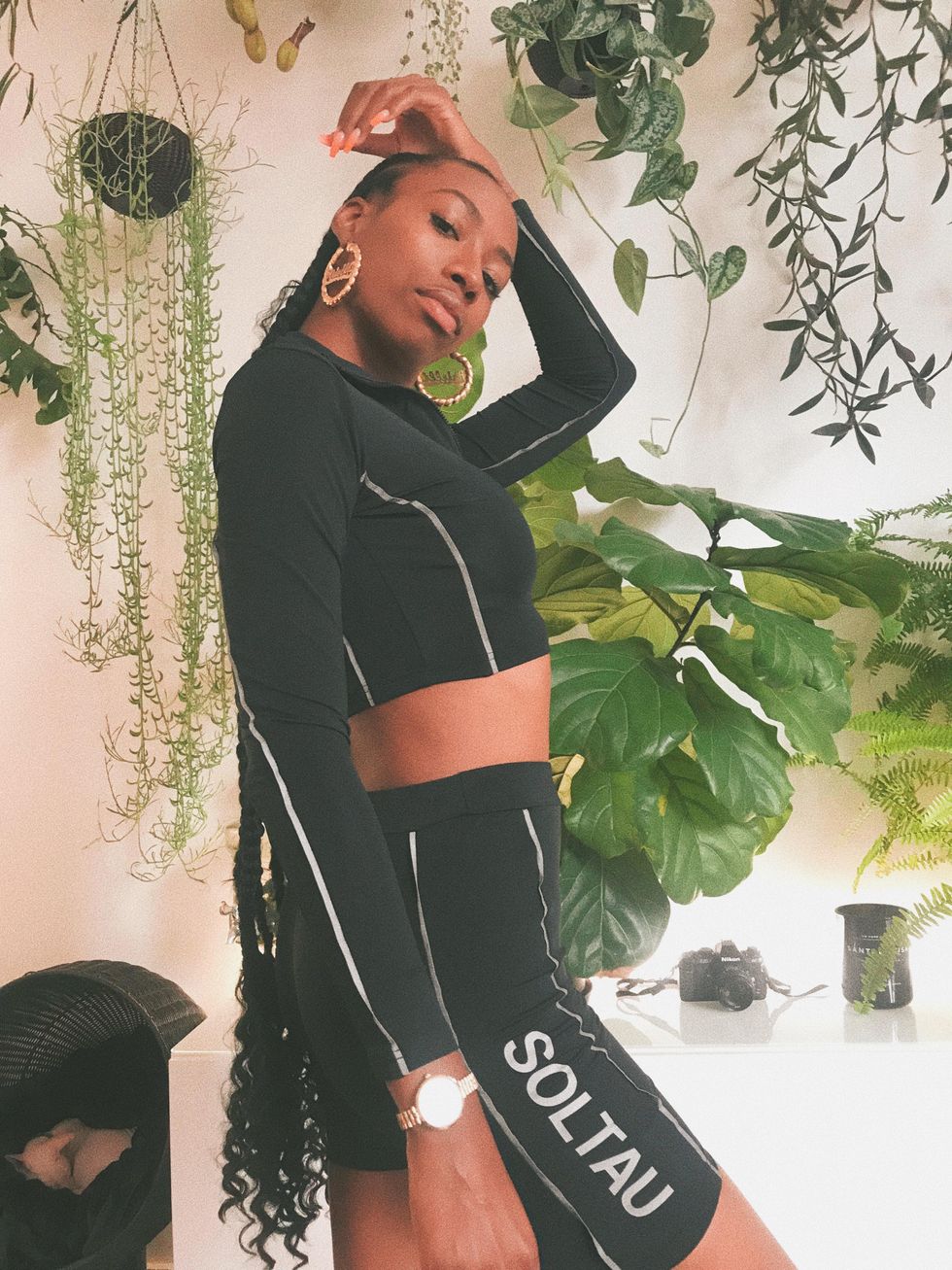 Arielle Simone
Courtesy of Arielle Simone
xoNecole: In your Vogue interview you spoke about romanticizing your life. What does that look like for you?
AS: I find the luxuries in everything, and I mean everything. Finding the luxury of having time in the morning. The sun started piercing through the window and hitting your skin. Finding the luxury in having more time to journal. Having an able working body that you can massage yourself, wash yourself, brush your teeth. I try to find the luxury in every little thing.
I do want to add that the five love languages, it's important to practice that on yourself. That's a good way that I have been romanticizing my life. So I really like gifts and I really like physical touch. So I'd love to massage myself. I love to touch on myself. I be looking at my little scars and my cuts like, "you gonna be alright; you gonna be fine." It's things like that that I find to be very romantic.
xoNecole: You are intentional about directing much of your advice towards Black women, can you talk a bit about that?
AS: Black women are the highest demographic in high blood pressure, heart disease, diabetes, and heart attacks. And that's alarming. And I feel like because we go through so much on a day-to-day basis, it's hard for us to understand and listen to our bodies. It's hard when you're taking care of the family, when we are dealing with work and just dealing with people on a day to day basis, it's hard to check in and see: "Hey, do I have energy? Have you stretched? Maybe I need to spend time in nature. Maybe I need to call my friends."
Everything feeds us–from the conversations that we have to the music that we listen to, the podcast we get into. Everything we engage in is a part of our diet.
xoNecole: What are the unique barriers you think Black women face when trying to engage in wellness that you see?
AS: Not knowing where to start or not having the resources or not being around a healthy bodega or a healthy food store or not being able to afford to invest into wellness. But I think for sure just not knowing where to start and not seeing people like us talk about [wellness].
xoNecole: What are the ways in which Black women can start their wellness journeys?
AS: I think it's really important to start off with a morning routine. I'm a big believer in how you start your day is how you start your life. And if we wake up scrambled or we pick up the phone immediately and we're looking at everybody else's business before we can even see, like, do my legs work? Can I get up?
So if you have no idea how to start with wellness, I would absolutely start with how you start your day. Waking up a little earlier. Finding out what you need and breaking it down into three small categories like mind, body, soul. What does my mind need right now to be stimulated? Should I be reading or should I be meditating? What does my body need? Do I need to stretch? Do I need some fresh air? Do I need a warm cup of tea? Do I need silence? Should I go on a hike? You can just start the day catering to yourself.
Keep reading...
Show less
Mental health is more than a hot topic, it is a necessary conversation that needs to be had consistently. Over the last few years, the Black community specifically has dealt with so many changes in their lives.
The pandemic upended us from the office and for a while, we were held up in our homes with little to no human interaction with some people experiencing job loss. People around us were dying from COVID-19 while at the same time we watched racial injustices happening with the murders of Breonna Taylor, George Floyd, Ahmaud Arbery, and others. With the drastic unexpected changes that we were forced to deal with plus the little things we experience on a daily, many of us experienced mental health struggles.
Featured image by Getty Images
Keep reading...
Show less
"Plant care as self-care" is more than a mantra to Christopher Griffin. It is a way of life. The plant influencer/expert goes by the name Plant Kween to their online community of 359K and counting. And now, they are taking their botanical obsession for all things lush to new heights with the release of a new book, YOU GROW GURL!: Plant Kween's Lush Guide to Growing Your Garden. Empowering others to tap into the restorative magic of gardening for the soul, YOU GROW GURL! is a guide to taking care of yourself while taking care of your plants, something Christopher is all too familiar with.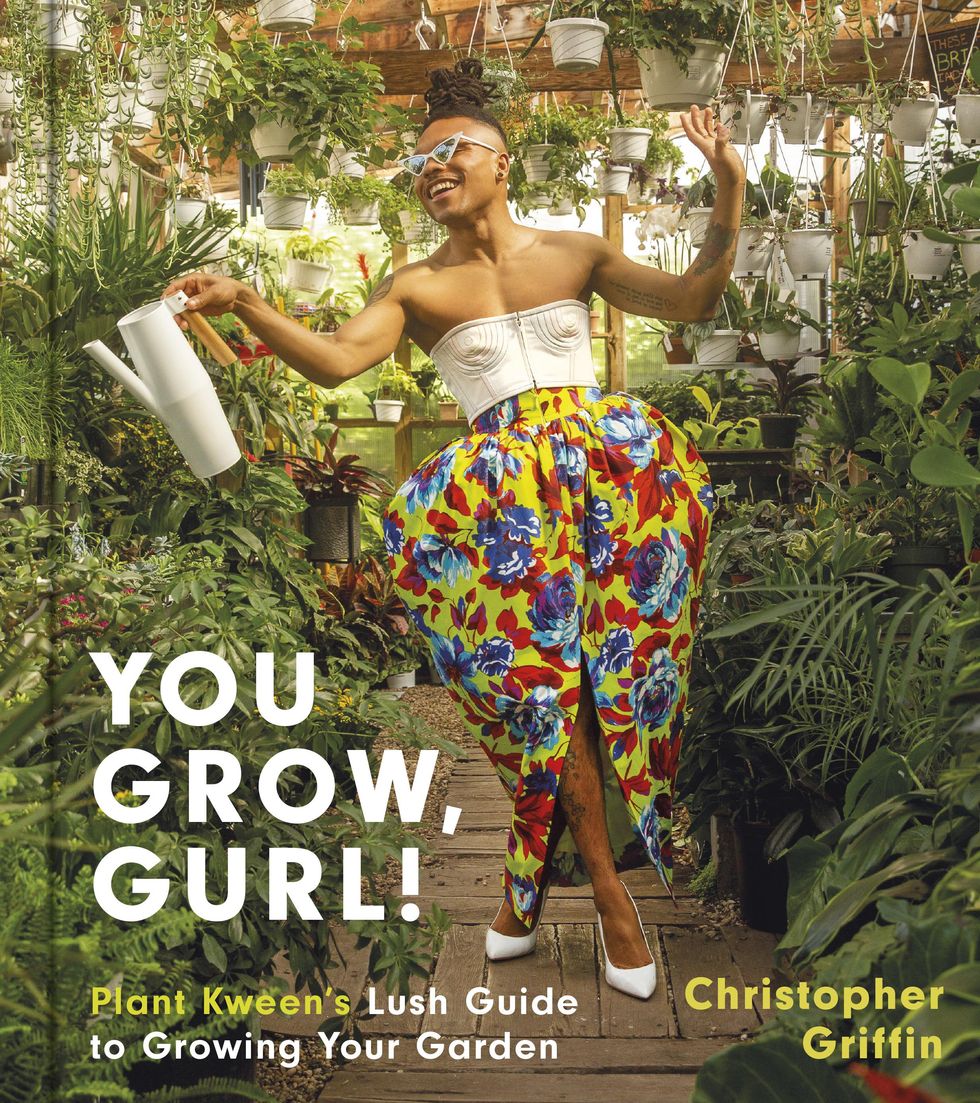 Phoebe Cheong
"I've learned how to take better care of myself through caring for my plants," Christopher tells xoNecole. "Am I drinking enough water? Is my body getting enough sunshine? Are my roots and foundation sturdy enough to support my new growth? What are the things I need in order to keep growing and thriving?" Taking care of their plants lends itself to how they take care of and pour into themselves, and thus Christoper has cultivated a built-in wellness routine in the name of self-care. By cultivating plant routines throughout the week, they are able to fill their cup by way of nature breaks sprinkled into their day.
Their favorite way to water their 'green gurls' includes turning on some music, wearing a great outfit, pouring a cocktail, and then tending to their plants. "Caring for plants can be tedious and seem like a chore if you treat it that way. Build a plant family that vibes with you. There is no 'green thumb.' You simply have to match the plants to the level of care you can provide," Christopher acknowledges. "Plants are like potential friends. You want to make sure you are both compatible."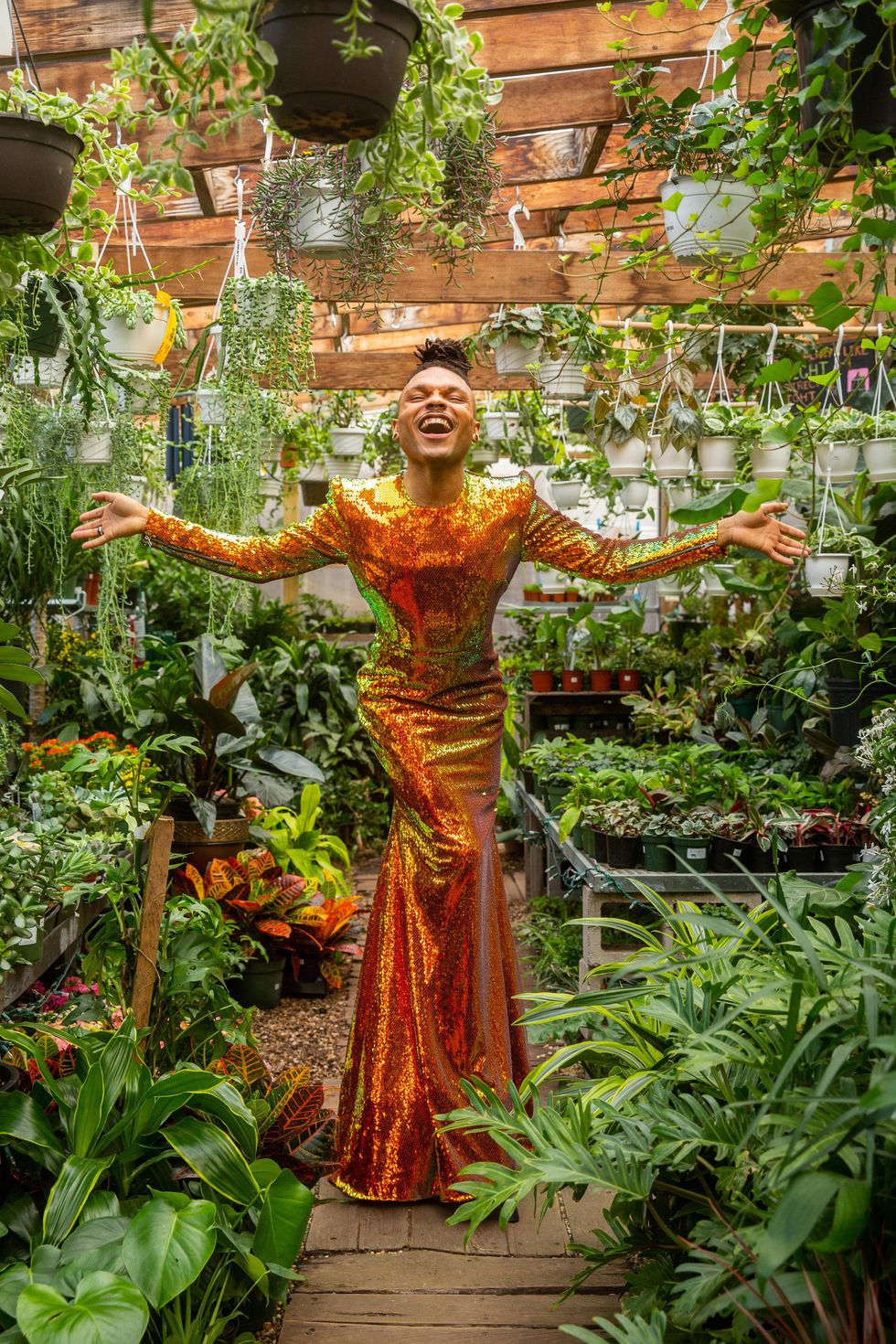 Phoebe Cheong
The viridescent journey to becoming a plant parent was a life-changing one for Christopher, who started their venture into plant parenthood six years ago with a single Marble Queen Pothos. Since then, the queer, non-binary, femme plant connoisseur has evolved into an expert of the industry, and their Brooklyn apartment is now home to 225 plants that they affectionately call "green gurls" and "kweens."
While a parent rarely admits to picking favorites, Christopher doesn't play coy about their current fave among the gurls being a nearly 30-year-old Monstera deliciosa, "as she is the newest and largest kween in my plant fam." Below, the Plant Kween puts us on to their top three picks for the perfect house plant to usher in a spring awakening. (Bonus: The plants are all pet-friendly.)
The Rattlesnake Plant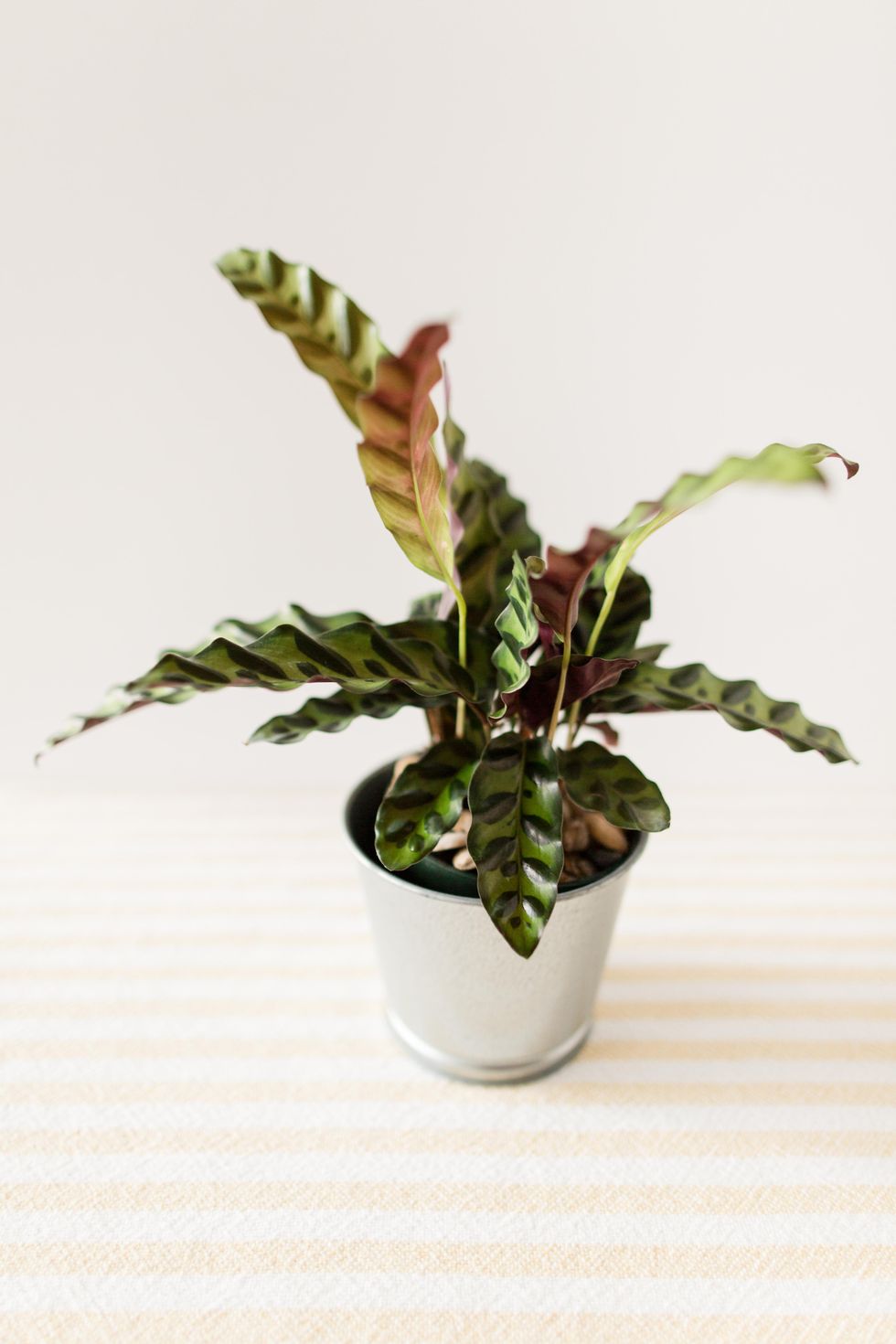 Rattlesnake Plant
Getty Images
"The Calathea Lancifolia (a.k.a. Ms. Rattlesnake Plant) is a green gurl I've had for quite some time, and I've found her to be quite easy to care for and quite resilient to my newbie plant parent mistakes back in the day! This kween is native to Brazil's tropical climate, so she enjoys warm temperatures and humidity. I keep her away from cold drafts in the winter and I have her close to my humidifier.
"I've found that bright indirect light is best for her, as I've witnessed that too much direct sunlight will fade the beautiful green spots on her leaves. I have this kween in well-drained soil, with a once-a-week watering schedule in warmer months and once every two weeks in the colder months."
The Areca Palm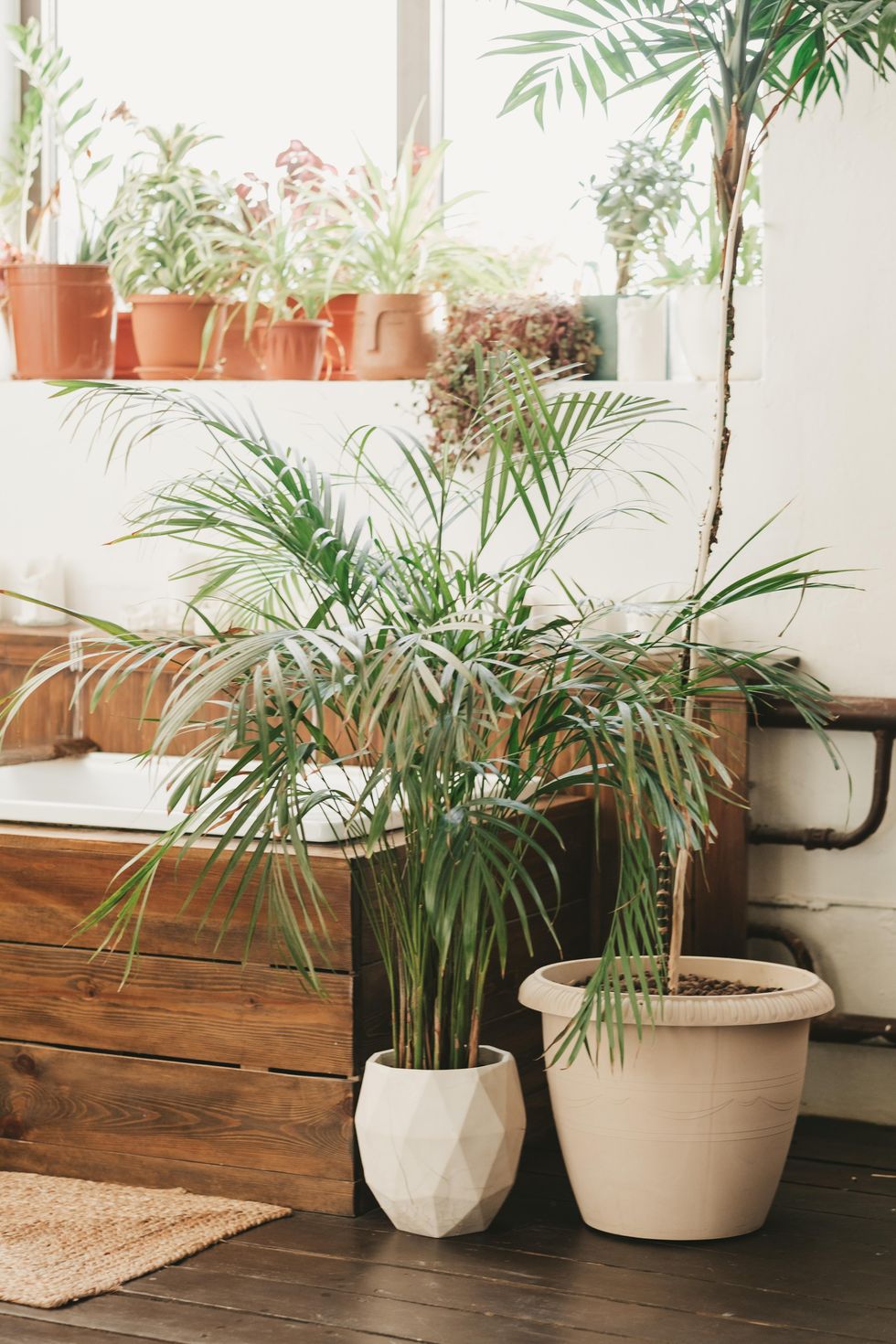 Butterfly Palm
Getty Images
"The Areca Palm (a.k.a. the Butterfly Palm) is a kween native to Madagascar, and with her long, graceful feather-shaped fronds she serves that tropical feel, dahling! She may also trigger a cat's playful swatting and biting instincts, so it's comforting to know that this kween isn't toxic for cats or dogs. I've found that bright light is very important for this kween, so a spot where she receives lots of natural daylight will be the best place for her.
"If necessary, filter direct sunlight with sheer curtains. She is a green gurl that thrives in humid environments, but I have found that mine is adaptable and doing well with well-drained soil and a standard humidifier. She prefers her soil dry in between waterings, dahling."⠀⠀⠀⠀
The Spider Plant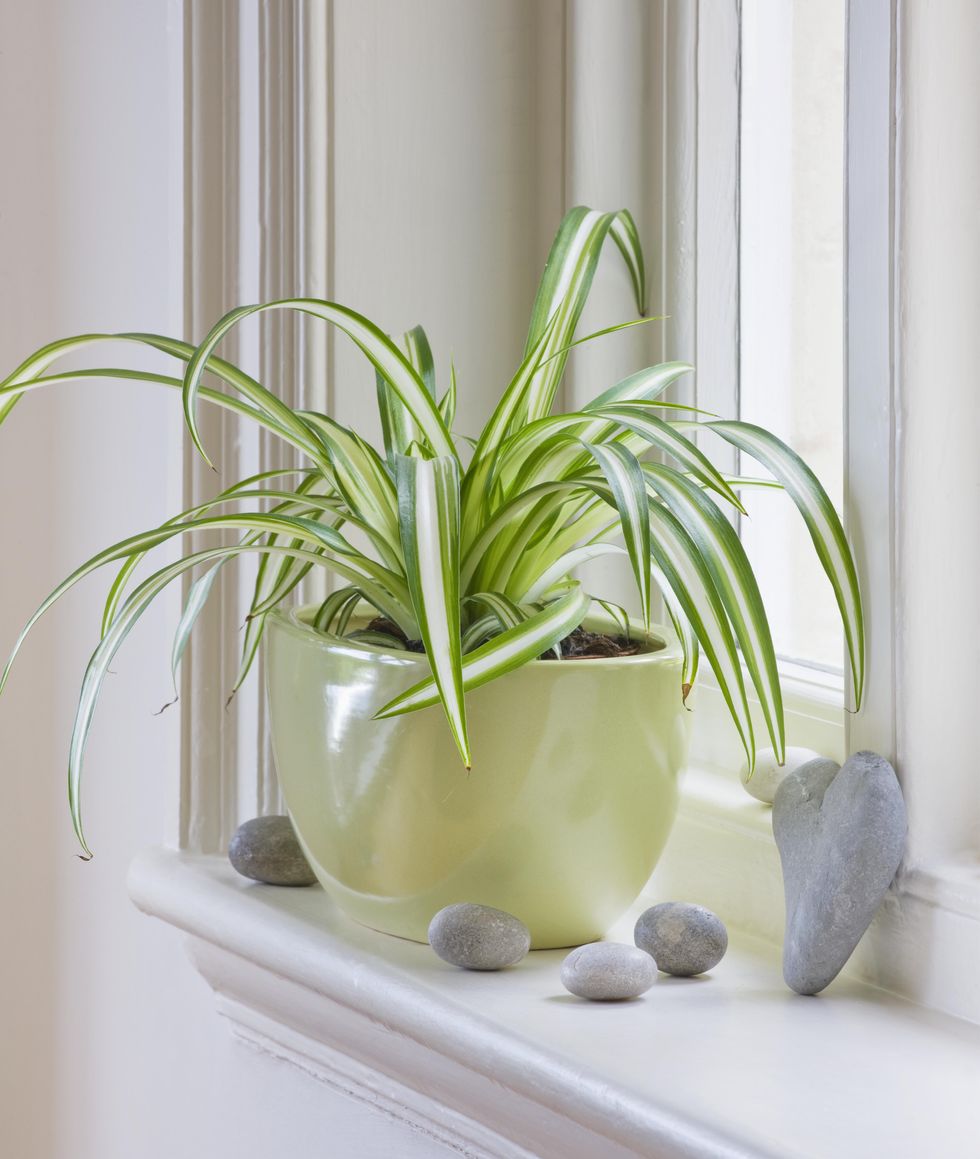 Spider Plant
Getty Images
"The Spider Plant (Ms. Chlorophytum Comosum, if you're nasty, dahling) is a green gurl considered to be an adaptable and resilient kween. I've recently welcomed this kween into my plant fam and have found that with well-drained soil and bright indirect light, she will flourish. Her small spiderettes are quite easy to propagate, and fun fact, she is actually a green gurl that prefers a semi-potbound environment, so it is recommended to repot her only when she has visibly outgrown her planter!"
YOU GROW GURL!: Plant Kween's Lush Guide to Growing Your Garden is out now.
Featured image by Phoebe Cheong
Keep reading...
Show less