What you want might make you cry, and what you need might pass you by… if you don't catch it. What you need, ironically, will turn out what you want to be… if you just let it. Though these masterfully poetic words were spoken by Ms. Lauryn Hill in 1998, they still ring true, because any woman that's ever been in love can tell you that what looks good ain't always good for you. Adrienne Houghton recently echoed this sentiment when she slid through TSR's The Same Room with a word about how holding on to what you thought you wanted might make you miss out on what God has for you.
---
Pro tip: what God has is better.
In an episode of The Shade Room's series that also featured Angelica Nwandu and Stephanie Ike, Adrienne opened up about how it's possible to love God and still struggle. After a publicly tumultuous split from Rob Kardashian in 2009 and breaking off an engagement with her boyfriend of six years, Lenny Santiago, in 2015, Adrienne finally found 'the one'; but that didn't come without experiencing some major heartbreak, first. Adrienne said:
"For me, one of my lowest points was relationship things. Especially in my twenties. Oh, my twenties sucked. They were awful. And a lot of it had to do with wanting to be loved. I was looking for this love and I love really hard and so I expected that in return. And when I wouldn't receive that love in return it was incredibly hurtful. Even making the decision of breaking an engagement, that's not only was that depressing but it's embarrassing."
Coming from a family where she was constantly praised and told that she was loved, the 35-year-old TV host sought the same kind of love from potential suitors, and for a while, she was unsuccessful. Adrienne said that at some point, her loneliness transformed into a fear of abandonment and she began to question her faith.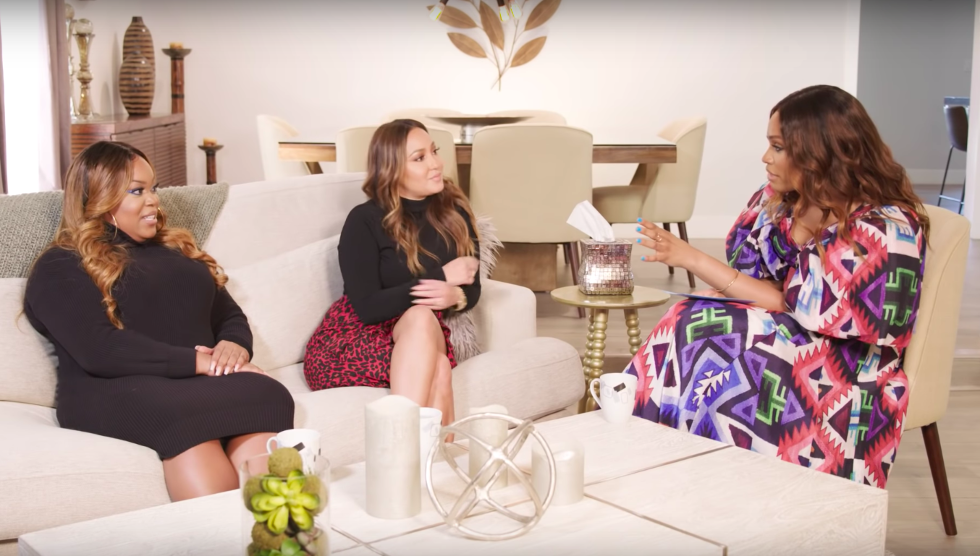 YouTube/The Shade Room
"Moments like that can make you feel so low. There's so many things you think of in that moment that literally make you feel like, 'God, why do you feel so far from me?"'
The truth was, God wasn't far at all. Although God had already spoken to her and told her time and time again that he wasn't right, the heart wants what it wants, and like most of us, she was hard-headed. She explained:

"I know that I know that I know that I have a praying mom. And I know that I know that I know that God had spoken to me and told me that that was not the man for me. But I wanted that. I was on some, 'I been through too much. I deserve it. I want it.'"
Before you point your judgy finger at Adrienne, think about the last time you loved a man that you knew wasn't right for you. We've all been there, word to Adrienne and Lauryn Hill, we've all done it. In 2016, Adrienne married a man who tells her she's beautiful every single day, but along with a wedding ring, came a whole mess of scandal. She revealed that the key to finally finding the kind of love that her heart desired was understanding that sometimes, you don't have to understand. She explained:
"It didn't come in the package I thought it was. Do you know how much wrong was wrong with him? Had I gone off of logic, I would never be as happy as I am today. I went against everything that logically made sense."
A few years ago, her husband, Gospel songwriter, Israel Houghton, made headlines after it was alleged that he cheated on his wife of 20 years and fathered two children with a mistress. Despite the news breaking shortly after their wedding, Adrienne refused to jump ship and stuck by the man who God told her was the one.
"I'm not an idiot. I'm not stupid. I read everything you read. I genuinely felt led by the Holy Spirit. This is the one for you. For people who were perfect, who had no ex-wives, no children, but I would feel repellant toward them. They were on paper and what the public would have thought would have been perfect for me, they were repellant to my spirit."
Although Israel checked off none of her boxes, ultimately, she knew that life wouldn't be the same any other way.
"Israel was the worst look I ever could have gone with. I was the worst look for him. He was the worst look for me. But in the storm. What looked like a circus to everyone else, we were at home like this [leans back in a chilled position]."
All sugar ain't sweet. And sometimes, the things we think we want aren't as dope as the things we'd have if we'd just let go of what we think it should look like. Maybe finding the life of your dreams starts with you letting go of the life you thought you wanted. Adrienne thinks so.
Featured image via YouTube/Shade Room