---
When Adrienne Bailon and Israel Houghton married in 2016, it was no quiet affair. Israel proposed to the now 35-year-old talk show host shortly after a scandalous divorce with his ex-wife and mother of two of his children and the Internet was shook. Although Adrienne and Israel say that their story has been less than perfect, one thing that has been consistent in their relationship is prayer.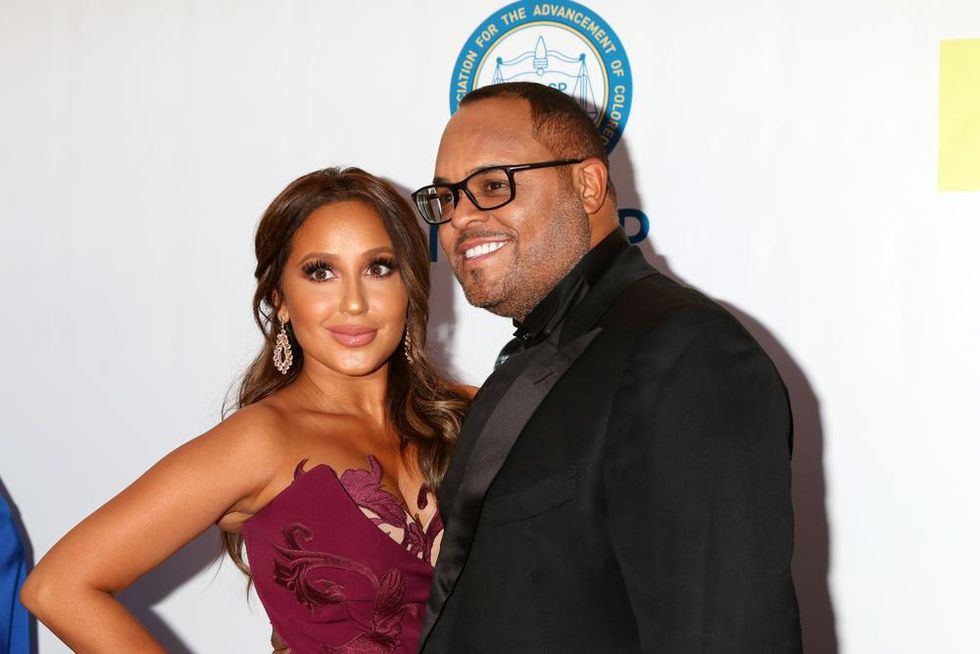 Joe Seer / Shutterstock.com
In a recent episode of All Things Adrienne, Adrienne Houghton opened up her faith journey and why she still chose Israel despite his imperfections. The host said that while before meeting Israel, religion wasn't a major factor when it came to choosing a partner, she soon learned that she had to adjust her rubric:

"It was really important to me to marry somebody with the same faith as me but I didn't realize that and I wasn't conscious about that. Because I had dated people before that didn't attend church and later on in the relationship, it became a weird spot for us cuz I'd be like, 'Hey, I really want to go to church' or I'd want to listen to worship music. And they'd be like 'Eeh not so into that.' So that was extremely important for me. I think it's beautiful to be able to bond over something like that."
Adrienne said that another thing that makes her fall in love with her husband every day is his selflessness in prayer. Get a man that's rich and you can pay the bills; but if you get you a man who can pray for you, it can sustain your life. According to Adrienne, the quality that she appreciates most about his husband is that he has consistently been a spiritual warrior on her behalf:
"That was really, really important to me. And I just feel really, really blessed to have someone in my life that I can pray with, someone that prays over me. Someone that covers me, that I can worship with. I just think that that's so special. That means so much to me."
While Israel and Adrienne may not have the fairytale love story we dreamed about as kids, what they have works for them. When it comes to critics of their relationship, Adrienne asks for them to trade in their insults and offer some empathy:
"My answer to people who want to be controversial or think that I'm controversial or that think that I don't represent a perfect Christian, my answer to that is please pray for me. We're all a work in progress. We're all under construction."
While she says that her DMs are always open to constructive criticism, she suggests that those who disapprove of her choice in a partner worry more about their own spiritual journey:
"So many different questions of drinking wine or listening to worldly music. Some people it doesn't affect their walk with Christ, other people it does. At the end of the day, it's about your heart and your relationship with Christ. That's between you and Jesus. That don't have nothing to do with me. I'm on my path, you're on yours. I felt like if we all did that a bit more and joined mind your business ministries, that's where the love of Christ really is."
Watch the full clip below!
Storytime: My Faith Journeywww.youtube.com
Featured image by Joe Seer / Shutterstock.com