Believe you me, I've had my share of dates that were, let's just say, less than impressive. But I always try my best to give credit where credit's due and when it comes to what inspired this lil' write-up, it was an article that I happened upon entitled "29 Women Reveal Their Absolute Worst First Date Stories".
---
MAN. One woman said she went on a first date with a guy who gave her a heads up that $10 was her limit on the menu. Another woman said that her date brought a friend who was 1) dressed up like Michael Jackson and 2) decided to do a concert for people as they waited in the ER (right…the date ended in the emergency room). Another woman said that she experienced one of the worst kisses ever while trying to tell her date about her mom being in the hospital (awk-ward). Still, another woman talked about how a dude spent the entire date reminiscing about his exes—how he lived with all of them and when they broke up, he had to go back to live with his mom. Then he proceeded to ask her about the size of her own place (SMH…this guy).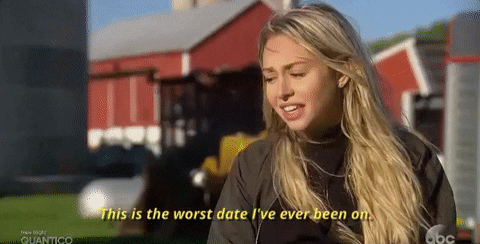 media1.giphy.com
But the one that probably inspired this piece the most is the lady who went out with a guy who stole gas (she knew because he pulled up to her house with the hose still attached to his car's tank). Yeah, that sucks but, guess what? She's been married to him for 22 years now (just wow)!

Although dating—let alone marrying—someone who does a criminal act is a bit of a red flag for me personally, it does co-sign on something I do personally believe. No matter how much a date sucks, that doesn't mean that it can't come with its own silver lining or two.
Before you roll your eyes and click off of this, give me about five minutes (give or take) to explain where I'm coming from. Then think back on some of your own bad dates and see if you can pull some actual benefits out of them. Perhaps ones like the following:
Want more stories like this? Sign up for our weekly newsletter here and check out the related reads below:
Here Are The Dating Trends That You Need To Avoid At All Costs