---
Egypt Sherrod isn't your average real estate agent.
Turn your television to the latest episode of HGTV's Property Virgins and you'll likely catch her showing half million dollar homes for her first-time home buyers in a stylish pair of pumps. Her favorite pair? Green crocodile Casadei heels that she admits she hardly ever wears. Her shoe game will surely make any retail addict go into relapse. "I like to buy really nice things, but on sale," she assures me. "I believe in treating yourself, and I don't feel guilty at all."
And that she shouldn't.
The award-winning agent works hard for her money, and is no stranger to finding the best deals and turning them into long-term investments. Her motto: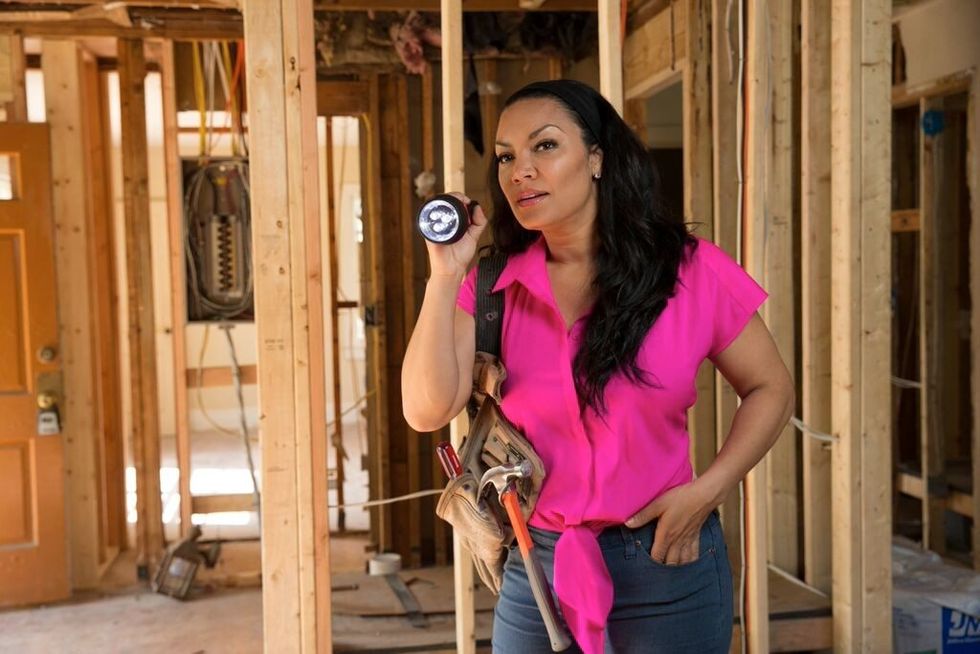 Egypt Sherrod on "Flipping Virgins."
In fact, she's made a career out of it. She recently landed a new show on HGTV called Flipping Virgins, where she helps buyers purchase, flip, and sell lower priced homes at high profit margins. Add that to her broad portfolio of careers including radio, television, real estate, author and philanthropist, and it's clear that the wife and mother of one certainly knows how to finesse her skill sets both on and off camera.
For Sherrod, the key to wealth lies within the ability to have multiple streams of income—at least that's what has been the foundation of her success.
"My mentor told me early on, if you want to have longevity. You have to have a Plan A, Plan B, and Plan C and work them all at the same damn time!"
Talking with Sherrod, it's easy to see why she's been able to have longevity in multiple industries. I'm immediately drawn in by her warm personality and "sister girl" demeanor, and have decided that if I ever purchase a home in her current city of Atlanta, then she would be my go-to realtor. It's not just the fact that we share an appreciation of quality homes, but as our conversation would later reveal, it's also her confidence in knowing who she is and what she's talking about it.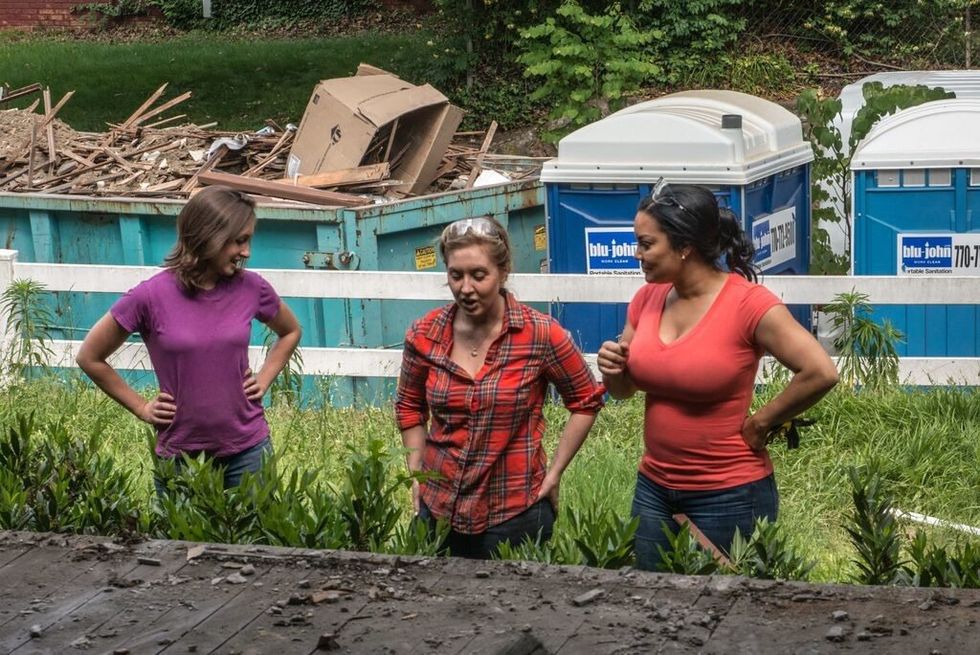 Egypt Sherrod on "Flipping Virgins."
Earning a spot as one of HGTV's coveted show hosts takes time and dedication of learning the game, and Sherrod's certainly no novice to the real estate streets. A brief look at her resume would reveal that during her 20s the young Temple University graduate could be found buying dilapidated homes to renovate and resale, allowing her to sock away funds for rainy seasons when radio would no longer pay bills.
"I would get some money, and instead of putting it into some shoes and pocketbooks, I would put it into buying properties."
It was that hustling mentality that kept her pockets cushioned during periods of unemployment before being called back into radio to work the primetime slot at New York's WBLS 107.5. Unwilling to part with her more stable source of income, she chose to keep both career paths moving and rebranded herself as the go-to real estate girl, picking up a high profile list of clientele including athletes, celebrities, and record label executives. Although she was successfully balancing her careers in entertainment and real estate, she couldn't ignore the feeling that there was something more that would bring her fulfillment.
"Radio had been excellent to me, but I was growing out of it. I definitely was growing out of the gossip, I really didn't care who was doing who…I hated that I had to do entertainment and gossip reports. But unfortunately it was something very popular that I had become known for."
Determined to take her career to the next level she auditioned for Property Virgins, and in 2010 snagged the role as the show host—it was just the big break that she needed to begin her transition from radio to real estate.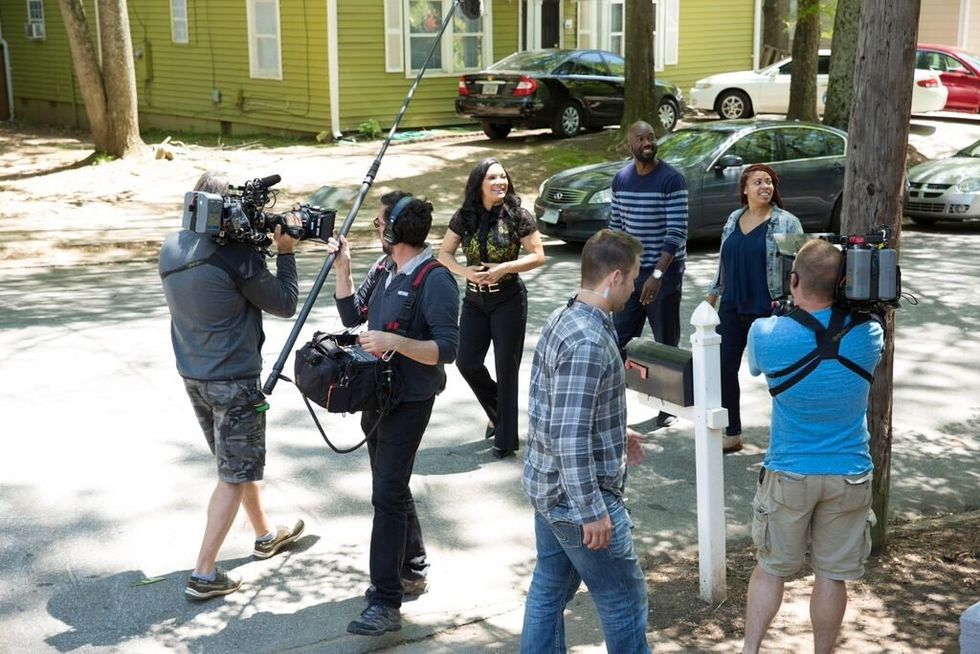 Egypt Sherrod on set of "Flipping Virgins."
But her excitement quickly came to a halt after learning she was pregnant four episodes into shooting the first season. During a time when she should've been celebrating her motherhood, the mom-to-be found herself hiding her pregnancy in fear that her growing belly would lead to her termination. In radio she was used to competing against the youngest and the next best thing, and she was sure that being on primetime television was no different.
"I wasn't trying to be dishonest, I was just trying to make it just like everybody else. You want to fulfill your dreams, but you want it all. And I wanted my baby, and I wanted my happiness, but I wanted my dream too."
To her surprise, and relief, she was wrong. "I laughed and I cried because they were like we don't care we were waiting on you to tell us."
Her second obstacle came in the form of a snowstorm during October 2011. As a mother-to-be juggling two careers, being trapped in her home gave her a case of cabin fever. She decided that it was time to take her talents to another city, pitched the team at HGTV to move Property Virgins to Atlanta, landed a new role at WVEE V-103, and relocated south with her husband and four-week-old daughter.
It was a necessary move that also came with heavy consequences. The boss mom struggled to balance her marriage, motherhood, and a new territory in both radio and real estate. She describes this period one of the most challenging times in her life.
"I'm not going to say I failed in the radio industry, but it was wrong of me to try to take it all at once. I was forced to choose, and I chose to take a leap of faith and leave the business that I had ran for almost 20 years."
Already desiring a change in her career made the decision to leave easier. She was also battling postpartum depression due to breast feeding, sleepless nights, and working multiple jobs.
"And priority number one was my daughter, she was the single most important thing in my life that I am the most proud of. So she had to come first."

Focusing solely on real estate gave Sherrod just the balance that she needed, and enabled her to give time to both her career and family, and, of course, herself. Now when she wants a little personal time, she hits the gym or does a little meditation. She also finds balance in her friendships, keeping a positive group of lady friends who pour into and challenge her to not settle for mediocrity. There's no room for "yes women" in her circle.
Through the Egypt Cares Family Foundation—a non-profit dedicated to financial empowerment and awareness—she's able to give back to her community, and her priceless real estate advice, as detailed in her book Keep Calm…It's Just Real Estate, has become the go-to guide for homebuyers who are looking to get the most bang for their buck, both in their home and their realtor.
As a future homebuyer, I drill her with questions. How much money should I save for a down payment? How do I find a good real estate agent? I'm looking to add another stream of income, how do I become a real estate boss, too?
Her first piece of advice? Don't take advice from people who have no experience in real estate.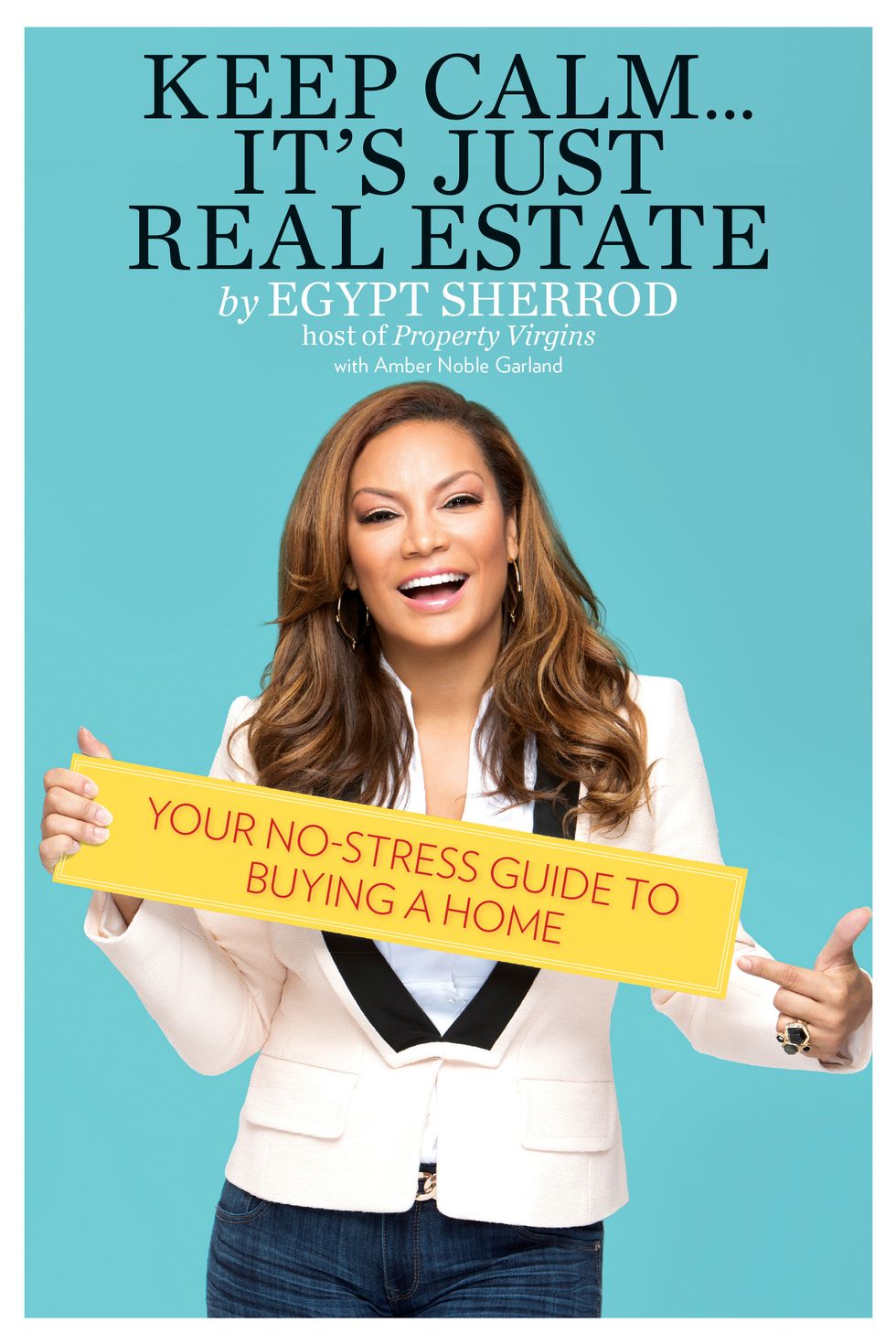 "Be careful who you listen to and get real estate advice from," she warns. "Sometimes our family members really want what's best for us but they don't realize they're giving us bad advice. In some cities the real estate market is booming! While in some cities it's still doing really, really bad. So why would we take advice from Auntie Vera who living in California if we're living in New York City?"
Point taken.
The rest of the answers to my questions? Well, they're all detailed in the book. No spoilers here.
One thing I can say about Sherrod is that she definitely knows her stuff. She's a woman that many women aspire to be: career-driven with a relentless work ethic, humbly confident and purposefully passionate. Even her definition of what it means to be a woman is an accurate reflection of her mentality.
"I realized I had gone from being a girl to womanhood when I start taking responsibility for my actions and not being afraid to apologize, being okay with starting over being 100% comfortable in my own skin, learning the importance of humility, and being well-rounded as a person, not one dimensional."
Find out more info on Flipping Virgins on HGTV.com.
All images courtesy of Egypt Sherrod