---
A good sis recently filled me in on the dangers of only having one hustle and I was quickly forced to reevaluate all of my life choices.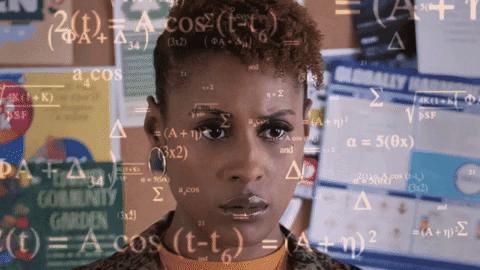 media.giphy.com
While I'm a jack of many trades, I've discovered that I haven't given myself the opportunity to be lucrative at more than one at at a time and if my one stream of income were to magically dry up, all of my other material assets would quickly evaporate into thin air and I would be out here looking crazy AF.

The truth is, no matter fat the check may be, your bag is never truly secured if you only have one source of income, but in a recent interview with Billboard, Issa Rae let us in on the secret to leveling up your business acumen and creating generational wealth: ownership. That's it. That's the whole secret.
For the past 365 days, Issa has been booked, busy, and serving up big boss energy with her latest business endeavors. Along with collaborating with LA-based creatives to open a coffee shop in Inglewood, Issa also invested in a streaming analytics business and launched a recording label, giving the term #NoDaysOff a whole new meaning, but her motivation behind all of her hustles is a desire to level up her equity. She explained:

"That's a huge part of being able to have longevity — to have a stake in your own career is to own your masters. I understand, especially when you become fucking Taylor Swift, you want some sort of ownership over your work. But coming from the TV side, I don't own 'Insecure'. HBO owns that at the end of the day. I have to have my own distribution arm to be able to own my work. I think now artists are so much more hip to the fact that 'Oh, I don't ever have to sign with anyone unless I absolutely need the money,' and even then it's easier to negotiate."
When it comes to managing multiple streams of income, The Photograph actress says that her most important tool has been knowledge, most of which she acquired on the internet. Issa explained that like most entrepreneurs, her hustle came out of a sense of necessity and today, she attributes her choice of becoming a boss to her not having a reason *not* to.
"Even from a young age, my mom used to call me bossy. Only now do I realize that I wanted to be that. I wanted to be a boss because, why the fuck not? I liked feeling like I was working or in business. I liked feeling like a leader. And it is not always fun, by any means, but there's an element of accomplishment that I feel in executing projects."
Issa told Billboard that ultimately, her mission is to become a boss ass hybrid of Oprah, Diddy, and Ellen, who are all inspirations to the 35-year-old producer in their own right:
"I always say that I model myself after Diddy, Ellen and Oprah: Oprah for being able to diversify her businesses and being a major influencer in that way; Ellen for being able to make a business out of being herself; and Diddy for his business acumen in expanding beyond hip-hop. I've looked to them in terms of ways to make my own imprint."
Read the full article here!
Featured image by Rich Fury/Getty Images