---
The idea that Black love is inherently painful is a generational notion that runs hot through our bloodlines. Our stories of partnership are often accompanied with abuse, abandonment or infidelity, and healthy love is celebrated in our communities as a rarity versus an expectation.
But with Stella Meghie's forthcoming film, The Photograph, we bear witness to a budding relationship that reminds us that normal love stories are our birthright, not just some whim or fantasy. The movie follows a woman named Mae (Issa Rae) who uncovers her mother's complicated history with love while charting a heart path of her own. Her world collides with a scrappy journalist named Michael (Lakeith Stanfeild) while he is researching her mother's life and career in photography. We watch Mae and Michael easily succumb to their instant, inexplicable draw to one another.
Every aspect of the film, from the camera angles to the longing gazes from Michael, is in love with Mae.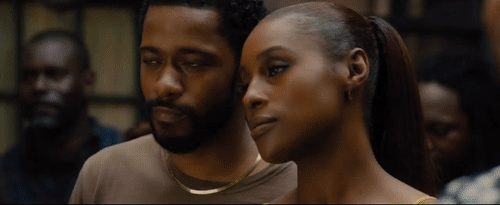 Tumblr
Director Stella Meghie told xoNecole how important it was for Issa's character to be shown in a golden-hour-like halo in every scene. "Working with Delina her makeup artist, I wanted to strip her face down and just show her natural beauty. So everything was very neutral," Meghie explained. "And then with the lighting, working with Mark Schwartbard, making sure that it was soft and warm and that we played up her melanin instead of hollowing it out and working with the colorist to make sure it's there. I wanted everyone to look brown and beautiful, and that's always my goal. I'm always like 'more saturation, warm it up, warm it up,' that's all I ever say because you know, the skin is just so beautiful."

Her vision for the film played up the way Black skin naturally glows in evening light. The characters fall in love during dusk and night scenes, an intentional choice to make every moment feel intimate. "There was a lot of night. I wanted it to just feel sexy and sultry and warm, sumptuous," Meghie said.
A love story centering the sensual parts of Black womanhood is an invitation for us all to indulge in our softness a little more. Throughout entertainment history, we've seen women of darker skin tones painted as the aggressor or the victim, but in this feature, Stella made it a point to show Issa's supple and open emotional range.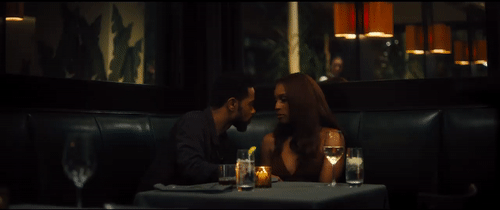 Giphy
"We're always strong and magic and can do anything, and sometimes we're vulnerable and crying and trying to figure out how to hit that next step, it's not just one thing," Meghie said. "To be the strong woman who fixes everything, you might have had to cry for a night or two and pull yourself together. We are people. So that's important for me to show that."

Issa Rae told xoNecole that she grappled with relaxing her natural "mean mug" to embody the more relaxed, blushing temperament of a woman in love. "I am constantly in work mode and in focus mode. And sometimes I'm ready to be tested or for someone to come at me the wrong way. And I think that's OK too. I think that's a part of moving about in this world, because we are constantly being tested," Issa explained.
"But there are those moments of softness and vulnerability that we share too. And I feel image-wise, that's not always represented. We are always the hard, always the fierce woman, but we're multi-faceted."

Tenor
Issa is beautifully positioned as the object of desire in the film, a role traditionally reserved in Hollywood for women of a lighter hue. With all eyes on Issa, women who see themselves in her have an opportunity to share in the visual exaltation of a dark skin woman as a standard of attractiveness.
"I think it's really important to be able to identify and feel worthy in a sense, and it sounds corny and you shouldn't get your worth from television by any means but, those images matter."
Issa continued, "I remember seeing Nia Long, and you know, I didn't think I looked like Nia Long, but I was like, 'Look at this brown skin girl…she's so gorgeous.' And she was someone to aspire to. So the more and more images that we have like that, the more it's a recognition of our beauty."

Through Issa's character, we all get to experience the light, wine-tipsy feeling of falling in love without the risk of danger or harm. And perhaps, as the narratives around Black love expand both in real life and on-screen, we can actualize the same feelings of belonging and desire in our own lives too.
The Photograph is in theaters everywhere Friday, February 14. Be sure to check out Issa's special photograph moment in the video down below.
Featured image via Tumblr