Keyaira Kelly
Keyaira Kelly is a writer/poet living and loving in Brooklyn. She is also the host of the podcast, "Talk To Your Mom." Connect with her on social @keyairakelly on everything.
Shockwaves rippled through the Black community last spring when actress Gabrielle Union and her husband, retired basketball star Dwyane Wade, were spotted rallying around their daughter Zaya, as their parade float rode through Miami's annual pride event. At the time, the world knew Zaya as Zion. Over the next few months, we gained insight into Zaya's full story as she revealed her true essence to the public with the vocal support of her parents lighting her path. The Wades were framed as the standard for modern day Black familial acceptance by some, and condemned as blasphemers to those with hateful homophobic and transphobic ideologies.
Although celebrity tends to take up space in identity narratives, there are millions of families like the Wades all over this country. Social activist, entrepreneur and author Jodie Patterson is a proud member of this cohort. Her son, Penelope, told Patterson that he was a boy at 3 years old. Since that moment, the mom of five has worked relentlessly as an advocate for trans people and their families.
xoNecole spoke to Patterson about her family, the Black community, and why we have to adjust our language and understanding of gender to ensure the health and happiness of current and future generations of Black children.
xoNecole: There was uproar in our communities when Gabrielle Union and Dwyane Wade expressed support for their trans daughter, Zaya Wade. Why do you think Black people can be so resistant to parents accepting their kid for who they are?
Jodie Patterson: The time that I spent looking at it and thinking about it, it's not our people--it's just people. I think people have a harder time changing from one pattern to the next. I think people have a hard time going outside of their perspectives. But Gabrielle Union and Dwyane Wade and my family and millions of families are seeing our old habits no longer apply. The language we use around 'he' or 'she' and the associations we put to 'he' and 'she' no longer apply. And particularly, they don't apply to our children. Our children are asking us to see things differently, to say things differently, to live differently. And if we don't, if we aren't flexible like Gabrielle and Dwyane and others, we just we won't be with our children. We just won't be with our kids anymore.
What constructs of this adjustment did you personally battle with? Were there any beliefs you had to undo? 
In my family, girls and boys have always done great things. Women have run businesses. Men have raised children. We are all very involved in our families and in our economic strength and in our community. But underlying underneath that there were certain biases that I held. You know? I was speaking to my girls in one way, and I was talking to my boys with a sterner voice. I was buying butterfly diapers for my daughter, and I was buying superhero diapers for my son. I had to not only change my language, but change the way I interacted with the world. I had to let all of my children experience all of life. And when I started doing that, I had to do the same thing because I realized I was holding myself back. I was trying to think of what a good woman should do--what a responsible wife was supposed to be saying and what a 50-year-old woman looked like. And in reality, I want to do everything in life. Not just the things carved out for 50-year-old women. So like this whole bias and all of the breaking down of barriers and constructs, it doesn't just apply to my trans kid it applied to all of my children and to myself and to the world.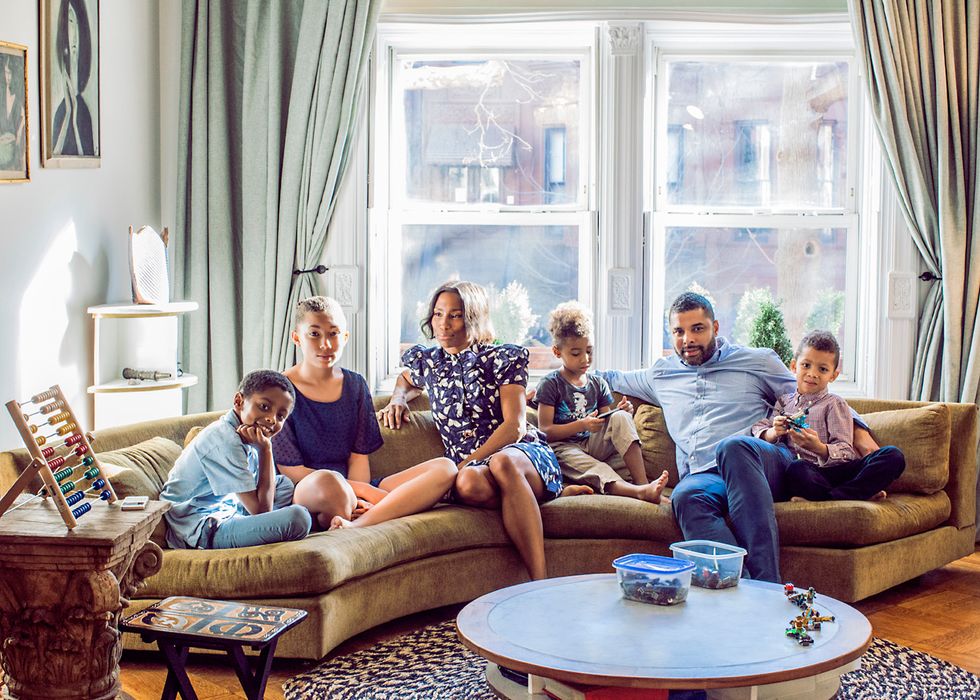 Courtesy of Jodie Patterson
"I had to not only change my language, but change the way I interacted with the world. I had to let all of my children experience all of life. And when I started doing that, I had to do the same thing because I realized I was holding myself back. I was trying to think of what a good woman should do--what a responsible wife was supposed to be saying and what a 50-year-old woman looked like. And in reality, I want to do everything in life. Not just the things carved out for 50-year-old women."
How did you shield your child from feeling uneasy if you were uneasy or unsure about any of it?
It's difficult and tricky to figure out what to share with your children and what not to share, and then what to share with the world and what not to share. Like my life seems very open on social media, but not everything is expressed in the moment. Sometimes I take a step back to be quiet, to process, put it in perspective, to sort it out in my own brain and in my own heart, and then I start to share with my kids or with the world.
How did your husband react at the time? Were there any quarrels you all had to resolve as a couple to be on the same page for what raising Penelope looked like?
We were on the same page in love. The reason why I married him was because we all believed in family so deeply. But we weren't always on the same page. I wanted to go really fast. I wanted to be public. I wanted to share with everyone I knew. Dad was very respectful of the questions he still had, and what he wants, but much slower. It took us some time to find a middle ground. Our relationship didn't last as a couple, but the family structure around our children was never broken, ever. And it didn't break. You know, the fact that Penelope is transgender absolutely wasn't going to break us as a family.
Did you have your own "mourning" process? I've heard some folks describe accepting their child/partner's trans identity felt like a loss to who they thought they were in some ways?
I know that that is a reality for many people. But I would say I did not experience any loss. In fact, we've never taken down pictures. Penelope never wanted to change his name. In fact, he said, "Why would I change my name? That's my grandmother's name, and I love her." I mourn some of the time that I hadn't understood. I mourn some of the time that I was confused; I mourn the time when I just wasn't getting it.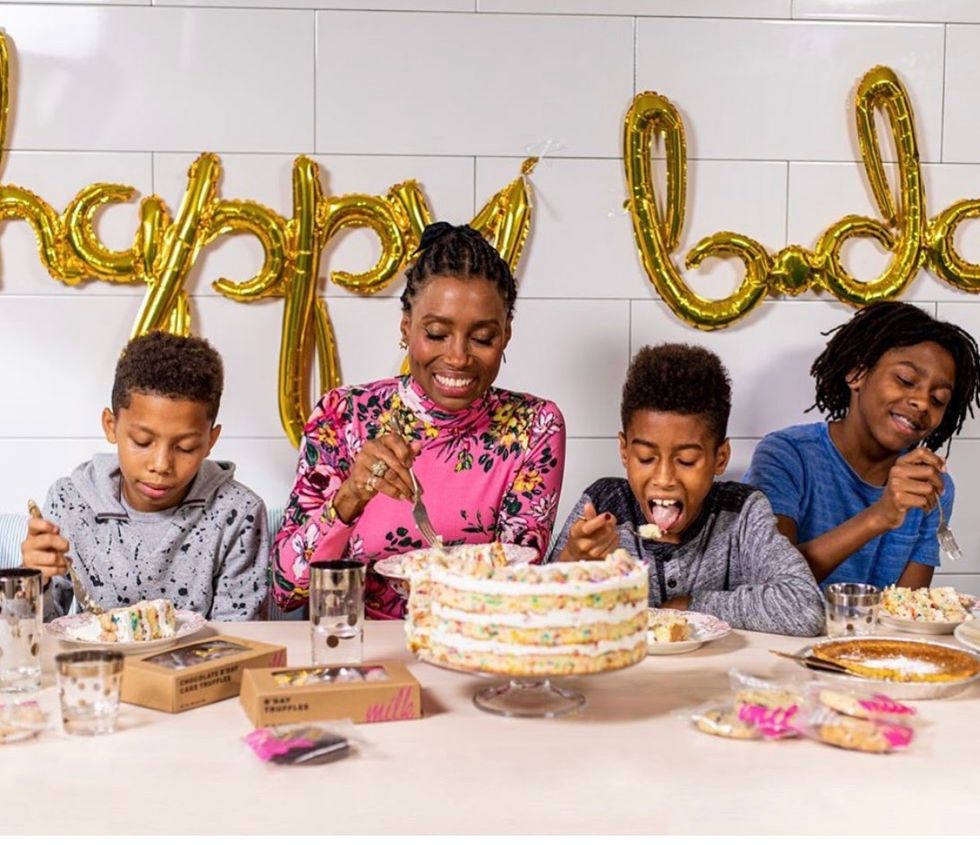 Courtesy of Jodie Patterson
"Penelope never wanted to change his name. In fact, he said, 'Why would I change my name? That's my grandmother's name, and I love her.' I mourn some of the time that I hadn't understood. I mourn some of the time that I was confused; I mourn the time when I just wasn't getting it."
You said there were behavioral differences in Penelope before he explained he was a boy. Is there any behavior you would advise parents to look out for in case their child can't articulate how they are feeling yet?
We should ask ourselves, what is our child rejecting? Because Penelope would stomp on a dress and grab and reach for [his] brother's pants or brother's shirt. Penelope would throw the pink toothbrush out in the bathroom and pick up [his] brother's Spiderman toothbrush. So look for disruption. Look for anger. Look for bullying. Penelope had actually become a bully--pushing kids and pushing siblings around, really an angry kid. Well, he was angry with the place that we were putting Penelope in.
You had a Ted Talk called "Gender Is Obsolete". How do you talk to people who still hold the belief that anatomy and gender are one and the same? 
There's no amount of talking I can do or sharing I can do if the individual doesn't take one step in, one step on their own, to do some basic research. The basic research shows that scientifically that gender is not found in our anatomy. So even without my womb, I'm a woman--even without my breasts, even without my fallopian tubes, I'm a woman. And so when we look at the science around identity, it is in the brain. Identity is formed in the brain, not with trans people or certain people, but for all people. My identity is not in my vagina. So that's awesome.
"Even without my womb, I'm a woman--even without my breasts, even without my fallopian tubes, I'm a woman. And so when we look at the science around identity, it is in the brain. Identity is formed in the brain, not with trans people or certain people, but for all people. My identity is not in my vagina."
What advice would you give to soon-to-be mothers about labeling their child "boy" or "girl" before birth? Would you have done anything differently?
If what we think about our children turns out to be inaccurate, just shift. It's OK. Think about, "How flexible can I be? How flexible is my mind?" We have African naming ceremonies, like my children's father is from Ghana, and we did African naming ceremonies for each one. And there is a lot of that that I would do again and again and again if I could have my children again. And we would do some of the same ceremonies and rituals. And then, if it came to a point when it felt that I was inaccurately making assumptions of my kid or my kid was telling me, "Mom, that's not who I am," I would shift.
The Bold World: A Memoir of Family and Transformation is available on Amazon now. Patterson also has a children's book coming out called "Born Ready", which details Penelope's perspective on himself and his community.
Featured image courtesy of Jodie Patterson
The idea of "conscious uncoupling" entered the culture zeitgeist in 2014 when actress Gwyneth Paltrow announced her divorce from Coldplay frontman Chris Martin after 13 years of marriage. Conscious uncoupling was pegged as a more evolved way to separate, because within these terms two exes make the decision to set aside personal grievances and bitterness to cultivate new friendship and love in the fallout of a breakup. We revisit this concept in the context of Black love, with media guru, comedian and artist Chis Bright taking purposeful breakups to task.
There is a mindset of scarcity plaguing this generation of daters--and for good reason. The instantaneous nature of communication through technology has made connection easier, but less intentional. Dating apps put millions of fellow singles at our fingertips, but real partnership is somehow still evasive. In the absence of perceived options, many folks settle into the best they can get versus the best, which creates an environment where too many relationships stay in tact to the detriment of two individuals. This staying power is glorified in Black communities as noble, but for Chris, remaining in her connection past its expiration date was actually the opposite of love for herself or love for the other person.
"You're betraying yourself every single day because there are things you want in a partner that you're not getting in this relationship, and you're OK with it," Chris told xoNecole.

"It was less about him and more about my relationship with myself--figuring out, what is it about myself, and where are the places that I feel I'm not worthy of checking off every box that I have?"

Chris met her now ex, Ryan** in high school. She had a boyfriend at the time but was secretly crushing on Ryan, who was one year her junior. The two became friends, but Chris clung to the idea that more may blossom between them in the future, since they both shared a foretelling ringtone--Erykah Badu's "Next Lifetime"-- when they were teens.
The pair reconnected in adulthood about three years ago when Chris had a photo shoot, and Ryan happened to pop up.

"Because we were already comfortable with each other, I knew his family; I had known him for over ten years, so it was very easy to just fall into that like--that deep like when you just want to be with that person and hang out with them all the time," she said.
But as their relationship grew, Chris started to notice that there were crucial parts of their connection missing, but shrugged off her concerns in the name of compromise."
Obviously we know that not every single part of someone is going to make you happy, but I will say that I feel like, in a lot of ways, it was a co-dependent relationship, but I wasn't self-aware at the time to see it, because I was still buying into that fairytale," Chris explained.
It took a dispute with her business partner for Chris to stop and take inventory of all of her relationships and examine how they reflected her own sense of self-worth.

"I believe in abundance, but it's one thing to say it and another thing to assess your surroundings, your relationships, your relationship with your family, your relationship with your partner and your relationship with money," Chris described. As she processed and grieved the business betrayal, Chris decided to dig deep to find other patterns, behaviors and connections she was participating in that did not serve her—starting with her relationship. It was tough for Chris to wade through these waters of doubt because on paper, Ryan was a good man, and they shared a great bond.
"He was really great with my son, definitely a family man. I really do love his family, and that's really hard to do too because now that we're broken up, I don't want to be all in their face because we need time a part. And he's a good person. And I think that's the most important thing. He's a really good person, who I love."
But their union required compromise on Chris' part that felt contrary to the spirit of true love.
"I was in an abusive relationship before where I almost lost my life ten years ago, and when I really stepped back and looked at the last ten years of my life, I was like 'Yo, I be letting people abuse me in different ways.' And Ryan wasn't abusive at all, but it was just still in alignment with Chris being the one to sacrifice and compromise her happiness for someone else. And I was like, 'Wait, that's not love.'"
Going forward, Chris knows that an individual sense of completeness is not something she can ignore when picking a forever mate.

"Our connection was one of being comfortable, he's in a transitory phase where he's trying to figure out what he wants to do with his life, and I'm super supportive, but I just think that, the concept of wholeness is what's been highlighted through this whole relationship, because you can't date someone who's not whole. It's just not possible. It is possible, people do it, but it's not fair. And I started to really pay attention, instead of forcing things and willing certain things. I got to the point where I started to pay attention to what is."
With the relationship's flaws now blaringly visible, Chris made the decision to end their relationship. At first, she and Ryan were not on the same page—but she prioritized her needs and desires over his in an act of self-love. Ryan eventually packed his stuff and left, and Chris didn't hear from him until he took to Instagram to share their story.
"He finally let me know that he realized what I was talking about, how you have to just release—we don't own anybody."
Chris wrote her own post in response, called to share their separation as an example of what love can look like when a connection's season is up.
"As someone who uses my platform to really just inspire people through being authentic, it was my responsibility to show people that you can set your own terms for how you want to end something, and it doesn't have to look like a god*mn episode of Love &Hip Hop," the New Jersey native explained.

Chris wants to encourage her audience to see "letting go" as a crucial part of Black love since its importance is usually overshadowed by narratives focused on staying power--even if the relationship is not healthy.
"This preaching that 'you don't give up, you don't do this, you don't quit,' failure and all this stuff around relationships is very toxic. I always saw people holding on no matter what, compromising themselves no matter what, betraying themselves no matter what, so they can brag that they were married for forty f*cking years, but who gives a damn if you were dealing with bullsh*t for forty years? That's not an accomplishment."
In the space since the split, Chris is now on fire with her renewed sense of purpose, faith and firm understanding of what perfect partnership looks like for her.
"I want to be madly, enthralled and enamored by the person that I'm with. And if I don't have that, I don't want it," Chis said.
For more of Chris, follow her on Instagram.
Featured image via @chrismiss_
They told us we were never meant to be alone. As our breasts sprouted and our hips spread, we were told someone would eventually arrive to protect all of our vulnerable pieces.
We were encouraged to go off and get the career and the degrees, but voices chased us along the way reminding us we would never be complete without marriage or motherhood. And while success in those areas may resonate with some women, no one ever presented us with options for what a happy life could look like if those paths didn't pan out—until now. We are in the midst of a feminine revolution where long held beliefs surrounding singlehood are being reconstructed in the hands of women who dare to dream differently.
"I want to be with me," Brittaney Trent, 29 year-old producer, writer and beauty maven told xoNecole.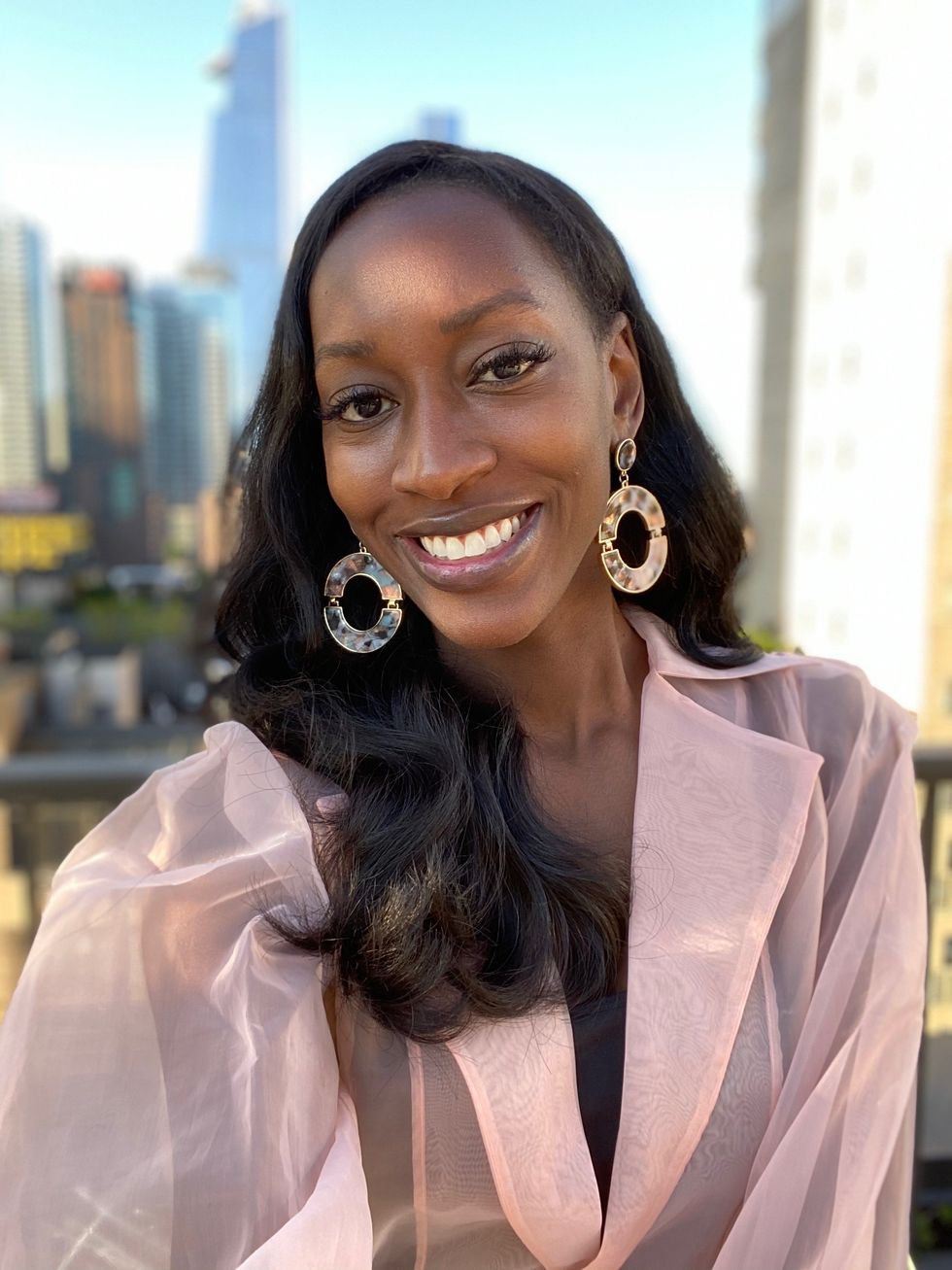 Courtesy of Brittaney Trent
Standing at 5'9 inches, the statuesque fashionista is not afraid to do the next chapter of her life alone.

"I'm not ready to be in a relationship right now, as crazy as it feels and sounds. I just feel like there's still more I need to do for me, and I haven't had a chance to do that yet."
It's been five months since Brittaney's devastating split from her first love. While describing the relationship as the "best one she's ever had," in retrospect, she acknowledges they did not agree on the trajectory of their future.
"The crazy thing is, everyone who knew us was shocked. We were so close. I felt blind sighted, to be honest. Because it was like, 'Wait, you feel like we want different things out of life so it's just better to end this now than later?' What the hell? But he's right. It all worked out. We just wanted long-term different things."
In the space since the breakup, Brittaney has made her needs, wants and desires take precedence over everything else.
"Relationships were my priority for the past year, and I feel like I lost myself. Also, because I wasn't really that happy in my career at the time, he was the only thing making me happy. Looking back at this girl, I don't even know who she was. I'm at this vital age where I need to figure out what's best for me."
While doing things for herself (which includes quiet time and a Netflix binge sesh), Brittaney also centers her creative work in service to others. As a journalist, she's interviewed the biggest sports stars from Serena Williams to Simone Biles, and she recently took her storytelling talents to the beauty brand side. As a skincare aficionado, the Atlanta native highlights skincare tips with her "Fresh Face Fridays" franchise and prides herself on recommending healing products to her followers.
"I get fulfillment out of helping people feel confident with their skin, because your skin is a huge deal. And if you have bad acne and you don't feel confident about it, there are products that can help."
Now Brittaney's challenge is learning to support her own needs just as much as she supports others.
"I'm re-loving myself. At this moment, right now, I'm falling in love with myself and saying, 'What does Brittaney need?'"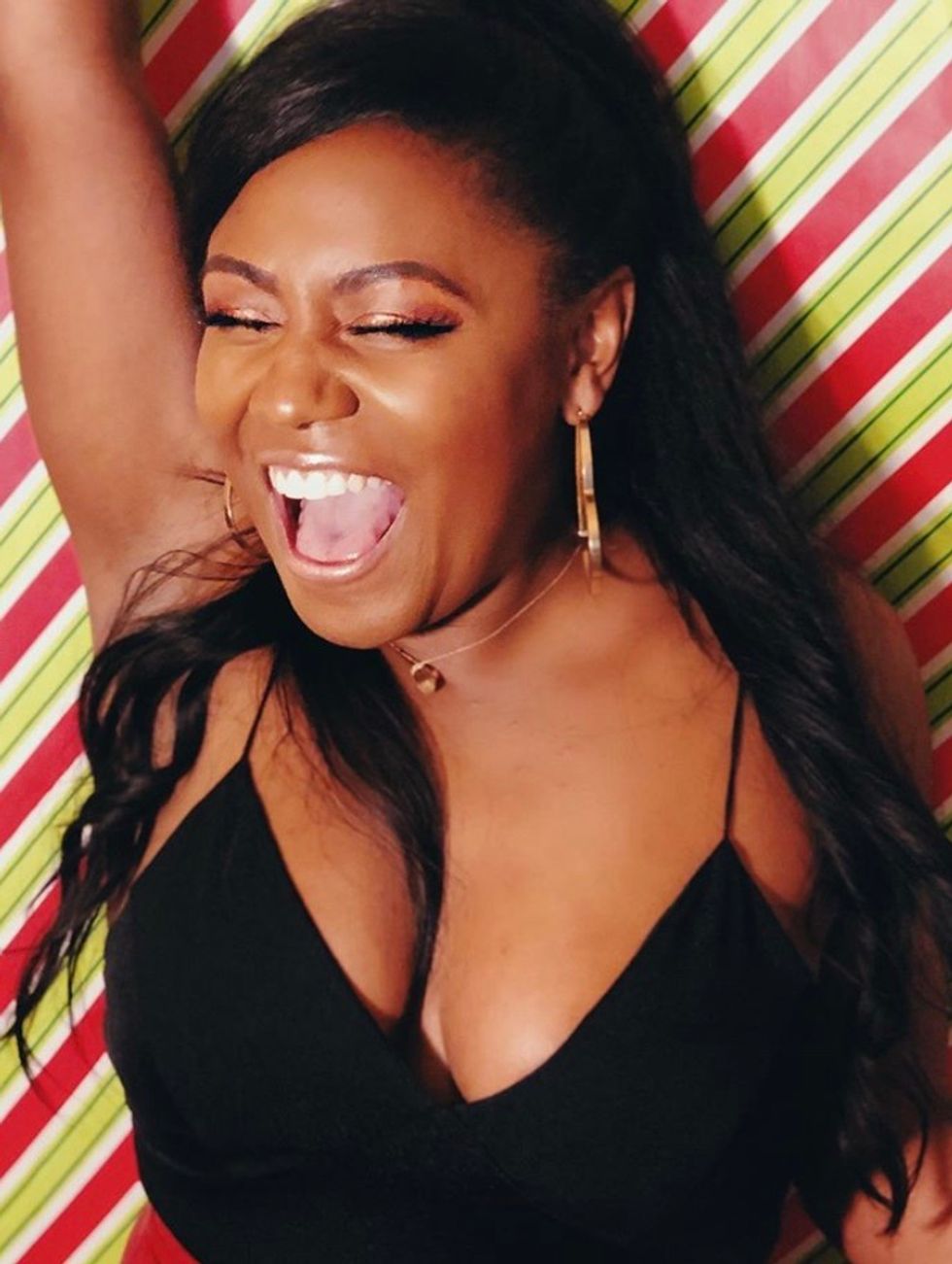 Courtesy of Branché Foston
Asking what do I need is a rebellious act in and of itself, particularly as Black women who are expected to emotionally and physically mule for the rest of the world. The new age woman prioritizes self-realization, and Reiki Master, yoga teacher and herbal medicine practitioner, Branché Foston, is using this momentum to energetically (and physically) rub healing balm into the shared wounds of Black women in South LA.

"I love that I'm able to support people on their healing journeys while also reaching them in really broad and creative ways," the 30-year-old CEO of wellness brand, The Honey Block, told xoNecole.
Branché has what some would call, "executive presence." Her open, Virgo Sun/Leo Rising demeanor attracts seekers who are captivated by her light and wish to hold that same warm energy in their own lives.
"As a brown-skinned black woman, I love that they get to see themselves in me," Branché said.
"I love that I live in South Central--this is ours. It's not for thin blonde women or for black people who have three degrees and live in Venice. I have never felt so fulfilled as a person before, as a soul."
Actualizing self-love in a town as color struck as Los Angeles is a modern miracle. The superficiality that once plagued LA's reputation is now being overshadowed by the collective healing work being done in its communities. "The energy in our generation is finally on a tip of genuine collaboration," Branché said.
"I think that so much of the beginning of our 20s is a little bit capitalistic--everyone on their own. Now we are kind of in this place of, oh no, this is really about working together across whatever your passion points are."
For Branché, diving deep into her own work as a healer opened up multiple modalities to heal herself.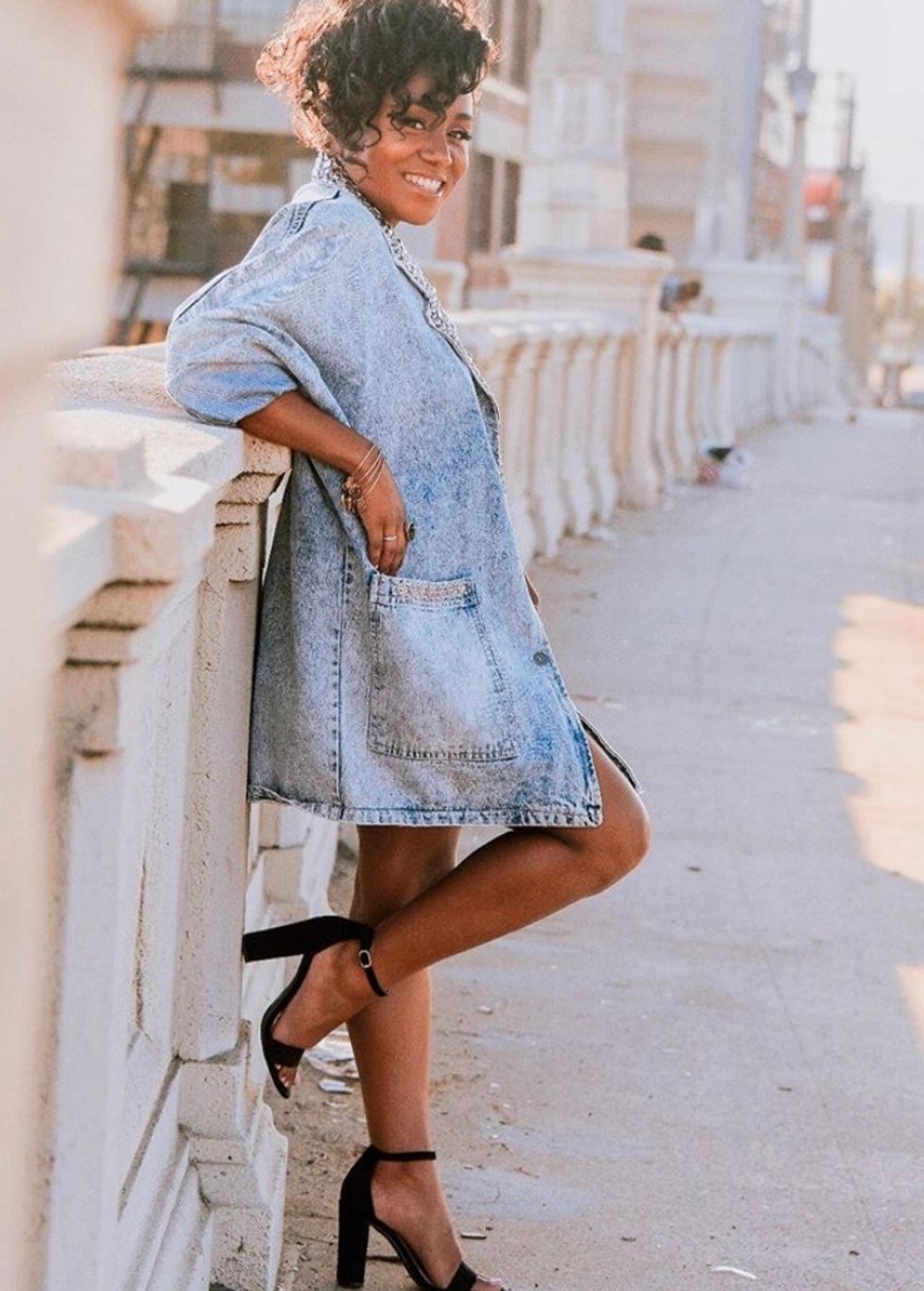 Courtesy of Branché Foston
"The fact that I look in the mirror now, and I'm like, 'You are so fine. And whoever you date is so blessed,' means so much to me. But it took me 30 years to get to that point. The more I felt aligned in my soul work, the more I was able to see the beauty of myself."

Doing spirit work doesn't automatically satiate the human desire for companionship, but what Branché learned are the tools to move through the lonely moments versus being paralyzed by them.
"Being alone is a gift, it doesn't mean we have to feel lonely."
"And what yoga has taught me is to be the observer. When feelings of loneliness do arise, how can I acknowledge and observe them without feeling identified to them?"
Her newly earned self-awareness comes with a deep respect for who and what is in her space.
"For me, the more I did my own work, the more I fell in love with it and the more I didn't want to settle with anything in my life. That kind of energy helps you reframe all the relationships in your life. My life isn't about getting married. My life is about my soul purpose. Marriage can be an extension of that, but it's not who I am."
The narrow narrative surrounding femininity and our perceived dependence on marriage to be content seeped into our collective consciousness where it either bloomed or rotted. It bloomed for the ones who got out early—some peers stumbled upon young, healthy connections, and other women willfully, or unknowingly, committed to a life of martyrdom in the name of love.
The rest of us marched into the late 20s, 30s and 40s, well-championed by best friends, colleagues, and families, but without a forever teammate to call "home". In the loud space of alone, many women opted to celebrate a "full life", while still being hungry.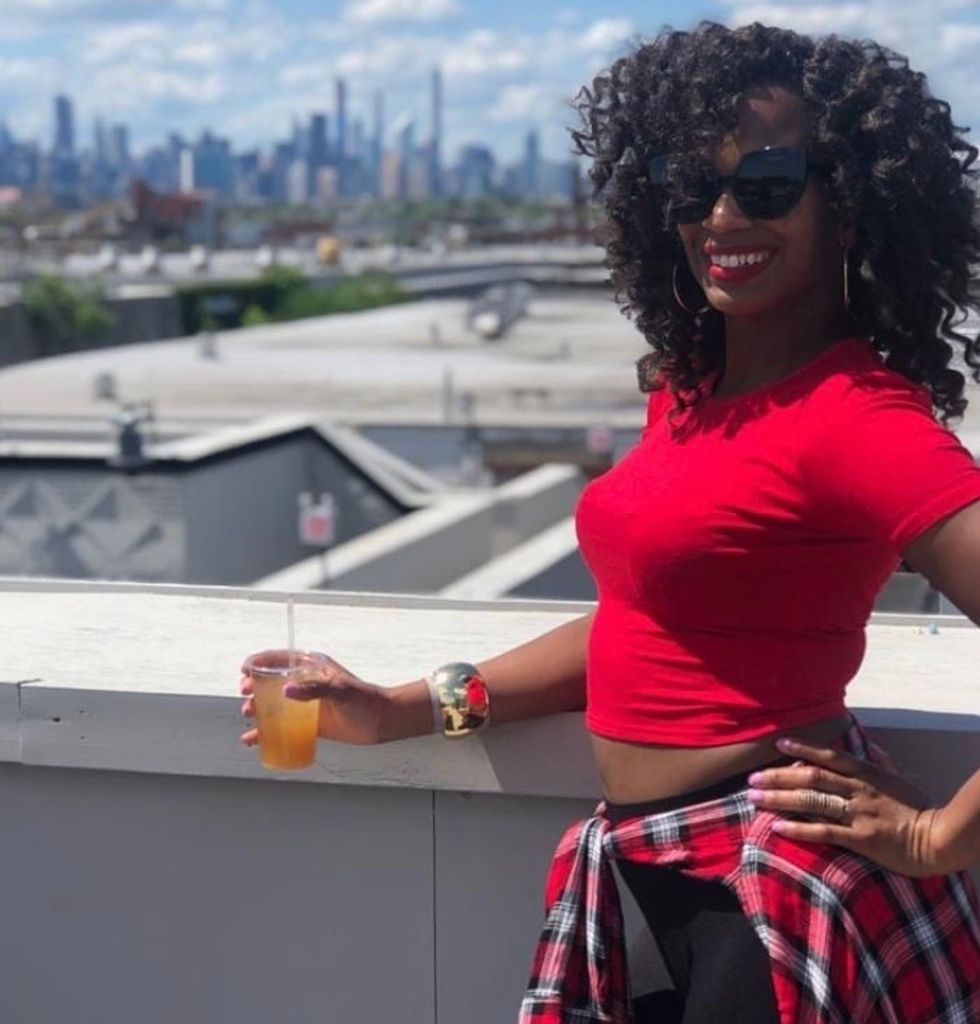 Courtesy of Cortnee Kelly
But this appetite is not our own—it's one inherited through systems of patriarchy and misogyny that were too cowardice to see what choices women would make without being forced to make them around men. Now we are in a unique position to decide what we crave, and for many women, that space is in communions with themselves.

"Sitting outside on my deck watching the glory of nature and then meditating is my favorite self-care ritual," 34-year-old nurse practitioner Cortnee Kelly told xoNecole. "Actually anything where I'm in nature and able to witness God's glory, infinite power and grace. I'm just in awe. That's when I'm most at peace and grounded in nature. In those quiet moments I find myself saying, 'This is love.'"
As a compassionate medical professional in the cardiology field, Cortnee finds purpose in getting someone to smile or laugh in their weakest moments. She is the type of soul that will give her expert medical advice to patients while holding a prayer for their healing in her mind.
While she's worked diligently throughout her career to keep sick hearts healthy and beating, ironically, her biggest self-work would be in healing her own heart.
Cortnee recently ended an on-again, off-again connection that she described as "draining mentally and emotionally."
"There were a lot of things that I put up with that in retrospect [were] depleting me of me. I stayed for fear of starting over and possibly missing my chance for a family. But this relationship was no longer serving me."
Cortnee has found her voice again in the days since the break up, no longer silencing her wishes for the convenience of others.
"My journey this year is one of self-acceptance. I'm taking the approach of feeling the fear and doing it anyways. There was one instance recently where I spoke my truth even though my voice quivered, and I felt good because I honored myself. I found myself smiling about it later because it felt good to stand up for what is right for me."
Cortnee has found freedom in this newfound respect for herself. In a posture of surrender, Cortnee is now embracing the life that's unfolding before her, instead of contorting her path to fit others' expectations of her womanhood.
"I can't control anyone. I can't make someone be faithful, fall in love with me, marry me, and decide to have children with me. Life is unpredictable and ever-changing. I realized the only thing I can control is me and being the best version of me as possible. In fact it's a priority. And it takes work. But I'm worth it."
Featured image courtesy of Brittaney Trent
The idea that Black love is inherently painful is a generational notion that runs hot through our bloodlines. Our stories of partnership are often accompanied with abuse, abandonment or infidelity, and healthy love is celebrated in our communities as a rarity versus an expectation.
But with Stella Meghie's forthcoming film, The Photograph, we bear witness to a budding relationship that reminds us that normal love stories are our birthright, not just some whim or fantasy. The movie follows a woman named Mae (Issa Rae) who uncovers her mother's complicated history with love while charting a heart path of her own. Her world collides with a scrappy journalist named Michael (Lakeith Stanfeild) while he is researching her mother's life and career in photography. We watch Mae and Michael easily succumb to their instant, inexplicable draw to one another.
Every aspect of the film, from the camera angles to the longing gazes from Michael, is in love with Mae.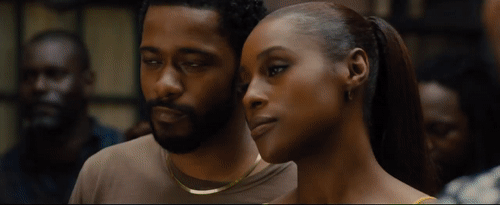 Tumblr
Director Stella Meghie told xoNecole how important it was for Issa's character to be shown in a golden-hour-like halo in every scene. "Working with Delina her makeup artist, I wanted to strip her face down and just show her natural beauty. So everything was very neutral," Meghie explained. "And then with the lighting, working with Mark Schwartbard, making sure that it was soft and warm and that we played up her melanin instead of hollowing it out and working with the colorist to make sure it's there. I wanted everyone to look brown and beautiful, and that's always my goal. I'm always like 'more saturation, warm it up, warm it up,' that's all I ever say because you know, the skin is just so beautiful."

Her vision for the film played up the way Black skin naturally glows in evening light. The characters fall in love during dusk and night scenes, an intentional choice to make every moment feel intimate. "There was a lot of night. I wanted it to just feel sexy and sultry and warm, sumptuous," Meghie said.
A love story centering the sensual parts of Black womanhood is an invitation for us all to indulge in our softness a little more. Throughout entertainment history, we've seen women of darker skin tones painted as the aggressor or the victim, but in this feature, Stella made it a point to show Issa's supple and open emotional range.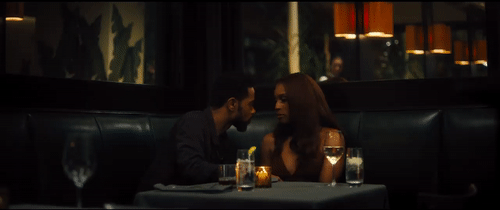 Giphy
"We're always strong and magic and can do anything, and sometimes we're vulnerable and crying and trying to figure out how to hit that next step, it's not just one thing," Meghie said. "To be the strong woman who fixes everything, you might have had to cry for a night or two and pull yourself together. We are people. So that's important for me to show that."

Issa Rae told xoNecole that she grappled with relaxing her natural "mean mug" to embody the more relaxed, blushing temperament of a woman in love. "I am constantly in work mode and in focus mode. And sometimes I'm ready to be tested or for someone to come at me the wrong way. And I think that's OK too. I think that's a part of moving about in this world, because we are constantly being tested," Issa explained.
"But there are those moments of softness and vulnerability that we share too. And I feel image-wise, that's not always represented. We are always the hard, always the fierce woman, but we're multi-faceted."

Tenor
Issa is beautifully positioned as the object of desire in the film, a role traditionally reserved in Hollywood for women of a lighter hue. With all eyes on Issa, women who see themselves in her have an opportunity to share in the visual exaltation of a dark skin woman as a standard of attractiveness.
"I think it's really important to be able to identify and feel worthy in a sense, and it sounds corny and you shouldn't get your worth from television by any means but, those images matter."
Issa continued, "I remember seeing Nia Long, and you know, I didn't think I looked like Nia Long, but I was like, 'Look at this brown skin girl…she's so gorgeous.' And she was someone to aspire to. So the more and more images that we have like that, the more it's a recognition of our beauty."

Through Issa's character, we all get to experience the light, wine-tipsy feeling of falling in love without the risk of danger or harm. And perhaps, as the narratives around Black love expand both in real life and on-screen, we can actualize the same feelings of belonging and desire in our own lives too.
The Photograph is in theaters everywhere Friday, February 14. Be sure to check out Issa's special photograph moment in the video down below.
Featured image via Tumblr