---
On May 25, 2020, George Floyd was murdered in broad daylight and our country became the battleground for a war against injustice. It was on that day that five children lost a father, a fiance lost her groom-to-be, and a community lost a friend. Before long, protests began, profile images were blacked out, and an influx of police brutality videos began circulating on social media, so much so, that it seems like the overall theme for this year has been death, depression, and violence.
But my daddy always told me, when there ain't no beauty, make some, and that's exactly what happened when protestors joined forces with a newlywed husband and wife to capture a viral moment that would give us all the smile we didn't know we needed this week.
When Kerry Anne and Michael Gordon planned their mid-pandemic "micro wedding", a small ceremony designed with social distancing regulations in mind, their biggest concern was the rain, little did they know, their wedding would fall on the same day as the largest Black Lives Matter protest ever held in Philadelphia.

The couple, who had already been forced to postpone their wedding once before due to the pandemic and conflicting work schedules, decided to push forward with their wedding plans and were surprised with a wedding gift they would never forget moments before their first look. In an interview with Vogue, Michael explained: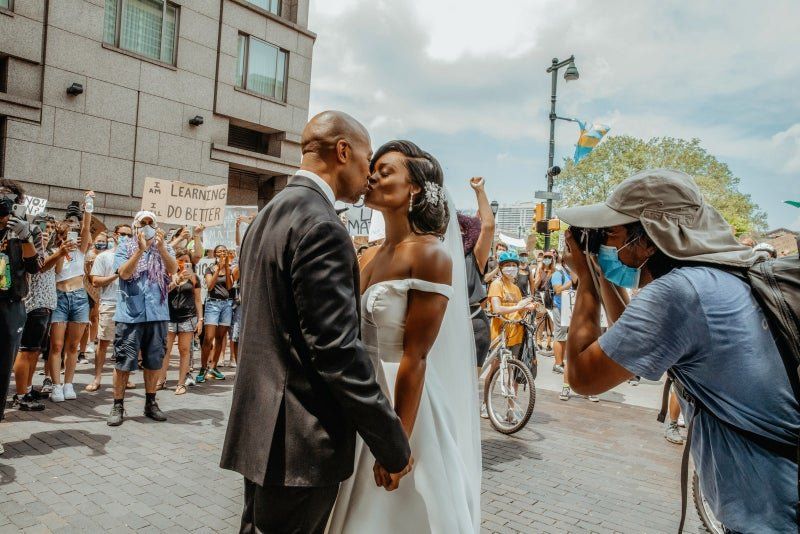 Linda McQueen/Vogue
"I was around the corner; I couldn't see Kerry and was just waiting. All of a sudden I started hearing the crowd around the corner, and I [realized] it was all for Kerry. I come running around the corner and I see Kerry standing with a circle of people around her just cheering, and she's literally standing there looking like a Black princess. That's all I see. These peaceful protestors, positive energy, cheering, yelling, people with their phones out taking pictures and videos. And Kerry's just standing there looking beautiful as can be."
He continued:
"And I walked up to her and took her hand, and she was shaking. The energy and passion and moment, everything that was going on, was just blowing through her. It was the most empowering thing to be there at that moment. The narrative of love, of Black love, doesn't always get put out there. But that's what [the movement] is about, that's what we're looking for. Black love is a beautiful thing. Black love exists. Black love is powerful."
Videos of Kerry Anne and Michael's special day, which have now gained millions of views online, are a potent reminder that even when the world is in shambles, love truly conquers all.
For more moments that made our heart smile recently, scroll below!
This Woman Surprised Her Grandmother With News Of Her $40,000 Law School Scholarship & I'm Not Crying, You Are
If you need to see a little black joy, please watch my moms reaction when I told her I got into law school with a $… https://t.co/Q8KNdvb8DV

— Mel (@Mel)1591795026.0
This college grad just surprised her grandmother with news of her 40,000 annual law school scholarship to DePaul University and I would like to know who's cutting onions in here. Mel, who is the co-founder of a non-profit, Black-owned yoga studio wrote on Twitter:
"I really feel compelled to let y'all know I self studied for the LSAT while working full time. It took me forever to pay off what I still owed my undergraduate school to get my transcripts. And I did not have a damn 4.0 GPA."
The sky is the limit, sis!
This Daddy-Daughter Duet Is The Best Thing You'll See All Day
Father's Day is right around the corner and this daddy-daughter duet is guaranteed to give you all the feels.
This Man's Birthday Gift To His Wife Was Absolutely Everything 
Sunday was my wife's bday. Gotta love Geminis lol. I published & dedicated a poetry book for her as a gift. I want… https://t.co/iLn4WCHeFj

— Lazarus Siafa (@Lazarus Siafa)1591709161.0
Being stuck at home on your birthday isn't so bad when your husband is a whole superhero in these streets. This man surprised his wife with a room full of roses, balloons, gifts and dedicated a book of poetry to her birthday and Lord, I've seen what you've done for others...
Featured image by instagram/@Linda McQueen/Vogue.