Brittany Vickers
Brittany is a journalist who's passionate about history and sharing stories from around the world. If she's not on a flight headed on a new adventure, she can be found at brunch or with her head buried in a book. Follow her on Instagram @around_the_worldgirl.
As industries around the world took devastating hits during the COVID-19 pandemic, the tech industry skyrocketed, growing at an accelerated speed and reaching record-breaking profits. From Google to Amazon, tech giants scaled up their workforces, some upwards of 50 percent, to meet the rising demand stemming from the pandemic.
It was the 21st-century version of the Gold Rush. Thousands of professionals from every field flocked to Silicon Valley for the promise of higher salaries, remote work, and better benefits. That era has now quickly spiraled and with it, nearly 60,000 tech jobs were eliminated in less than 30 days at the start of the new year.
For months, calls to quit your job and go into tech and narratives like "I went from making $50,000 to $120,000 a year after switching to tech" spread like wildfire. Yet, today the silence is almost deafening as the fallout from a crushing layoff wave continues day after day.
The impact of the layoffs has been especially devastating to women in tech. Women only make up 26.7% of the tech industry and that number drastically shrinks when accounting for Black women who only make up 1.7% of the tech workforce according to a 2021 report from AnitaB.org.
xoNecole spoke to four Black women in various sectors of tech on navigating the once presumed promised land, now on the heels of historic layoffs that show no signs of slowing down.
Alana's Story
From Education to Tech: Senior Social Media Manager
For Alana, her transition into tech was the final puzzle piece to living life on her terms. Her departure from education and entrepreneurship and into Silicon Valley gave her the stability she needed to reach other milestones in her life including making a cross-country move with her husband, purchasing a home, and growing her family. Like thousands of others, Alana joined the tech industry after promises of greener pastures.
Initially hesitating because she did not have a background that aligned with traditional tech roles, it was after a friend's encouragement that she explored the growing and varied needs of tech companies and secured a role that fit her strengths.
But recently, when an irregular meeting suddenly appeared on her calendar with no details and other attendees blocked out, Alana immediately felt like something was off.
Twenty minutes later, she was blocked out of every company device. Five months pregnant, and two weeks after closing on her new home, Alana's world was turned upside down as the leadership announced company-wide layoffs.
Despite her first job in tech also being her first layoff she intends to stay in the industry after her maternity leave and says she is using the role as a springboard to new opportunities in tech.
Key Advice:
"So many people talk about a villain origin story, but it doesn't have to be. [A layoff] can just be your origin story. Let it trigger new insight, new passions, and new interests. Let it trigger rest. In Western society, we don't often get the opportunity to just sit down and do nothing. Let a [layoff] spark fresh energy and fresh creativity." - Alana
Temicka's Story
From Customer Service to Software QA Engineer
Temicka was always interested in all things tech since she began coding in high school. Despite her early interest in the field, it was still years later when she returned to tech to try and land a job. Temicka participated in programs and completed training and certifications. But it was not until the pandemic that she was able to get her foot in the door and land a full-time job in tech.
Almost a year into her new role, a recruiter called to congratulate Temicka on her contract being renewed early. Five minutes later, all of her access to company programs was shut down.
It turned out her contract was instead ending effective immediately and no one had reached out to inform her. It was not until she reached out to her manager that she was told the news. She didn't have time to reach out to anyone before her privileges were revoked and the next time she heard back from anyone in the company, it was HR asking her to return the laptop.
After being laid off, she immediately began to apply for jobs with the total number of applications submitted reaching into the hundreds. Despite the many talks with recruiters and interviews, she still has not been hired and fears the continued layoffs have drastically reduced her options.
Right now, Temicka has dusted off her old resume, returning to customer service until she can return to her first love, tech.
Key Advice:
"Network. Network. Network. Utilize all the social media platforms to make connections including LinkedIn and the Metaverse… It gets you in the door quicker." - Temicka
Teryn's Story
​From Fashion to Tech: Category Experience Analyst
For Teryn, her journey into tech started with a layoff in another industry: fashion. As retailers began to shut down operations and close their doors she used that as inspiration to pivot in her career and look for a field with more stability and flexibility and set her eyes on tech. Terri was working as an apparel product designer and after multiple courses, she transferred her design skills to websites and apps.
In an industry where thousands were seeing their jobs eliminated with little to no notice, she carved out a role that combined her love of fashion with her newly acquired skills. But, she says the pandemic calls to get into tech painted a false reality of the behind-the-scenes work that goes into securing a tech role including networking, referrals, revamping your resume, and the constant interviews.
Just 90 days in her new position, Teryn says she still keeps her resume updated to always be prepared for the unexpected.
Key Advice:
"Always keep an eye on the overall [performance] of your company. I always look in Google News to see if there are organizational announcements. That's always a tell-tale sign for me; if there is restructuring, executives leaving and hiring freezes. Those are things that I look for." - Teryn
Jessica's Story
From Insurance Recruiting to Tech: Senior Sourcing Specialist
Jessica was part of one of the tech superpowers, Meta. She'd recently joined the industry in hopes of career stability and a better work-life balance. That stability was short-lived when just after nine months she was laid off in the first wave of tech layoffs at the end of 2022.
The layoff combined with standard reduced hiring in Q4 put Jessica on a waiting list for jobs in what has fast become an oversaturated market. The name, Meta, on her resume helped get her in the door for interviews and talks with recruiters but nearly months later she still found herself on a never-ending merry-go-round of futile interviews.
The process of finding a new role was essentially a job within itself. Jessica completed a total of 276 applications over the course of three months. Those applications led to countless rejections, six "ghosted" scheduled prescreens, 33 rounds of prescreens and interviews across 15 companies, two take-home projects, one presentation, and seven positions put on hold due to the economy.
The journey was an eye-opener on the etiquette gaps between recruiters and applicants. As a mother, she frequently rearranged her schedule to accommodate interviews, but would often be met with no-shows from hiring managers and recruiters.
After 77 days on the job hunt, she now has a start date for a new role and encourages others impacted by the layoffs to stay the course.
Key Advice:
"Being laid off, there's nothing to be ashamed of. People want to help you secure your next role and they can't know what you're looking for, or that you are having a hard time unless you talk about it. Be open and honest about your experience and network."- Jessica
Unexpectedly losing a job in a layoff can bring your life to a screeching halt. But, it's not an indication of who you are or your quality of work. So, after you dust yourself off and give yourself time to grieve the loss, remember bills must still be paid.
When you're ready to rejoin the job market, remember the following tips from Shannon Morales, founder and CEO of Tribaja, a talent marketplace and community to support underrepresented communities in tech, on the steps to take after a layoff and how to keep your skills current and in demand.
5 Tips To Revamp Your Career After a Layoff in Tech
There is opportunity outside of Big Tech. Civil tech is seeing an uptick as well as healthcare, fintech, and banking.
Reposition your career and focus on industries that are doing well in today's market.
Look at skills that are in high demand right now and continue to learn; take additional courses and learn new skills.
Stay ahead of the trend and don't always be reactive to what's happening in the job market.
Become your own boss. Not all companies can afford a full-time employee, but there are many who could use your skills on a project basis. Freelance and contract your skills out for an hourly rate to multiple companies at a time.
Featured image by Maskot/Getty Images
"I'm too big for a f***ing cubicle!" Those thoughts motivated Randi O to kiss her 9 to 5 goodbye and step into her dreams of becoming a full-time social media entrepreneur. She now owns Randi O P&R. Gabrielle, the founder of Raw Honey, was moving from state to state for her corporate job and every time she packed her suitcases for a new zip code she regretted the loss of community and the distance in her friendships. So she created a safe haven and village for queer Black people in New York.
Then there were those who gave up their zip code altogether and found a permanent home in the skies. After years spent recruiting students for a university, Lisa-Gaye Shakespeare became a full-time travel influencer and founded her travel company, Shakespeare Agency. And she's not alone.
These stories mirror the experiences of women across the world. For millions, the pandemic induced a seismic shift in priorities and in desires. Corporate careers that were once hailed as the ultimate "I made it" moment in one's career were pushed to the back burner as women quit their jobs in search of a more self-fulfilling purpose.
xoNecole spoke to these three Black women who used the pandemic as a springboard to make their wildest dreams a reality, the lessons they learned, and posed the question of if they'll ever return to cubicle life.
Answers have been edited for context and length.
xoNecole: How did the pandemic lead to you leaving the cubicle?
Randi: I was becoming stagnant. I was working in mortgage and banking but I felt like my personality was too big for that job! From there, I transitioned to radio but was laid off during the pandemic. That's what made me go full throttle with entrepreneurship.
Gabrielle: I moved around a lot for work. Five times over a span of seven years. I knew I needed a break because I had experienced so much. So, I just quit one day. Effective immediately. I didn't know what I was going to do, I just knew I needed a break and to just regroup.
Lisa-Gaye: I was working in recruiting at a university and my dream job just kind of fell into my lap! But, I never got to fully enjoy it before the world shut down in March [2020] and I was laid off. On top of that, I was stuck in Miami because Jamaica had closed its borders due to the pandemic before I was able to return.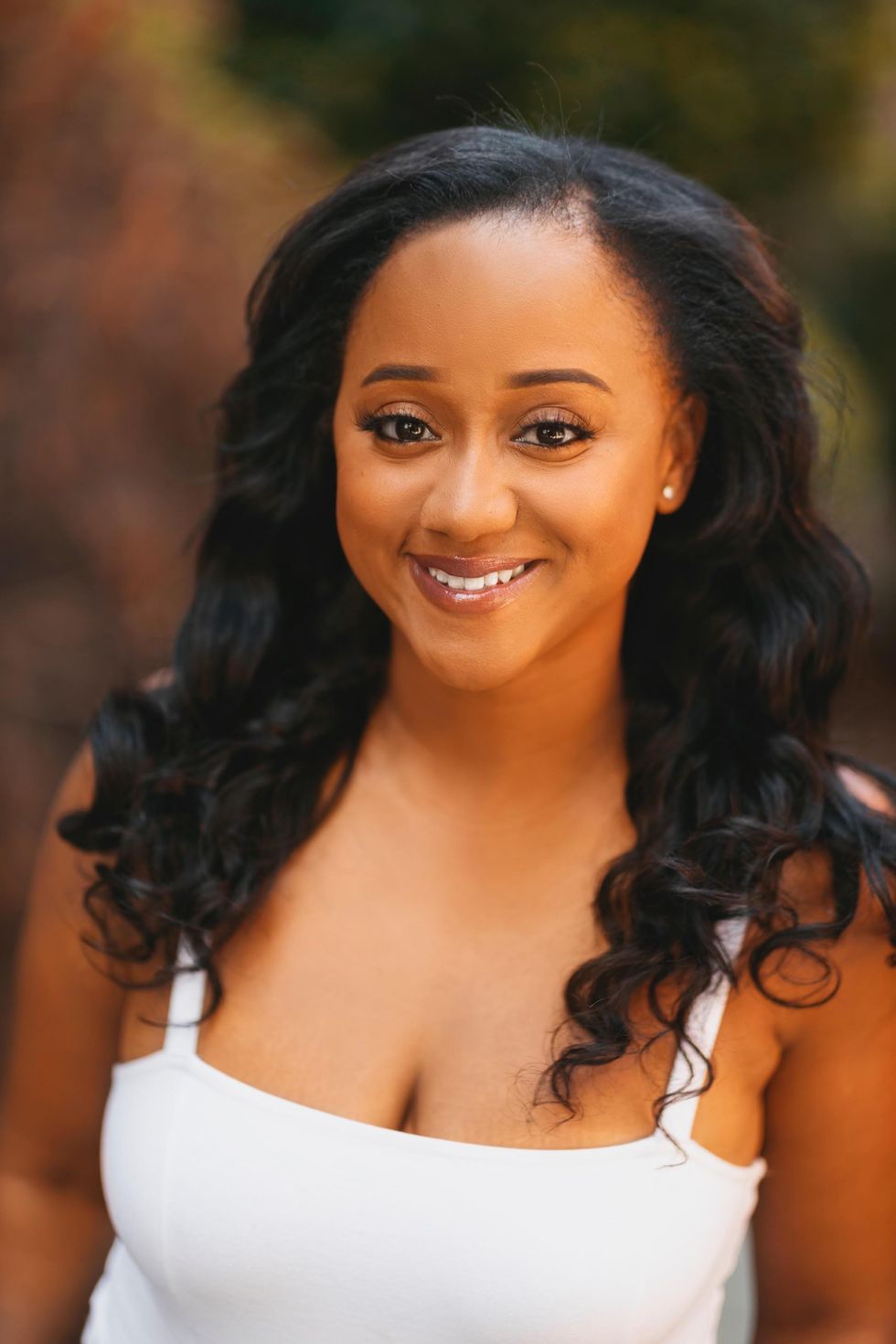 Randi O
xoN: Tell us about your journey after leaving Corporate America. 
Randi: I do it all now! I have a podcast, I'm an on-air talent, I act, and I own a public relations company that focuses on social media engagement. It's all from my network. When you go out and start a business, you can't just say, "Okay I'm done with Corporate America," and "Let me do my own thing." If you don't build community, if you don't build a network it's going to be very hard to sustain.
Gabrielle: I realized in New York, there was not a lot to do for Black lesbians and queer folks. We don't really have dedicated bars and spaces so I started doing events and it took off. I started focusing on my brand, Raw Honey. I opened a co-working space, and I was able to host an NYC pride event in front of 100,000 people. I hit the ground running with Raw Honey. My events were all women coming to find community and come together with other lesbians and queer folks. I found my purpose in that.
Lisa-Gaye: After being laid off, I wrote out all of my passions and that's how I came up with [my company] Shakespeare Agency. It was all of the things that I loved to do under one umbrella. The pandemic pulled that out of me. I had a very large social media following, so I pitched to hotels that I would feature them on my blog and social media. This reignited my passion for travel. I took the rest of the year to refocus my brand to focus solely on being a content creator within the travel space.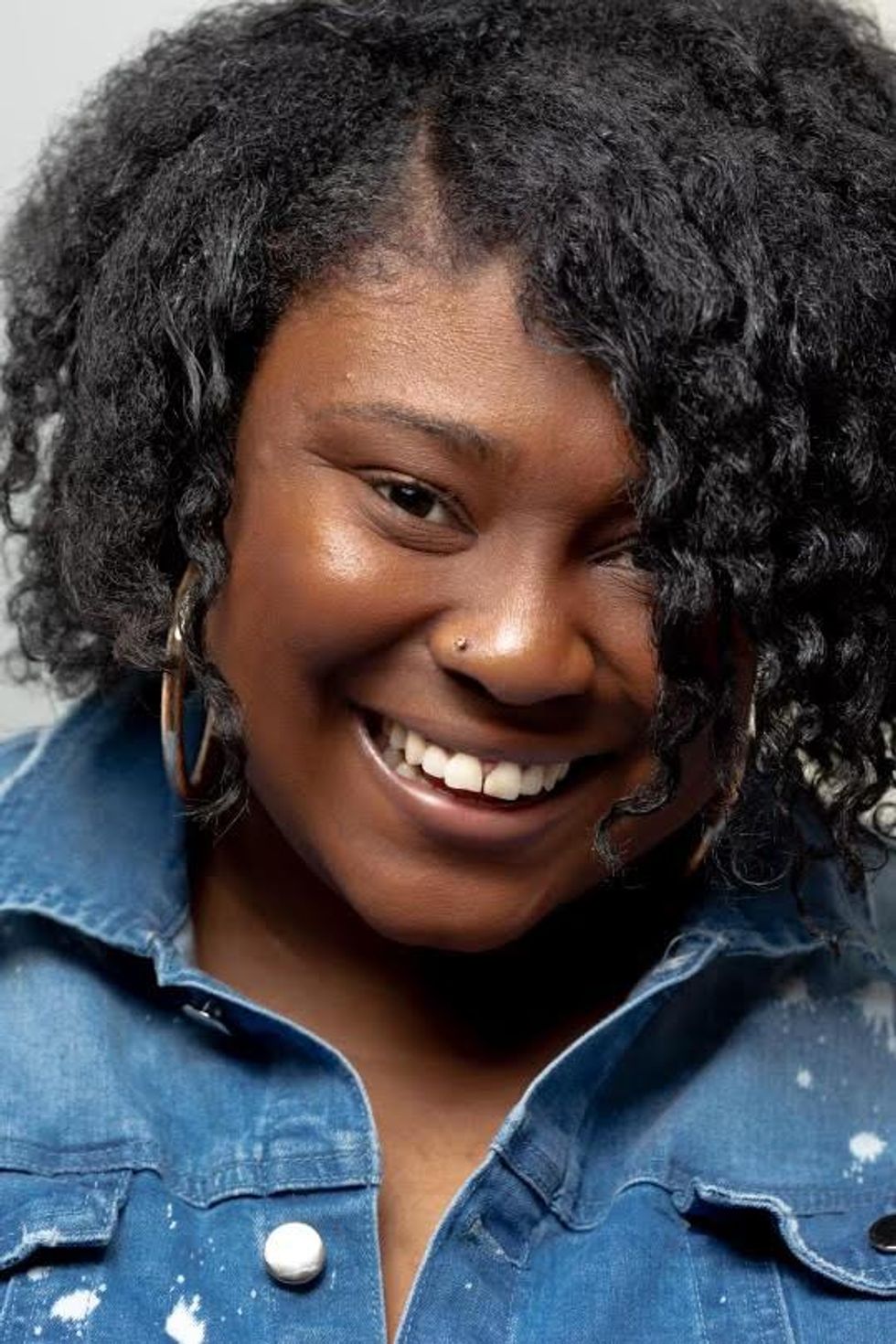 Gabrielle
xoN: What have you learned about yourself during your time as an entrepreneur?
Randi: [I learned] the importance of my network and community that I created. When I was laid off I was still keeping those relationships with people that I used to work with. So it was easy for me to transition into social media management and I didn't have to start from scratch.
Gabrielle: The biggest thing I learned about myself was my own personal identity as a Black lesbian and how much I had assimilated into straight and corporate culture and not being myself. Now, I feel comfortable and confident being my authentic self. Now, I'm not sacrificing anything else for my career. I have a full life. I have friends. I have a social life. And when you are happy and have a full quality of life, I feel like [I] can have more longevity in my career.
Lisa-Gaye: [I'm doing] the best that I've ever done. The discipline that I'm building within myself. Nobody is saying, 'Oh you have to be at work at this time.' There's no boss saying, 'Why are you late?' But, if I'm laying in bed at 10 a.m. then it's me saying [to myself], 'Okay, Lisa, get up, it's time for you to start working!' That's all on me.
xoNecole: What mistakes do you want to help people avoid when leaving Corporate America?
Randi: You have to learn about the highs and lows of entrepreneurship. You have a fast season and a slow season and I started to learn that when you're self-employed the latter season hits hard. Don't get caught up on the lows, just keep going and don't stop. I'm glad I did.
Gabrielle: I think everyone should quit their job and just figure it out for a second. You will discover so much about yourself when you take a second to just focus on you. Your skill set will always be there. You can't be afraid of what will happen when you bet on yourself.
Lisa-Gaye: When it comes to being an influencer the field is saturated and a lot of people suffer from imposter syndrome. There is nothing wrong with being an imposter but find out how to make it yours, how to make it better. If you go to the store, you see 10 million different brands of bread! But you are choosing the brand that you like because you like that particular flavor.
So be an imposter, but be the best imposter of yourself and add your own flair, your own flavor. Make the better bread. The bread that you want.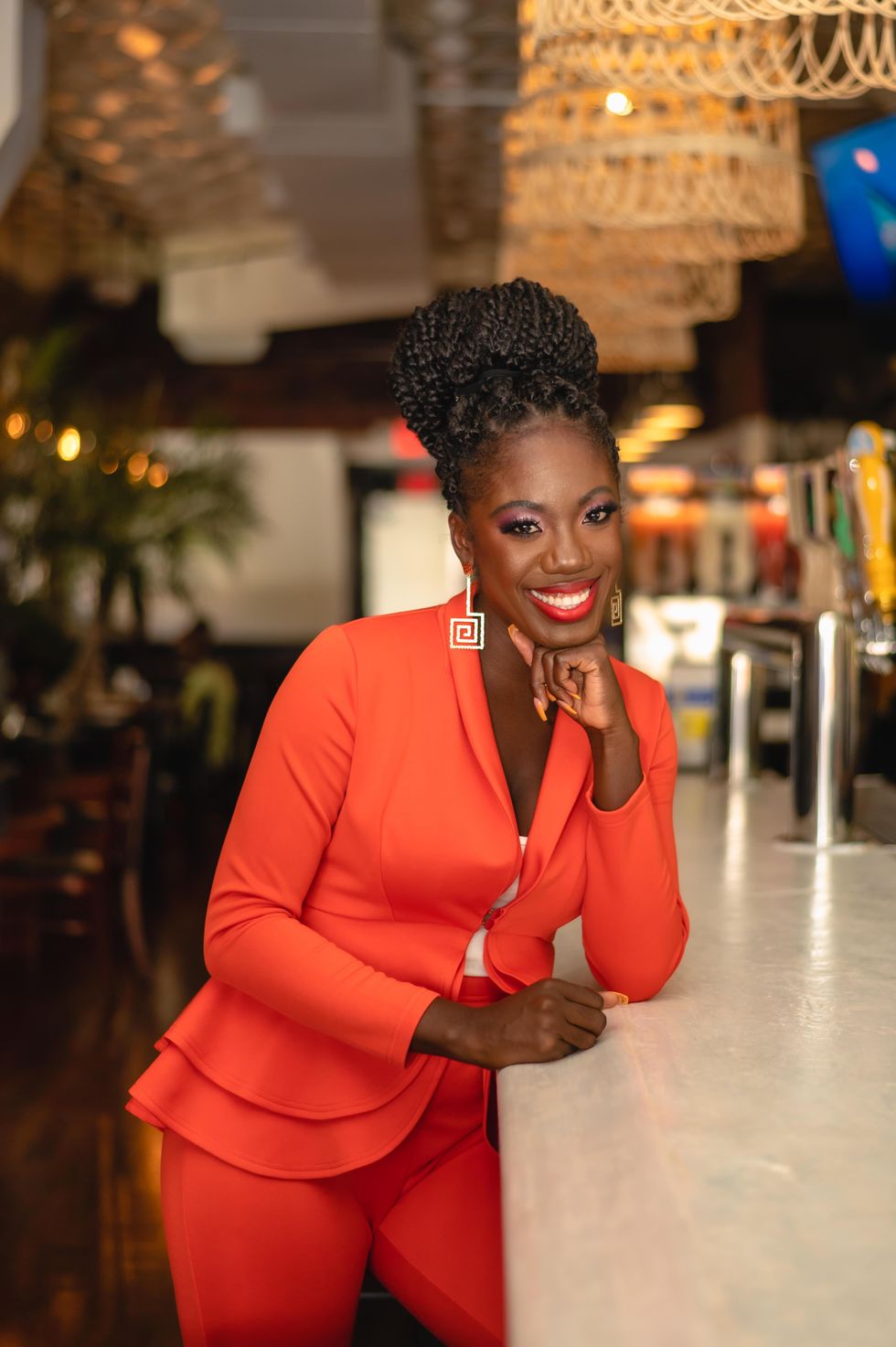 Lisa-Gaye Shakespeare
xoNecole: Will you ever return to your 9 to 5?
Randi: I wouldn't go back to Corporate America. But I don't mind working under someone. A lot of people try to get into this business saying, "I can't work under anyone." That's not necessarily the reason to start a business because you're always going to answer to somebody. Clients, brands, there's always someone else involved.
Gabrielle: I went back! I really needed a break and I gave myself that. But, I realized I'm a corporate girl, [and] I enjoy the work that I do. I'm good at it and I really missed that side of myself. I have different sides of me and my whole identity is not Raw Honey or my queerness. A big side of me is business and that's why I love having my career. Now I feel like my best self.
Lisa-Gaye: I really don't. For right now, I love working for myself. It's gratifying, it's challenging, it's exciting. It's a big deal for me to say I own my own business. That I am my own boss, and I'm a Black woman doing it.
Featured image courtesy of Lisa-Gaye Shakespeare