Brittany Vickers
Brittany is a journalist who's passionate about history and sharing stories from around the world. If she's not on a flight headed on a new adventure, she can be found at brunch or with her head buried in a book. Follow her on Instagram @around_the_worldgirl.
When Mone't walked into the office Monday morning, she was rocking a new hairstyle: blonde hair and long braids. Before she could even make it to her desk, a coworker approached her and said, "Oh cool! Predator!" referencing the aliens in the cult classic sci-fi franchise and saying her hairstyle looked similar to the extraterrestrial species.
She couldn't even make it to her seat or make her morning cup of coffee before she was faced with microaggressions in the office.
Her story and a long list of variations are a mirrored experience for Black women in professional settings across the country. Not only do they have to navigate the gendered pressures of being a woman in the workplace, but they're also subjected to racial microaggressions.
Microaggressions are defined as everyday subtle comments and interactions that are intentional and sometimes unintentional and geared toward historically marginalized groups and perpetuate racial and gender biases. Its muted manner makes it sometimes difficult to pinpoint compared to overt racism and even more so difficult to report.
From not "smiling enough" to being considered angry when others are deemed "passionate," Black women have to navigate office culture differently from their peers, and honestly, it's exhausting. From comments on our hair to pressure to code-switch to be more palatable, for many Black women, office culture was synonymous with a toxic culture. For Black women, microaggressions can range from comments on hair, appearance, manner of speaking, disposition, and even work ethic.
So what's been the fix to the stressful and exhausting office environments? Remote work.
A Harvard study found Black workers preferred hybrid or fully remote work at higher rates than white workers. In the comfort of their own homes and offices, where their coworkers show up on screen and not in their faces, they've found freedom from the microaggressions they used to face daily.
We spoke to three Black women in the corporate world in various fields on why being behind a screen gives them a respite from the expected code-switching and microaggressions they faced in the office.
Mone't 
For Mone't, she has always been the only Black female software engineer at her tech job. She constantly found herself in the midst of uncomfortable conversations - whether it was a coworker wearing a Confederate shirt or someone questioning her role as an engineer.
"This Iranian guy told me I didn't look like a software engineer, and I said, 'Well, that's funny because you don't look like a software engineer either because most software engineers are white men,'" she shared with xoNecole. "Most people automatically assume I'm either the product manager or the designer, and I have to correct them and let them know I'm an engineer."
"I don't deal with that as much anymore because I'm full-time remote and not in the office anymore, and it's a relief. I can focus on the work and not just make small talk which usually leads to somebody commenting on your appearance or position. Now that I'm remote, I don't code-switch at all. I decided what you see is what you get. Not being me was exhausting."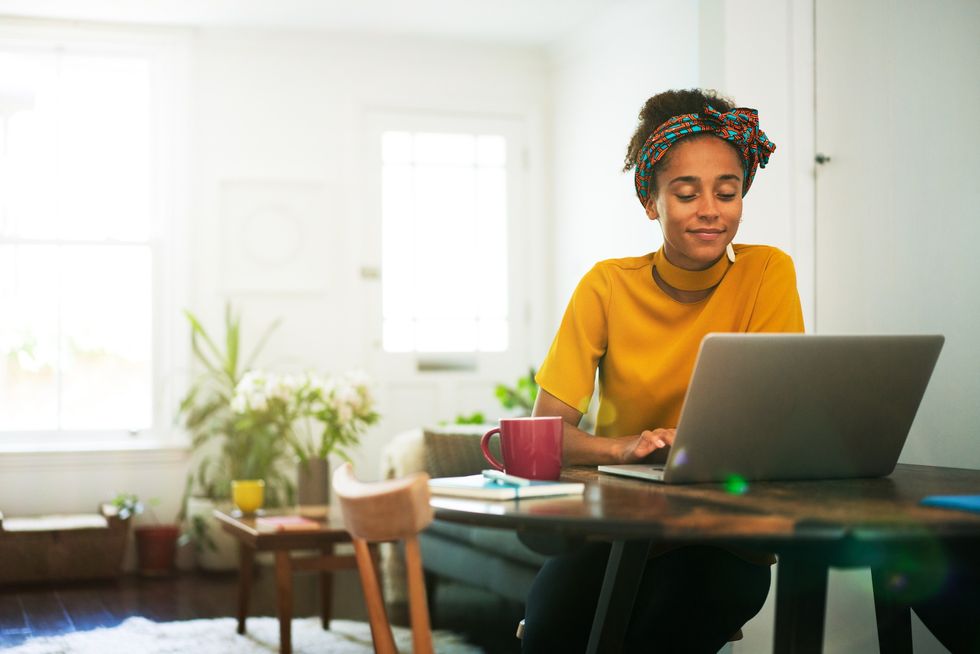 Tim Robberts/Getty Images
Briana 
As the only Black person at her marketing job, Briana dealt with microaggressions that questioned her abilities in a job that she knew she was not only qualified for but also very skilled at. "Working remotely, people trust you to do your job. In the office, I dealt with a lot of micromanaging and people second-guessing my abilities, and coworkers even coming behind me and changing my work. When you're dealing with social media, everyone thinks they can do your job."
"The major difference I've experienced now being a remote worker is that my team has confidence in me. They recognize I'm not only getting the job done, but I'm doing it well. Remote work has forced jobs to get more creative with recognition because you can't just walk up to a coworker's desk and say, 'Good job.' Now they have to provide extra encouragement because they're not there. I feel more supported now."
Ajeyinka 
For Ajeyinka, the microaggressions she faced were most often directed toward her appearance. "My hair has always been something that I've been mindful of, especially working in Corporate America. When I worked in the office, I usually styled my hair in braids or straight styles. I don't comment when my non-Black colleagues do something with their hair or style, but people always feel comfortable commenting when it comes to Black women."
Ajeyinka continued, "As Black women we switch up our hair a lot, and I just don't think those changes need to be called out or pointed out every time. Now that I'm remote, I've cut my hair, I've experimented with color, and wear my nails how I want."
Ajeyinka still faces microaggressions but notes they are less frequent now. Remote work cuts down on the in-person conversations where those microaggressions would typically take place.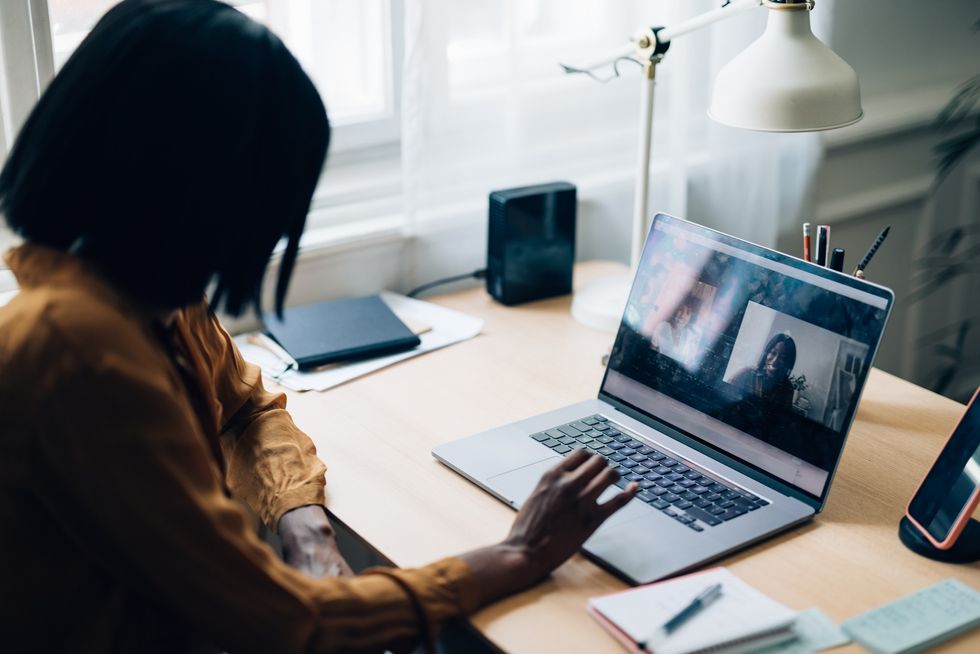 FreshSplash/Getty Images
Even as corporations and companies across the nation take steps toward increasing diversity, equity, and inclusive training, microaggressions in the workplace will not just simply cease to exist because workers are behind a screen. People will still have their biases, judgments and make inappropriate comments.
But, it's important to recognize that offices can be hostile and toxic environments for many, especially for Black women, and if remote work can decrease the frequency in which those interactions occur, it's worth asking…why are we in a rush to get back to the office?
Let's make things inbox official! Sign up for the xoNecole newsletter for daily love, wellness, career, and exclusive content delivered straight to your inbox.
Featured image by humanmade/Getty Images
Black women and their four-legged besties are taking over social media! From rub downs with shea butter to five-star hand-prepared meals and matching robes, content creators are carving out their own lane of #DogMom life on the internet. With every post, Black women are diversifying "Pet TikTok" and breaking stereotypes of Black families and their pets.
In an interview with the I've Had It podcast, dog mom Brittani Mfn Monique shared, "There's a stigma that Black people don't like animals, don't like animals on our furniture, and we keep dogs outside in chains. It's a new generation…we treat our babies like our children."
xoNecole rounded up five Black dog moms for you to follow that have a little bit of everything from luxury living to four-legged comedians nailing hilarious voiceovers. With breeds from pit bulls to poodles, these ladies are #DogMomGoals and will have your own pup judging you for another morning of kibble and bits instead of making steak and eggs for them for breakfast.
Check out our Black Girl Dog Mom list below for inspiration on bringing the good life to your pup.
Featured image by MStudioImages/Getty Images
I lost my job at 3 p.m., and in less than 24 hours, I booked a one-way flight to Europe.
After the gut punch shock of losing my income and healthcare sunk in, I accepted the moment for what it could be, an opportunity. The chance to travel and explore new countries and cultures unrestricted.
The idea of this trip had been swirling in my mind for months. Yet, the way that I envisioned the trip would only happen by robbing Peter to pay Paul (meaning I would have to use some of next year's vacation time), complete with some haggling from HR and my manager.
My job was remote, so I had the flexibility to bring my laptop with me, but can we be honest… who wants to be in the South of France dragging their laptop and clocking in for eight hours when I should be living the luxurious side of life on the French Riviera?
So, before I updated my resume and before I refreshed my LinkedIn profile, I logged into Google Flights to bring my travel dream into reality.
The Defining Moment
I was working at a startup, which is code for "This job is going to take over your life because you're helping to breathe life into a completely new operation." Vacation days were limited because we were a small team, and the American feeling of "This company needs me" took over. I poured myself into my job, excited to be a part of this grand new vision, and accepted that a true vacation would come later on. "Later on" never came. Instead, my company ceased operations and filed for bankruptcy. Now, I was left with no job, and the saved PTO days that were intended for my fabulous vacation were rendered null and void.
Losing a job is unnerving for a number of reasons, but when the whole company closes up shop, it takes away from the feeling that it was something you personally could have done better. Surprisingly it was my mother who gave me the suggestion to "take that trip you've been talking about."
Mother knows best, right? She gently reminded me that I had a life that was now completely mine. The sobering reality of being an adult is no more true summer vacations… every day is accounted for, a task to fulfill. Her optimism was contagious; yes, I was no longer employed, but also that meant there was no supervisor that I had to "ask" for time off or try to arrange around other coworkers' requests.
It was time to live in the now instead of planning for a future that was full of uncertainties. The recruiters, the job, and whatever was coming next would be there when I returned.
The Lesson
There is freedom in uncertainty, in not rushing to put the pieces back together the minute life unravels. Too often, we move into a new chapter without taking a moment to let ourselves be untethered. I could have easily reached out to my network and started looking for my next job, but if I did that, I would have lost out on the opportunity that was right in front of me.
Sure, it did not come packaged in a way that I would have preferred, but it was there. I could either go immediately back to another 9 to 5 or whisk myself away to the corners of the earth that I've been dreaming about since I was a child.
So, I booked a four-country, eight-city European tour.
Living in the Now: My European Tour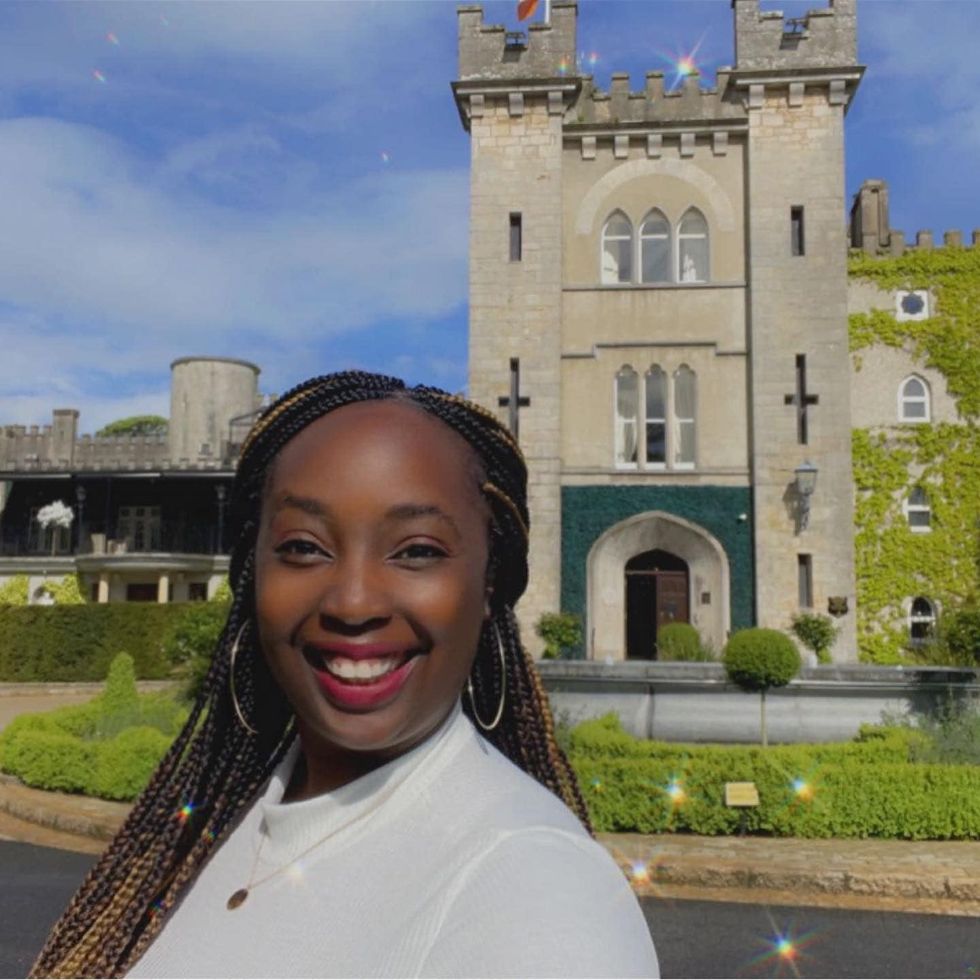 Courtesy of Brittany Vickers
Ireland
In elementary school, my music teacher played Michael Flatley's Lord of the Dance, and decades later, that captivating memory is what brought me a solo, Black woman traveler to the Irish countryside, where I found myself being whisked around on stage in front of hundreds living out my Riverdance dreams! I was suddenly living out my wildest dreams.
For three nights, I stayed in a 17th-century castle bursting with history through every winding corridor and ended the trip in Dublin right in the heart of Temple Bar. For the 20- and 30-somethings outside of St. Patrick's Day, Ireland is not at the top of destination lists, but from the rolling hills in the countryside to the late nights in Dublin, the country offered an unforgettable experience.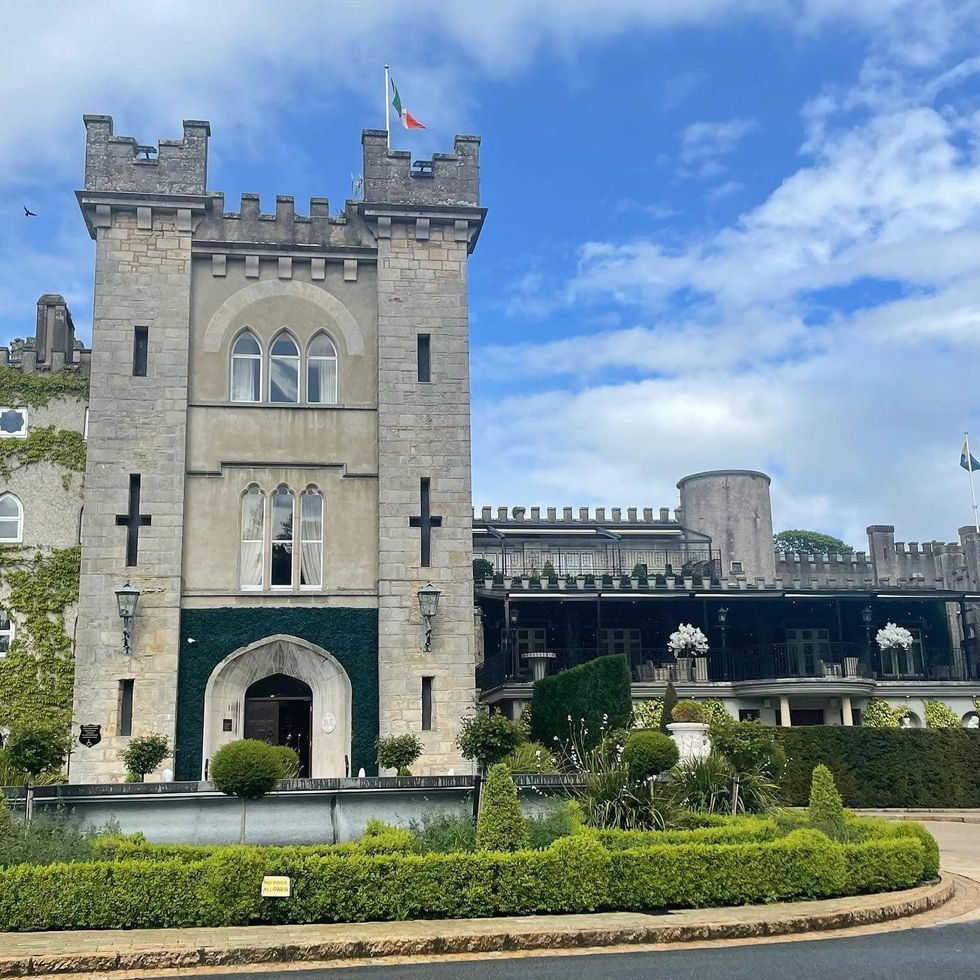 Courtesy of Brittany Vickers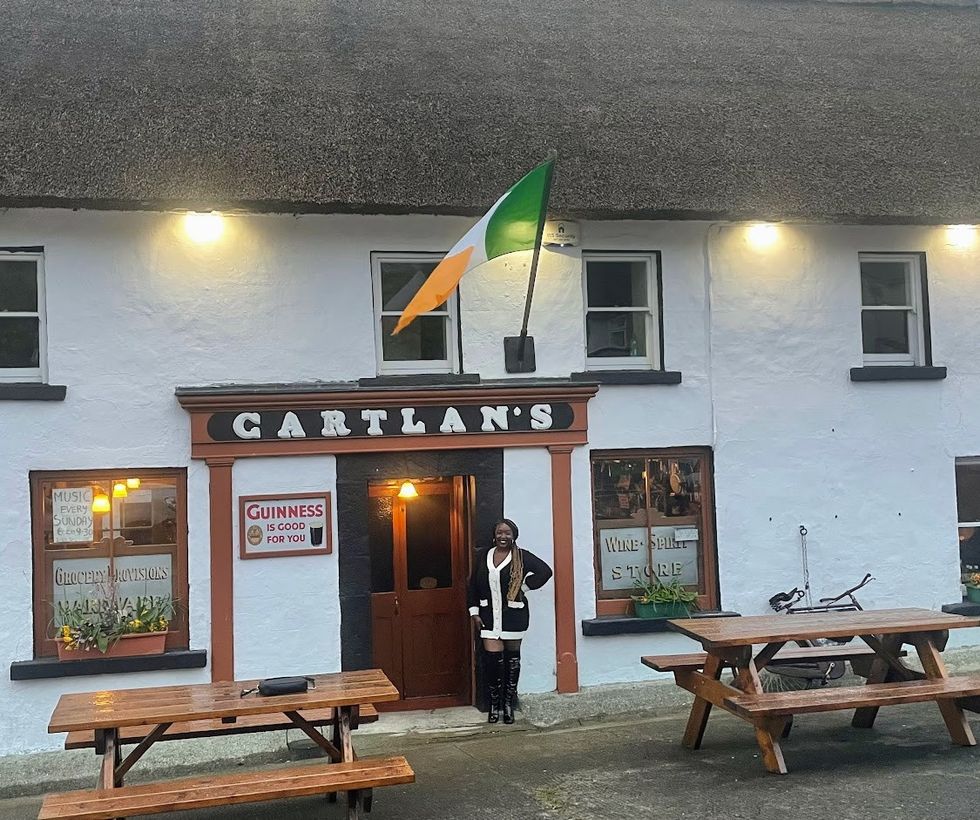 Courtesy of Brittany Vickers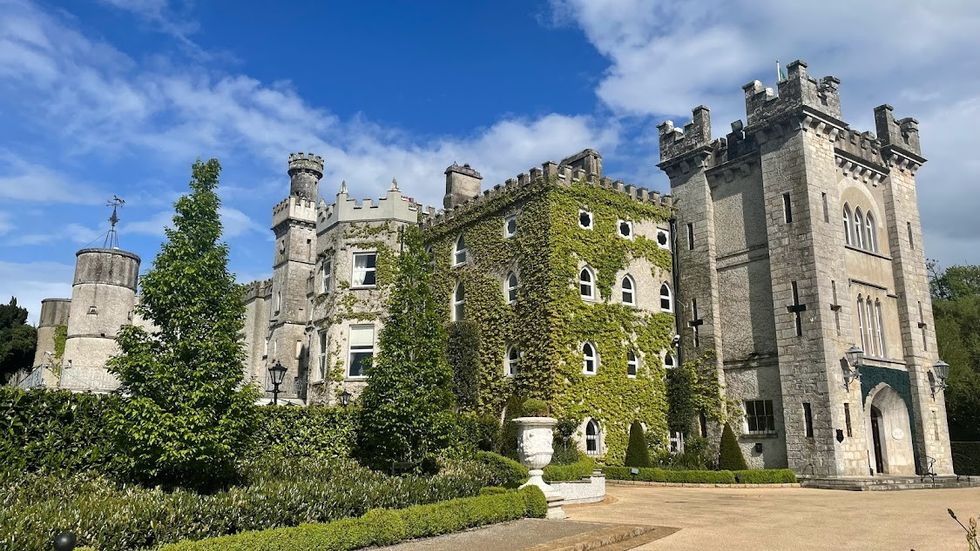 Courtesy of Brittany Vickers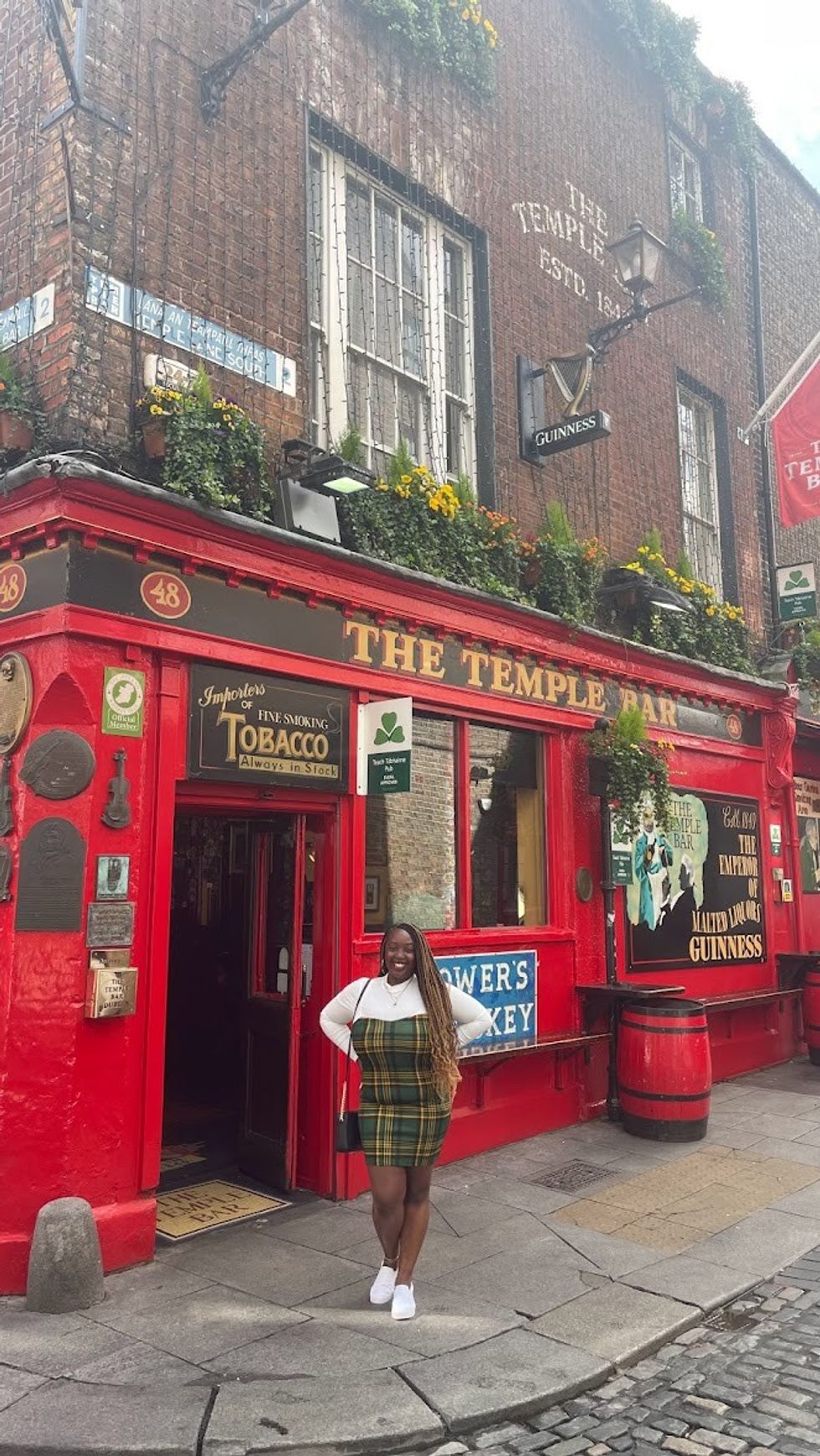 Courtesy of Brittany Vickers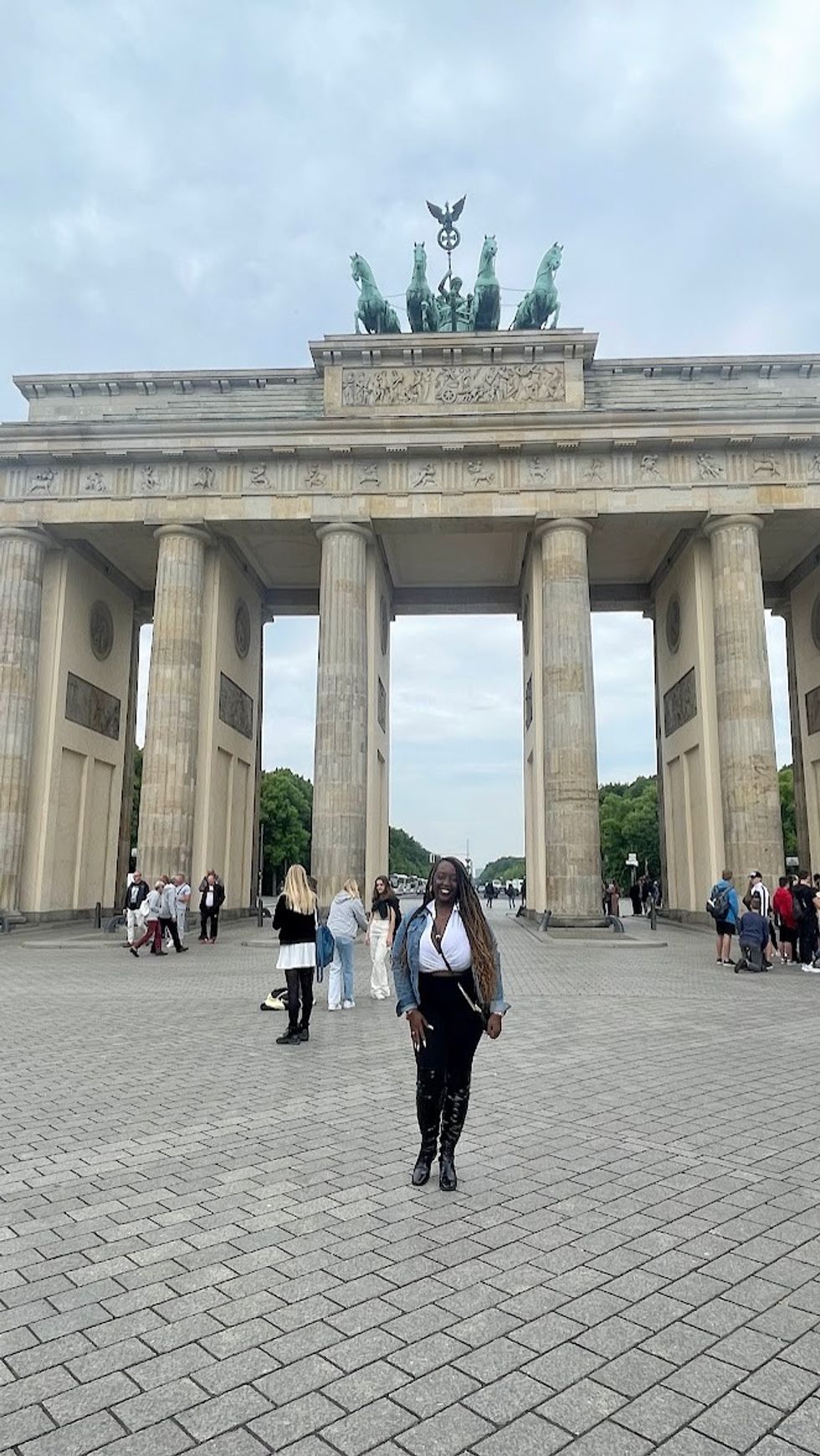 Courtesy of Brittany Vickers
Germany
I knew Ireland would be the first stop of my tour, but from there, I was open to wherever, as the saints would say, the spirit led me. I simply looked at a map and researched which country I could travel to relatively easily from Ireland. Germany was an immediate yes. I started off in the capital, Berlin, a city known for its eye-catching contrasts with historical landmarks alongside towering modern architecture.
I leisurely strolled through the city into museums and galleries, soaking up everything the city had to offer. The next stop was the third largest city in Germany, Munich, home of Oktoberfest. From floral-lined beer gardens to my fill of hearty German dishes, Munich delivered a unique blend of quaintness and charm.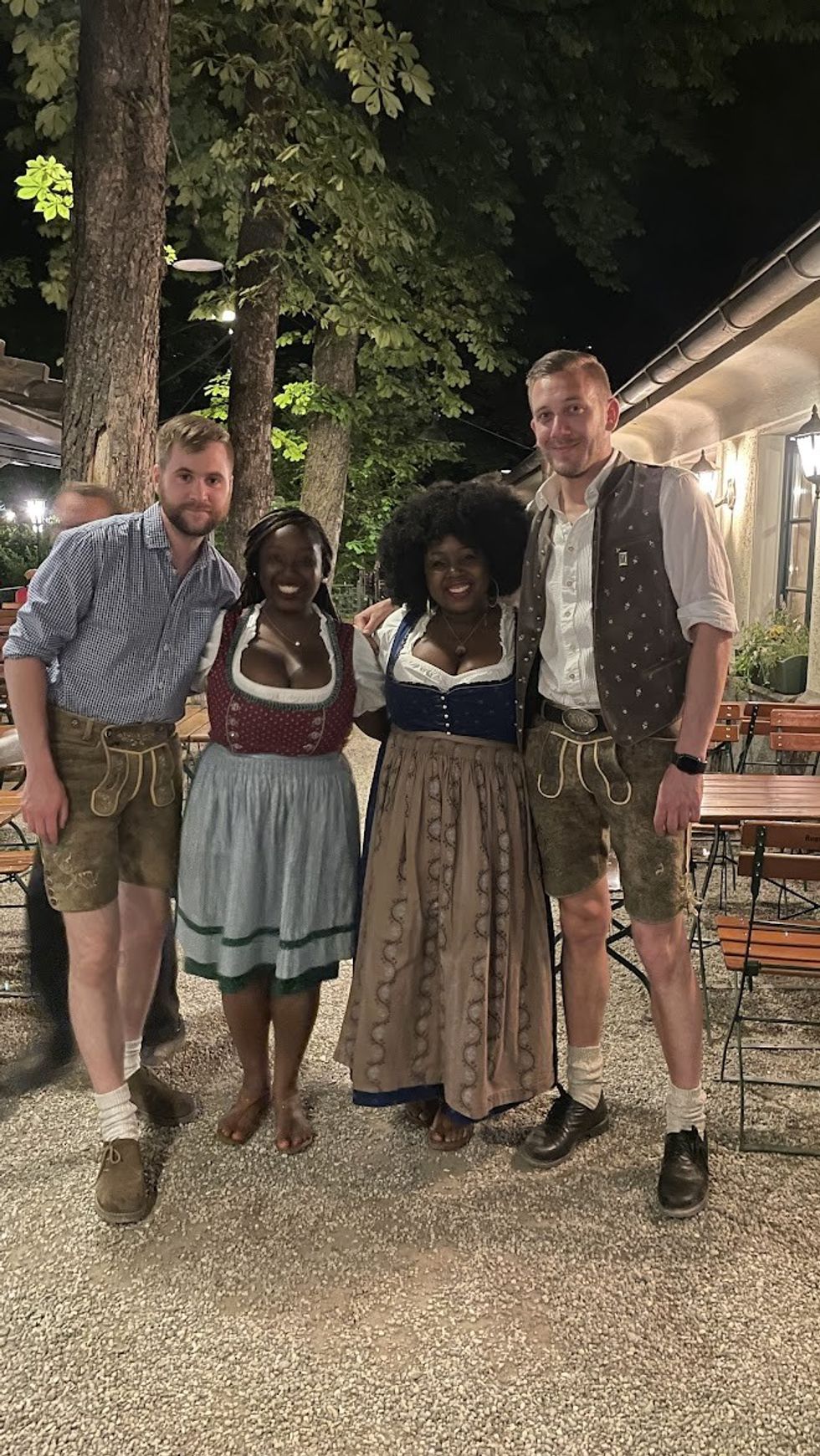 Courtesy of Brittany Vickers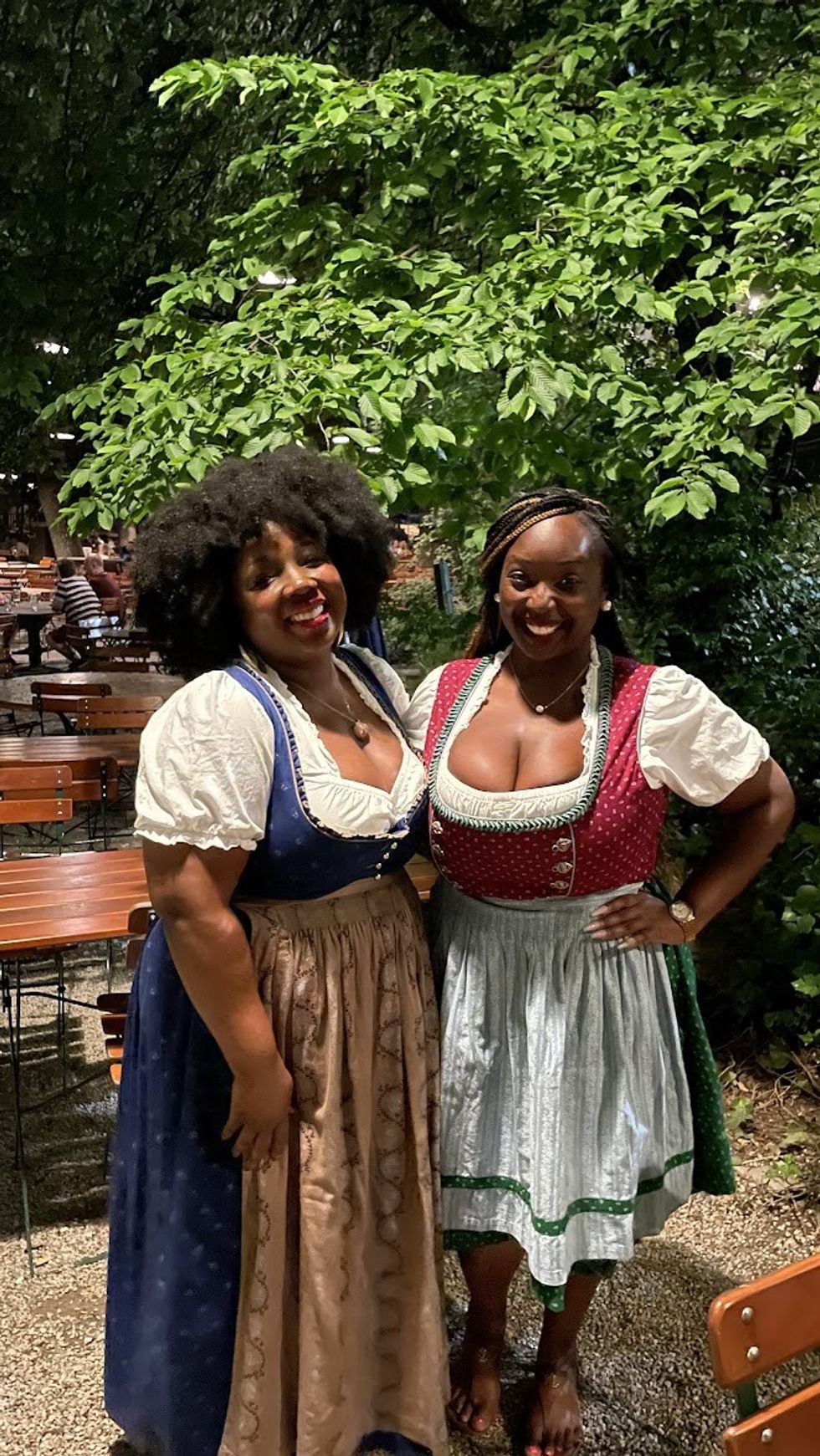 Courtesy of Brittany Vickers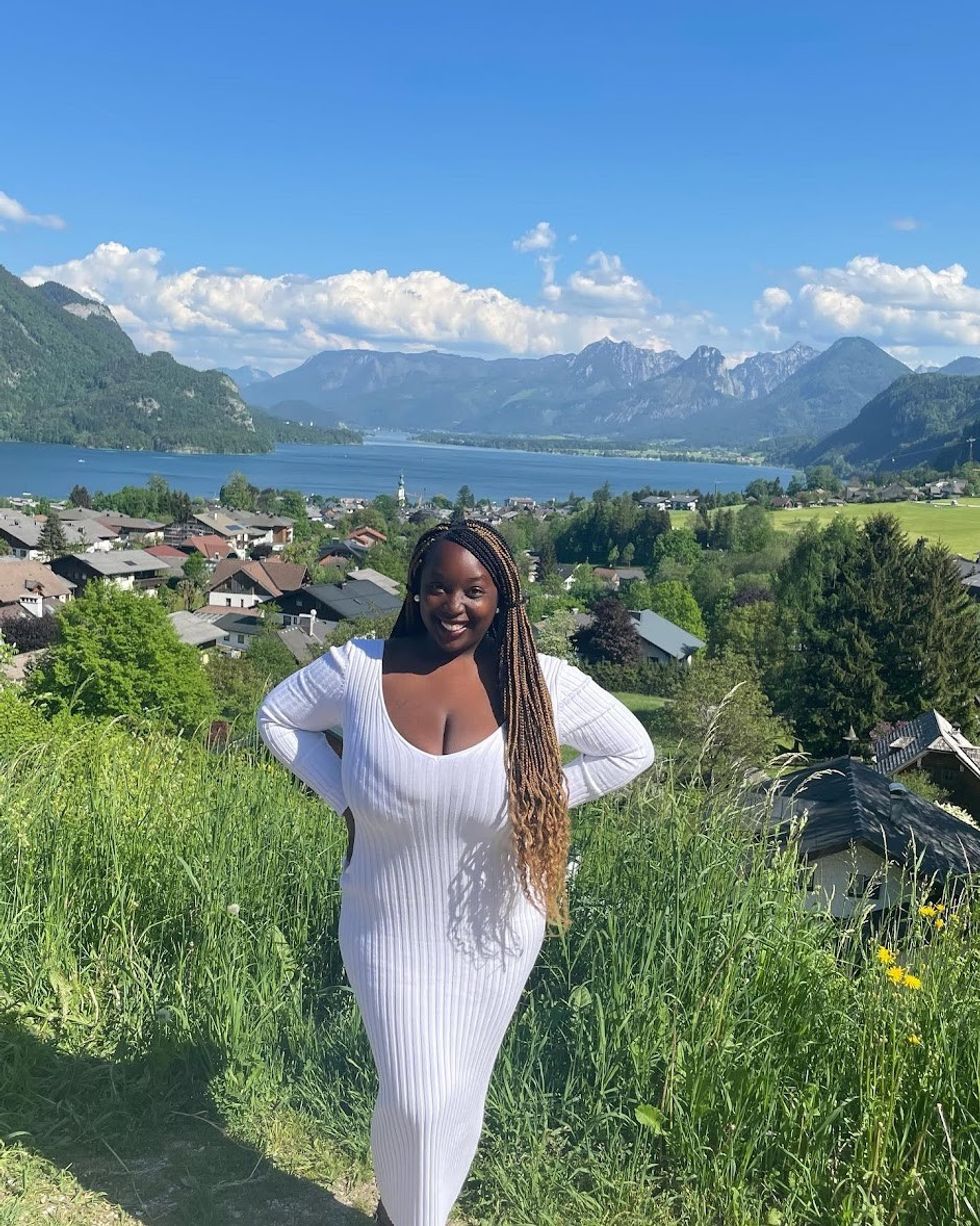 Courtesy of Brittany Vickers
Austria
From Munich, I traveled on a two-hour train ride to a city that rivals the grandest storybook illustrations, the idyllic Salzburg. The fourth-largest city in Austria, Salzburg, effortlessly boasts itself as one of the most beautiful cities in Europe with its steep hills and picturesque mountains. Its scenery is breathtaking.
Here I lived out another childhood fantasy, and I visited the home of the Von Trapp family, the legendary family whose life was portrayed in the classic film, The Sound of Music. On a tour bus with 50 others from across the globe, we belted out tunes from the beloved musical and visited the exact locations where scenes from the Oscar-winning movie were filmed.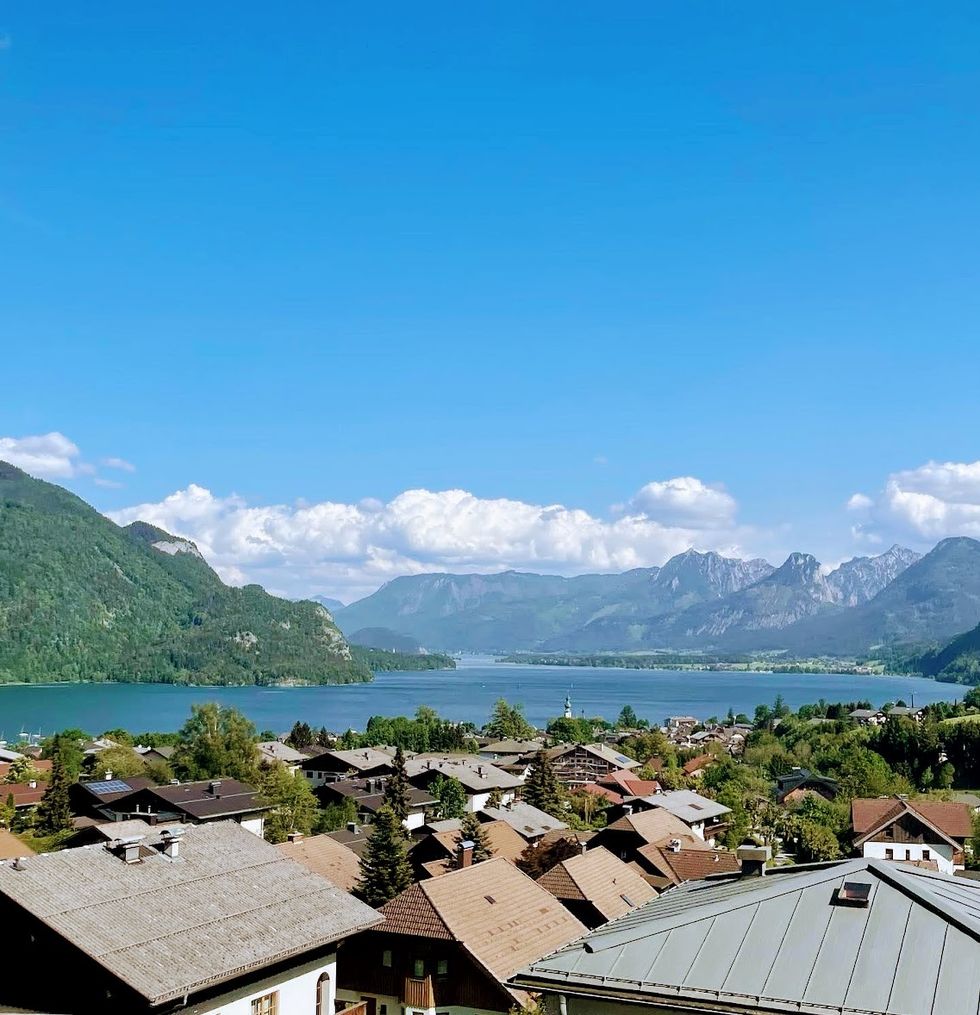 Courtesy of Brittany Vickers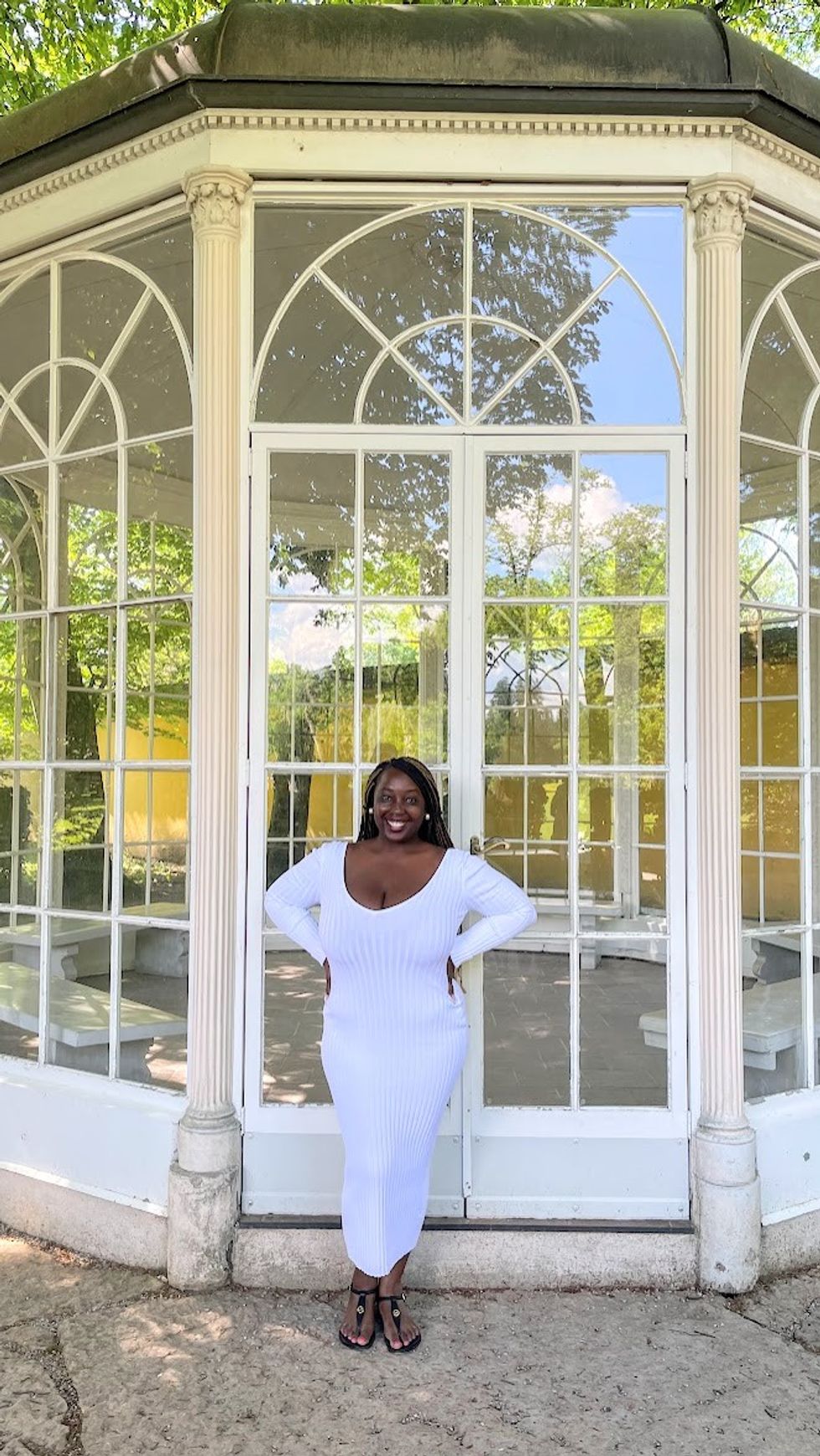 Courtesy of Brittany Vickers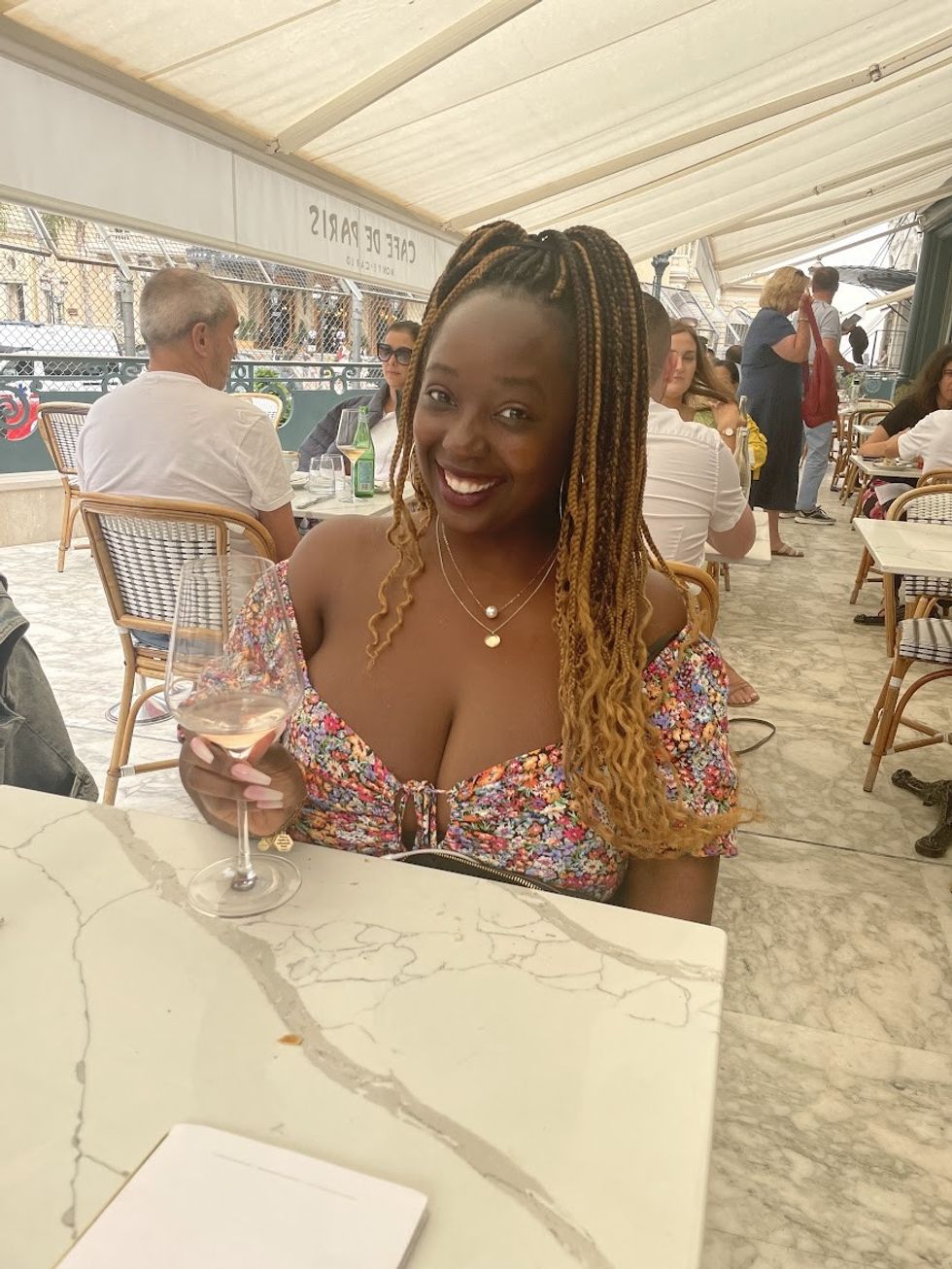 Courtesy of Brittany Vickers
Monaco
There is luxury, and then there is Monaco. With its lavish opulence situated on the French Riviera, the glamorous country is the second smallest country in the world. Complete with dazzling views of the Mediterranean and luxury brands on every corner, in every step, you experience how the other side fabulously thrives.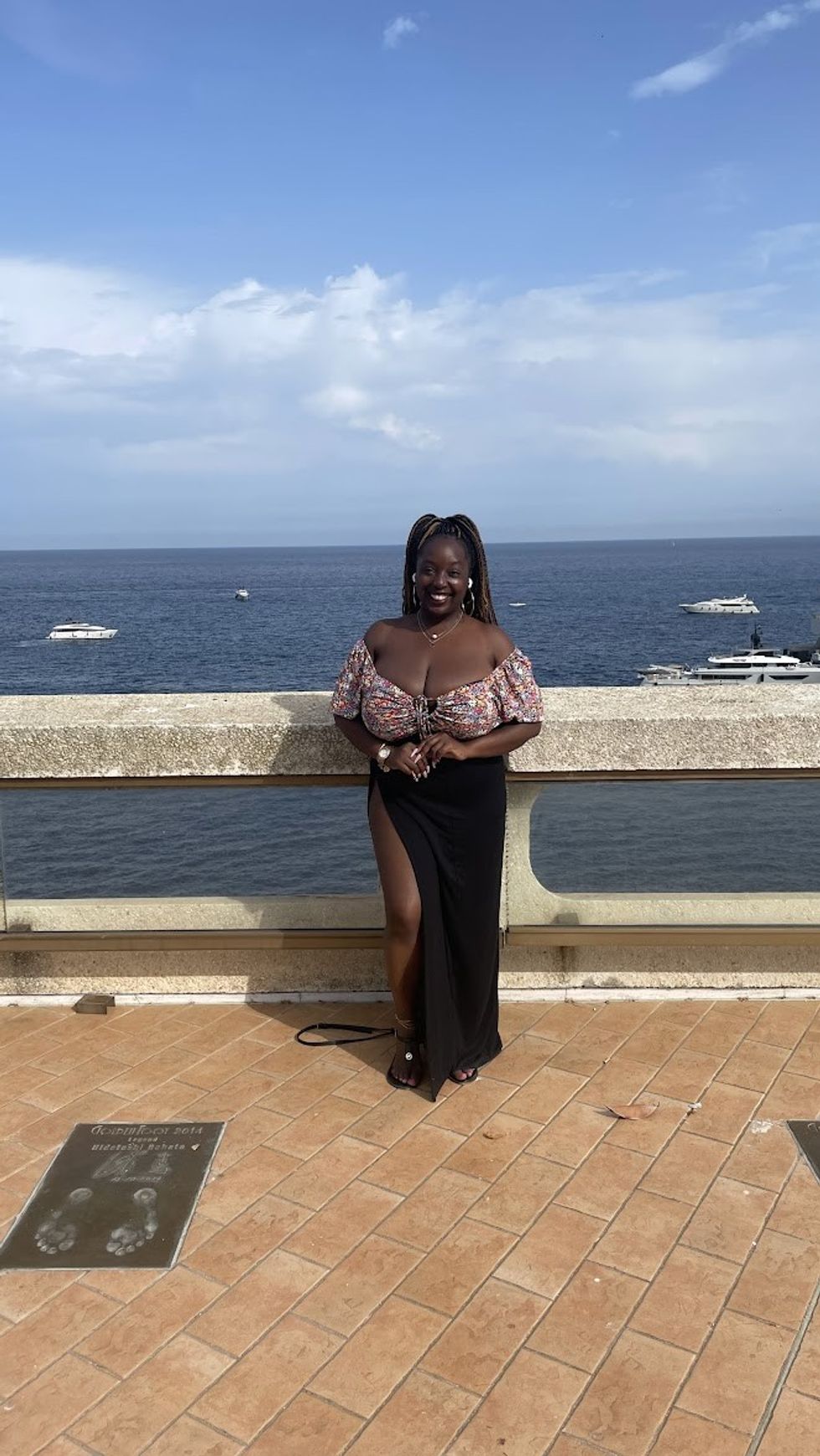 Courtesy of Brittany Vickers
South of France
Next, I ventured into the South of France to Cannes, home of the iconic International Film Festival, which ironically was taking place when I arrived. I rendezvoused with film professionals and journalists from around the globe as the city buzzed with anticipation of the films that would soon take Hollywood by storm.
When the cameras go off, Cannes is still an extravagant treat to the senses with its white sand beaches and crystal-clear waters. I relaxed with the other tourists that flock to the city for a luxury getaway.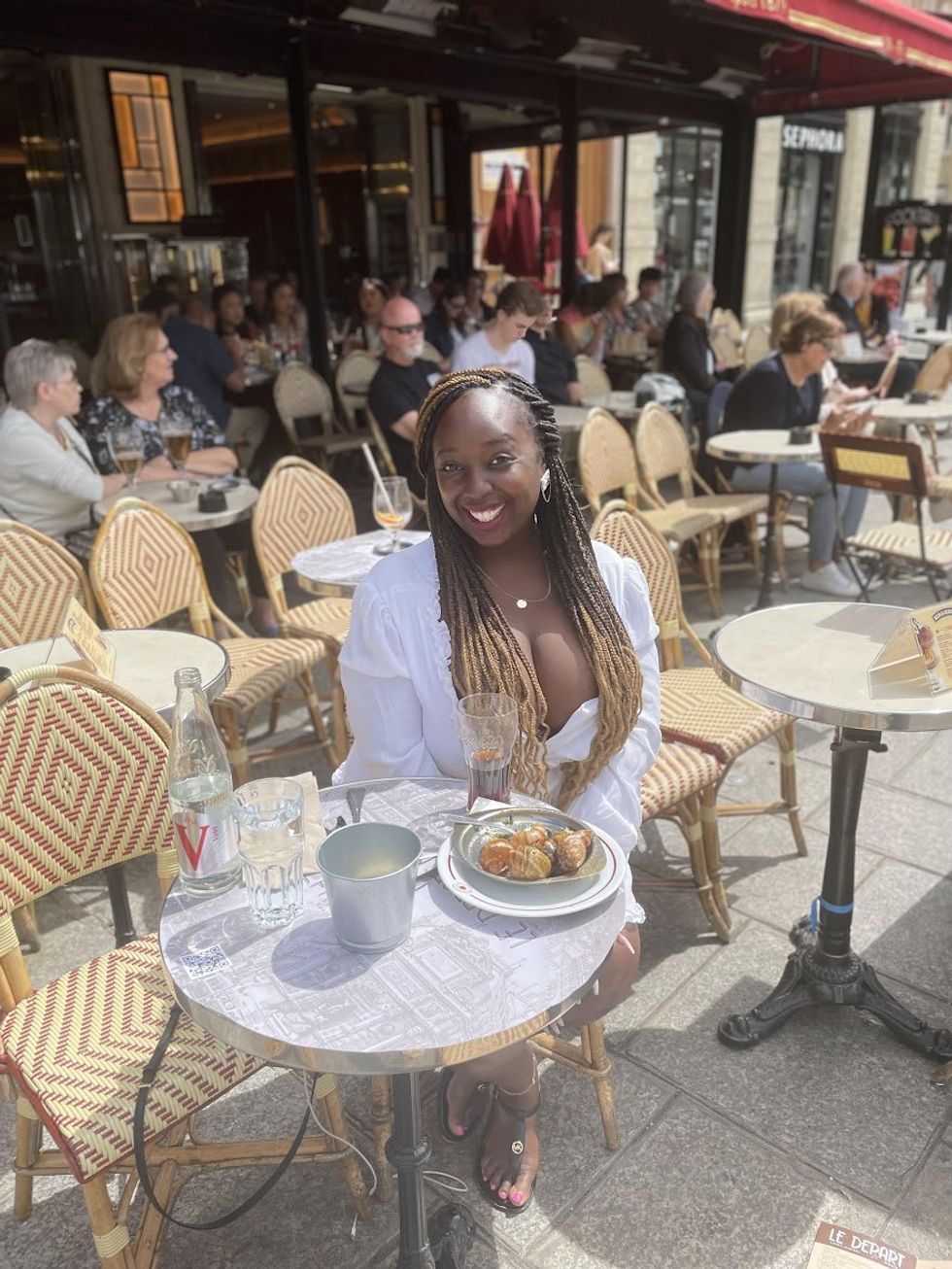 Paris
My final stop was a city that pulls my heartstrings no matter where I am. The City of Lights, Paris. I am a lover of French culture and ended my European tour in my favorite city in the world.
My tour cannot be simplified into an Eat, Pray, Love moment. I was not seeking out an in-depth journey of self-discovery. Instead, I gave myself the freedom to fully explore new cultures in countries rich and diverse in their history and their present. I was unencumbered by what was happening at a job and completely free to set travel dates to my liking.
So often, we get stuck in the rat race of life, working towards the next big deal or positioning ourselves for the next big promotion, that we forget there is an exciting world full of promises of adventure outside of our cubicle. According to the Pew Research Center, nearly half of American workers take less paid time off than they are offered. That, coupled with the already incredibly low days Americans are offered in the beginning, shuts us off from the gems around the world.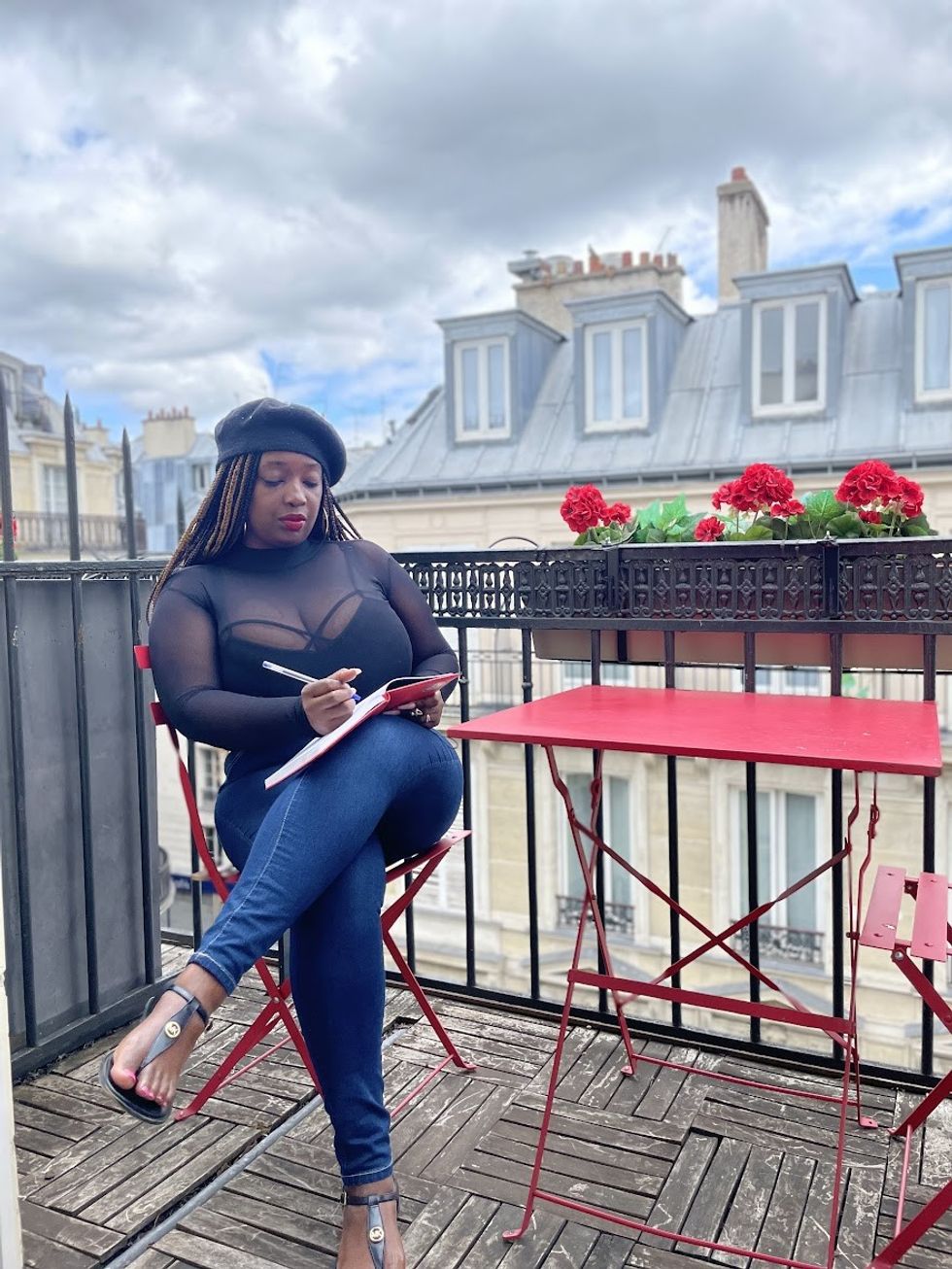 Courtesy of Brittany Vickers
My story, hopefully, will not be yours. (Bills must be paid! So keep that job when you can, sis!) You don't need a shattering experience like mine to free yourself from the everyday, just book that flight and experience a slice of the beauty and adventure this world has to offer.
I want to leave you with this quote from one of my favorite novelists, Chimamanda Ngozi Adichie:
"You travel to search, and you come back home to find yourself there."
Months later, back home and settled into the groove of a new job, I am still smiling at the memories made. Remembering the bar in Ireland where locals sang a traditional song in Gaelic to me at the top of their lungs as I drank my first Irish-crafted beer or the lovely couple who invited me to lunch with them in Monaco and the cute French guy who passed me on a Paris street and dropped what he was doing to ask me out for a glass of wine.
Those experiences and each one of those cities are now forever in my heart and helped to remind me of the thrill that comes when you step into the unknown.
Let's make things inbox official! Sign up for the xoNecole newsletter for daily love, wellness, career, and exclusive content delivered straight to your inbox.
Featured image courtesy of Brittany Vickers
Workers across the nation are pushing back against companies' widespread rollback of remote positions after the pandemic revolutionized the way we work. For nearly three years, workers settled into a new routine that included Zoom calls, comfy clothes, and a short commute from the bed to their workspace. Yet, fast-forward to today, companies are reversing course and pushing the return to the office and on-site meetings, luring workers with promises of the benefits of face time with their boss and employers and sometimes even higher salaries.
A report from LinkedIn shows the number of job openings offering remote work is declining. In March 2022, remote-focused listings accounted for more than 20% of job postings, but that number dropped to 14% in November of that same year.
And still, workers are saying "no" to returning to the office after years of adapting to remote work and proving they can effectively and efficiently complete their jobs from home. Many are refusing to once again get in their cars for long commutes and once again outfit their closets with business wear.
xoNecole spoke to two women about their experience navigating the once remote-friendly environments that are quickly morphing into hybrid or full-time in-office roles.
Featured image by Olena Kovalova/Getty Images
When Winter Baxter and Kelsey Beckford, co-founders of BeckzBax Supper Club, step into a restaurant, heads turn. It's impossible to miss Winter's close crop cut and Kelsey's flowing braids, both with glowing smiles that radiate genuine warmth and confidence. But, it's not just the two that cause eyes to redirect from glasses of wine and exotic dishes, it's their entire party. The Spelman sisters turned best friends are also flanked by 10 to 15 Black women when they are all escorted to their table.
To many, the concept seems simple- a group of friends out to dinner- but the experiences of the BeckzBax Supper Club are anything but ordinary. This supper club delivers everything from private dining rooms to specialty curated menus with incredible dishes prepared just for them and table visits from the chefs, all in some of New York's most exclusive and hottest eateries. The New York-based supper club has set its sight on delivering a dining experience that seeks to thrill with its adventurous palette and return to the social aspect of dining. Crafting unabashed moments of sincerity and candidacy with the people seated right beside you and social media posting saved for later.
The founders of the supper club designed by and for Black women dished to xoNecole about the courses they serve before the waiter even places the first dish down.
xoNecole: You are both native New Yorkers, the crossroads of the globe that's home to a diverse array of cultures and with that, a dining scene that's unparalleled. How did your childhood fuel your passion for food?
BeckzBax: When you're a city kid in New York, you really learn that going out to dinner or lunch is the thing to do. It's our culture to try out new food in restaurants. So since we were children, we saw how the restaurants and many neighborhoods were changed due to gentrification and how we lost a lot of authentic New York folks, whether they were Senegalese, Italian, Greek, Russian, Ukrainian, [or] African-American. Now a lot of the neighborhoods are just whitewashed and toned down.
So now there are restaurants that are bringing back culture, and we want to experience that.
xoN: How did BeckzBax make it from the group chat to a now highly sought-after event?
BeckzBax: Last summer in 2022, we were out at Moko, which is our favorite Omakase restaurant in the city. We had a 15-course meal, and we loved it. It was such a cool experience. But we looked around and realized we were the only two Black women in the space. We thought it would be more fun and a more fulfilling experience if we can dine in bigger groups.
I feel like a lot of people are trying to rediscover how they want to be social, definitely because of lockdown and just getting older. We have friends who are now sober, friends who don't like going out to clubs, and everybody is doing brunch. So we asked ourselves, "What else is there to do?" We came up with the supper club and focused on dinner because you always need to eat!
xoN: In just a year you have carved out a very unique identity for your supper club. Why do you think so many Black women gravitate toward your events?
BeckzBax: This is not a girl-boss event. This is really just, 'Hey, it's Tuesday night. Are you alone in the city? Do you need company? Do you need a sister? Do you need a friend, even if it's just for a couple of hours?' We have seen how it really helps people feel like they are safe and supported.
We really appreciate that people give us that honor and privilege of coming to our events by themselves because they feel safe enough that they'll be received and treated with honesty and respect.
xoN: What is it like being a group of Black women occupying restaurant spaces that typically caters to a different crowd?
BeckzBax: We are here to disrupt the hospitality industry in the way that it operates because right now, there are a lot of things that people are not talking about. People are not being transparent about when it comes to having a good time out at dinner at some of these fine dining restaurants.
The treatment from the door is very different. If they don't know that we are the supper club that's booked for the private dinner, they assume that it's not us.
xoN: What ideas are you trying to dismantle with your supper club?
BeckzBax: The gatekeeping! There's no gatekeeping food. It's food, it's an ingredient whether it's a tomato or a truffle. Everyone deserves to try and have new things.
xoN: What has surprised you the most about the restaurants since you've started? 
BeckzBax: Our attendees are really shocked to find out that a Black woman is behind the menu and has curated this entire experience in a number of upscale restaurants.
That's what we want to highlight: we are the ones behind the success of a lot of these restaurants. Whether or not we are in the room… we are in the kitchen, and nobody talks about that. We're in the kitchen, so we deserve to be in this space just as much as everybody else does.
xoN: Wow! So how do the chefs react when they see your group in their restaurants, especially when you both don't reflect the makeup of the restaurants you attend? 
BeckzBax: We've been told it's liberating for the chefs. They don't often get to flex their own muscles very much. They're restricted to their menu and what their clients want. BeckzBax Supper Club allows them the space and freedom to really show what they're capable of.
Instead of repeatedly making the same ten dishes, they can offer seasonal options, and the chef is really allowed to show the fullness of what they can do.
xoN: What about the people that say, "Hey, I can go out to dinner with friends on my own." What is it that BeckzBax brings to the table… literally? 
BeckzBax: You are not going to have the same experience solo that we are able to curate for you. It's impossible because we take the time to build relationships with chefs, owners, and general managers to provide a very specific experience for our members.
What sets BeckzBax apart is the point of breaking bread together. We've lost the art of socializing without it being for a reason like a birthday or networking. We're not about a certain aesthetic. Everyone is there because they actually want to come, sit down, have dinner, and have real conversations. They want to get candid and share their life. Whatever you need, and it happens over food.
xoN: How can xoNecole readers join the supper club? Are you all accepting new members?
BeckzBax: Yes! If you're interested in joining, email us at beckzbax@gmail.com. We'll send you a welcome email and explain the full process of joining, including how the club works and membership fees and dues. If you want to do a trial run before joining, we also have mini-series events that are usually cocktail hours so you can get to know us and meet current members.
xoN: Do you have any plans to expand BeckzBaz outside of New York?
BeckzBax: We're going international! Japan is at the top of the list, and our goal is to do world tours, with the food being the basis of it all. This summer we're also expanding domestically, if you're in D.C., Philly, California, or Atlanta, keep your eyes open!
Let's make things inbox official! Sign up for the xoNecole newsletter for daily love, wellness, career, and exclusive content delivered straight to your inbox.
Featured image courtesy of BeckzBax Supper Club
From its lush cover featuring a dark-skinned Black woman with natural hair, down to its title, when readers pick up a copy of Black Girls Must Have It All, it's unapologetic in who the intended audience is. Author Jayne Allen has delivered a series, starting with Black Girls Must Die Exhausted, that is written for Black women, about Black women, by a Black woman.
Over the course of three books, Allen navigates the complexities of race and relationships in corporate America, the realities of Black maternal health, and the dynamics of love and partnerships, and she wraps it in a story built around sisterhood and family.
In this latest release, readers, along with the main protagonist, Tabitha Walker, are forced to reexamine what it means to "have it all" and question the life society has ingrained in us as acceptable.
xoNecole spoke to author Jayne Allen about Black Girls Must Have it All, her trilogy that has sparked debates, side-eyes, and "Girl….no he didn't" moments and has inspired conversations and laughs for book clubs and readers across the world.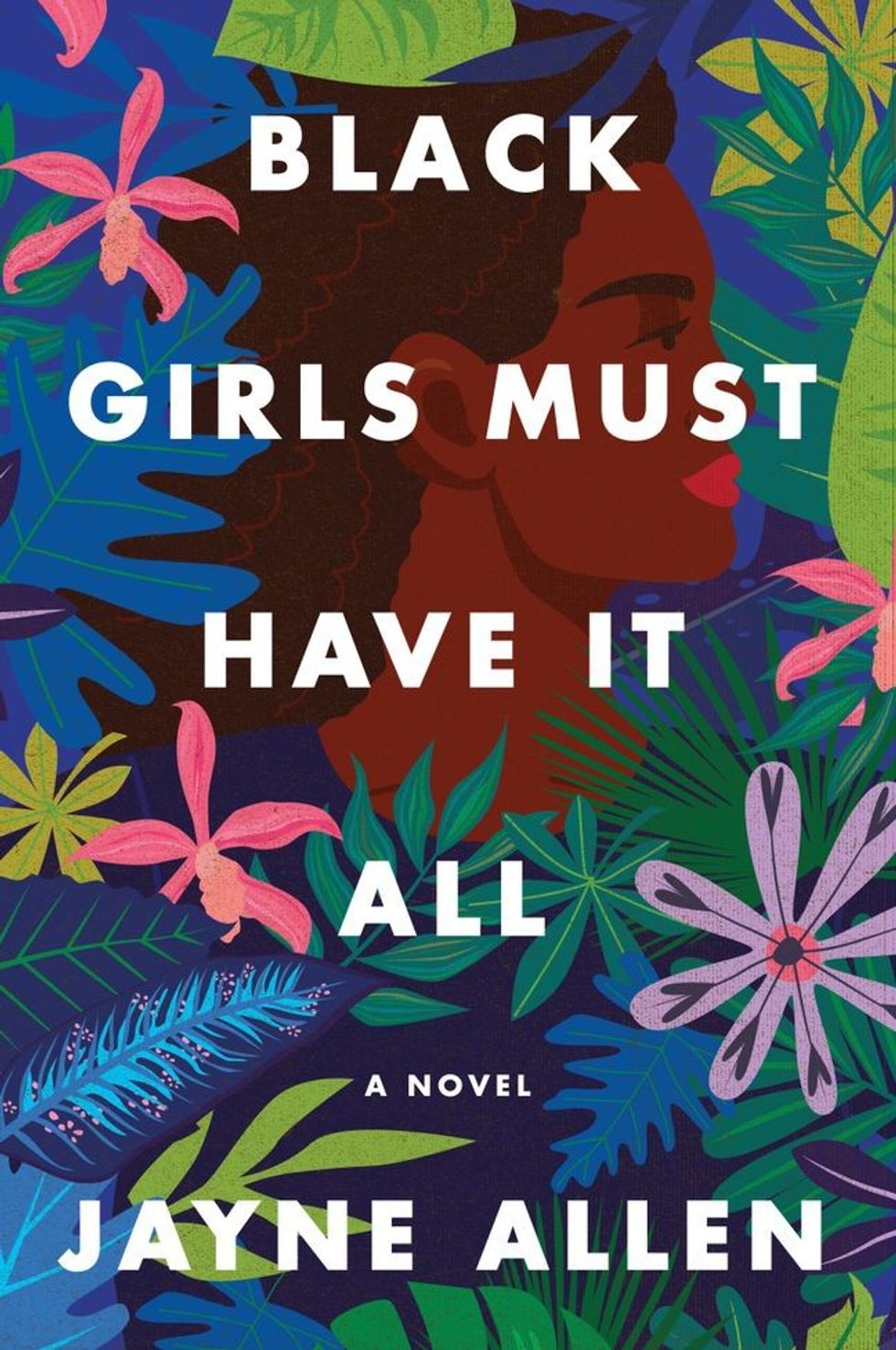 Courtesy of Jayne Allen
​xoNecole: Let's start at the beginning. Walk us through how Tabitha and her story 'Black Girls Must Die Exhausted' was formed.
Jayne Allen: I wrote this book by necessity. I came up with the idea around 2016, and that was a very vitriolic environment for Black and brown people, and combining that with being a Black woman, I just felt this weight.
It made me take a look at my life and what I was carrying with no sweat. This is a story about the day-to-day of navigating these layers of challenges and still being the incredible Black women that I've seen around me and that I try to be. We need to understand her daily journey, the struggles, and the triumphs, and we need to celebrate that. So I thought, if nobody's telling this story and nobody sees our worth in this way, then I'm going to do it. I'm going to celebrate Black women.
​​​​​xoN: In bookstores we still don't see a major selection of books that center Black women. Walk us through your journey and what you experienced as a writer in getting this story told.
JA: The feedback I got was: "This character is not relatable. We don't like her, but we love her grandmother, who is white." It was very interesting to feel the weight of race-based bias. Agents wanted to try and hide the characters with a different title. I said, "No, I'm [not] going to apologize for having a Black protagonist. This book is not going to hide Blackness or cater to acceptability with a different cover."
I was intentional, from day one, that I wanted this to be a celebration of Black women. I wanted readers, even non-Black readers, to come to this book and come to it as a book about a Black woman, with the knowledge and understanding that this is a story about a human being. Yes, you can relate to this person, and she has something to teach that's valuable, she has something to say that's valuable, and she is valuable.
"Agents wanted to try and hide the characters with a different title. I said, 'No, I'm [not] going to apologize for having a Black protagonist. This book is not going to hide Blackness or cater to acceptability with a different cover.' I was intentional, from day one, that I wanted this to be a celebration of Black women."
xoN: How do you think readers are going to react to this final book, 'Black Girls Must Have It All' and the closing of Tabitha's story?
JA: I hope they have this moment of just being happy for their girl. That's how I felt when I wrote the last words of the book. Maybe it's not a conventional happy ending in the way that we're conditioned to believe they're supposed to be. But, I think it's a very happy ending that's hopeful and progressive. I wanted to give that feeling where you know your girl is gonna be alright. But she still has a long way to go.
​xoN: Tabitha's journey to motherhood started off in a very poignant and unexpected moment. Let's discuss her journey on the other side of the delivery room.
JA: We don't talk about actual motherhood very often, and I wanted to examine the different experiences we face. We just talk about the various issues of Black maternal health and statistics but in, Black Girls Must Have It All, I wanted to see what that journey looked like for a Black woman because it looks different than what we see in something like Bridget Jones's Baby.

There's been a societal vilification of Black single motherhood and the cultural perspective on traditional relationships to contend with. It was important to see Tabby navigate those things on top of the already stressful experience of being a new mother.
xoN: Readers are now three books in with Tabitha and her crew… what else can they expect in this latest book?
JA: The big thing in the third book is this theme of motherhood, but it's not just motherhood in the traditional sense. It's about nurturing and it's about how we nurture ourselves and how we mother our dreams. Some people are making choices not to pursue conventional motherhood, but that doesn't mean that the nurturing part of us doesn't get to shine.
We see Laila as an entrepreneur with her company, essentially her baby, and her friends in turn celebrating, nurturing her and her goals---going back to the theme of friendship, that nurturing of each other and ourselves---so that theme of motherhood and seeing the various perspectives on it. It was an important theme for the third book and not just traditional motherhood.
"It's about nurturing and it's about how we nurture ourselves and how we mother our dreams. Some people are making choices not to pursue conventional motherhood, but that doesn't mean that the nurturing part of us doesn't get to shine."
xoN: What readers can really appreciate about this series is your ability to give us pieces of so many different characters that at the end, we're just as invested in the sisterhood of Lexi and Laila, Tabby's mom, grandmom, her sisters, and Ms. Gretchen as we are in Tabitha. How did those storylines shape Tabby?
JA: I was speaking for myself as a Black woman. I am so much a reflection and a product of the people in my life. Close family ties are part of our culture. That's why you see multiple generations in the book. You have these multiple generations in your life that are influential to you, that matter, that your family matters. I couldn't create Tabby's character without showing the people who make her who she is.

Sisterhood is important for us as Black women in particular. Compared to our parents' generation, we get married later in life, especially when you're in a career. So your soulmate, a lot of times… is your girls. Friendship is the support structure that keeps Tabitha Walker standing, and we got to see and meet these people. I was really happy to see their story progress and mature, and the characters mature.
Friendship is self-care.
xoN: This series also brought up allyship and how that impacts Black women in corporate America. How did that come about?
JA: I wanted to examine allyship in the book because it's very much a part of the Black journey in corporate America, because we're still in very much predominantly white spaces. In the new release Black Girls Must Have It All, there's a scene where Tabby questions her coworker Lisa and asks, "Why are you trying to help me?"
I thought that was such an important question that felt authentic to Tabitha's journey. Here you have this ally, and because of the nature of how Black women are treated in corporate America, you question when there's someone who seems to be friendly to you—who seems to be advocating for you because it doesn't happen enough.
Then you see another relationship with her boss, Chris Perkins. I wanted to show the diverse types of allies, advocates, and mentors that you experience in corporate America. There's a big difference between having someone who's going to make sure you're in the room and that you have a seat at the table. So, Tabby's got these different models of mentorship, and she has to navigate which one is going to serve her best.
xoN: In book three, 'Black Girls Must Have It All' we gain a new perspective into Tabitha's love interest, Marc and his journey. Let's discuss the layers that were revealed.
JA: Marc is a really important character to me. On paper, he's a person that you want to date. You would want him without really asking yourself the more important questions like, 'Who is this person behind being handsome, the success, and the Porsche? [How] is he showing up as a partner?'

I examine Marc's humanity and get behind that facade and see who's there, how he grows and evolves. I wanted to give him the opportunity to mature. I wanted the readers to see his journey, and I wanted to see what Tabby was going to do with it and how she was going to grow with him.
xoN: How do you respond to the criticism that the Black male characters in the book were not shown in the best light?
JA: It's not representative of all men or all Black men. It is representative of Tabby's choices, which start with her dad. And then her dad's choices started with his dad, and you get to read all about that in the book. It's not a characterization of Black men. It's just these particular men, by virtue of who Tabby is attracted to, by virtue of who her father is, and how that came to be, which has a lot to do with racism. It's a very specific story that intentionally speaks to generational legacies and how that affects women and our choices. I hope readers are asking themselves those questions.
xoN: In your journey as a writer, what do you hope to see differently when it comes to telling Black stories and centering Black characters?
JA: Often, we see pieces of our story told by somebody else, or we see just pieces of ourselves, but to see an actual book about us and about people that we know and people that look like us. That's very important, something that we don't see in the publishing industry, especially when reading women's fiction and contemporary fiction.
I would read stories where there is a Black sidekick, and she has kinky hair and this spunky attitude. She's the one that everybody leans on, and I'm like, 'This is a caricature. Why are you telling me this character is Black without showing me the humanity of this person? Where's her story?' So that was my intention.
It's not meant to be representative of all Black people and not every Black experience, but the culture is there, and there's enough there that should hopefully allow readers to feel seen and be celebrated in a way that hasn't been so common.
xoN: What's next for Tabitha and the characters in the 'Black Girls Must Die Exhausted' series?
JA: Tabitha is headed to television! A series is in development, we have a writer and showrunner, no roles have been casted, but it's moving along! There have been some major developments that I can't say just yet, but it's very good!

Featured image courtesy of Jayne Allen