Whenever Myleik Teele posts a podcast, I'm all ears—soaking up every word of wisdom that I possibly can.
---
There's something about her transparency and realness that draws me in as she touches on topics that many at her level of visibility would shy away from. With every new post she reminds me that I'm not alone in my pursuit of purpose and leaving behind a legacy that will inspire and impact generations to come. Nor am I the only one attempting to navigate the world of dating without letting my biological clock rush me into the wrong arms, or allow my work to overwhelm me into an early grave.
To put it simply, Myleik is that home girl that you want to call up whenever you're going through a crisis and need a gentle reminder that "you've got this, boo!"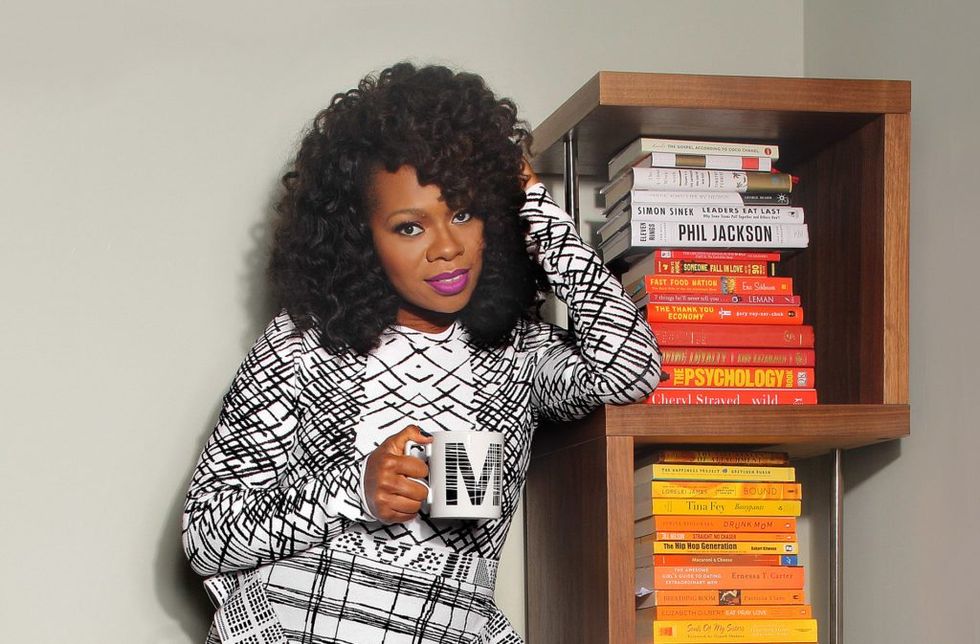 When I hop on a call with the founder and CEO of curlBOX—a subscription service that allows women of color to explore natural hair by delivering quality products to their doorstep every month—she brings that same level of realness to our conversation as if she were at home recording another #MyTaughtYou lesson from the school of hard knocks.
I confess to her that I almost reached out after shutting down my former website, Necole Bitchie in July 2015. It was four weeks after I called it quits and decided to create a platform that was positive and uplifting for women of color—a bold step that left me tripping over my emotions—broken and having to risk going broke as I was dumping every dollar I made back into a site I wasn't sure would work. I wasn't sure who to turn to for support during my confusion, so I tuned into Myleik's uplifting podcasts. It left me wondering who she reached out to as an entrepreneur during her times of struggle.
"Honestly, Necole, I go to a licensed psychotherapist," she says. Revealing her secret as to how she deals with the pressures of running a business without letting it ruin her life. "I got to a point where I kind of had outpaced my circle. I had a circle of girlfriends. And then you start complaining like, 'I'm making too much money and I'm unhappy,' and they're like 'f-ck you.' Nobody wants to hear that. I've been in psychotherapy; this month makes three years; every Tuesday I go."
It reminds me of the article that I read in Inc. Magazine on "The Psychological Price of Entrepreneurship," and how many entrepreneurs battle depression and succumb to suicidal thoughts due to long hours, mounting debt, and no guarantee that your risk will come with reward. It's no secret that being your own boss isn't always glitz and glamour. Sure there are the successes and the wins—the press opportunities from respectable magazines, red carpet appearances, and award banquet invitations. But there's also the side that is often less visible but highly experienced—a subject that up until recently has been so taboo that many die masking their pain. I, too, know that taking a leap of faith means free falling before spreading your wings and soaring to success. Myleik is familiar with it as well.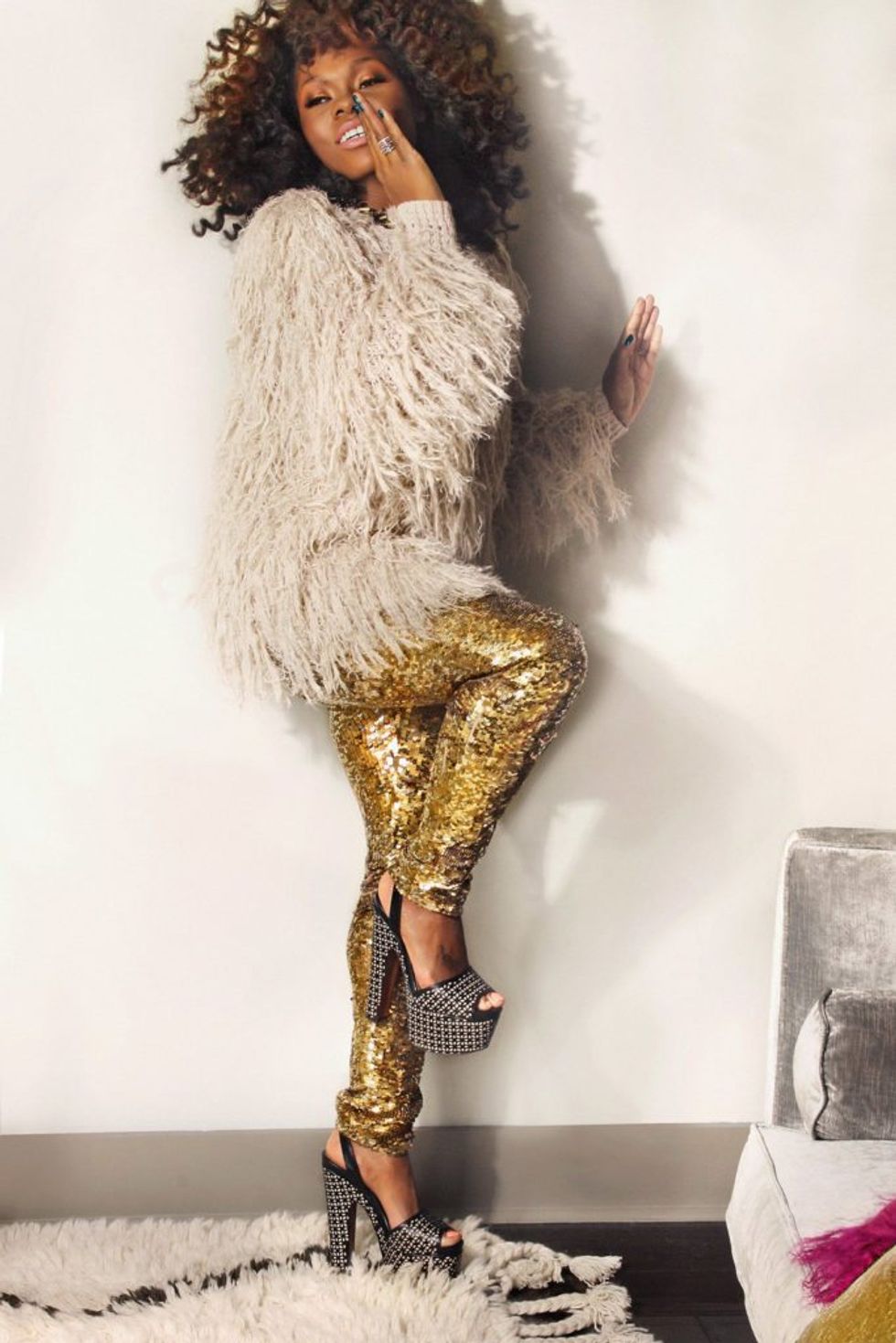 Growing up in Los Angeles, CA, Myleik always knew that she would be successful, and made a point to be around people who reflected the success that she desired. Her résumé is a reflection of her hustle—working in PR for The Grammy Awards, American Idol and celebrity clients such as Prince and Linkin Park before snagging a job with Travis Barker to work as his personal publicist. But when the musician and his band mates were involved in an unfortunate plane crash that left four of the six passengers dead, it caused her to rethink her own path in life and whether or not she was living her life to the fullest.
"My friend died in that crash, and at his funeral I don't know what happened, but I had this huge light bulb moment where I was like this could be you. How many times are you going to sit and promise to live the life you've always wished for and do all the things they say you should do before you die and not do it? And that was my wake up call. It was basically like "ride or die" until you're in that casket. I've never went back since then."
With $7,000 cashed out from a 401K, she moved to Atlanta, but couldn't find a job due to the recession. Desperate for money, she signed up for babysitting service Care.com, and was contacted by Kim Zolciak from The Real Housewives of Atlanta for a job. She worked as a personal assistant to the reality star for a year before branching off in 2010 to launch her boutique PR firm, snagging celebrities, apps and beauty brands as clients. When friend-turned-client Ken Burkeen, founder of the Huetiful Hair Steamer, hired her to do PR, she started attending hair meet ups and shows, where she noticed a lack of sample products geared towards black women.
It sparked the idea for curlBOX, and after seeing her own massive collection of hair products that were piling up under her sink, she decided it was time to create the product that she always needed. "I was like white girls get samples all of the time. They can go to Macy's and get their own, but what about us?"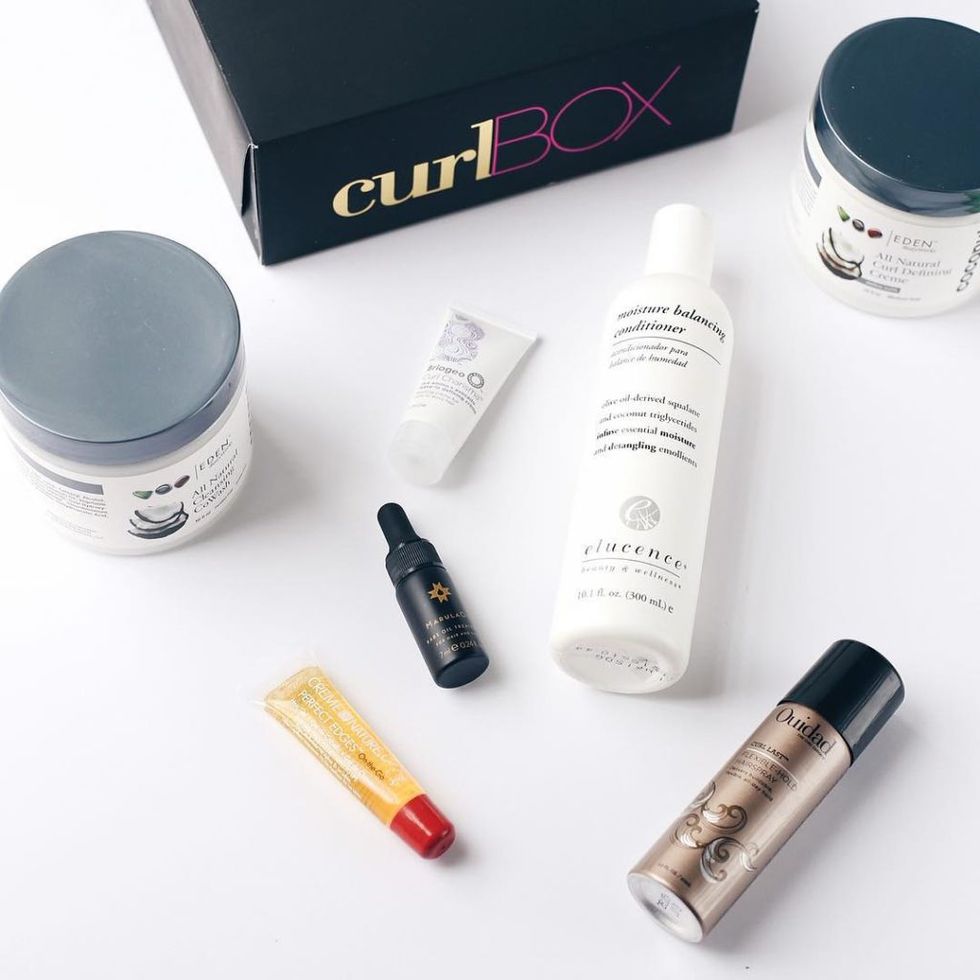 Photo Credit: Instagram
The product junkie took her passion and knowledge for beauty and hair products from a thought to reality, utilizing her connections to help her with the foundations of her business from logo design to photos for her website, which launched in November 2011. In January 2012, she put the first box on sale for $20 per month. In her first month she made $4,000, and has continued to be profitable for the last three years.
At this point, I'm curious, because many business owners will attest to losing money for the first few months (or even a few years) before becoming profitable. Within 10 months Myleik was already moving her booming business into a warehouse. She credits her gift of gab to being a big part of her financial success.
"I think that some of the skills that I gained as a PR person is just relationships. I figured out how to do it. I spent a lot of time traveling; I spent a lot of time connecting with my brand. What's so funny is I think a lot of people wonder how I get this network or why people like me so much and this is just what I do, so people who I befriend really love me. They really take care of me, and I do my best to take care of them."
Though she's churned a profit, she's also made some costly mistakes—such as kicking out $6,000 for a website that wouldn't work for her e-commerce platform. But one thing about Myleik is that she's made a point to never go back to broke and always has a plan. In this case, it's an exit plan for when she reaches the dollar amount that she's comfortable with retiring off of.
"I have two wealth managers and they know what my goal is. If I don't figure out what my next move is, I am planning to retire early, so I know how much it cost me. I'm saving to be able to have the option to quit one day, so that in the event that I get sick of this and I don't know what's next, I can live off of interest. I try to convince the girls that work for me to get $10,000 saved up, because I think that's kind of a minimum to get a good investment account going, and just work from there."

Noted. Not to mention that she has investors reaching out to cash in on her curlBOX product line. But she's in no rush to share a slice of the pie with anyone who can't bring more to the table.
Between managing her team of full-time staff and interns, on top of building the curlBOX brand, her mentoring site MYTaughtYou.com, and her social media, it's no wonder why Myleik is up at the crack of dawn.
"Successful people have this insane amount of discipline and do things when they are tired or they don't feel like it. I've seen so many people do so much in a day with very little complaining. I always say that I don't know a successful person that doesn't wake up early."
But don't get it twisted; taking care of self is numero uno on her agenda—something that I personally have just begun to master. She references one of my previous blogs where I confessed to taking my first break in three years and I can feel the side eye through the phone.
"I was like she's crazy! I will take a break on you so fast! I realized that I'm useless or I would get sick and would hate this if I don't stop and take a break. Last year I took like 15 vacations. I love massages; I am the queen of the spa."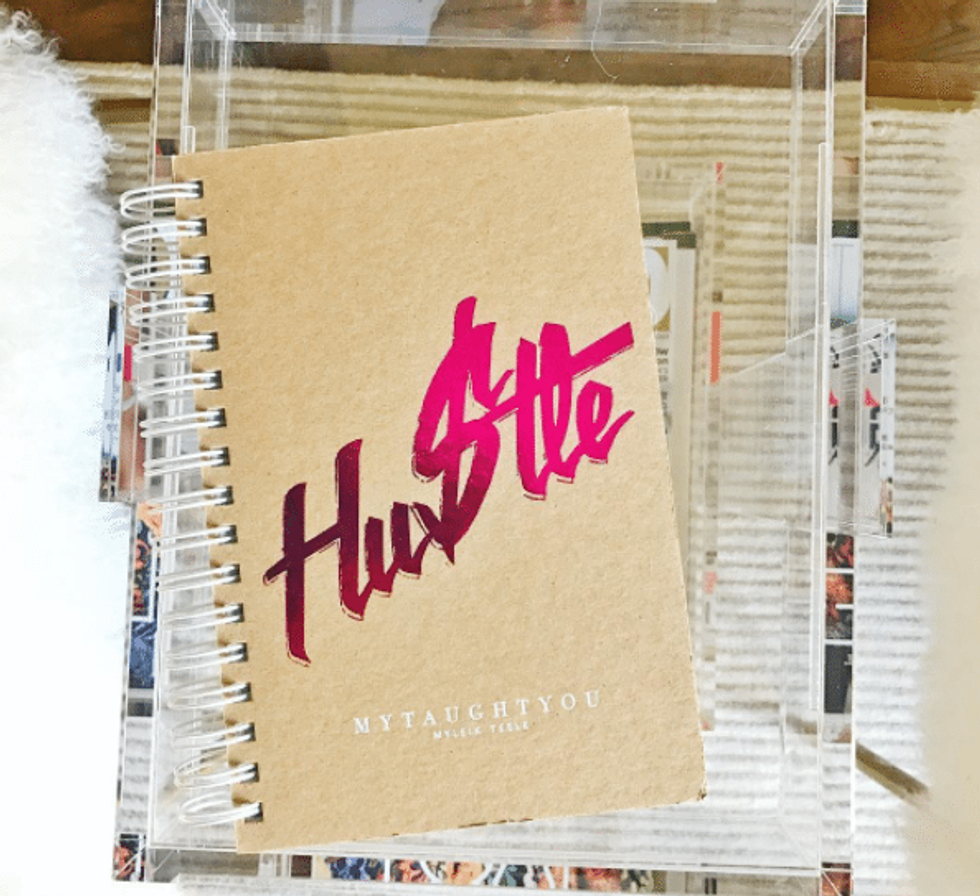 We both agree that if you don't take care of you, nobody else will. It's easy to burn out in this business, and if you don't know your limits someone will surely push you beyond them. Going to psychotherapy is part of what keeps Myleik mentally and spiritually sound. So much so that not even a man can come in and disrupt her peace. We talk about dating at our age as independent girl bosses with me sharing that throughout the years, I've sacrificed my love life to completely dedicate my time to growing my brand, and her keeping it real and admitting that she doesn't want to have "all of this and nobody to share it with." When her friend Melody McCloskey, co-founder and CEO of StyleSeat, encouraged her to get on Tinder, she gulped down two glasses of wine, hooked up her profile, and started swiping right.
"Dating is just like a trial period. It's going to take you time to see if this person has all your points or if you like them. You just never know when you might find a gem; be open to everybody and everything. Take it serious. If you do, there's no way you'll be single."
She's on her second Tinder boyfriend and is learning the art of balance in a relationship. With both her and her partner working (he's a curator for a museum), making time is just as important as making money. Between traveling and work they find time in their down time to nurture their relationship.
"I own my business; I won't turn the ringer off. I'm just not there yet, and he completely respects that. I'm reading this book and it says that once a woman has a good circle of friends and is in a career that she's satisfied with and happy, she should begin to date. I just decided to make dating a priority like I do everything else. I was like okay, at least two nights a week, I will block my calendar off for a date, you have to do it. I used to have this anxiety that I was going to be single forever; Tinder taught me that that's not true. I told myself 'you will never get to the end. It's an endless supply of men, you have never gotten to the end of it and you never will. Until you have gone through every single man on Tinder is when you can officially say you're going to be single forever.' There's plenty on there."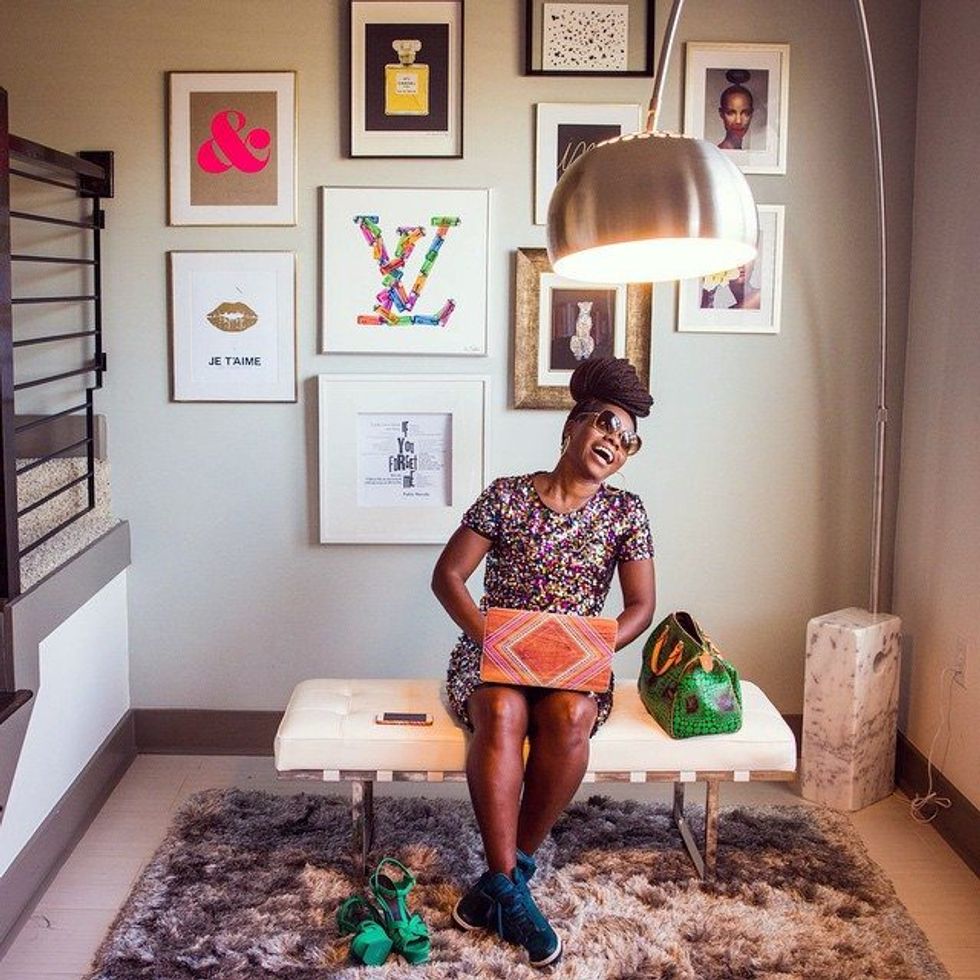 Photo Credit: Instagram
Of course I had to admit to Myleik that I sometimes wonder if I sacrificed having kids for a demanding career, and whether or not she was concerned about not being able to have babies. Being in your 30s, you can hear your biological clock loud and clear, and even if you ignore it, there's always someone else there to remind you. That's when I felt a little sadness as Myleik detailed going to the doctor a year ago. At age 35, they told her that her eggs were dying and that she wouldn't be able to have a baby if she didn't act soon. She had a no-pregnancy scare, and talked to the fertility doctor about freezing her eggs. $12,000 and five shots a day later, she was informed that her Anti-Mullerian Hormone (AMH) levels were too low, and that she had a year before her chance at being a mommy would run out.
"I went through a really dark period because I just did all of this stuff only to find out that I may not have the opportunity," she says. "And then, I think it was a conversation I had with a friend who said, 'if this is the worst thing that happens to you in your life, you're actually doing well. And what we know is that the statistics and all of the stuff that they say is not accurate.'"
Like always, Myleik has a plan for if she runs into the issue of infertility. There are donor eggs, which will still allow her to have the whole pregnancy experience, and then, of course, there's adoption, which has been the option for many successful businesswomen.
"There are so many ways that I think that a woman can become a parent, and whatever this wave that is about to happen to us career women that decide to have children later, it's going to be a different type of motherhood that I'm excited for us to experience."
In the meantime, I remind her that through her podcasts—her honest revelations—that she's birthing the next generation of female entrepreneurs. I can recall countless times when I tuned in just in time to hear the words that I needed to keep going, and her 76,000 followers are proof that she's speaking life into people.
"I do it because at the end of the day what I know now is what I wish I knew [before]. I'm sure somebody can benefit from it. When I hear people like you and other people telling me 'I listen to your podcast,' I feel like this that is the greatest gift anybody could ever give me. That beats any kind of cash, just knowing that somebody now has success. Because we will all benefit from what you are going to do next."
Catch up with Myleik on her MyTaughtYou website, and subscribe to her podcasts on Itunes for priceless entrepreneural gems and life lessons each and every week.
– Interviewed by Necole Kane, penned by "as told to" Kiah McBride @writeonkiah
Republished